Review: Royal Rooms at Port Orleans Riverside
By Dave Shute
For the first page of this review of Disney's Port Orleans Riverside Resort, see this.
ROYAL ROOMS AT PORT ORLEANS RIVERSIDE

The Royal Rooms were introduced to Port Orleans Riverside in 2012.
As part of a refurb completed then, the rooms in two buildings in Magnolia Bend, Oak Manor and Parterre Place, were redesigned–and re-priced–as "Royal" Rooms.
I've stayed in them several times since, focused on three potential issues: are these rooms too girly, too inconvenient, and/or too expensive?
The short answers:
These rooms are not girly, but distinctive more in a heavy, detailed, layered, Victorian "elderly aunt" sense than in a princessy way. They won't be off-putting to little boys. Little–and mom-sized–princesses will likely love their sumptuous design, unless their design aesthetic tends towards the spare and the simple.
These two buildings have always been inconvenient, particularly distant from bus stops, and they remain so–particularly Parterre Place.  Disney's choosing of them for the Royal Rooms is a way to add value to this base of inconvenience similar to the choice to make the Pirate Rooms at Caribbean Beach out of the least convenient buildings there.
They cost most nights of the year $50-100 more per night than standard Port Orleans Riverside rooms.  You have to value the decor, and princes and princesses, for them to be worth the extra cost and inconvenience they bring–or be a huge fan of The Princess & The Frog!
A PHOTO TOUR OF THE ROYAL ROOMS AT PORT ORLEANS RIVERSIDE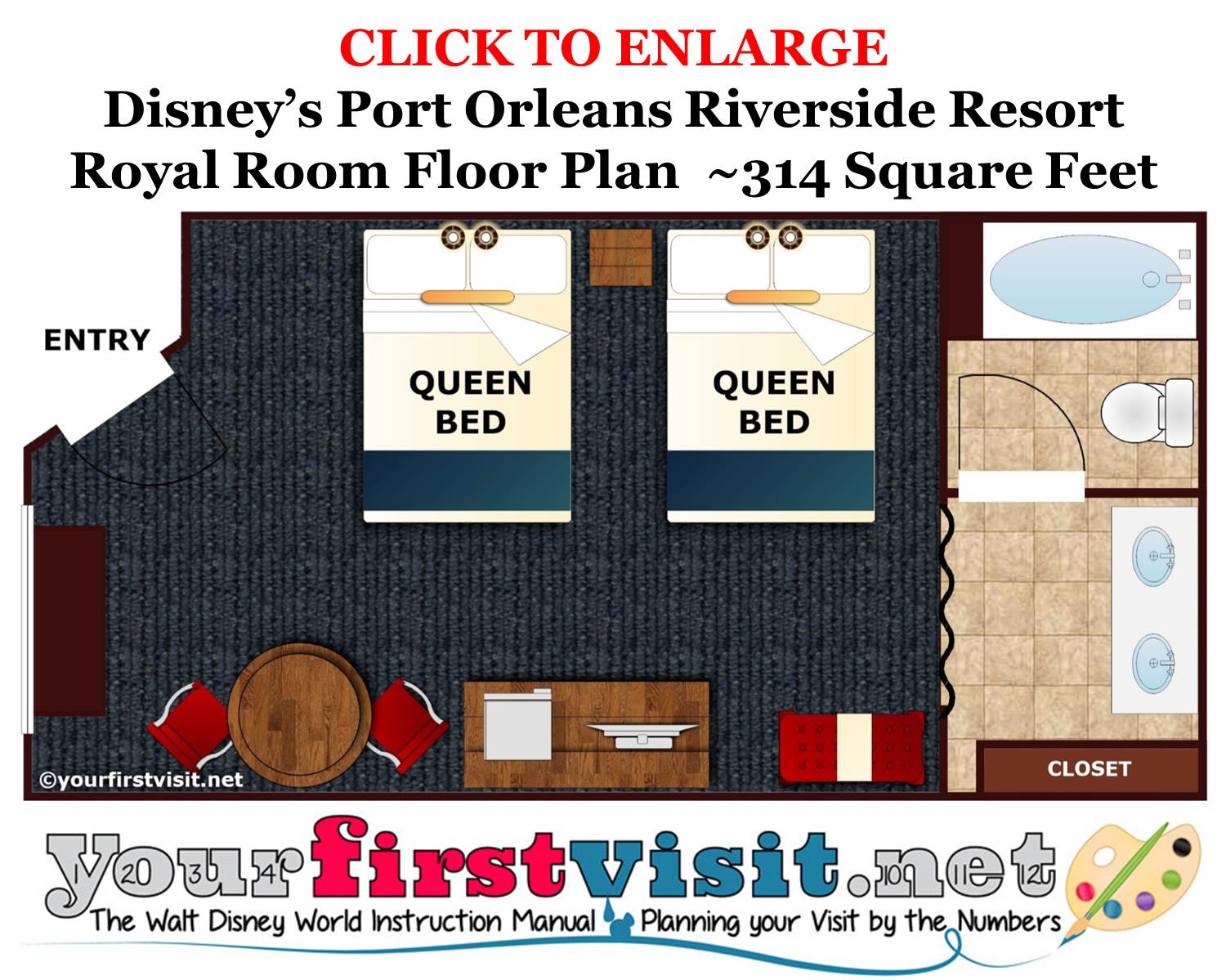 The floor plan of the Port Orleans Riverside Royal Rooms is pretty close to the standard for four person queen-bed moderate resort rooms.
What's different compared to other moderate rooms is the richness of the furnishings, and all the wonderful prince and especially princessy detailing…and those headboards!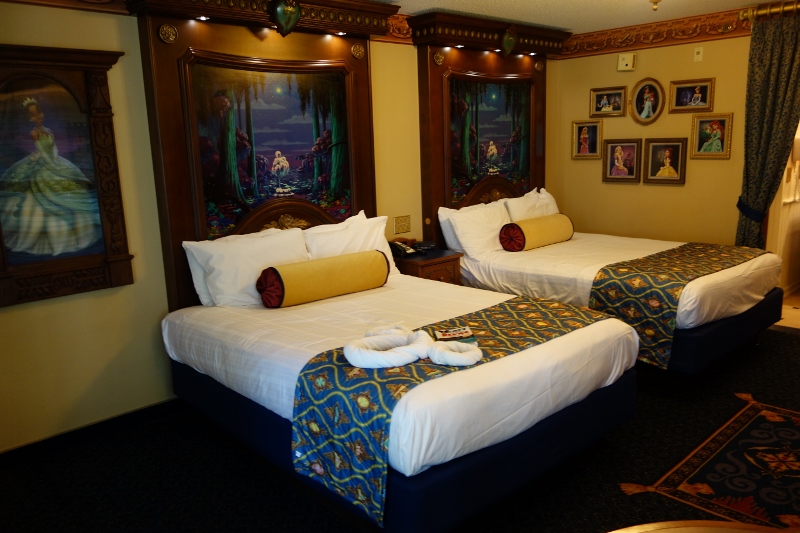 You'll find two queen beds on one side.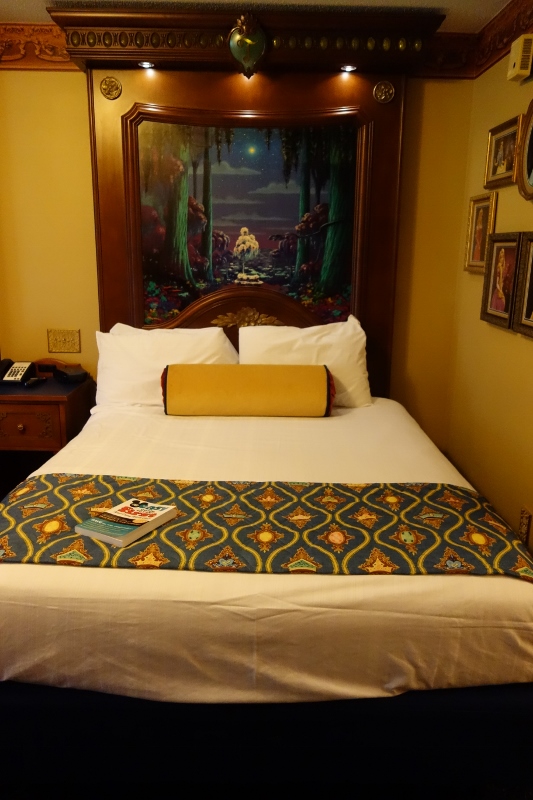 The headboards are lovely even in standard light.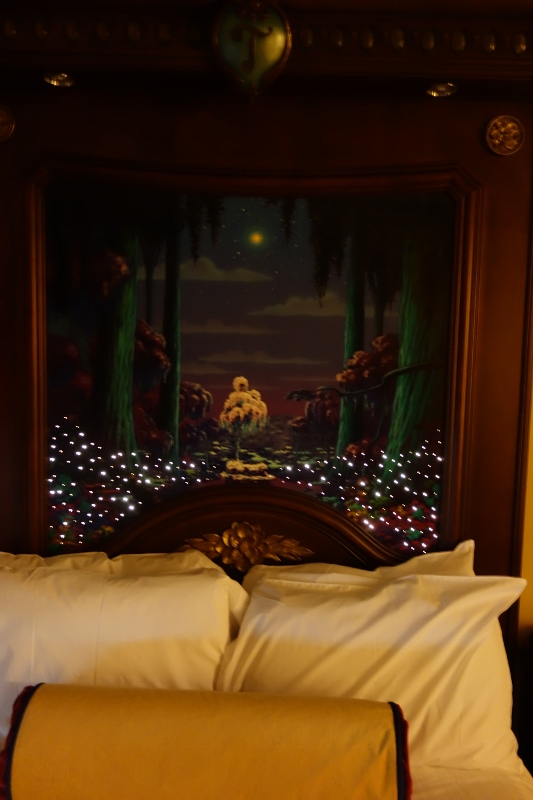 But darken the room, and find on the side of each a button, which launches a very fun "fireworks" show on the headboards…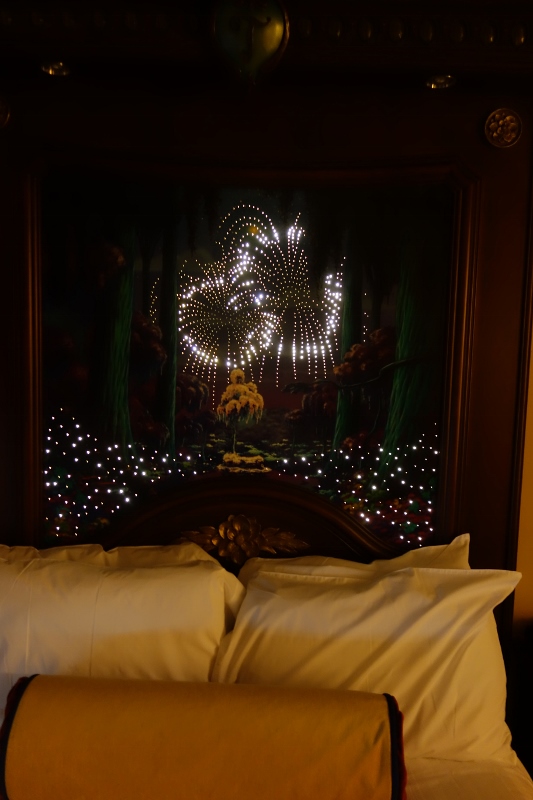 …actually, as you'll know if you've seen The Princess and the Frog, it's a firefly show.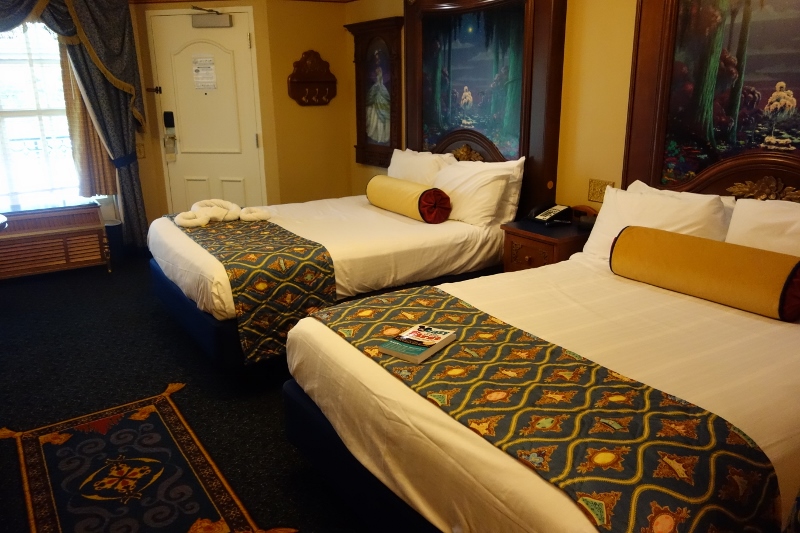 The richness of the patterning on the bed furnishings has been simplified since the 2012 opening of these spaces.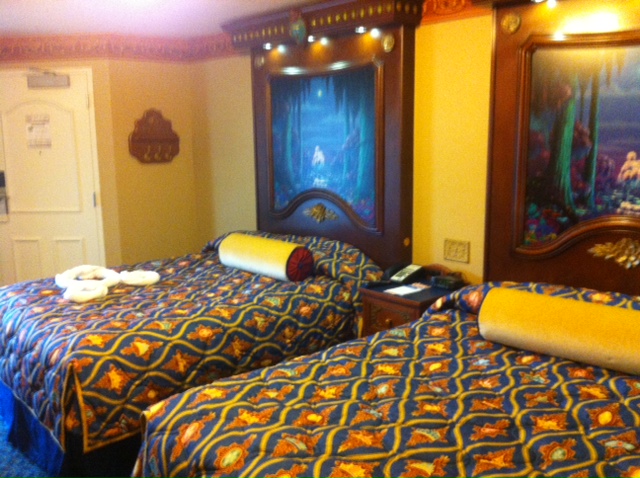 Here's the busier 2012 version.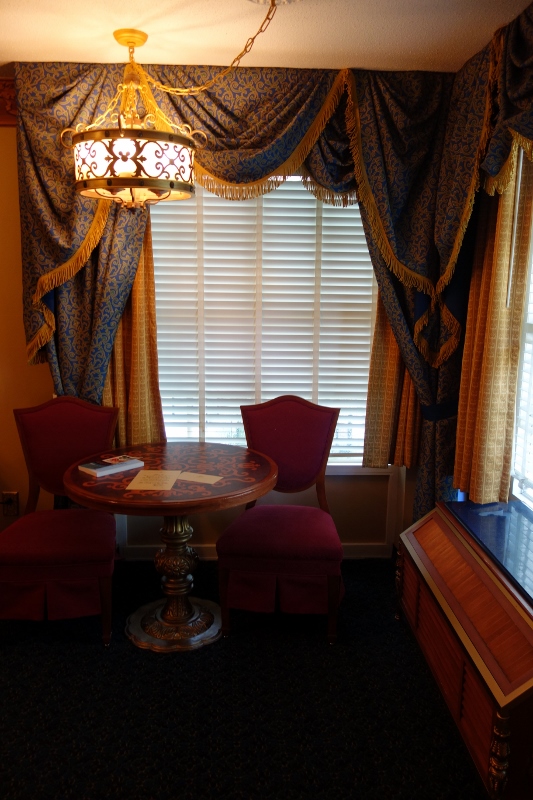 On the other side of the room, you'll find a table and two chairs.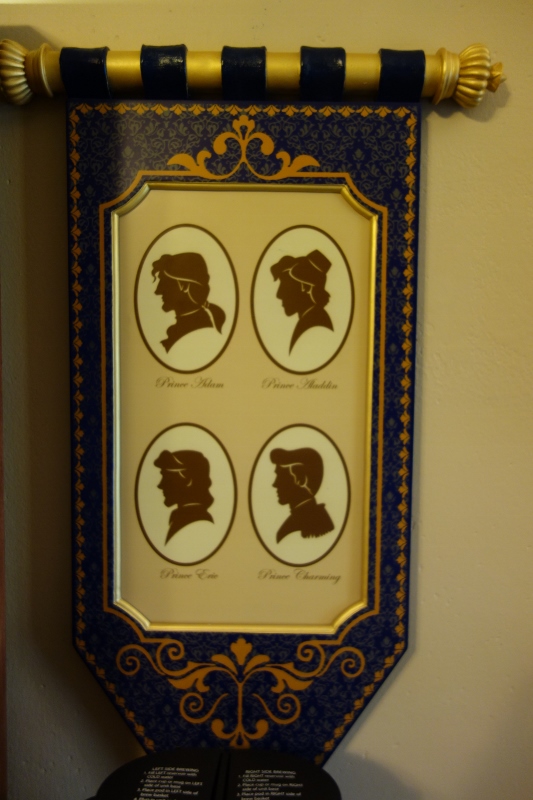 You'll find on this side of the room silhouettes of Disney princes.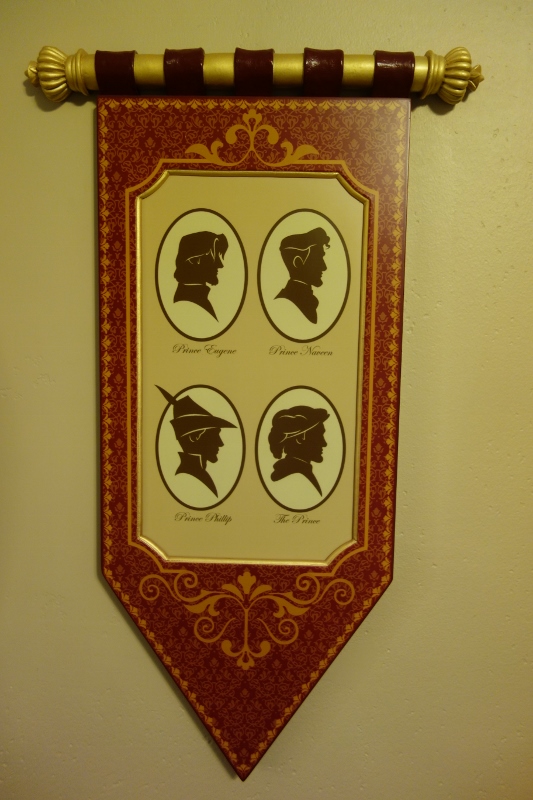 More princes.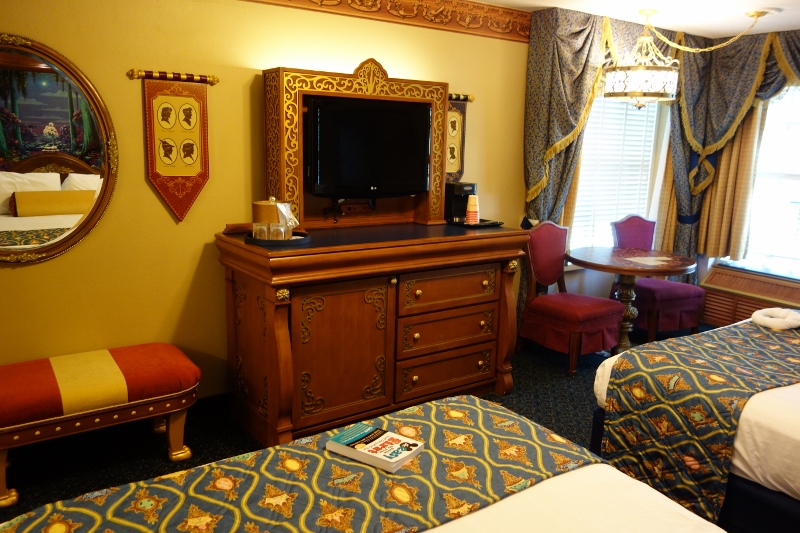 Here's a shot that shows this side of the room in total. Note the detailed and layered window curtains. Fewer than half of rooms have the two windows you see here–more common is just one, over the heater/cooler unit. Rooms without the second window will have the mirror and some of the art in different locations.
This is typical of one of the several ways–besides price!–these rooms are "royal."  There are images of princes and princesses, sumptuous Victorian-styled furnishings and fittings in a regal color scheme of (royal!) blue and gold, and various objects that will remind fans of various princesses and their films.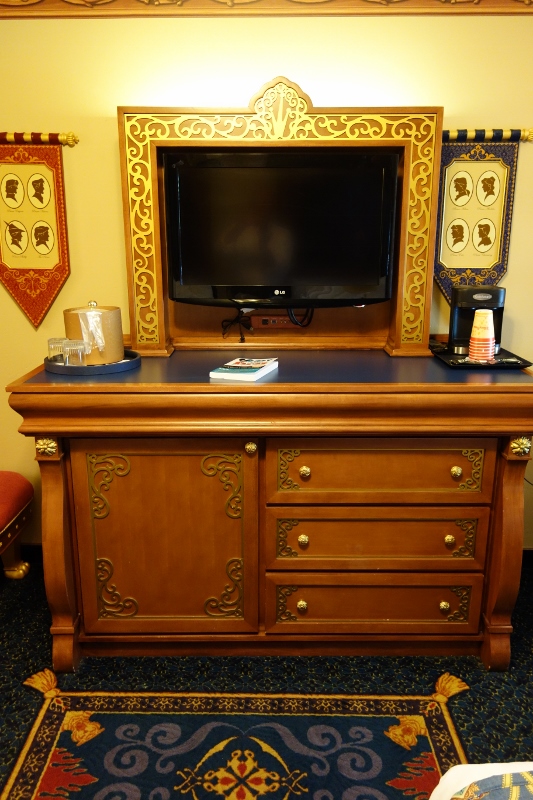 Next on this side of the room is a combined dresser and mini-fridge with a TV on top.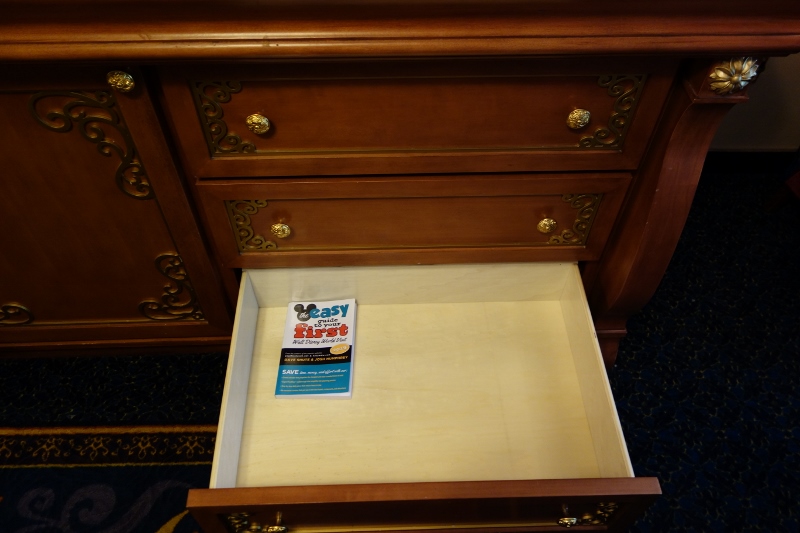 With only three small drawers, this room is a little short on storage–though there is a large clothes rod in the bath, with a shelf above.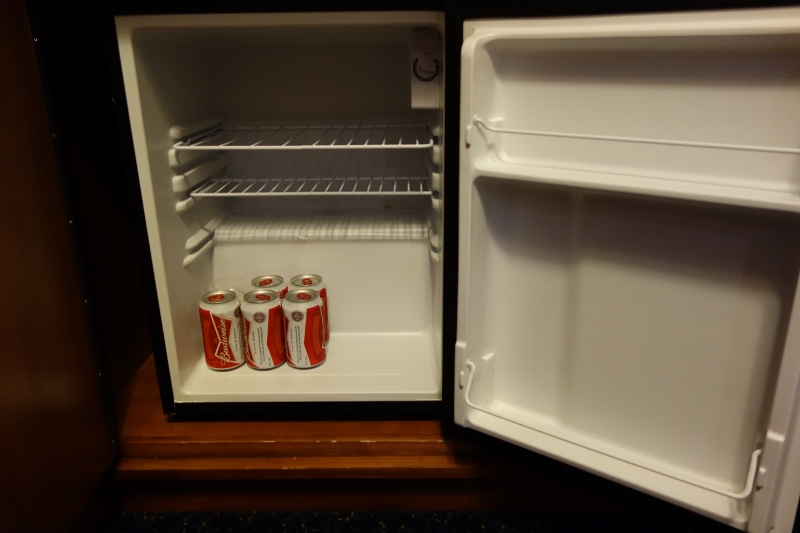 The mini-fridge is the standard Disney offering.  I have my usual objects in it to help you with its scale.  I probably should have bought classier objects for such a royal space!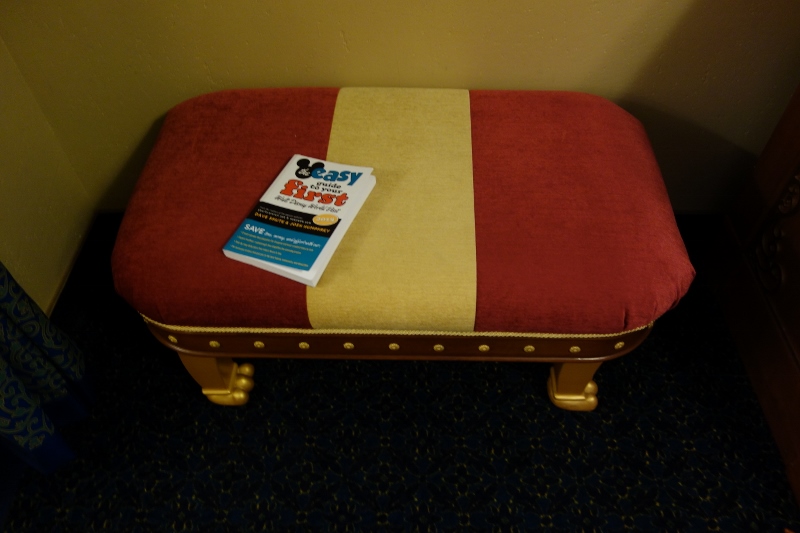 Next to it is a charming footstool, meant to remind you of the pup in Beauty and the Beast!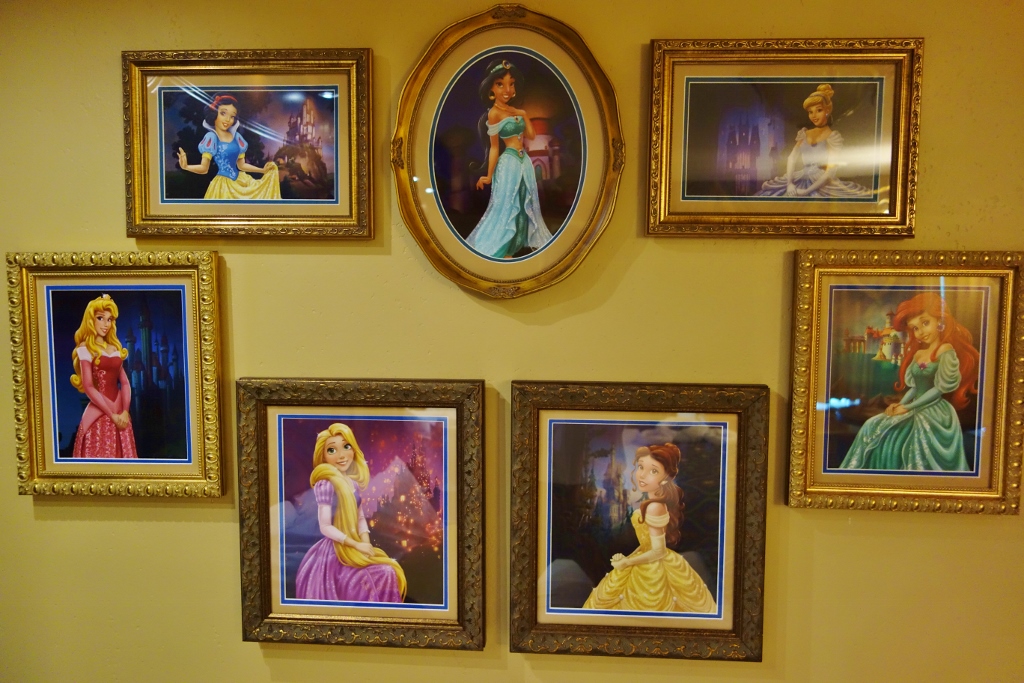 The wall by the bath has a ton of princesses…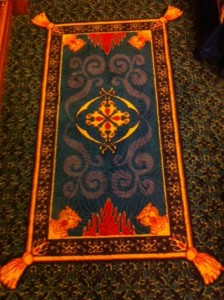 Between the bed area and the dresser/TV area you'll find this ornate rug that may remind you of something…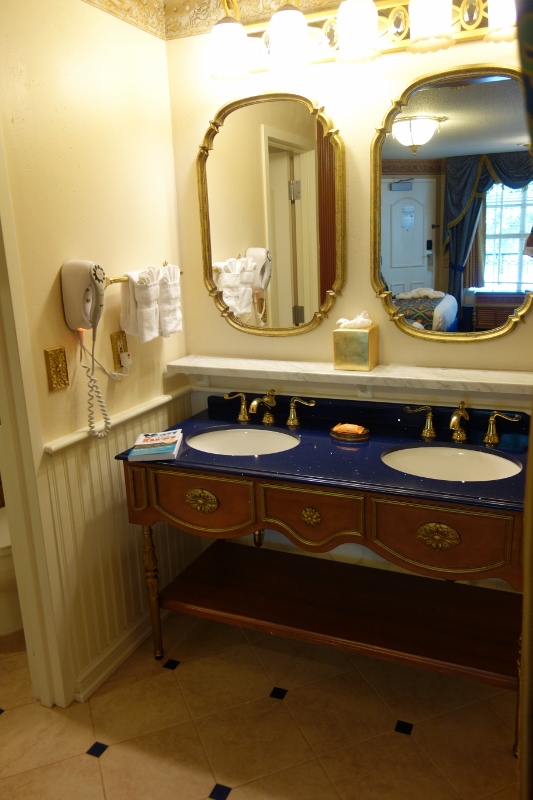 The bath as is typical is divided into two areas.  One area has sinks that have a very graceful design, including sparklies that show up better in the photograph below.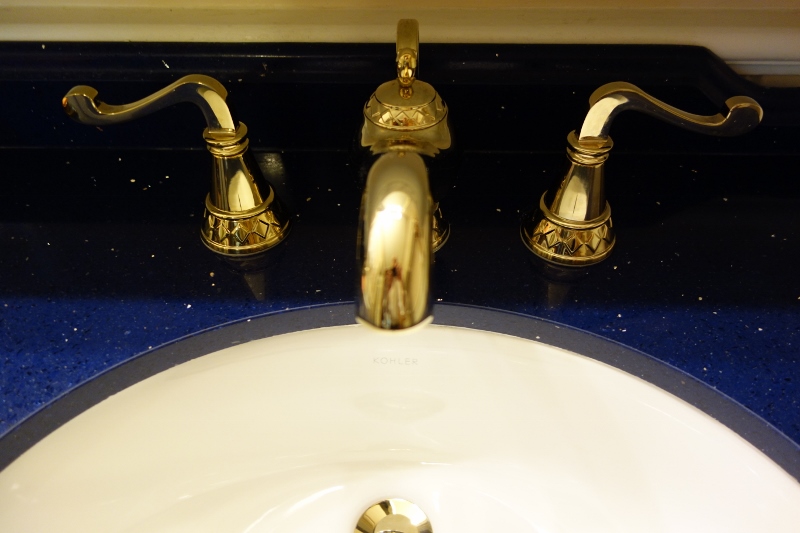 The faucets here mimic the magic lamps from Aladdin.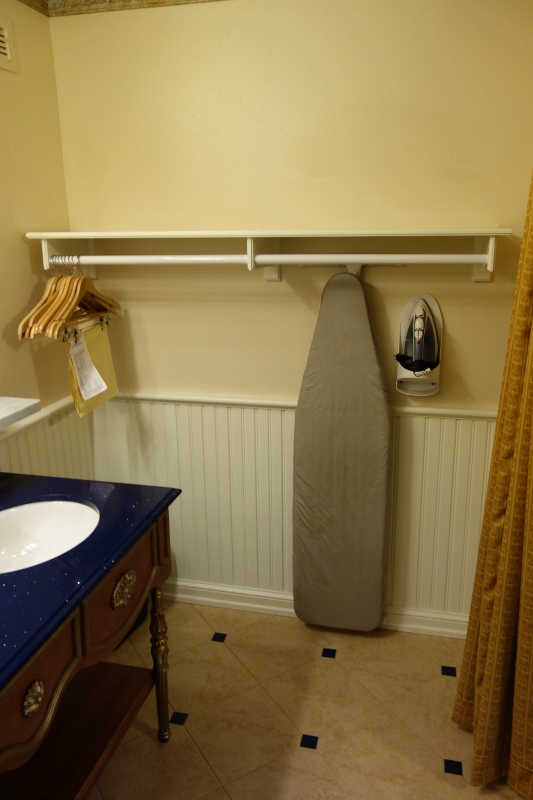 There's a closet area on the side.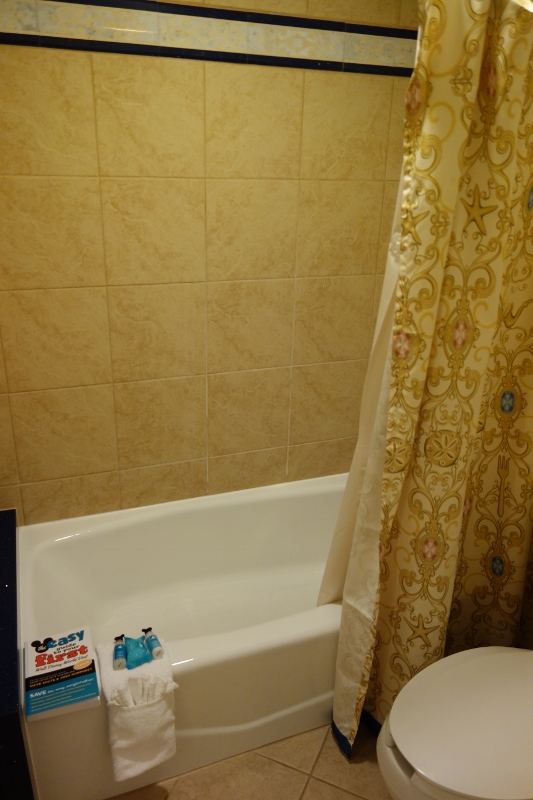 Behind a door you'll find the rest of the bath–including more gold-colored fixtures! The shower curtain reportedly is reminiscent of the Little Mermaid–not so obvious to me.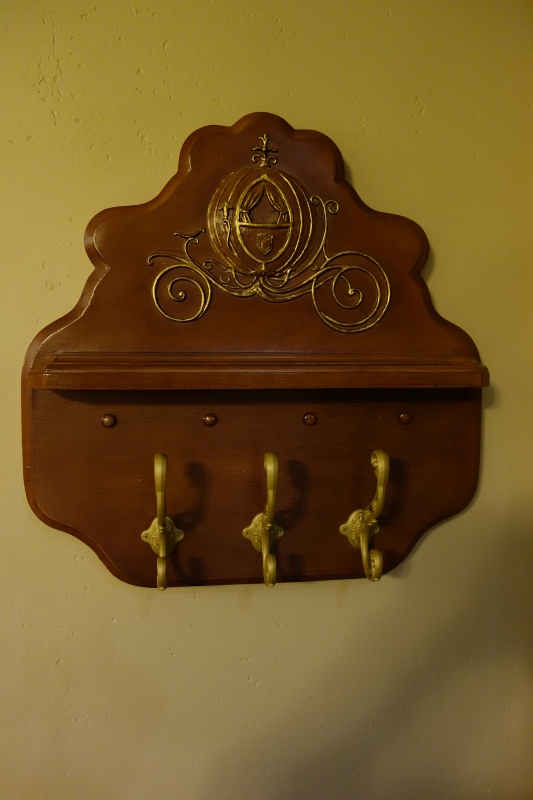 Something I do get is the allusion to Cinderella in this coat rack!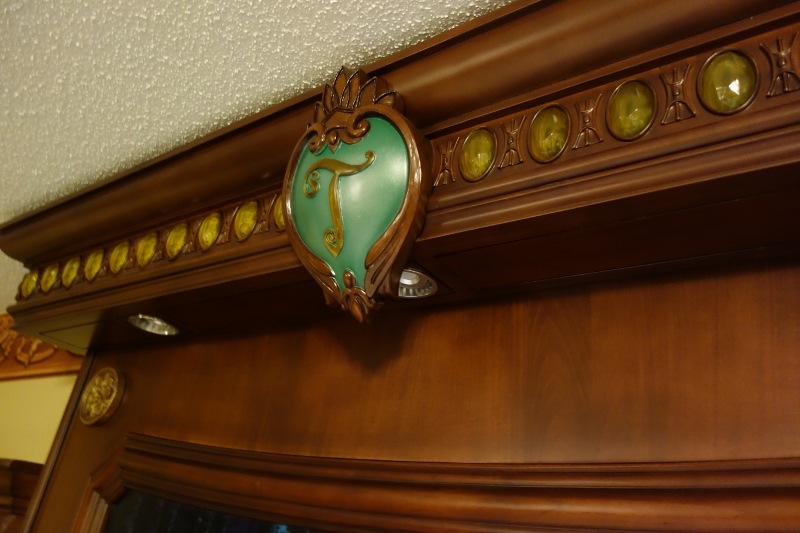 There's lots of other wonderful details–see Tiana's monogram above.
Tiana's portrait also graces your room.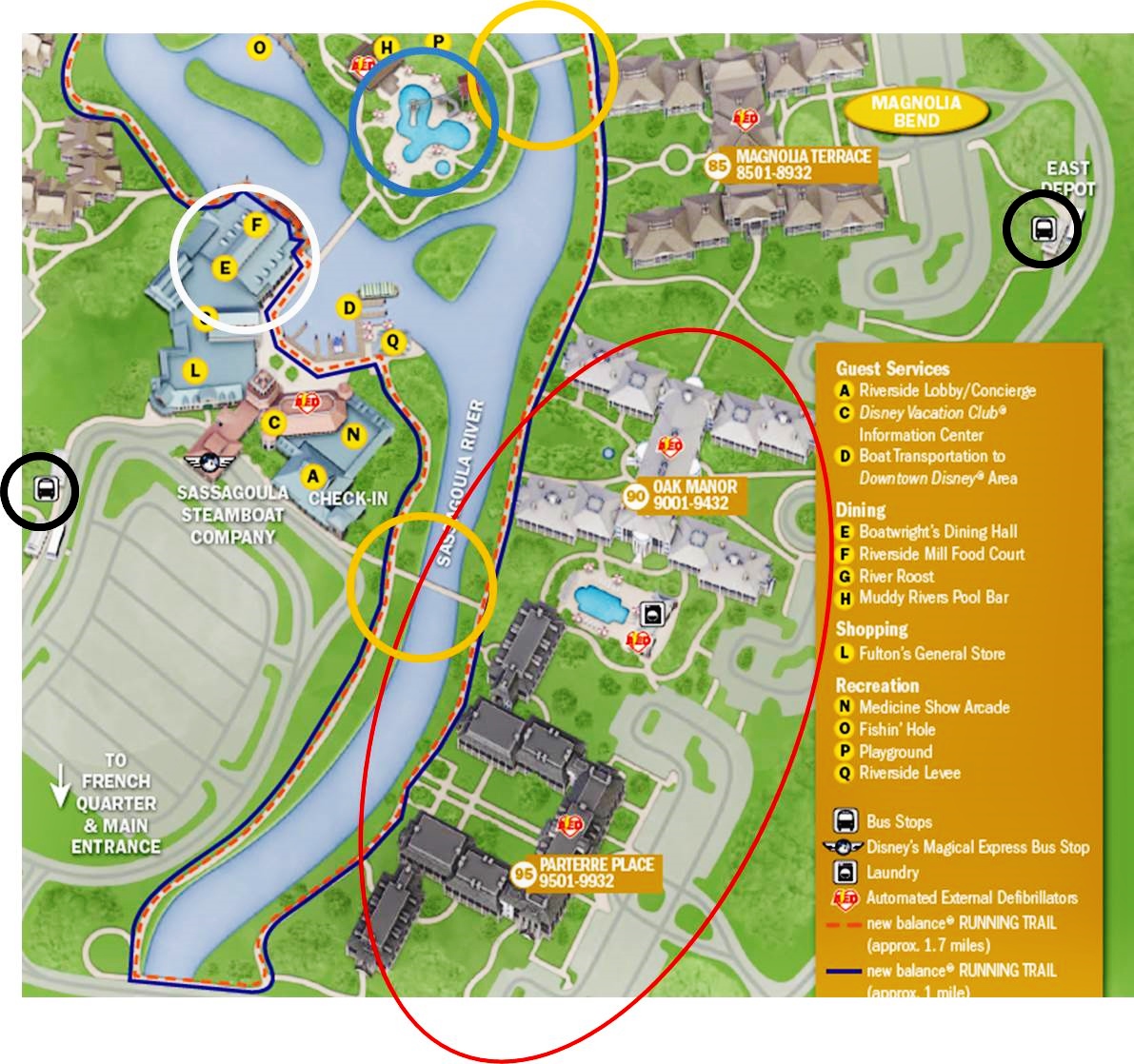 Royal Rooms make up a quarter of Port Orleans Riverside's capacity, and are all found in two southeast buildings, Parterre Place and Oak Manor, circled in red on the map excerpt. Neither is particularly close to a bus stop (circled in black), the main pool (in blue) or the dining area (white).
Oak Manor is to be preferred because it is pretty much universally closer to where you might want to go than Parterre Place, and also has easier choices of bridges (yellow).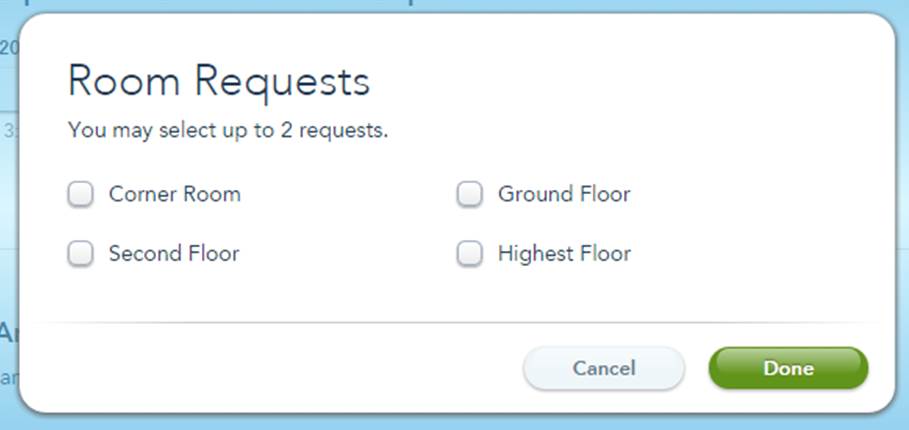 Disney's online check in form for Royal Rooms won't let you select buildings or even "near transportation," so to request Oak Manor, call.
These rooms are expensive and inconvenient, but wonderful for those looking for a royal, princessy abode!
This review continues here.
TOPICS IN THIS REVIEW OF DISNEY'S PORT ORLEANS RIVERSIDE RESORT
OTHER KEY PAGES FOR WHERE TO STAY AT DISNEY WORLD


Follow yourfirstvisit.net on Facebook or Twitter or Pinterest!!
RELATED STUFF