Review: Standard Rooms at Port Orleans Riverside
By Dave Shute
For the first page of this review of Disney's Port Orleans Riverside Resort, see this.
STANDARD ROOMS AT PORT ORLEANS RIVERSIDE
Port Orleans Riverside has two areas and three distinct room types.
Its Alligator Bayou area has rooms sleep five in two queen beds and one short (~66 inches long) Murphy bed.
Its Magnolia Bend area has two room types, Royal Rooms and Standard Rooms, each sleeping four in two queen beds.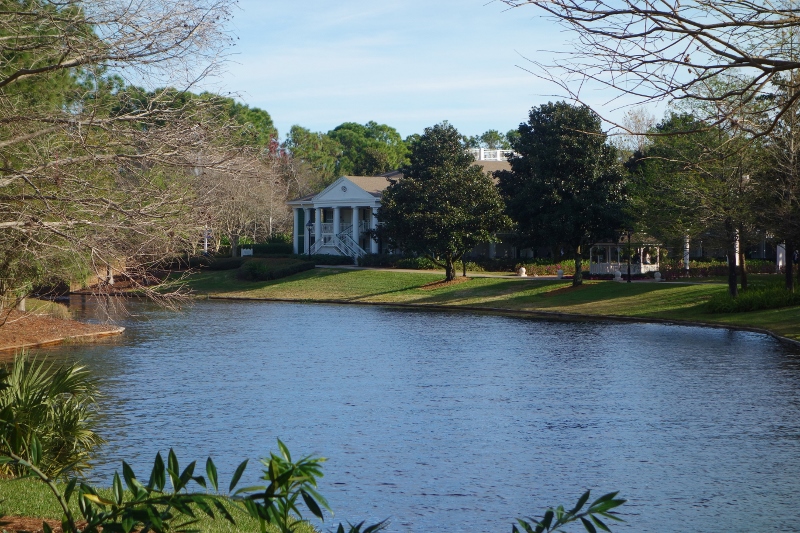 This page reviews the Magnolia Bend Standard Rooms at Port Orleans Riverside.
All the rooms in Port Orleans Riverside are being refreshed and updated as part of a refurb that began in 2018 and is expected to be completed in 2020.
For typical families, these Port Orleans Riverside Magnolia Bend standard rooms are the best choice.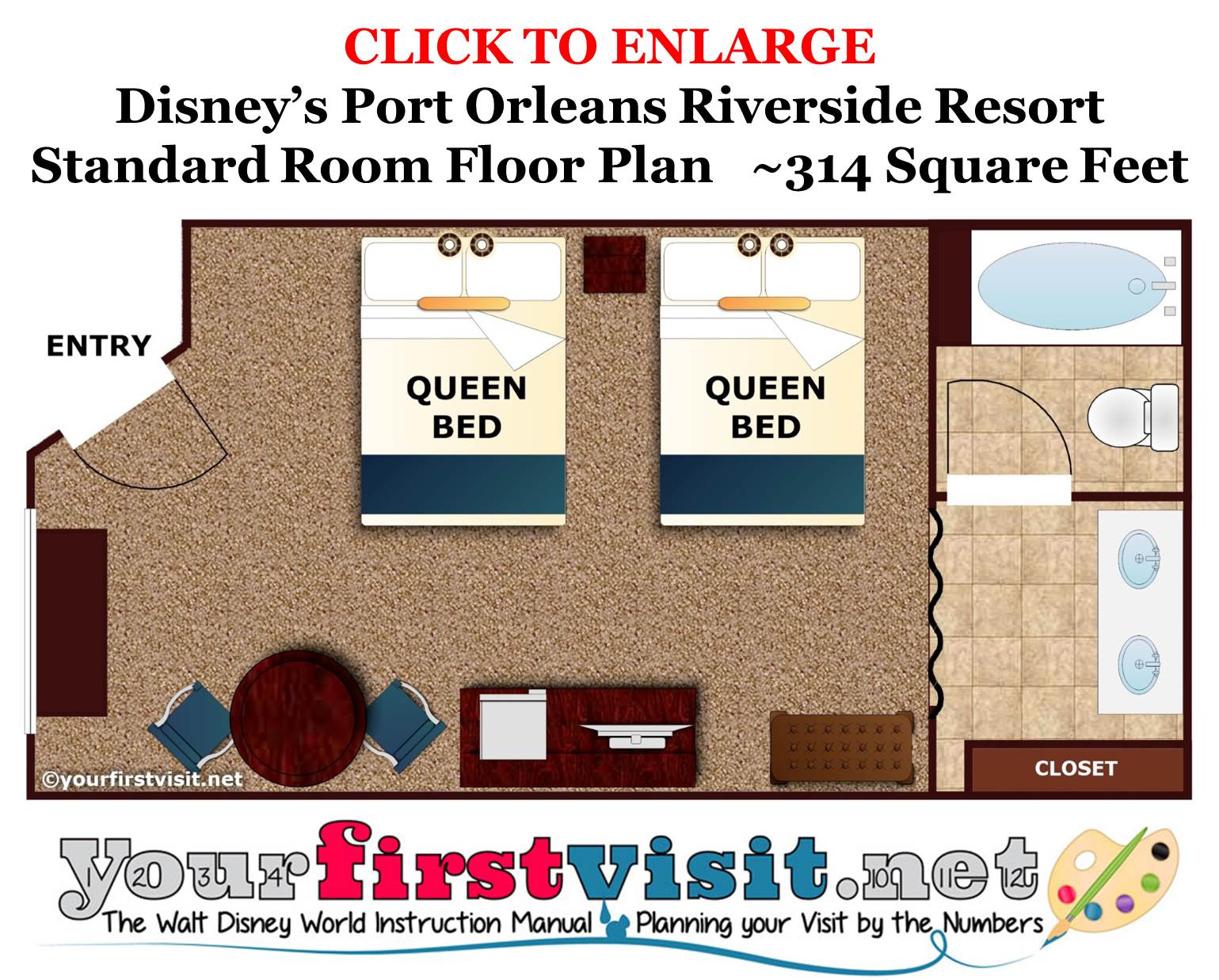 They won't fit five–families that size at Riverside can only stay in the Alligator Bayou section.  And, while elegant, they aren't as sumptuously decorated as the Royal Rooms.
But they are uniformly more convenient and less expensive than the Royal Rooms.
For most families, they are also a better choice than the Alligator Bayou rooms.
They are typically around the same price as the Alligator Bayou rooms, but are more convenient than most.  Moreover, they have about 50% more drawer space than the Alligator Bayou 5 person rooms, their drawers can be easily accessed all the time, and their theming, while not quite as interesting as that of Alligator Bayou, is less dark and murky.
A PHOTO TOUR OF THE STANDARD ROOMS AT PORT ORLEANS RIVERSIDE
The floor plans of the Riverside standard rooms (above) are about as typical of the Disney World moderate resorts as you'll find–similar to those of the Royal Rooms and to the floor plans of sister resort Port Orleans French Quarter.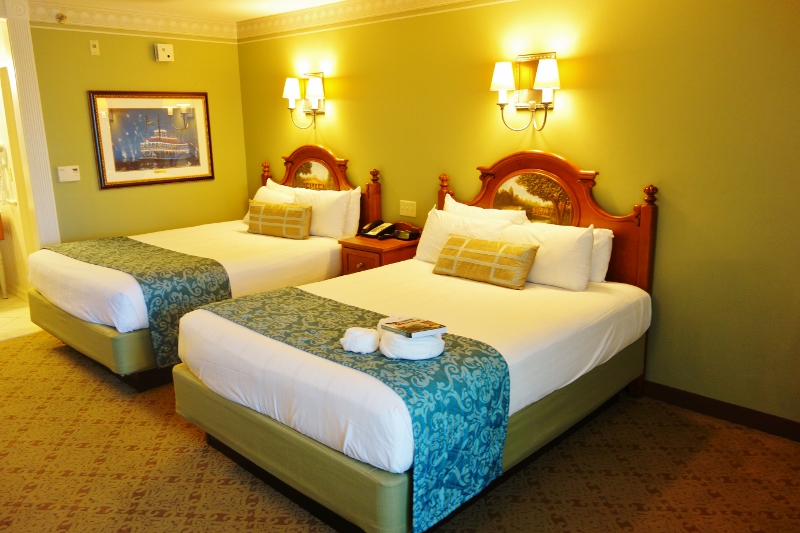 When you enter, you'll find two queen beds on one side. Each has its own separately controlled reading light.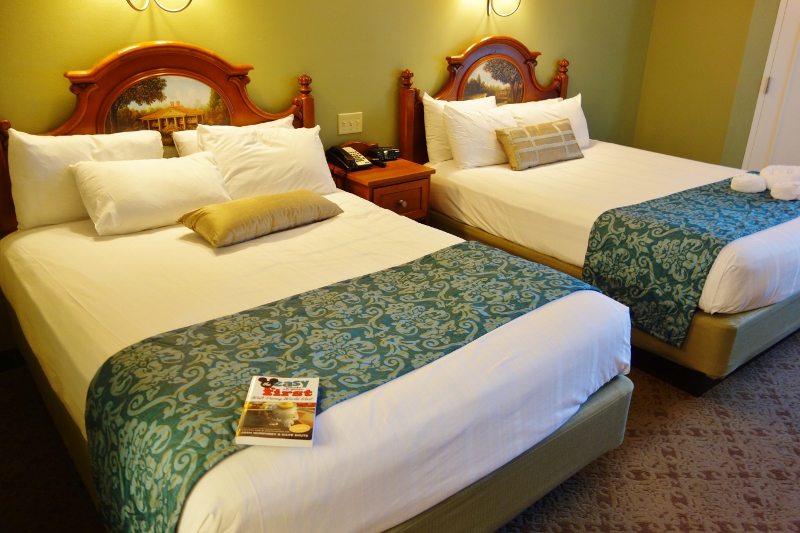 There's a blank wall space near the entry–this is where a connecting door would be in rooms so outfitted. You can see it on the far right of this shot from the bath area.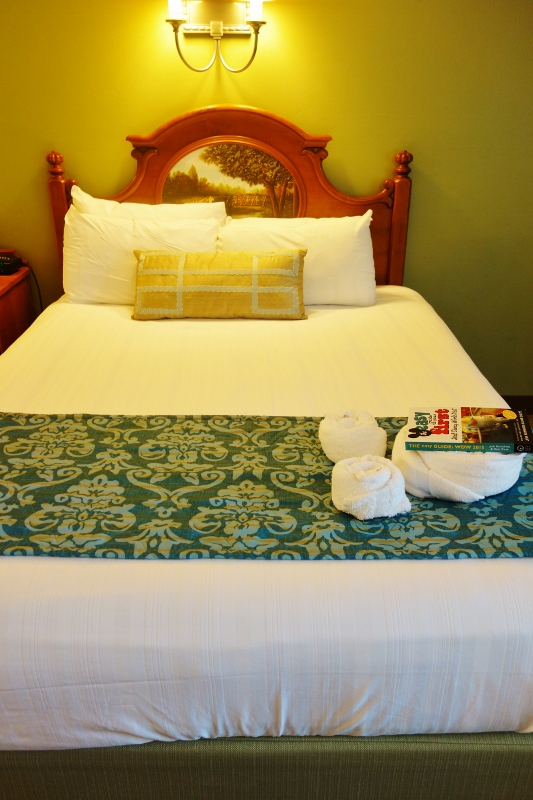 A closer view of a bed…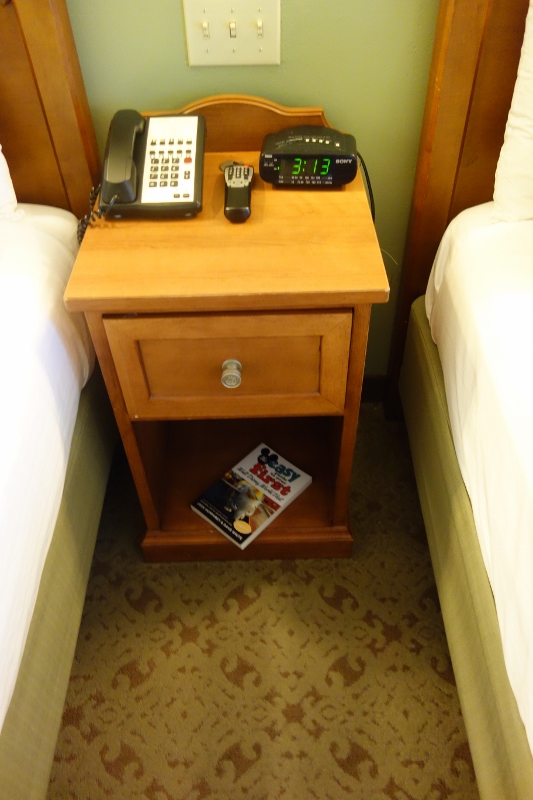 …and of the bedside table between the two queens.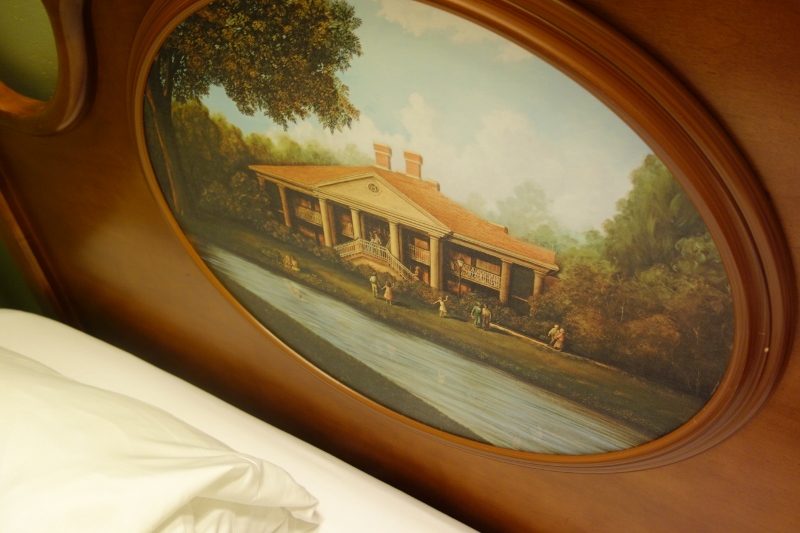 Each bed has a different charming image set into its headboard.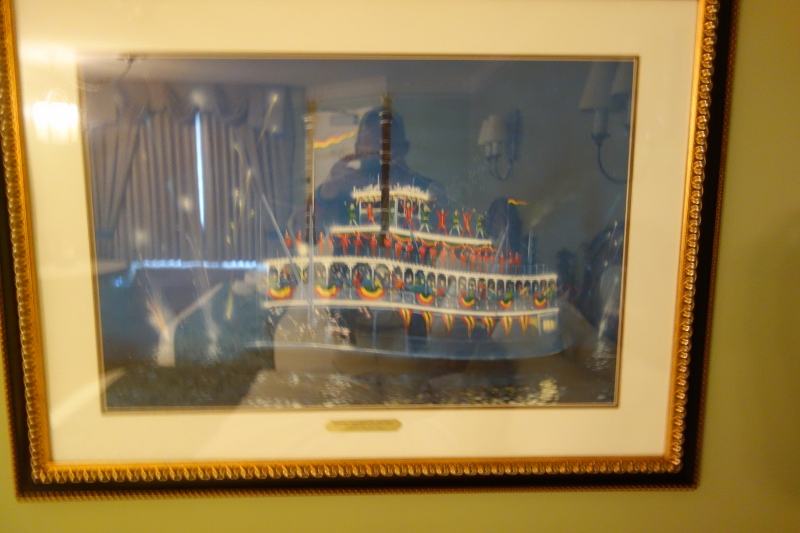 There's another image on the wall between the bed area and the bath that reinforces the overall "steamboat landing" theme of Port Orleans Riverside.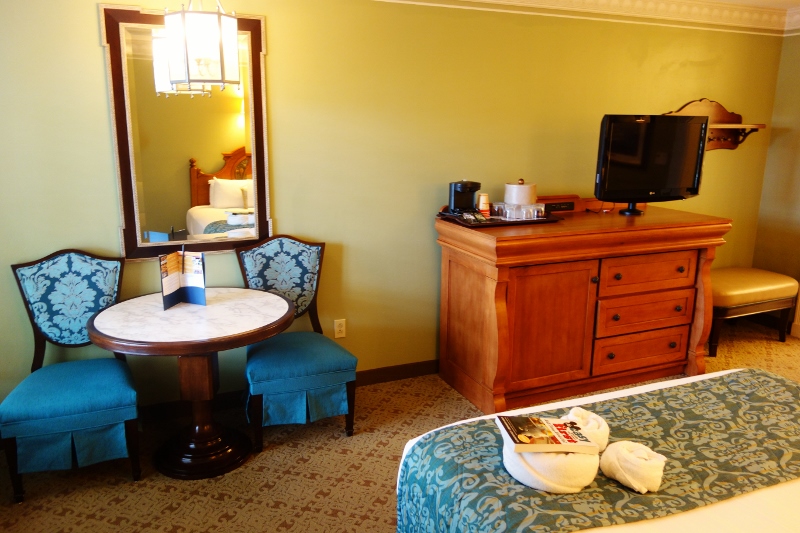 The other side of the room has a table and two chairs, a combined dresser/TV/mini-fridge, and a small ottoman with a coat rack above.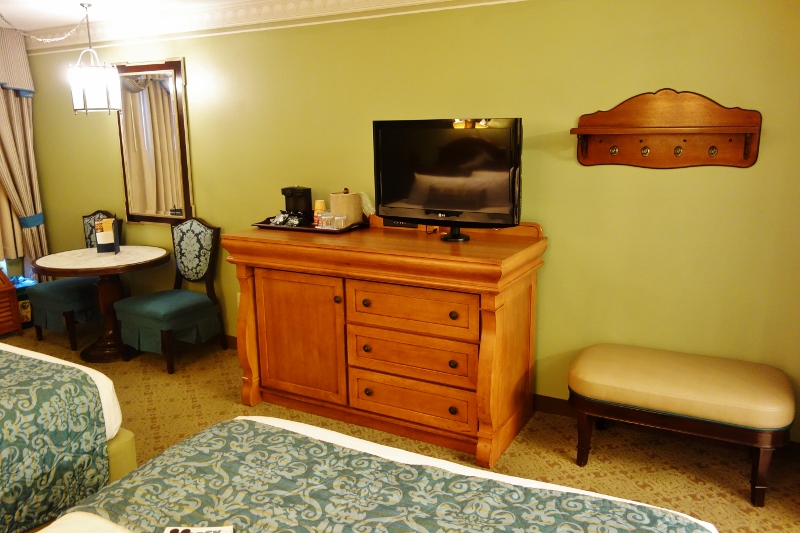 From the bath end.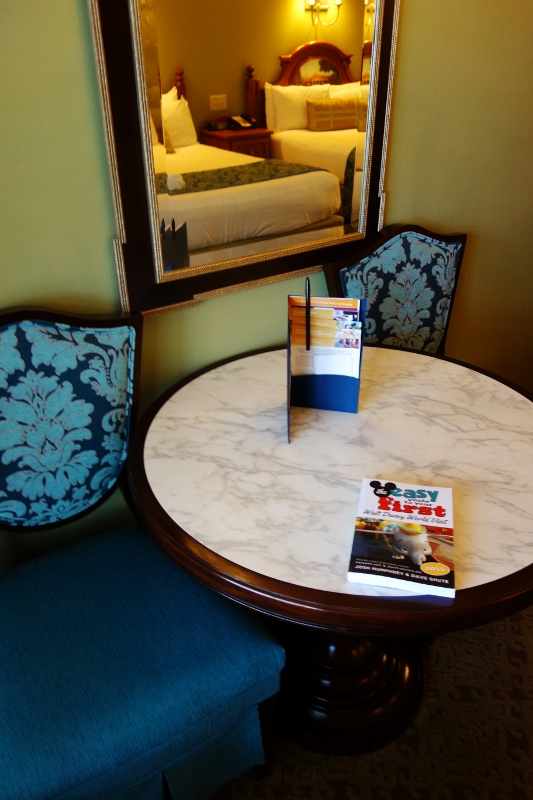 The table and chairs.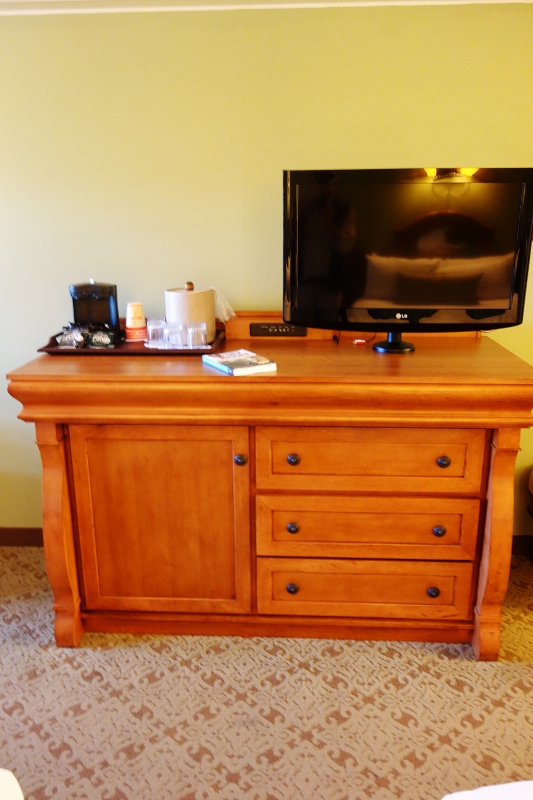 The central thingy on this side of the room combines a TV, dresser drawers and a mini-fridge, and is also where you'll find the coffee maker–which I usually move to the bath area.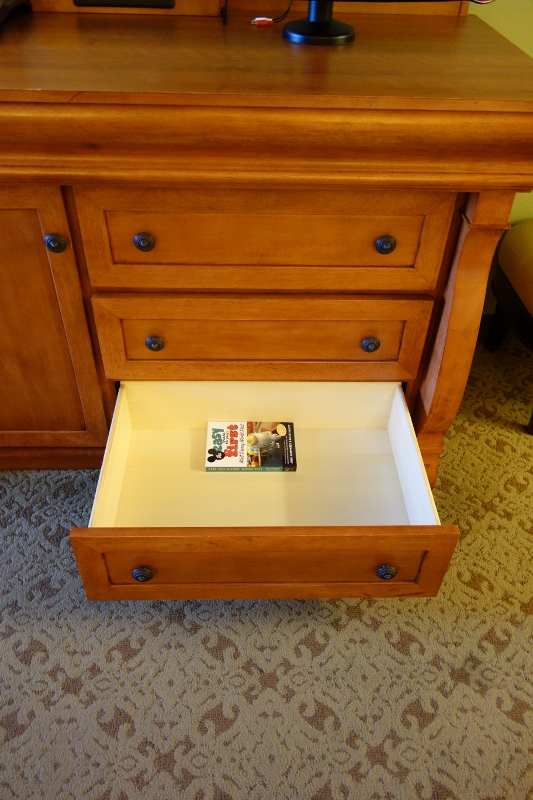 All the Riverside rooms are short on dresser drawers, but these rooms and Royal rooms have the most, and most convenient, drawer space. (Alligator Bayou rooms have about 50% less space in drawers that are hard to access when the Murphy Bed in those rooms is in use.)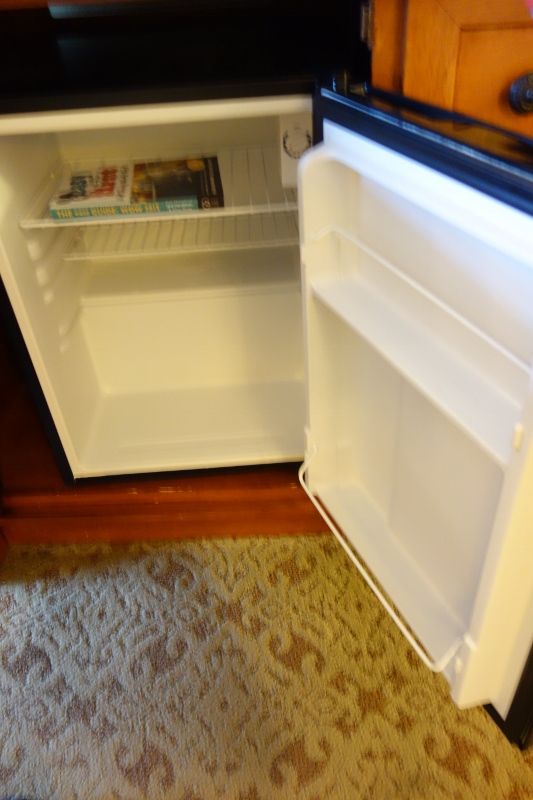 The mini-fridge is similar to what you'll find in other Disney World rooms. (I try to remember to put scaling objects in them so that you can get a better sense of the size of these fridges. I also try to remember to have something in focus…)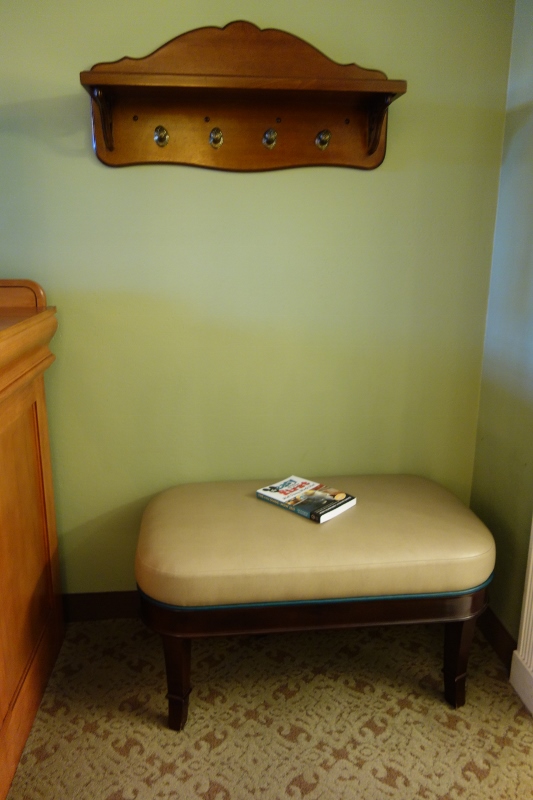 At the end of this wall, you'll find a little ottoman with a coat rack above.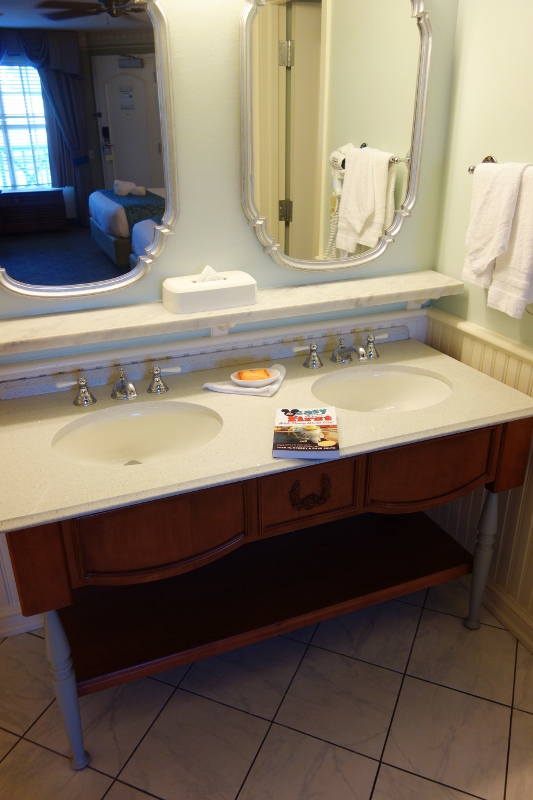 The bath area is separable from the bed area with a fabric screen. Beyond it, the sink area has a hanging area to one side, where you'll also find an ironing board, iron, and safe.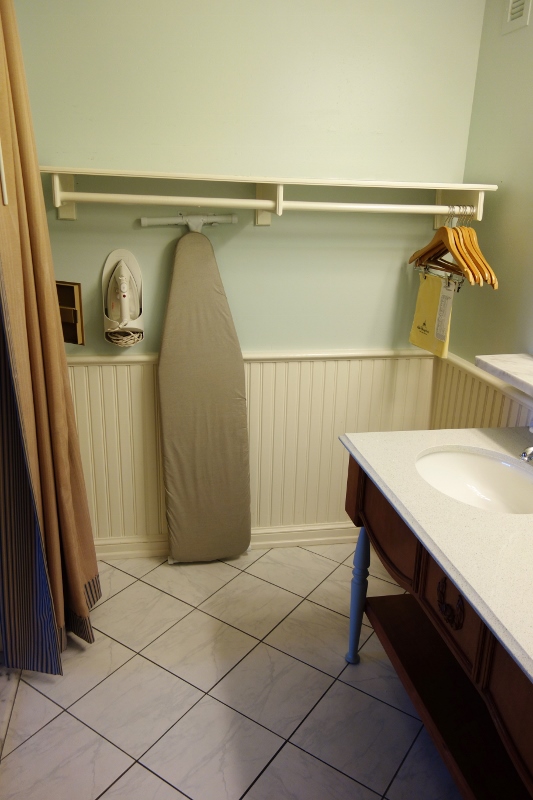 I really like the detailing and color scheme of the sink area…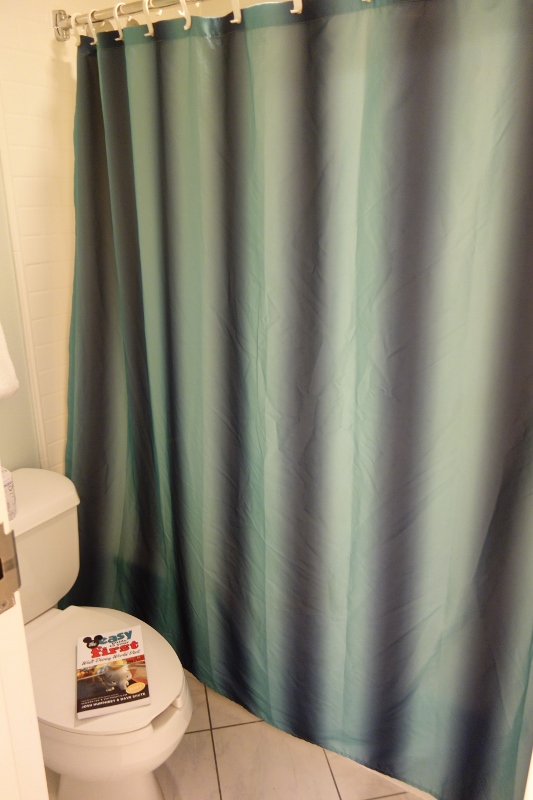 The tub and bath, as usual, are in a separate space. Here, too, the color scheme works for me.
For most folk who are committed to Port Orleans Riverside, these standard rooms will be the best choice.  They are more livable, less murky, and–mostly–more convenient than Riverside's Alligator Bayou rooms. Riverside's Royal Rooms are just as livable, but more expensive and less convenient and, to my taste, a little overdone.
This review continues here.
TOPICS IN THIS REVIEW OF DISNEY'S PORT ORLEANS RIVERSIDE RESORT
OTHER KEY PAGES FOR WHERE TO STAY AT DISNEY WORLD


Follow yourfirstvisit.net on Facebook or Twitter or Pinterest!!
RELATED STUFF