(To return to the first page of this entry, click here)
MORE WAYS TO GET WALT DISNEY WORLD DELUXE ROOMS AT ROCK BOTTOM PRICES
Shades of Green. Only members of the US Military and associated services are eligible to reserve rooms at Shades of Green, a deluxe resort run by the US Department of Defense on Walt Disney World property.
However, these members can reserve three more rooms in addition to their own for people accompanying them, at the same rock bottom prices.
There's a lot of reasons to be grateful to your military family friends.  Joining them at Walt Disney World adds another…
Shades of Green is not perfect for first time visitors, but with deluxe rooms well below $150 a night–sometimes less than $100 a night–it's well worth considering. See this for more.
Have two families split the cost of a two-bedroom Disney Vacation Club Villa, acquired via a general public or passholder discount.
One bedroom DVC villas sleep 4 (or 5). Two bedroom villas sleep 8 (or 9…see this for more on DVC capacity by room type, and this for beds and sleeping spaces in the Walt Disney World resorts).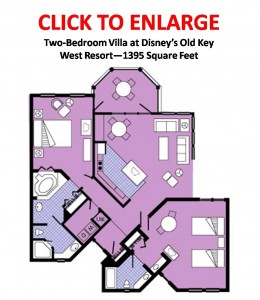 However, two-bedroom villas, despite usually having twice the capacity, do not cost twice as much.
For example, during the value season, and assuming a 45% Passholder discount, a one-bedroom villa at Old Key West filled to capacity costs $62 per person per night, whereas a two-bedroom filled to capacity costs $43 per person per night.
There are not of course all that many 8-person families out there…but there are lots of 4 person families who could get together to make a deal like this happen.
(Note that because of the way DVC points work for one vs. two bedroom villas, the savings are not proportionately as great if you rent points.)
HOW DO YOU GET THESE ROCK BOTTOM PRICES?
The Most Comfortable

Place to Stay

at Walt Disney World:
The Most Comfortable Way to

Tour the Theme Parks

at Walt Disney World:
Home   Donate   Sitemap   FAQ   Travel Agents