Review: Disney's Animal Kingdom Lodge–Jambo House
By Dave Shute
OVERVIEW: DISNEY'S ANIMAL KINGDOM LODGE
Note: guests at Disney's Animal Kingdom Lodge are eligible for Disney World's Early Entry program, for early access to its paid individual system for access to certain rides, and for its Extended Evening Hours.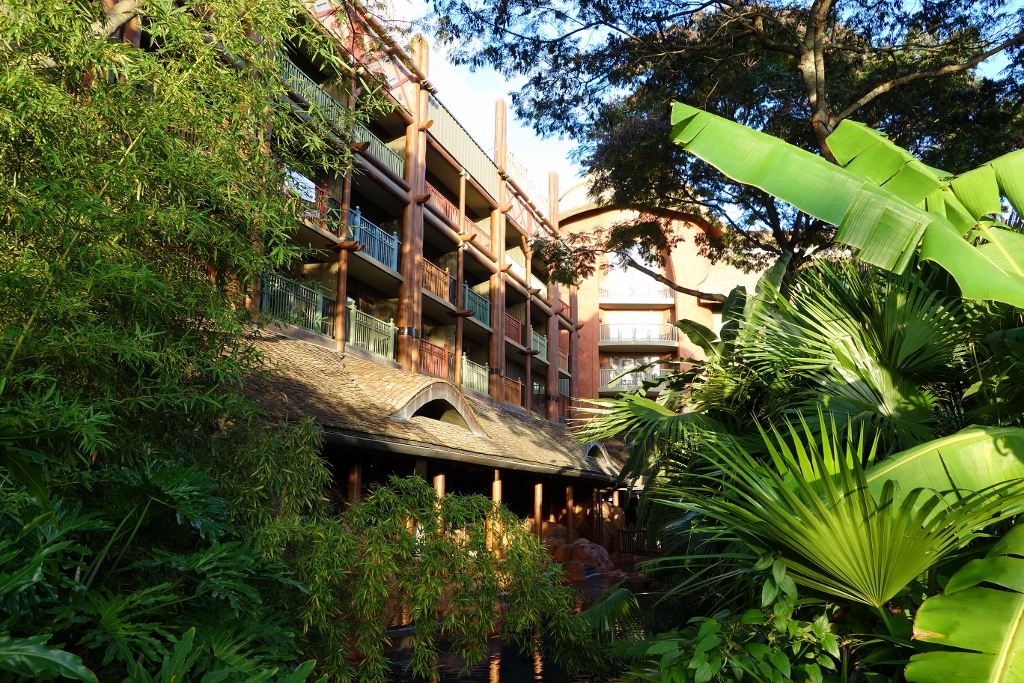 Disney's Animal Kingdom Lodge opened in 2001, and was renamed "Jambo House at Disney's Animal Kingdom Lodge" with the opening of the nearby Disney Vacation Club property Kidani Village in 2009. Recent Disney usage seems to be reverting to the old Animal Kingdom Lodge lingo, so I'll mostly use that here.
For reviews I count three separate properties here:
We've stayed here nine times, most recently in April. Whatever I call it, the key is this: Jambo House/Disney's Animal Kingdom Lodge is a great place for first time visitors to stay, bested only by Disney's Polynesian Resort and Disney's Wilderness Lodge.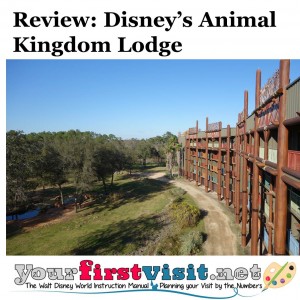 You can have a wonderful visit at any Walt Disney World resort hotel.
However, this site recommends that first time visitors to Walt Disney World who can afford it should stay at Disney's Polynesian Resort, a deluxe resort, and that those who can't should stay at Disney's Art of Animation Resort, a value resort.
(It also suggests that first time visitors should avoid the moderate resorts, while noting that these resorts are wonderful for visits after the first. See this for why.)
Compared to other Walt Disney World owned and operated resorts, the deluxe resorts are distinguished by having (on average) the most amenities, nicest views, best dining options, best transport options, largest rooms, best service, and highest prices.
Among the deluxe resorts, Animal Kingdom Lodge stands out for having stunning kid appeal, so-so convenience, smallest rooms, and moderate prices (prices are very low for not-recommended "Standard View" rooms–at Jambo House, you want a more expensive Savanna View).
(See this for much more on resort distinctions by price class–value, moderate, deluxe, etc.)
This review of Disney's Animal Kingdom Lodge has
This page, a summary overview
ACCOMMODATIONS AT DISNEY'S ANIMAL KINGDOM LODGE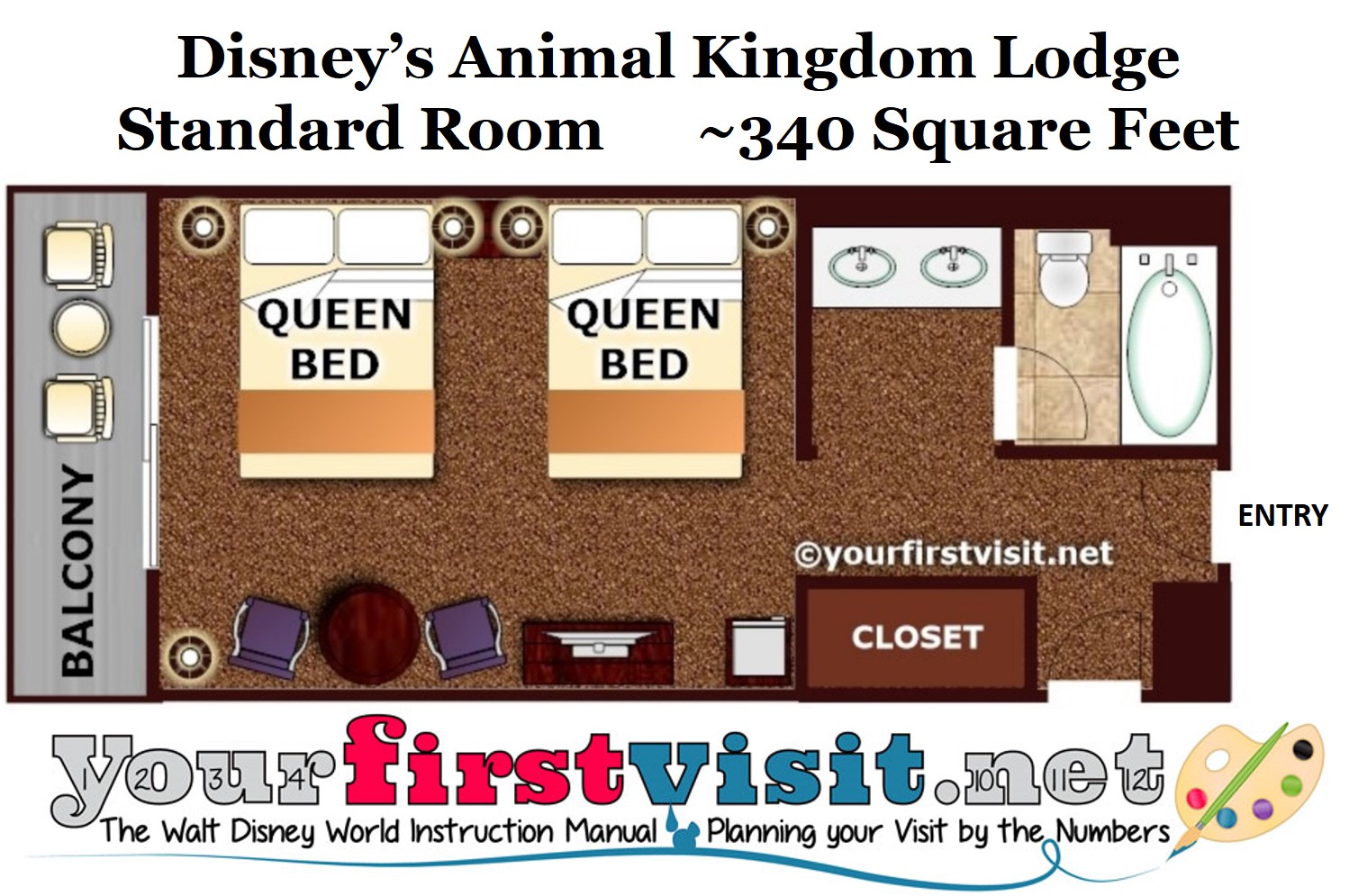 Standard rooms at Disney's Animal Kingdom Lodge are tied with those at Disney's Wilderness Lodge as the smallest deluxe rooms on property. Rooms at the Animal Kingdom are slightly different than those at Wilderness Lodge–the connecting door and coffeemaker/mini-fridge are in opposite positions.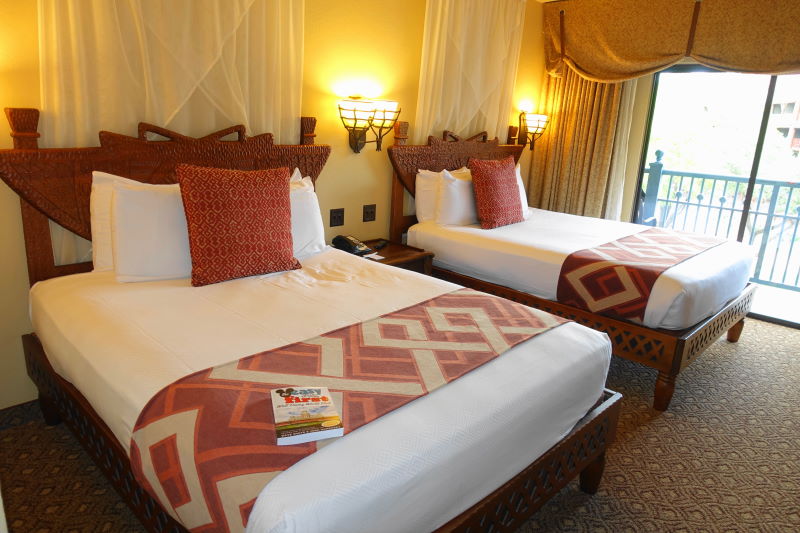 The bedroom component of these rooms is smaller than even those at the moderate resorts, being almost a foot narrower and, on the long side, 2.5 feet shorter.
(On average, Animal Kingdom Lodge bedrooms are about 9 inches shorter than moderates, counting both the moderate's shorter and longer sides. See this for more on comparative Disney resort room sizes.)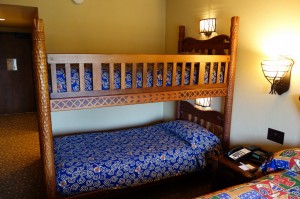 Most of these rooms sleep four–two each in two queens.
Rooms with a queen and two bunk beds are also available.  I measured the bunk bed mattresses as 72 inches long and 36 inches wide. Because of the frame, the top bunk sleeps a little shorter than that, though the lower frame has toesies gaps that let me stretch my 5'11" out fine. Both cushions are 8″ deep.  (Bunk bed rooms are more expensive than two-queen rooms.)
Rooms with one king bed are also available.
You can add to this capacity of four a child younger than three who sleeps in a crib.
Partly because of these room sizes, and partly because it is not directly accessible to a theme park, standard view rooms at the Animal Kingdom Lodge are among the least expensive of the deluxe resorts.
More on accommodations at the Animal Kingdom Lodge is here, and a photo tour of a standard room at the Animal Kingdom Lodge is here.
Note that these rooms saw a light refurb in 2019-2020. I'll post updated images and floor plans shortly.
THE POOL AT DISNEY'S ANIMAL KINGDOM LODGE
Note: see the top of this page for the closure of this pool from early September to early December 2018!
The Uzima Springs pool at the Animal Kingdom Lodge combines fun play and a water slide for kids with hidden nooks and a fun bar for adults.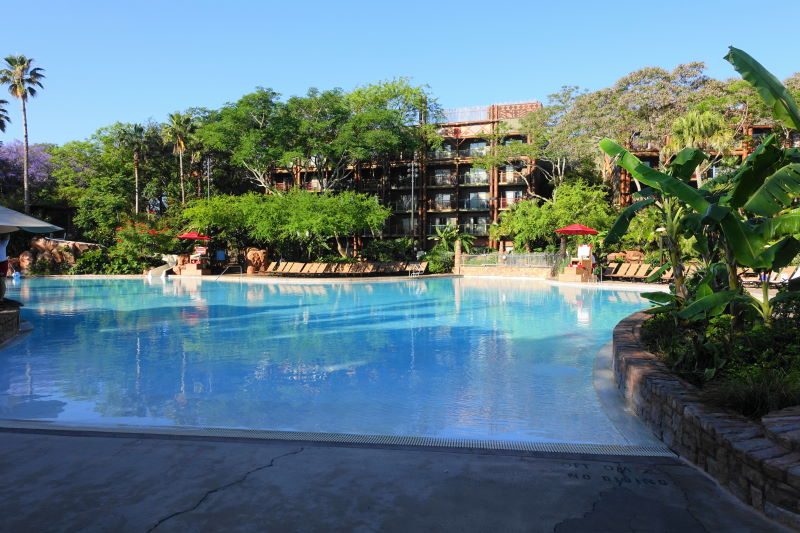 One of my favorite pools at Disney World, there's more on Uzima pool here.
DINING AT DISNEY'S ANIMAL KINGDOM LODGE
The Animal Kingdom Lodge has two great restaurants, Boma for families and Jiko for couples, plus a strong quick-service offering.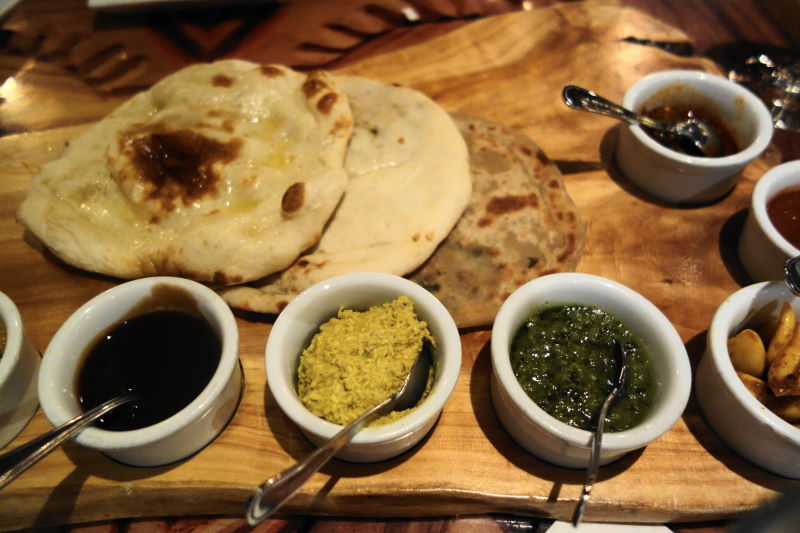 Sanaa at nearby Kidani Village is one of my favorite restaurants at Disney World.
There's more on dining at the Animal Kingdom Lodge here.
KID APPEAL AND CONVENIENCE AT DISNEY'S ANIMAL KINGDOM LODGE
Resorts are ranked on this site for first time visitors based first on their kid appeal, and then on their convenience.
On this basis, Disney's Animal Kingdom Lodge is the third-best resort for first time family visitors to Walt Disney World.
Kid Appeal.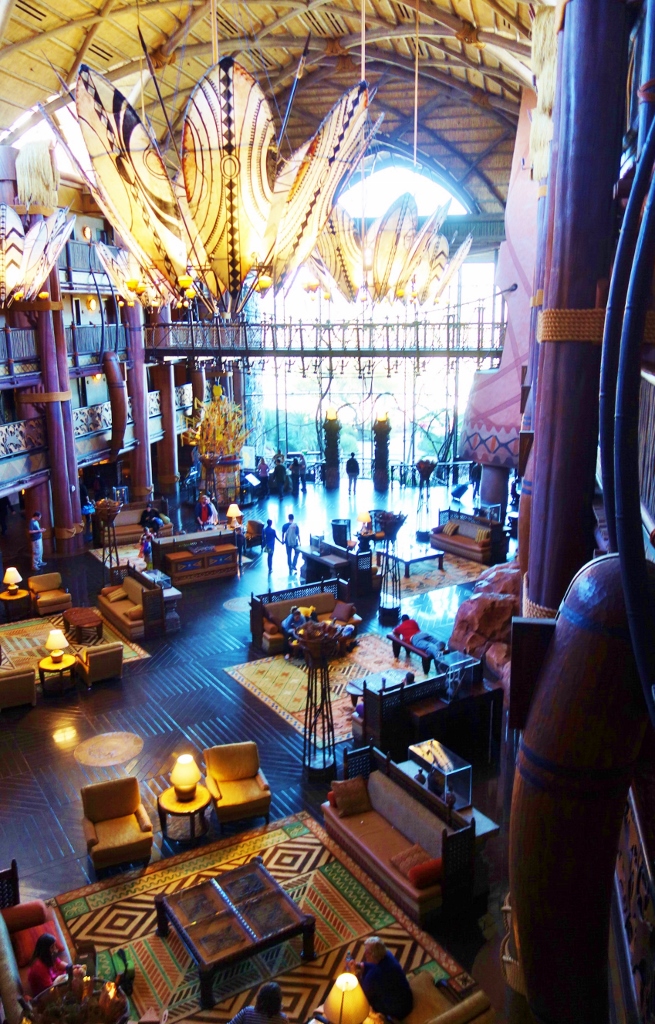 The kid appeal of Jambo House at Disney's Animal Kingdom Lodge comes from its sense of exotic African adventure.
The architecture of the resort recalls the great national park lodges of East Africa, and the resort itself is filled with wonderful authentic and replica artifacts, and instances of Sub-Saharan African art.
This architecture is crowned by Jambo House's magnificent lobby, stunning in its own right, but also reminiscent of that of the Wilderness Lodge. (Peter Dominick was the architect of both.)
This architecture alone would be enough to put Jambo House at the Animal Kingdom Lodge near the top of Walt Disney World kid appeal.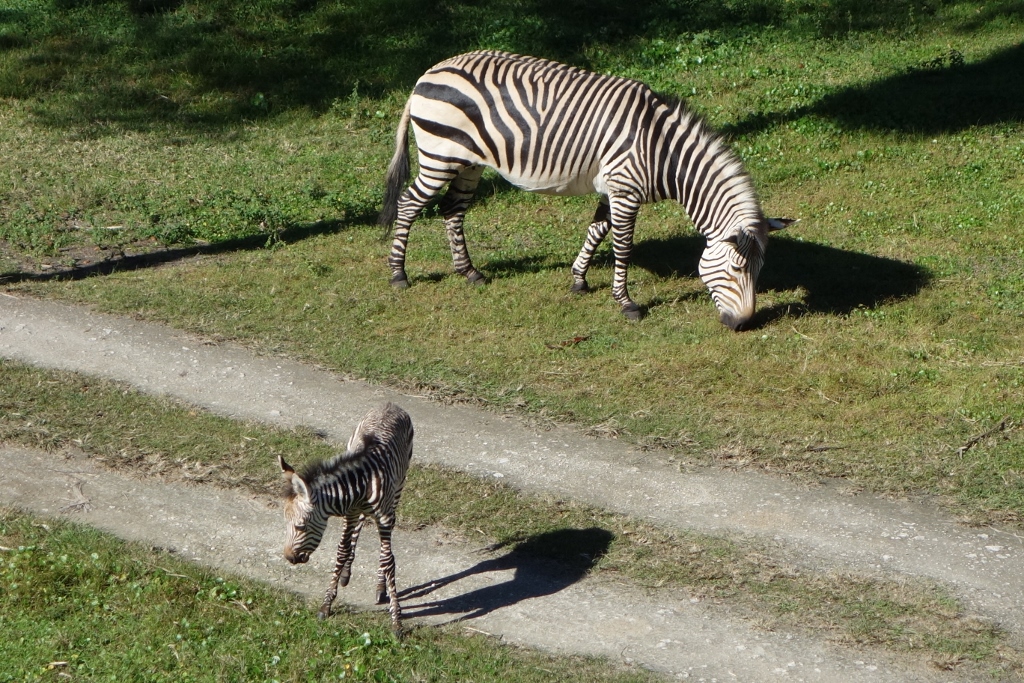 Add the animals, and you have something even more special.
The Animal Kingdom resort is surrounded by savannas, each of which is populated by dozens of wild African mammals and birds.
Most rooms have a view of these savannas…and waking up to a giraffe outside your balcony is a very cool way to start your day! (All animal shots in this review are zoomed.)
Savanna views are also available from many public spaces.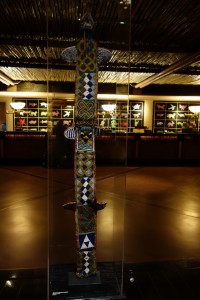 Other wonderful elements both big and small continue the African theme, from art objects…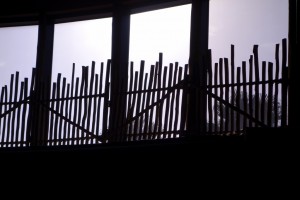 …to wonderful designs–some as simple as repeating forms.
Jambo House Convenience.
Jambo House at Disney's Animal Kingdom Lodge is least most convenient of the deluxe Disney Resorts
It is distant from all the theme parks other than Disney's Animal Kingdom, and you can't walk to the Animal Kingdom–all theme park transport is by bus.
Buses from the Animal Kingdom Lodge do not serve any other Disney resorts, but there are two stops–Jambo House and sister DVC resort Kidani Village.
BEST PLACES TO STAY AT JAMBO HOUSE
This site suggests that first time visitors stay in standard rooms, not preferred rooms.
This is because they won't be spending much time in their rooms.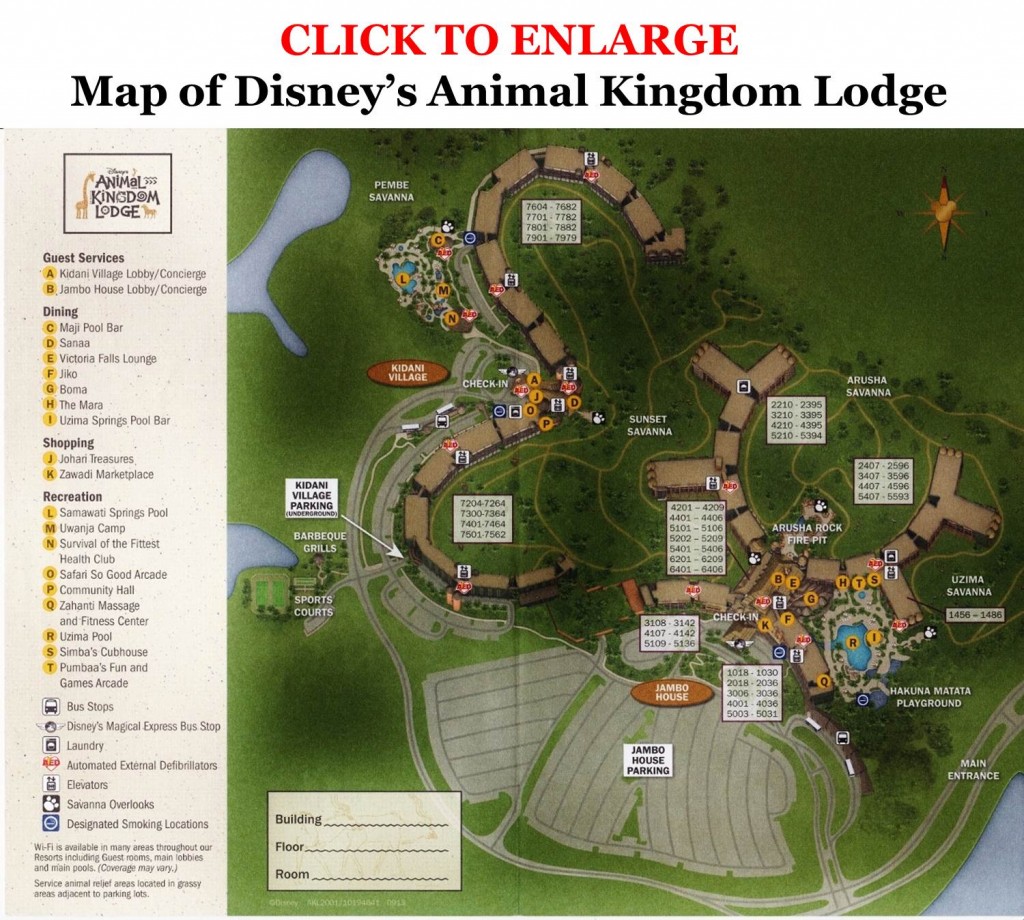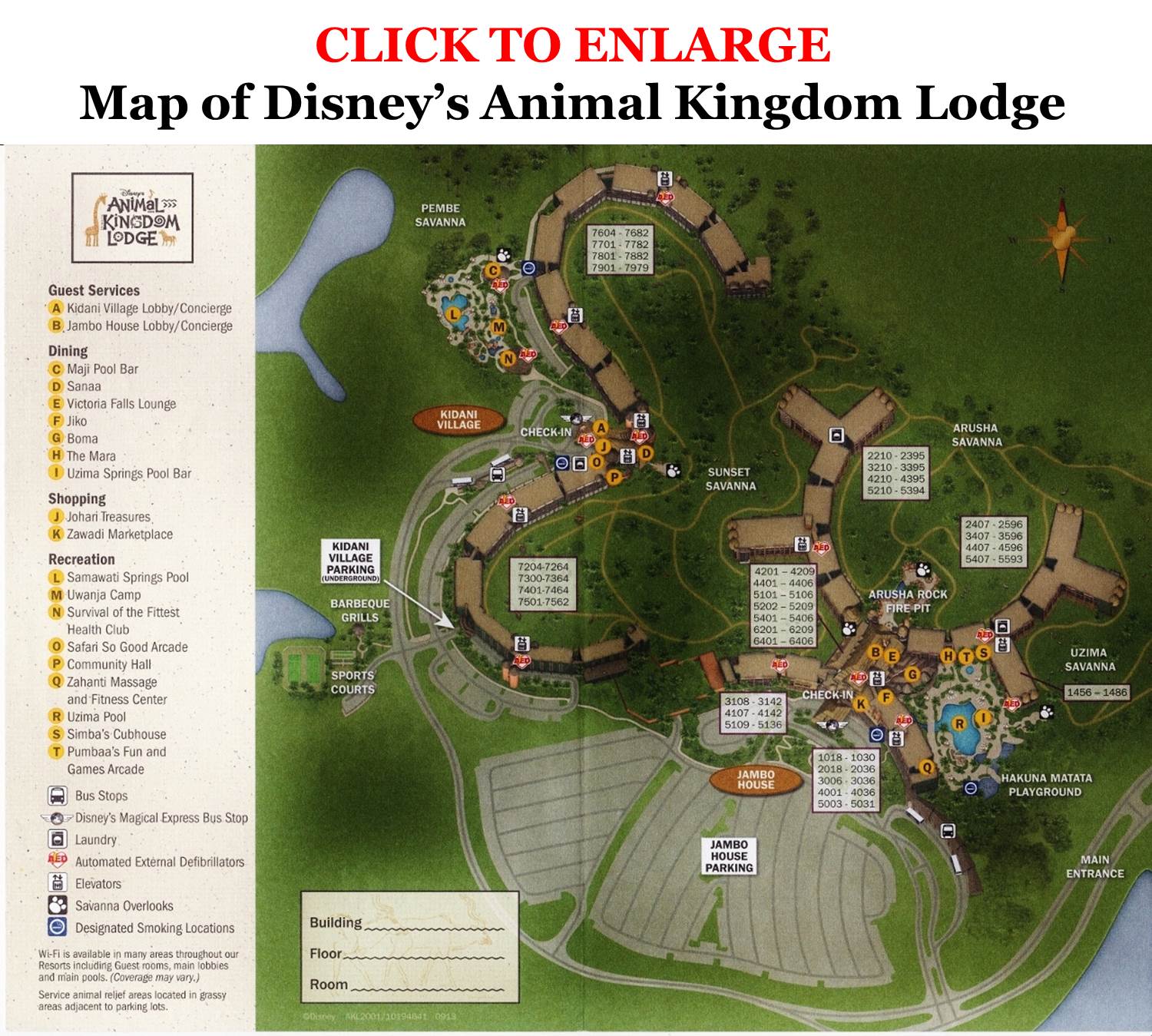 The single exception is for visitors to the Animal Kingdom Lodge, who should always pay for savanna views.
The Animal Kingdom Lodge is on the right on the map–Kidani Village is the undulating structure on the left. Rooms fronting Arusha savanna are the most popular–and $30 per night more expensive. Arusha savanna is in the middle of the "arms" of the Lodge–the part that looks like a tilted half-circle.
For most first time visitors, the extra cost of Arusha is probably not worth it. But if you do sign up for Arusha, request a "Zebra Trail" room (the Lodge is laid out in "trails")–this will put you closer to the pool and restaurants.
But be sure to reserve a savanna-view room, whether Arusha or not!
Also request a third or fourth floor room, about halfway down the trail.  The third and fourth floor rooms have the best views, and halfway down the trail gives the best balance between quiet and walking distance.
BEST FOR:
Any first time family visitors who can afford it, and prefer its theme to those of the Polynesian or Wilderness Lodge.
WORST FOR:
Families too large to fit into its 4 person rooms. See this for more on large families at Walt Disney World.
This review continues here.
TOPICS IN THIS REVIEW OF DISNEY'S ANIMAL KINGDOM LODGE
OTHER KEY PAGES FOR WHERE TO STAY AT DISNEY WORLD

Follow yourfirstvisit.net on Facebook or Twitter or Pinterest!!
RELATED STUFF