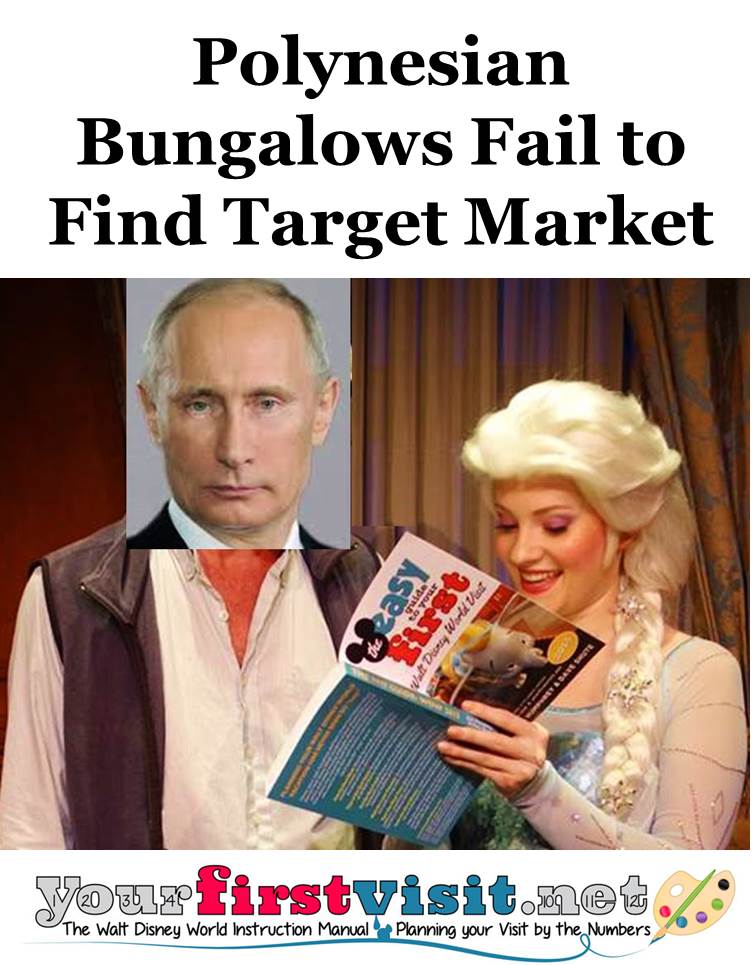 April 1, 2015: In a surprise, Disney World announced today that it is no longer taking reservations for the 20 new Bungalows that line Seven Seas Lagoon at Disney's Polynesian Village Resort.
Instead, Disney is converting the deck of each Bungalow and the boardwalk that connects them all into FastPass+ viewing areas for the Electrical Water Pageant.
Disney World's FastPass+ program is a way for guests to make poor decisions about which ride to do when as many as 60 days before a visit, rather than saving those mistakes for only the time they are actually in Walt Disney World.
"We don't have a FastPass+ offering at the Magic Kingdom comparable to key FastPass+ options at Epcot like Captain EO and Journey into Imagination with Figment," a Disney spokesman noted. "Adding an Electrical Water Pageant viewing area to Magic Kingdom FastPass+ options solves that problem."
The Electrical Water Parade is a moving display of lights and sounds that visits the Disney resorts on the Seven Seas Lagoon and Bay Lake nightly unless cancelled by weather or mercy.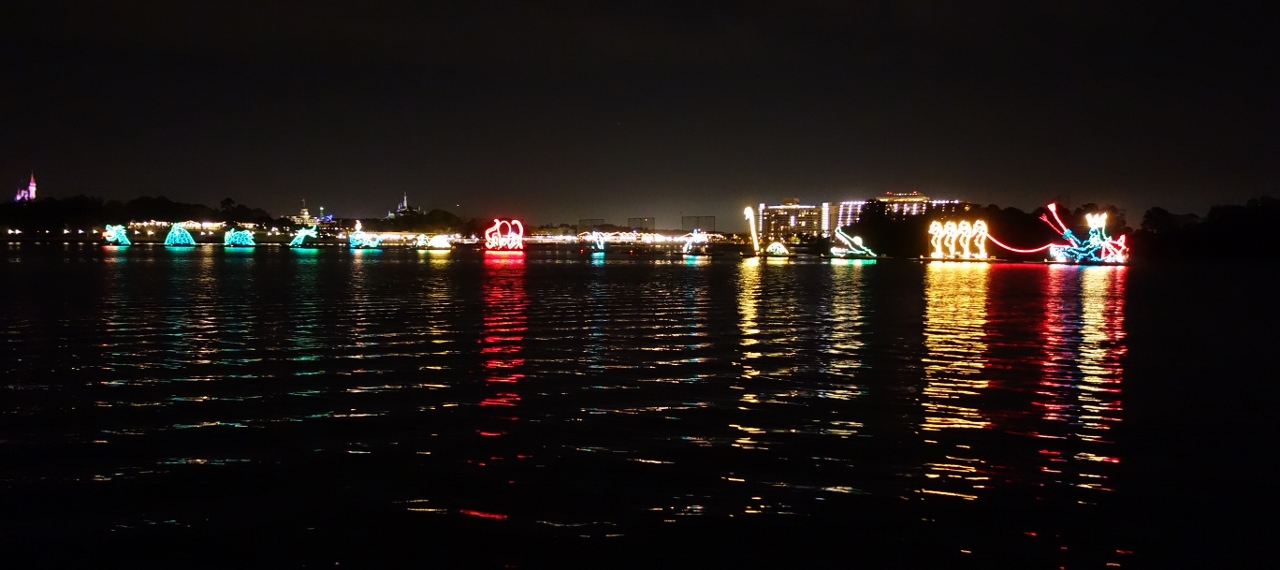 Much loved by both the elderly and their parents, it combines the visual sophistication of a blinking stoplight with music whose tonal qualities were dated three decades ago.
The change powerfully illustrates the failure of the new eight-person Polynesian Bungalows to attract their target market.
Compared to most other Disney Vacation Club two bedroom options, Bungalows have great outdoor decks and nicer dining rooms, but also have less space and a worse second bedroom.
Even so, they rent for more than twice as much, from $2,400 to $3,400 a night.
The pricing is easy to understand when one remembers that the Four Seasons now has a presence at Disney World, and its suites go for as much as $10,000 a night (before parking fees).
The Polynesian Bungalows at these price levels represented Disney's attempt to stay competitive in the important and growing President for Life/dictator/oligarch/drug cartel jefe "get me the most expensive room" market that's now being siphoned off by the Four Seasons.
Unfortunately, a design feature has made the bungalows not really well-suited for this market.
The President for Life/dictator/oligarch/drug cartel jefe market requires not only a spectacular space for the Supreme Leader and Nutmeg of Consolation himself, but also a whole constellation of connecting or nearby rooms for the oligarch's entourage that have to be in regular rooms nearby, but not in the suite itself—bodyguards, children, mistresses.
This is easy to pull off in a standard hotel room tower, where such rooms can be connected (mistresses), down the hall (bodyguards), or just an elevator ride away (children).
But with disconnected individual buildings like the Bungalows, this is much harder, and as a result the target market is not responding.
Thus, Disney has given up pursuing this market through the Bungalows and is converting the Bungalows to FastPass+ viewing areas for the Electrical Water Pageant instead.
Insiders suggest that Disney may yet pursue the high-price market, via other alternatives.
For example, refurb plans for the Pirate Rooms at Disney's Caribbean Beach Resort are still not clear.
At current pricing, one could book one of the 64-room Pirate accommodation buildings in its entirety for the price of three or four Polynesian Bungalows. This yields vast refurb scope for building as many as six "Pirate Castles" at Caribbean Beach with more than 20,000 square feet each—plenty of room for the entire entourage to spread out a bit.
But even if this Caribbean Beach piratical refurb goes forward, walking away from the Polynesian Bungalows is still a bit of a black eye.
Creativity requires the freedom to make mistakes, so it's not that big a deal.
Yet when put in the context of other recent reversals—the brief cancellation of FastPass+ about a year ago, the abandonment of a pain-themed DVC resort, dropping the addition of a Minnesota Pavilion to Epcot, and still no word on the groundbreaking for the high-speed option for leaving Rafiki's Planet Watch—well, it does make you wonder…
Follow yourfirstvisit.net on Facebook or Google+ or Twitter or Pinterest!!