Review: Disney's Pop Century Resort
By Dave Shute
The Value Resorts    Pop Century    Movies    Sports    Music   Art of Animation
OVERVIEW: DISNEY'S POP CENTURY RESORT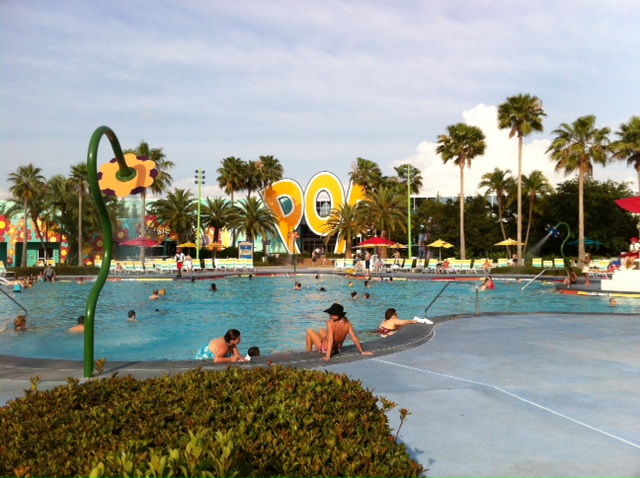 Update March 6: A Pop Century room refurb kicked off in March 2017 in Building 8 (the 90s building)  Avoid this building for visits in March or April, and it and the 80s buildings in April-June.
Among my 140 stays (so far!) in Walt Disney World resort hotels, I've stayed at Disney's Pop Century Resort more than half a dozen times.
These stays confirm that for those who can't afford a deluxe resort, Disney's Pop Century Resort is the second best place to stay, after Disney's Art of Animation Resort, and, for families with mobility issues who can't afford a deluxe, it's number one.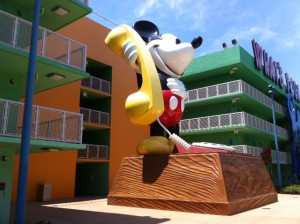 You can have a wonderful visit at any Walt Disney World resort hotel.
However, this site recommends that first time visitors to Walt Disney World who can afford it should stay at Disney's Polynesian Resort, a deluxe resort, and that those who can't should stay at Disney's Art of Animation Resort, a value resort. (See this for more on the value resorts at Walt Disney World.)
(It also suggests that first time visitors should avoid the moderate resorts, while noting that these resorts are wonderful for visits after the first. See this for why.)
Compared to other Walt Disney World owned and operated resorts, the value resorts are distinguished by having the lowest prices and smallest rooms.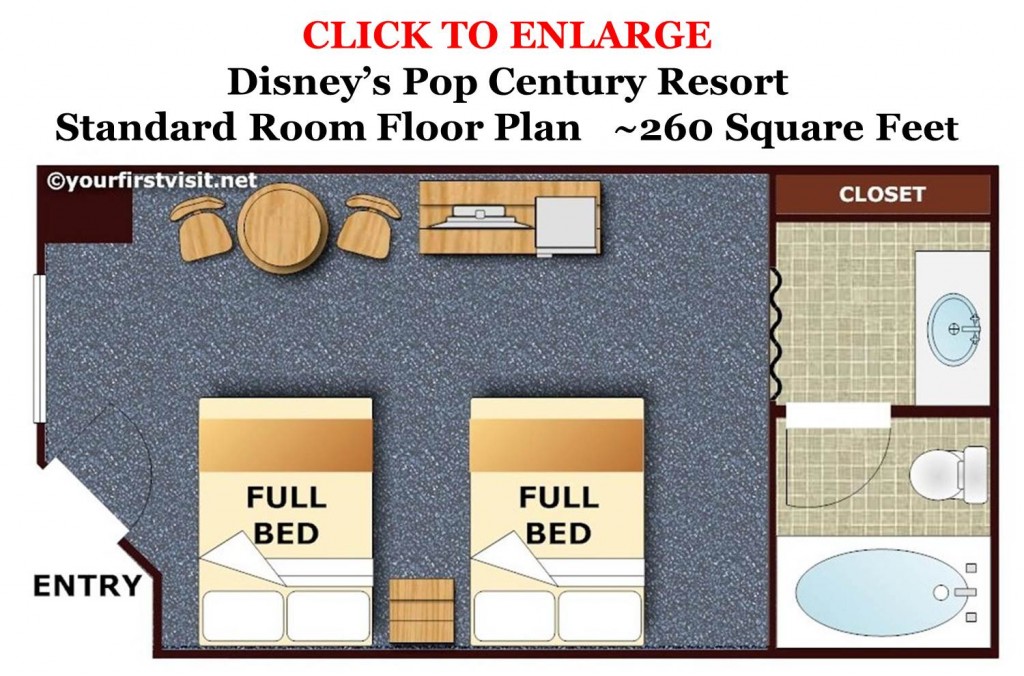 You likely will never stay in a hotel with smaller rooms.
Like other value resort standard rooms, rooms at Pop Century sleep four in two full-size beds, plus one more, younger than three, in a crib; the crib fits best between the dresser and closet wall.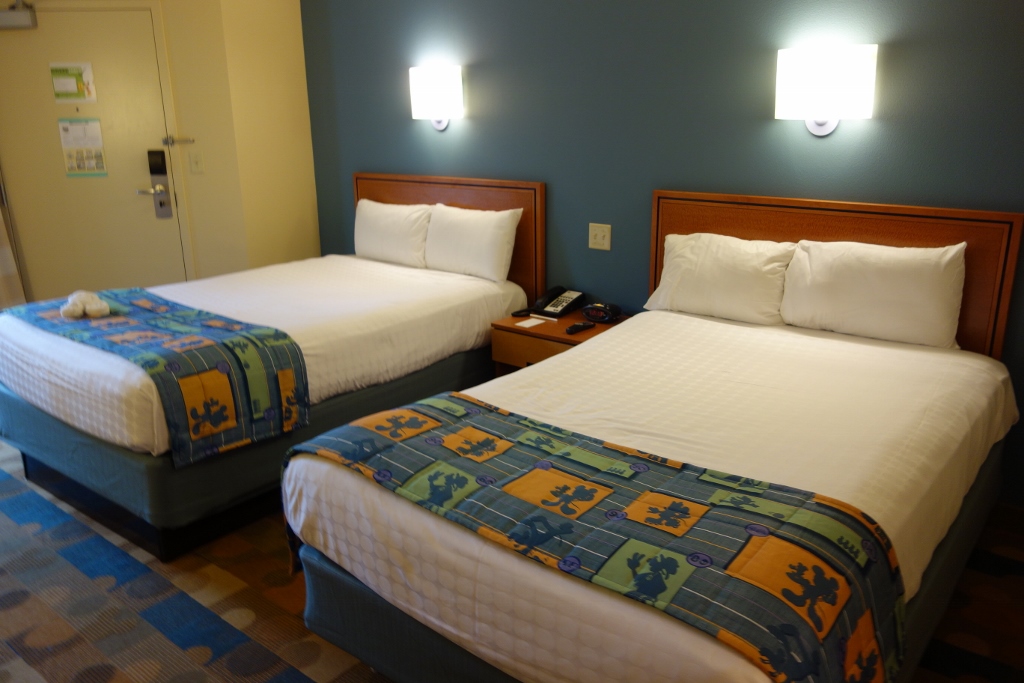 (I could not imagine staying in one of these rooms with five including a crib…but many do!)
However, if your family will fit, Disney's Pop Century Resort, like the other value resorts, has much more kid appeal than the moderate resorts, the next higher price class (about twice as expensive, but with much bigger rooms and nicer landscaping.)
(See this for much more on resort distinctions by price class–value, moderate, deluxe, etc.)
Compared to staying off-site, the value resorts are distinguished by their higher kid appeal, convenience, and access to certain key perks that off-site hotels can't provide.
DISNEY'S POP CENTURY RESORT
Resorts are ranked on this site for first time visitors based first on their kid appeal, and then on their convenience.
On this basis, Disney's Pop Century Resort is the second-best value resort for first time family visitors.
Kid Appeal. Several of the deluxe resorts–notably, the Wilderness Lodge, Animal Kingdom Lodge, and Polynesian Resort–have spectacular kid appeal. None of the moderates do.
All of the value resorts–Disney's Art of Animation resort, Disney's All-Star Sports, All-Star Music, and All-Star Movies, and its Pop Century Resort–have terrific kid appeal.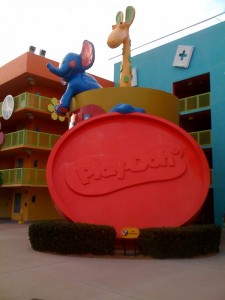 This appeal comes from the approach to theming they all share: bright and vibrant exteriors, framing much larger than life objects of interest to kids. These objects reinforce that these resorts were designed for the sake of kids…and not necessarily for adults!
Pop Century's theme is to recall the later decades of the twentieth century, through enormous statues of toys, games, Disney characters, and other stuff. You'll find scattered around the resort a Mickey Mouse Telephone, Roger Rabbit, a Big Wheel, bowling pins, Baloo and Mowgli, Lady and the Tramp…all 30 to over 60 feet tall!
Elsewhere you'll find Play-Doh, Mr. Potato Head, a more than life sized foosball game, a pool designed to look like a bowling alley, a four-story laptop, and more.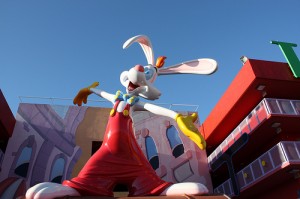 Pop is–by a hare–the second most kid-appealing of the values.
Art of Animation has the most kid appeal among the values, with deeply themed sections and rooms evoking the settings and characters of Little Mermaid, Car, the Lion Kings, and Finding Nemo. (Only the Little Mermaid section has standard rooms–the other three sections of Art of Animation have much more expensive family suites.)
All-Star Music and Sports are thin on Disney-specific decor, and can be visually dull except to kids devoted to sports or music. All-Star Movies is more kid-appealing than these two, living more richly in Disney's visual world.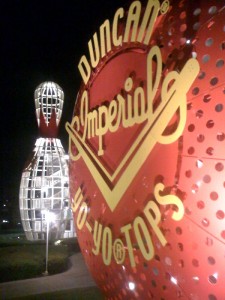 Pop Century adds to its own strong Disney visual presence lots of fun toys!
Convenience. Disney's Pop Century Resort is slightly more convenient than the All-Stars, and in general as convenient as Art of Animation.
Compared to the All-Stars, it is more central. Pop Century is quite centrally located.
It is just south of Disney's Caribbean Beach Resort, nestled in the area between Epcot and Disney's Hollywood Studios.
It is closer to Epcot, Disney's Hollywood Studios, and the Magic Kingdom than the All-Stars are.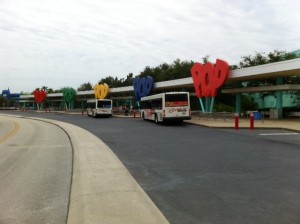 Second, Pop Century is one of only two resorts at Walt Disney World that has only one bus stop and does not share buses with any other resort. (Art of Animation is the other.)
Each of the All-Star resorts has only one bus stop, but they share most of their buses with one or both of the other All-Stars.
Pop is a little easier to get around than Art of Animation is for those in standard rooms.  The standard rooms at Art of Animation are more distant from the hotel's central services than most of Pop's are.
Other distinctive features. Pop and Art of Animation are the only values on a lake; Pop is also (slightly) more graceful, and (slightly) less garish, than the All-Stars.
Best places to stay. This site suggests that first time visitors stay in standard rooms, not preferred rooms (because they won't be spending much time in their rooms, or going to the main resort food area often.)
The single exception is visitors to the Animal Kingdom Lodge, who should always pay for savanna views.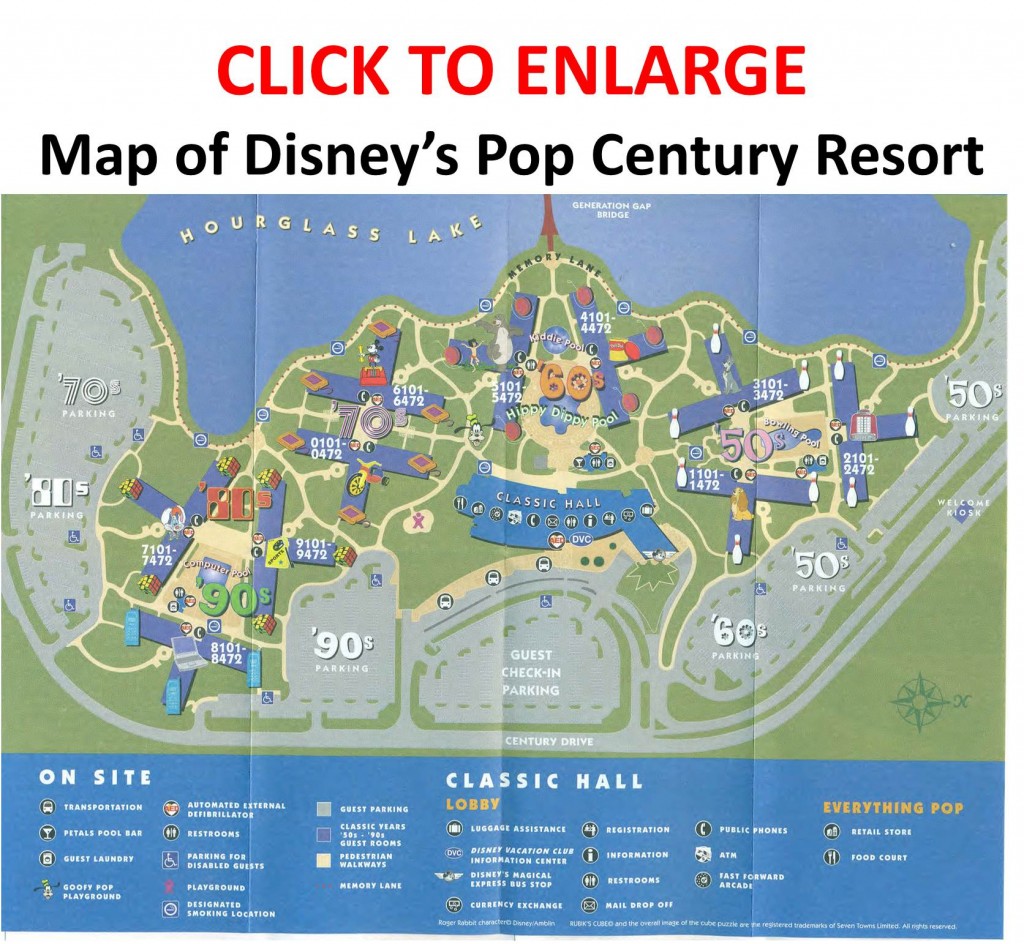 Disney's Pop Century Resort is divided into areas named for decades from the second half of the last century–'50s, '60s, '70s, '80s, and '90s.
Click the map to see the general layout.
Of these, a fourth floor room in the '70s area with a lake view is the best place to stay.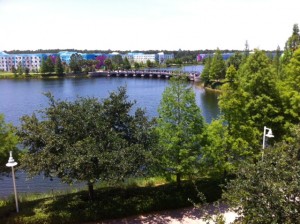 The lake view speaks for itself.
The '70s area is the only one at Pop Century not built around a pool, which makes it quieter.
The fourth floor is also the top floor, which improves the lake views, and makes it quieter as well.
The image below is from just outside the rooms I recommend. Below is the on-line check in form.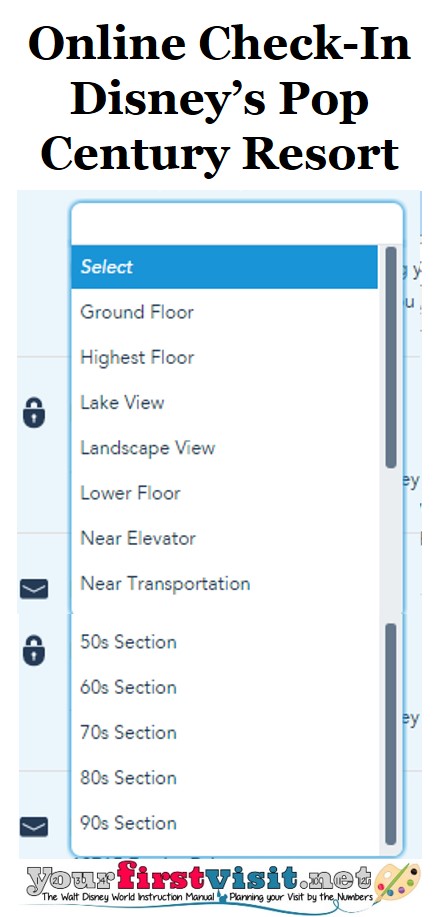 BEST FOR:
Families than cannot afford a deluxe resort, or who are otherwise on a tight budget, who can fit into its small rooms, and don't wish to, or can't, stay at Art of Animation.
WORST FOR:
Families who are tall or otherwise won't fit into full-size beds, or who have more than two adult-sized people, or who will be using a crib.
A PHOTO TOUR OF A STANDARD ROOM AT DISNEY'S POP CENTURY RESORT
This review continues here.


Follow yourfirstvisit.net on Facebook or Google+ or Twitter or Pinterest!!
RELATED STUFF