The Pools at Disney's Pop Century Resort
By Dave Shute
For the first page of this review of Disney's Pop Century Resort, click here.
THE POOLS AT POP CENTURY
Disney's Pop Century Resort has three good-sized pools, one in each themed area except for the 70s area–the Hippy Dippy pool, Bowling Pin Pool, and Computer pool.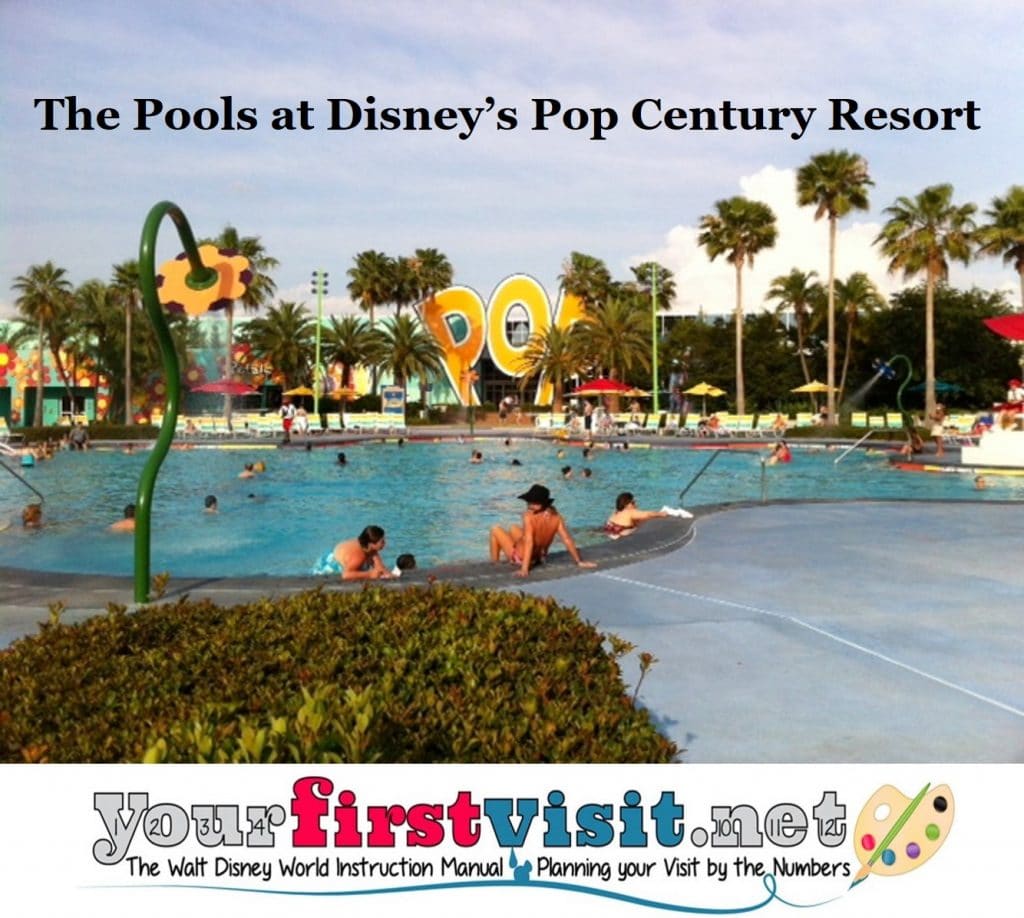 THE HIPPY DIPPY POOL AT DISNEY'S POP CENTURY RESORT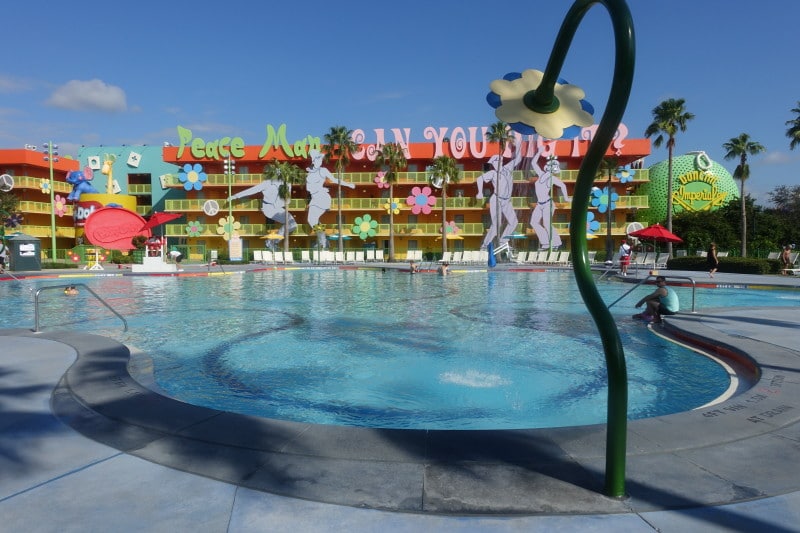 The principal pool, the Hippy Dippy Pool, is near the center of the resort in the 60s section, on the food court side of Buildings 4 and 5.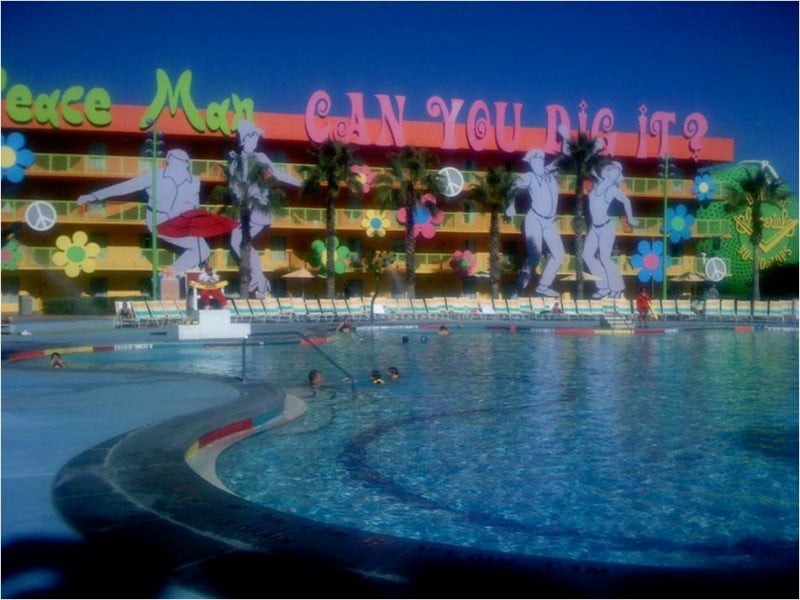 Like other value resort pools, there's no water slide or fancy kids splash pool, but otherwise it has more amenities than the other pools at the resort.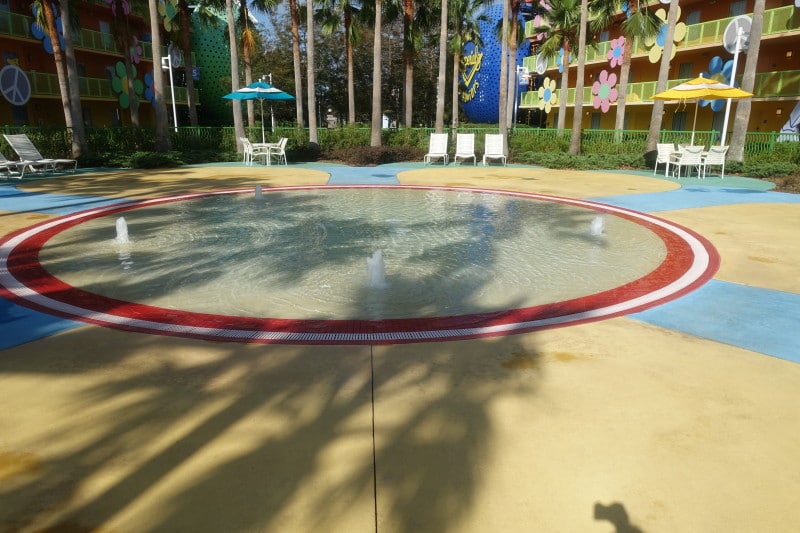 There's a small kids pool on the side closer to Hourglass Lake.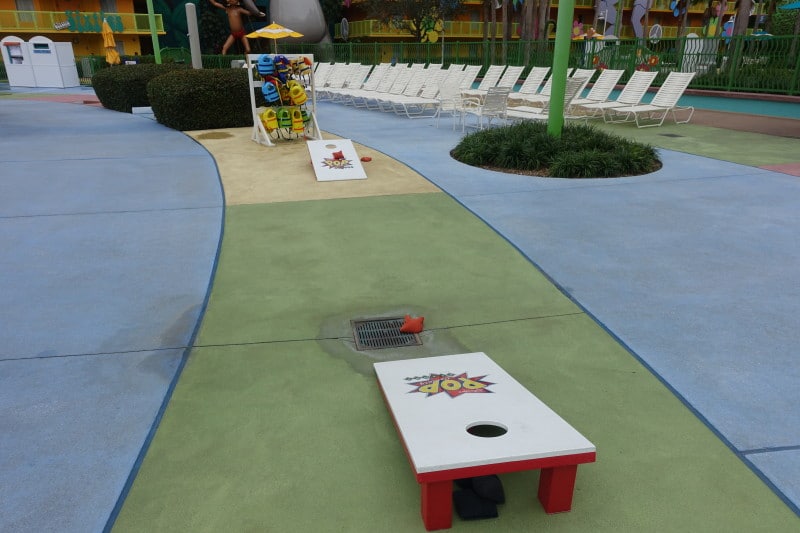 You'll also find at the Hippy Dippy pool a cornhole game…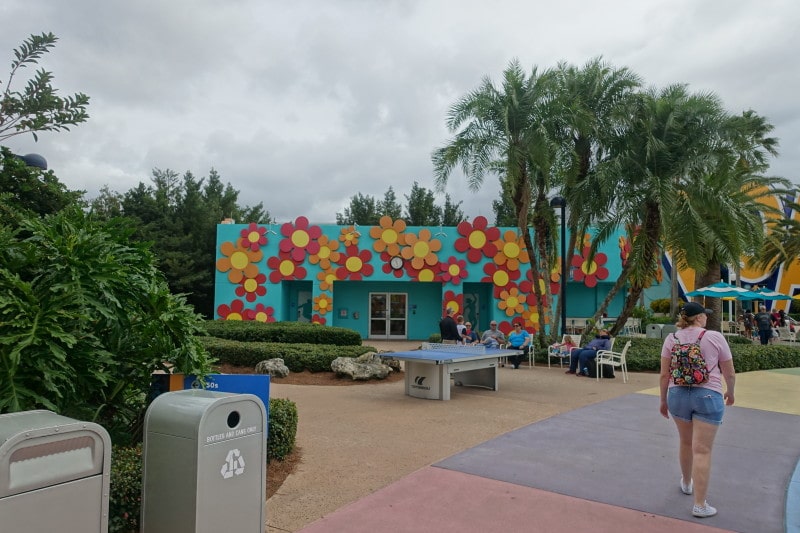 …and a ping-pong table.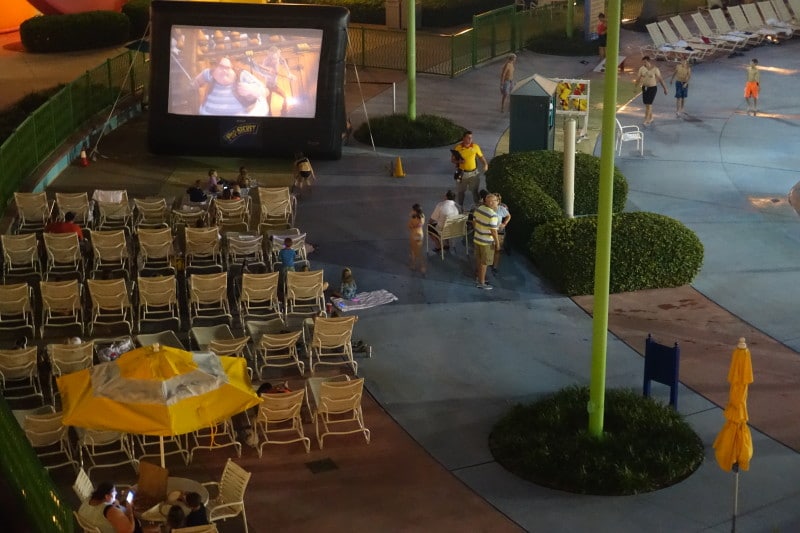 Pool games happen every afternoon, and many evenings a Disney movie is shown.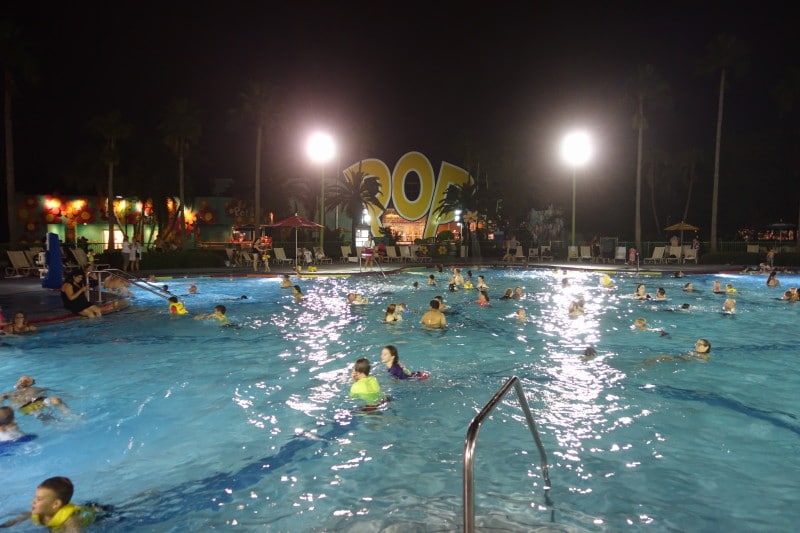 The Hippy Dippy pool at night.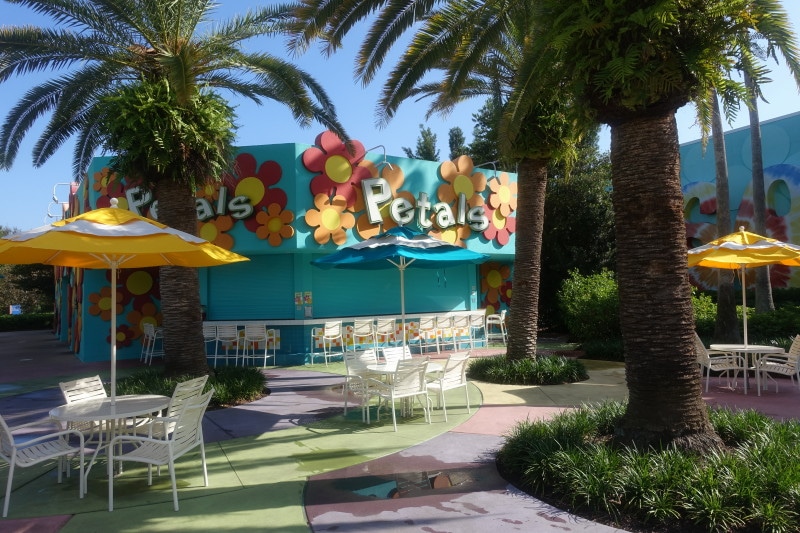 The only bar at Pop Century is just outside the Hippy Dippy pool area, close to the food court.
The amenities, pool games, and general color and energy make the Hippy Dippy pool the most popular of Pop Century's pools.  But if what you want is to play with the kids in the water, sun, or swim, the other two pools are perfectly good alternatives, and will likely be less crowded.
THE BOWLING PIN POOL AT DISNEY'S POP CENTURY RESORT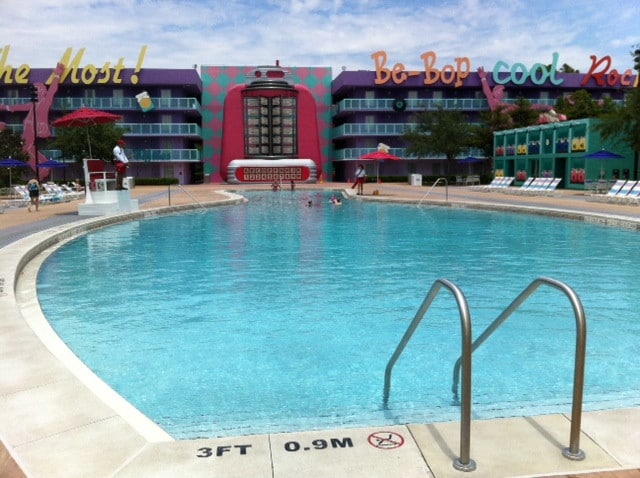 The Bowling Pin pool is in the 50s area, centered among Buildings 1, 2 and 3, and closest to Building 2.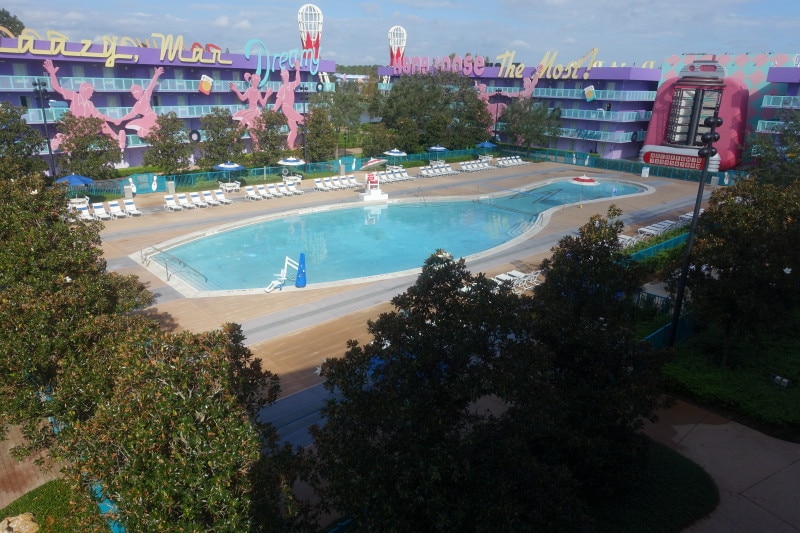 The pool overall–perhaps not surprisingly–is laid out to resemble a bowling pin…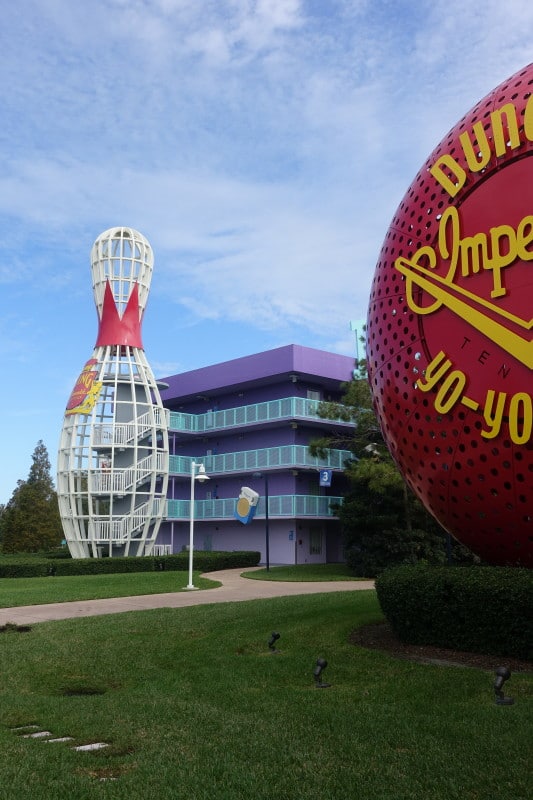 …just as are the stairs of these 50s buildings. The pool is big and has a large pool chair area, but like the computer pool it's not worth a walk that takes you past any other Pop Century pool.
THE COMPUTER POOL  AT DISNEY'S POP CENTURY RESORT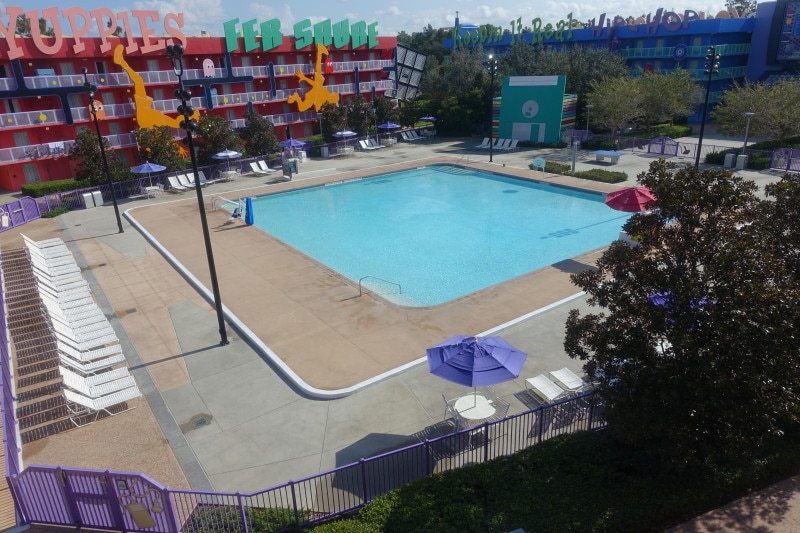 The Computer pool is in the center of the the 80s and 90s area, among Buildings 7, 8 and 9, closest to Building  8.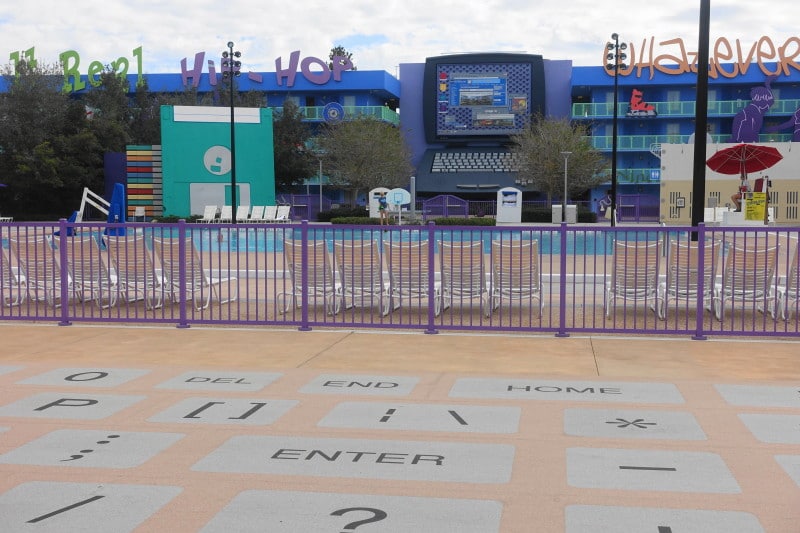 The computer theming is a keyboard at one side of the pool and a screen (and another keyboard) on Building 8…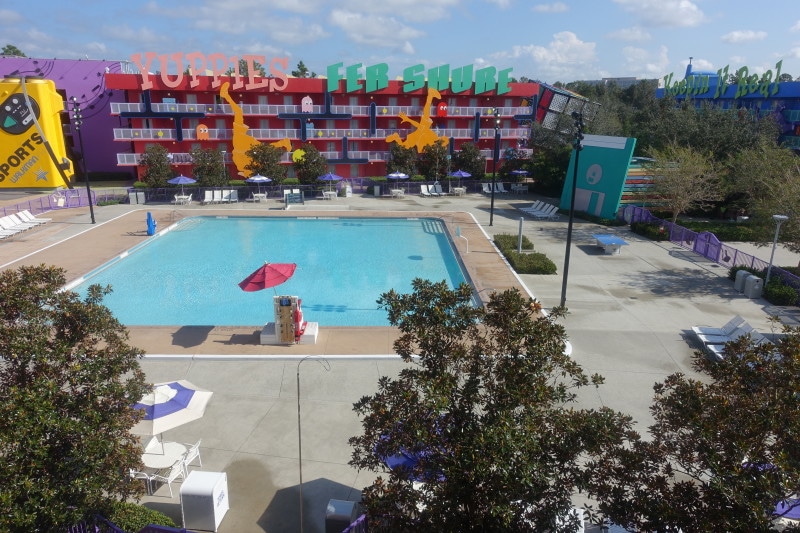 …the pool itself is a simple, but large, rectangle with plenty of pool deck space.
MATERIALS IN THIS REVIEW OF DISNEY'S POP CENTURY RESORT
OTHER KEY PAGES FOR WHERE TO STAY AT DISNEY WORLD


Follow yourfirstvisit.net on Facebook or Twitter or Pinterest!!
RELATED STUFF