Review: Disney's Pop Century Resort, Page 4
By Dave Shute
This is the fourth page of this review of Disney's Pop Century Resort.  For the first page, click here.
THE AREAS AT DISNEY'S POP CENTURY RESORT
A quick look at the map tells you a lot about Disney's Pop Century Resort.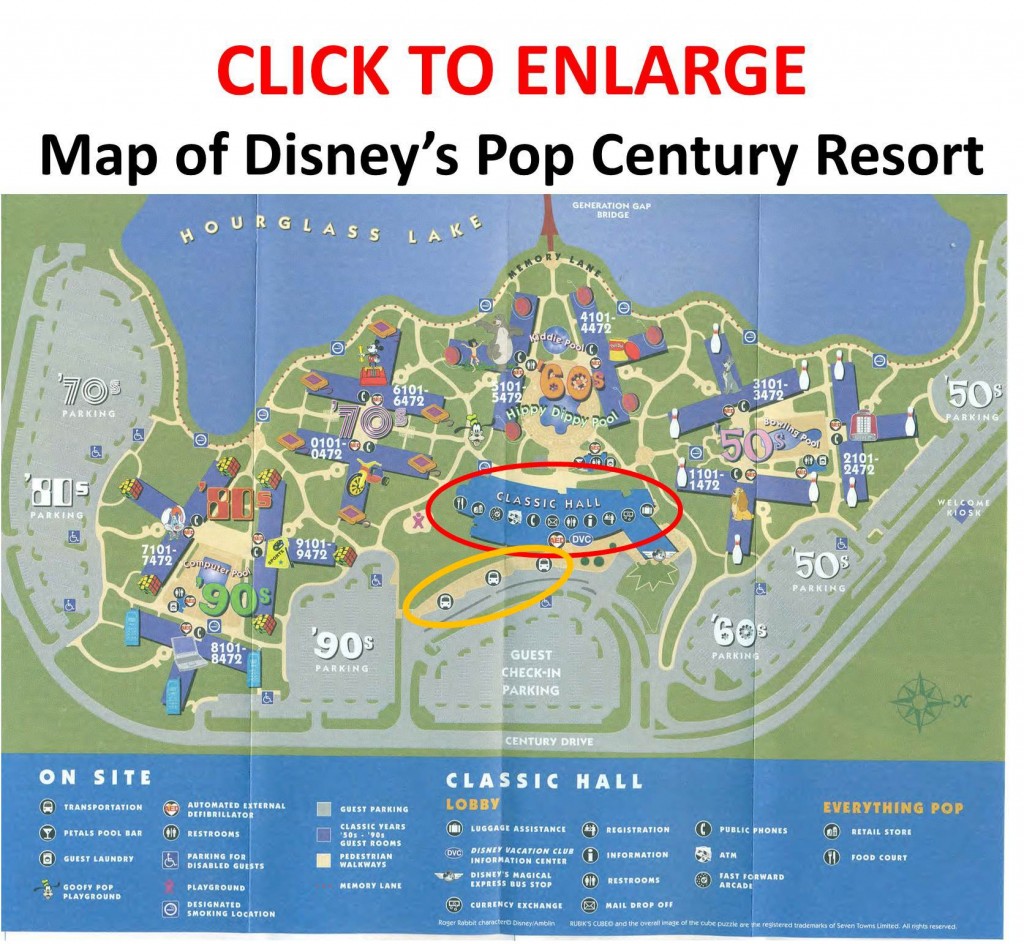 The key points to notice are Hourglass Lake, at the top, and the central resort services, circled in red and orange at the middle.
Rooms facing Hourglass Lake will have the best views, and rooms closer to the central resort services will have the shortest walks to concierge services, dining, and the bus stops.
Pop Century's ten buildings are nominally divided into five areas–1950s, '60s, '70s, '80s and '90s–representing the icons and memories of each decade, each area with a different set of larger-than-life Disney characters, toys from the era, and other decorations, with a particular focus on music playback tools.
However, there's just one '90s building, grouped in with the '80s buildings, so in fact Pop Century really has just four areas.
The three '50s buildings, grouped around the bowling pin pool
The two '60s buildings, grouped around the main Hippy Dippy Pool
The two '70s buildings, the only ones without a pool in their center–making them quieter–and
The two '80s and one '90s buildings grouped around the computer pool
THE '80s AND '90s BUILDINGS AT POP CENTURY
A look at the map will tell you that the '80s and '90s buildings (on the far left on the map) are, on average, least convenient of the Pop buildings to the central services and bus stop of Pop.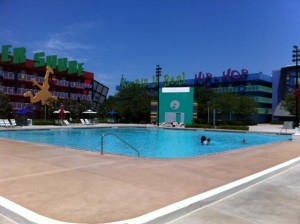 These buildings–also known by their numbers, 7, 8 and 9–are framed around the Computer Pool.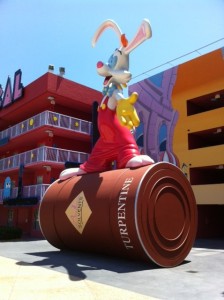 Decorations include bulky old 90s cell phones, floppy disks, and other items unrecognizable to today's kids–plus Rubik's Cubes, a Sony Walkman and Roger Rabbit.
Some rooms in building 10 have nice views of the lake, and some in building 9 are actually pretty close to central services, but in general this area is to be avoided.
All rooms in this area have been refurbed.
THE '50s BUILDINGS AT POP CENTURY
The three '50s buildings–also known as Buildings 1, 2 and 3–are at the opposite end of the resort, on the far right of the map.
Because the resort is not laid out symmetrically around the central services, rooms in buildings 1 and 3 are, on average, actually about as close to the central services as any other building at Pop Century.
Building 3 also has a lot of rooms with nice lake views.
These areas are themed around bowling and Lady and the Tramp, with the musical note being a jukebox.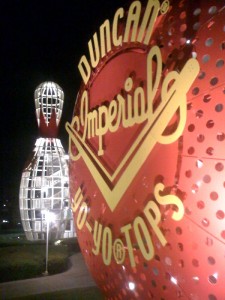 The building exit stairs are enormous bowling pins…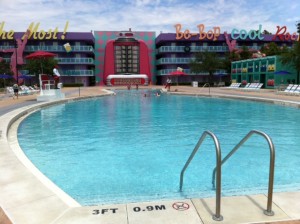 …and the pool itself is also in the shape of a bowling pin, backed by a jukebox.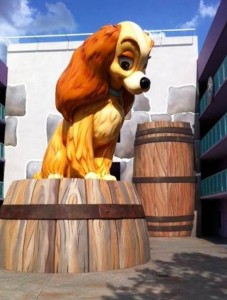 Lady and the tramp watch over this area.
A lake-view room in Building 3 would be a good choice for most families.
THE '60s BUILDINGS AT POP CENTURY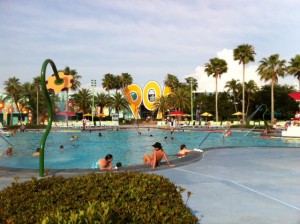 The '60s buildings– Buildings 4 and 5–are the most centrally located, and surround the main Hippy-Dippy pool.
About a third of the rooms in these buildings have loud views of the pool, a third have lake-views, and a third have neither.
Most of the rooms here are "preferred" and given how many other good rooms there are in these buildings and in other sections, there's no value to paying for preferred rooms.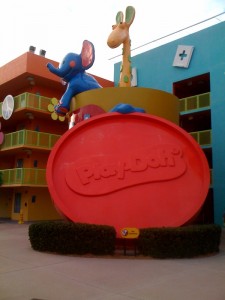 You'll find Mowgli, Baloo, Play-Doh, and enormous yo-yos in this area.
Non-preferred lake view rooms in this section will be great for most families.
THE '70s BUILDINGS AT POP CENTURY
Building 6 of the two '70s buildings (the other is Building 10) is where I recommend you try to stay. As of late summer 2017, Building 10 is being refurbed.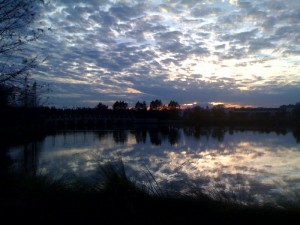 Non-preferred rooms here are as convenient as those in any of the other buildings; two-thirds of the rooms in Building 6 have lake views; and there's no pool here to add noise.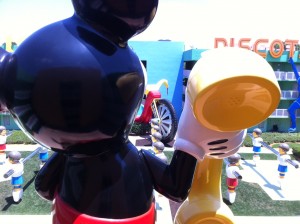 These buildings feature 8-track tape stairwells ("What's that, Mom?  "I dunno…"), and a Mickey phone, Big Wheel, and central foosball game.
A lake-view room in Building 6 will be the best Pop Century choice for most families.
HOW DO YOU GET THESE ROOMS?
You can do on-line check in 60 days before your arrival date, and the online process lets you indicate two preferences.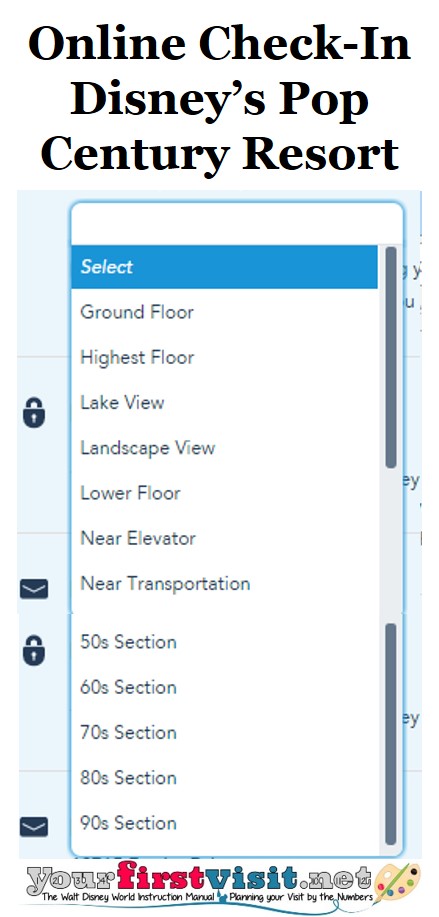 Above are the choices I was offered in late January 2017 (these forms change now and then).
SOME FINAL NOTES ON DISNEY'S POP CENTURY RESORT
Pop (and the other values) are often dinged for being "too large and spread-out."
This is an inaccurate criticism, as each of the value resorts fits into a much smaller footprint than any of the three larger moderates, leading to much less walking than at the moderates.
This is particularly true for Pop–it fits 50% more rooms into a smaller footprint than any of the three larger moderates.
Like the other values, Pop has no sit-down restaurant. In Classic Hall you will find a large food court and gift shops. On a per-room basis, the food court is larger, with more tables, than at the All-Stars (All-Star Movies, the last of these built, is close).
Pop is one of only two resorts at Walt Disney World to both have only one bus stop and to share no buses with other resorts. (Art of Animation is the other.)
Among the values, Pop's strength compared to the All-Star resorts for first time visitors is a slightly higher degree of kid appeal–it is a little more visually Disney than the All-Stars, with All-Star Movies being the next best, and a slightly higher degree of convenience. It is both more centrally located and, because of the single bus stop, a little easier to deal with.
Moreover, Pop and Art of Animation are the only values with lake views.
Art of Animation has even more kid appeal than Pop, and about the same convenience. This greater kid appeal and equal convenience makes standard rooms at Art of Animation a better choice for most families than Pop Century.
However, the standard rooms at Art of Animation are distant from that resort's central services, so families with mobility issues should choose Pop.
See this for more on distinctions among the values.
PAGES:  Previous |  1 |  2  |  3  |  4


Follow yourfirstvisit.net on Facebook or Twitter or Pinterest!!
RELATED STUFF