Theming and Accommodations at Disney's Pop Century Resort
By Dave Shute
For the first page of this review of Disney's Pop Century Resort, click here.
THEMING AND ACCOMMODATIONS AT DISNEY'S POP CENTURY RESORT
Disney's Pop Century Resort is one of 5 value resorts at Walt Disney World:
Each of these five has four-person standard rooms. At Pop Century, All-Star Movies and shortly in All-Star Music, you get two queen beds and a coffee maker. In the not-yet refurbed rooms at Music, and in All-Star Sports and Art of Animation, you get full beds and no coffee makers. Queen beds in All-Star Sports are possible soon.
For most families looking for standard rooms and not worried about full beds or coffee makers, Art of Animation is the best choice, followed by Pop Century. Art of Animation rooms are also the most expensive–especially in the summer, when they approach moderate-level pricing. The All-Stars are all priced the same, and are the least expensive. Pop rooms average $40 more per night than the All-Stars, and $40 less per night than Art of Animation.
Disney's Pop Century Resort officially salutes "many of the 20th-century popular culture crazes—including toys, gadgets, music, movies, fads and catch phrases."
Pop Century's theme is to recall the later decades of the twentieth century, through enormous statues of toys, games, Disney characters, and other stuff relevant to the decades. You'll find scattered around the resort a Mickey Mouse Telephone, Roger Rabbit, a Big Wheel, bowling pins, Baloo and Mowgli, Lady and the Tramp and more…all 30 to over 60 feet tall!
Elsewhere you'll find Play-Doh, Mr. Potato Head, a more than life sized foosball game, a pool designed to look like a bowling alley, a four-story laptop, and more.
ACCOMMODATIONS AT DISNEY'S POP CENTURY RESORT
There are 2,880 rooms at Pop Century, evenly divided among ten accommodations buildings, each with elevators.
They are available in four booking classes, basically preferred or standard, with each of these available as pool view or not.  The least expensive rooms are standard without a pool view, and most expensive are preferred pool view.
Preferred rooms are scattered in wings of several buildings and in general are a shorter walk to the main pool, the gift shop and food court, and the bus stops. Pool view rooms overlook one of the three pools, and will be louder than others.
Once you'd booked your class, during online check in (or over the phone) you can further request particular areas, a lake view, upper or lower floors, near transportation, and near elevators.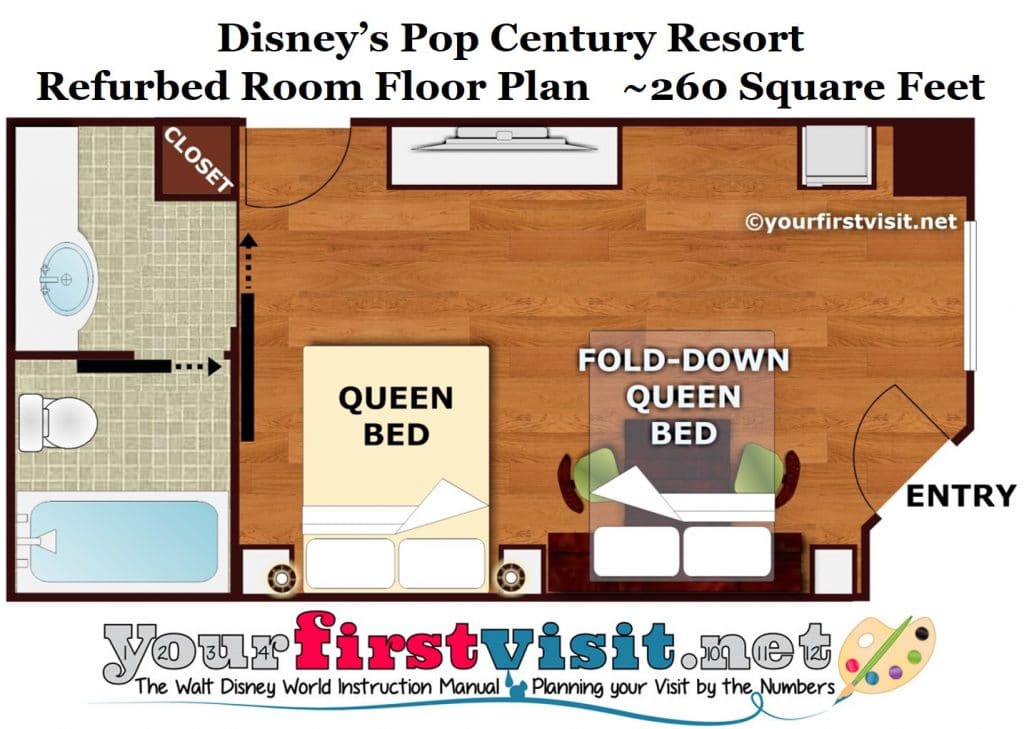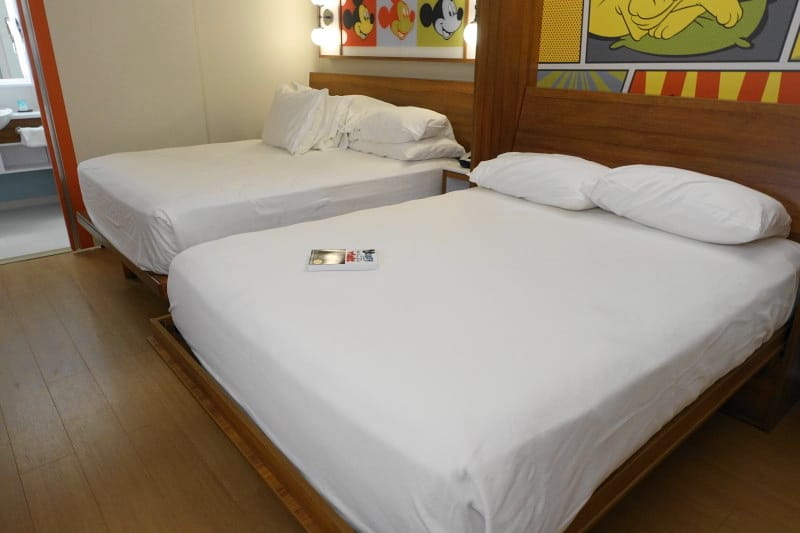 These rooms a refurb completed in 2018 now have two queen beds–the second is a fold-down bed that makes the table disappear when it's down. Refurbed rooms also have more storage, more power points, bigger TVs, more bath privacy, and coffeemakers.  A full photo tour of a refurbed room begins here.
Also available are rooms that sleep two on one king bed.  There's fewer than 200 of these, and they too are not directly bookable, nor do they show up on the on-line forms.
My general recommendation is an upper floor lake view room. These will be quietest and loveliest. Here's some lake views: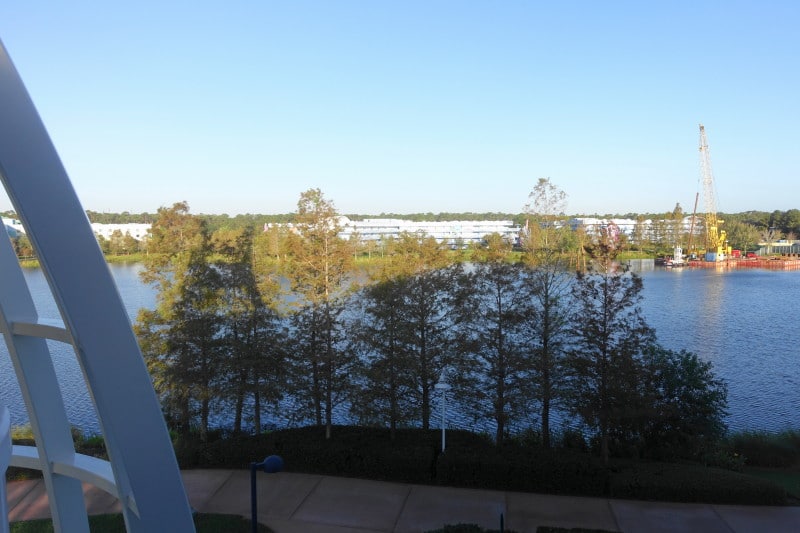 THE AREAS AT DISNEY'S POP CENTURY RESORT
A quick look at the map tells you a lot about Disney's Pop Century Resort.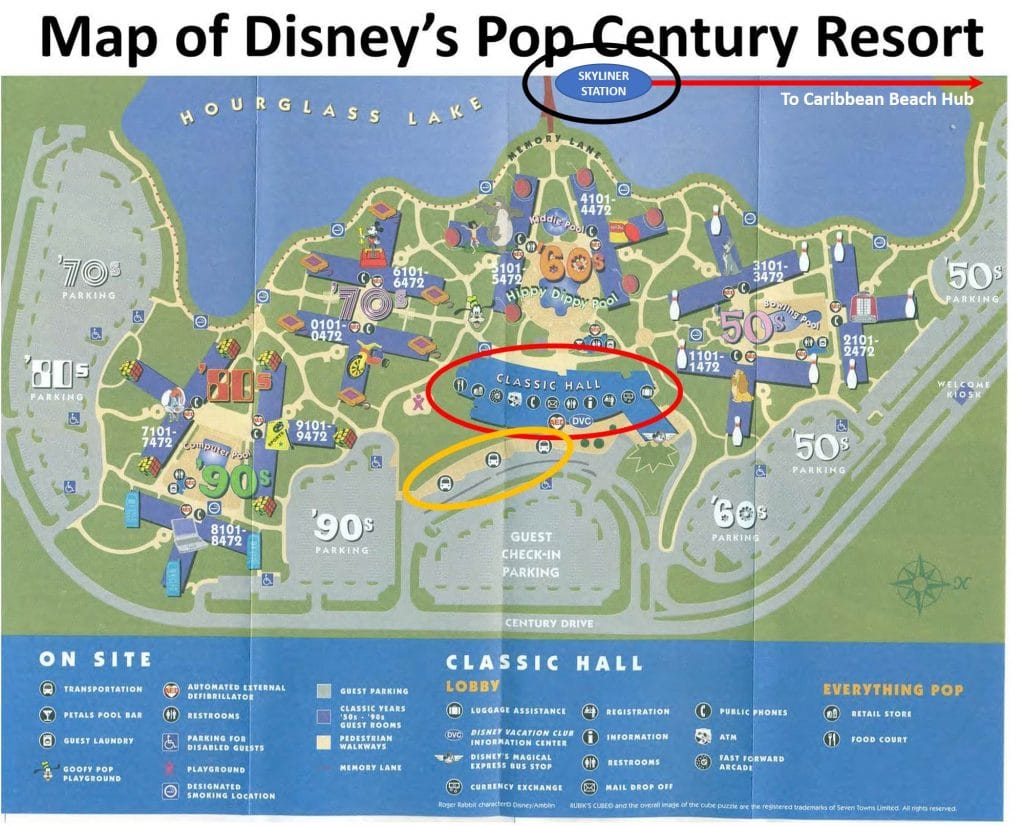 The key points to notice are Hourglass Lake, at the top, the Disney Skyliner gondola station here, circled in black, and the central resort services, circled in red and orange at the middle.
Rooms facing Hourglass Lake will have the best views, and many will be close to the Skyliner station.  Rooms closer to the central resort services will have the shortest walks to concierge services, dining, and the bus stops.
Pop Century's ten buildings are nominally divided into five areas–1950s, '60s, '70s, '80s and '90s–representing the icons and memories of each decade, each area with a different set of larger-than-life Disney characters, toys from the era, and other decorations, with a particular focus on music playback tools.
However, there's just one '90s building, grouped in with the '80s buildings, so in fact Pop Century really has just four areas.
The three '50s buildings, grouped around the Bowling Pin pool
The two '60s buildings, grouped around the main Hippy Dippy pool
The two '70s buildings, the only ones without a pool in their center–making them quieter–and
The two '80s and one '90s buildings grouped around the Computer pool
THE 50s AREA AT DISNEY'S POP CENTURY RESORT
The three buildings in the 50s area– Buildings 1, 2 and 3–take dancing at a sock hop and bowling as their overall theme, with a bowling pin shaped pool and bowling pins hiding the stairs. While bowling was more popular in the 60s, its popularity began to take off in the 50s.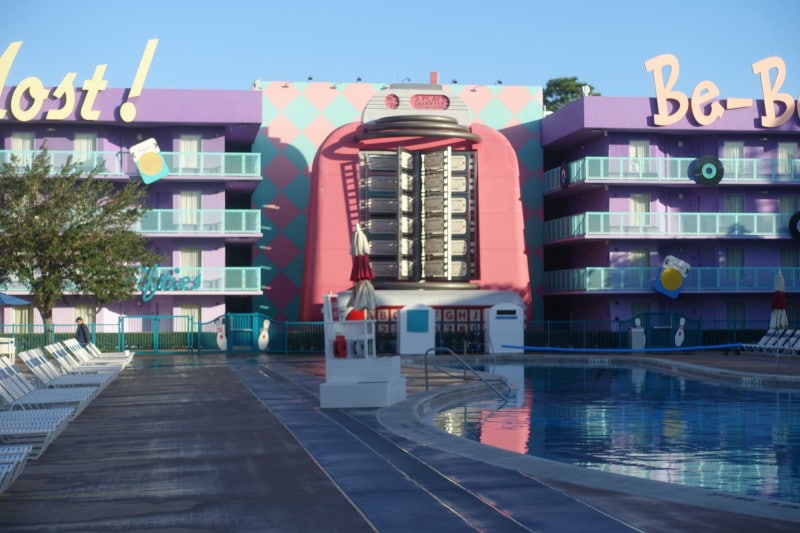 A jukebox decorates the center of one of the buildings…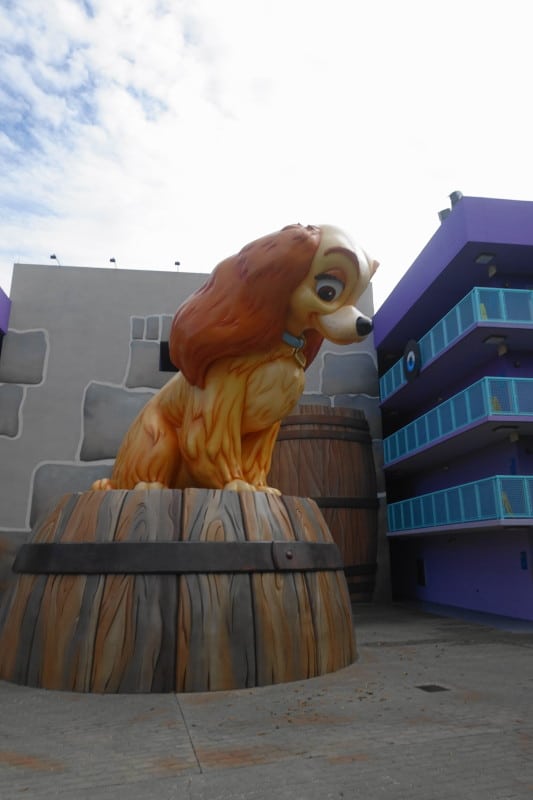 …and Lady and the Tramp (1955) the other two.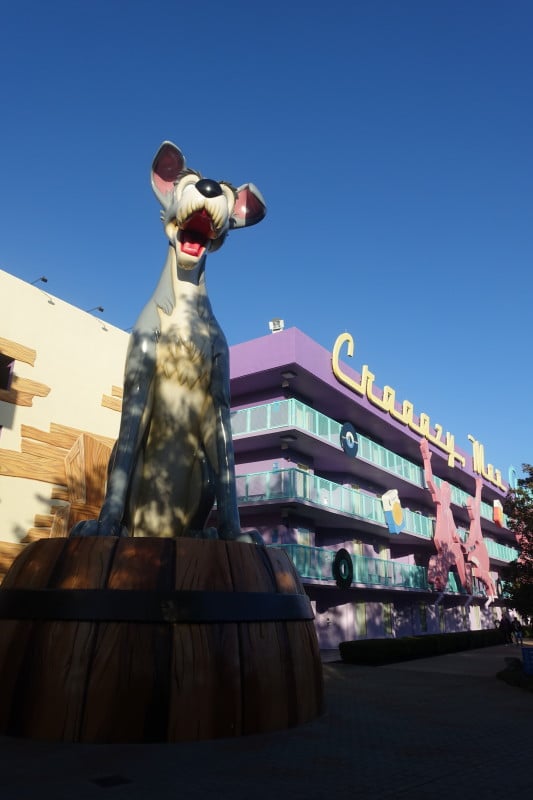 The 50s buildings are reasonably good places to stay, with their principal negative being distance from the bus stops.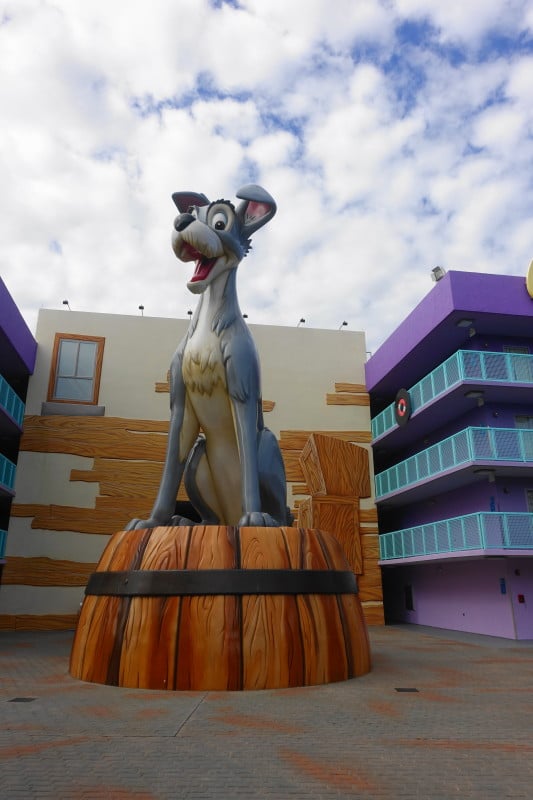 THE 60s AREA AT DISNEY'S POP CENTURY RESORT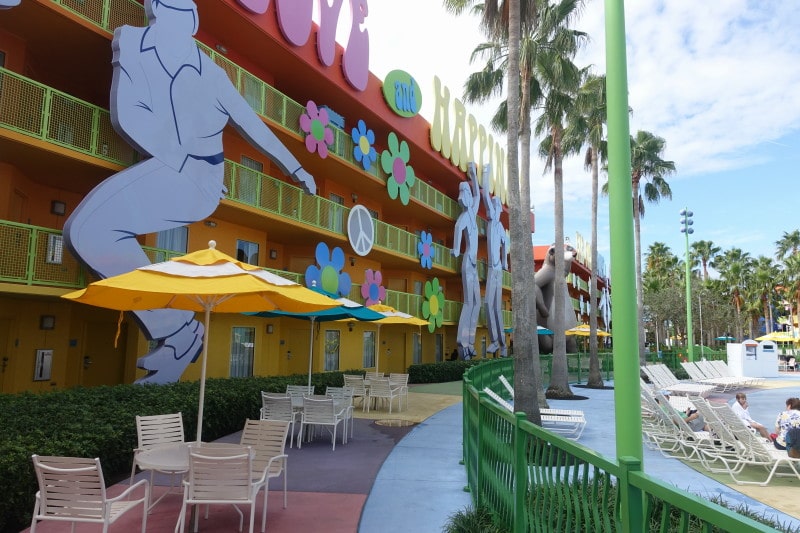 The 60s area, with Buildings 4 and 5, is themed to flower power and other more innocuous 60s themes and has the most centrally located of the Pop Century rooms. Many of them surround the main pool at Pop Century, the Hippy Dippy pool.
These rooms have become even more convenient with the new Disney Skyliner gondola station opening on the bridge between Pop and Art of Animation, with service to the Caribbean Beach hub, from which you can re-board the gondola lines to Epcot and Disney's Hollywood Studios.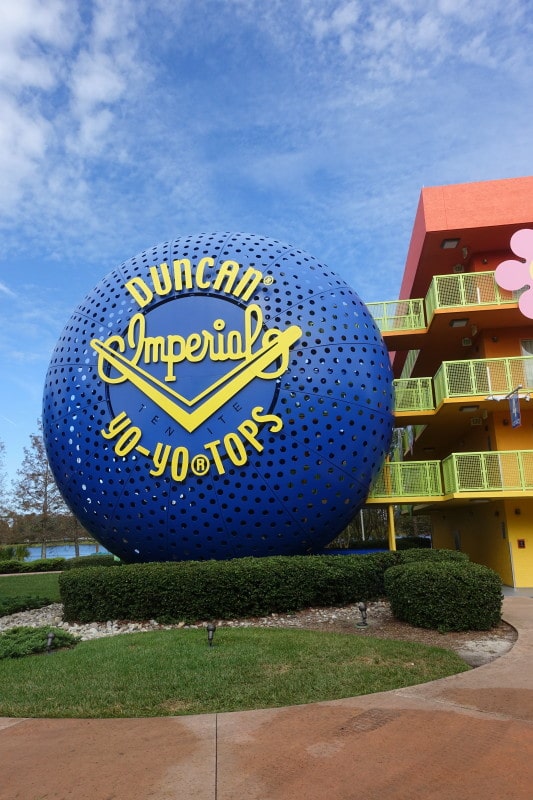 Stairs are themed to yo-yos, which resurged in the 60s.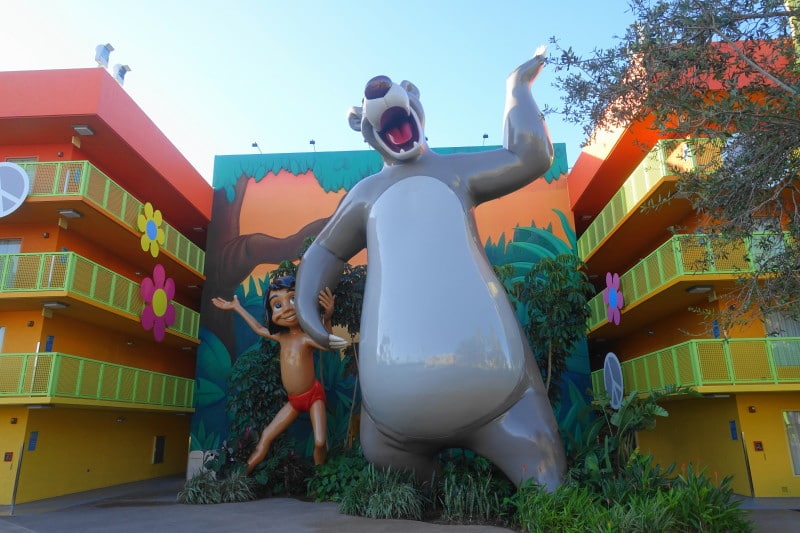 The movie theming is the Jungle Book (1967).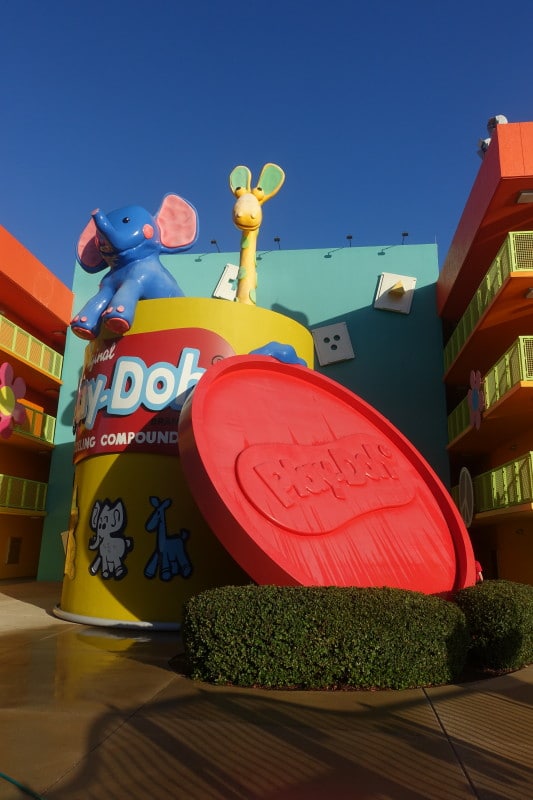 You'll also find here Play-Do–invented in the 30s as a wallpaper cleaner, and repurposed in the 60s as a creative toy.
THE 70s AREA AT DISNEY'S POP CENTURY RESORT
The 70s has buildings 6 and 10, and is the only area at Pop Century that does not surround a pool, making these rooms generally Pop's quietest.  Still close to buses, the Skyliner, and the central services and main pool, and with plenty of lake views, it's the area at Pop Century I recommend the most.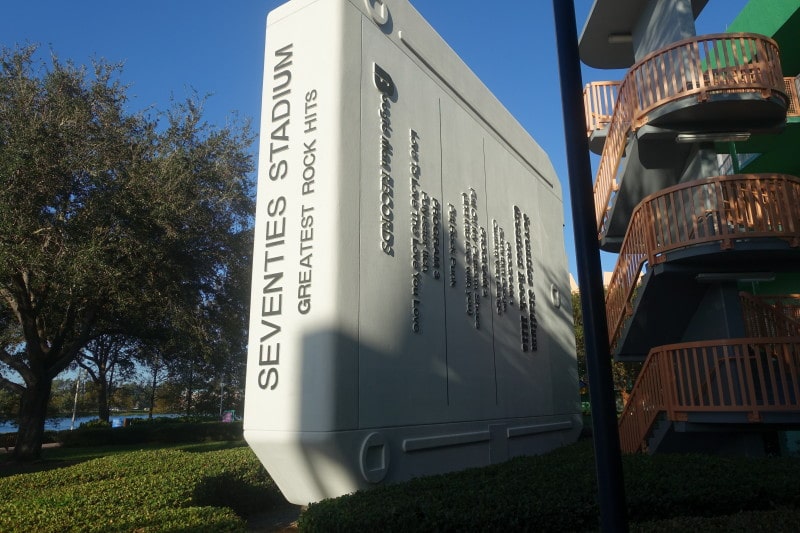 Stairs are themed to 8 track tapes, frankly a dull and forgettable choice.
In a testament to the state of Disney animation in the 70s, this area is the only one at Pop Century with no Disney movie highlighted…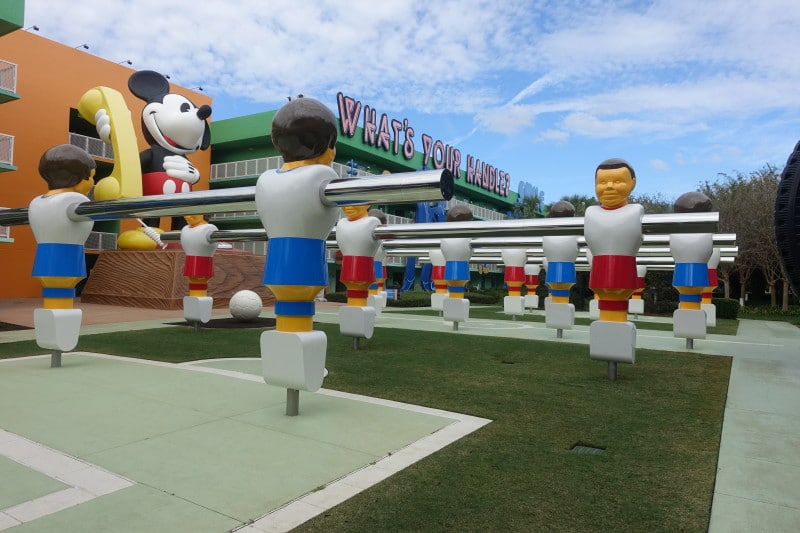 The overall theme is active play, and the courtyard of buildings 6 and 10 is dominated by a larger than life foosball court.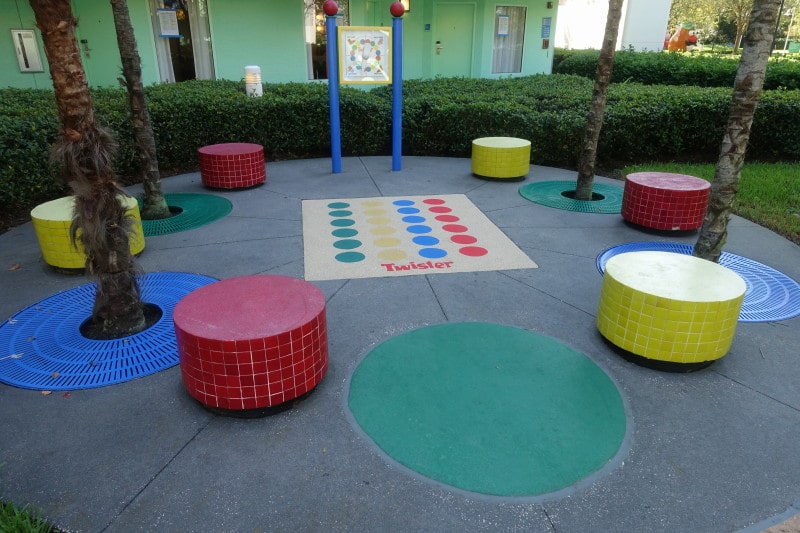 Smaller play areas are also here–e.g. Twister, which nowadays is a prima facie venue for sexual harassment.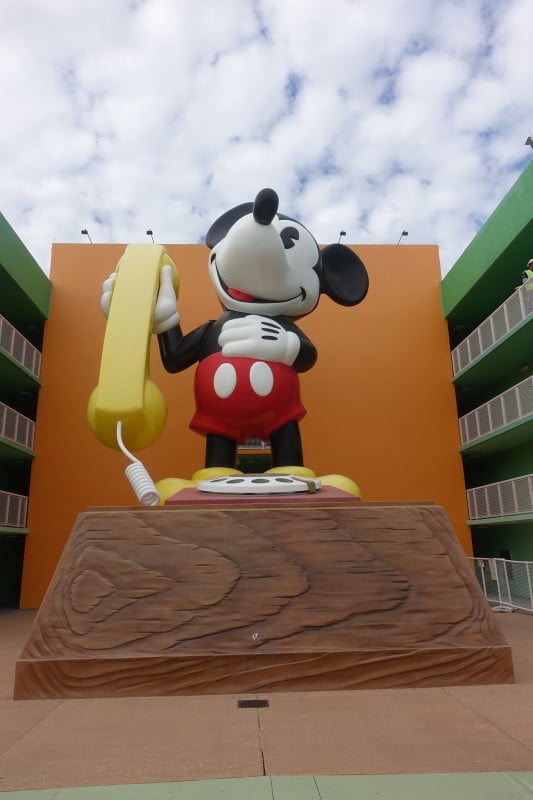 You'll also find an enormous Micky phone which sets a Disney connection that makes up for the absence of a movie reference in the 70s area.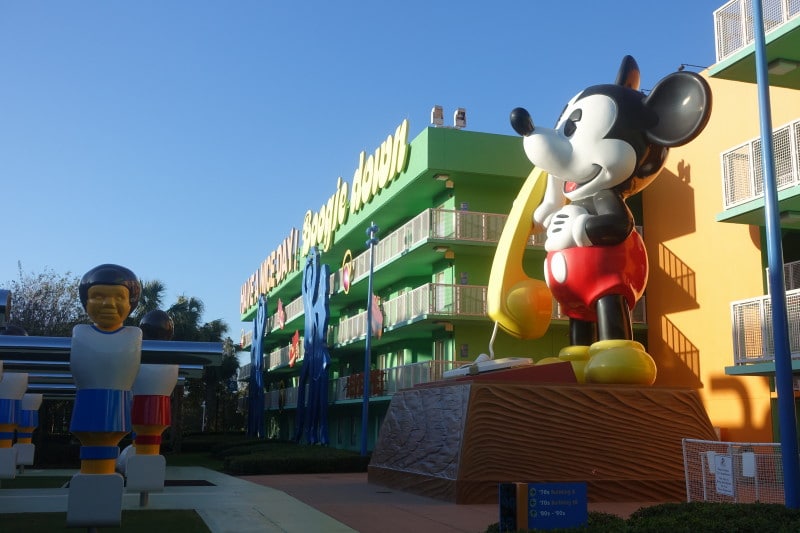 The Mickey phones were part of an AT&T program of "Design Line" phones that launched in the early 70s.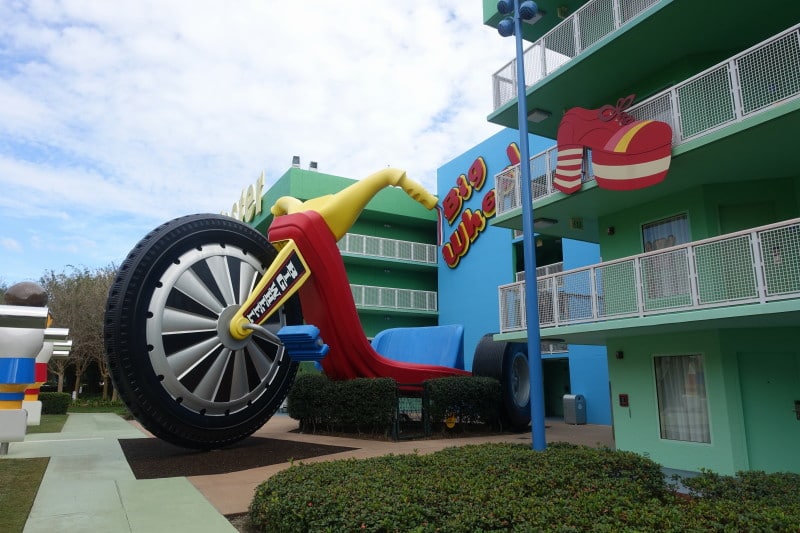 Across the foosball court is a Big Wheel–launched in 1969.
THE 80s AND 90s AREA AT DISNEY'S POP CENTURY RESORT
Two 80s buildings–7 and 9–and one 90s building, 8, make up a three building group surrounding a pool that works more as a unified area than as two separate themed areas, which is why I consider them together here.
These buildings are most distant from the main pool and central dining, gift shop and other services, but some rooms, especially in Building 9, are not far from the bus stop.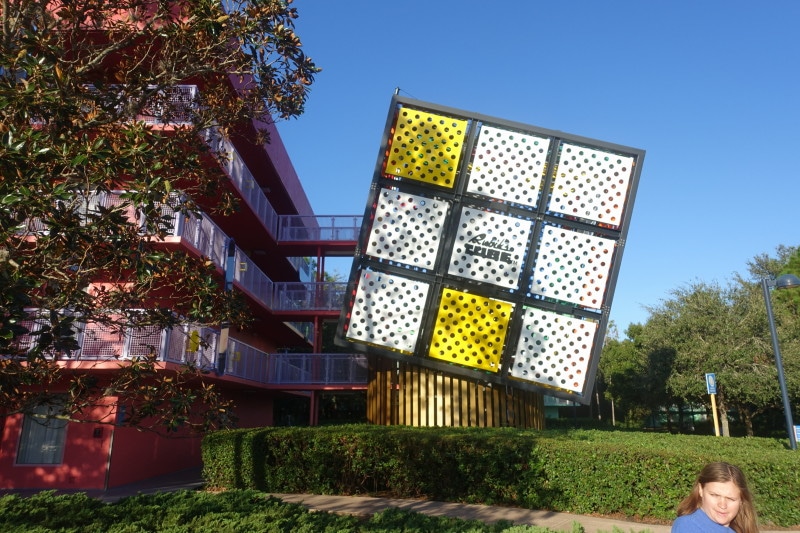 Stairs are themed as Rubik's Cubes, invented in the 70s but licensed to be sold in the 80s…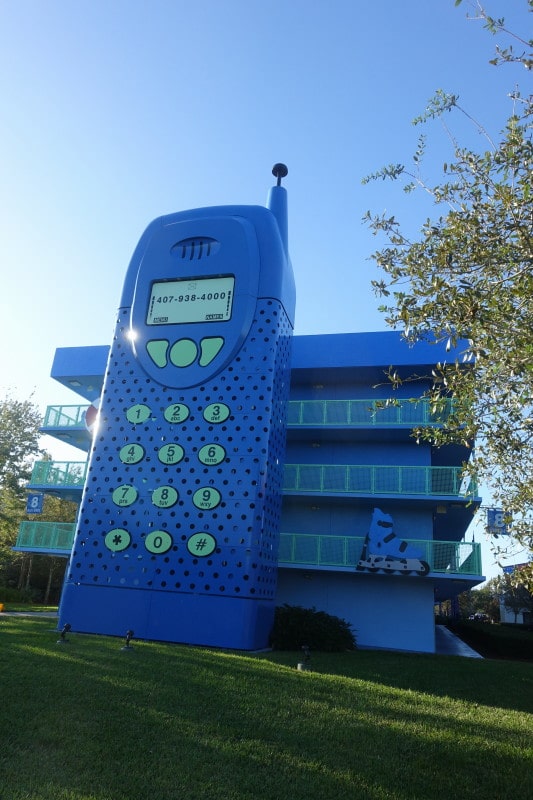 …and to 90s-style cell ones, which are almost life-size.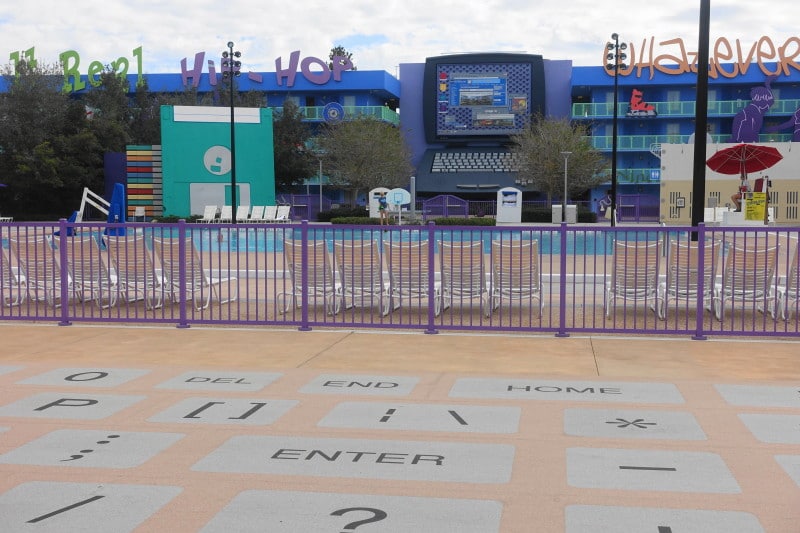 The pool area in the center of the three buildings is laid out like an early laptop, with the keyboard on one side and the screen on Building 8. The green item at the left of the screen is a floppy disk, which were central to computing until they weren't.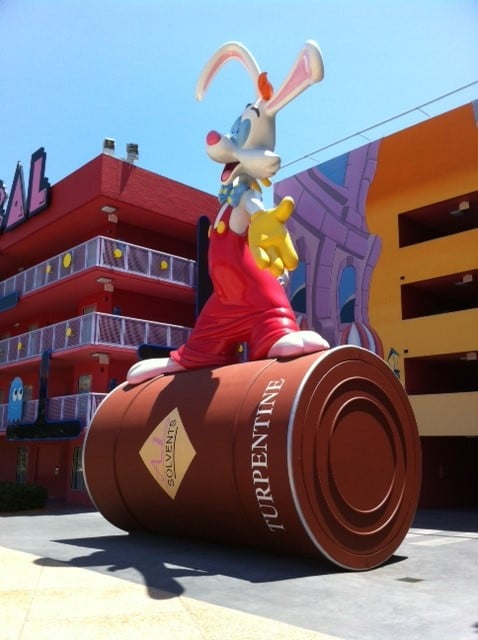 The Disney movie referenced here is Roger Rabbit (1988).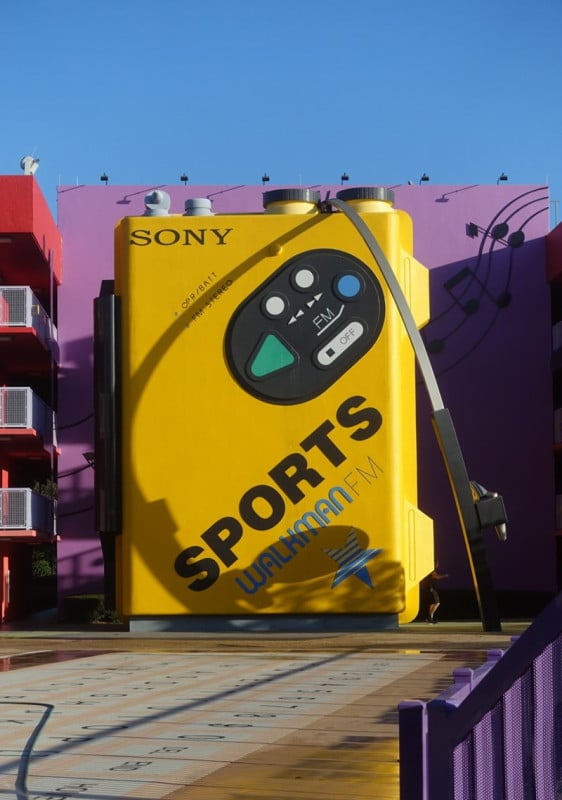 Across from Roger is probably the weakest principal icon at Pop Century, a Sony Walkman–introduced in Japan in 1979.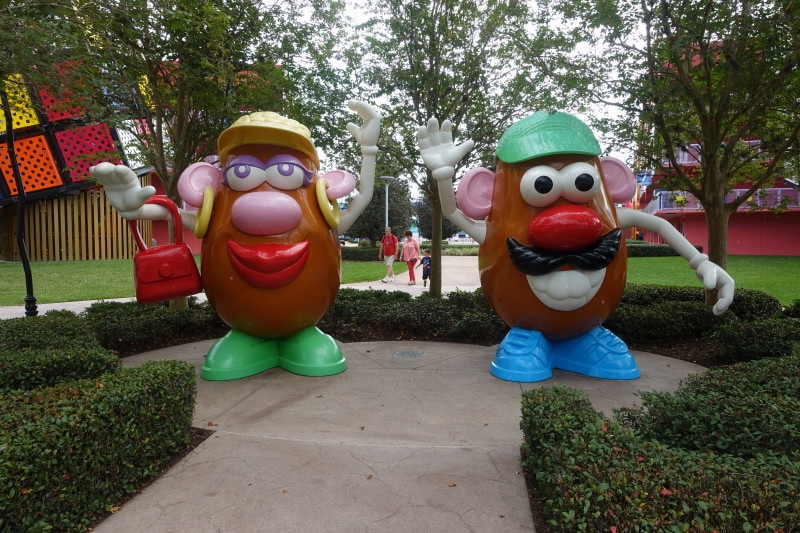 Adding some playfulness to what other than Roger Rabbit is pretty dull theming is this charming couple, found near Hourglass Lake.
This review continues here.
MATERIALS IN THIS REVIEW OF DISNEY'S POP CENTURY RESORT
OTHER KEY PAGES FOR WHERE TO STAY AT DISNEY WORLD

Follow yourfirstvisit.net on Facebook or Twitter or Pinterest!!
RELATED STUFF