Review: Disney's Port Orleans French Quarter Resort
DISNEY'S PORT ORLEANS FRENCH QUARTER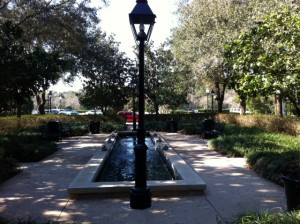 Port Orleans French Quarter, and its sister resort Port Orleans Riverside, are Disney World's best-loved moderate resorts.
French Quarter is also my own personal favorite among the moderates, and it's inspired a great fan site.
However, a couple of multi-night stays at French Quarter over the past year (all since it completed its 2011-12 renovation) confirm that Disney's Port Orleans French Quarter Resort remains the fourth best of the moderate resorts for first time family visitors.
(For what the moderates provide, and how they compare to the other Disney World resort classes, click here)
You can have a wonderful visit at any Walt Disney World resort.
However, this site recommends that first time visitors to Walt Disney World avoid the moderate resorts, while noting that these resorts are wonderful for visits after the first. (See this for why.)
That said, the moderates represent ~30% of the rooms of Walt Disney World, and will be sought by some because this site's recommended resorts are sold out, because you are on return visits, or because–sensibly–you're just not that into my rankings!
So I've stayed in each of the moderate resorts multiple times, and published reviews of each.
And after a wave of renovations in the moderates that resulted in new room types, queen beds in three of the five moderates, and other changes, I began in 2012 a new cycle of stays, for refreshed reviews.
This included five multi-night visits to the moderates in 2012, three more so far in 2013, and one more on the books for the end of February/beginning of March. In total, these will add up to 25 nights at the moderates in less than a year.
The refurbs–especially those at Port Orleans Riverside and French Quarter–have not changed the overall rankings of these resorts, but they have tightened up the distance between the first four considerably!
REVIEW: DISNEY'S PORT ORLEANS FRENCH QUARTER
Resorts are ranked on this site for first time visitors based first on their kid appeal, and then on their convenience.
On this basis, Disney's Port Orleans French Quarter Resort is the fourth best moderate resort for first time family visitors.
(Disney's Caribbean Beach Resort is first, Disney's Coronado Springs Resort second, and Port Orleans Riverside is third; these results are very close.  The Cabins at Disney's Fort Wilderness Resort are ranked last, and this is not close.)
FLOOR PLANS AT DISNEY'S FRENCH QUARTER RESORT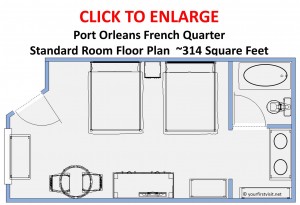 Like those in the other traditional moderates, rooms at French Quarter have ~314 square feet.
These rooms are quite spacious, even with the queen beds added in 2012.  The bedroom area is particularly ample, and is bigger than the bedroom spaces at several of the deluxe resorts. (See this.)
The rooms sleep four in two queen-sized beds. You can add to this capacity of four a child younger than three who sleeps in a crib.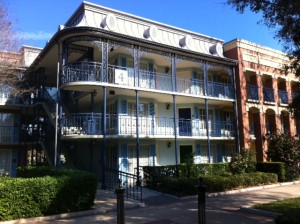 Kid Appeal. The New Orleans theming of this resort, and all of its lovely buildings and courtyards (less lovely in January, when I took these photos, than in spring and summer, when more flowers are in bloom) while delightful to adults, will miss most kids entirely.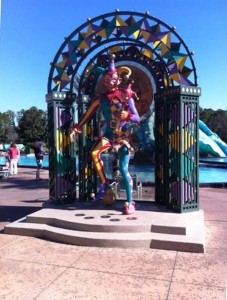 The Mardi Gras overlay on the resort theming will delight some kids, but recall unpleasant memories of Chucky to others!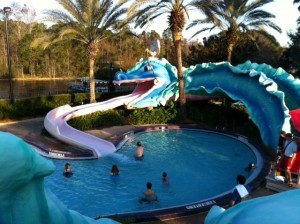 Its main pool is fun–but has the same mixed effect on kids.  Some will delight in its serpent theming, and that the pool slide is a serpent's tongue; others will be a little put off by it by swimming with a serpent!
Port Orleans French Quarter is missing some amenities that you'll find at the other traditional moderates–such as a marina and a table service restaurant. These are all available at its sister resort Port Orleans Riverside, and partly because of this, and partly because of Riverside's more consistently kid-appealing pool, I put Riverside ahead of French Quarter in kid appeal.
Now, I get comments all the time along the lines of "We stayed at French Quarter and my kids just loved it!" And I'm sure that they did.  All the Disney resorts have great kid appeal. My point is that some have even more than others…
Convenience. Disney's Port Orleans Riverside is the most convenient of the moderates.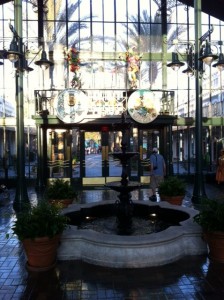 While often thought of as out of the way, it is in fact just across a street (or two) from Epcot, and along with Port Orleans Riverside is the closest of the "traditional" moderates to the Magic Kingdom.
It also shares with Riverside a slow boat to Downtown Disney.
It is unique among the traditional moderates in having just one bus stop for the Magic Kingdom.
However, most of the year it shares buses with Riverside for the other three parks, having thus five bus stops (one at French Quarter and four at Riverside) for these parks.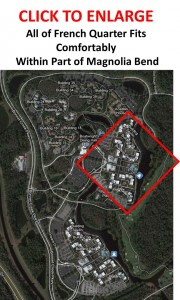 Getting around inside the resort is easier at French Quarter than at any other moderate. It has half as many rooms as the other moderates, and adds to this a particularly compact layout.
See the image to the right.
In it, French Quarter is in the bottom center, and Riverside (mostly) in the top.  I've then copied and pasted French Quarter into Riverside, highlighting it in red.
All of Port Orleans French Quarter fits comfortably into just a part of Riverside's Magnolia Bend–just one of Riverside's two sections!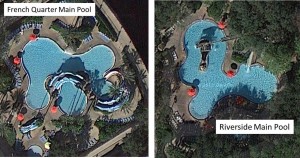 Another convenience point is the size of French Quarter's main pool, Doubloon Lagoon. Although French Quarter holds fewer than half as many people as Riverside, its main pool is about the same size.
What this means is that a much higher proportion of resort guests can be at the main pool at French Quarter than at Riverside.
Now Riverside does have five more pools than French Quarter…but this is partly a testament to Riverside's sprawl, with the design intent being to put pools closer to accommodations buildings so that people did not have to walk ten minutes to the closest pool!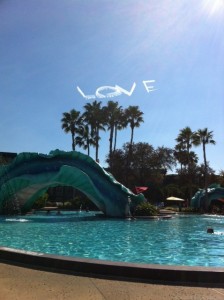 I personally prefer the French Quarter main pool to Riverside's because French Quarter's pool chair areas are much less shaded than those at Riverside. This is a matter of taste, though, so I ignore it in the rankings!
Other distinctive features. Most romantic of the moderates. Only traditional moderate with no marina, no bike rentals, only one pool, and no sit-down restaurant. With Port Orleans Riverside, the only moderate with no lake, and also with Riverside the only moderate with boat transport to Downtown Disney.
BEST PLACES TO STAY AT PORT ORLEANS FRENCH QUARTER

This site suggests that first time visitors stay in standard rooms, not preferred rooms (because they won't be spending much time in their rooms, or going to the main resort food area often; the single exception is visitors to the Animal Kingdom Lodge, who should always pay for savanna views.)
Click the image to enlarge the map–note it is not to scale, and exaggerates the size of Port Orleans French Quarter compared to Riverside.
Buildings 1 and 7 are the least convenient, and 5 and 2 not only have no standard view rooms, but are also subject to pool noise.
Building 6 is a great building, but has no standard view rooms.
Of what's left, a second floor room (less noisy) in Building 4 is by far the best choice.  It is the most convenient building at French Quarter when you factor in distance from the food court, main pool, and bus stops.  Moreover, its standard view rooms are masked from the parking lot by some lovely gardens!
Building 3 is the next best choice.  Most–but not all–of its standard view rooms are also sheltered from the parking lot, and it's as convenient to the pool and almost as convenient to the food court as Building 4.  It is a little farther from the bus stop.
BEST FOR:
Adults seeking a romantic resort; families with mobility issues seeking a moderate; families seeking the most convenient moderate.
WORST FOR:
Families seeking a particularly kid-appealing resort; families requiring a marina, bike rentals, or table service restaurant.
MORE STUFF ON DISNEY'S PORT ORLEANS FRENCH QUARTER RESORT
This review continues here.
Follow yourfirstvisit.net on Facebook!
RELATED STUFF