Dining at Disney's Port Orleans French Quarter Resort
By Dave Shute
(For the first page of this review of Disney's Port Orleans French Quarter Resort, see this.)
DINING AT PORT ORLEANS FRENCH QUARTER
Port Orleans French Quarter has one main dining option, the refurbed-in-2016 Sassagoula Float Works food court, and two minor options–the inside and pool bars.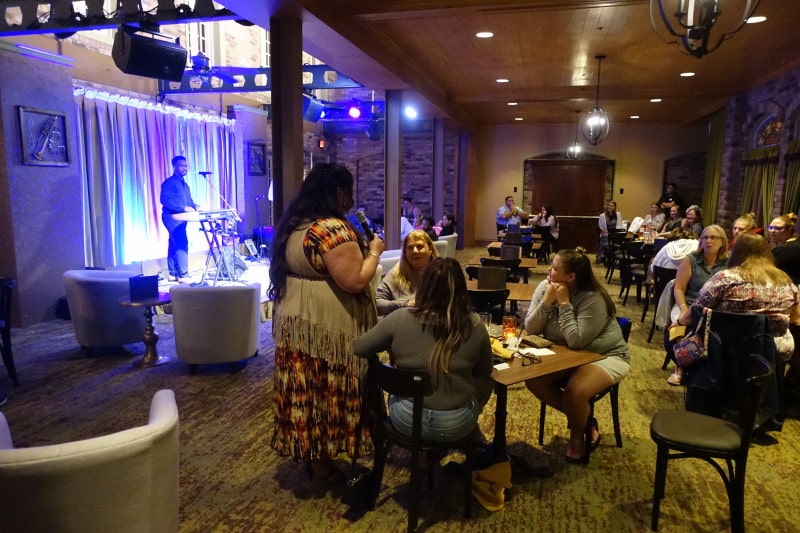 Across from the main entry hall of Port Orleans Square you'll find the bar, Scat Cat's Club…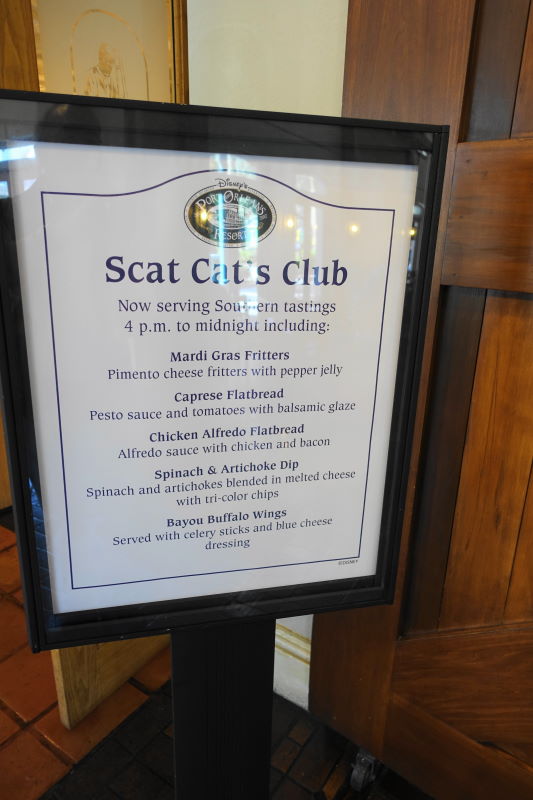 …with entertainment many evenings, and, more to the point, bar food–important as there is no sit-down restaurant here. (Mardi Gras Fritters are the specialty of the house.)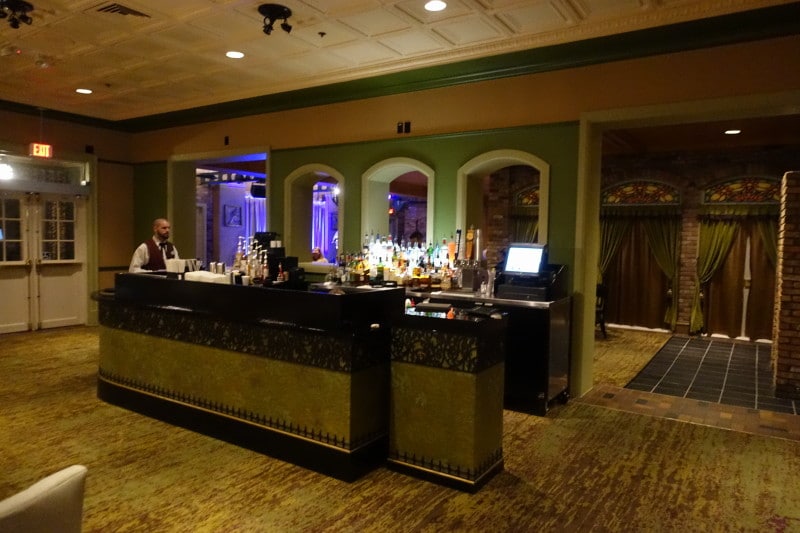 Scat Cat's moved in 2019 to this space, the old tables service restaurant here that was shut down long ago.  I don't think much of the new space–it has a temporary feel too it–but it is larger than the old space.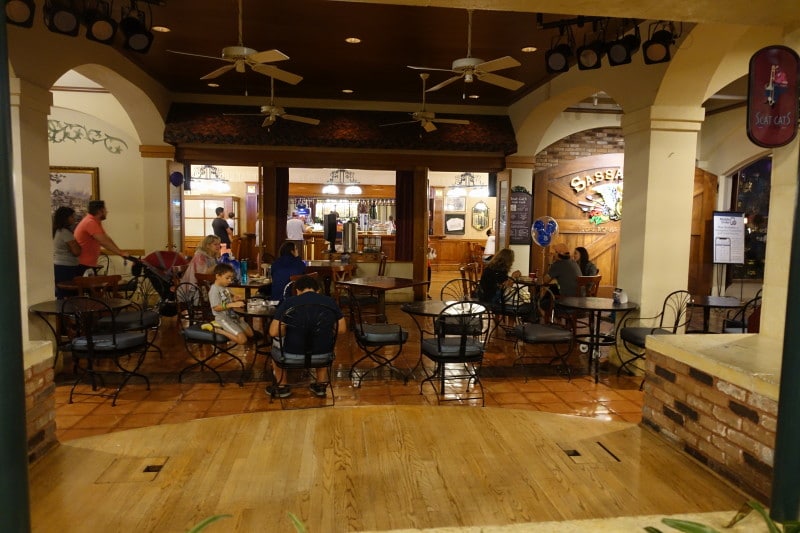 The old Scat Cat's is now where you get beignets at Port Orleans French Quarter–and also function as a coffee shop in the morning.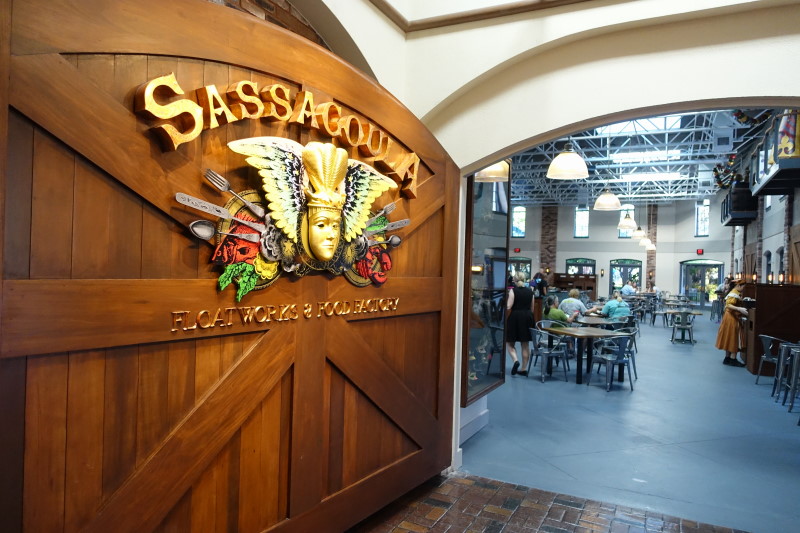 The main food court, the Sassagoula Float Works and Food Factory, was refurbed in 2016 and lost much of its prior distinctive Mardi Gras decorations.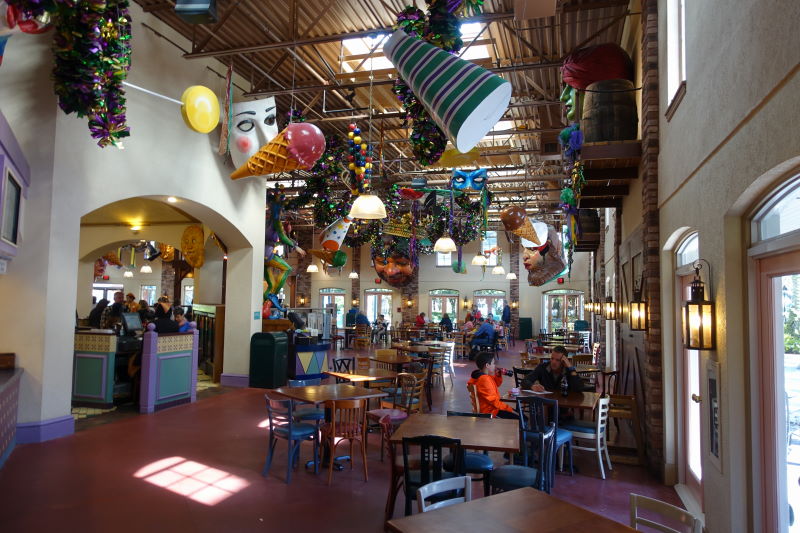 Above is what it used to look like.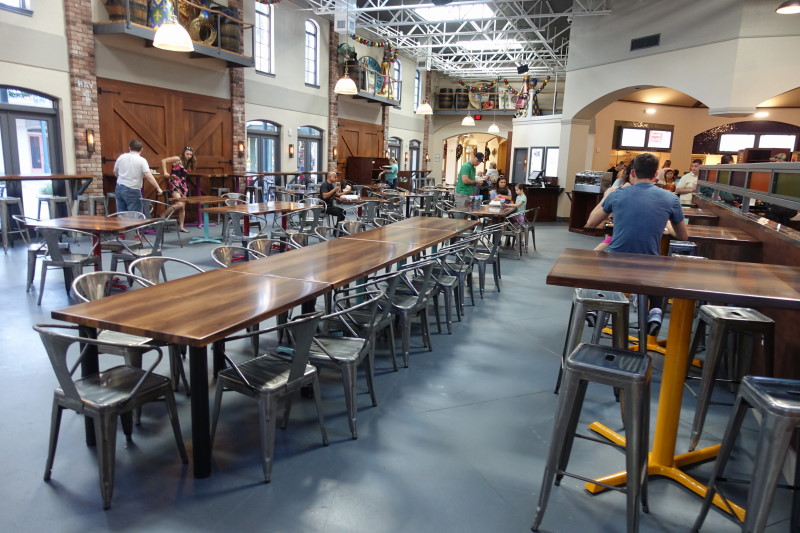 And here's what it looks like now…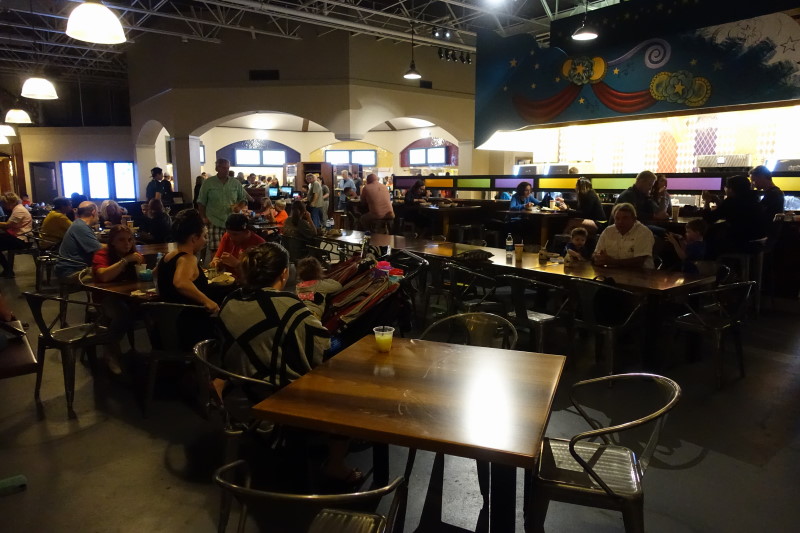 It looks better at night.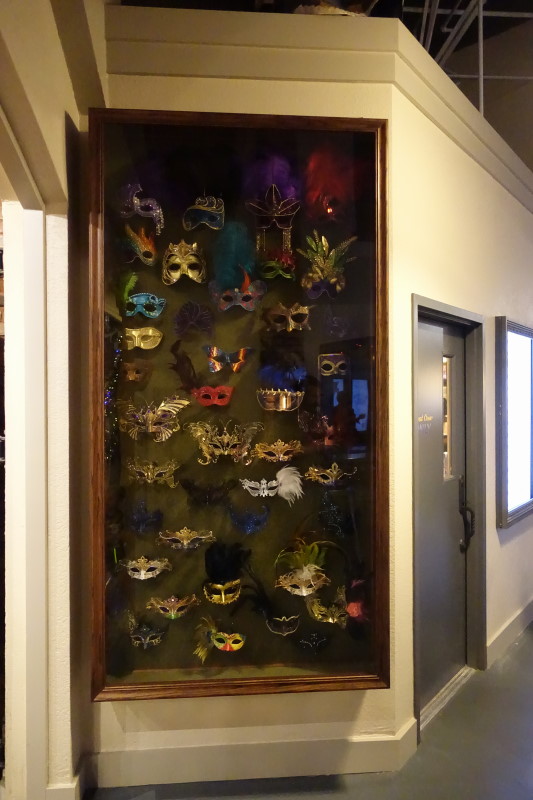 It retains only the lightest of Mardi Gras theming here…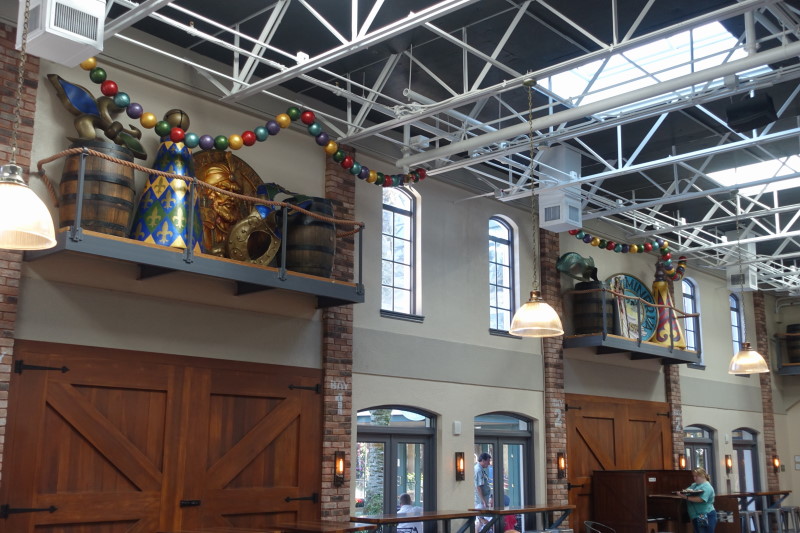 …and there.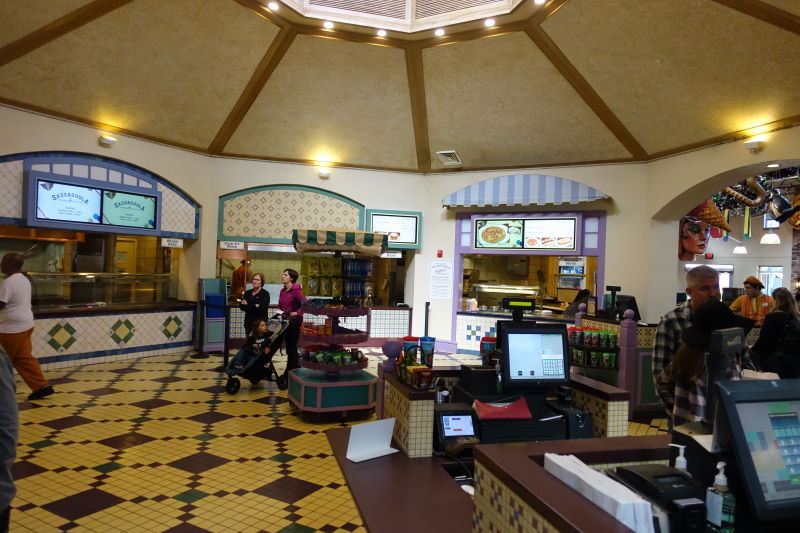 You order and pay for your food in a small area that not only did not get larger in the refurb (above is the old area)…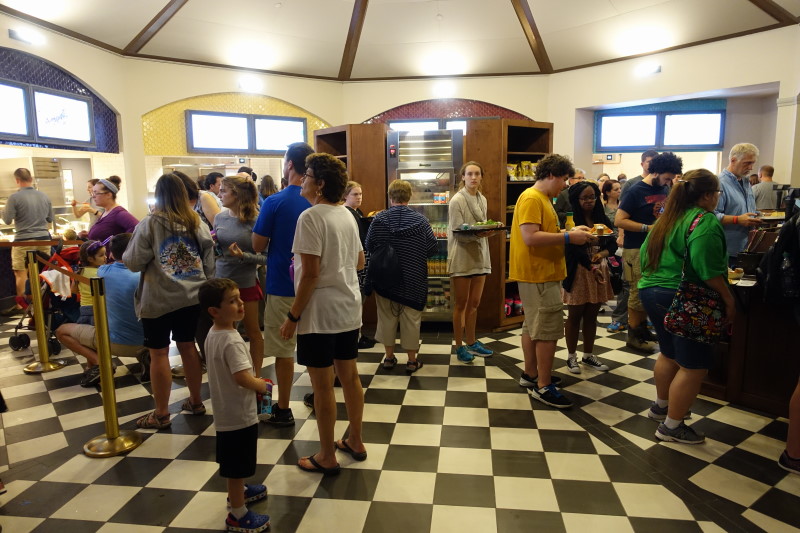 …but actually lost some space due to a larger central shelving point.
The food quality–most of what matters–improved after the refurb. Josh really liked his catfish rice bowl.
Josh's post also has images of the menus that were up the night we went there, and you can also see them online here.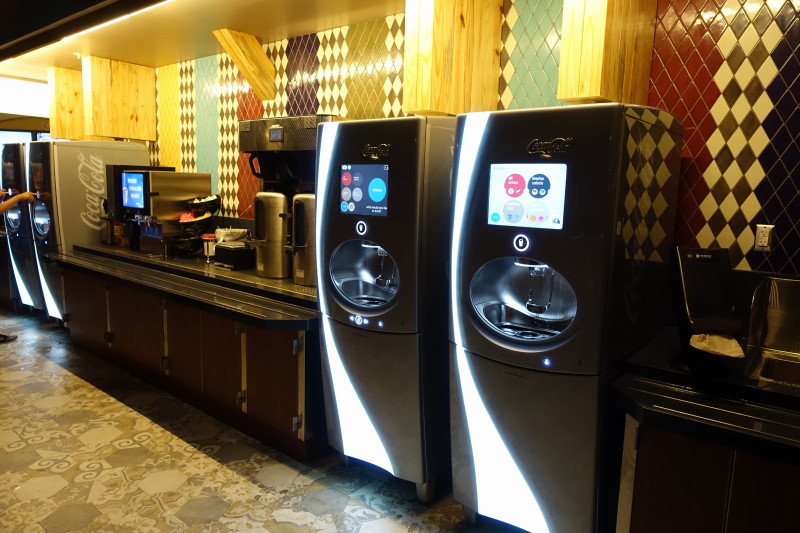 I marveled at the new drink dispensers. (Josh's discussion of them noted that his dad would be confused…but his picture of a confused person trying them was actually of me–it was a kindness of his to not out my ineptness…but I eventually figured them out.)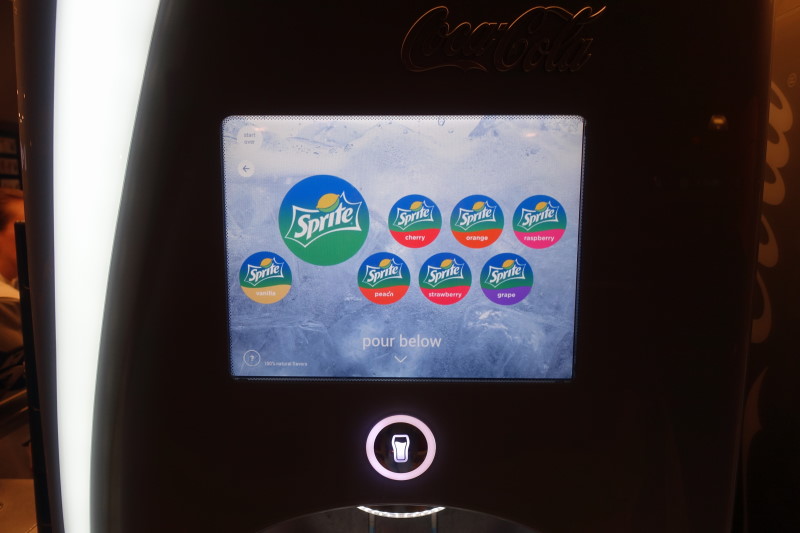 Peach Sprite, who knew it would be so good?
Port Orleans French Quarter is the only moderate without a table-service restaurant. It used to have one–Bonfamille's Cafe–but it was shut down in at the turn of the century as a cost-saving move, and has never been re-opened (it's now used as a test kitchen).
Even so despite the cramped size and long lines I do like the food court at Port Orleans French Quarter quite a bit–especially the beignets, made while you wait, and the barbecued ribs with sides of corn bread, collard greens and mashed potatoes! If I am staying at Riverside I'll usually make my way here for beignets and greens.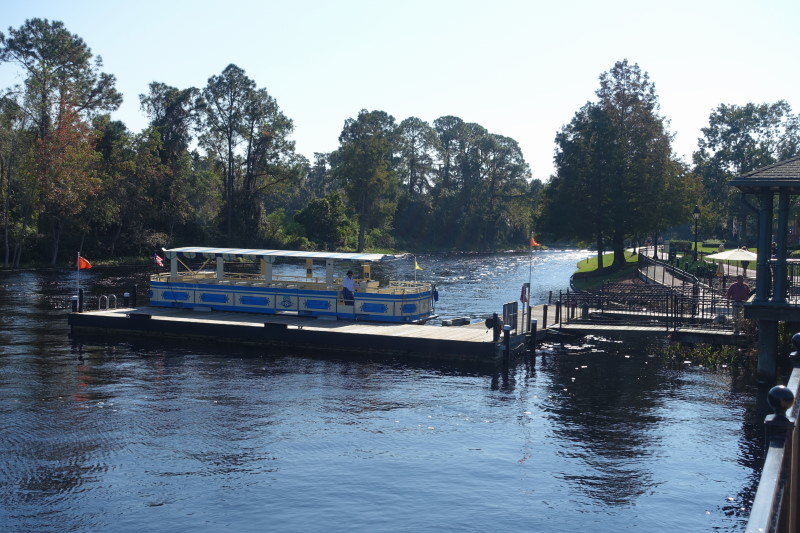 If you want a table service meal, Boatwrights at Port Orleans French Quarter is about a half mile walk or boat ride away. The increasingly great restaurants of Disney Springs are also accessible by boat.
Outside, the pool bar also offers a few snacks: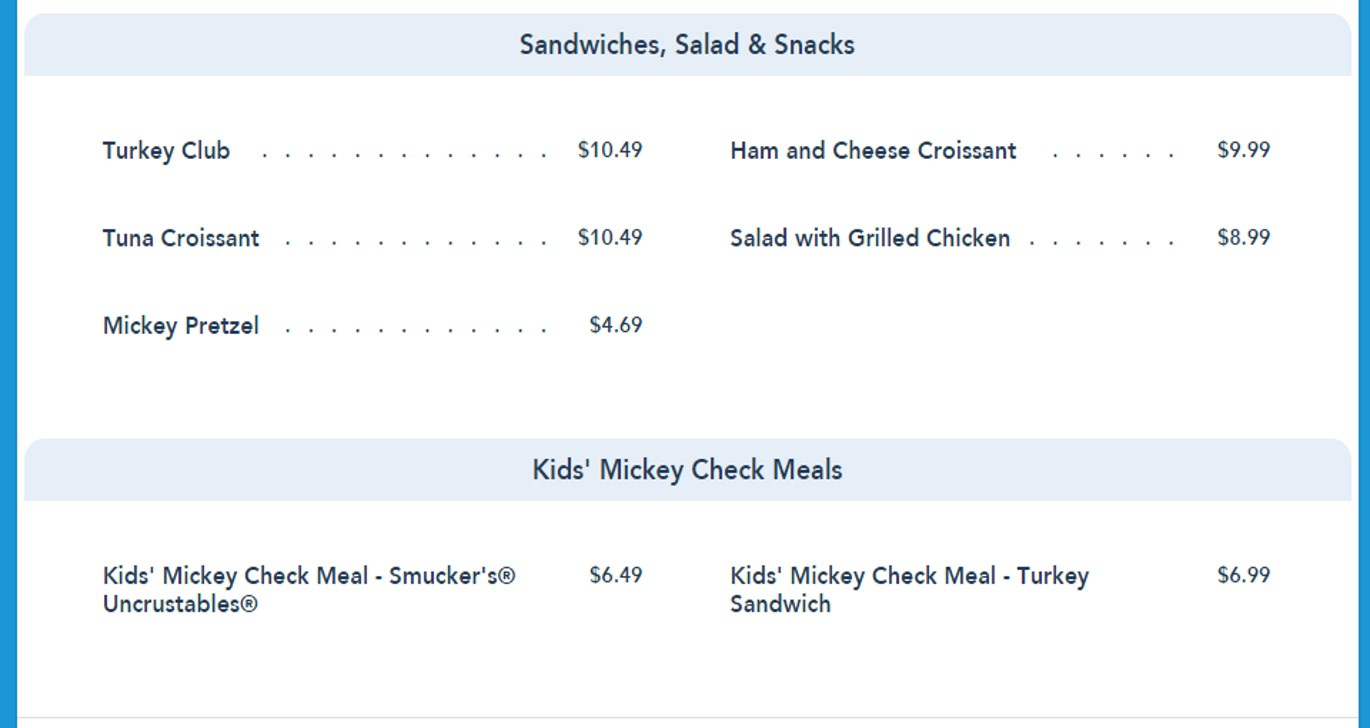 The online pool bar menu is here.
And speaking of the pool…
This review continues here.
MATERIAL IN THIS REVIEW OF DISNEY'S PORT ORLEANS FRENCH QUARTER RESORT
OTHER KEY PAGES FOR WHERE TO STAY AT DISNEY WORLD


Follow yourfirstvisit.net on Facebook or Twitter or Pinterest!!
RELATED STUFF