Personal Favorites: The Moderate Resorts
By Dave Shute
THE PERSONAL FAVORITES SERIES
This post is one in a series about personal favorites. See lower on the page for more about this series.
This site's ranking of the moderate resorts at Walt Disney World for first time visitors puts Disney's Caribbean Beach Resort first, the Cabins at Fort Wilderness last, and Disney's Port Orleans French Quarter Resort next to last.
However, Port Orleans French Quarter is my personal favorite among the moderate resorts, and the Cabins at Fort Wilderness my next favorite.
Why?
WHY PORT ORLEANS FRENCH QUARTER IS MY FAVORITE MODERATE
First, Port Orleans French Quarter is the most compact of the moderate resorts.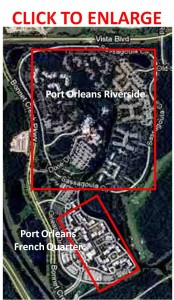 The other moderates have a sprawling layout, and getting around them can be a real chore.
Port Orleans French Quarter has half as many rooms as the other traditional moderates.
Moreover, there's much less distance between its lodging buildings and its pool, bus stop, and central service and dining area.
See the image, which compares the footprint of Port Orleans French Quarter with that of its more typical sister resort, Port Orleans Riverside.
Second, I find Port Orleans French Quarter to be the loveliest of the moderates.
Port Orleans is themed to represent New Orleans. 
A key part of this is a number of gardens and wrought iron fence-enclosed landscaped spaces. 
I find the overall effect lovely compared to the theming of the other moderates.
Finally, while Disney's Port Orleans French Quarter is inconvenient for first-time visitors, it's very convenient for me.
I always rent a car, so the issues with the bus system and distance from some of the theme parks don't matter much to me.
Moreover, if I'm not going to Disney World, I'm going north, and Port Orleans French Quarter is one of the more convenient resorts for going north.
When at Disney World, I shop on Apopka-Vineland Road, and I work on this website at the Barnes and Noble and the Starbucks on Sand Lake Road…and I sneak into Harry Potter as well.
Port Orleans French Quarter is well located for all of these.
I like something about each of the other moderates–the kid-friendliness of Caribbean Beach, the extra services and fun counter-service dining of Coronado Springs, and the architecture of some parts of Port Orleans Riverside.
But my favorite moderate after Port Orleans French Quarter is The Cabins at Fort Wilderness.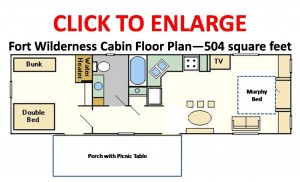 These are not like any other moderate.
First the cabins are set individually within the pines and waterways of Disney's Fort Wilderness Resort.
Second, they include a full kitchen and two sleeping spaces.
Third, while reasonably priced given their capacity of six people, extra sleeping space, and kitchen, for families of four and smaller, they are much more expensive than the rest of the moderates.
However, I love the peaceful settings, the extra space and kitchen, and Fort Wilderness itself!
The advice on this site—when to go, where to stay, what to do, etc.–is aimed at the typical family visiting Walt Disney World for the first time, unsure if they will ever return.
It is based not on personal favorites or my own taste, but rather on a combination of facts, analysis, inference and judgment about what would be best for such a family.
My personal favorites can be quite different from my advice for these families–particularly because I'm older and hence traveling with twenty-year-olds, not little kids; have been to Disney World more than thirty times; and know I'll be coming back!
I thought at least some might be interested to hear about some favorites…if for no other reason than so that they can argue, using the comment form below!
MORE ON WHERE TO STAY AT DISNEY WORLD
blank
blank
blank
Home   Donate   Sitemap   FAQ   Travel Agents
RELATED STUFF