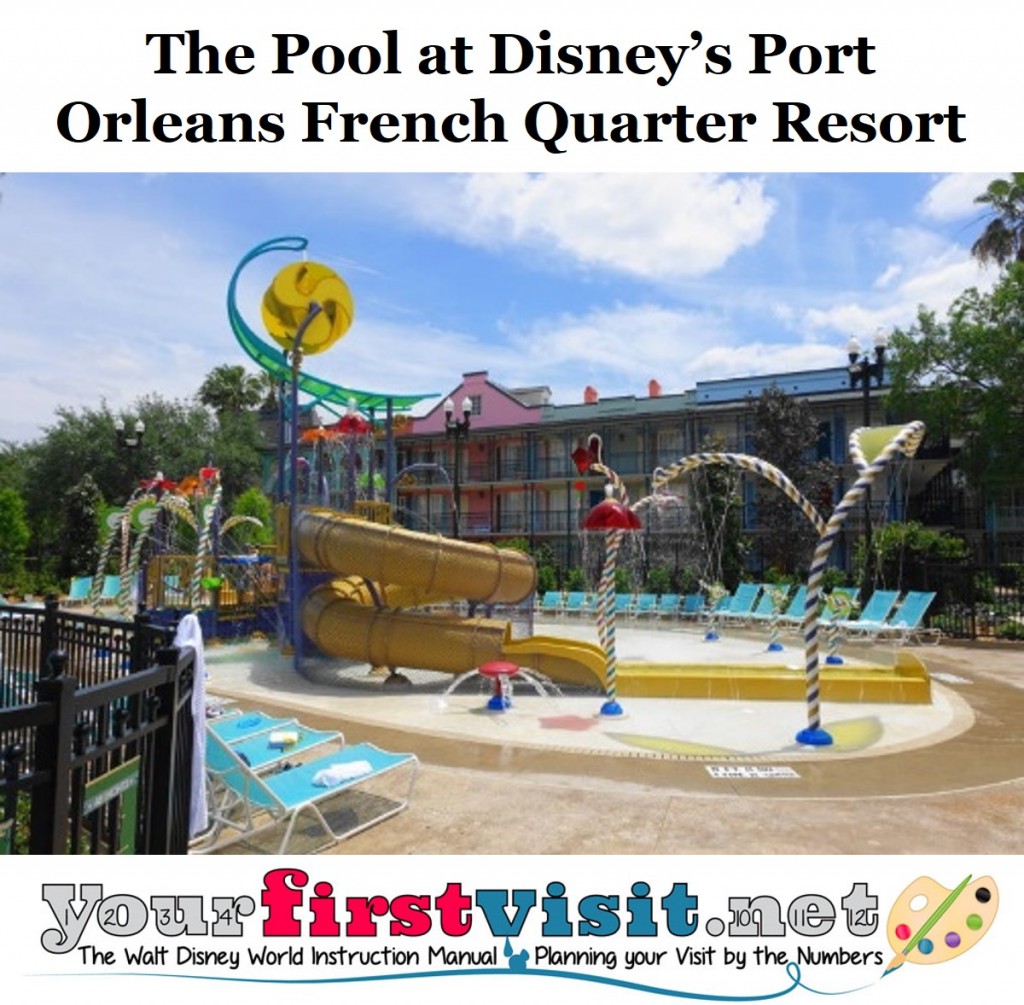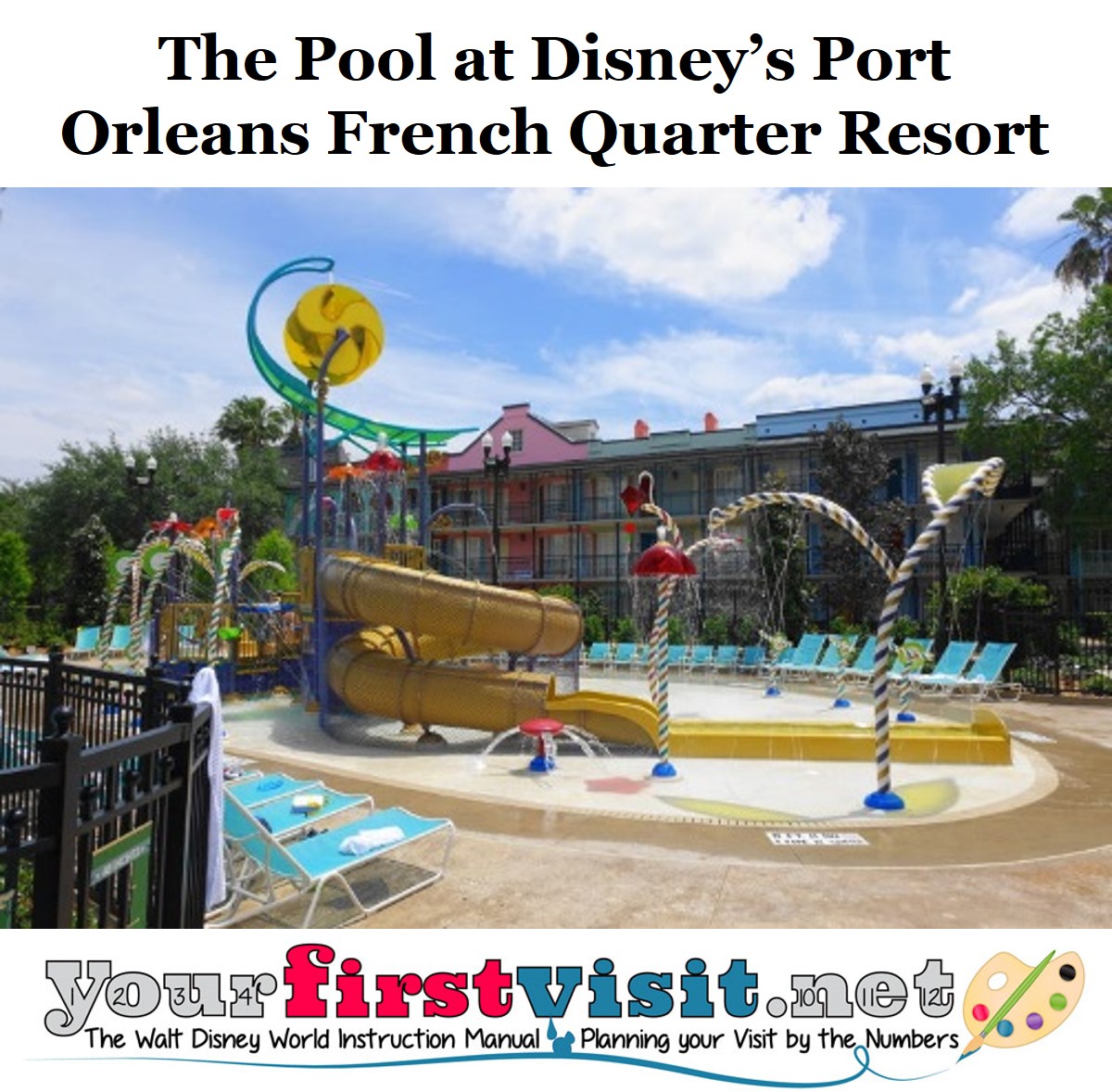 (For the first page of this review of Disney's Port Orleans French Quarter Resort, see this.)
THE POOL AT DISNEY'S PORT ORLEANS FRENCH QUARTER RESORT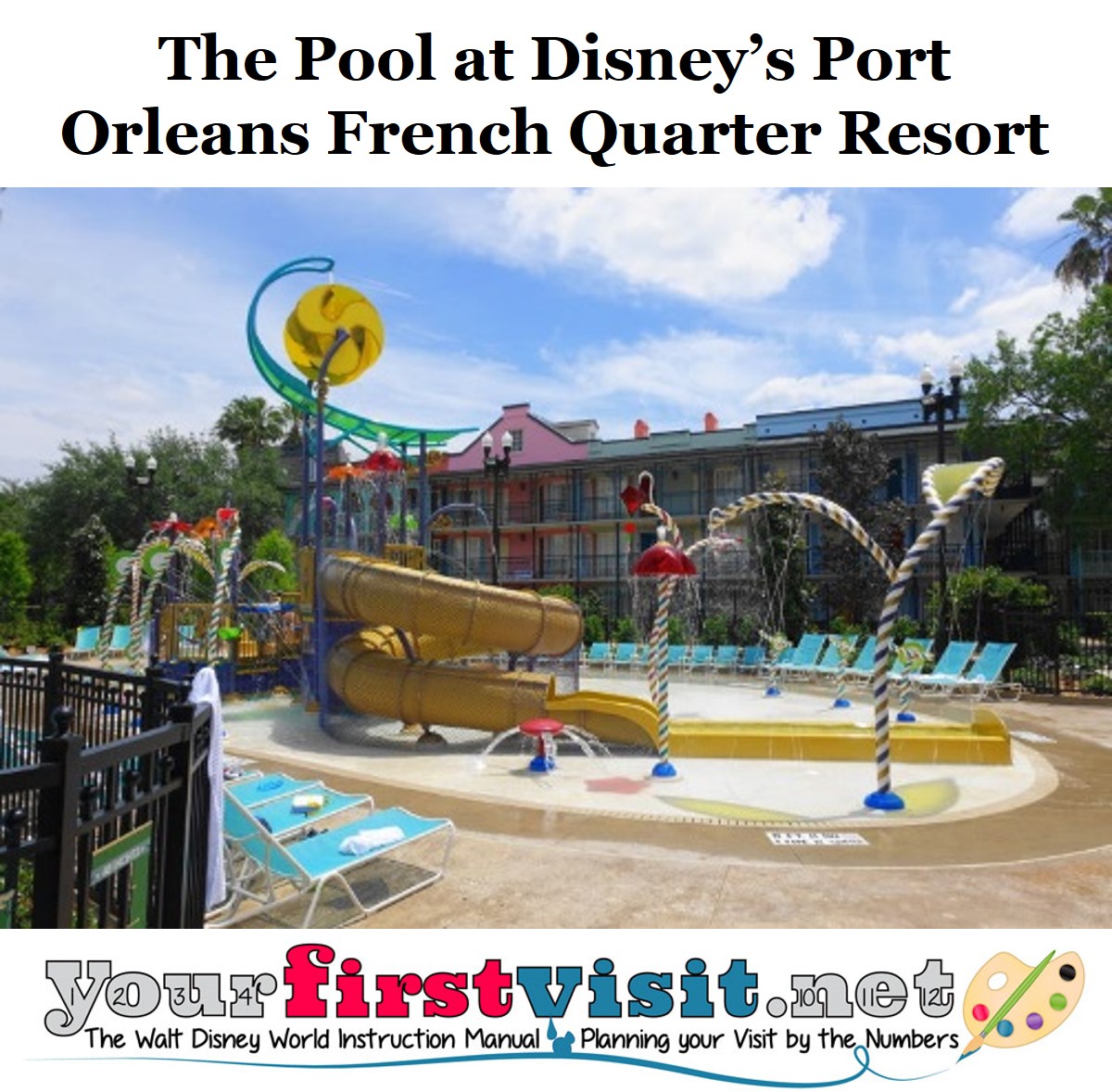 There's a couple of features at French Quarter that make it unusual among the moderates, and one is that it has only one pool.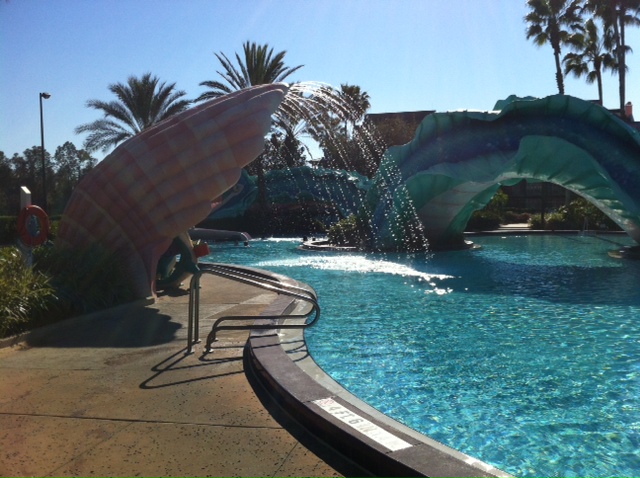 Other Disney World "traditional" moderate resorts (that is, excluding Fort Wilderness) have from four (Coronado Springs) to seven pools (Caribbean Beach), and sister resort Port Orleans Riverside has six.
Properly understood, though, this is a feature, not a bug.  The other resorts have so many pools because they sprawl so much that walks to the pools would be too long otherwise.  French Quarter's single pool is a testament to the compactness of the resort and how easy it is to get around.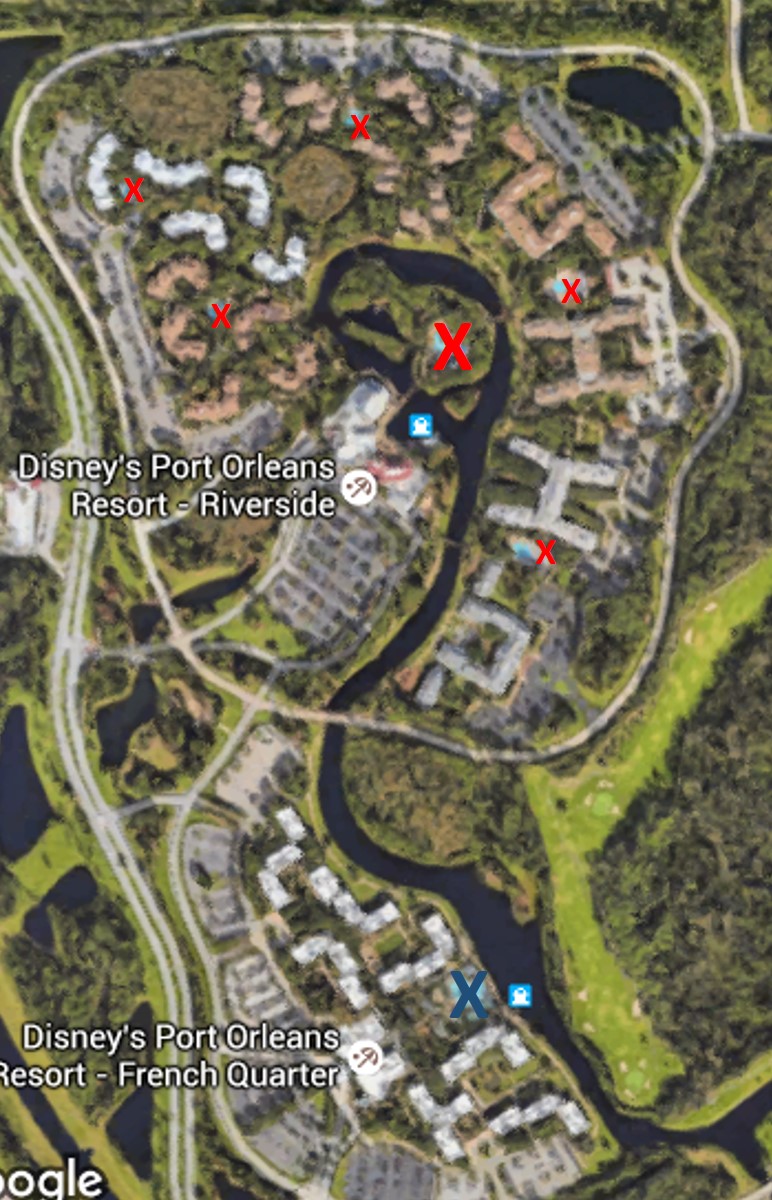 See the image, where the French Quarter pool is marked with a blue X, and the pools at Riverside in red, with the main pool there getting a larger red X.
Note the distance of many Riverside rooms from its main pool, and how all French Quarter buildings but one (Building 7) are an easy walk to its pool.
Moreover, the French Quarter pool has more effective capacity than even the Riverside pools all added together.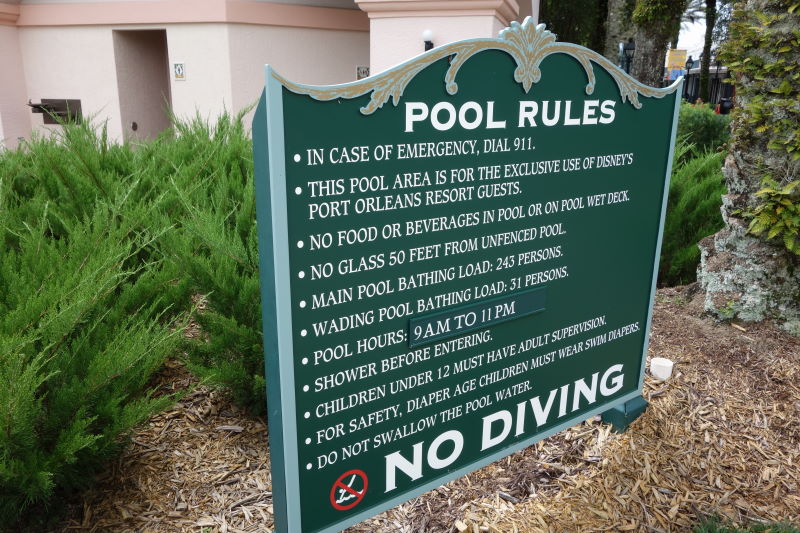 The bathing load of of the French Quarter pool is 243 persons.  The main pool at Riverside can only hold 175, and the rest only 270 more, for a total capacity at Riverside of 445. So Riverside pools can hold 83% more guests than French Quarter. However, since Riverside at full capacity can have 2.3 times as many hotel guests as French Quarter, in effect French Quarter has 25% more pool capacity than Riverside.
OK enough math (I could show more you know), my point is that the single pool at French Quarter is a feature, not a bug!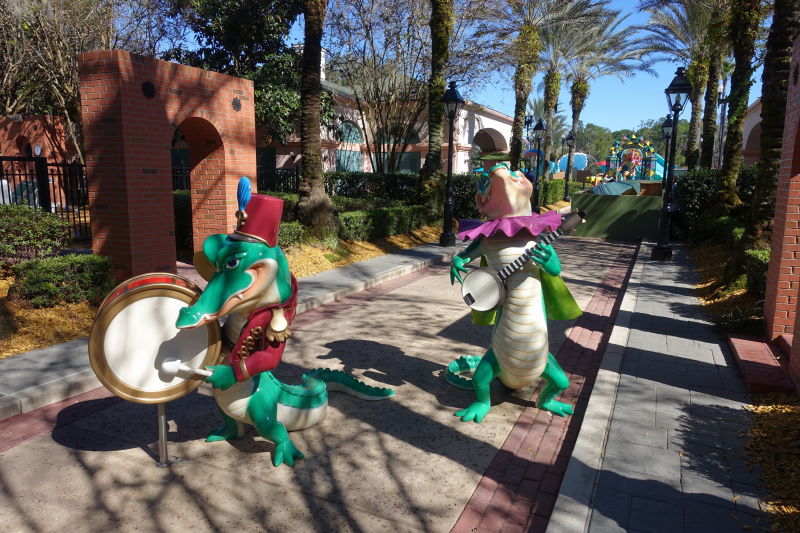 The pool is centrally located and reached from the main area of French Quarter by a pathway guarded by Mardi Gras figures.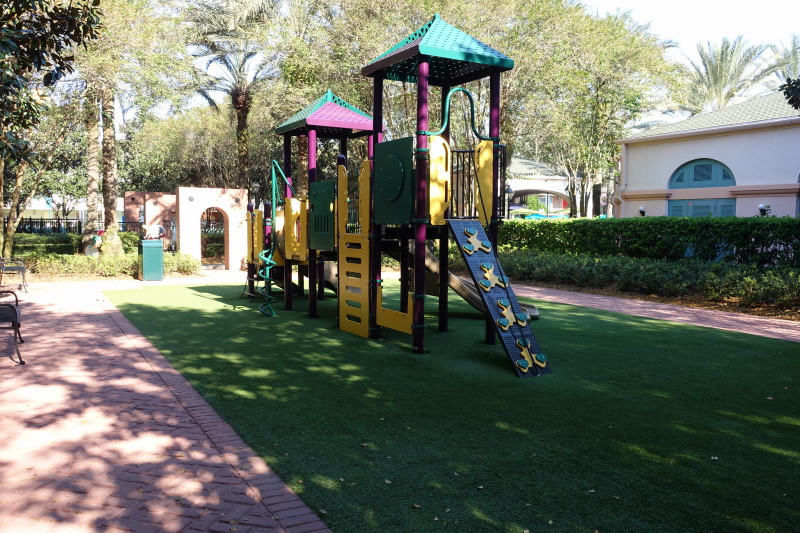 One side of this walkway has a playground…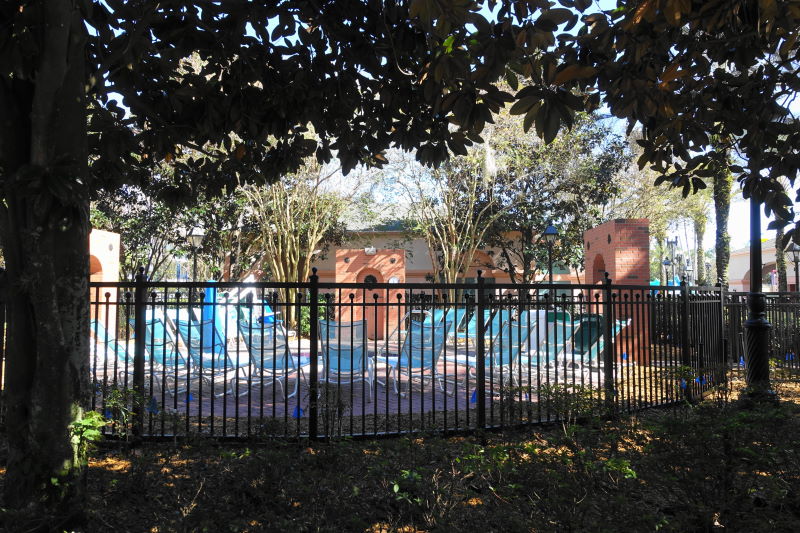 …and the other a hot tub.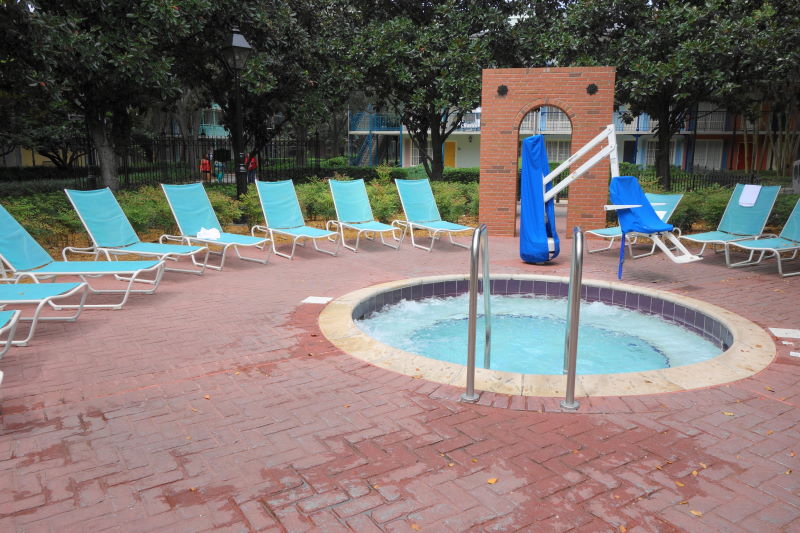 Another shot of the hot tub.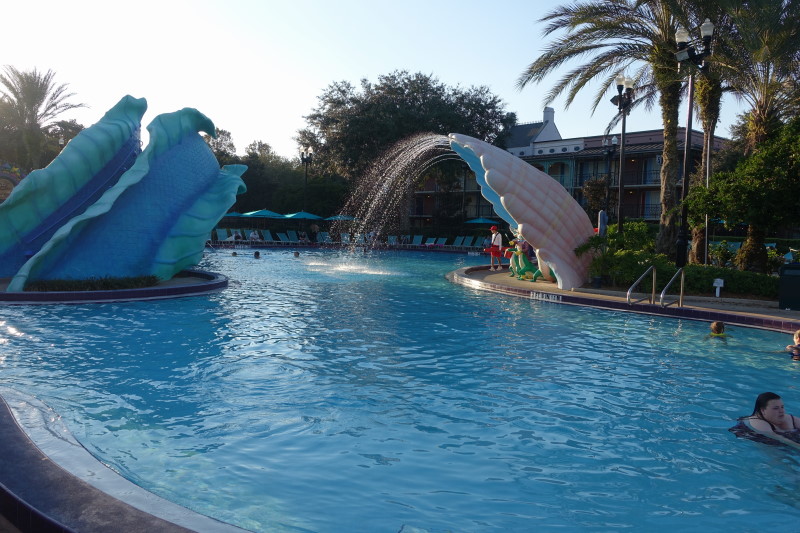 Next comes the main pool itself.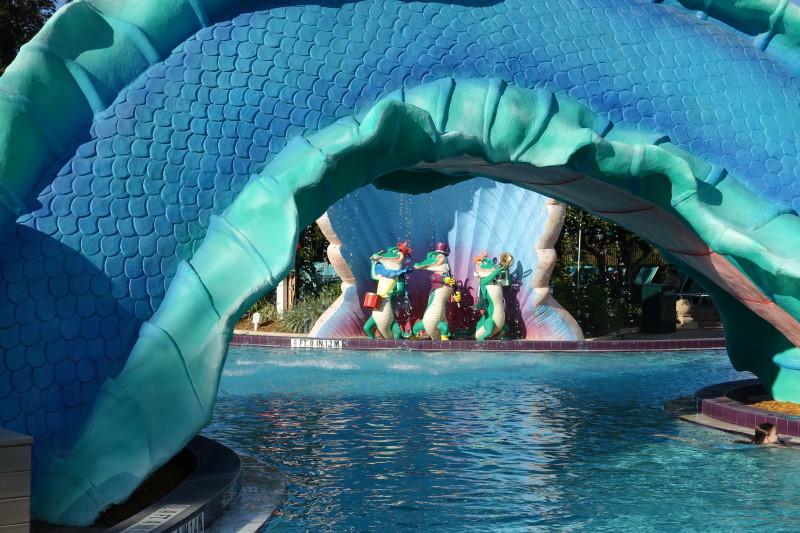 The figure draped around it is Scales the Sea Serpent, not, perhaps, the most child-friendly theming…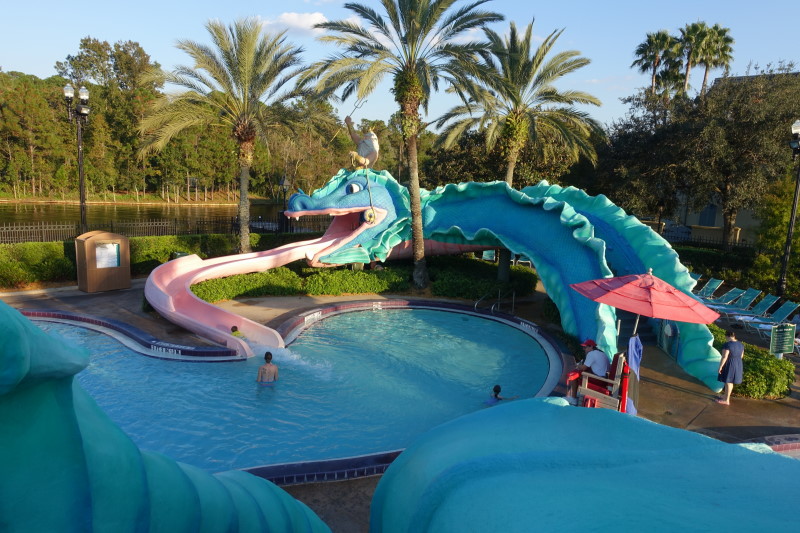 …but he does contribute a water slide!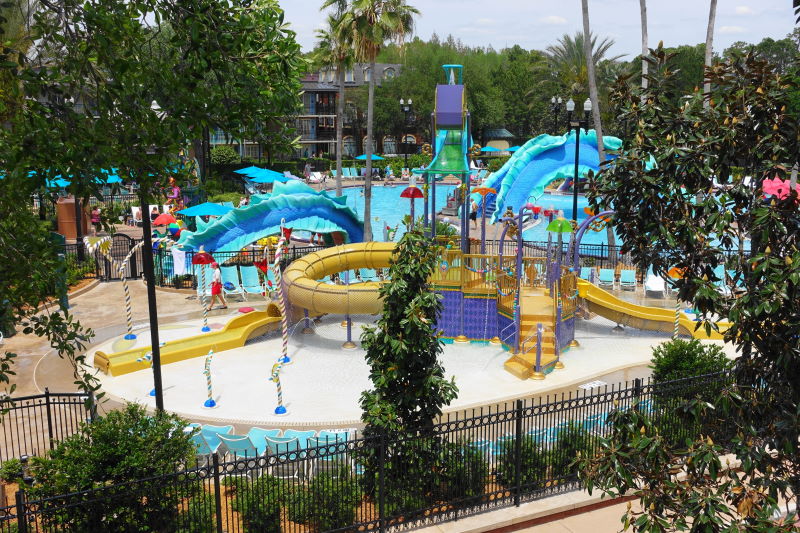 In 2016 both fencing (not shown in all my photos) and a brand-new kids water play area were added.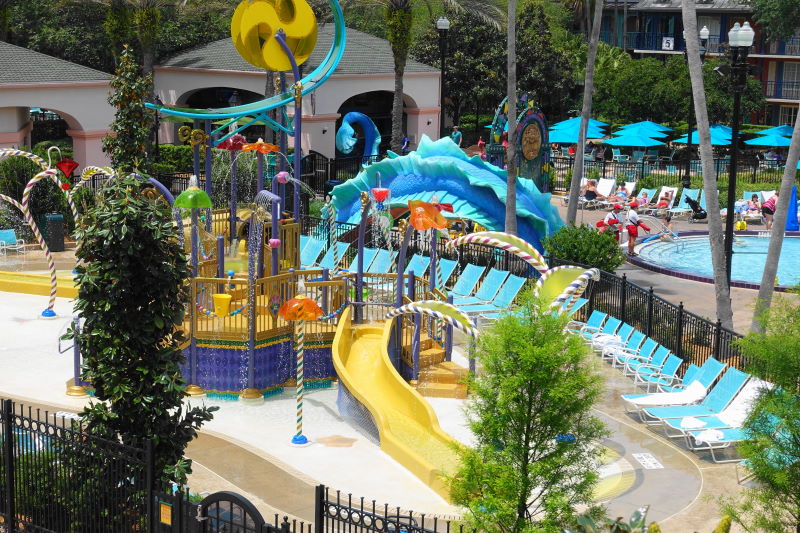 The water play area with its two more slides  is enormous and fun, and really adds to the kid appeal of this pool.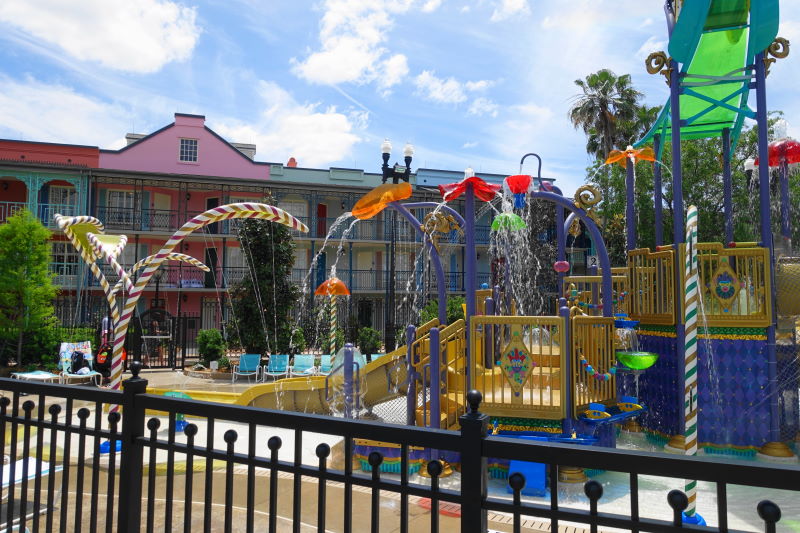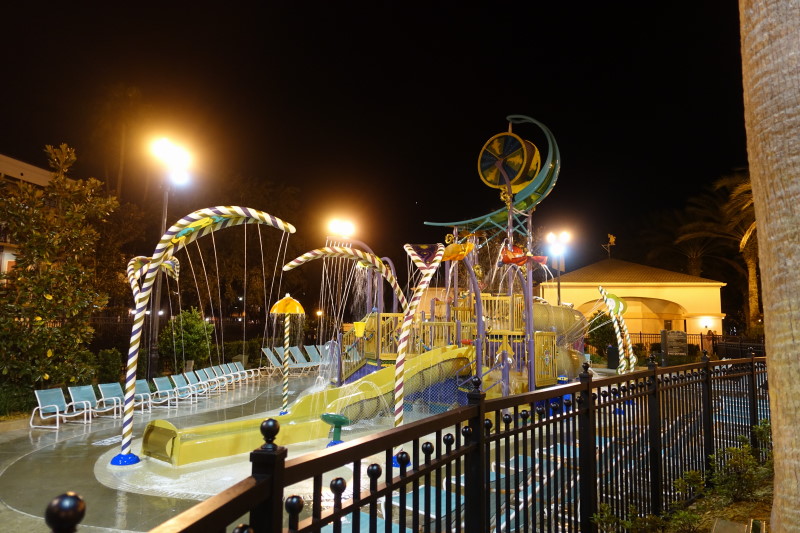 Among the other moderates, only Caribbean Beach has an equivalently fun play area.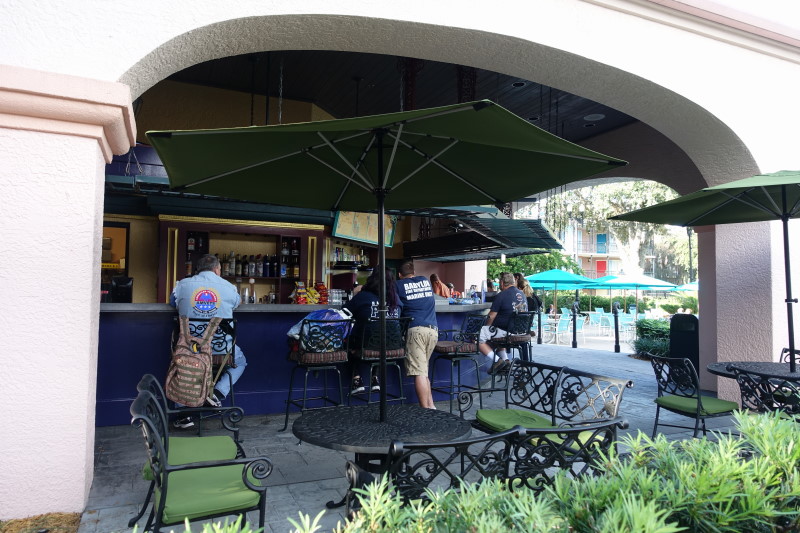 The adult play area (the bar) is on the other side of the pool.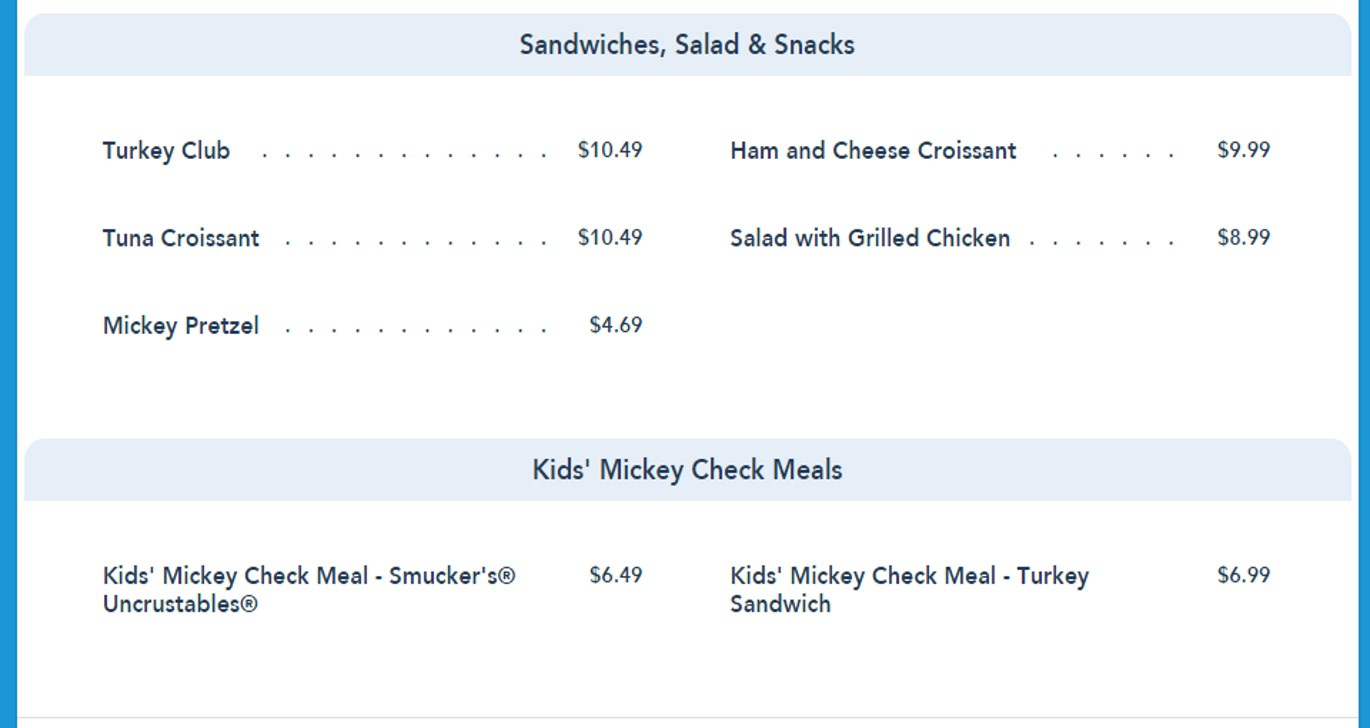 Besides the usual drinks, it has a light food menu.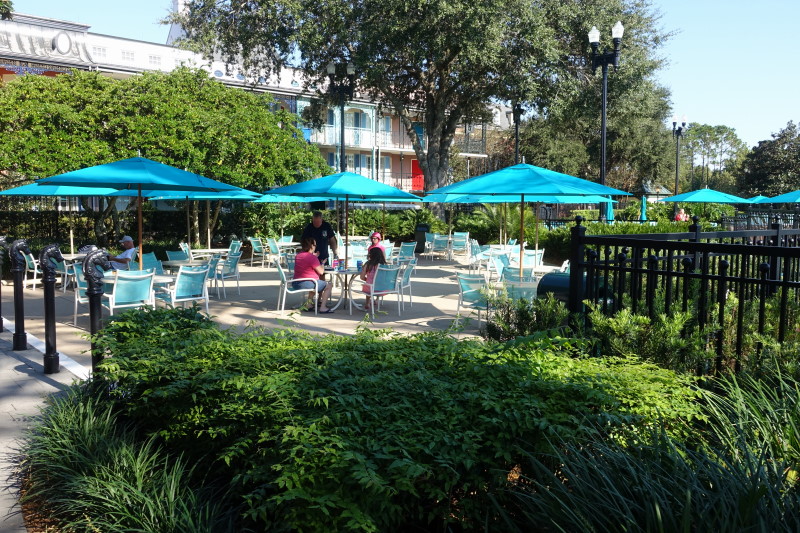 There's a large seating area next to it.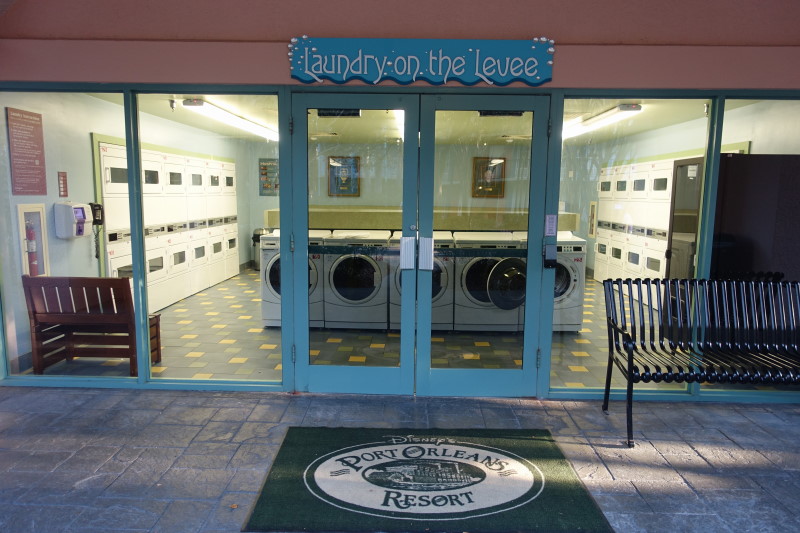 On the back side of the bar building is the guest laundry–handy for drinking while washing.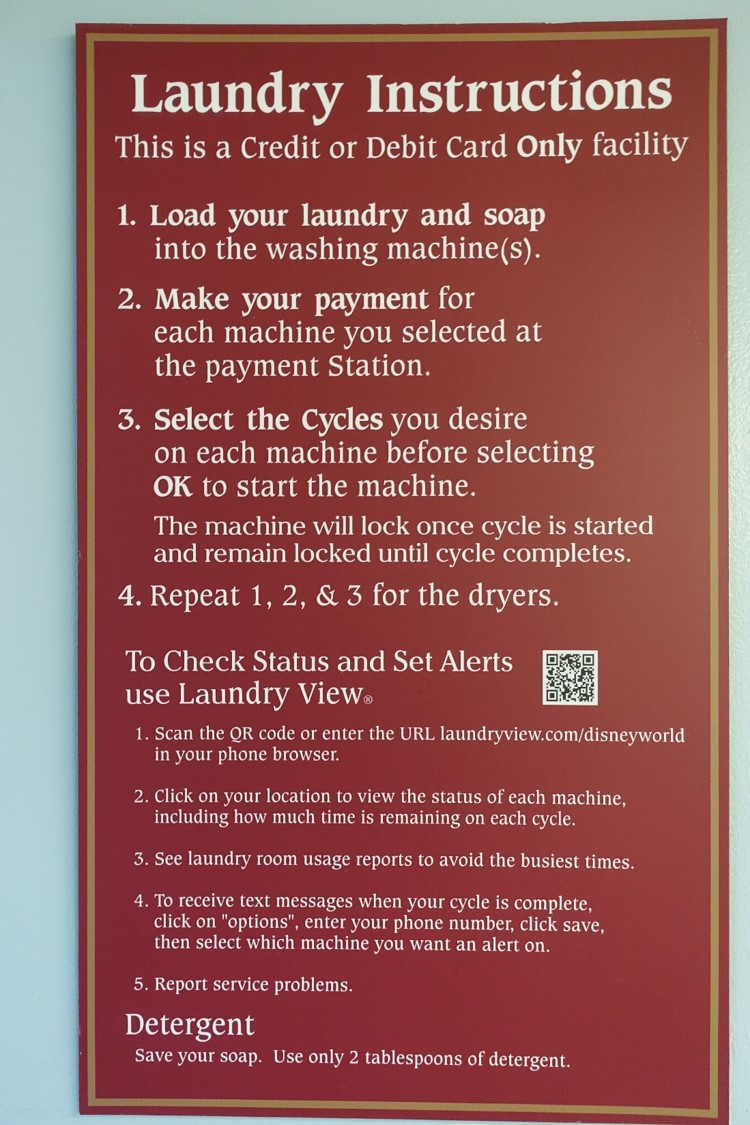 Introverts can use the online laundry management system and drink in the privacy of their room.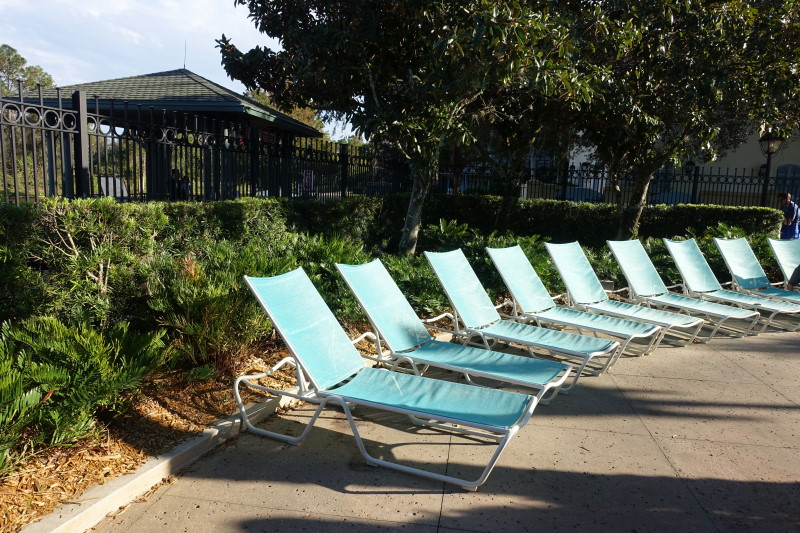 The only criticism I have of this pool complex is its lack of shade.  Those seeking more shady options will need to walk half a mile to the Riverside pool.
MATERIAL IN THIS REVIEW OF DISNEY'S PORT ORLEANS FRENCH QUARTER RESORT
OTHER KEY PAGES FOR WHERE TO STAY AT DISNEY WORLD


Follow yourfirstvisit.net on Facebook or Twitter or Pinterest!!