Accommodations and Theming at Disney's Port Orleans French Quarter Resort
By Dave Shute
(For the first page of this review of Disney's Port Orleans French Quarter Resort, see this.)
ACCOMMODATIONS AND THEMING AT DISNEY'S PORT ORLEANS FRENCH QUARTER RESORT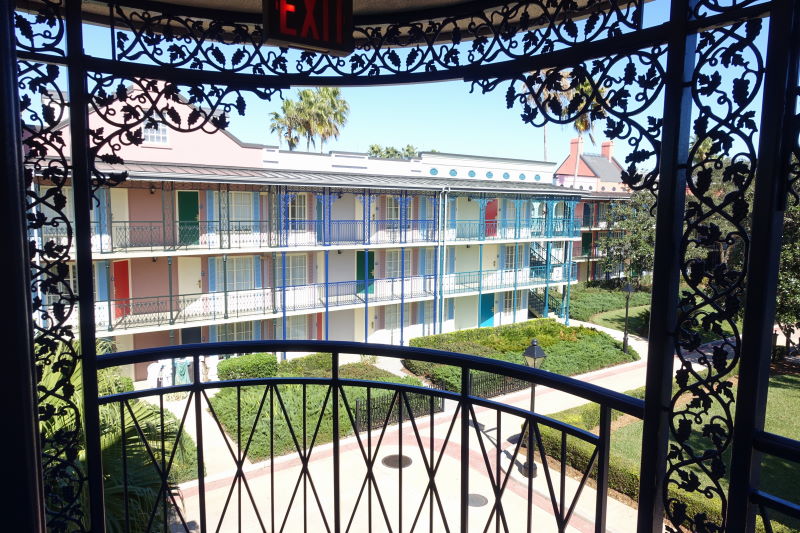 Port Orleans French Quarter is one of 5 moderate resorts at Walt Disney World:
The moderates have much more room than the value resorts, more amenities, and (except for Fort Wilderness) much better landscaping. See this for what you get by Disney World price class.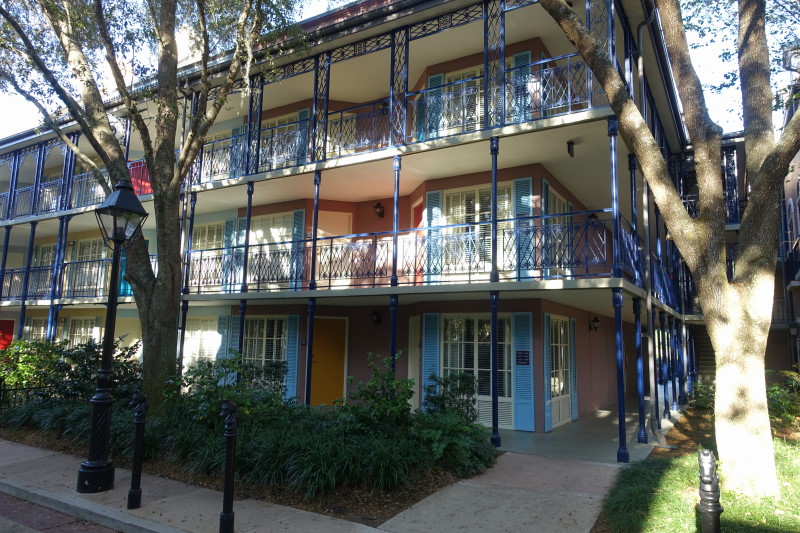 Although the typical moderate rooms, at 314 square feet (the cabins have 508 square feet), look much smaller than the rooms available at the deluxe resorts, differences in hall/entry layout make the living space of the typical moderates much more comparable to many Walt Disney World deluxes than raw square footage would imply. See this for more on square footage and livability.
Disney's Port Orleans French Quarter Resort is officially "inspired by the romance and pageantry of the historic French Quarter in New Orleans…" where you can "…stroll cobblestone walkways and gaze down ornate wrought-iron railings as you listen to the smooth jazz backdrop and breathe in the sweet smell of magnolia blossoms in the air."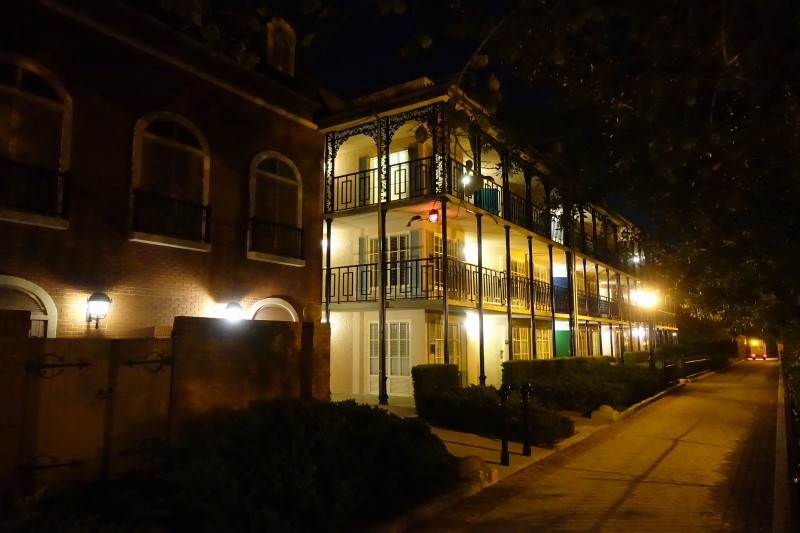 Port Orleans French Quarter has 1008 rooms in seven buildings. These buildings are divided into a "North Quarter" and "South Quarter," but, unlike other separately named sections of moderate resorts, have no difference in theming between them.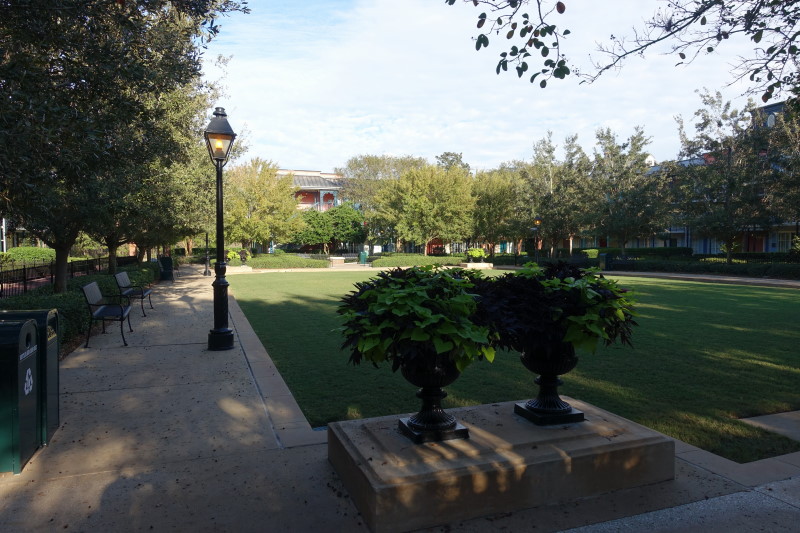 Rather, all share the same graceful New Orleans theming, and lovely walkways, gardens  and intimate courtyards.
The three story buildings have vertical sections divided by color, ironwork patters, and roof lines to create a bit of a townhouse feel.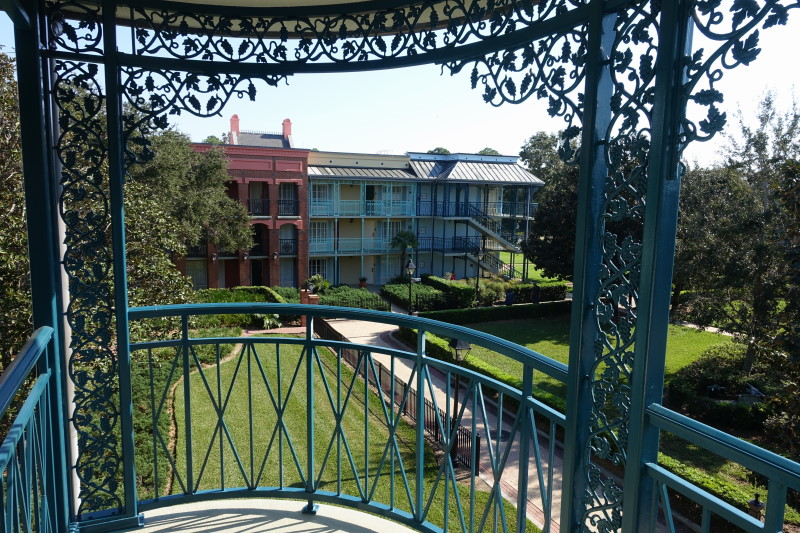 This is successful in some treatments…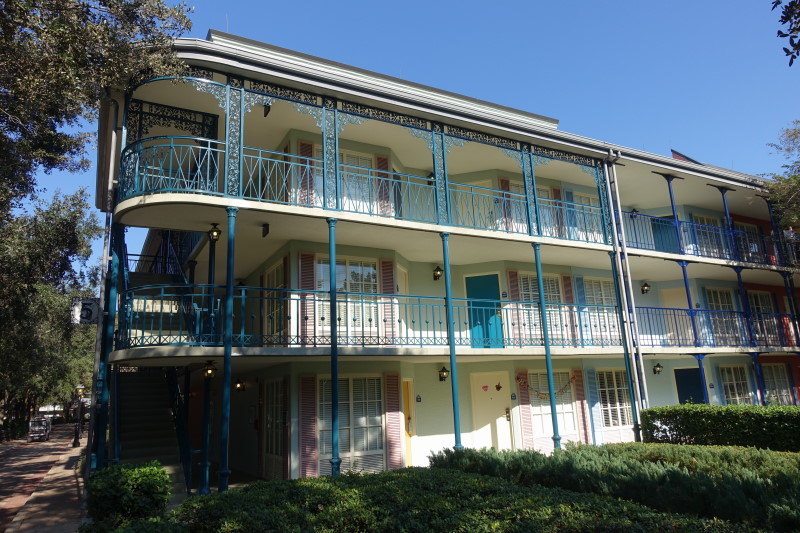 …but is mostly too low-contrast to be of much notice.
Most of the landscaping of the North Quarter is more intimate and romantic, with more of a street-scape and private garden feel, while the South Quarter is more open with more of a park-like feel. But this will vary by your room location.
Most rooms sleep four two queen beds, but rooms  that sleep two on one king bed are also available. According to Andre Willey's invaluable PortOrleans.org,
"French Quarter rooms come in five category options: Standard (mostly parking lot views), Garden View, Pool View, River View, and King Bed (which are all corner rooms and could have any of the previous view types)."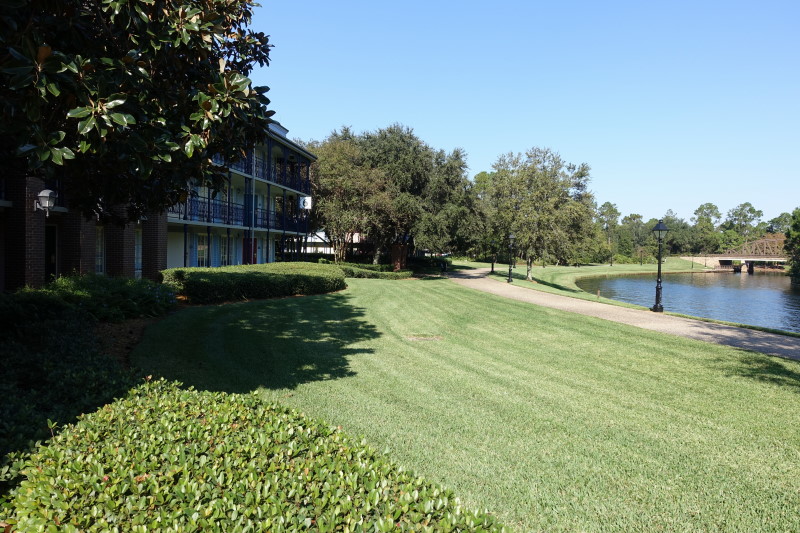 The river view.
Connecting rooms and and accessible rooms are also available. To the room capacities of four and two you can add one additional child who will be younger than three at your visit and who will sleep in a crib.
Prices for these bed and view categories vary. Search "Mousesavers.com Port Orleans French Quarter Room Rates" for the latest.
Rooms here were all refurbed in 2018.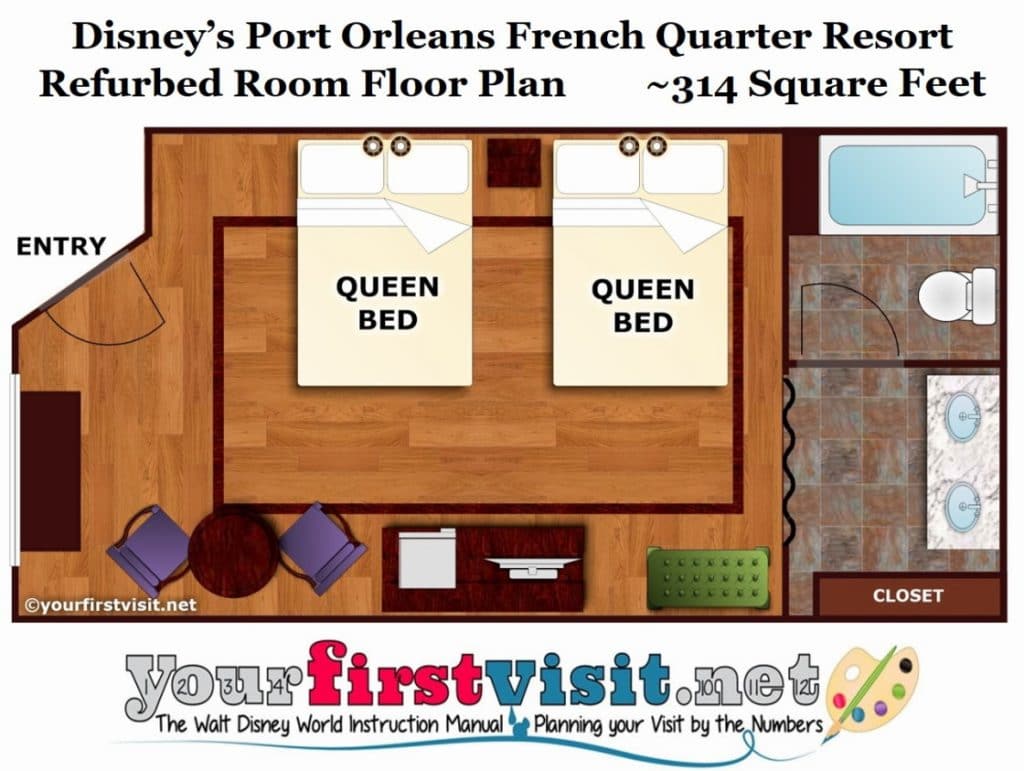 The floor plan of a refurbed standard two-queen room is above…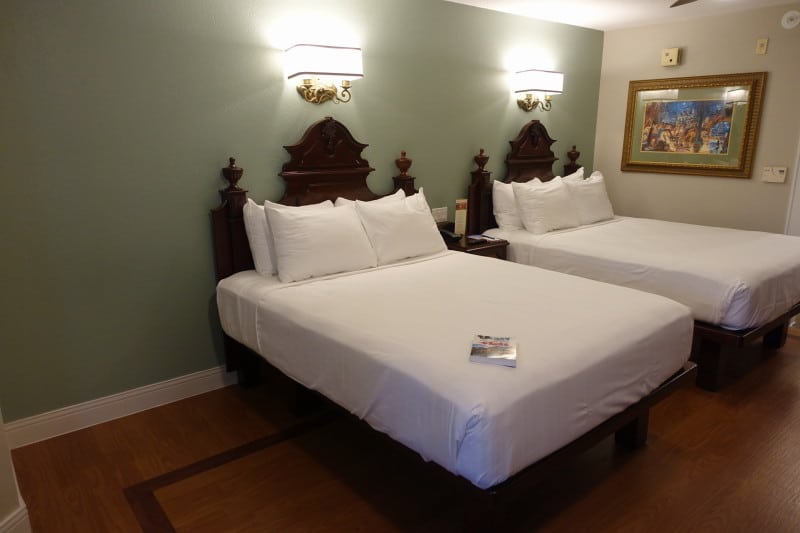 …and here's a image of the room I stayed in in July 2018.
These two images come from a detailed photo tour of a refurbed two-queen room at Port Orleans French Quarter here.
Among the moderates, Port Orleans French Quarter's strength for first time visitors is its compactness and ease of getting around. Its biggest negative is its lack of visual kid appeal.
Returning visitors often find Port Orleans French Quarter to be a favorite, particularly if they have stayed before in one of the enormous moderates and therefore appreciate its relatively compact area all the more, and/or fall in love with the romantic setting. It's my personal favorite among the moderates, and also the most romantic of the moderates.
See this for more on distinctions among the moderates.
This review continues here.
MATERIAL IN THIS REVIEW OF DISNEY'S PORT ORLEANS FRENCH QUARTER RESORT
OTHER KEY PAGES FOR WHERE TO STAY AT DISNEY WORLD


Follow yourfirstvisit.net on Facebook or Twitter or Pinterest!!
RELATED STUFF