Review: Disney's Port Orleans Riverside Resort
By Dave Shute
DISNEY'S PORT ORLEANS RIVERSIDE RESORT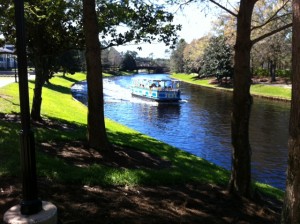 With more than 2000 rooms sprawling in two different sections around Disney's (man-made) Sassagoula River, Port Orleans Riverside is probably Disney World's best-loved moderate resort, and has inspired a great fan site.
However, three multi-night stays at Riverside over the past three months (all since it completed its 2012 renovation) confirm that Disney's Port Orleans Riverside Resort remains the third best of the moderate resorts for first time family visitors.
(For what the moderates provide, and how they compare to the other Disney World resort classes, click here)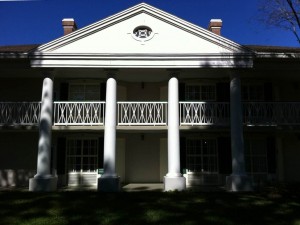 You can have a wonderful visit at any Walt Disney World resort.
However, this site recommends that first time visitors to Walt Disney World avoid the moderate resorts, while noting that these resorts are wonderful for visits after the first. (See this for why.)
That said, the moderates represent ~30% of the rooms of Walt Disney World, and will be sought by some because this site's recommended resorts are sold out, because you are on return visits, or because–sensibly–you're just not that into my rankings!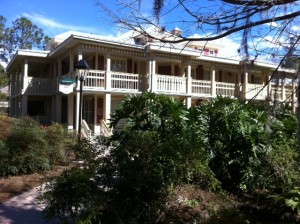 So I've stayed in each of the moderate resorts multiple times, and published reviews of each.
And after a wave of renovations in the moderates that resulted in new room types, queen beds in three of the five moderates, and other changes, I began in 2012 a new cycle of stays, for refreshed reviews.
This included five multi-night visits to the moderates in 2012, and four more so far in 2013. In total, these add up to 25 nights at the moderates in less than a year.
The refurbs–especially those at Riverside and French Quarter–have not changed the overall rankings of these resorts, but they have tightened up the distance between the first four considerably!
REVIEW: DISNEY'S PORT ORLEANS RIVERSIDE RESORT
Resorts are ranked on this site for first time visitors based first on their kid appeal, and then on their convenience.
On this basis, Disney's Port Orleans Riverside resort is the third best moderate resort for first time family visitors.
(Disney's Caribbean Beach Resort is first, Disney's Coronado Springs Resort second, and Disney's Port Orleans French Quarter is fourth; these results are very close.  The Cabins at Disney's Fort Wilderness Resort are ranked last, and this is not close.)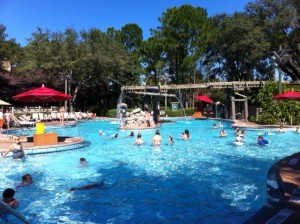 Kid Appeal. The southern bayou and plantation theming of this resort, while charming to many adults (especially the Magnolia Bend section, whose Georgian architecture is quite lovely), will miss most kids entirely.
That said, its main pool is widely viewed as one of the better ones at Walt Disney World, which, when combined with its extra amenities, bumps it slightly ahead of its sister resort Disney's Port Orleans French Quarter. (French Quarter visitors are encouraged to use these amenities; the difference is that for Riverside guests, they are immediately present to kids' eyes.)
Moreover, the newly re-done Royal Rooms will have great appeal to some kids–though they are more expensive, and less convenient, than alternatives.
Now, I get comments all the time along the lines of "We stayed at Riverside and it had great appeal for my kids!" And I'm sure that it did.  All the Disney resorts have great kid appeal. My point is that some have even more than others…
Convenience. Disney's Port Orleans Riverside is in the middle of moderates convenience.
While often thought of as out of the way, it is in fact just across the street (or two) from Epcot, and along with Port Orleans French Quarter is the closest of the "traditional" moderates to the Magic Kingdom. It also shares with French Quarter a slow boat to Downtown Disney.
The principal convenience frustration is that, since it shares most buses with Port Orleans French Quarter, it has in effect 5 bus stops. The Magic Kingdom bus is the exception–it has only four stops, as it skips Port Orleans French Quarter.
Buses fill all too often before they get to their final stop (which varies, depending on the route), and the first day or two of a visit, it can be hard to identify from inside the bus whether one is at the West, North, or East Bus Stop.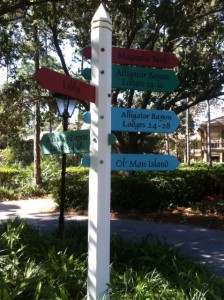 Getting off at the wrong stop matters, because Port Orleans Riverside is pretty darn big, and can be a challenge to get around.
While at my pace no room is more than a ten minute walk from the central service area and pool, this is assuming you take the most direct path, and don't get lost.
Getting lost–especially at night– in the far reaches of the Alligator Bayou section is easy.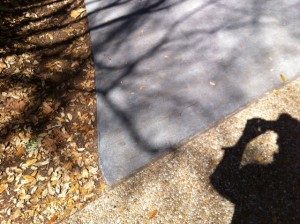 It's not widely noticed, but the texture of the concrete paths in the Alligator Bayou section is meant to help with wayfinding.
Where there are groups of buildings, the main path through them is textured to look like a plank road.
The image above shows the junction between the path around the river and one of these plank road paths. The texturing is meant to indicate to you that you are on a main path, and keep you from wandering off accidentally onto a building-specific path.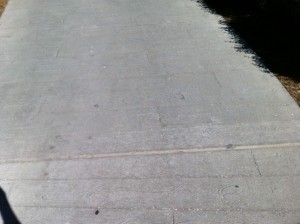 The image on the right side shows the texture of the plank road a little more clearly.
As a final convenience point, one of its two sections, Alligator Bayou, has no elevators.
Other distinctive features. Only traditional moderate that can sleep five, in the Alligator Bayou section. These rooms provide two queen beds and a short Murphy bed. With Port Orleans French Quarter, the only moderate with no lake, and with the French Quarter the only moderate with boat transport to Downtown Disney.
BEST PLACES TO STAY AT PORT ORLEANS RIVERSIDE

Port Orleans Riverside has two areas and three distinct room types.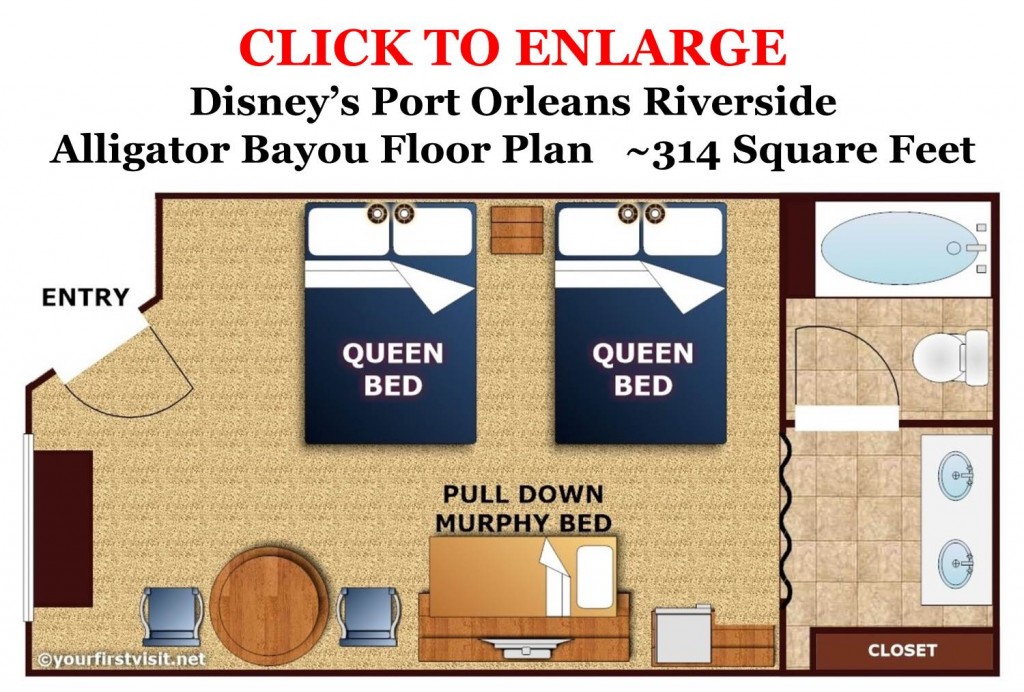 Its Alligator Bayou area comprises the groups of buildings on the lower left corner of the map.  These rooms sleep five in two queen beds and one short (~66 inches long) Murphy bed.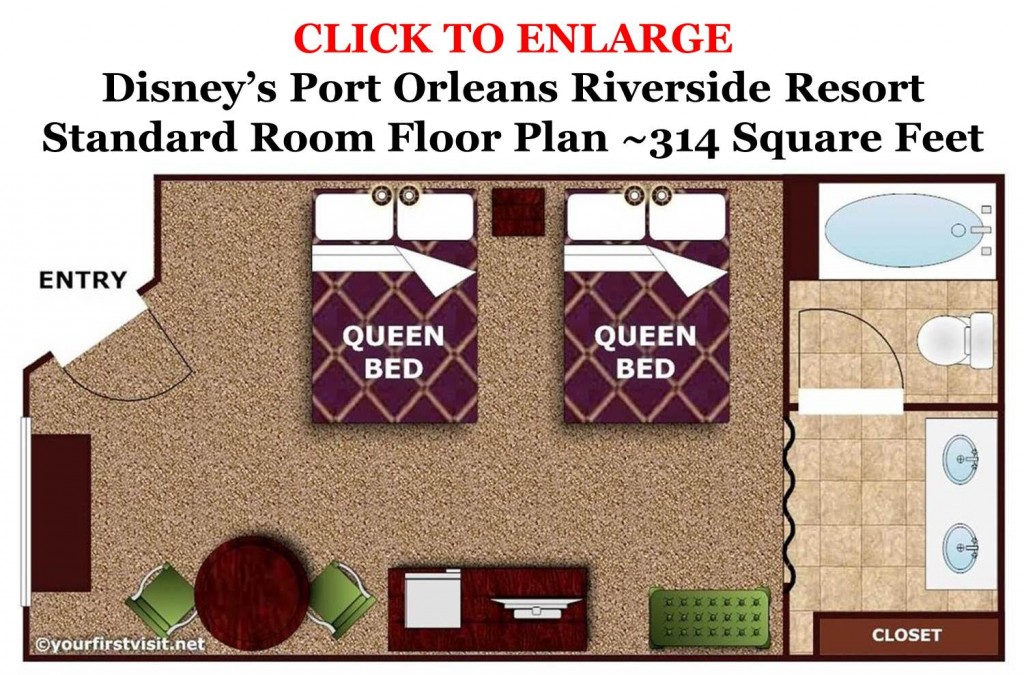 Its Magnolia Bend area (the four blocks of rooms at the top of the Riverside part of the map) has two room types, Royal Rooms and Standard Rooms, each sleeping four in two queen beds.
The three room types are so different that I've published reviews of each, with floor plans and photo tours.  The links above take you to these.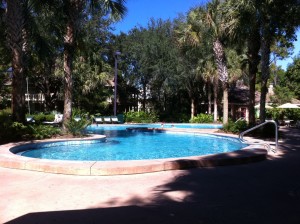 This site suggests that first time visitors stay in standard rooms, not preferred rooms (because they won't be spending much time in their rooms, or going to the main resort food area often; the single exception is visitors to the Animal Kingdom Lodge, who should always pay for savanna views.)
Unless you need the bed for the 5th person, stay in a top floor (quieter) standard room in building 85–"Magnolia Terrace"–in the Magnolia Bend section. This area is much lovelier than the other section, Alligator Bayou. And of the non-Royal options, Building 85 is the best choice–lovely, closer to the pool and central services, and with a nearby bus stop.
If you are do need the fifth person bed in Alligator Bayou, shoot for a ground floor room (no elevators) in buildings 38 or 39—better views, closest to the main pool—or 27 for a balance among views, pool access and closeness to the central services area.
Click the image to enlarge the map–note it is not to scale, and exaggerates the size of Port Orleans Riverside's sister resort, Port Orleans French Quarter.
BEST FOR:
Five person families
WORST FOR:
Families with mobility issues; families seeking a particularly kid-appealing resort.
MORE STUFF ON DISNEY'S PORT ORLEANS RIVERSIDE RESORT
This review continues here.
RELATED STUFF