Review: The Family Suites at Disney's Art of Animation Resort
By Dave Shute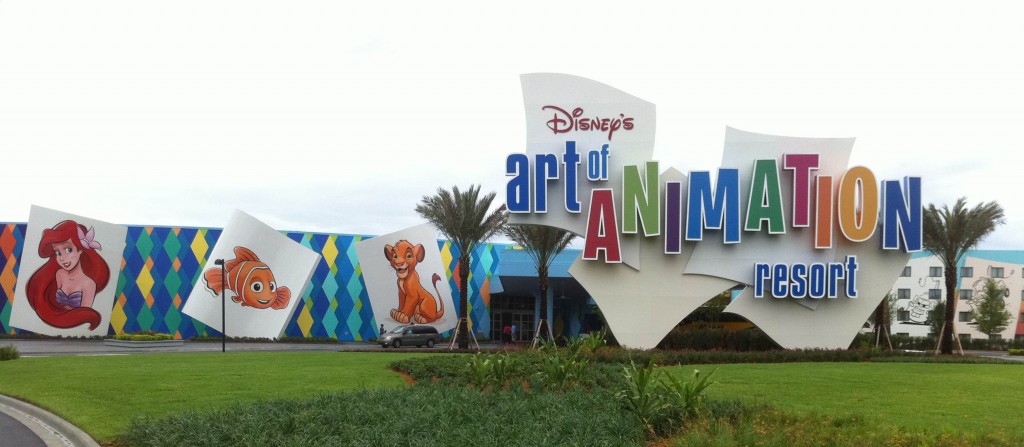 FAMILY SUITES AT DISNEY'S ART OF ANIMATION RESORT
Resorts are ranked on this site based first on kid appeal, and then on convenience in carrying out the site's recommended itineraries.
Based on that, the new 6 person Family Suites at Disney's Art of Animation resort rocket ahead of their only comparable rooms, the Family Suites at All-Star Music.
Moreover, because the Little-Mermaid themed standard (4 person) rooms that opened at Art of Animation in September 2012 hold to the same theming level as the Family Suites, Art of Animation is this site's most highly-recommended value resort for all room types.
REVIEW: DISNEY WORLD'S FAMILY SUITES AT THE ART OF ANIMATION RESORT
Kid Appeal. Two things distinguish the theming at the Art of Animation Resort: first, being based on wildly popular movies, and second, carrying the movie theming deeply and comprehensively into the rooms themselves.
Many parents will find the room theming well over the top, but these rooms are far and away not only the most fully themed rooms on the property, but also the most "Disney" themed.
This makes Art of Animation the value resort with the highest kid appeal. And for kids crazy about these movies, it may be the most kid-pleasing of all the Walt Disney World resort hotels.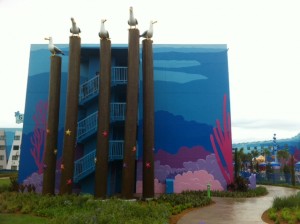 With sections themed on Cars, Finding Nemo, the Lion King, and the Little Mermaid, there'll be something for most kids to fall in love with.
Because this degree of theming is also present in Little-Mermaid themed standard (4 person) rooms that opened in September, Art of Animation has leapfrogged Pop Century to become by far the best value resort for first time family visitors.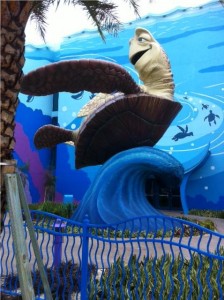 Like at the other value resorts, the exteriors will be garish to many adults.
It may be some relief to parents' eyes that many (but not all) building exterior walls are simpler than those at the other value resorts, showing sketchpad-inspired line drawings of characters.
While these are not subtle–they are more than 30 feet high–they are more charming than the equivalent walls at other value resorts.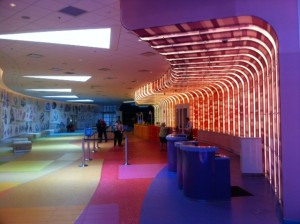 The resort also has elements of real beauty and grace, especially in its main building, Animation Hall.
The lobby, food court, and shop there are delightful rather than garish.  The use of light and color in the lobby is particularly lovely.
Convenience. When I visited–a few rainy days after it opened–Art of Animation did not share buses with Pop Century, as many had speculated it would, but rather had its very own un-shared buses.
If this continues after the busy summer season, then Art of Animation will be the value resort with both the highest kid appeal and also the highest convenience.
It will be, with Pop, one of only two Disney resorts with just one bus stop and no shared buses.
Moreover, demand for buses will be lighter than at Pop when both are full, as the resort has about 20% less capacity than Pop (because in its family suite buildings, it sleeps 6 in space that would accommodate 8 at Pop).
OTHER DISTINCTIVE FEATURES OF DISNEY'S ART OF ANIMATION RESORT
Disney's Art of Animation Resort has the best food court of any hotel on property.
It has all the staples–cheeseburgers, pizza, etc.–but also offers many more adventurous menu items than any other food court, from Mongolian beef stir fries to tandoori sausage.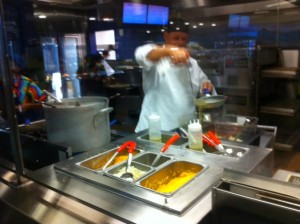 Moreover, almost every menu item has at least one component that's made fresh in front of you while you wait…at one station, there's no steam table container of scrambled eggs; rather they are cooked in a skillet while you wait!
And no more paper plates and plastic forks! The food court offers real silverware, and real plates! (or other appropriate, but not paper, plating options).
The offerings may end up being too adventurous for many kids, and, in its efforts at making things fresh, too ambitious for the crowds present once all the wings are fully open.  If so, we might see very long lines at the stations in the food court that offer the more traditional fare.
But even if this happens, and Disney reverses course to traditional foods prepared the traditional way, the effort to raise the food court bar is still well worth the effort.  It's braver to begin with high aspirations and see if they work, than to just offer again the same roast turkey meals you'll find at the other food courts.
FLOOR PLANS FOR FAMILY SUITES AT DISNEY'S ART OF ANIMATION RESORT
The family suites are innovative and spacious, sleeping six on three beds.
They include two baths–a split one for the kids, with separate sink and toilet/tub areas, and an open one for the parents, with a nice-sized shower. Both baths have lovely tiling.
The living room includes a couch that folds out into a bed big enough to sleep two.
The master bedroom is spacious and has a queen bed, flat screen TV, dresser, and hanging space.
But the dining area–the first space you enter when you come in from the hall–is the most innovative.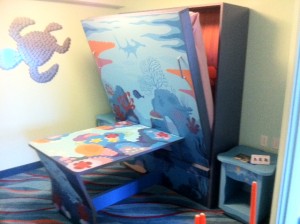 In a meeting of Murphy beds and Rube Goldberg, the dining table converts into a bed…making it a Murphy Goldberg bed…it's easy to set up and re-convert to a table, and fun to play with.
There's more on the rooms themselves here, but for the price (they are not cheap) I can't think of a better value for space on property.
There are even some deluxes that I'd skip to stay in instead in one of these family suites. You lose the fine dining, more sophisticated décor, balconies, and cooler pools of the deluxes, but for that you get a larger, better equipped, and more livable space…plus two baths.
In some circumstances I'd even pick the Family Suites at Art of Animation over some of the smaller and more awkward Disney Vacation Club one bedroom villas, like those at Saratoga Springs.
THEMED SECTIONS OF DISNEY'S ART OF ANIMATION RESORT
The Finding Nemo section, all family suites, opened in late May 2012. This is the section I stayed in.
(See the two buildings at the center of the map.)
The all-suites Cars wing opened on June 18 (the three buildings on the right of center) and the Lion King wing on August 10 (two buildings left of center), also all suites.
A Little Mermaid themed wing of standard 4 person rooms opened September 15, in the three buildings at the far left of the map.
A FEW THINGS AT ART OF ANIMATION I'M NOT SO KEEN ON
Not enough groceries in the shop or food court. These rooms come with a mini-kitchen that includes a microwave.  But there's hardly anything in the store or food court that a family might want to stock for use in this mini-kitchen.
The other Disney World value resort with family suites, All-Star Music, offers lunch meat, bread, peanut butter, jelly, breakfast cereal, etc., in its shop, but–at least right now–none of this is available at Art of Animation.
I hope that as more rooms open, the shop offerings will become more helpful.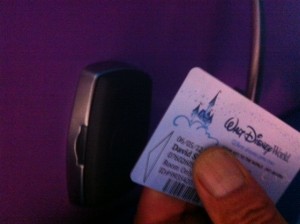 Locks everywhere. Art of Animation is the first Disney World hotel to use RFID room cards, which you wave at your room lock rather than sticking it in in the traditional way.
This makes room entry a little easier, and is a pre-cursor to Disney's NextGen offerings.
But these locks are now multiplied across the resort–you need your key to even enter a hotel building, much less your room, and the pool area is also keyed (although during my visit the pool gates were all open, not locked).

This seems overdone to me–although I suppose it does enhance security, and keeps the Pop Century riff-raff out.  (Pop Century is just a short bridge away from Art of Animation.)
Speaking of riff-raff, in some settings, I've seen all these new lock positions called Josh locks…but that seems more hopeful than likely to succeed in keeping him away…anyway, it's already too late.
A PHOTO TOUR OF THE FAMILY SUITES AT DISNEY'S ART OF ANIMATION RESORT
This review continues here.
RELATED STUFF