A Friday Visit With Jim Korkis: The History of Splash Mountain
By Dave Shute
Welcome back to Fridays with Jim Korkis! Jim, the dean of Disney historians and author of Jim's Gems in The easy Guide, writes about Walt Disney World history every Friday on yourfirstvisit.net.
THE HISTORY OF SPLASH MOUNTAIN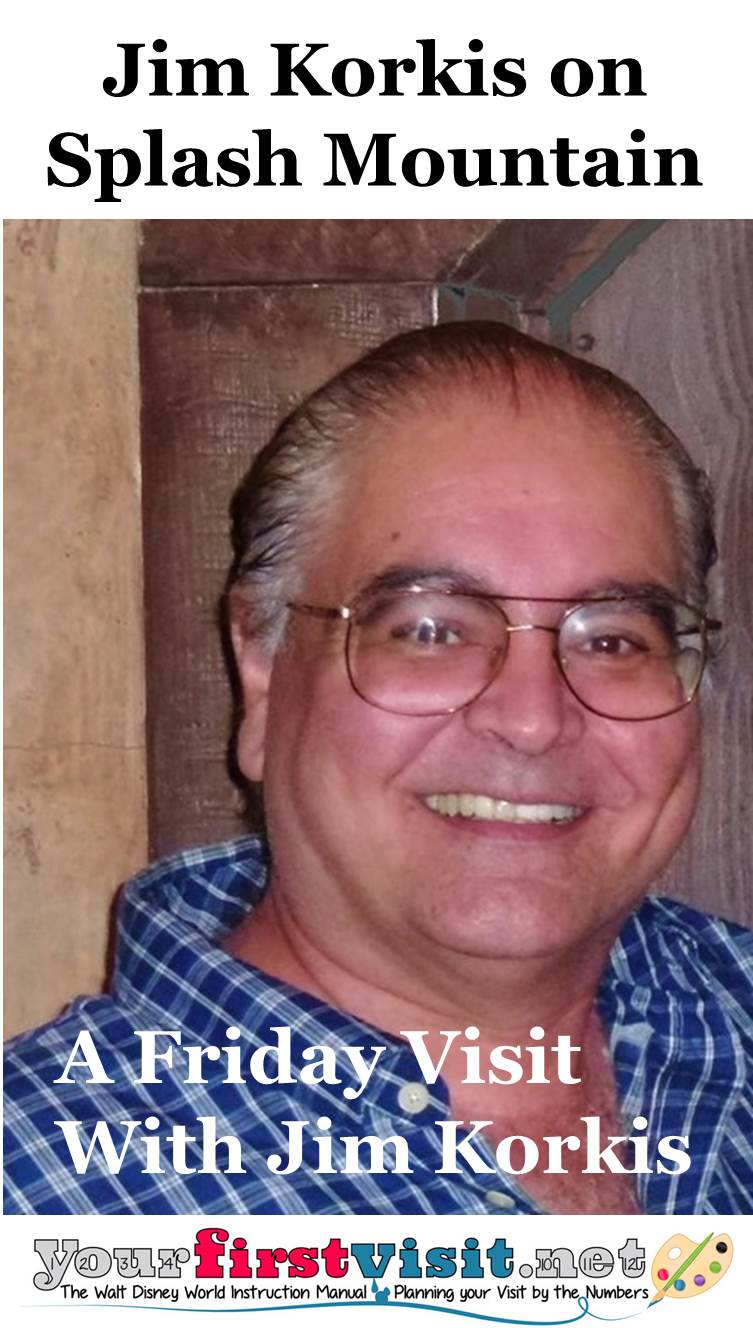 By Jim Korkis
The Splash Mountain attraction in Disney World's Magic Kingdom is very loosely based on some of the incidents in the animated sections of the still controversial Disney live action film "Song of the South" (1946).
In the ride, Brer Rabbit runs away from home and finds himself in more adventures than he intended.
He continually outwits Brer Fox and Brer Bear until he is trapped in honey (rather than the politically incorrect Tar Baby in the movie), and taken to Brer Fox's lair to be eaten.
As in the movie, he convinces Brer Fox to toss him into the spiky Briar Patch where the plucky rabbit survives because he was born and bred in it so he is intimately familiar with it.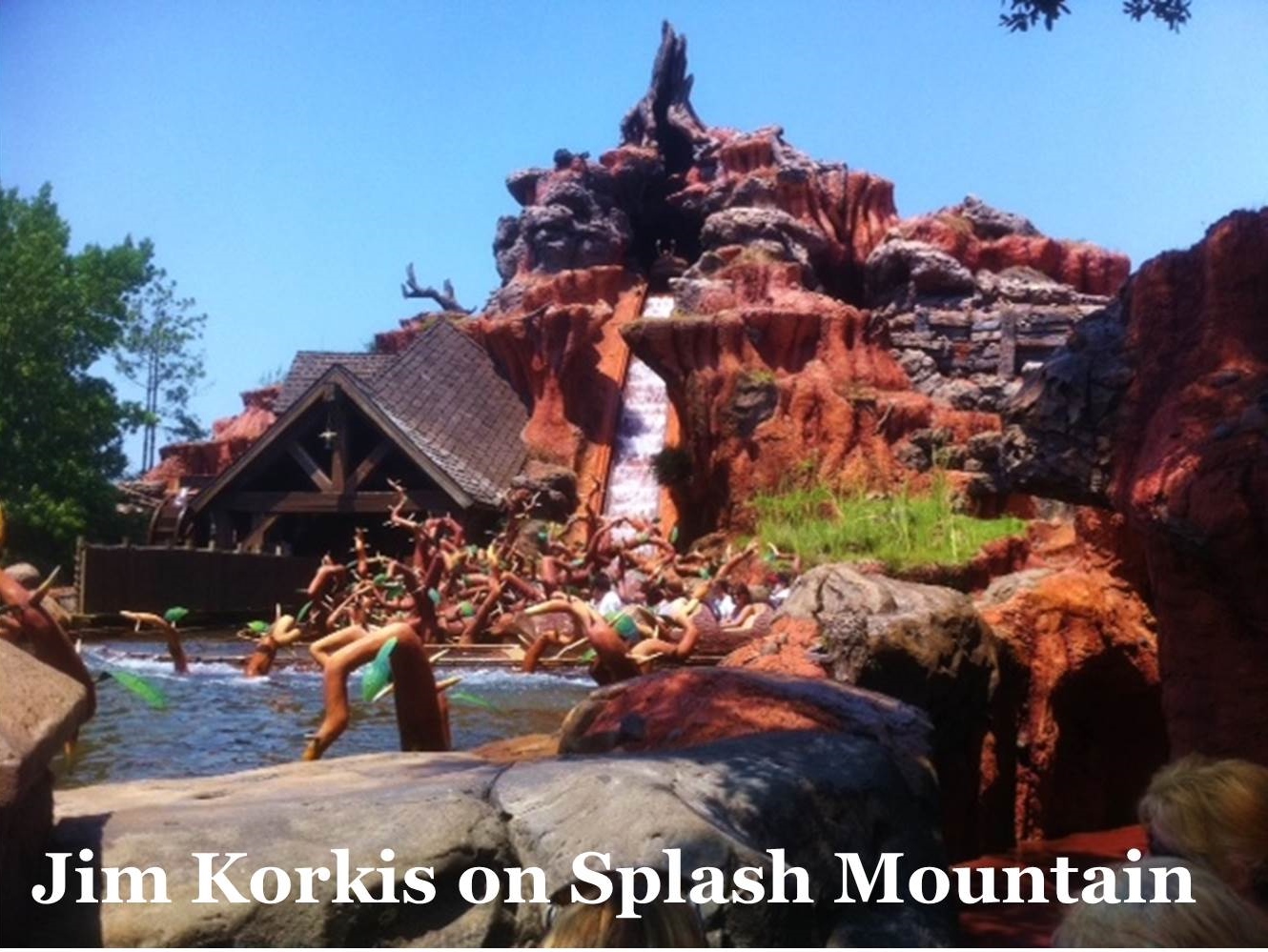 The grand finale of that water flume drop into the briar patch has the Oscar winning "Zip a Dee Doo Dah" song being sung by critters on a massive rocking showboat as Brer Rabbit re-discovers the comforts of the home he tried to abandon.
2014 marked the 25th anniversary of the Splash Mountain attraction. Splash Mountain opened at Disneyland on July 17, 1989 and exactly three years later on July 17, 1992 at Walt Disney World's Magic Kingdom.
(Officially, the attraction was dedicated at Magic Kingdom on October 2, 1992 but was up and running as a "soft opening" for roughly over two months during that summer beginning July 17.)
The two versions share many similarities and a handful of differences.
At Walt Disney World, the project was supervised by Imagineer Eric Jacobson. For Disneyland, it had been created by Imagineers Tony Baxter along with Bruce Gordon and John D. Stone.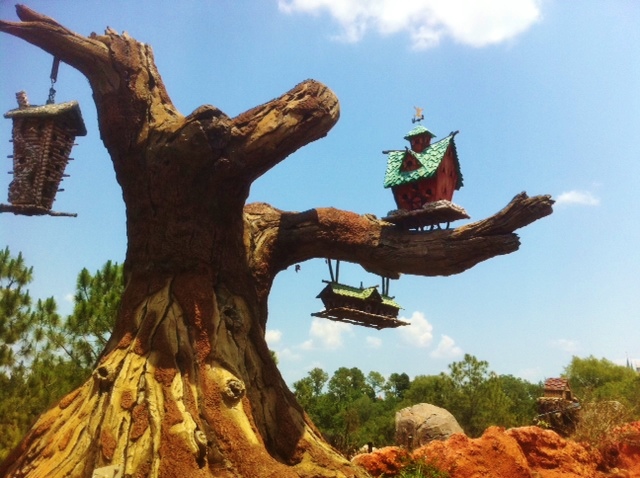 There had to be some significant exterior color changes to blend into the WDW Frontierland color scheme (rather than the reddish Georgia looking coloring at Disneyland) and the music has more of a country-western feeling with banjos and harmonicas.
There are significantly more audio-animatronics characters in the Disneyland version because they were rescued from the "America Sings" attraction. In Florida, there are fewer such figures because they were expensive to build.
The length of Magic Kingdom's flume is 2,600 feet with four drops, while Disneyland is 2,640 feet with five drops.
However, at its core, the attraction is basically the same.
When new CEO Michael Eisner was given his first tour of Imagineering in 1984 where new projects could be pitched to him, Tony Baxter and the Splash Mountain model had been pushed into a back corner because there were so many other presentations championed by senior Imagineers.
Eisner brought along his fourteen year old son, Breck Eisner, who while his dad was being shown the projects that WDI had on its top agenda, wandered over to the Splash Mountain model. Toward the end of his tour, Eisner noticed his son in the back and came over and found that his son really liked the model.
Eisner decided that if his son was so intrigued that others of his demographic group would be as well, and gave the green light to the attraction.
Possible names proposed for the attraction included "Song of the South Log Flume Ride", "Zip-a-Dee-Doo-Dah", and "Zip-a-Dee River Run".
At one point, Eisner looked at the model and said, "It's a mountain…you have a big splash at the end…it's Splash Mountain."
*  *  *  *  *
Thanks, Jim! Come back next Friday for more from Jim Korkis.
In the meantime, check out his books, including The Vault of Walt
, Who's Afraid of the Song of the South?, and The Book of Mouse
, and his contributions to The easy Guide to Your First Walt Disney World Visit, all published by Theme Park Press.
MORE DISNEY WORLD HISTORY POSTS FROM JIM KORKIS
Follow yourfirstvisit.net on Facebook or Google+ or Twitter or Pinterest!!
RELATED STUFF