A Friday Visit With Jim Korkis: Muppets and Mama Melrose
By Dave Shute
Welcome back to Fridays with Jim Korkis! Jim, the dean of Disney historians and author of Jim's Gems in The easy Guide, writes about Walt Disney World history every Friday on yourfirstvisit.net!
THE STORY OF MAMA MELROSE AT DISNEY'S HOLLYWOOD STUDIOS
By Jim Korkis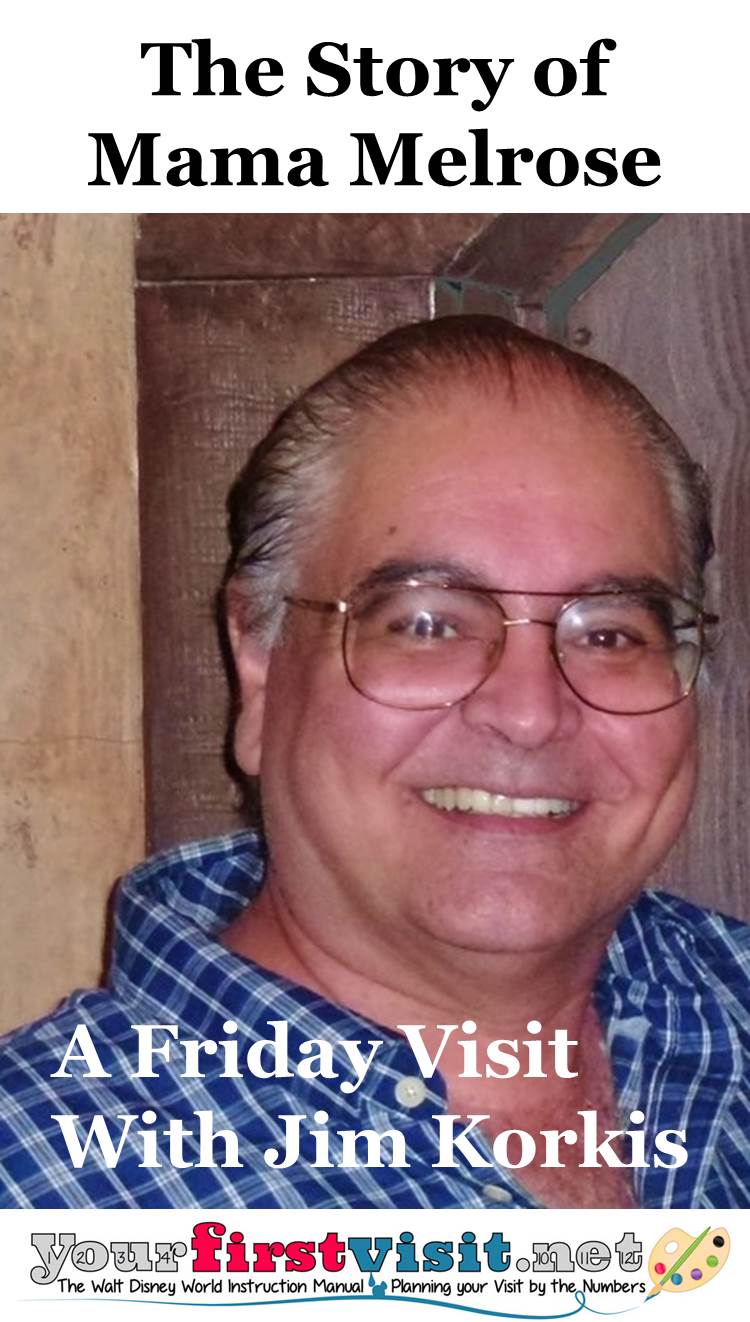 In the back of Disney's Hollywood Studios is an Italian eatery called Mama Melrose's Ristorante Italiano, and there is an interesting story behind how it got its location and its name.
When the park originally opened in 1989, the plan was to showcase Jim Henson's Muppets in the back of the park where Mama Melrose's is today.
The never-built Great Gonzo's Pizza Pandemonium Parlor would have been run by Gonzo and Rizzo the Rat. Things would constantly be going horribly wrong both offstage in the kitchen and in the dining area itself to entertain guests as they dined on Italian food.
When Henson passed away in early 1990, negotiations with the Disney Company fell apart and so the Imagineers conceived of a different kind of Italian restaurant.
According to the official storyline, a young girl in a small Sicilian village in Italy fell in love with the magic of Hollywood movies while she worked in her father's restaurant. Her father loved her dearly and shared with her all his special secret recipes that made his restaurant such a favorite place for people to eat.
At the age of sixteen, she sailed for America and found a movie career as "a stand-in for actresses with names like Gina, Sophia and Anna".
While she waited with the other extras between scenes, she cooked up Italian dishes with a little California flavor for her friends. Realizing that her dreams of stardom were not coming true, she opened her own Italian restaurant on the back lot.
The new restaurant provided meals for a variety of Hollywood types from actors to the film crew to even producers and directors. Her flamboyant approach to life reminded the Hollywood studio moguls of the town's eccentric Melrose Avenue, so they nicknamed her "Mama Melrose."
It was a name that was so descriptive of her that it stuck and even today, no one can recall what her actual name might have been.
The restaurant became the location "where Italy meets California in the heart of the Backlot." It was housed in a warehouse that was used for storing film equipment with an exterior façade that was used by motion pictures studios for shooting films based in New York City's Little Italy.
Mama and her friends converted the interior with what little funds they had into a family restaurant. The lack of funds is why the interior still has industrial-looking light fixtures, high ceilings with clearly visible air ducts, brick walls covered with graffiti, and worn floor boards in places from the moving of heavy film equipment.
To make the massive space appear more inviting, Mama decorated with whatever she had available: Hollywood memorabilia that she gathered during her years in the film business and numerous items from Italy in order to remember and honor her family back home.
That is the reason that the interior is such a mishmash of everything from Italian paintings to Hollywood movie posters to records of famous Italian singers to pennants of California sports teams to license plates to cooking utensils.
It suggests the home of a mother who accumulated many knick knacks as physical reminders of so many memories.
And, according to the Imagineers, that is how this charming restaurant got its name and unique interior design.
*  *  *  *  *
Thanks, Jim! And note Josh has a recent review of Mama Melrose here.
Come back next Friday for more from Jim Korkis! In the meantime, check out his books, including The Vault of Walt
, Who's Afraid of the Song of the South?, and The Book of Mouse
, and his contributions to The easy Guide to Your First Walt Disney World Visit, all published by Theme Park Press.
MORE DISNEY WORLD HISTORY POSTS FROM JIM KORKIS
Follow yourfirstvisit.net on Facebook or Google+ or Twitter or Pinterest!!
RELATED STUFF