Introducing a New Series: Friday Visits with Jim Korkis
By Dave Shute
I'm really excited to announce that today kicks off a new weekly column from internationally renowned Disney historian Jim Korkis.
Coming the rest of the Fridays this month from Jim will be a little-known movie influence on Main Street USA; some Muppetry in the history of Mama Melrose; and an appreciation of Peter Dominick.
Don't know Jim? Well, keep reading!
About Jim Korkis
By Jim Korkis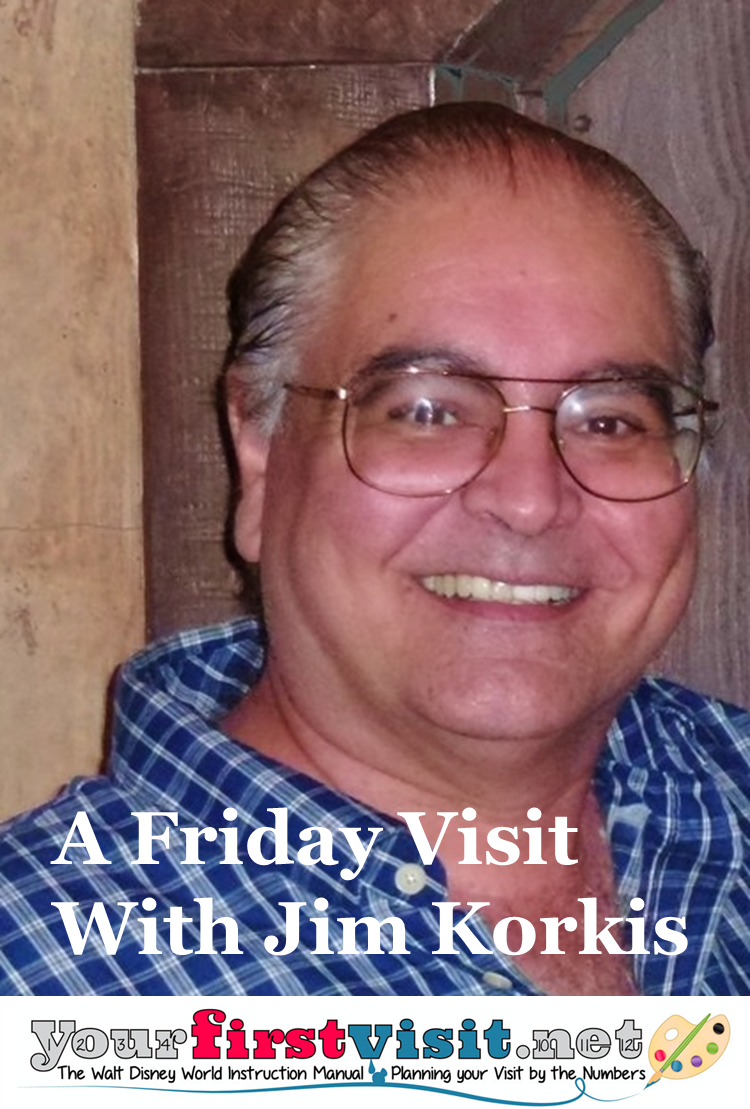 My name is Jim Korkis and every Friday from now on I will be writing a column here on yourfirstvisit.net entitled "A Friday Visit With Jim Korkis."
Every Friday I'll be sharing information about Walt Disney World that I hope will enhance the visits of both first-timers and seasoned travelers.
Here's a little bit about me:
I grew up in Glendale, California and was lucky enough to then have the opportunity to meet and interview many Disney animators and Imagineers. Over the years, I have used that material in articles for fanzines, newspapers, magazines, websites and books.
In 1995, I moved to Orlando and with my background as a professional magician, I soon found work as a street magician and balloon artist at Downtown Disney.
Within a few short months with my background as a professional actor in stage and television, I became a "friend" of Merlin the magician, doing the "Sword in the Stone" ceremony in Fantasyland.
Shortly, thereafter, with my background in animation in Los Angeles, I got a job as a salaried animation instructor at the Disney Institute in 1996.
I later found myself working with Disney Adult Discoveries, the department that created and facilitated behind-the-scenes tours for guests and convention groups.
Being the sole researcher and writer on the original UnDiscovered Futureworld tour got me the opportunity to work in Guest Relations at Epcot and later as a Coordinator with College and International Programs.
Then, I was moved to the Epcot Learning Center (a combination computer lab and library for cast members) where I researched and taught over two hundred different presentations on Disney history for cast members and Disney business clients like Feld Entertainment and Kodak.
Along the way, I also did special assignments including being the off-screen narrator for the syndicated television series, "Secrets of the Animal Kingdom," the writer of the text for the 30th anniversary Walt Disney World trading cards, the facilitator for the Disney Crew puppet show (a touring anti-drug show performed at all the Central Florida elementary schools), the host of the "100 Years of Magic Vacation Planning" video and many other interesting things.
So, all of this puffery is to assure you that when I write about Walt Disney World, including things you may never have heard before, that I have a very solid and unique background.
In 2009, along with thousands of other WDW cast members, I was laid off. I am still on good terms with the company and do freelance work including writing a quarterly column on Disney history for Disney Files magazine produced for members of the Disney Vacation Club as well as still contributing to special projects like a video I wrote and narrated about Walt's love of steam trains.
In the last five years, I have written seven books on Disney history including three volumes of The Vault of Walt
, Who's Afraid of the Song of the South?, and The Book of Mouse
, Who's the Leader of the Club?: Walt Disney's Leadership Lessons
, and Animation Anecdotes
.
These books were all published by Theme Park Press and are available on Amazon in both paperback and Kindle versions. I also wrote the "Jim's Gems" parts of The easy Guide to Your First Walt Disney World Visit. I am currently working on another Disney related book.
I hope all of this has intrigued you to come back next Friday and every Friday after that to hear some interesting stories about Walt Disney World and things that you may have missed even if you are a frequent Disney World guest!
Follow yourfirstvisit.net on Facebook or Google+ or Twitter or Pinterest!!
RELATED STUFF