The Tightwad's Guide to How to Eat at Walt Disney World, Continued
By Dave Shute
This is the second page on this topic.  For the first page, click here.
GOING TO HESS, ESPECIALLY FOR BEER AND SNACKS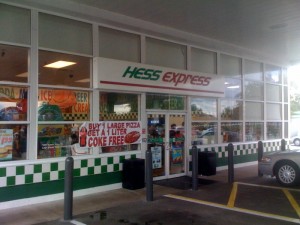 Even well-stocked Disney stores have a very limited selection. Moreover, as noted above, beer and smokes will kill your budget.
So the answer—especially if you are looking for beer and smokes—Mickey would not approve, but Donald would—is to find your way to getting at least some of your supplies outside of your resort.
There are three Hess stores on property—one of which is accessible to all Disney World resort guests, and another to those staying at a deluxe Epcot resort.
Hess isn't going to solve "food" problems—e.g. you can get bread there, but not butter—but is great for snacks and other convenience store items.
Note also that you can't get hard liquor in the Hess stores noted below—for these you'll need to find your way to one of the two grocery stores listed after them, each of which is accompanied by a liquor store. Hard liquor savings can repay the cost of a cab.
Two of these Hess stores are easily reachable to Walt Disney World resort hotel guests without cars—one near the BoardWalk Inn, best for those at one of the Epcot deluxe resorts, and one near Downtown Disney, best for everyone else.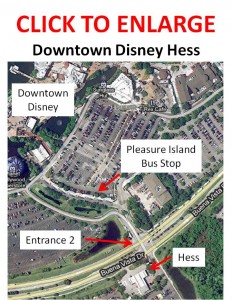 Every Disney resort has buses to Downtown Disney, and there's a Hess just a short walk from the Pleasure Island bus stop at Downtown Disney.
The Downtown Disney Hess is across Buena Vista Drive from the main downtown Disney complex
Specifically, it's across from Entrance 2 to Downtown Disney
If you are already in Downtown Disney (DTD), when you are done with DTD, find the exit from the DTD shopping and walking area to the parking lots between the Lego store and T-Rex.
Go a little left and walk up the roadway that separates Parking lot D from Parking Lot E
This will take you to the intersection of Entrance 2—the Hess Store is across the street.
As I write this, Disney buses stop very close to this key DTD intersection. This is the "Pleasure Island" stop—the second stop in Downtown Disney. If you have no other interest in Downtown Disney, you can get off your bus, cross the street, do your shopping, and get back to the bus stop maybe even before the next bus gets there!!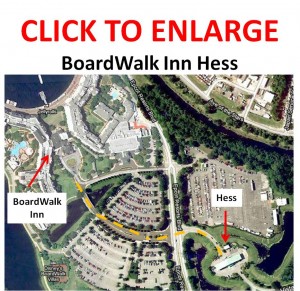 There's another Hess, near the BoardWalk Inn, which is convenient to the Epcot deluxe resorts.
Make your way to the main Boardwalk Lobby, and exit to the parking lot side. Walk through the parking lots. Just as you pass the guard shack, you will come to the access road to the BoardWalk, Epcot Resorts Boulevard.
Cross this road and look for the road basically dead ahead but a little bit to your left. This will lead you into the Hess.
GETTING TO NEARBY FULL-LINE GROCERY AND LIQUOR STORES BY CAR
Getting to a grocery store requires a rental car or a cab.
Cab fare can kill your food savings…unless you are buying a reasonable pile of hard liquor (both of the stores below are adjacent to liquor stores…it's like I picked them for that reason…). Ask you bell service what a cab would cost, and make your own decision.
(Note that there are other perfectly good grocery stores nearby—I pick these two only because they are (relatively) simple to get to, adjacent to liquor stores, and simple to get back from.)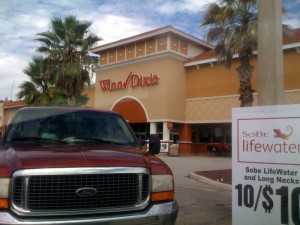 To get to Winn-Dixie (preferred, as in a slightly less congested and less touristy area, but requires getting on I-4)
Address: 11957 S Apopka Vineland Rd, Orlando, FL 32836
Follow signs to I-4, and then I-4 East towards Orlando
Exit at exit 68 (535/Lake Buena Vista)
Get in the left lane and go left onto 535 North
Move to and stay in the middle lanes, and stay straight on this road, which will change names to Apopka Vineland Road (you'll know you are on Apopka Vineland when the road changes to two lanes in each direction)
Keep your eye out for a Walgreens on the left. Just a block or two after it, you'll see an ABC liquor store sign on the right. Turn right into the parking lot
The Winn Dixie will be further back; you already know where the liquor store is!
To return to your hotel, reverse your directions, and take any of the Disney World exits off of I-4 west
To get to Publix
Publix: 29 Blake Boulevard , Kissimmee FL 34746
For Publix, follow signs from wherever you are staying to 192, and then take 192 East
Pass Interstate 4
Immediately before  you pass under the next major overpass (which is FL 417) turn right inot the shopping center with the tater tower
To return, reverse the directions to get to 192 West and then follow the signs to the Magic Kingdom and Disney's Hollywood Studios.
Take this exit for ALL Walt Disney World destinations, even though the sign lists only the two theme parks.
The Most Comfortable

Place to Stay

at Walt Disney World:
The Most Comfortable Way to

Tour the Theme Parks

at Walt Disney World:
Home   Donate   Sitemap   FAQ   Travel Agents
RELATED STUFF