Review: Disney's Wilderness Lodge
By Dave Shute
OVERVIEW: DISNEY'S WILDERNESS LODGE
In 2017 Disney's Wilderness Lodge completed a major refurb.  Half of its former rooms–those in the southeast wing–were converted into Copper Creek Villas. The old quiet pool was completely redone into the delightful new Boulder Ridge Cove pool. The old quick service, Roaring Fork, was refurbed, and a lovely new counter service option and bar, Geyser Point, opened.
The overall impact is that Disney's Wilderness Lodge, already a great option, gained upgraded and additional amenities, but lost capacity–so fewer people are using the better amenities. In other words, it's an even better choice than before.
Details follow…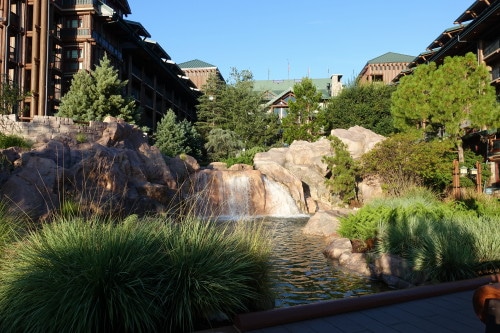 Our most recent stay (our 13th here–five in the main Lodge, six at Boulder Ridge, and two in Copper Creek) in January 2018 confirms that Disney's Wilderness Lodge is the second best deluxe resort at Disney World for first time family visitors.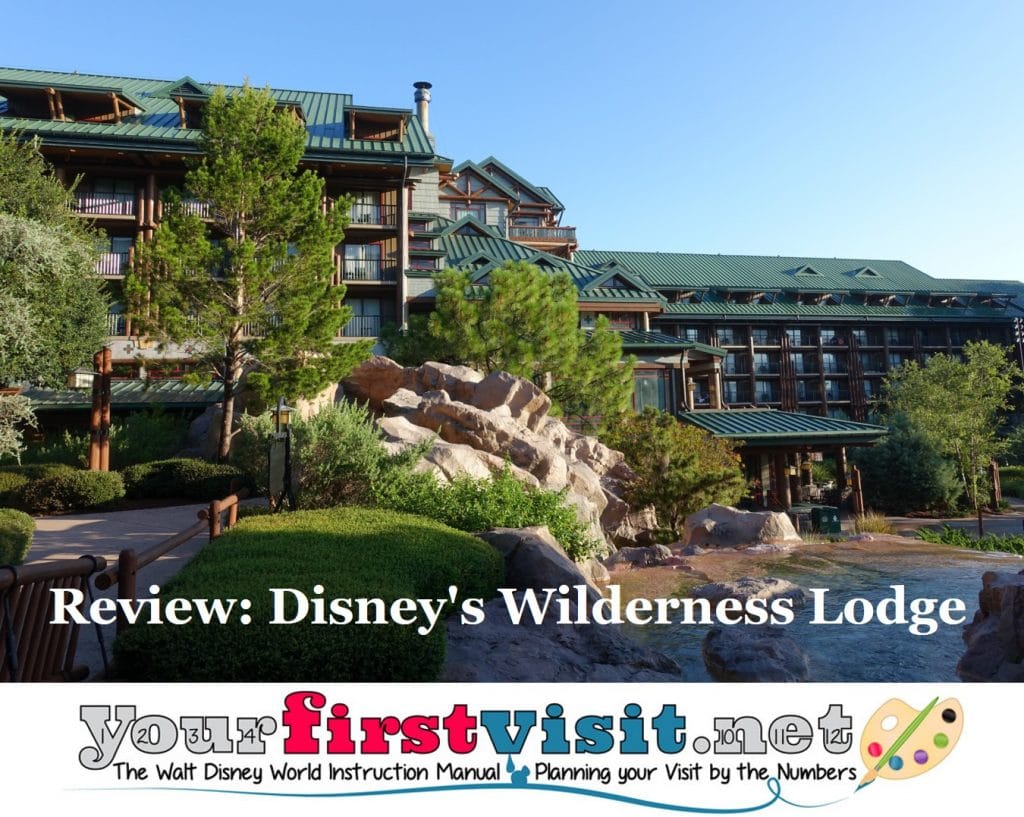 You can have a wonderful visit at any Walt Disney World resort hotel.
However, this site recommends that first time visitors to Walt Disney World who can afford it should stay at Disney's Polynesian Resort, a deluxe resort, and that those who can't should stay at Disney's Art of Animation Resort, a value resort.
(It also suggests that first time visitors should avoid the moderate resorts, while noting that these resorts are wonderful for visits after the first. See this for why.)
Compared to other Walt Disney World owned and operated resorts, the deluxe resorts are distinguished by having (on average) the most amenities, nicest views, best dining options, best transport options, largest rooms, best service, and highest prices.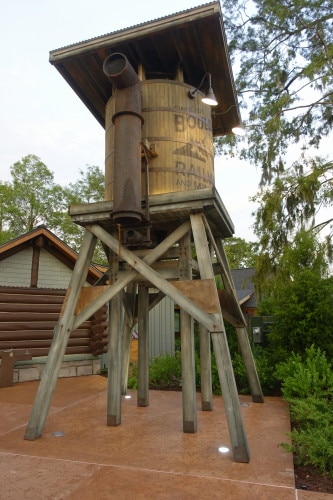 Among the deluxe resorts, Disney's Wilderness Lodge stands out for having the most stunning kid appeal, moderate convenience, smallest rooms, and lowest prices.
(See this for much more on resort distinctions by price class–value, moderate, deluxe, etc.)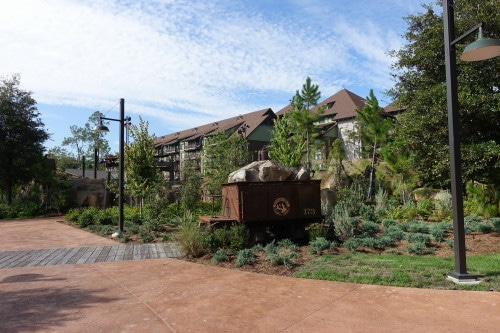 In addition to the standard accommodations in the northwest wing of the Wilderness Lodge, the Wilderness Lodge also has additional room types in the two Disney Vacation Club offerings associated with it–Copper Creek Villas in the southeast wing of the main Lodge, and Boulder Ridge Villas in its own building outside Copper Creek. These areas are available to anyone to rent–you don't have to be a member of the Vacation Club. These Villas have their own detailed reviews, at the links.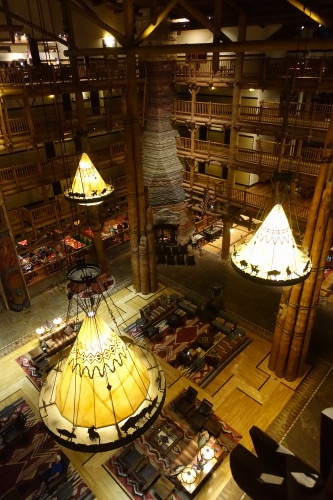 Note that Kelly, the long-time travel agent partner of this site, can book your Disney World vacation at the Wilderness Lodge or anywhere else.  Contact her by using the form on this page.
This review of Disney's Wilderness Lodge has seven pages:
This page, a summary review
ACCOMMODATIONS AT THE WILDERNESS LODGE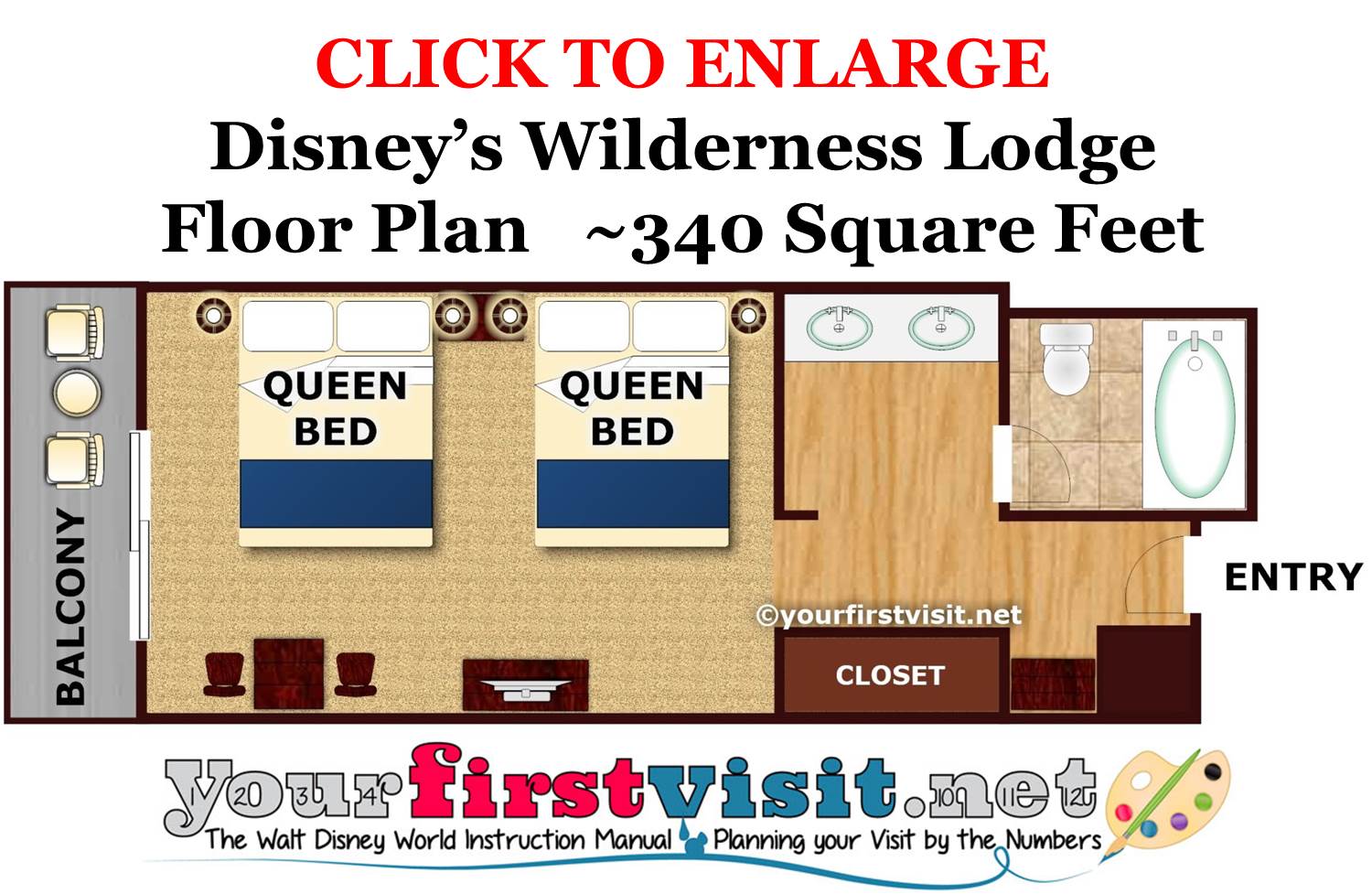 Standard rooms at Disney's Wilderness Lodge are tied with those at Disney's Animal Kingdom Lodge as the smallest deluxe rooms on property.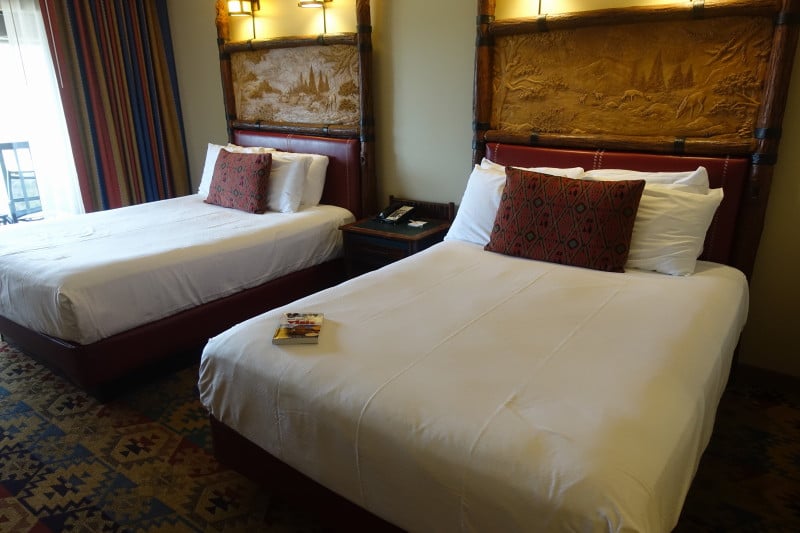 The bedroom component of these rooms is smaller than even those at the moderate resorts, being almost a foot narrower and, on the long side, 2.5 feet shorter. See this for more on comparative Disney resort room sizes.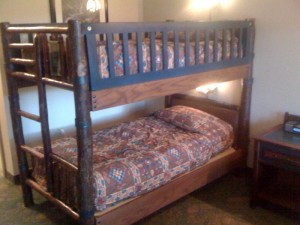 Most of these rooms sleep four–two each in two queens.  Rooms with a queen and two bunk beds are also available.  The bunk bed mattresses are 5'9″ long, and 39″ wide.  (In real life, they are not so blurry.) Rooms with one king bed are also available.
You can add to this capacity of four a child younger than three who sleeps in a crib.  A crib fits well between the closet and dresser.
Partly because of these room sizes, and partly because unlike most deluxes it is not right next to a theme park (although it is not far from Magic Kingdom), the Wilderness Lodge is also typically the least expensive of the deluxe resorts.
For more on accommodations at the Lodge, see this, and for a photo tour of a standard room, see this.
(The Copper Creek Villas and Boulder Ridge Villas at the Wilderness Lodge are reviewed separately.)
THE POOLS AT THE WILDERNESS LODGE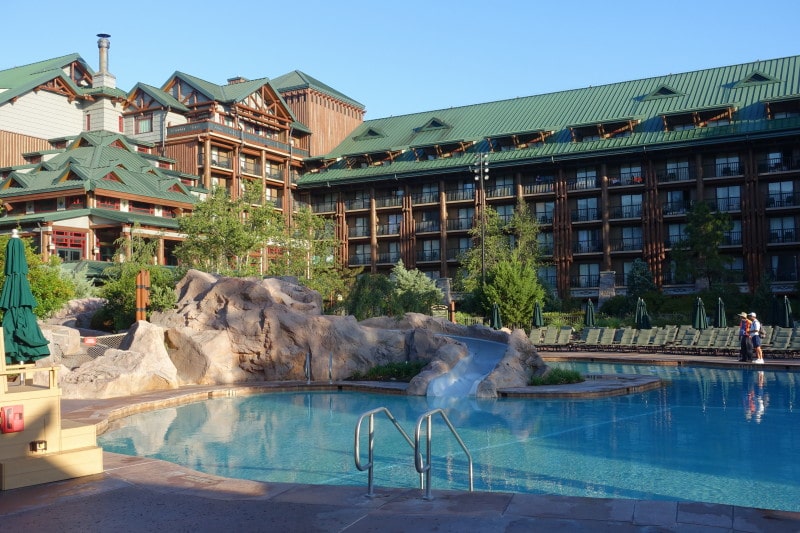 The main Copper Creek Springs pool at the Wilderness Lodge was refurbed in 2014 and remains one of the most delightful pools at Disney World. (It was renamed in 2017, from "Silver Creek Springs pool.") For more on the Copper Creek Springs pool, see this.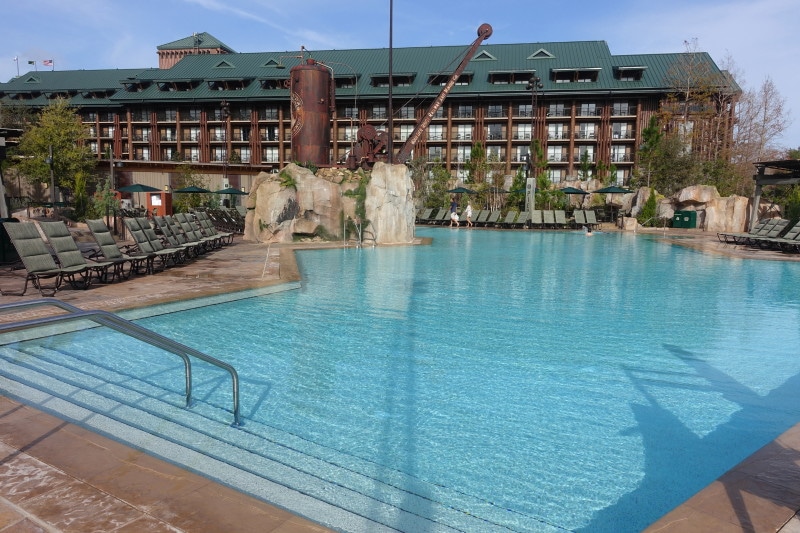 The second pool re-opened in July 2017. Now named Boulder Ridge Cove pool, it has been transformed into a delightful themed space that adults will particularly like. For more on the Boulder Ridge Cove pool, see this.
DINING AT DISNEY'S WILDERNESS LODGE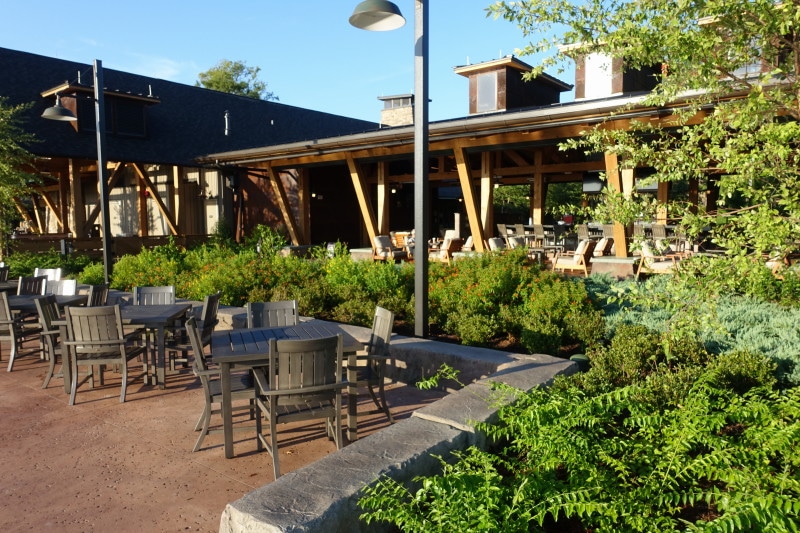 The Wilderness Lodge has four principal dining venues that collectively make it above average among the Disney deluxes for dining.
Whispering Canyon Cafe is a raucous and fun setting for family dining
Artist Point, once a sophisticated venue best for couples, is now offering a character meal with Snow White and a pile of dwarfs
The quick-service option, Roaring Fork, has been renovated, and remains among the best of its kind among the deluxes, but can easily become over-pressed
The new Geyser Point combines an upscale waterside bar with new quick service options, one set from the bar menu and one set from a walk-up window, that's particularly convenient to both pools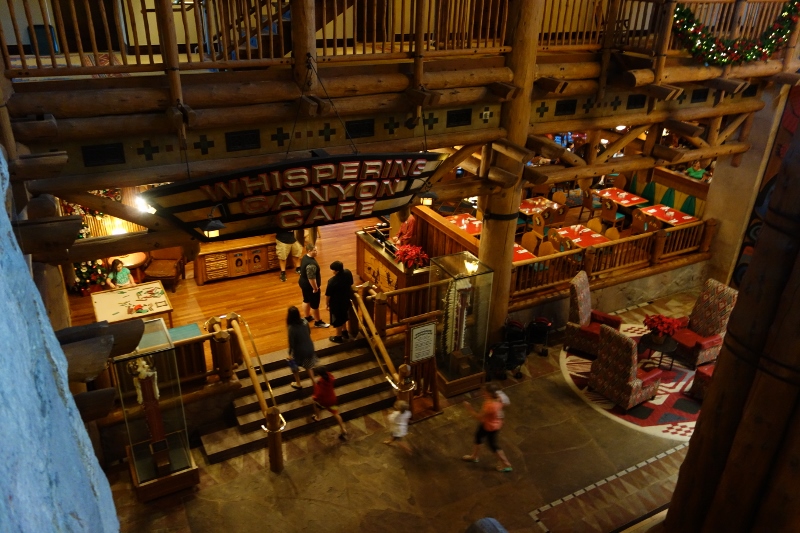 There's also easy access via a boat to more great dining options at the Contemporary Resort and Fort Wilderness.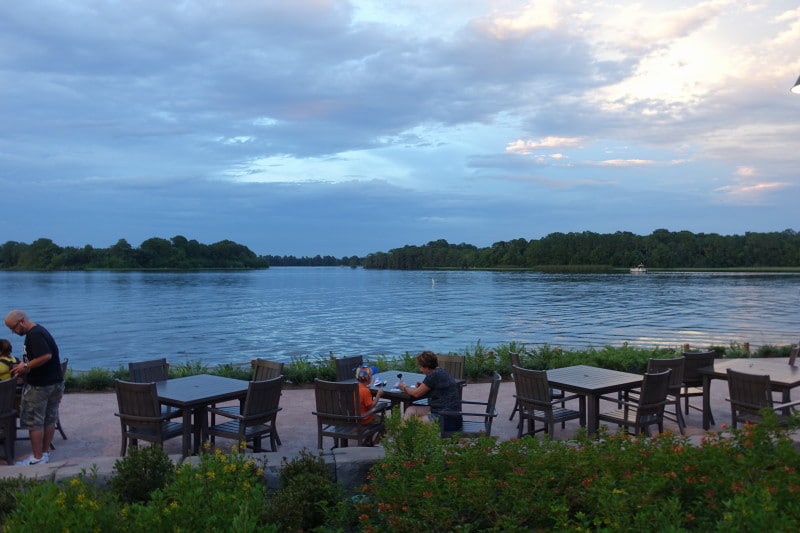 For more on dining at the Wilderness Lodge, see this.
KID APPEAL AND CONVENIENCE AT DISNEY'S WILDERNESS LODGE
Resorts are ranked on this site for first time visitors based first on their kid appeal, and then on their convenience.
On this basis, Disney's Wilderness Lodge is the second-best resort for first time family visitors to Walt Disney World.
Kid Appeal.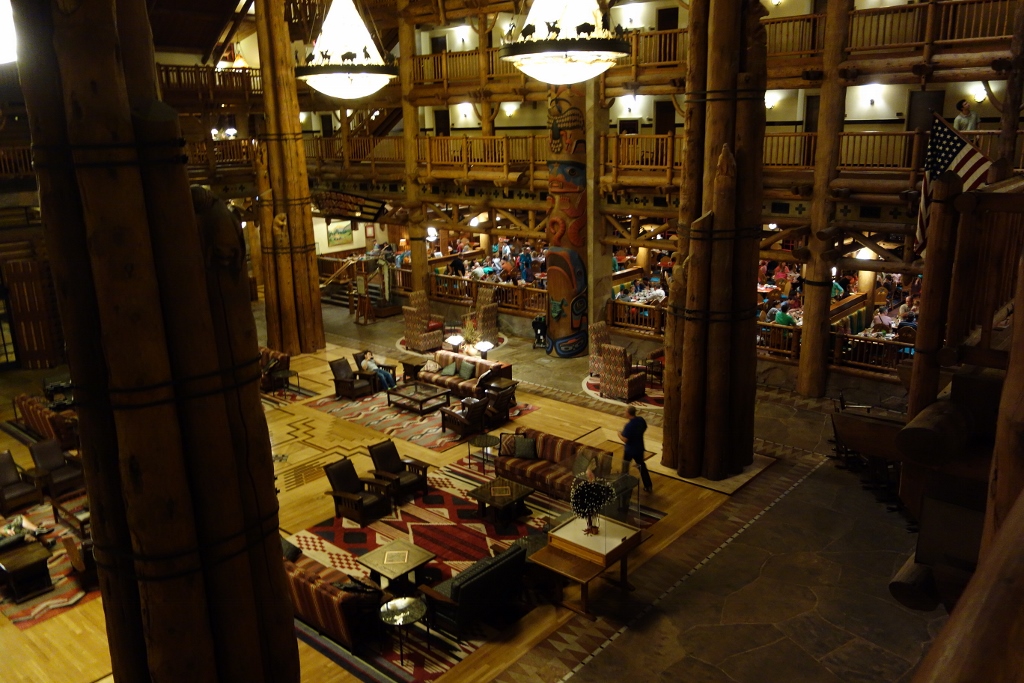 The kid appeal of the Wilderness Lodge comes from its stunning re-creation of the grandeur of America's great national park lodges–both inside…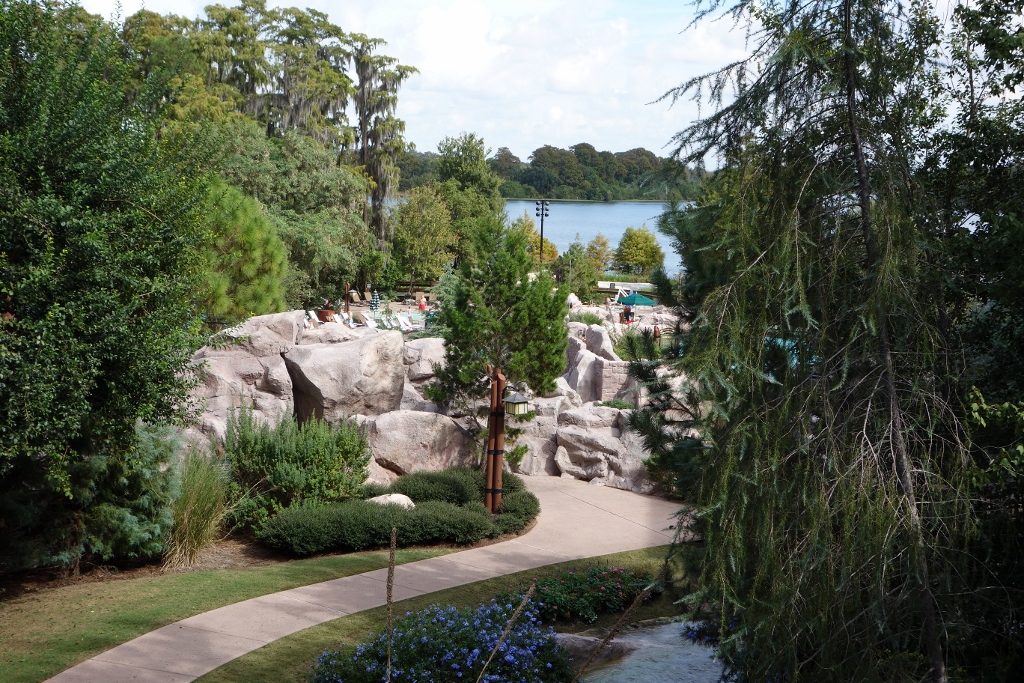 …and outside.
Other wonderful elements both big and small continue the theme of the mountain west and of other western national parks, with some elements recalling the Pacific Northwest.
This is Lewis and Clark country, of great drama, history–and adventure!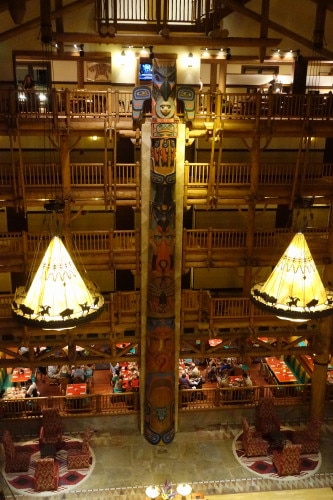 The main building and lobby of the Wilderness Lodge–modeled on the Old Faithful Inn at Yellowstone National Park, and featuring totem poles from Duane Pasco–set the stage.  This lobby is jaw-dropping to kids, and also to most adults.
Convenience. Disney's Wilderness Lodge is much less convenient than the Polynesian Resort in carrying out the itineraries for first-time family visitors on this site.
Transport to the Magic Kingdom is by boat and by bus. The buses commonly begin earlier, and are more reliable for scooters and wheelchairs–not all boats can take these.
Transport to the other theme parks is by bus, each of which is shared by at least one other resort.
Boat service is also available to Fort Wilderness (convenient for the Hoop Dee Doo Revue) and the Contemporary Resort (convenient for Chef Mickey's). These boats begin much earlier than the Magic Kingdom boats, so many families seeking an early start take the boat to the Contemporary, and then walk to the Magic Kingdom.
BEST PLACES TO STAY AT THE WILDERNESS LODGE
 This site suggests that first time visitors stay in standard view rooms, not preferred view rooms.
This is because they won't be spending much time in their rooms.
The single exception is visitors to the Animal Kingdom Lodge, who should always pay for savanna views.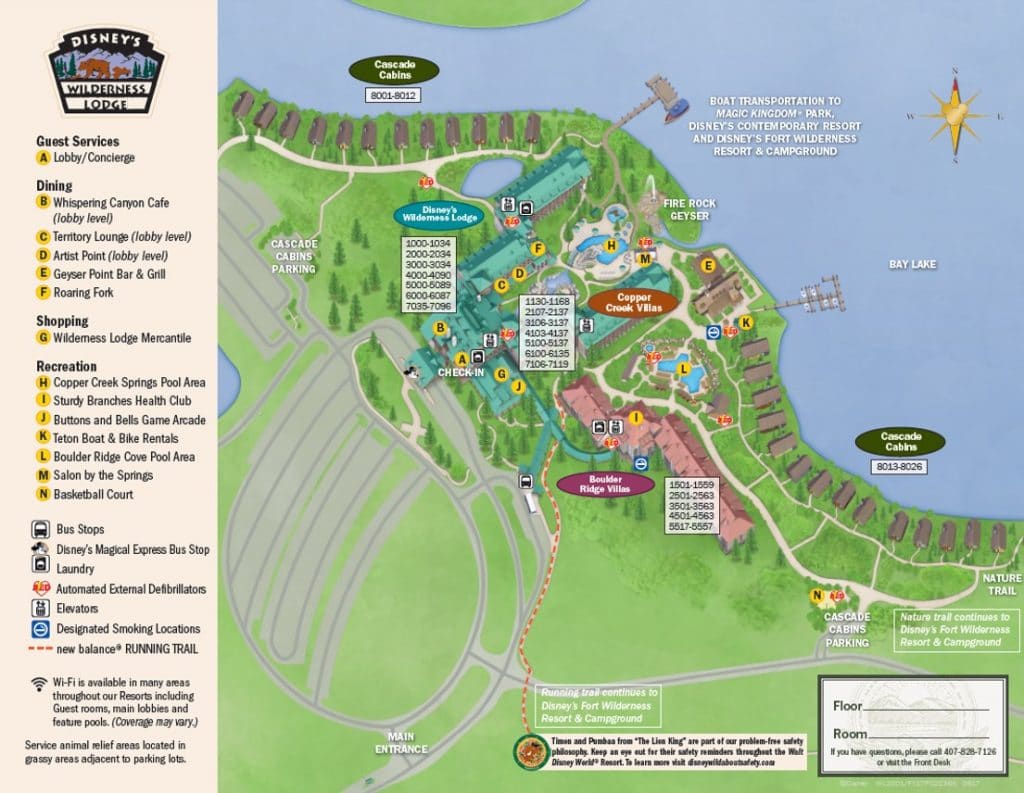 On the map, the Lodge is the green-roofed connected set of six to seven story high buildings, in a "Y" (or "U") shape.
The main lodge buildings are in the upper left northwest wing of the Lodge. The new Copper Creek Villas are in the southeast wing.  The  Boulder Ridge Villas  are in the separate orange-roofed building.
More so than most Disney resorts, there are no bad rooms at the Wilderness Lodge.
Those furthest from the main lobby, restaurants, and bus stops are closest to the pools, Geyser Point, and boat dock to the Magic Kingdom, and vice-versa.
Disney is currently booking two room types–Courtyard views and Standard views.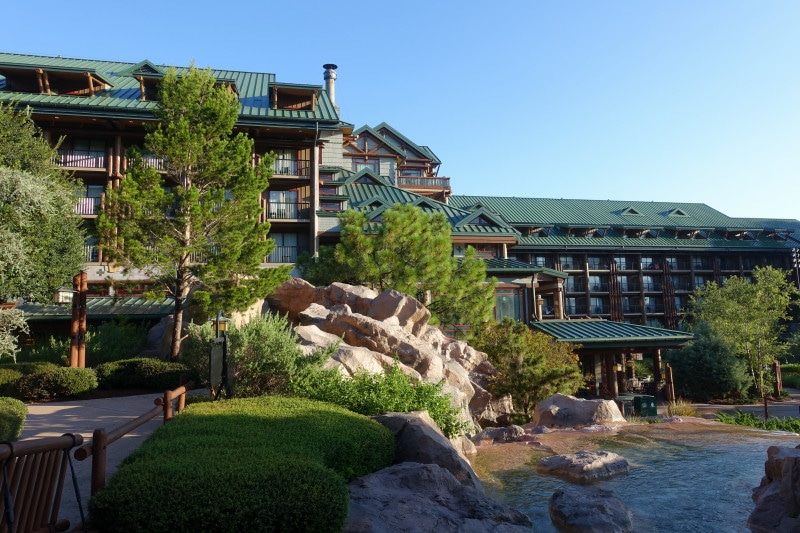 Courtyard view rooms look into the middle area of the Lodge–overlooking either the Copper Creek Springs pool, the stream and waterfall that leads to it, or Bay Lake itself. The opening of the "Y" (or "U"!) as it approaches the pool means pool noise tends not to be an issue, and noise surprisingly isn't really as much of a problem as you'd think for the rooms that open onto the main lobby.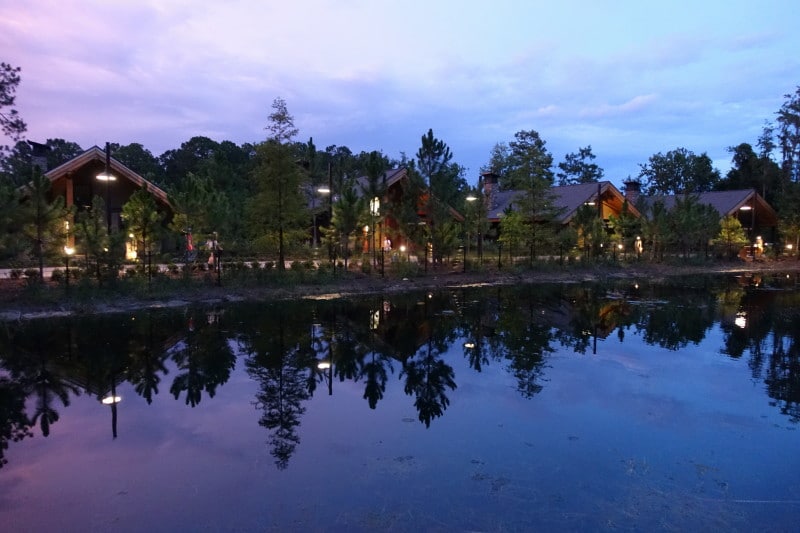 Standard view room overlook anything else–but because so many trees were cut down on the northwest side of the Lodge for the Cascade Cabins here…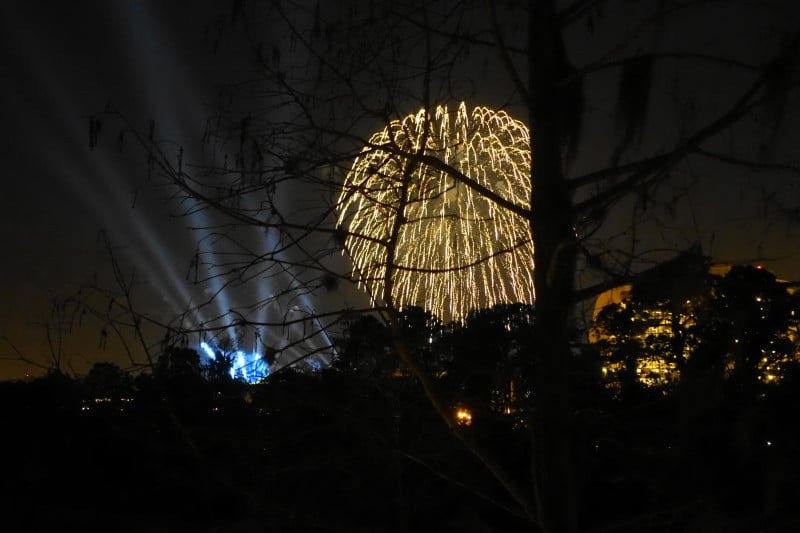 …a vast number of them on the upper floors (the Lodge is six and seven stories tall) now have views of the Magic Kingdom fireworks. Watching the fireworks from your balcony is no substitute for seeing these fireworks in the park…but it is pretty cool!
Some more fireworks shots, taken from my sixth floor room: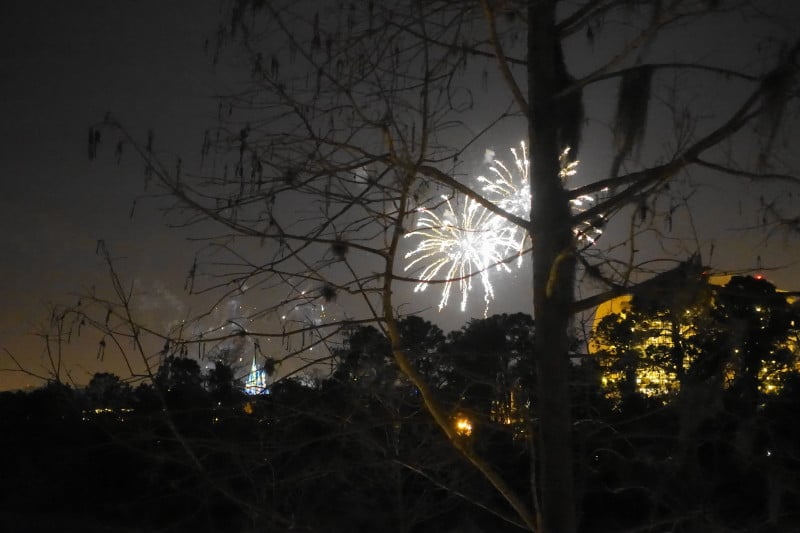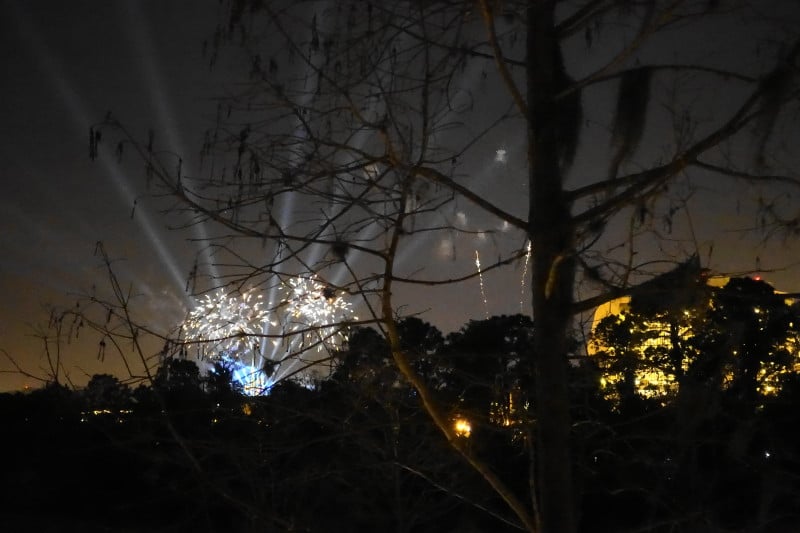 Returning visitors may have the mental geography that these are distant, overly oblique views. But they aren't–they are about as distant as Polynesian theme park view rooms, with an angle similar to (but on the other side)that of Grand Floridian theme park views.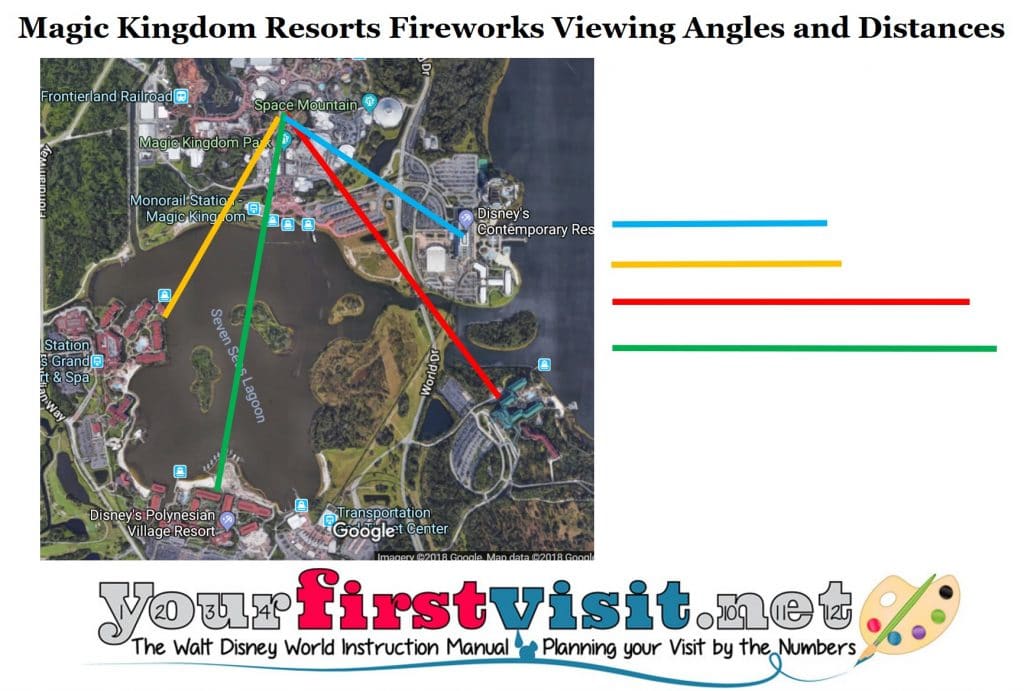 In the graphic (click it to enlarge it), on the left I've drawn the principal viewing angle of each Magic Kingdom area hotel with the colored lines, so you can see the angle. On the right, I've then turned all these lines to a common angle so that you can see their relative distance.
You can see on the left side that that the Polynesian Village (green) has the best angle, and the Contemporary Resort (blue) the worst. The Grand Floridian (gold) and Wilderness Lodge (red) have comparable angles.
On the right side, you can see that distance is about the same for the Grand Floridian and Contemporary, and also about the same for the Polynesian and Wilderness Lodge.
However, not all standard rooms have this view–some are too low, some blocked by trees, and some are just unlucky…
So pick the view you want–or hope for–most, and request an upper floor room (quieter, and better views).
BEST FOR:
Any first time family visitors who can afford it, but can't get into or can't afford Disney's Polynesian Resort.
WORST FOR:
Families too large to fit its four person rooms.
Kelly, the long-time travel agent partner of this site, can book your Disney World vacation at the Wilderness Lodge or anywhere else.  Contact her by using the form on this page.
This review continues here.
MATERIAL IN THIS REVIEW OF DISNEY'S WILDERNESS LODGE
OTHER KEY PAGES FOR WHERE TO STAY AT DISNEY WORLD


Follow yourfirstvisit.net on Facebook or Twitter or Pinterest!!