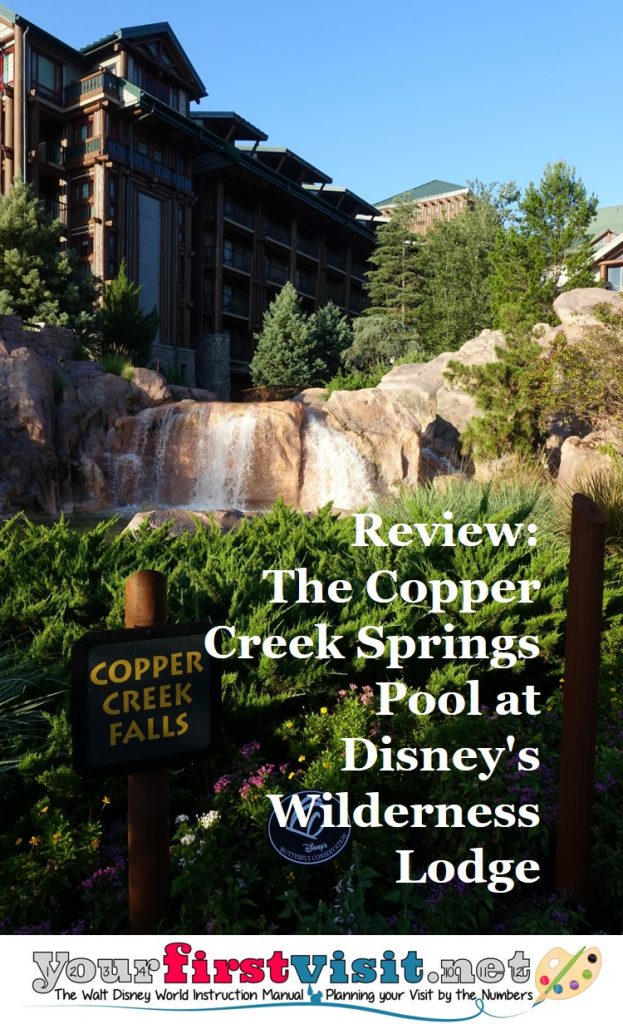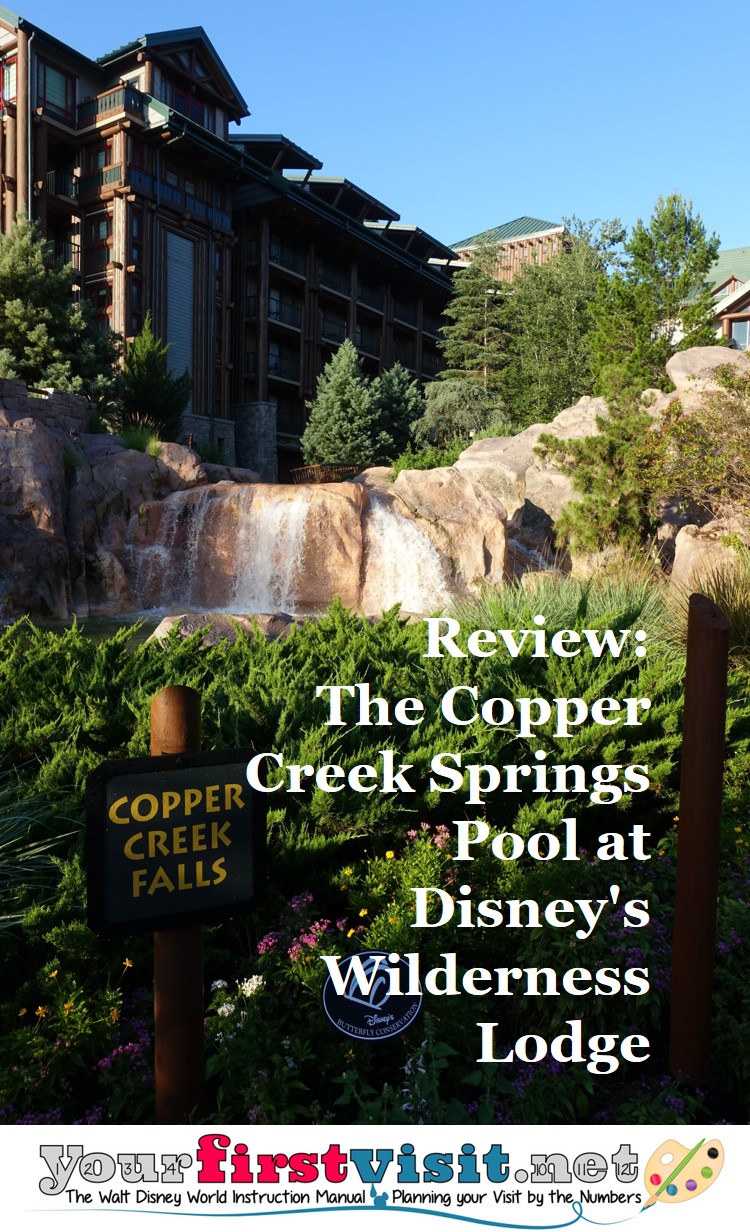 For the first page of this review of Disney's Wilderness Lodge, click here.
THE COPPER CREEK SPRINGS POOL AT DISNEY'S WILDERNESS LODGE
The main pool at Disney's Wilderness Lodge is the Copper Creek Springs Pool (formerly the Silver Creek Springs pool).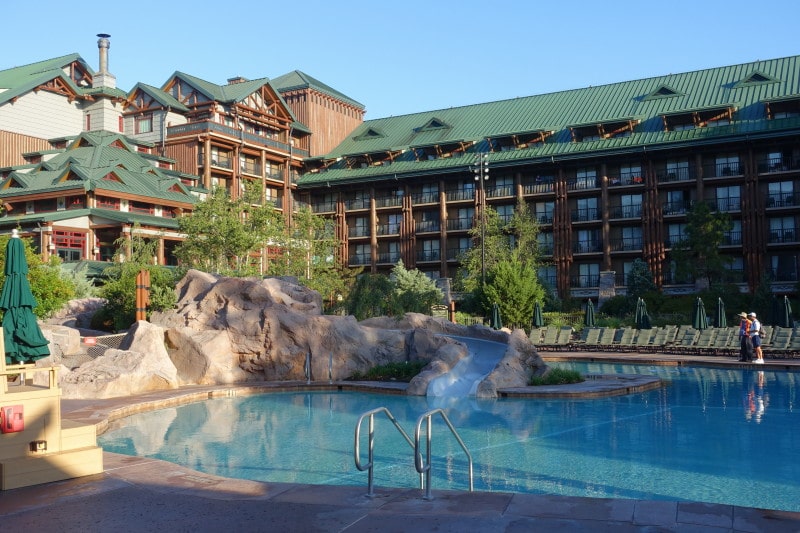 Themed as a spring-fed mountain tarn, it is one of the best pools among the Disney World deluxe resorts.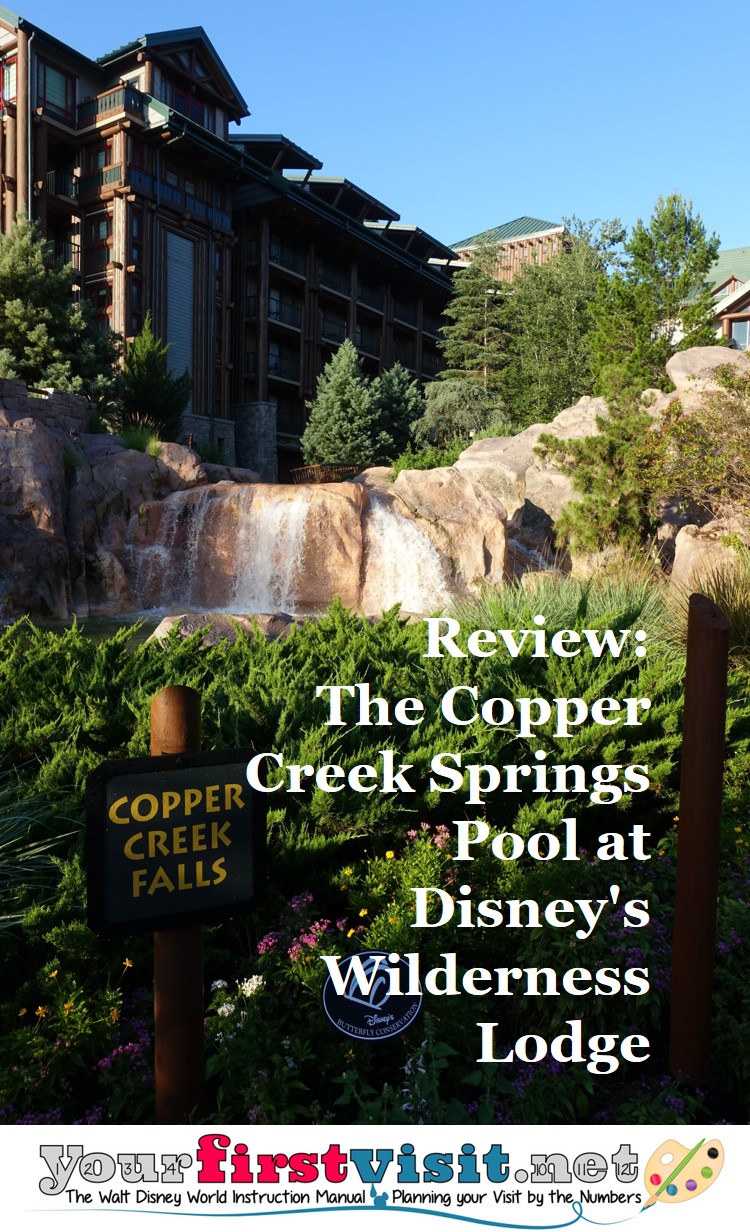 The Copper Creek Springs pool is one of two pools at the Wilderness Lodge–the second, perhaps even better for adults but not as much fun for kids, is the Boulder Ridge Cove pool.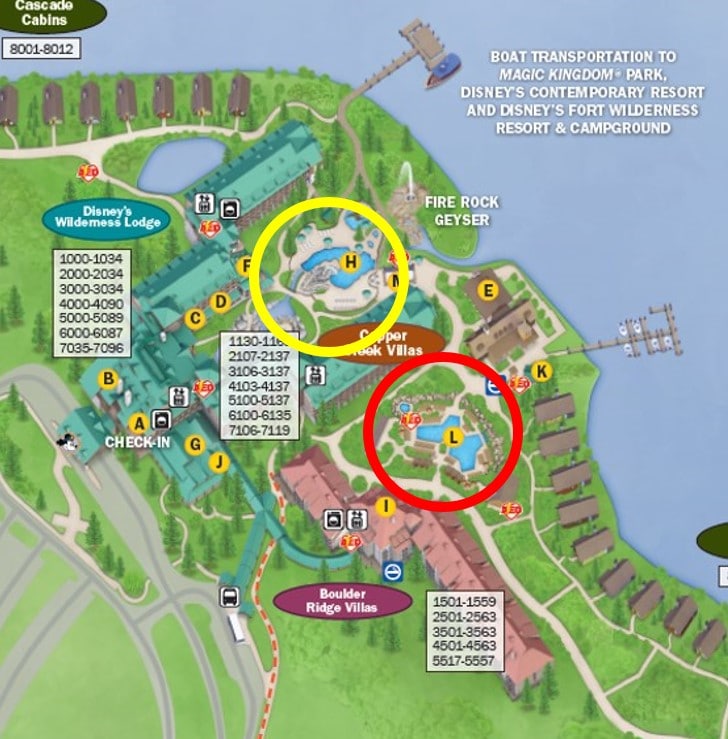 The Copper Creek Springs pool is nestled among the two arms of the main Wilderness Lodge. On the map, it is circled in yellow, and Boulder Ridge Cove is circled in red.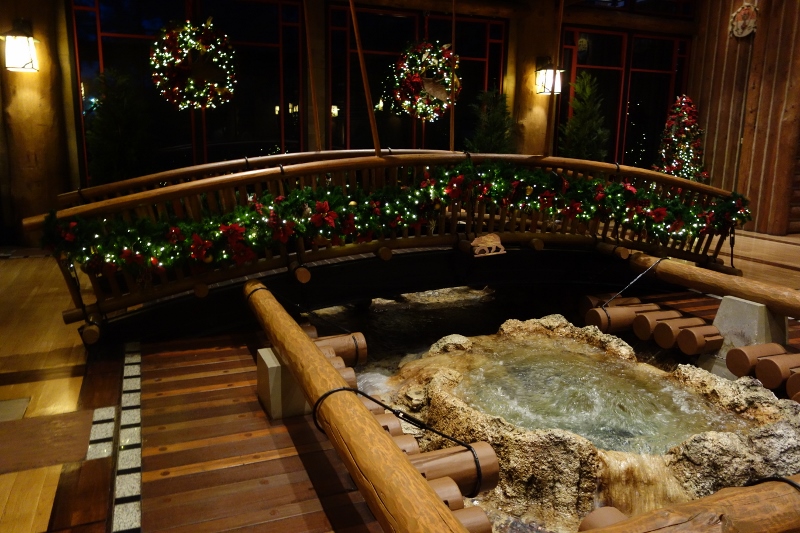 The pool is themed to find its water source in the Copper Creek Spring in the lobby of the Wilderness Lodge.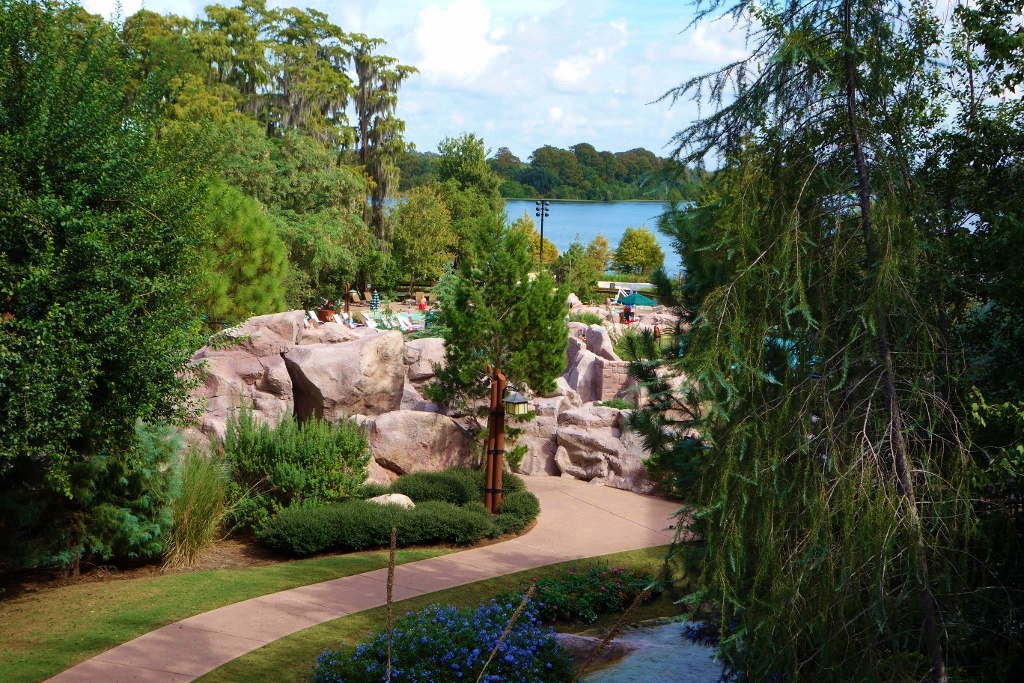 The creek makes its way outside…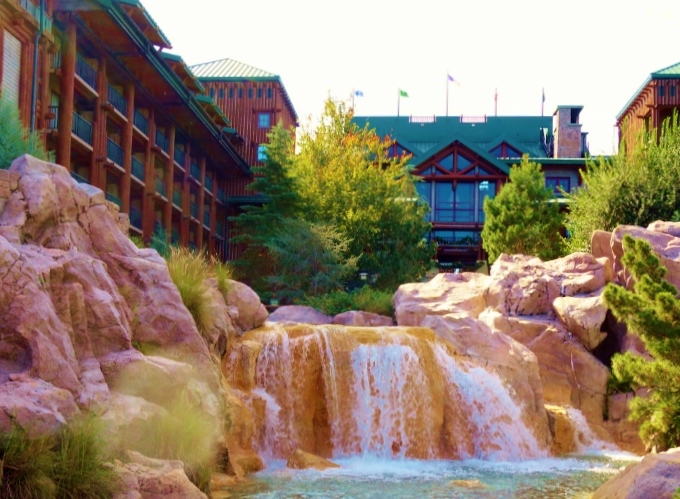 …over a waterfall…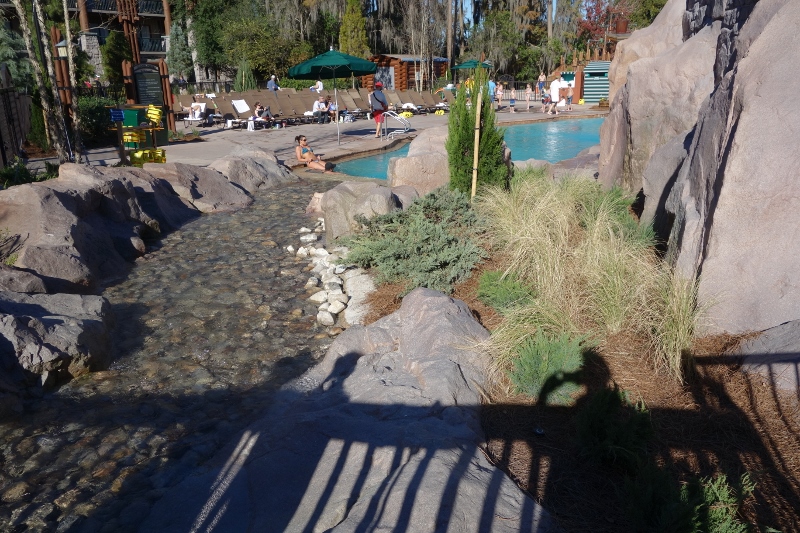 …and to the pool area.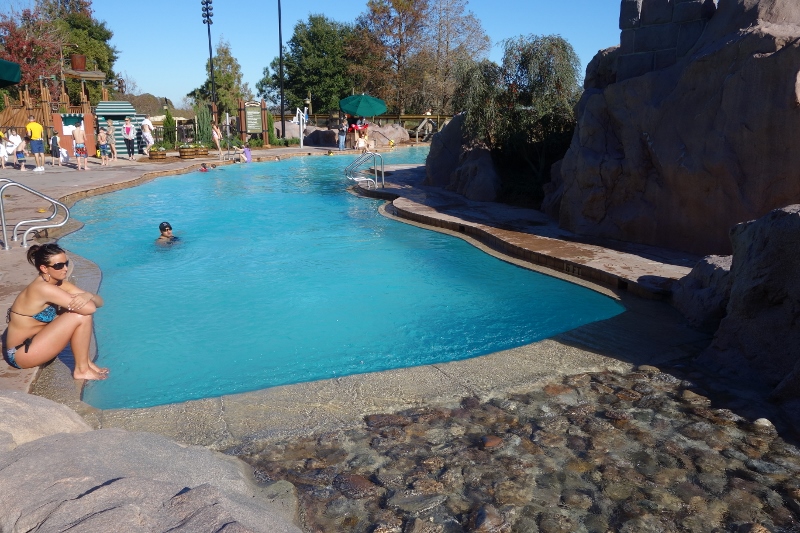 Inside you'll find one stretch fed by the creek.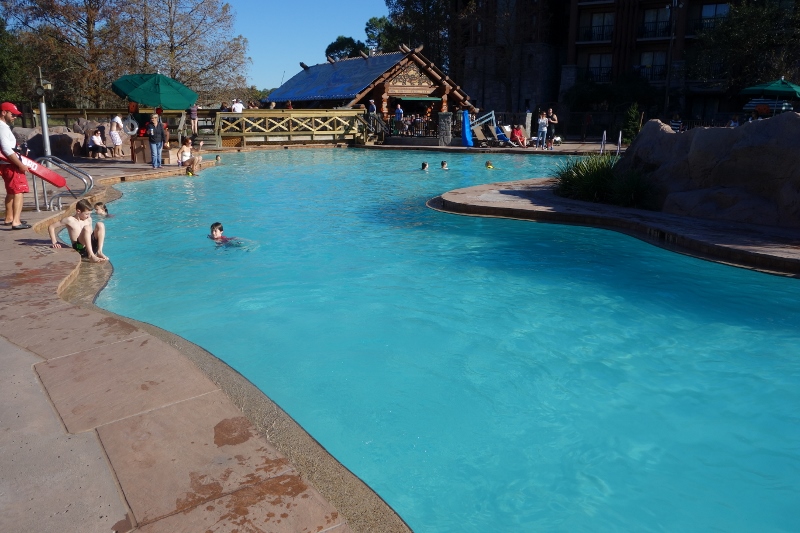 The pool then curves around…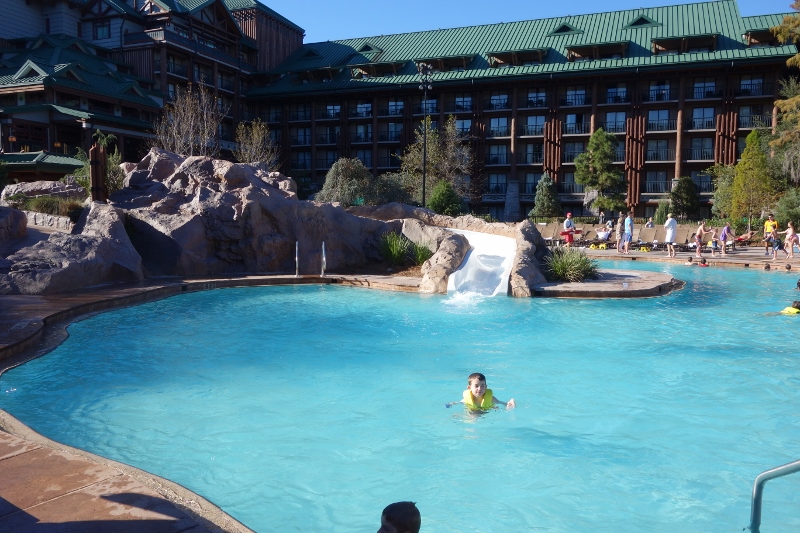 …to the slide area.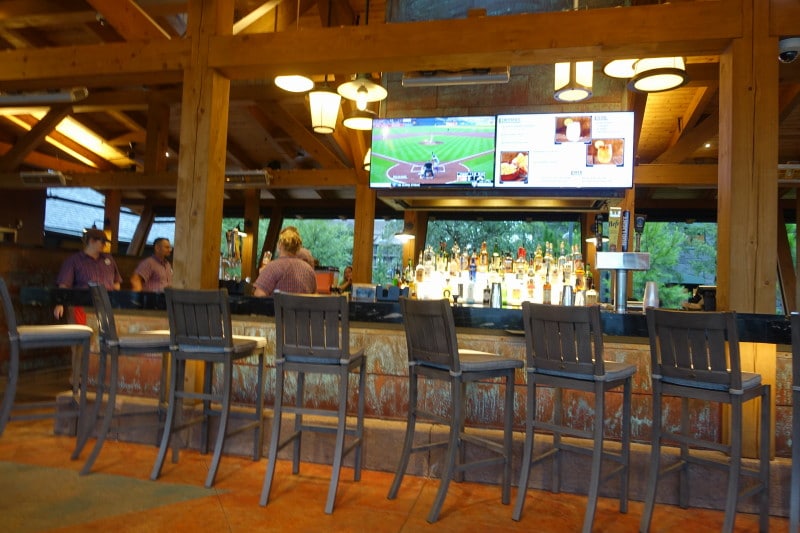 The counter service Roaring Fork is convenient to the northwest part of the pool, and at the southeast end and around the corner, you'll find the new Geyser Point bar and grill…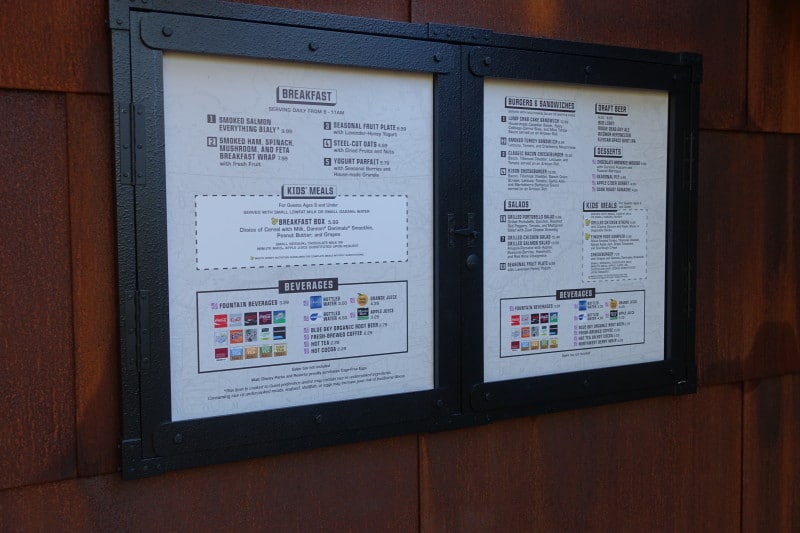 …with more counter service offerings…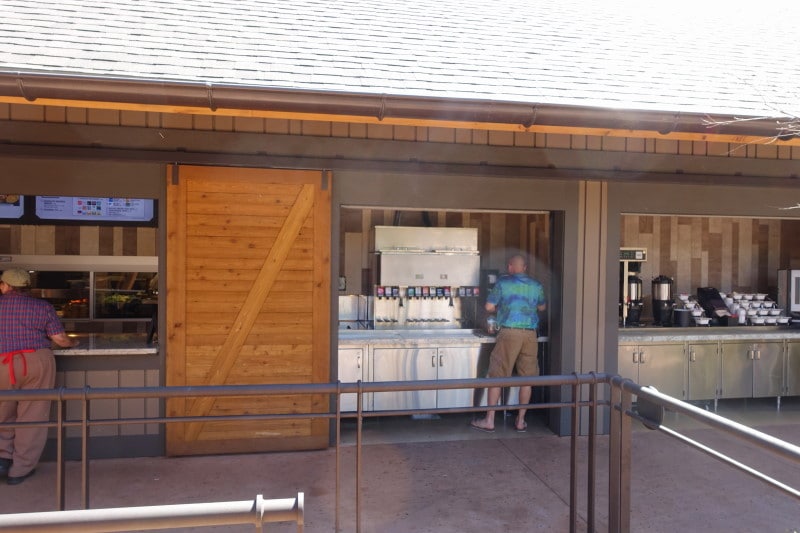 …and a refillable mug station.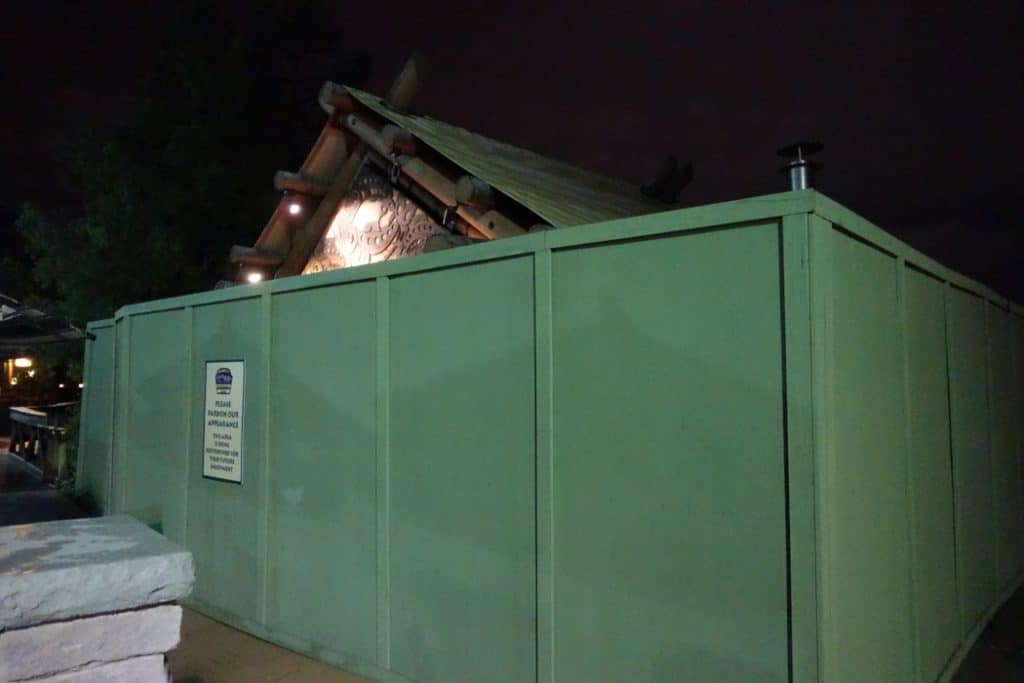 (The old Trout Pass Bar is being converted into a salon, the "Salon by the Springs.")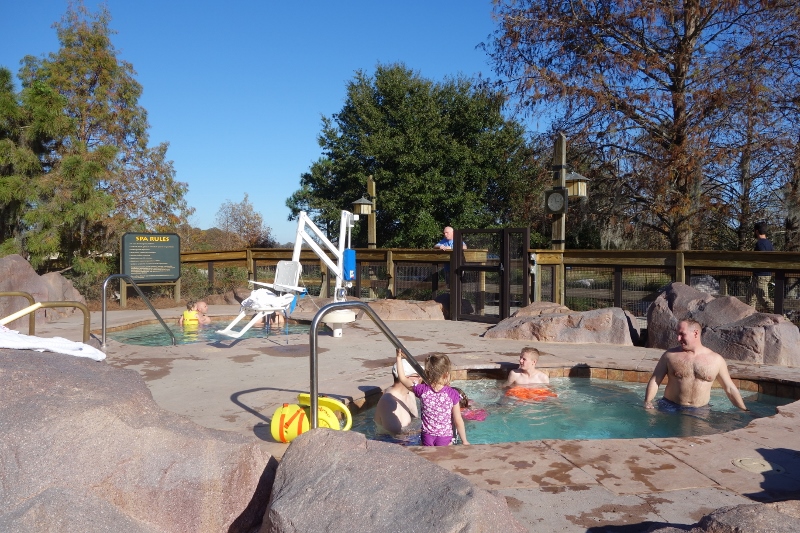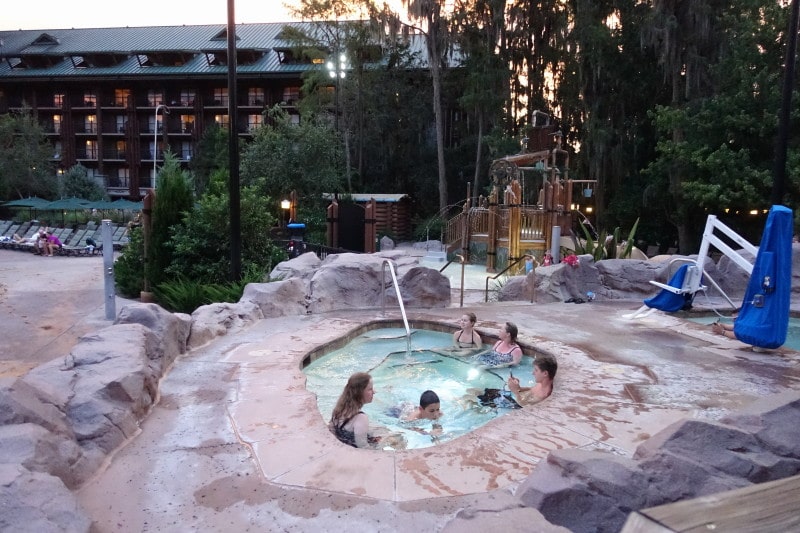 You'll find two hot tubs.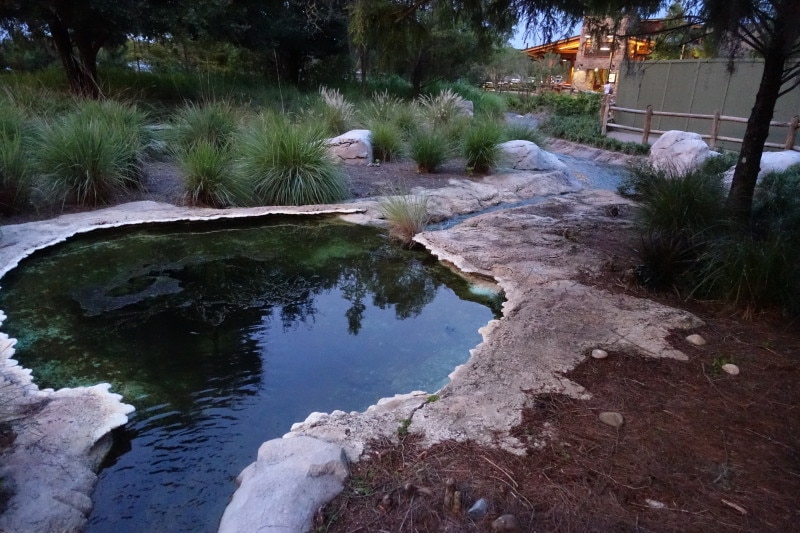 The hot tubs are thematically linked to the geysers and hot springs behind them…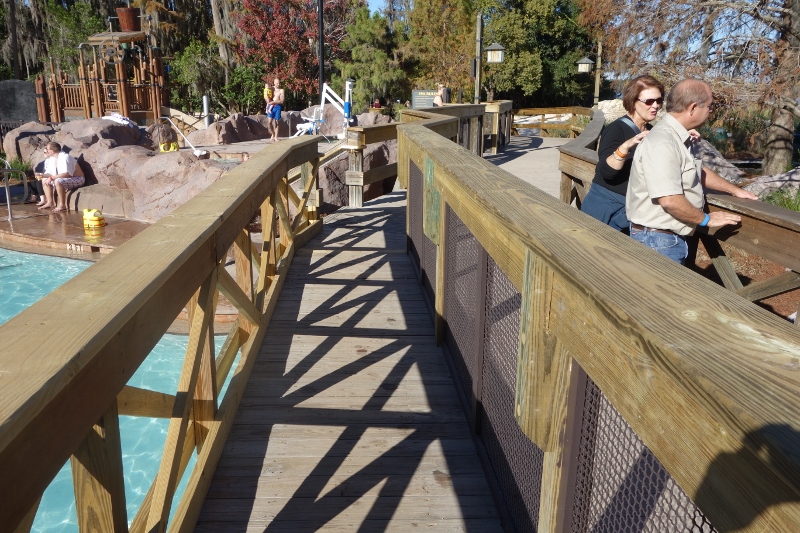 …but fencing added in 2014 divides the walkways among these into two, one inside the fence and one (on the right in the image) outside the fence.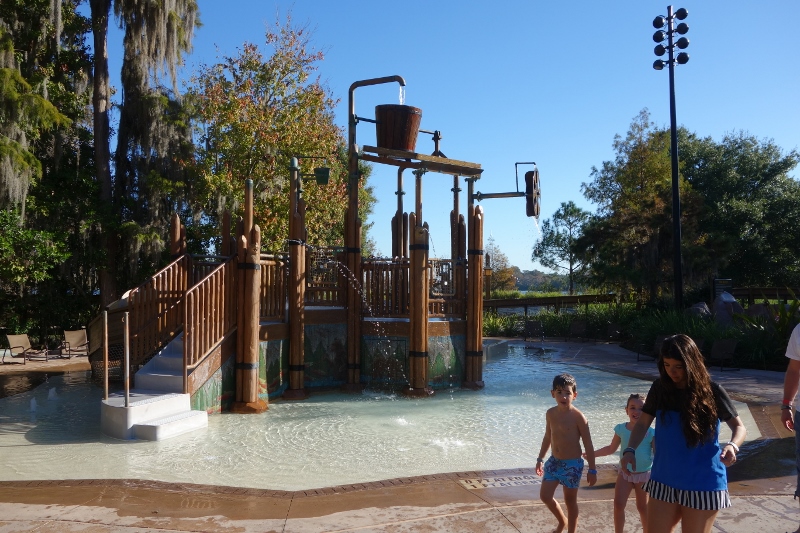 Back in the corner here is the kids water play area.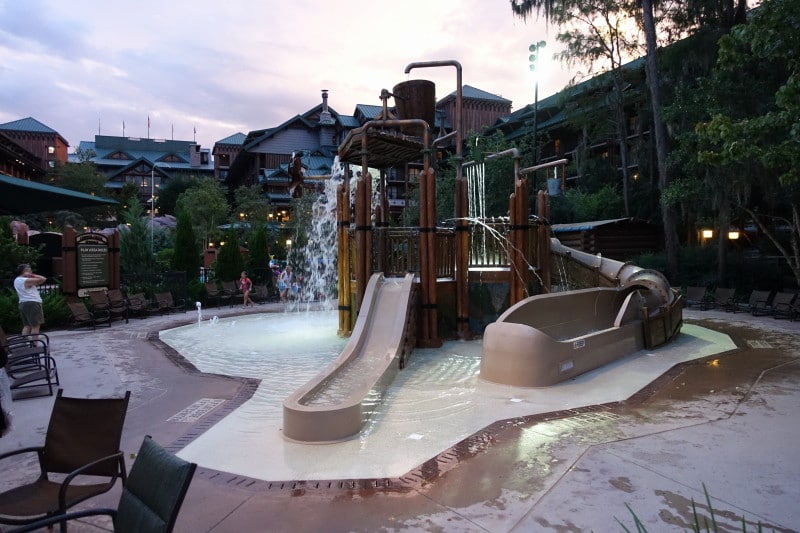 Another view of the water play area.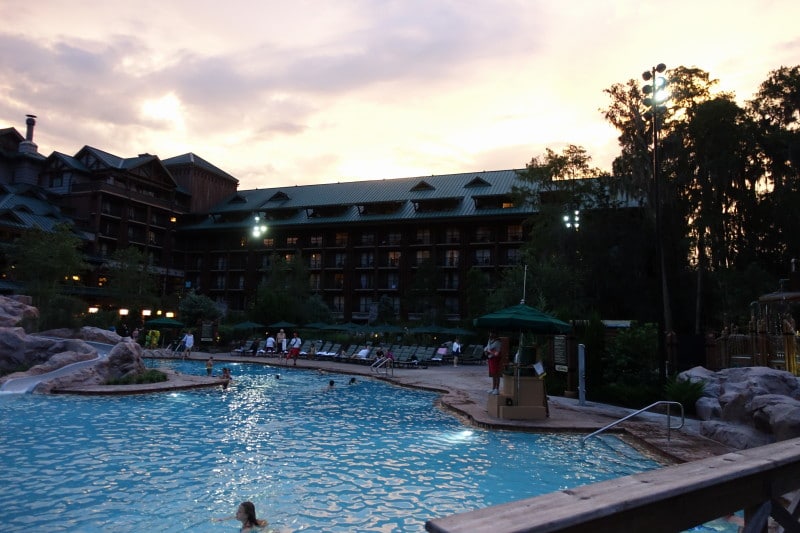 The pool in the evening…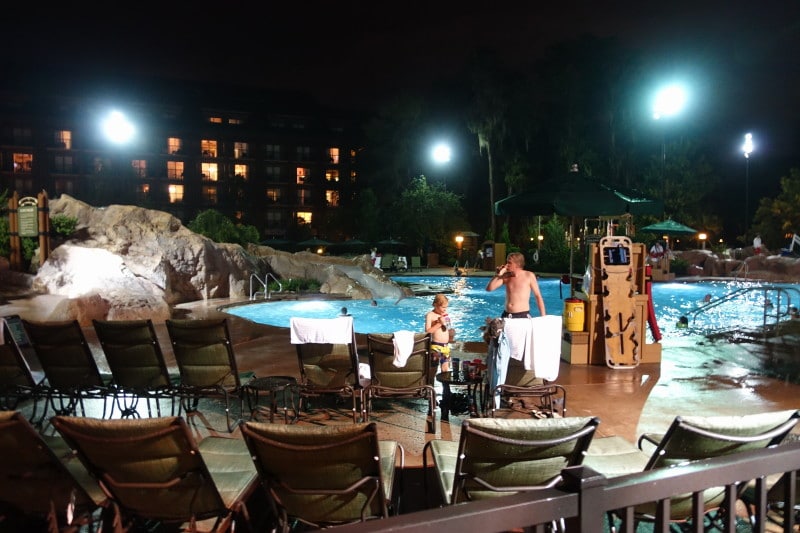 …and at night.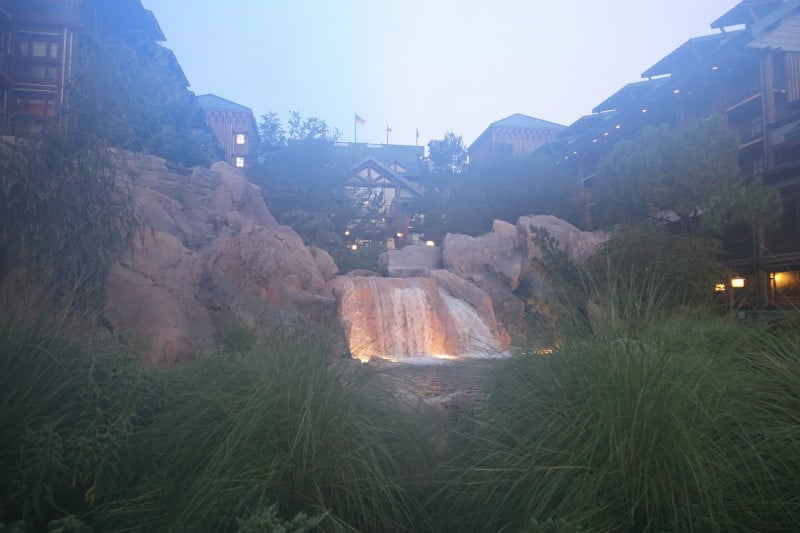 The falls in the morning mist…either very arty, or the worst shot I've ever published–and that's saying something!
Kids will prefer the Copper Creek Springs pool for its slide, afternoon games, and water play area.  But adults might like the second pool here, the Boulder Ridge Cove pool, even more.
This review continues here!
MATERIAL IN THIS REVIEW OF DISNEY'S WILDERNESS LODGE
OTHER KEY PAGES FOR WHERE TO STAY AT DISNEY WORLD


Follow yourfirstvisit.net on Facebook or Twitter or Pinterest!!