Review: Disney's Coronado Springs Resort
By Dave Shute
OVERVIEW: DISNEY'S CORONADO SPRINGS RESORT
The strength of Disney's Coronado Springs Resort, compared to the other Walt Disney World moderate resorts, has always been the extra level of amenities it provides.  As the only moderate resort that serves conventions, it has a number of amenities demanded by its business guests that the other moderates don't provide, such as a spa and health club, a hot menu at the pool, and extensive room service.
The principal weakness of Coronado Springs for family visitors used to be its rooms, which had been over-optimized for business travelers.
Well, Coronado Springs has completed a room refurb project that makes its rooms more family-friendly, and has added two more dining options,  making it an even better choice for families.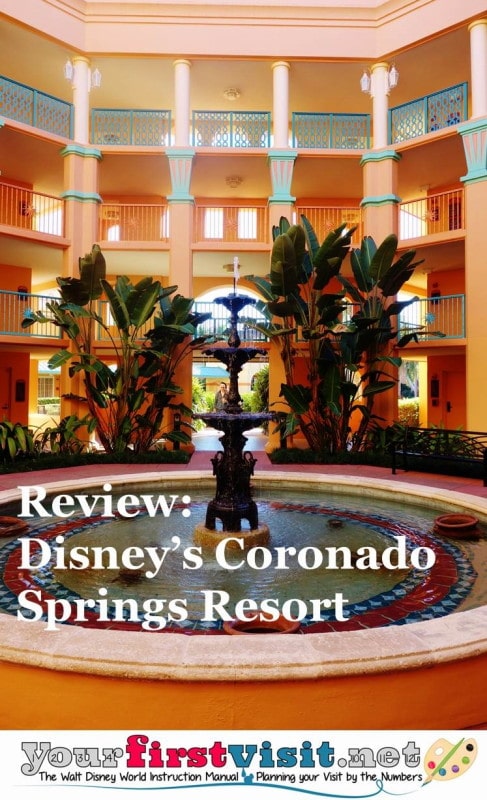 My half-dozen stays at Coronado Springs (most recently in April 2018) confirm that Disney's Coronado Springs Resort remains the second best of the moderate resorts for first time family visitors.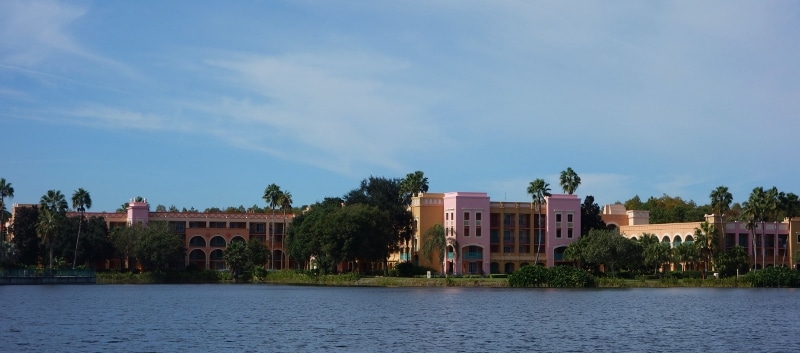 On the other hand, the reason it has such good amenities is because Coronado Springs is the only moderate which also serves conventions. If a big convention or meeting is at the resort, the food court, restaurants and bars can be choked up with the crowds. The peak season for Orlando conventions is January through March.
For all this,  in 2019 you may pay more per night some nights of the year than you would for equivalent room types at Caribbean Beach, but will pay less than at Port Orleans Riverside or French Quarter. (In 2020, it will be substantially less than Caribbean Beach) This means that, at least for adults, because of the extra amenities Coronado Springs Resort presents far and away the best value for money among the moderates.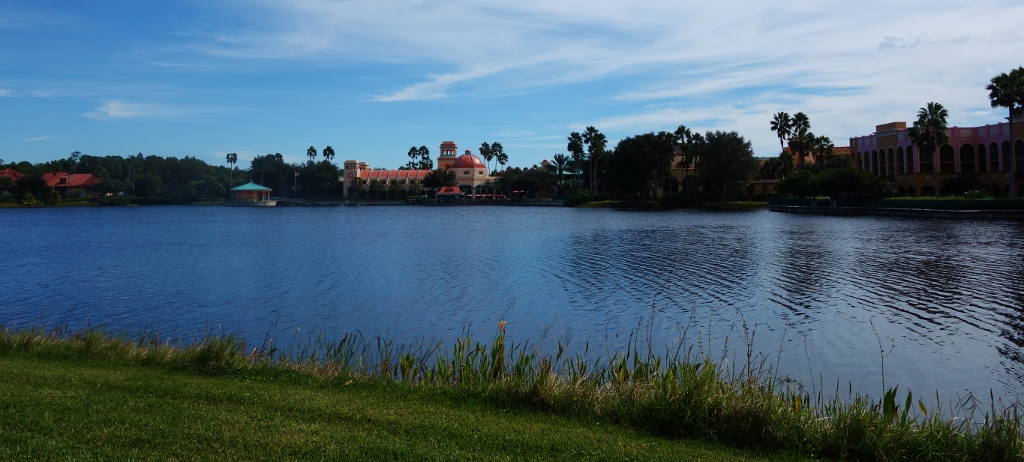 You can have a wonderful visit at any Walt Disney World resort. However, this site recommends that first time visitors to Walt Disney World avoid the moderate resorts, while noting that these resorts are wonderful for visits after the first. (See this for why.)
That said, the moderates represent ~30% of the rooms of Walt Disney World, and will be sought by some because this site's recommended resorts are sold out, because you are on return visits, or because–sensibly–you're just not that into my rankings!
Because of that, I've stayed (so far) in the moderate resorts 37 times, and published up-to date and detailed reviews of each.
This review of Disney's Coronado Springs Resort has six pages
The summary and overview of Coronado Springs you are on now
Note that the long-time travel agent partner of this site, Kelly B., can help you book your Disney World vacation at Coronado Springs or anywhere else–contact her at KellyB@DestinationsInFlorida.com or 980-429-4499, or by using the form on this page.
THE CONSTRUCTION AT DISNEY'S CORONADO SPRINGS RESORT
Disney's Coronado Springs Resort has just come out of an extensive refurb and construction project. I'll be staying at the resort at the end of July, and will report after then on the new rooms, new tower and new restaurants here.  Key changes include the following:
1. A new bed tower, Gran Destino, with a new rooftop fireworks view restaurant, Toledo. This bed tower will make Coronado Springs the largest moderate in terms of rooms, and, by adding a large group of business class rooms and suites close to its convention center and other amenities, make Coronado Springs even more attractive to the conventions and meetings market it already serves.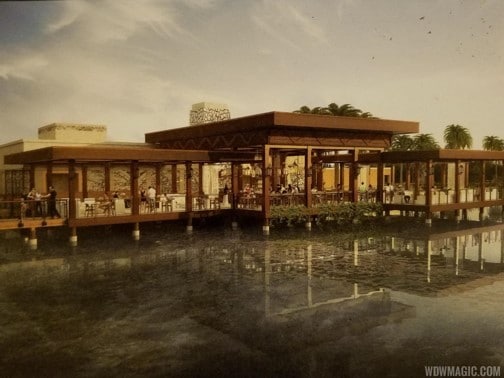 2. A new on-the-water bar and grill between the Casitas and the Dig Site, the Three Bridges Bar & Grill.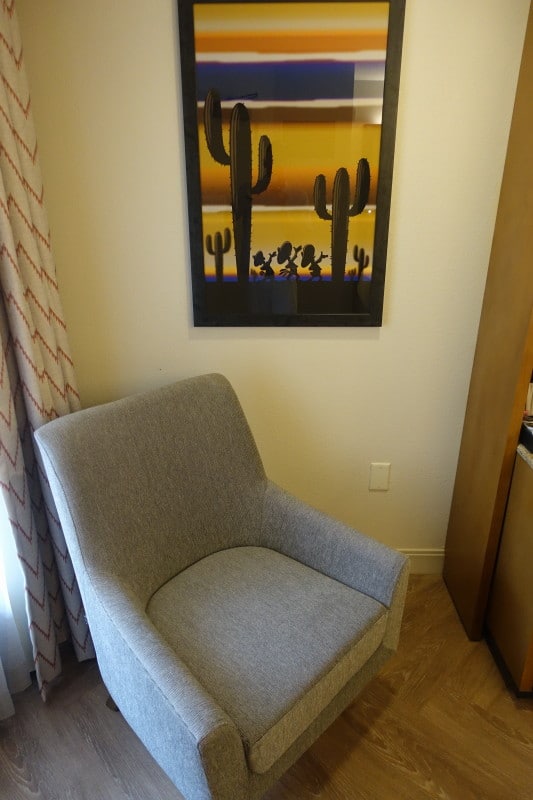 3. A room refurb project that adds to Coronado Springs rooms (among other things) Disney theming, an easy chair, a second sink, a bigger TV, and more luggage storage. Somewhat comically, another site called these new features "aimed at business travelers." In fact they make these rooms much better for families. This room refurb project was completed in the fall of 2018.
To keep up with changes at Coronado Springs, check out Mario's Facebook group.
ACCOMMODATIONS AT DISNEY'S CORONADO SPRINGS RESORT
As at the other moderates, rooms at Coronado Springs are on the order of 314 square feet. While king bed rooms and suites are available, most room are sleep four on two queen beds. You can add to this capacity of four a child younger than three who sleeps in a crib.
These rooms are quite spacious, and the bedroom area is particularly ample–bigger than the bedroom spaces at the smallest deluxe resorts. (See this.)
As noted, the rooms at Coronado Springs have been refurbed. Rooms have some differences compared to other standard moderate rooms, mostly tied to their potential use by double-occupancy convention visitors.
Rather than a table and two chairs, they have a desk with one chair
Rather than a single rank of several large drawers, there's two sets of three smaller drawers–one set for each convention occupant
The TV wall next to the bath omits the small bench and coat rack typically here at the other moderates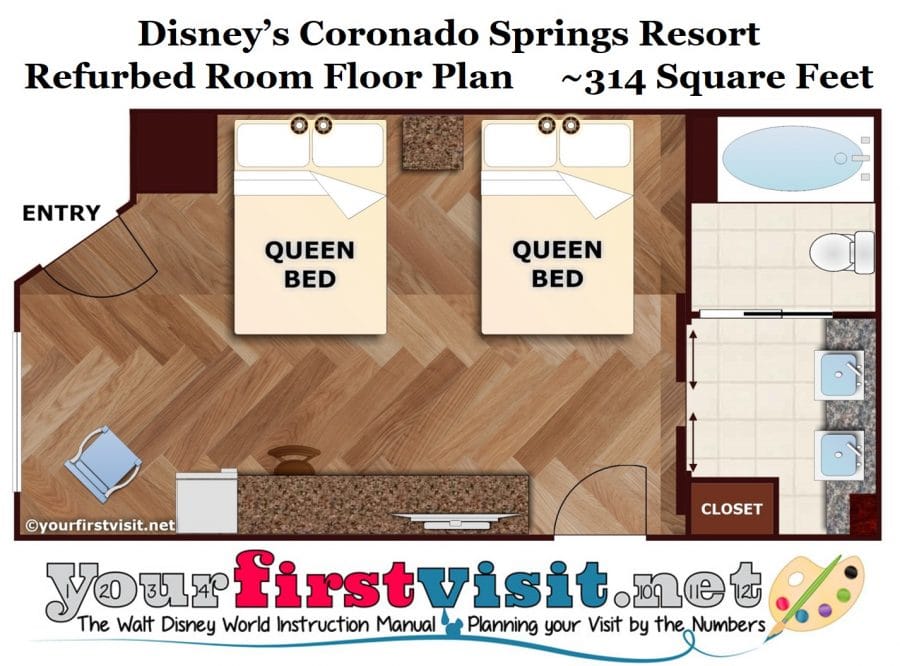 The floor plan of a refurbed room is above.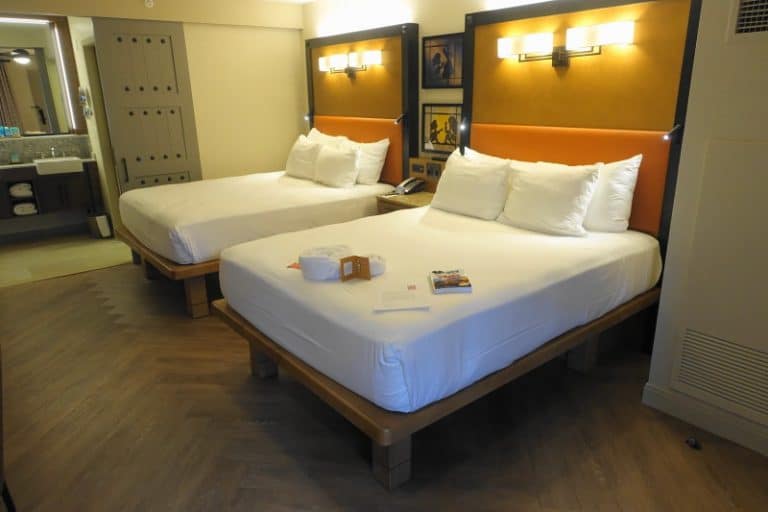 The main differences in the refurbed rooms compared to the prior rooms:
Double rather than single sinks
More Disney theming
The addition of an easy chair
Wooden rather than carpeted floors
Higher beds, with storage underneath
Bigger TVs and many, many more power points
More structured storage, especially in the old closet area
Many rooms with showers instead of tub/shower combos, and where tub/shower combos still exist, the shower curtain is now sliding glass, rather than fabric
A photo tour of a refurbed Coronado Springs room begins here.
Rooms at Coronado are found in three areas distinct in their exterior architecture and theming (the rooms themselves are the same in all three areas):
–The Casitas, resembling a graceful cityscape, with lovely formal gardens
–The Ranchos, based on Southwestern desert habitats and architecture; and
–The Cabanas, intended to give the sense of "a quaint beachfront retreat complete with cozy hammocks"
More on each of these areas and their pros and cons is here.
DINING AT DISNEY'S CORONADO SPRINGS RESORT
Coronado Springs has more, and more varied, dining than available at any other moderate resort.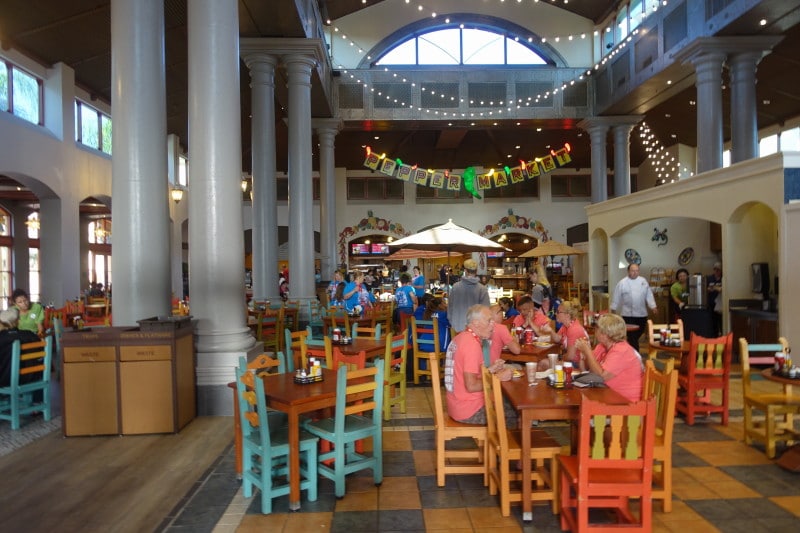 Most current Coronado Springs dining is at El Centro, with two table service venues—Las Ventanas and Maya Grill–a grab-and-go/coffee shop, and Pepper Market, a counter service option.
There's bars both inside and outside of El Centro, as well as at the main pool.
More dining and bars will arrive as construction is completed.
There's more on dining at Coronado Springs here.
THE POOLS AT DISNEY'S CORONADO SPRINGS RESORT
Coronado Springs has one main pool and three smaller pools, one in each of the accommodations areas.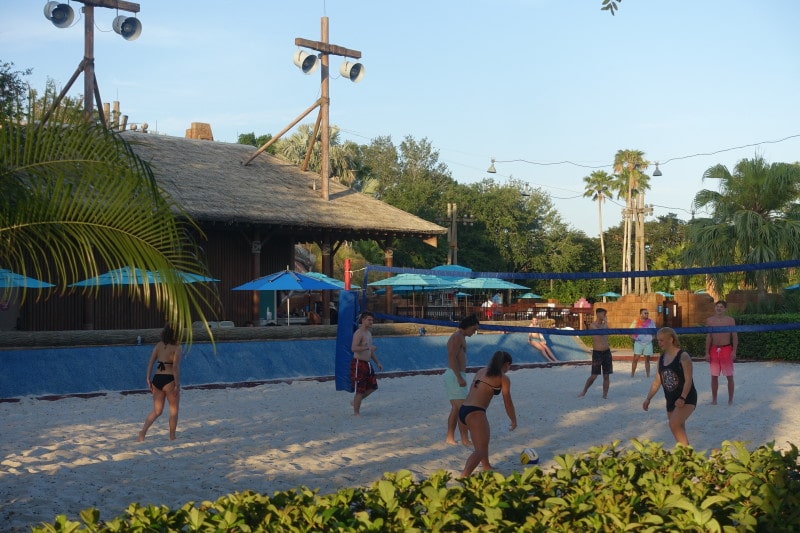 The main Lost City of Cibola pool is bested among the moderates only by the main pool at Caribbean Beach.
There's more on the pools at Coronado Springs here.
KID APPEAL AND CONVENIENCE AT DISNEY'S CORONADO SPRINGS RESORT
Kid Appeal. While slight, the kid appeal of Disney's Coronado Springs Resort is enough to bring it to second in the ranking on this measure among the moderates, after Disney's Caribbean Beach Resort.
Coronado Spring's kid appeal comes from: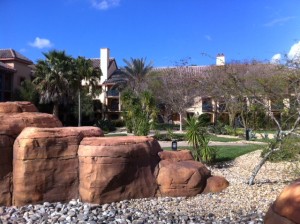 –The American southwest and Mexican architecture and theming, which will be exotic and intriguing to some kids who have not traveled to or lived in such regions.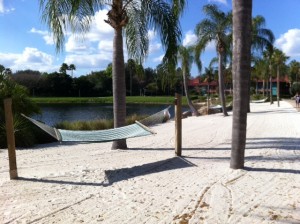 –The beaches in one of the resort's three sections, the Cabanas area.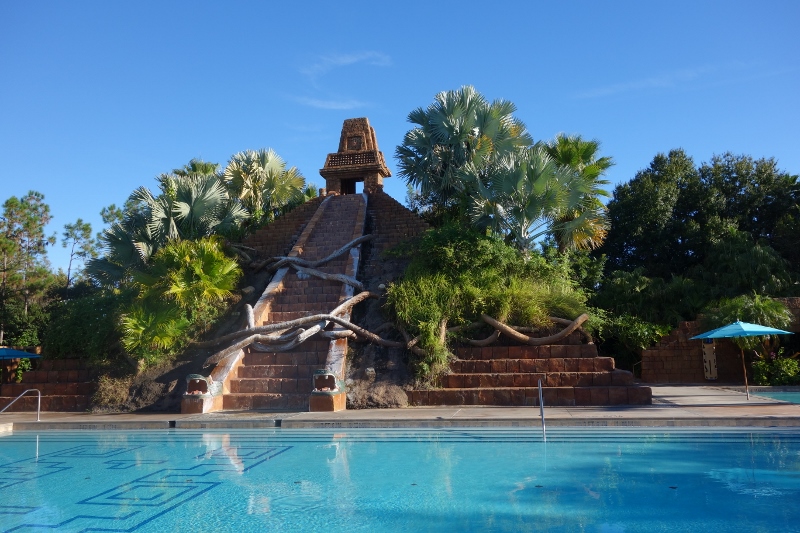 –And the fun main pool, decorated with a Mesoamerican pyramid.
The rooms themselves have little kid appeal, being the most "businesslike" of rooms in any of Disney's moderate resorts, but refurbed rooms have gained a little Disney whimsy.
Convenience. Disney's Coronado Springs is the second most convenient of the Moderates, exceeded only by Disney's Port Orleans French Quarter.
Disney calls it an "Animal Kingdom Area Resort," and it is poorly placed on maps in many websites and guidebooks right next to the Animal Kingdom.
It is in fact just a bit west of World Drive, is as close to Disney's Hollywood Studios as it is to the Animal Kingdom, and is the most centrally located of all the moderate resorts.
(It is just south of the (theme park attendance weighted) center of Walt Disney World. This center is located in the undeveloped area west of World Drive, north of the Coronado Springs Resort, and south of the Magic Kingdom parking lot.)
BEST PLACES TO STAY AT DISNEY'S CORONADO SPRINGS RESORT
This site suggests that first time visitors stay in standard rooms, not preferred rooms (because they won't be spending much time in their rooms, or going to the main resort food area often; the single exception is visitors to the Animal Kingdom Lodge, who should always pay for savanna views).
Coronado Springs has three architecturally different areas: the Casitas, buildings 1-5; Cabanas, buildings 8a, 8b, and 9a; and Ranchos–buildings 6a, 6b, 7a and 7b.
There's pretty stark trade-offs among the areas in terms of access to the food court and main pool.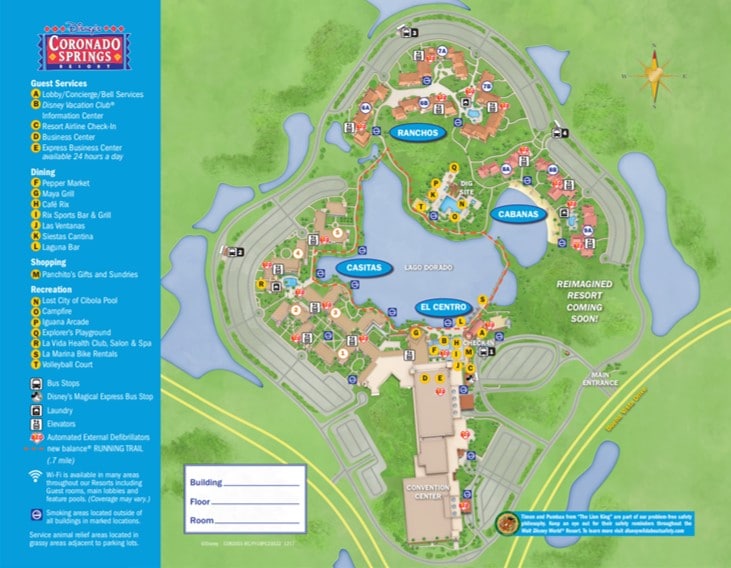 See the map.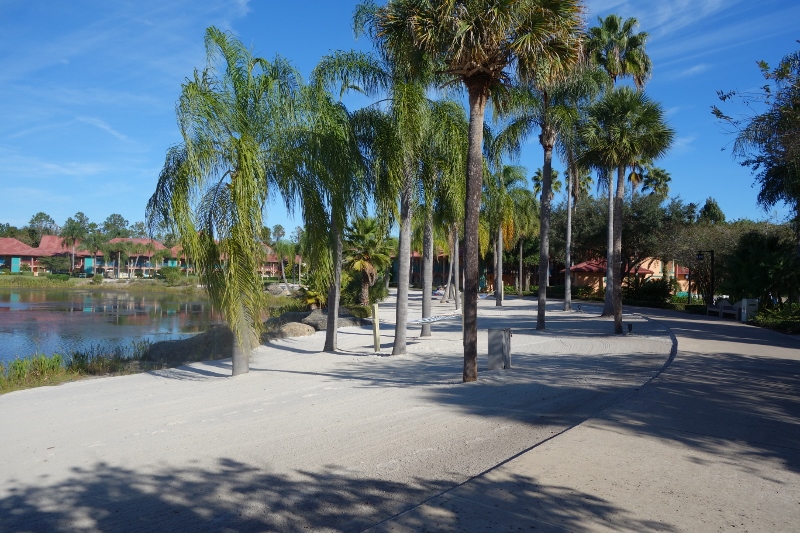 Standard rooms on the top floors (quieter) in buildings 8a and 8b of the Cabanas section are the best bet, because of their access to the kid-pleasing beaches that are present only in this section of the resort, closeness to both the main pool and the dining area, and nearby bus stop.
(I used to recommend 9a, but construction in the former site of 9b makes me hesitant to advise staying there.)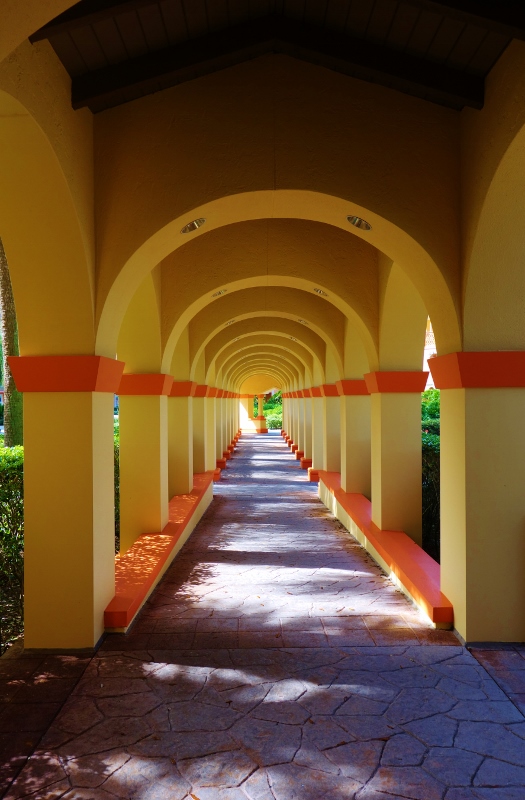 The top floors (quieter) of the Casitas are the next best choice, partly because their architecture provides a mostly sun-and-rain-shielded walkway to the central services and food area. Buildings 1, 2, and 3 (preferred) benefit from this walkway, and are closer to the food court; buildings 4 and 5 don't have the walkway, and are further from the food court, but are closer to the main pool.
Avoid the Ranchos (buildings 6 and 7), as their theming—southwestern desert—is too subtle for most kids, and may show up to them as ugly or forbidding instead. They are also farthest from the food and other central services—though many are quite close to the main pool.
BEST FOR:
Families that will take advantage of the extra amenities—the room service, spa, health club, business center, etc.
WORST FOR:
Families that won't—the extra price, and risk of convention congestion, would suggest Disney's Caribbean Beach Resort.
The long-time travel agent partner of this site, Kelly B., can help you book your Disney World vacation at Coronado Springs or anywhere else–contact her by using the form below.
This review continues here!
TOPICS IN THIS REVIEW OF DISNEY'S CORONADO SPRINGS RESORT
OTHER KEY PAGES FOR WHERE TO STAY AT DISNEY WORLD


Follow yourfirstvisit.net on Facebook or Twitter or Pinterest!!