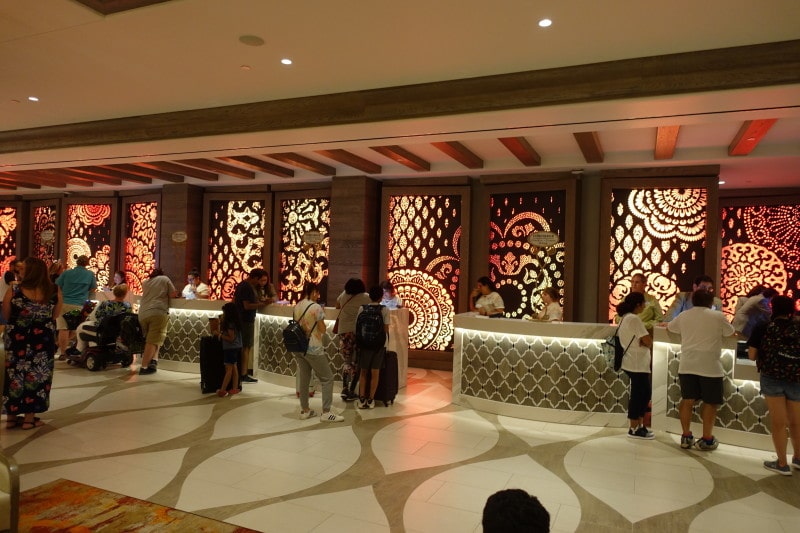 (For the first page of this review of Disney's Coronado Springs Resort, see this.)
AMENITIES AT DISNEY'S CORONADO SPRINGS RESORT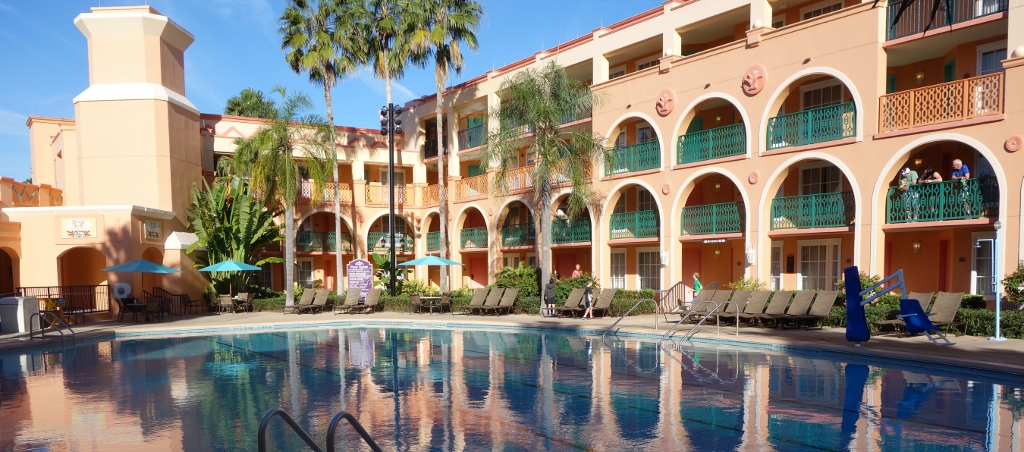 Disney's Coronado Springs Resort has more amenities, by far, than any other moderate resort. Most are centrally located in either Gran Destino Tower or El Centro, but a few–especially the pools, but also some dining–are elsewhere in the resort.  This review has separate pages on dining at Coronado Springs and the pools at Coronado Springs. Other amenities are covered below.
GRAN DESTINO TOWER AT DISNEY'S CORONADO SPRINGS RESORT
Gran Destino Tower is where you check in and also where you'll find guest services for help with your tickets, luggage, or other matters.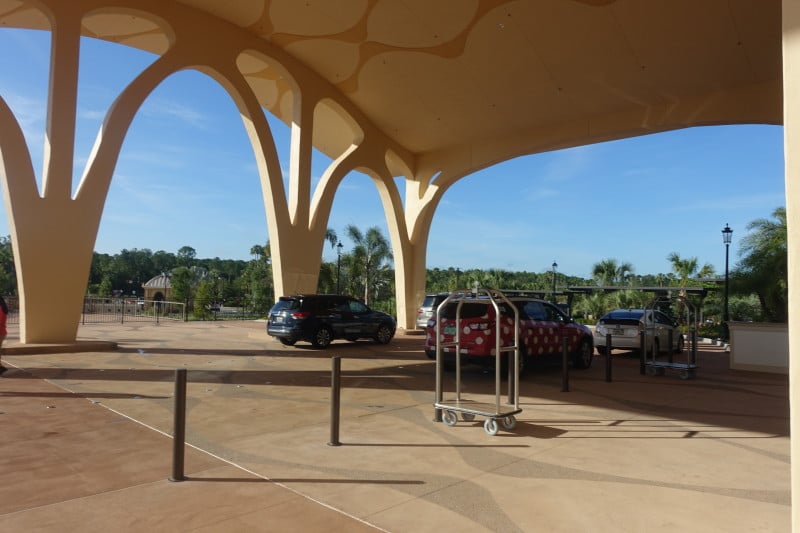 You can valet at the large port cohere outside the tower, or self park.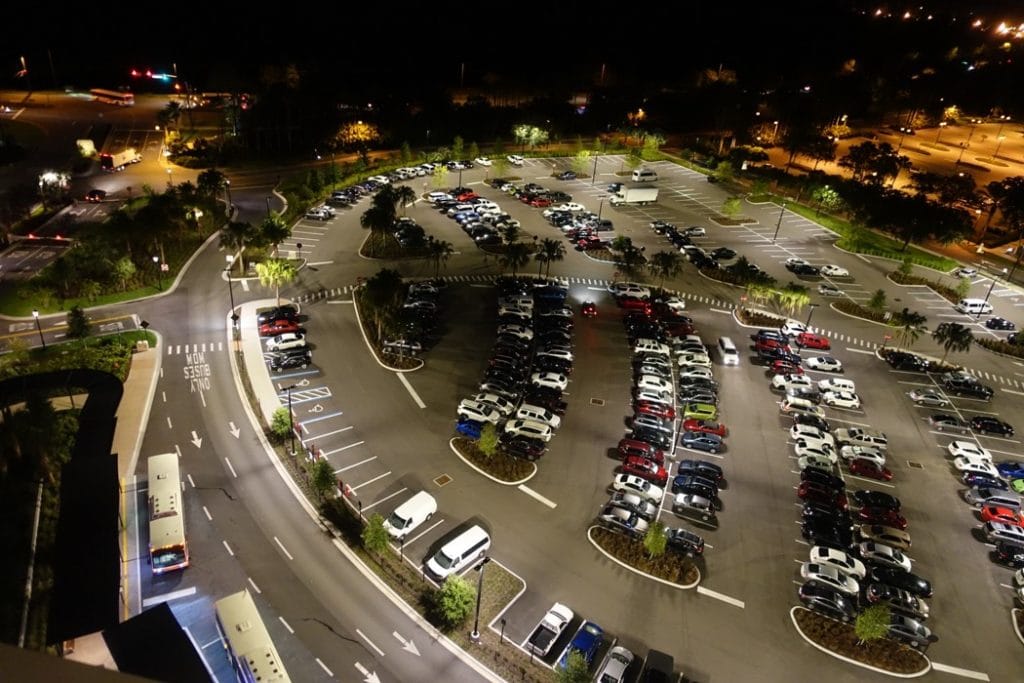 The area to which you are directed for self parking is fine for check-in parking, but too small for those staying in the tower. Another large parking area, shown above, is steps away, across the bus stops and nearer El Centro. (For those returning to Coronado Springs, this second area is the old check-in parking area.)
Also outside of (and also shown above) Gran Destino Tower is a bus stop that can be overwhelmed by the net increase of about 465 rooms using this bus stop (545 new at Gran Destino, about 80 demolished in the old Cabanas 9b). The other three lodging areas each have their own bus stop.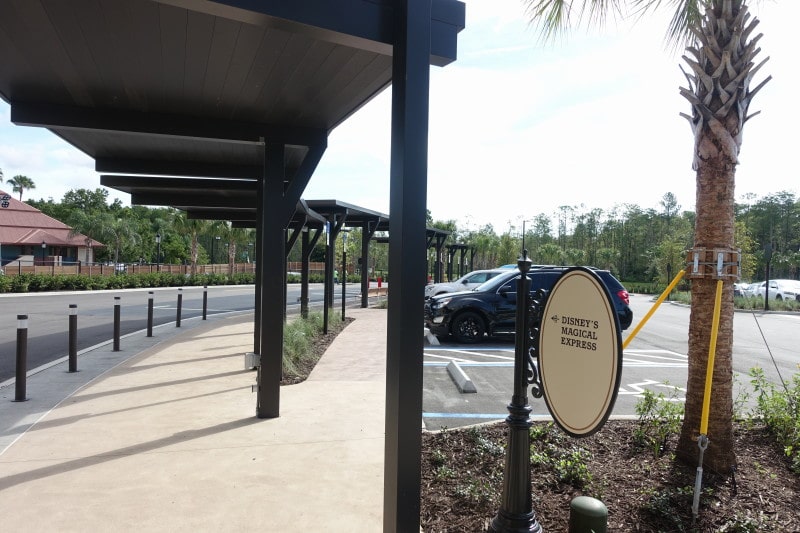 There's a separate set of bus stops for Disney's Magical Express…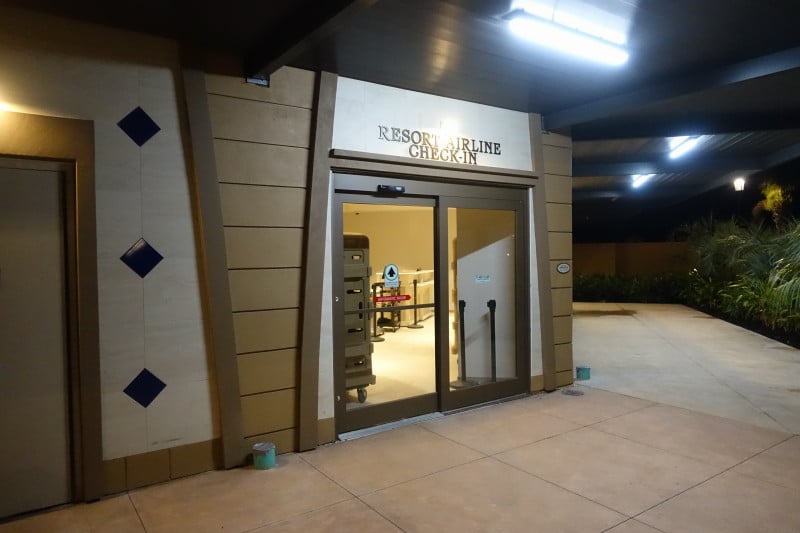 …and also outside Gran Destino is an area that can help with boarding passes and luggage for those not using the Magical Express. (This is a tip-based service, and not all airlines are included.)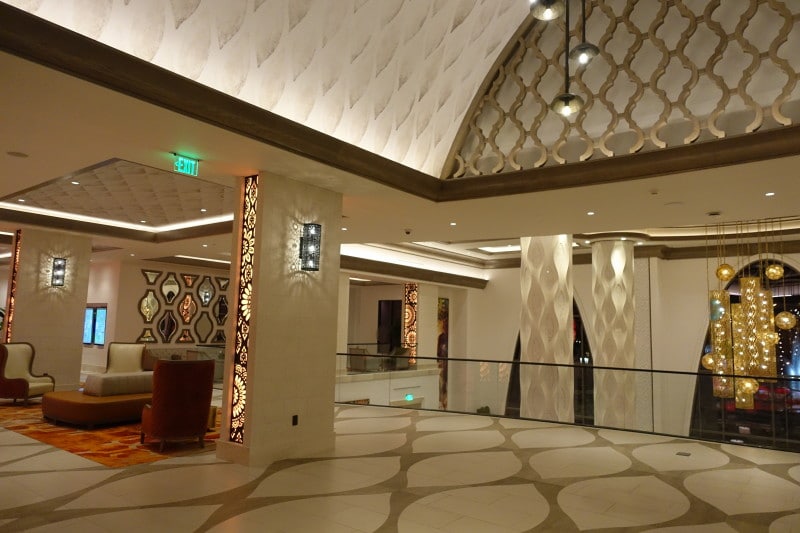 Inside Gran Destino Tower you'll find the lobby, with decorating concepts inspired by the Disney-Salvador Dali collaboration Destino.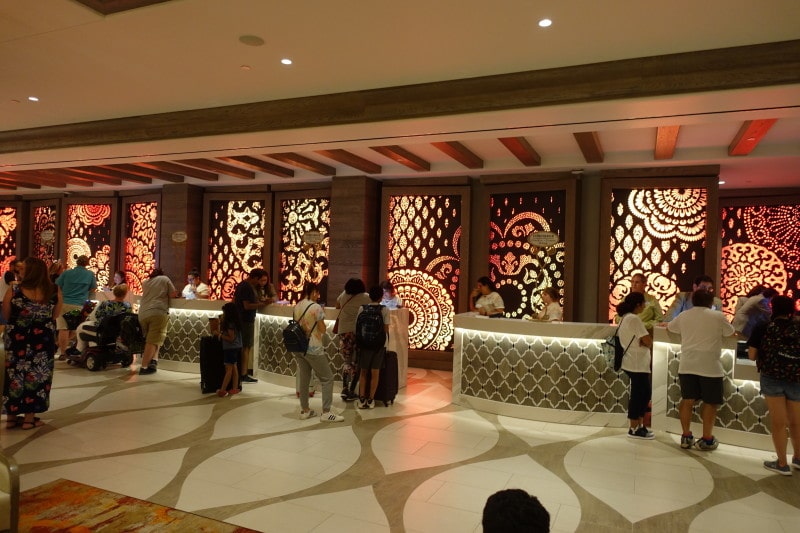 On one side of the lobby you'll find check in services, and also help with tickets, dining and such…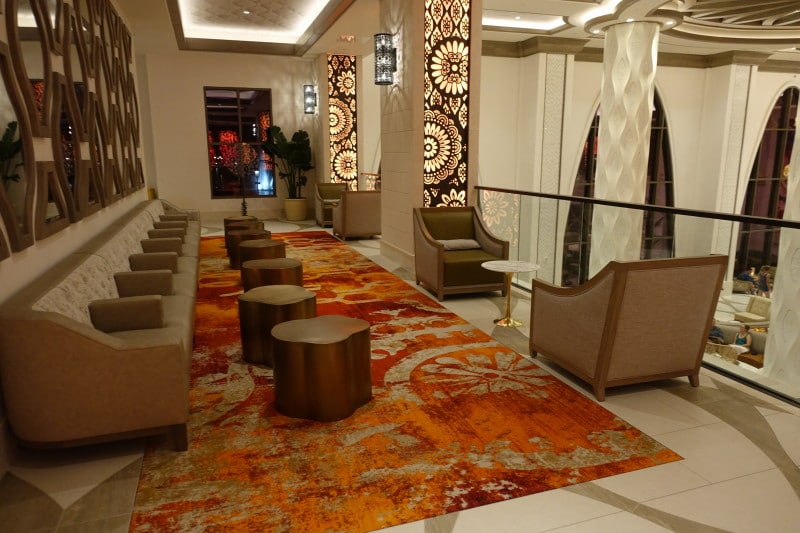 …some nice seating areas…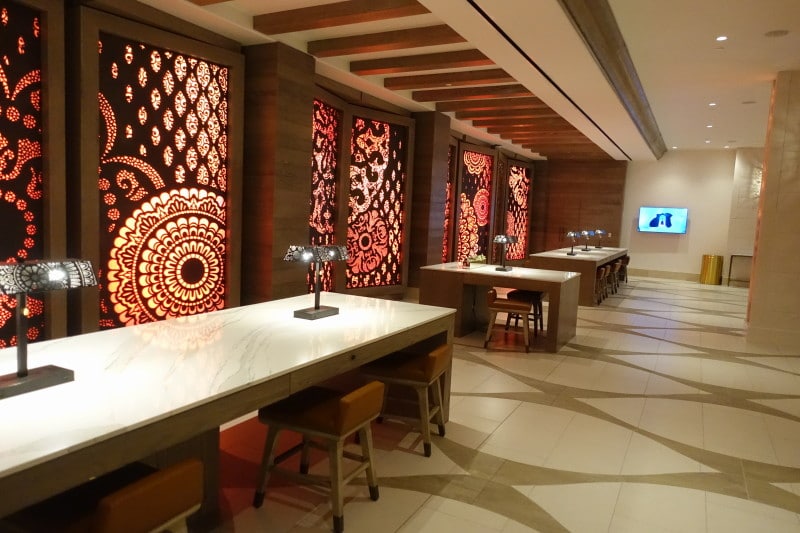 …and an area that does double duty. Sometimes it is open and you can sit/charge your electronics here…
…and at other times it used for overflow check-in services when a bolus of folk attending a conference, meeting or convention have shown up.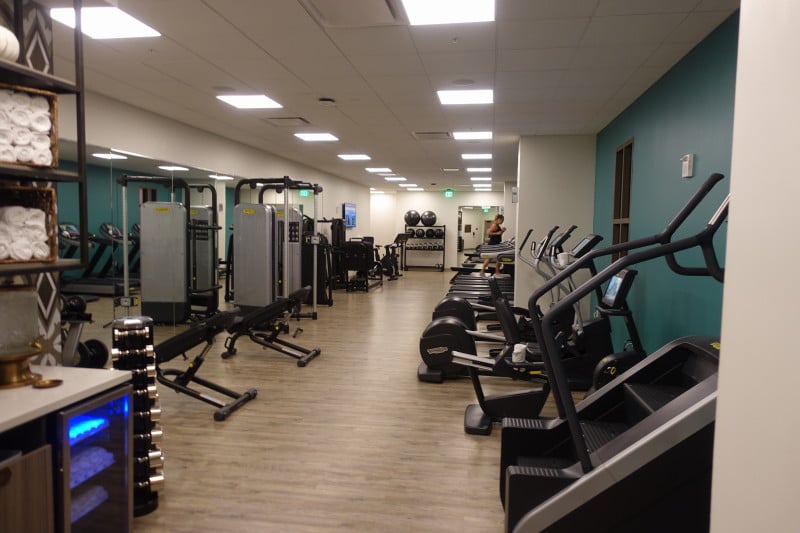 Also in this area is one of two workout gyms at Coronado Springs. That's two more than at any other moderate, BTW.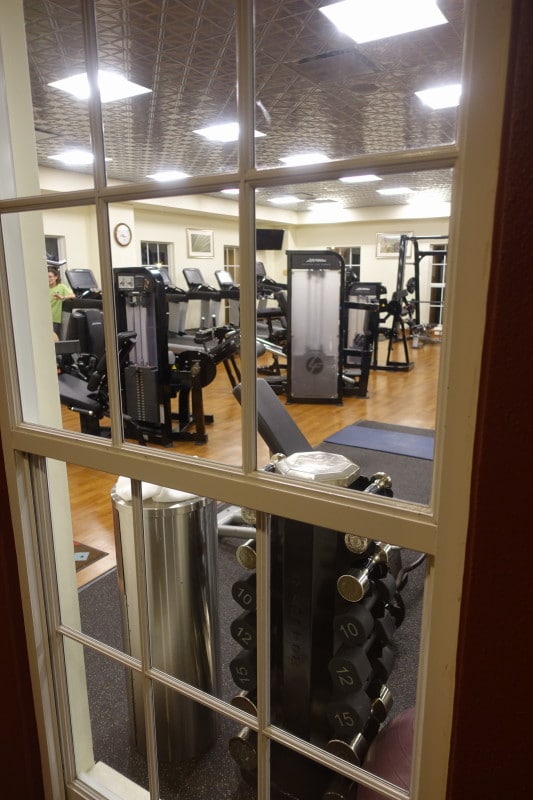 The other gym is near the Casitas quiet pool, where you will also find the La Vida spa–the only spa at a moderate resort.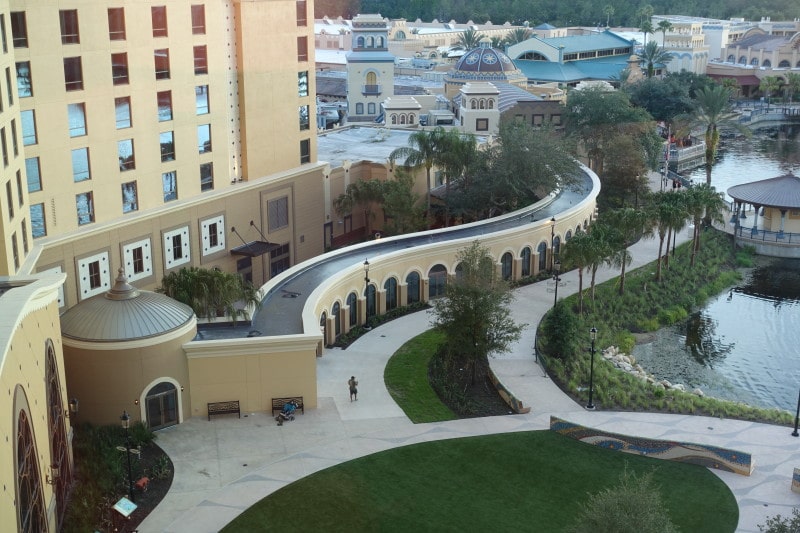 Most other amenities at Coronado Springs are in the next-door El Centro. There's an enclosed, temperature-controlled walkway from Gran Destino to El Centro–in the image, it is the curving corridor-shaped space.
EL CENTRO AT DISNEY'S CORONADO SPRINGS RESORT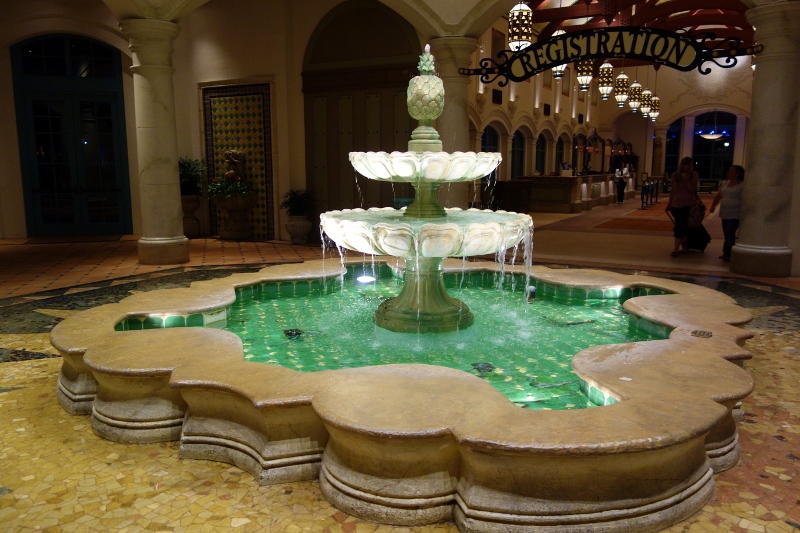 In El Centro you'll find shops, much dining (dining at Coronado Springs is covered here) and the entry to the convention center.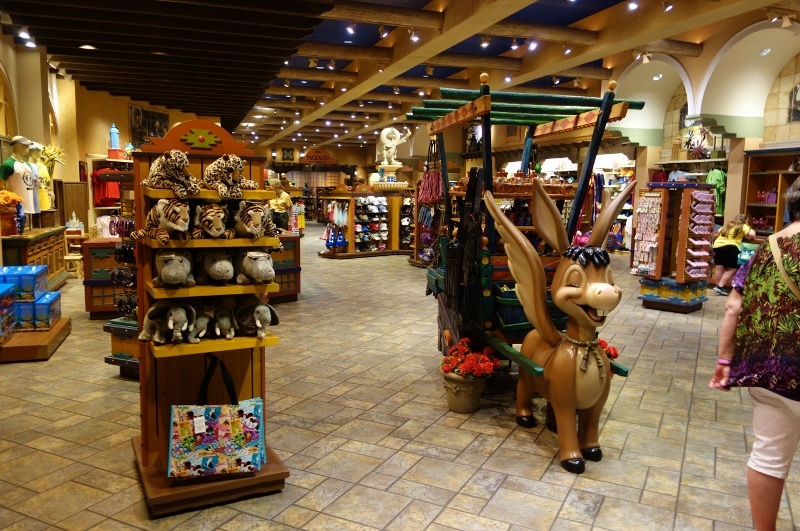 The gift shop Panchito's is large, and while it has mostly standard Disney hotel gift shop stuff, there's a bit of a Mexican selection similar to what you can find in Epcot's Mexico Pavilion.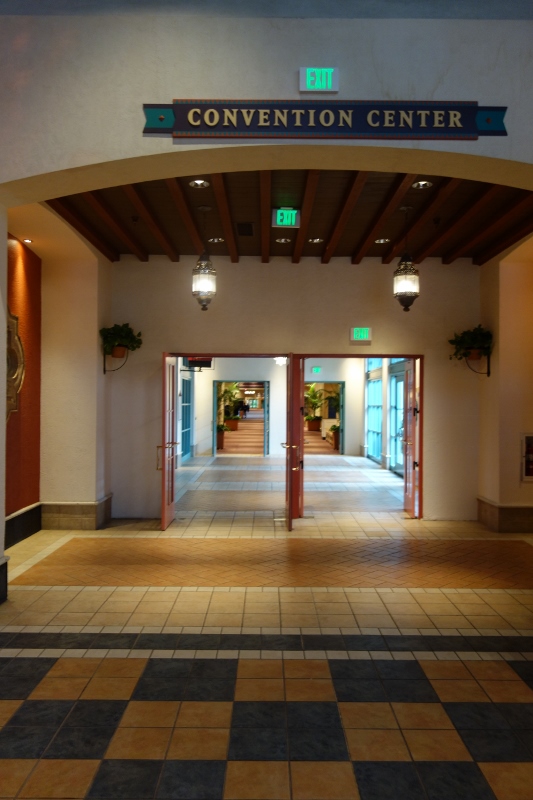 Coronado Springs is a convention resort, with a medium-sized convention center in El Centro, a circumstance which has led to much fussing, most of it silly.
All the deluxe resorts except the Polynesian, Wilderness Lodge, and Animal Kingdom Lodge are also convention resorts, and these get little fuss.
Conventions yield fewer people overall because there are fewer people per room, and most of the time they are spending their time in meetings, in catered meals, and on the exhibit floor, rather than clotting the buses or food courts.
Demands for business services means that Coronado Springs also has more amenities than any other moderate–more than double the dining options and bars, club level rooms,  a real pool grill, a spa, workout gyms, a health club–none of which you'll find at the other moderates.
But when a thousand people leave a meeting and head to the pool, you'll notice.
This review continues here!
TOPICS IN THIS REVIEW OF DISNEY'S CORONADO SPRINGS RESORT
OTHER KEY PAGES FOR WHERE TO STAY AT DISNEY WORLD


Follow yourfirstvisit.net on Facebook or Twitter or Pinterest!!