Photo Tour of a Gran Destino Standard Room at Disney's Coronado Springs Resort
By Dave Shute
(For the first page of this review of Disney's Coronado Springs Resort, see this.)
A new accommodations building, Gran Destino Tower, opened at Disney's Coronado Springs Resort in July 2019. It includes 545 new rooms in a 15 story building–50 suites, and the rest a mix of king bed and two queen rooms.
I stayed in a two queen Gran Destino room in late July, and these photos are from that stay. (A photo tour of a standard room in the other accommodations areas at Coronado Springs, the Casitas, Ranchos, and Cabanas, is here.)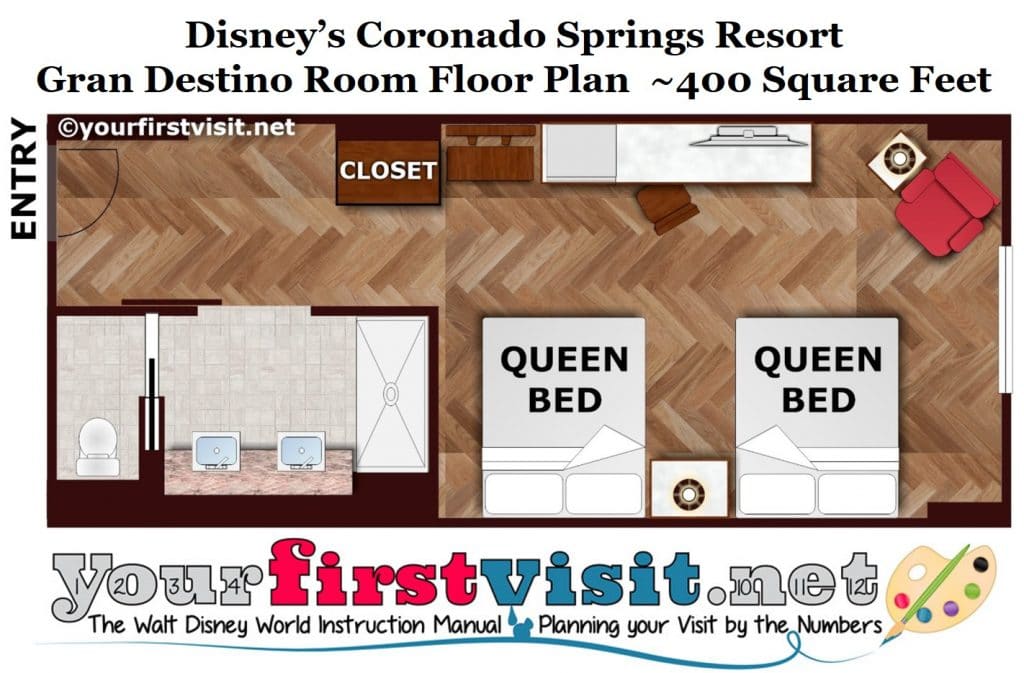 The main differences in the Gran Destino two queen rooms compared to two queen rooms in the rest of Coronado Springs:
Interior, rather than exterior entries
No Disney theming in the rooms themselves
A larger overall space–but with most of the extra space absorbed in the hallway from the entry to the sleeping area, not adding any actual livability
A nicer and larger bath, but with an awkward layout for families and (I believe) no tub option–showers only
Nicer views
Room amenities otherwise are largely similar to those in the other Disney World moderate resorts, but like the rest of Coronado Springs rooms, there are a few key differences related to the importance of the convention and meetings market at Coronado Springs–especially offering a desk instead of a table and two chairs, and more drawer storage.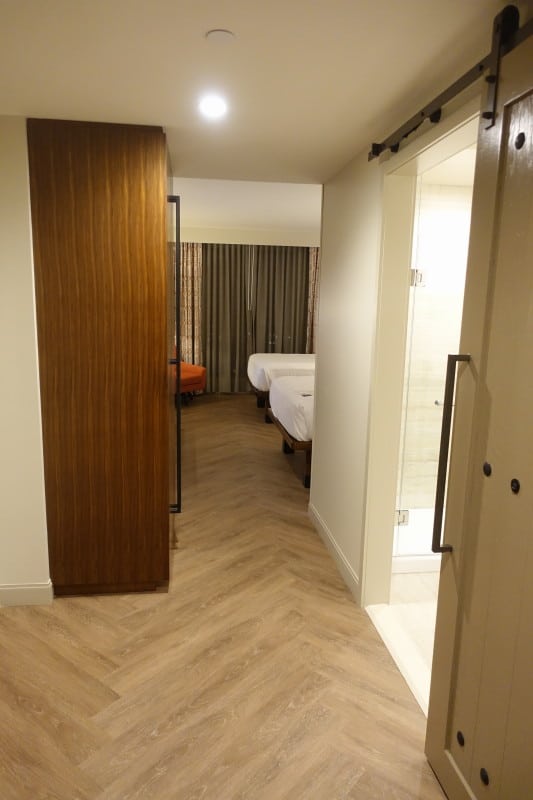 As you enter the room, you'll find a somewhat sterile hallway, with the closet and connecting door (if present) on one side and the bath on the other.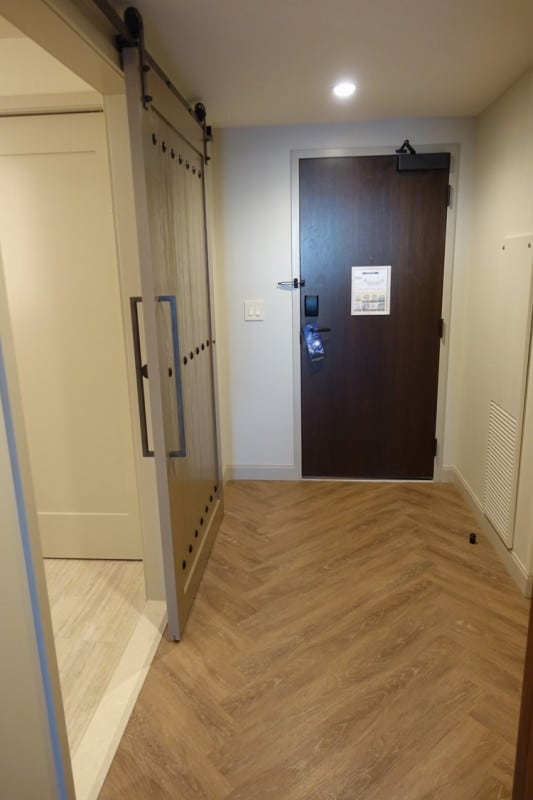 This entry hallway from inside the room.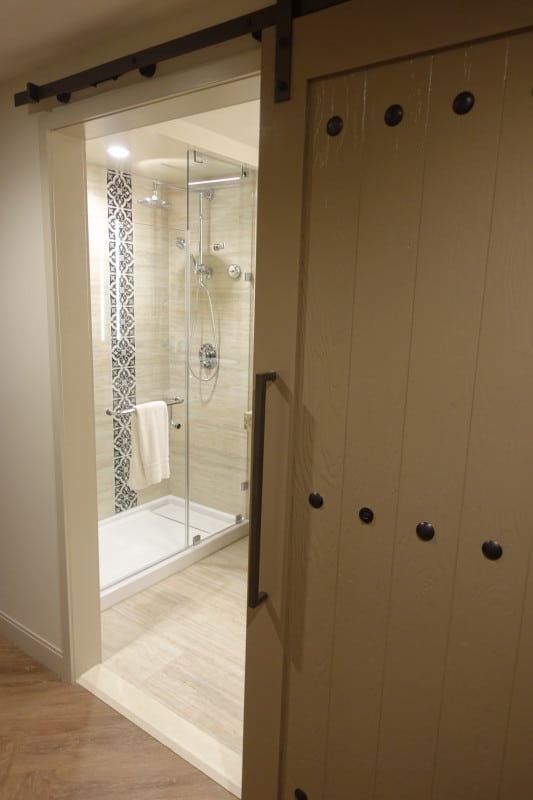 Back to the room entrance, the bath on one side is closed by a sliding barn door. If you leave the barn door open and shower in the glass shower, you may have an interesting effect if someone opens the entry door.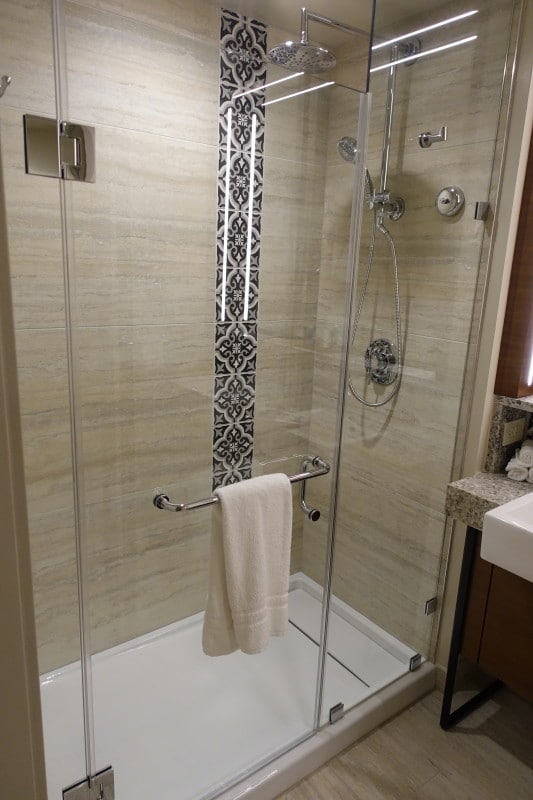 A closer view of the shower–note the rainfall and hand-held shower heads. So far as I can tell, no standard rooms in Gran Destino have tub/shower combos. This is a needlessly limiting design choice.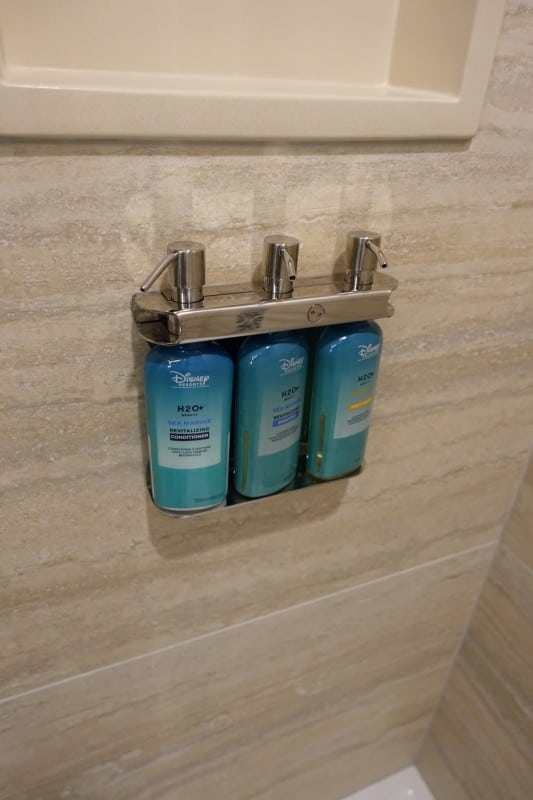 As is becoming common in hotels at Disney World and elsewhere, shampoo, conditioner and body wash is available in large wall-mounted bottles.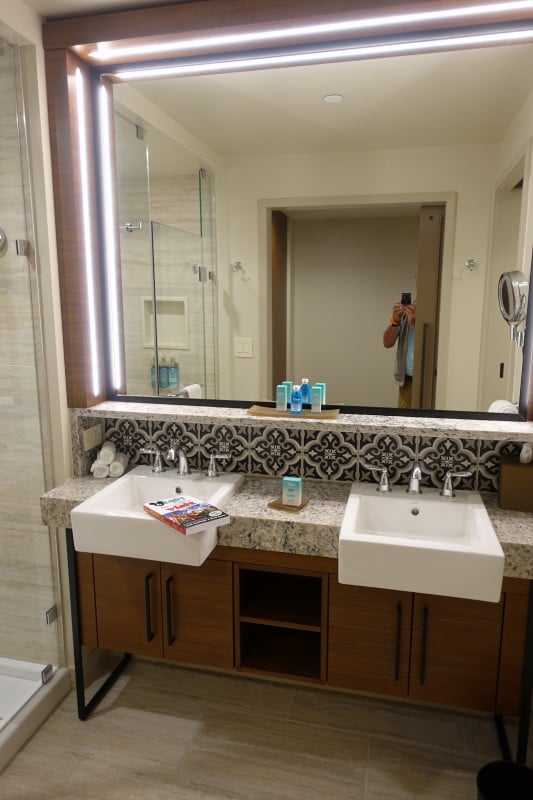 The sink area is between the shower and the toilet space.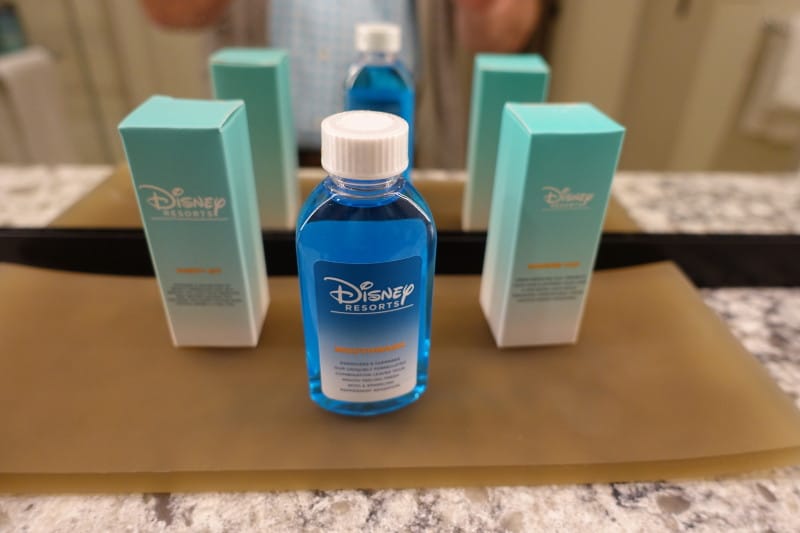 More toiletries here.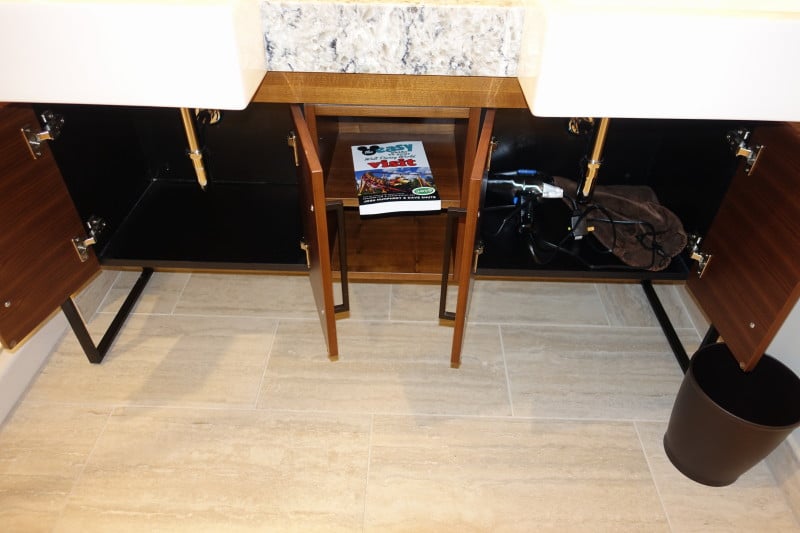 There's storage–and a hair dryer– underneath the sink.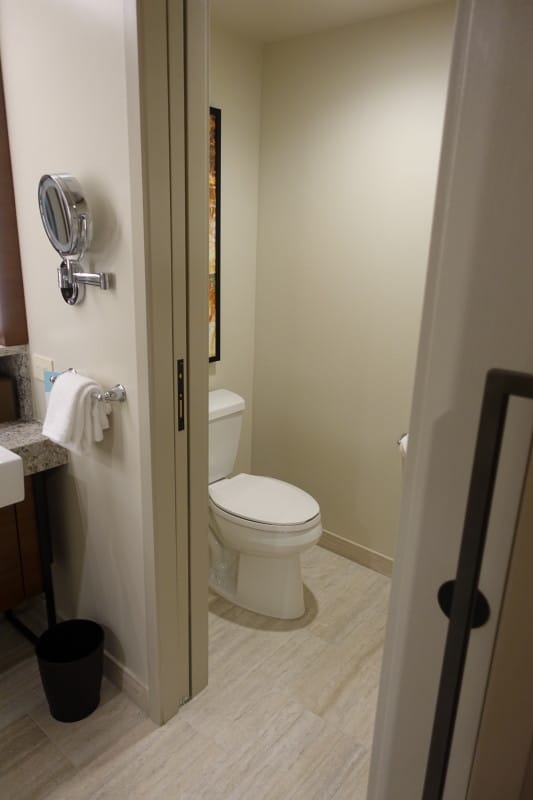 The toilet is in its own separate space.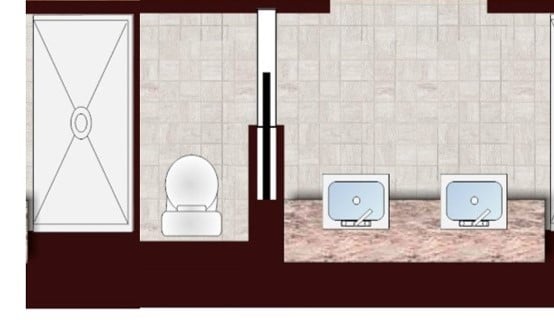 A better design would have 1. made a tub/shower combo available, and 2. (cut and pasted together above) put both the toilet and the tub/shower into one separate space, with the sinks outside of it.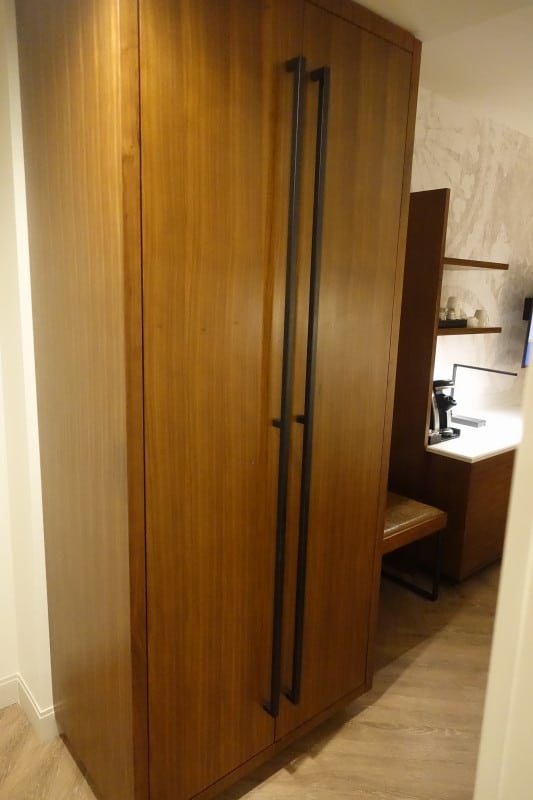 On the other side of the entry is a closet.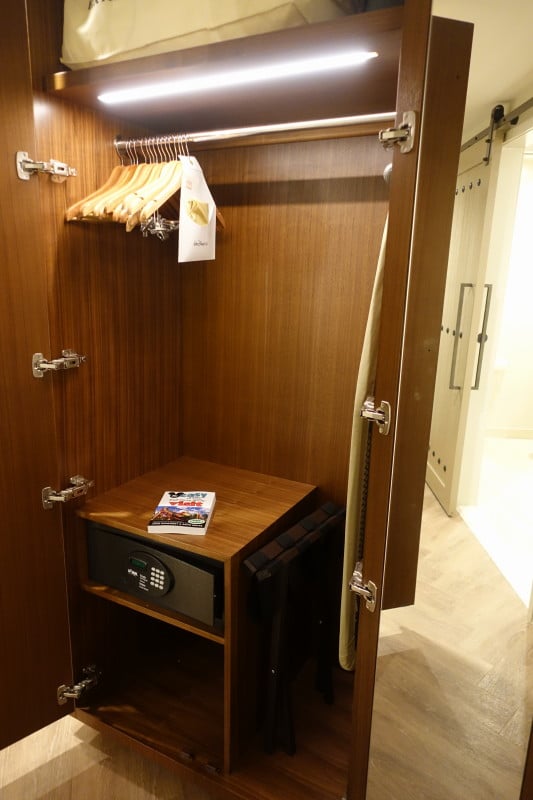 Inside the closet. On the right, barely visible, is an ironing board. Also note the safe.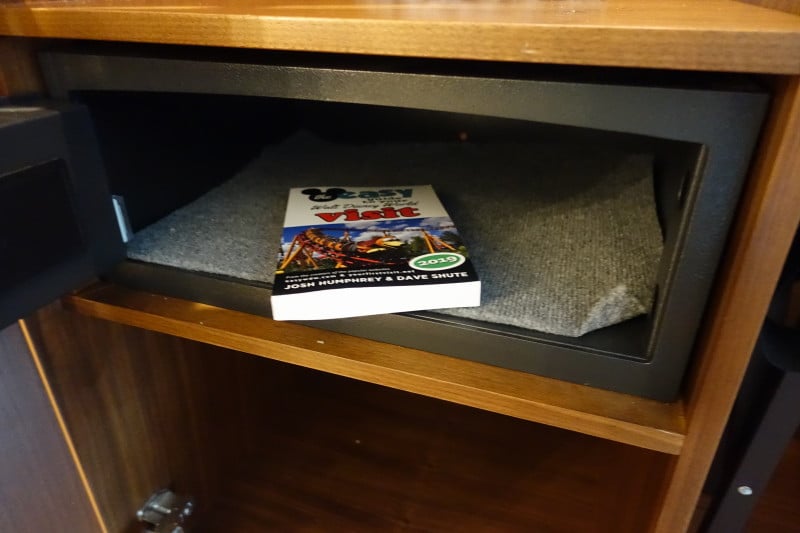 I did not measure the safe, but it is large–my book is 6 inches by 9 inches.
Deeper in the room on one side you'll find a pair of queen beds.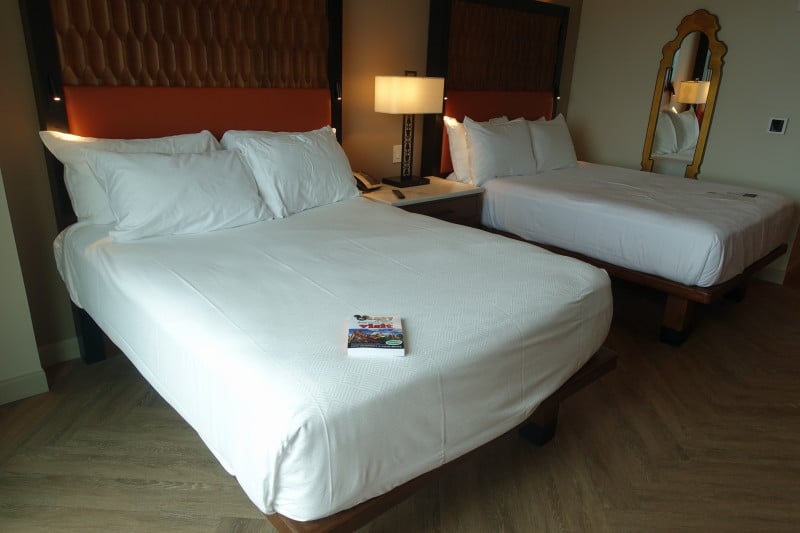 The bed side from the back.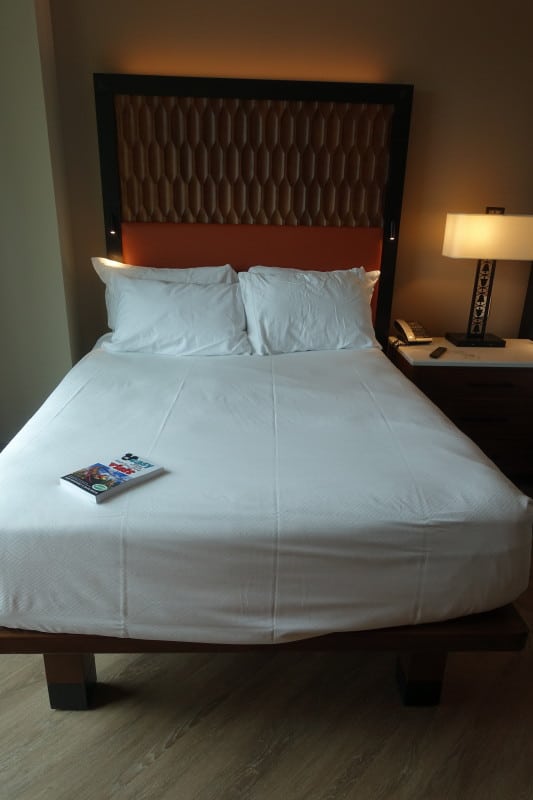 A closer view of one of the queens.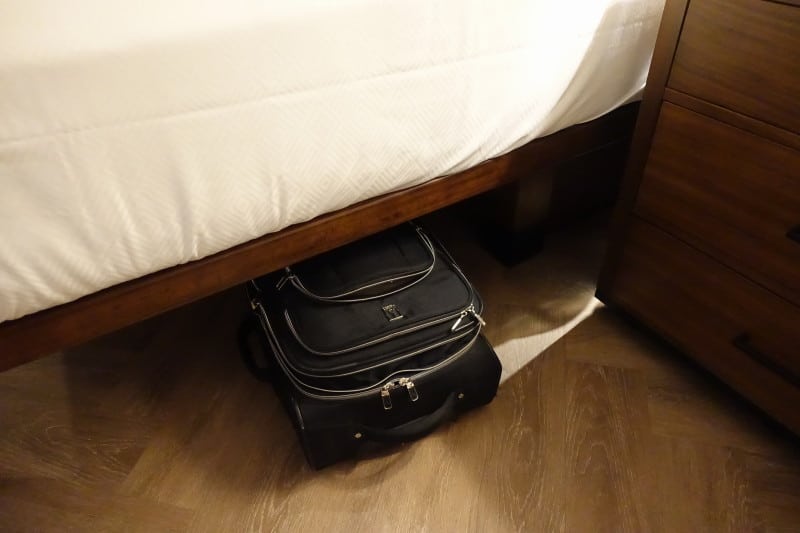 As has become common in recent Disney World room designs, the beds are a single mattress on a platform, and are about 30 inches high. Open underneath, there's room for you to stick your luggage under the beds–there's about 14.5 inches of clearance.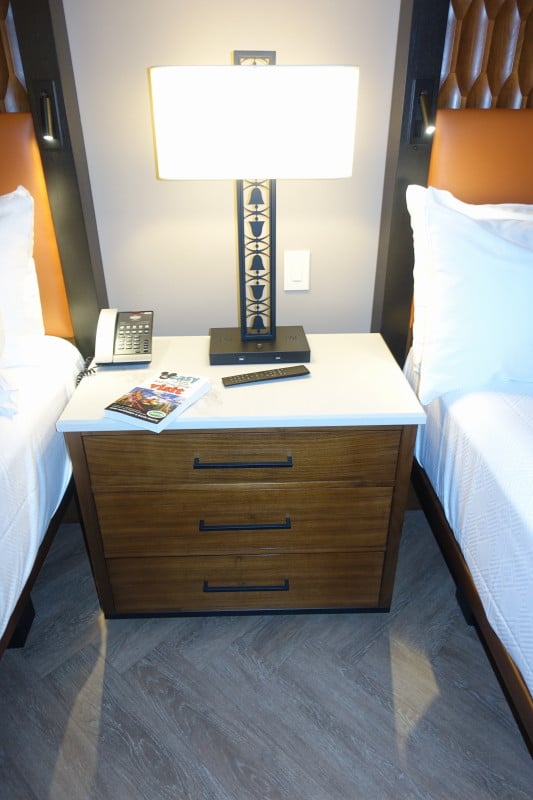 Between the two beds is a bedside table.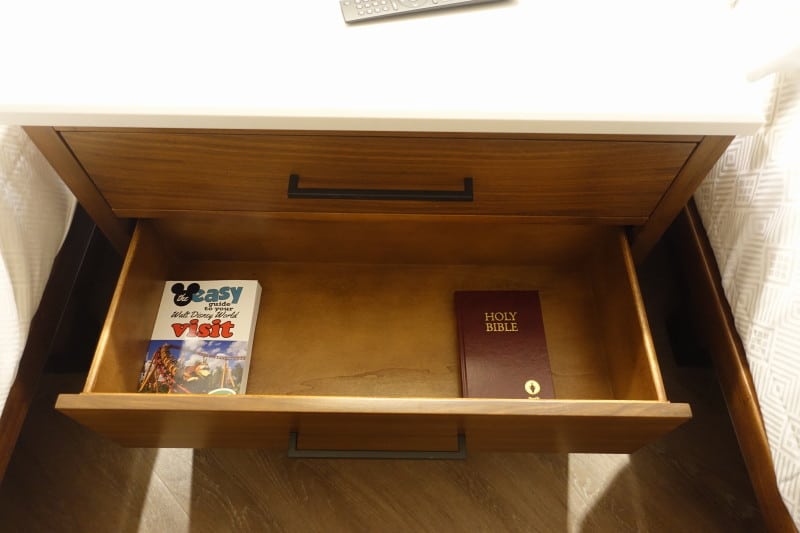 There are three unusually large drawers in this table, each easily big enough for your important books.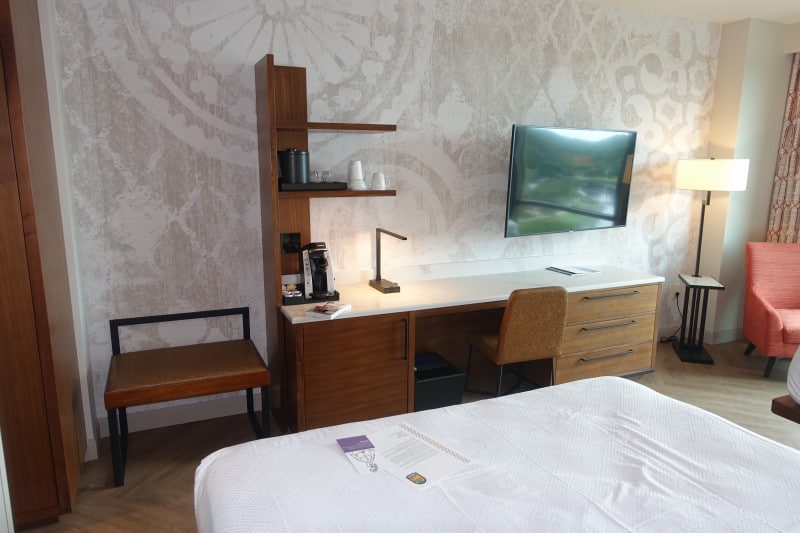 The other side of the room is dominated by a long mini-fridge/desk/dresser combo, and an easy chair.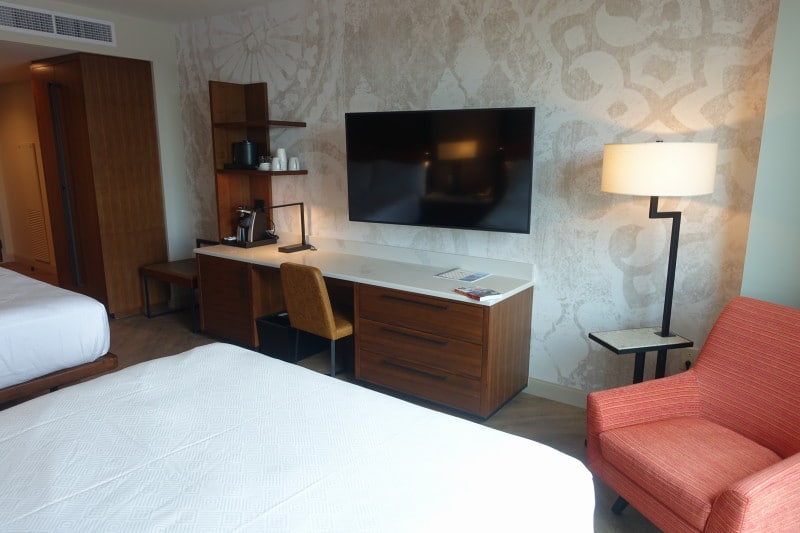 This side of the room from the back.
Closest to the closet is an object that doubles as an uncomfortable bench seat and a luggage rack.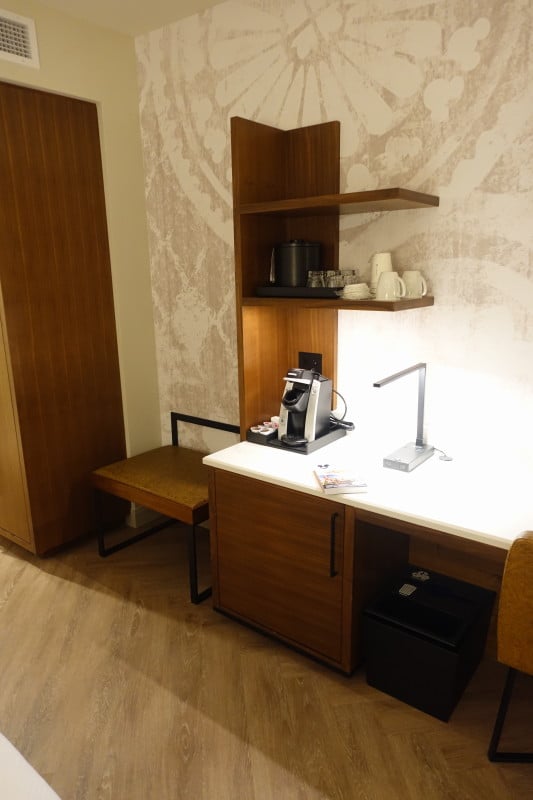 Next to it is the first part of the long object…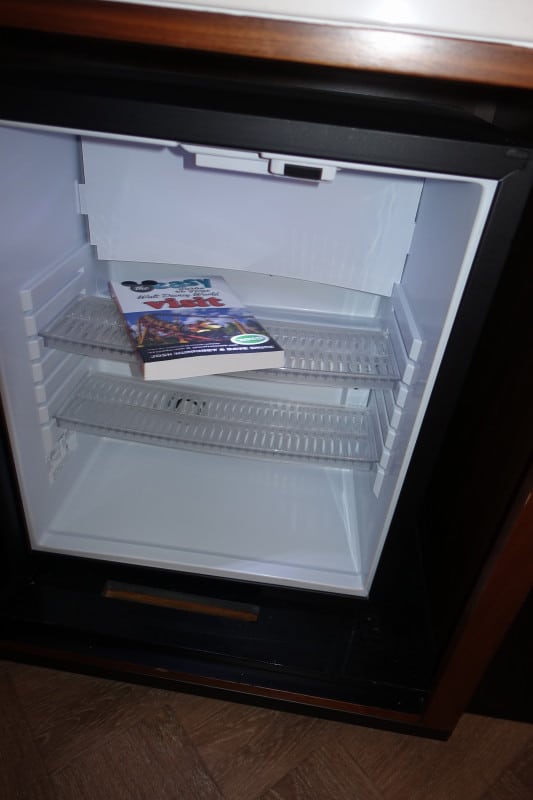 …with a glass-doored mini-fridge below…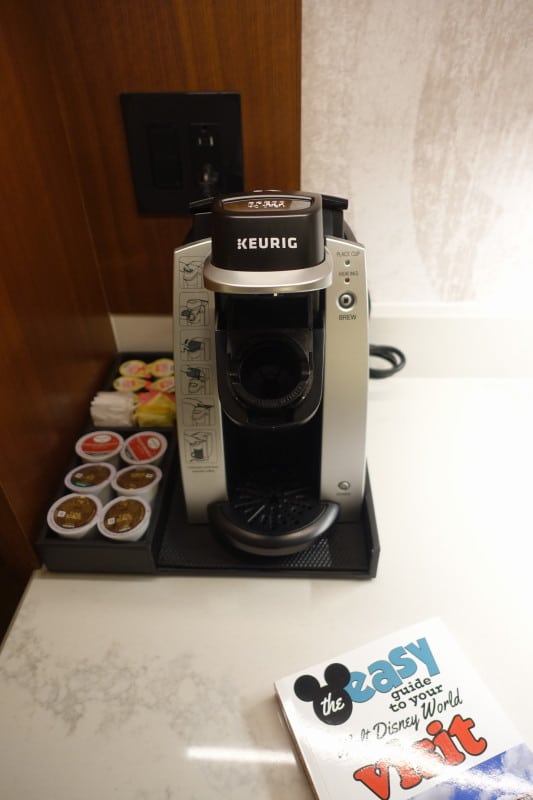 …and a coffee service above.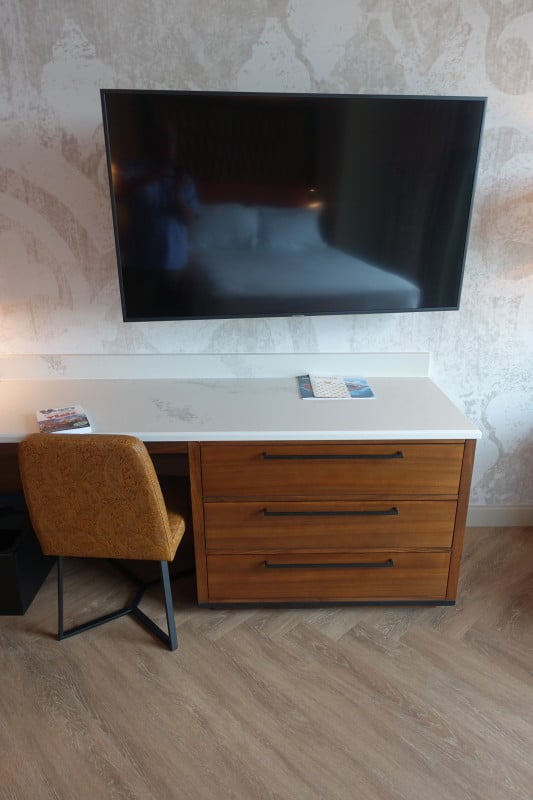 Next is the desk area and beyond it a dresser with a 54″ TV above.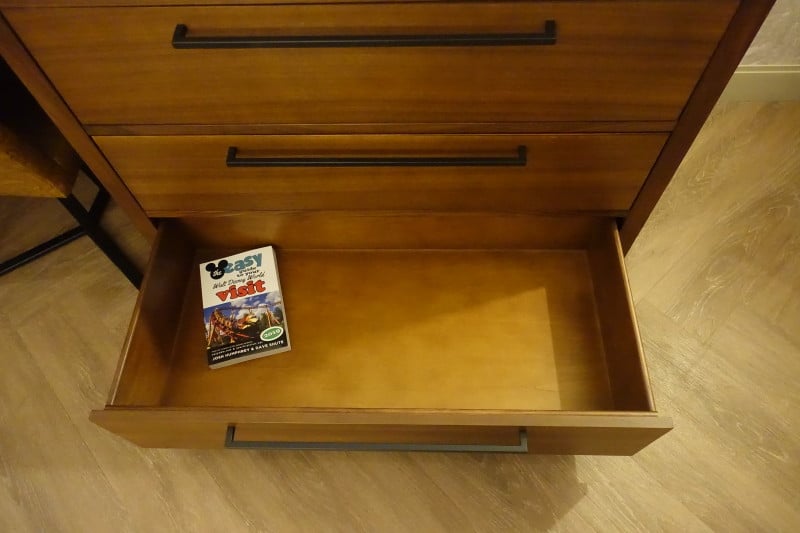 The three dresser drawers, when combined with the three drawers in the bedside table, the closet, under-bed space for luggage, and cubbies in the bath, provide plenty of storage for the four people this room will sleep.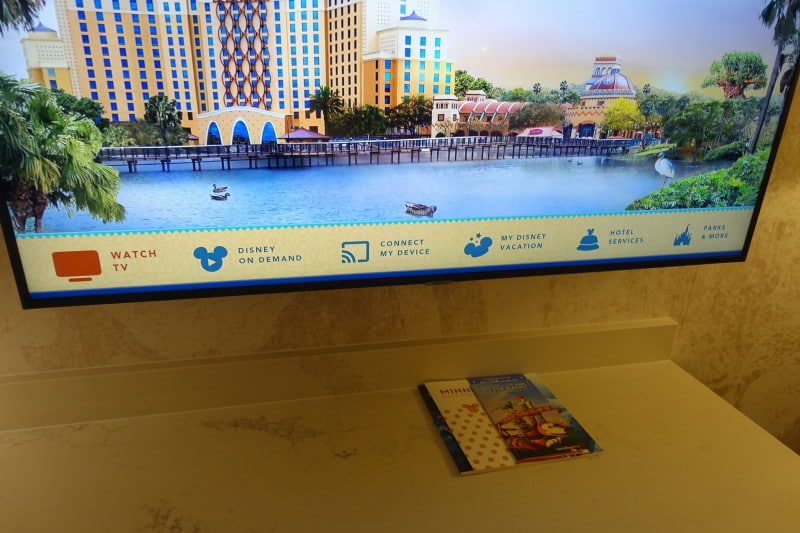 The menu structure of the TV is new–see the bottom row.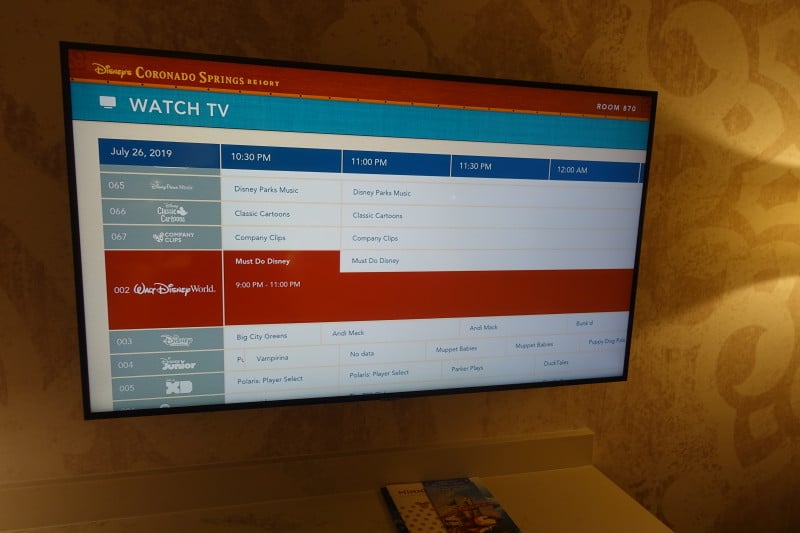 Channel selection also has a new interface.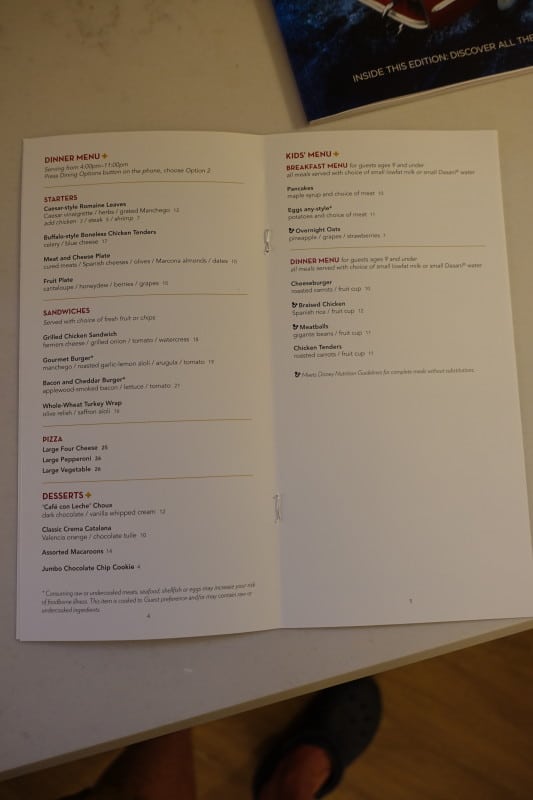 Here you'll also find the room service menu, weaker than past Coronado Springs offerings–but better than what you'll find at the other moderates…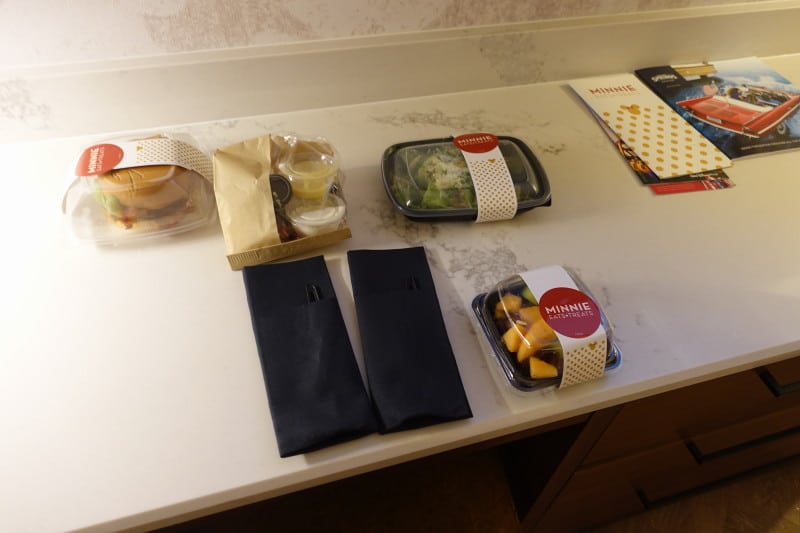 …with an uninspiring presentation of food when delivered.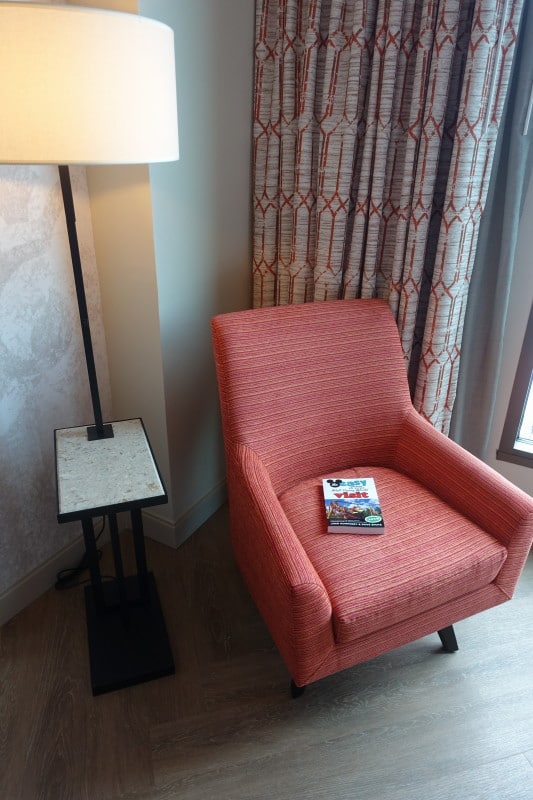 Next on this side is the easy chair with lamp and small table, near the window.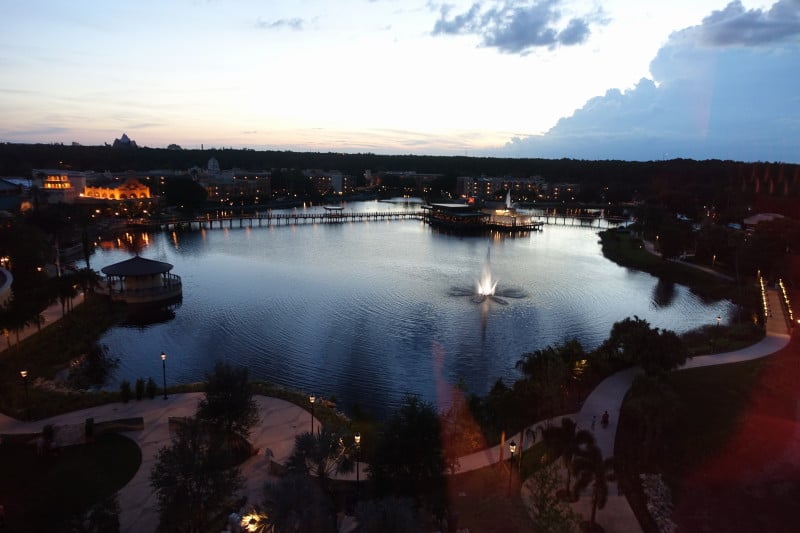 The view outside my room. There are two bookable room views–water views, as is this one, and standard views.  Gran Destino Tower water view rooms are, on average about $50 more per night than standard rooms elsewhere in Coronado Springs.  Standard view tower rooms are about $20 more per night on average than rooms elsewhere.  Some of these standard rooms also have views of the fireworks at Disney's Hollywood Studios and even Epcot, but such views are not specifically bookable. A water view won't give you them, but a standard view may or may not.
These Gran Destino standard rooms are about 86 square feet larger than standard rooms elsewhere in Coronado Springs (and at the other traditional moderates), but that's misleading in terms of livability:
76 extra square feet are dedicated to the entry hall, and not valuable
20 extra square feet are in the bath–which is nicer than that in standard rooms, but less well laid out
The main living sleeping area is about 10 square feet smaller than that in other standard rooms, a difference that is not noticeable
The awkward bath design, absence of a tub, and lack of Disney theming in these rooms make these Gran Destino standard rooms best suited to solo travelers and to couples.  Dual occupancy conventioneers, and families, will find standard rooms elsewhere in Coronado Springs more livable.
This review continues here!
TOPICS IN THIS REVIEW OF DISNEY'S CORONADO SPRINGS RESORT
OTHER KEY PAGES FOR WHERE TO STAY AT DISNEY WORLD


Follow yourfirstvisit.net on Facebook or Twitter or Pinterest!!
RELATED STUFF