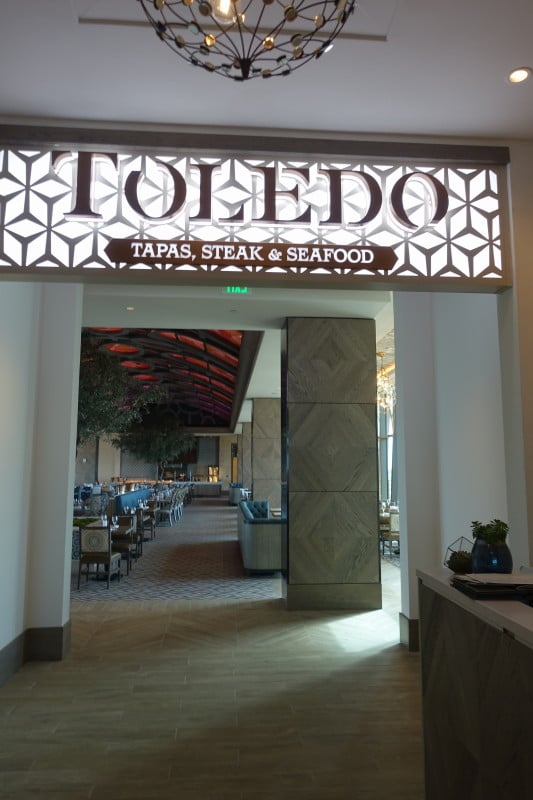 (For the first page of this review of Disney's Coronado Springs Resort, see this.)
DINING AT DISNEY'S CORONADO SPRINGS RESORT
Disney's Coronado Springs Resort has always had a wider range of dining options than any other Disney World moderate resort, and added even more in July 2019. In dining, it now far outclasses the other moderates, and is comparable to several deluxes.
Dining options are in four areas.
Gran Destino Tower offers a new table service venue, Toledo, and two new bars, Dahlia Lounge and Barcelona Lounge, each of which also serves hot food. Barcelona Lounge during the daytime does double duty as a coffee shop with various simple breakfast options.
Also new, over the water between the Casitas, Ranchos, and Dig Site, is the Three Bridges Bar and Grill, which combines a table service venue with a small bar.
In El Centro are two table service venues, a counter-service option, and a grab and go coffee shop.
It shares with Caribbean Beach the distinct position among the moderates of having hot food at the main pool bar, and it has a more extensive room-service menu than any other moderate, although the room service menu is weaker than it used to be.
Coronado Springs also has six bars–two in Gran Destino, two in or near El Centro, one over the water, and one at the pool.
If you are counting, that adds up to four more bars than any other moderate, and three more table service venues than any other moderate.
DINING AT GRAN DESTINO TOWER AT CORONADO SPRINGS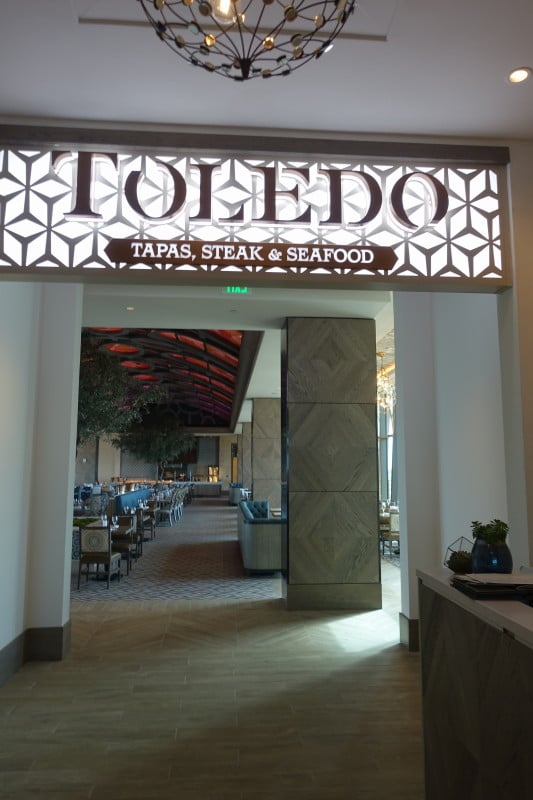 The standout at the new in July 2019 Gran Destino Tower is Toledo, a sixteenth floor Spanish-influenced venue with some nice, though limited, views, of Disney's Hollywood Studios and Epcot.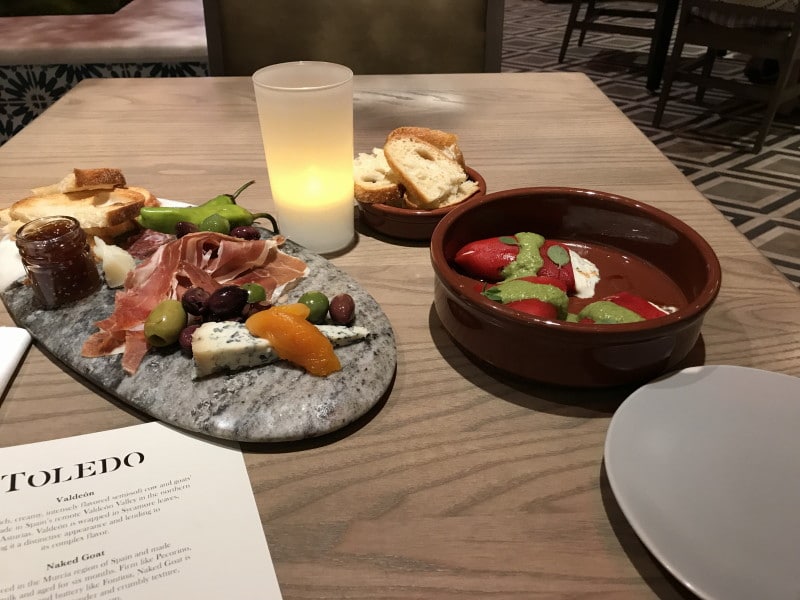 Toledo specializes in steak, seafood, and small plates. The non-entrees are the stars–the appetizers, cazuelas, house boards, and pintxos.  Above are a couple of these, the stuffed piquillo peppers and the Spanish charcuterie, both of which were delightful.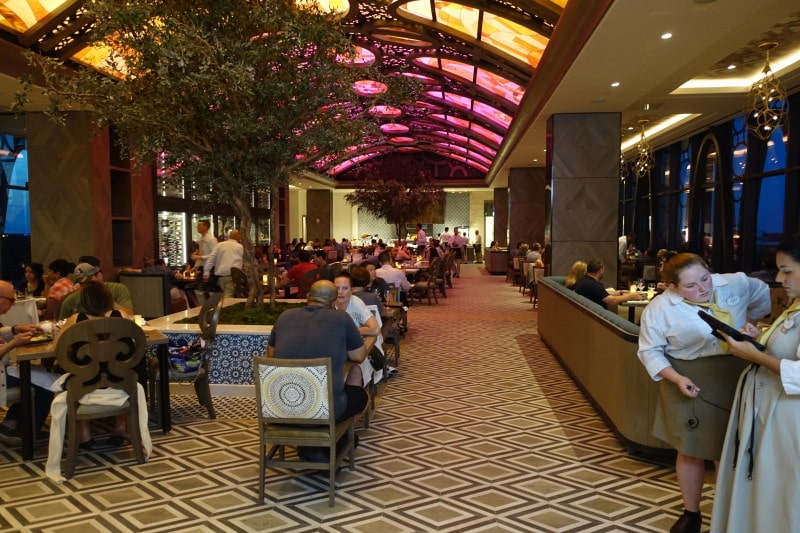 The rooftop setting is lovely for a moderate–or any hotel, for that matter–but can get quite loud, so much so that I would not consider it a date night option.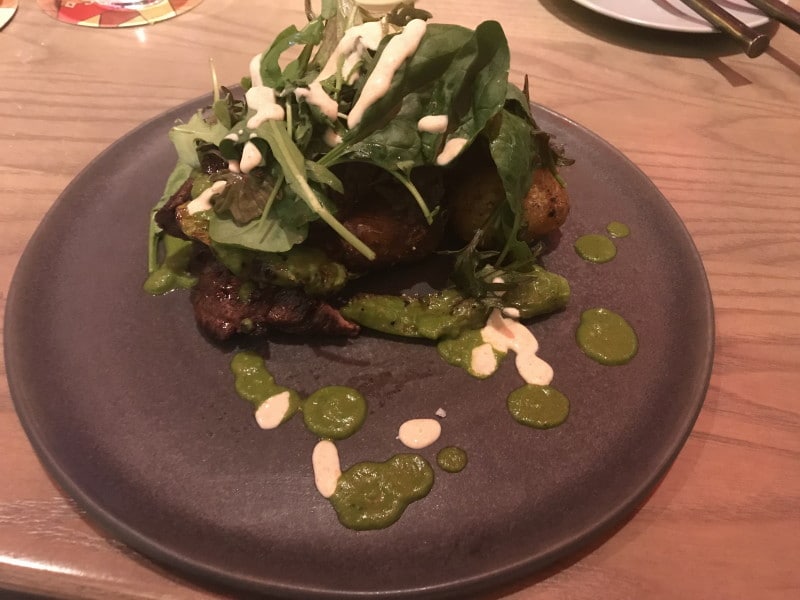 Despite the noise, I enjoyed the hanger steak, served on a bed of crushed potatoes and with charred peppers, greens, and salsa verde mixed in.
Here's the review from our book, The easy Guide to Your Walt Disney World Visit 2020: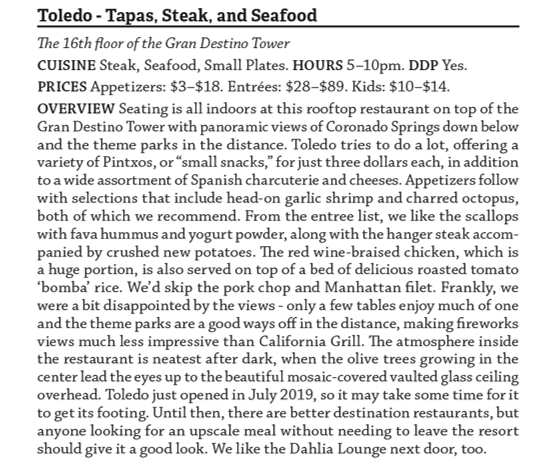 You can find the menu for Toledo on Disney's website here.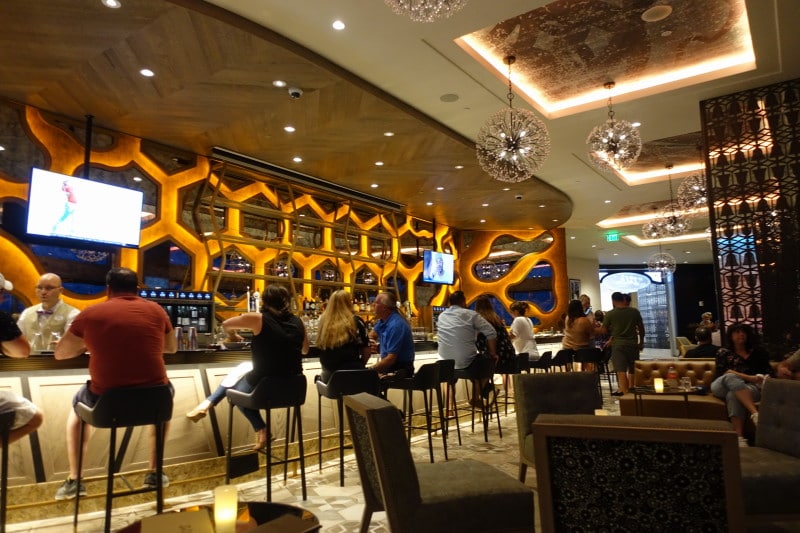 Next to Toledo is the new bar, Dahlia Lounge.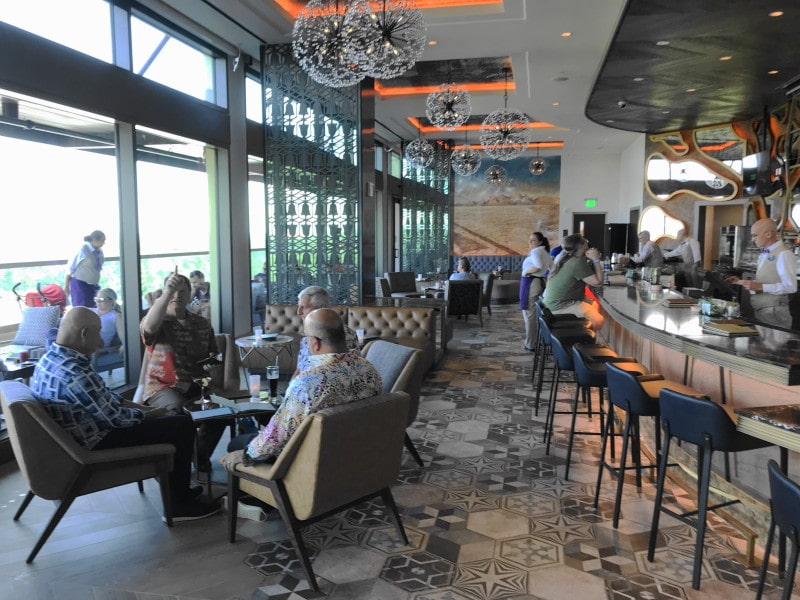 Quite nice, it has both indoor and outdoor seating.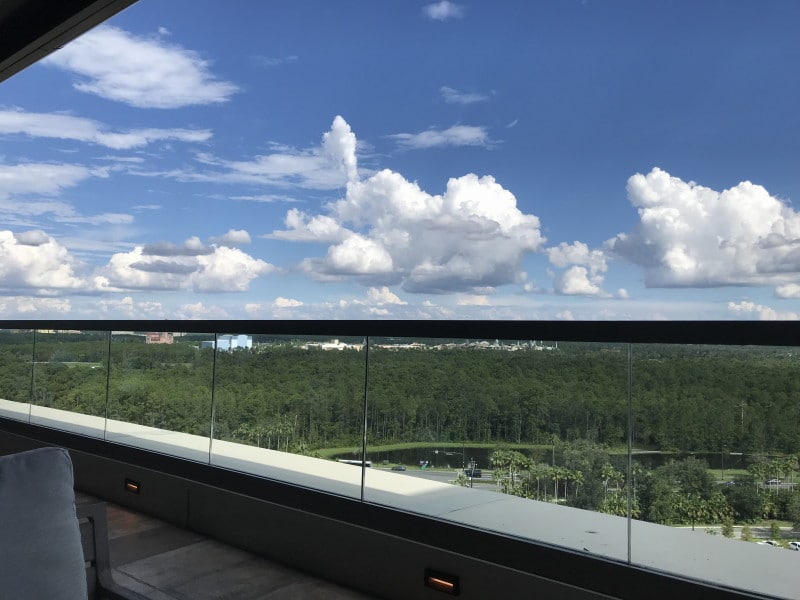 The view from outdoor seating at Dahlia Lounge. Just under the rail at almost the far left you can see Tower of Terror; the blue building just to its right is Rock 'n' Roller Coaster. The camera lens makes these appear farther away than they are–we are just over a half a mile away.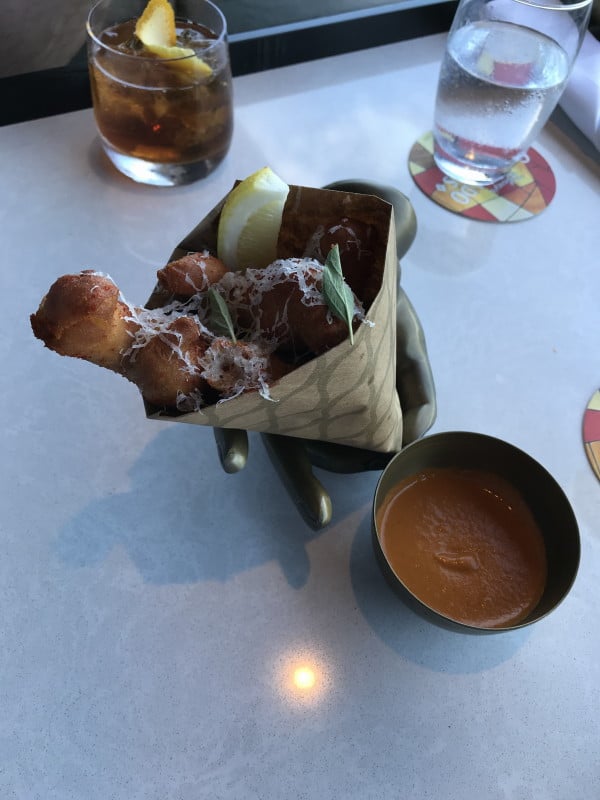 Dahlia Lounge also has an extensive food menu.  See it here. Above are the savory churros, which I kinda felt I had to order, but were a little disappointing–other than the presentation.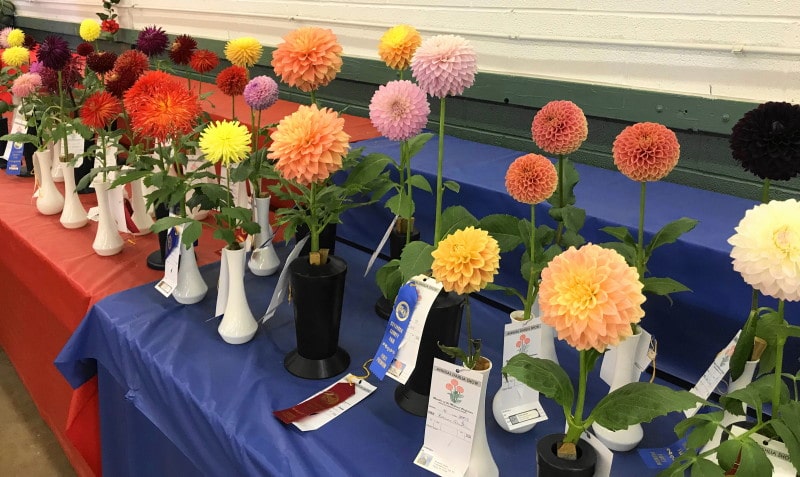 And by the way, if you, like me, are a tad empty in the head regarding just what is a Dahlia, above are some examples, courtesy of the Cuyahoga County Fair–my go-to source for Disney World questions. That said, the namesake of the bar is not a flower, but the love interest in the Disney-Salvador Dali collaboration Destino.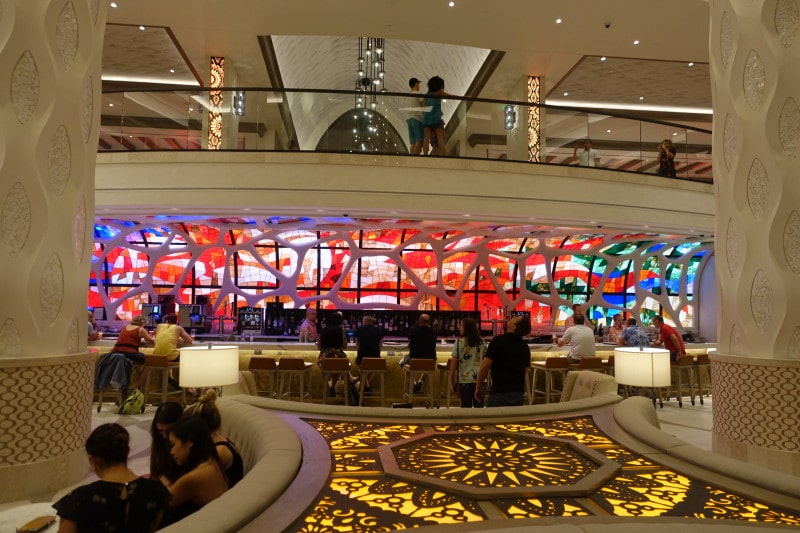 The third new option at Gran Destino is Barcelona Lounge.  This first floor space is on the way out to either the pools or El Centro, so it sees much traffic. While there is nothing wrong with it, during times both are open I can't think of any reason to go here rather than the Dahlia Lounge.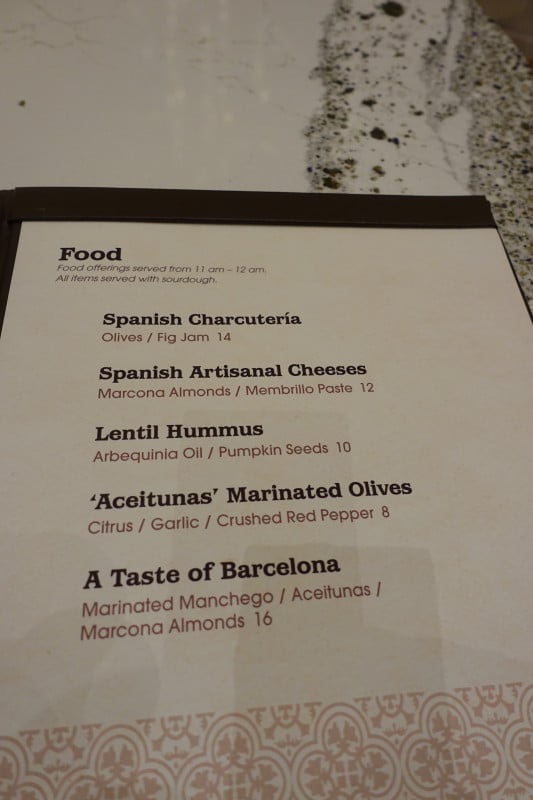 Barcelona Lounge also serves hot food–the full afternoon and evening menu is here.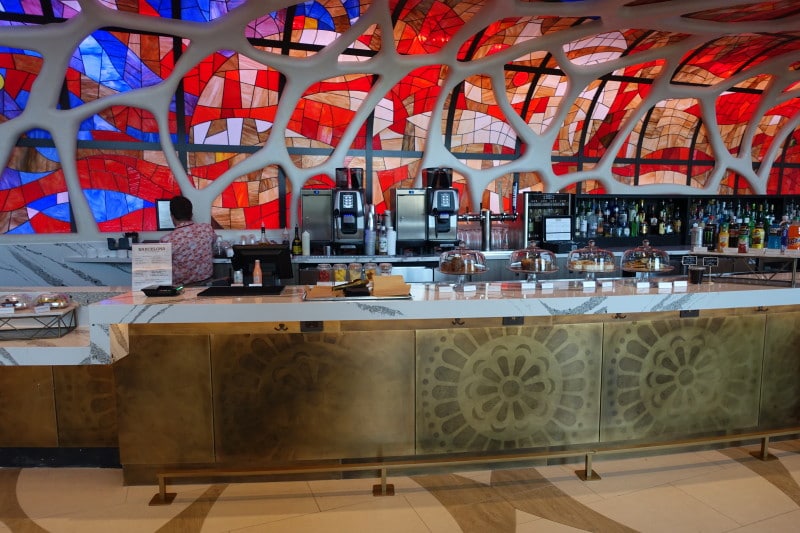 Not in the online menu (at least as I write this post) are the breakfast offerings–a range of cold and room temperature options like pastries and fruit plates, and also coffee drinks.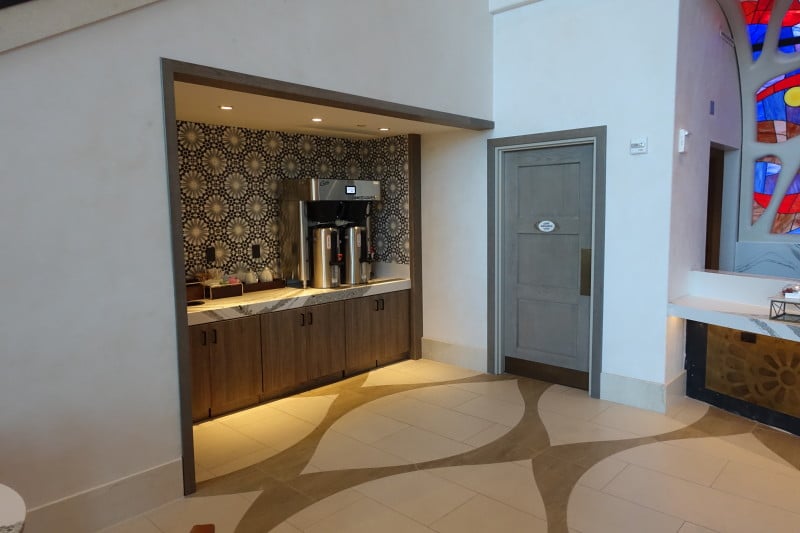 There's no refillable mug station in Gran Destino–there should be–but there is a set of coffee urns off to the left (if you are facing the bar).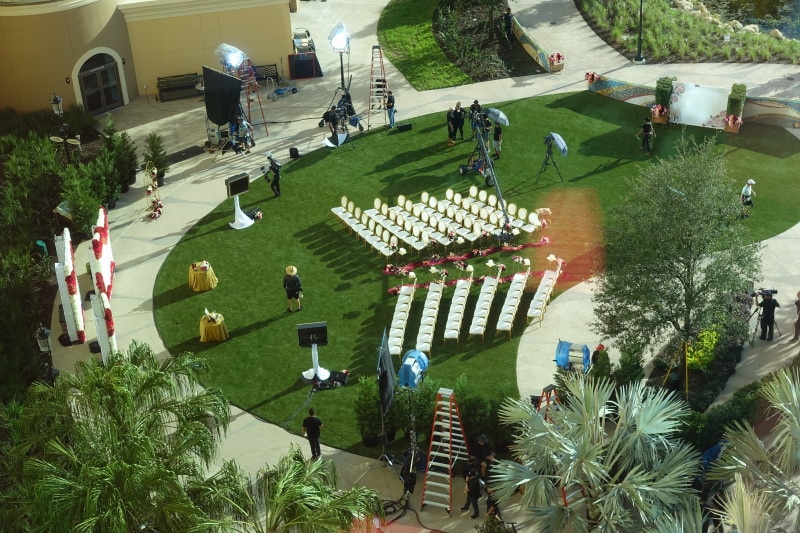 There's an event lawn just outside the Barcelona Lounge. Above is a shot of it from my 8th floor room, while it is being set up for a wedding, which Disney would film for its "Fairytale Weddings" series. The Barcelona Lounge is just behind the left side of the picture.
The propinquity of this event space–and the presence of the Dahlia Lounge upstairs–makes me expect that at times the Barcelona Lounge will be closed for events.
THE THREE BRIDGES BAR AND GRILL AT CORONADO SPRINGS
Also new in July 2019–but not part of Gran Destino Tower–is the Three Bridges Bar & Grill.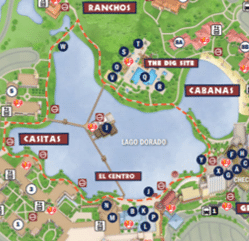 This over-the-water venue on Lago Dorado is connected by three bridges–also new–that start from El Centro, the Casitas, and the Dig Site–shortening walks from the Casitas to the Dig Site in particular.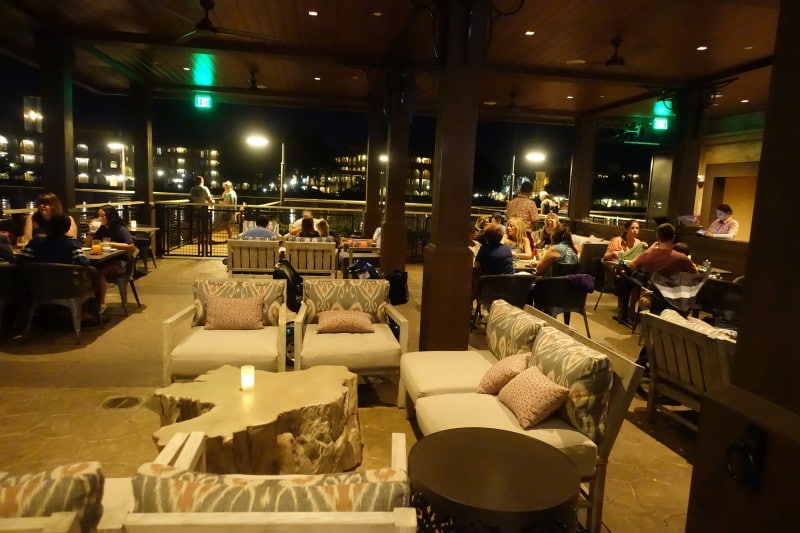 Among other Disney World resort venues, Three Bridges is most like Geyser Point at the Wilderness Lodge, with its views, and the fact that its sides are open to the weather. But it is larger than Geyser Point, and feels more like a restaurant than a bar–though besides tables, it does have a lot of lounge chairs that can do double duty as either bar-area or dining-area options, depending on how much dining is booked.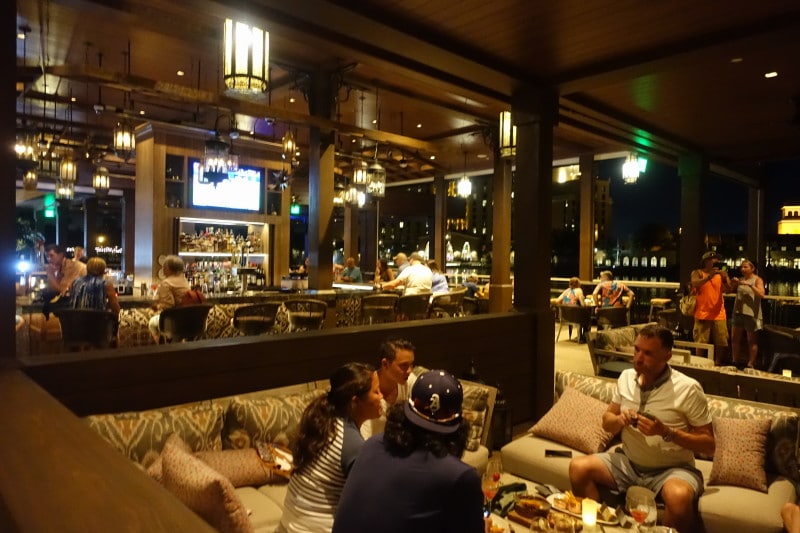 The night I dined here, dining was so heavily booked that bar guests literally could sit only at the small bar–although the cast member volunteered to move me to a table if one opened up.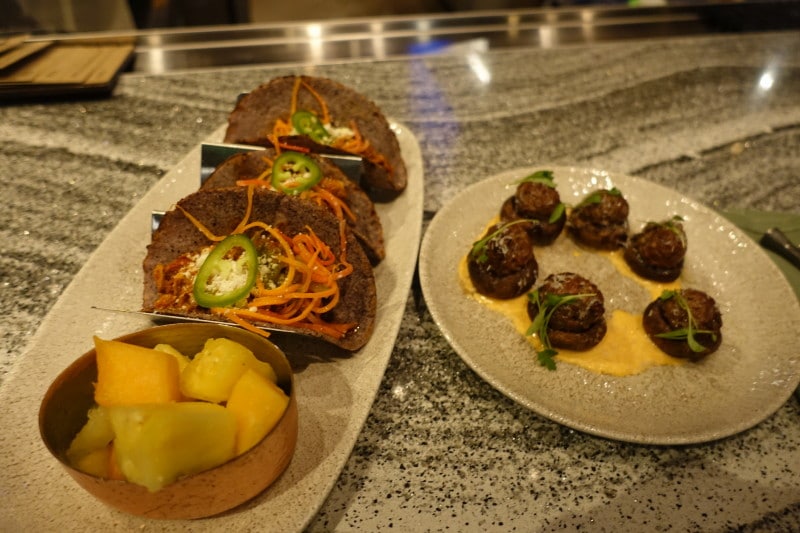 I had the stuffed mushrooms appetizer, and the braised pork tacos entree.  Both were terrific.
Overall, Three Bridges Bar & Grill is the most comfortable (so long as the weather cooperates) and casual of the Coronado Springs table service venues, and has some pretty nice prices (the tacos were $13, and the mushrooms $12). That said, I could easily see it being a popular event space as well.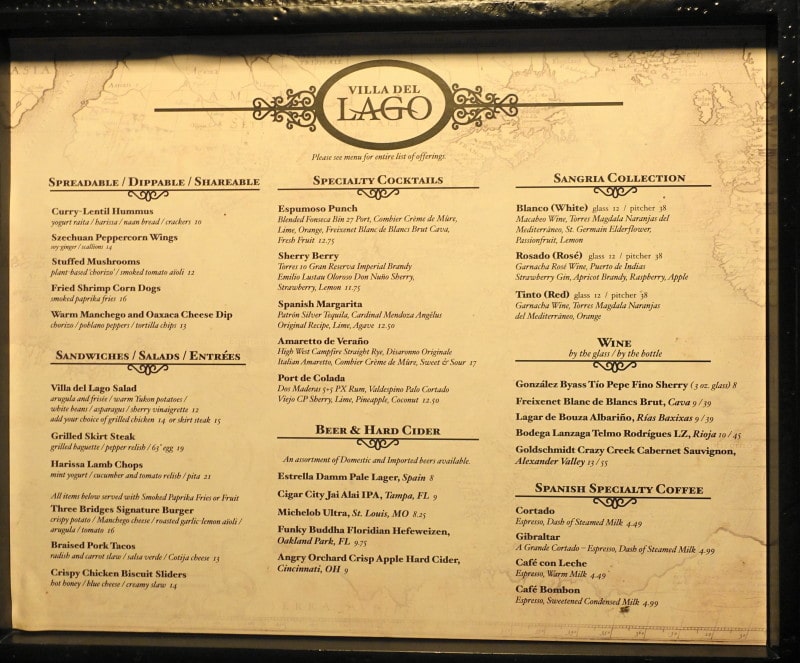 The Three Bridges Bar & Grill menu is here.
DINING IN EL CENTRO AT CORONADO SPRINGS
El Centro, between Gran Destino and the Casitas, has a gift shop where you can buy various shelf-stable and refrigerated snack sand such, and also a grab and go shop, a bar that doubles as a table service venue, a food court, another table service venue, and another bar outside along the lake.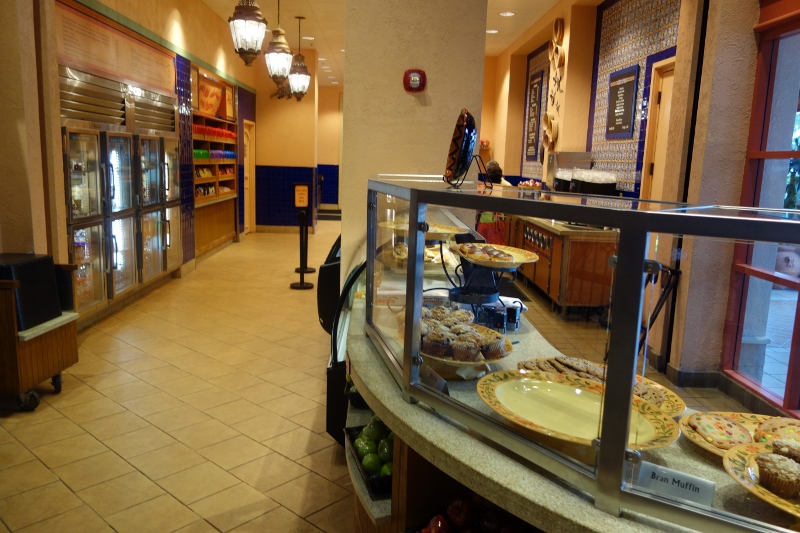 The grab and go food shop offers pastries, coffee, soft drinks, and such, and can get quite crowded if a convention or meeting is happening.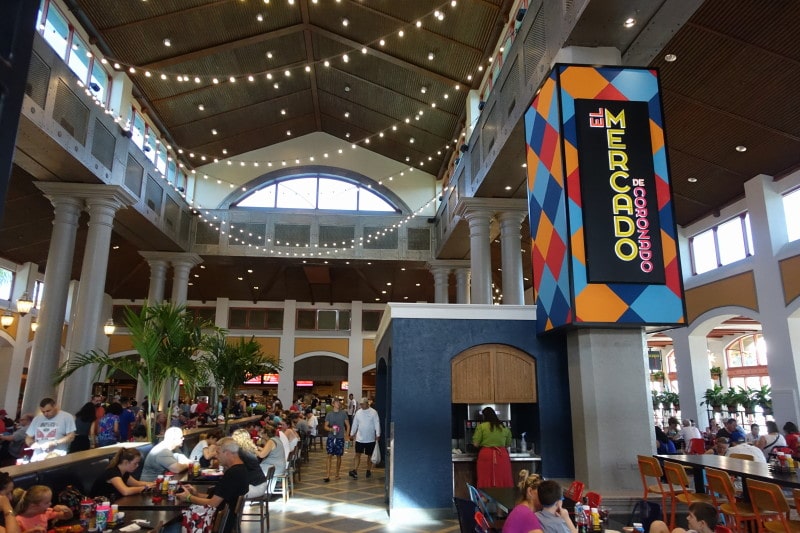 Next to it is the food-court style El Mercado de Coronado, formerly Pepper Market, the "quick service" meal offering.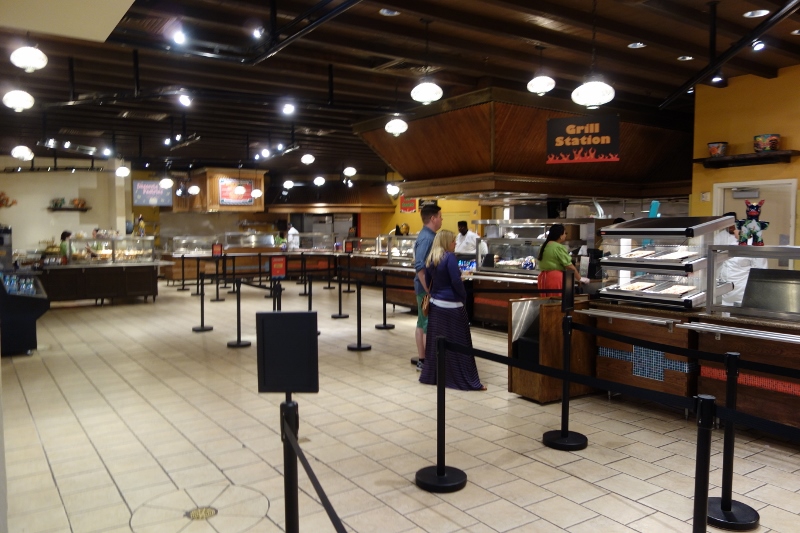 The food stations used to be overly complicated, but fresh and interesting, making Pepper Market then the best food court among the moderates, though admittedly convoluted.  Now El Mercado de Coronado is much more like any other Disney World food court, with a bit of an added garnish of southwestern offerings and flavors.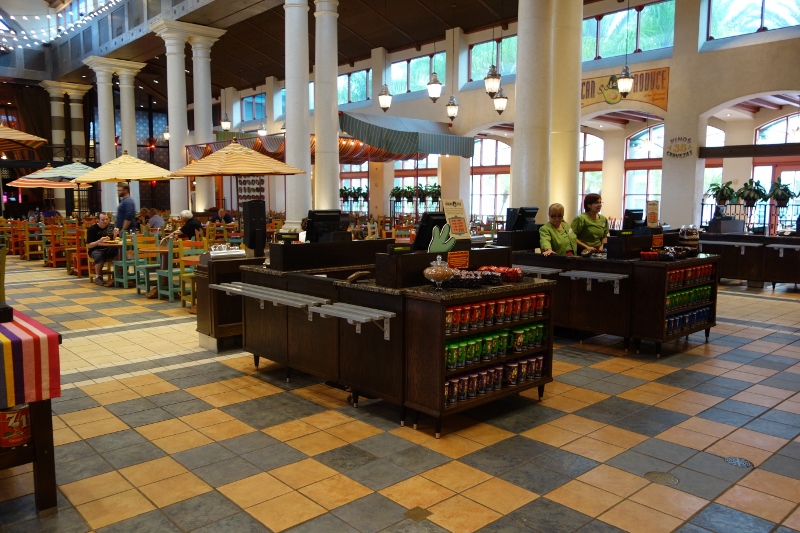 Checkout and payment used to have a mystifying multi-step approach that garnered the envy of former Warsaw Pact customer service staff, but now is utterly simple. El Mercado de Coronado is now comparable to other moderate quick service offerings, a loss on the food front but a gain on the service and simplicity dimension.
The El Mercado de Coronado menu is here.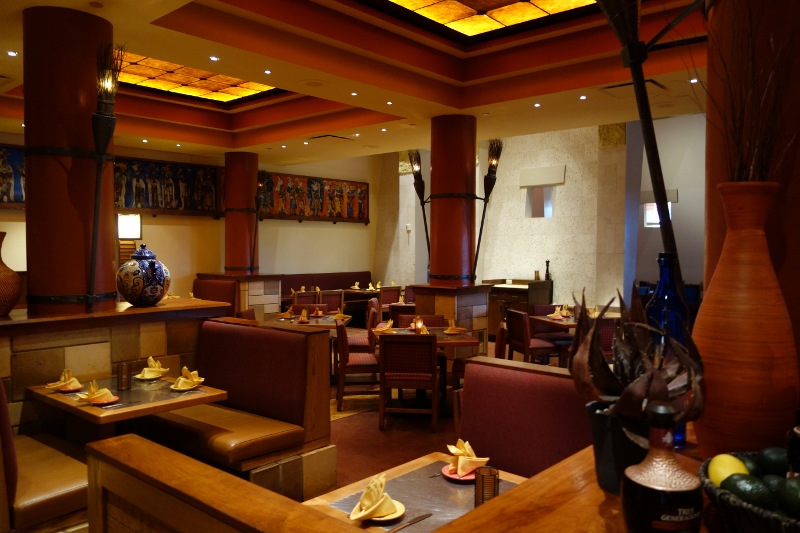 There are two table service offerings in El Centro.  Best known of these two is the Maya Grill.
The Maya Grill review from The easy Guide to Your Walt Disney World Visit 2020: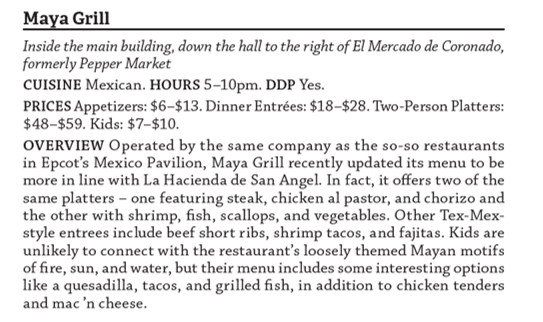 The Maya Grill menu is here.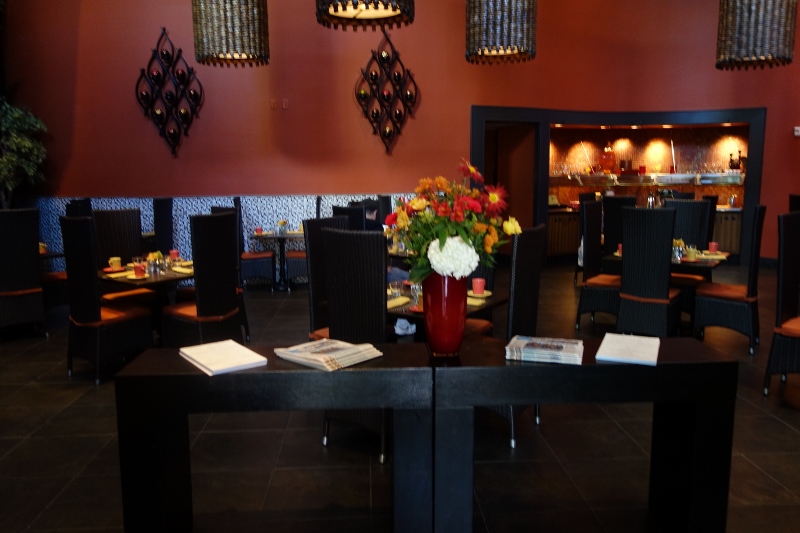 Also available for dining is the Rix Sports Bar & Grill, offering a table service menu for breakfast, lunch and dinner.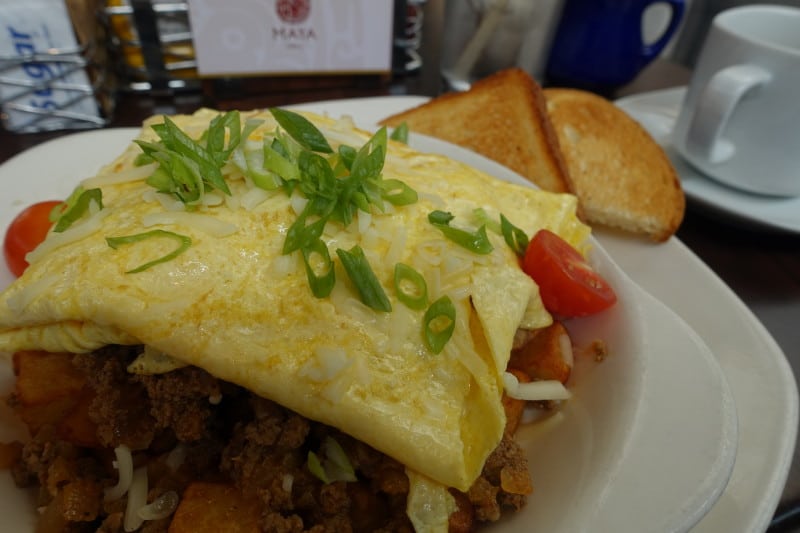 The Rix Sports Bar & Grill is in particular a great option for a hot breakfast that's fresher than the cafeteria style offerings at EL Mercado. That's the Chorizo Skillet, at $14 not wildly more expensive than a less tasty option at El Mercado.
The Rix Sports Bar & Grill menu is here.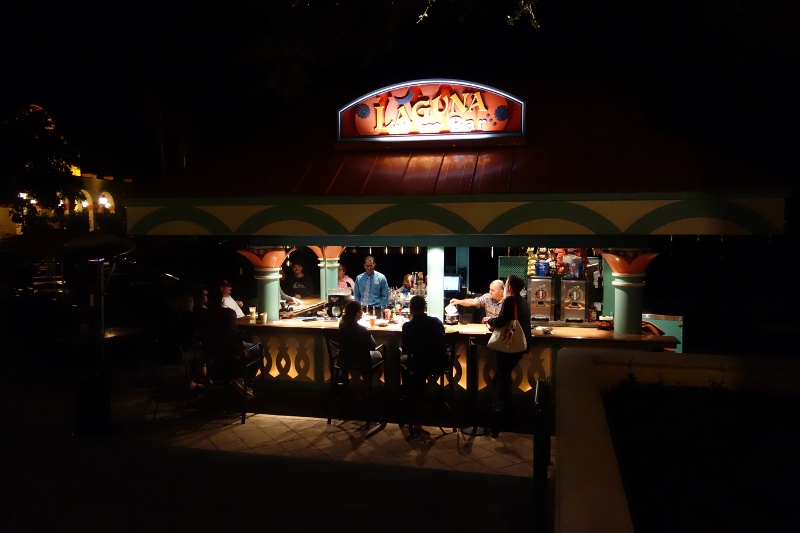 On the lake side of El Centro, you'll find the last venue in the El Centro area, the Laguna Bar.
Because of its lakeside setting, Laguna used to the best bar among the moderates. However, it is now just the third or fourth best bar at Coronado Springs–a testimony to the quality and number of bars that opened here in July 2019.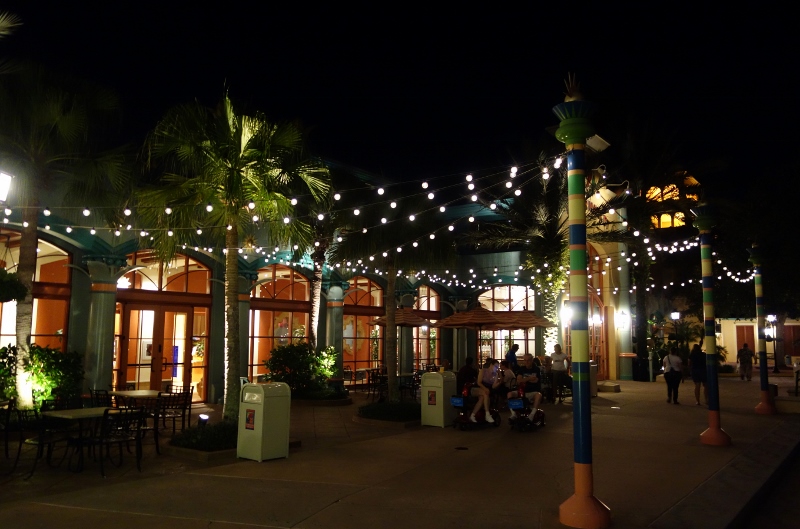 Also here is lots of other outdoor seating.
DINING AT THE DIG SITE POOL AT CORONADO SPRINGS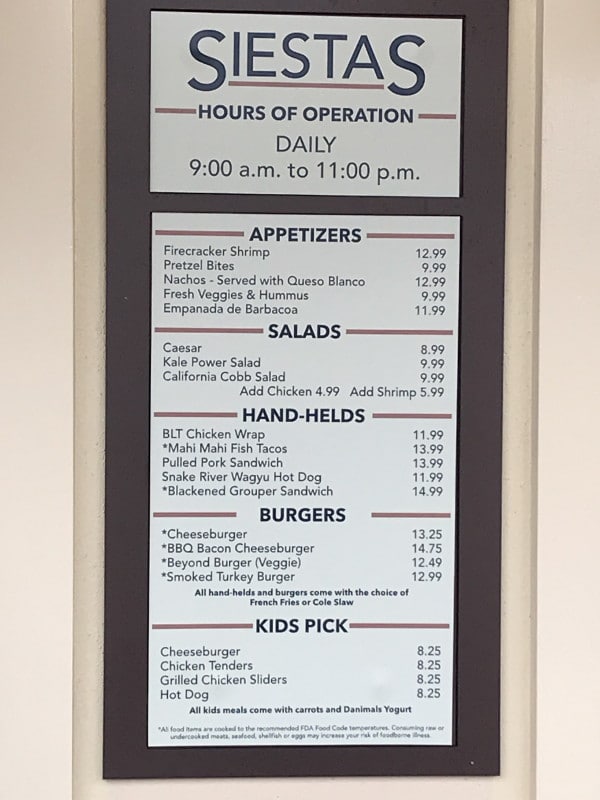 The main pool bar, Siestas Cantina, is unique among the moderates in offering a hot menu.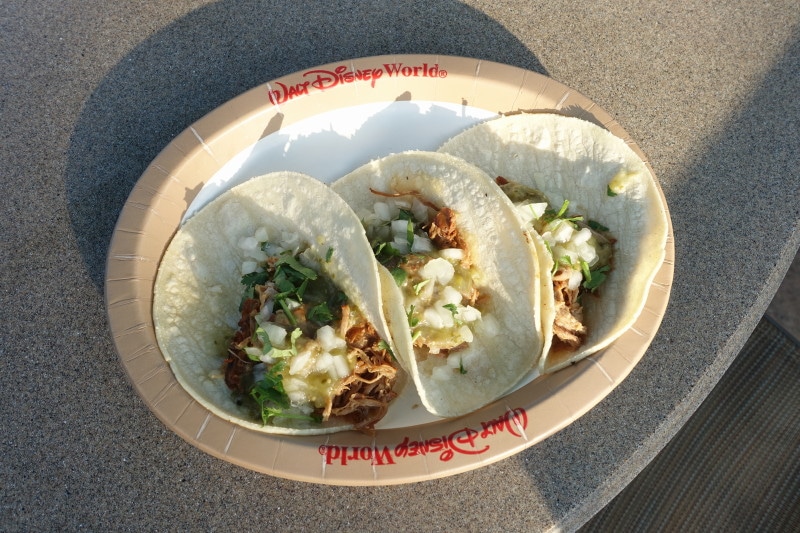 One of my lunches-Carnitas Tacos–from Siestas Cantina, no longer on the menu.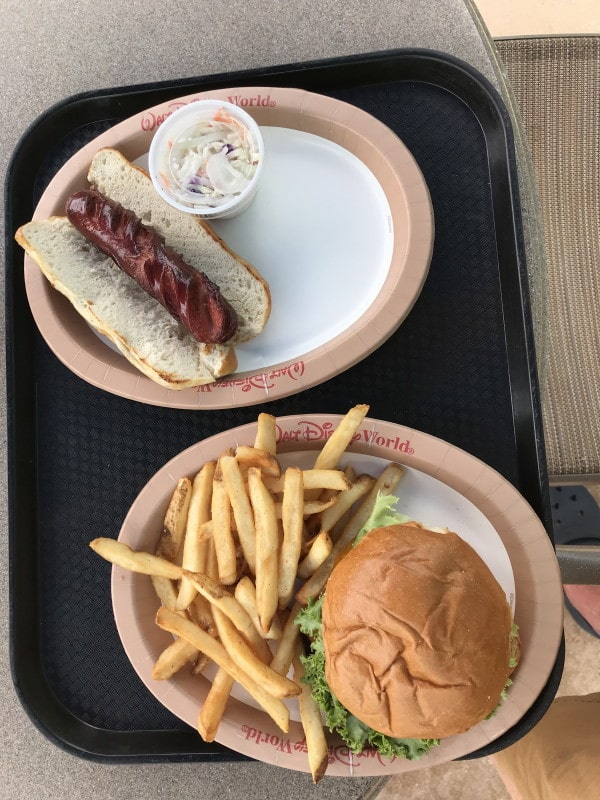 Another more pedestrian lunch. As much as my co-author Josh is dubious about their actual ingredients, that Snake River Wagyu Hot Dog is quite good.
A perhaps more legible version of the menu is here.
ROOM SERVICE AT CORONADO SPRINGS
Coronado Springs used to offer the best room service menu among the moderates.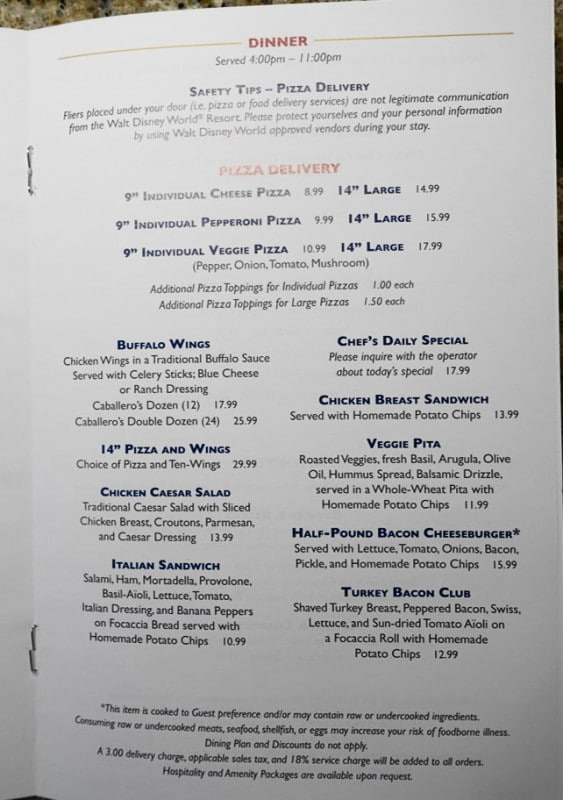 Above is the room service menu from as recently as April 2018.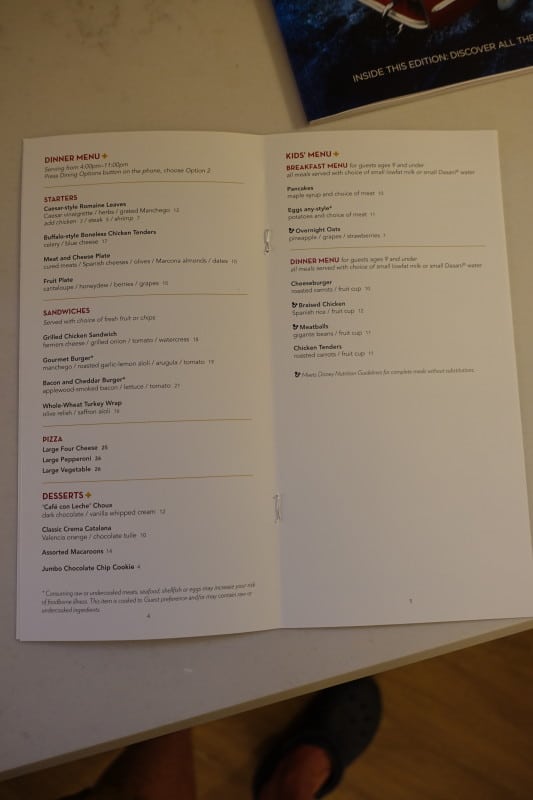 The menu is much less interesting now…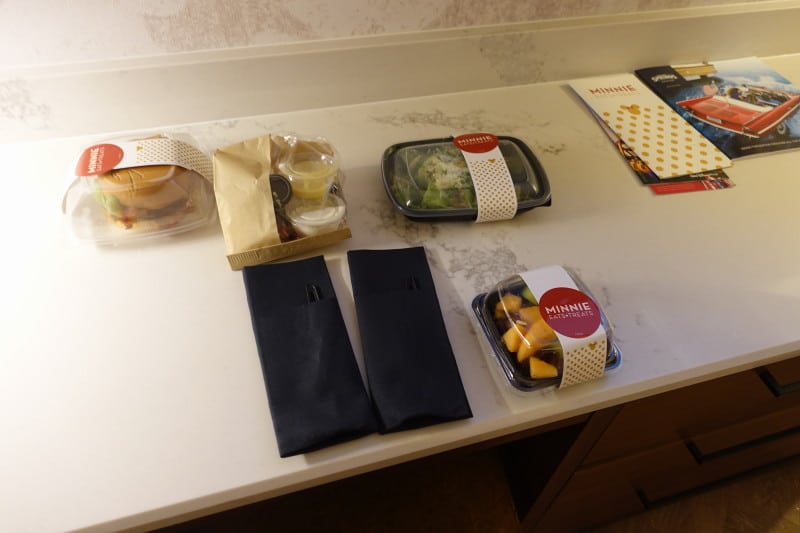 …and food from it is presented unappealingly.
I expect that the demands of the meetings and conventions markets will force Coronado Springs to up its room service game.
This review continues here!
TOPICS IN THIS REVIEW OF DISNEY'S CORONADO SPRINGS RESORT
OTHER KEY PAGES FOR WHERE TO STAY AT DISNEY WORLD


Follow yourfirstvisit.net on Facebook or Twitter or Pinterest!!