Disney World in 2019
By Dave Shute
DISNEY WORLD IN 2019
Below are my thoughts on rides, hotels, crowds and such at Disney World in 2019.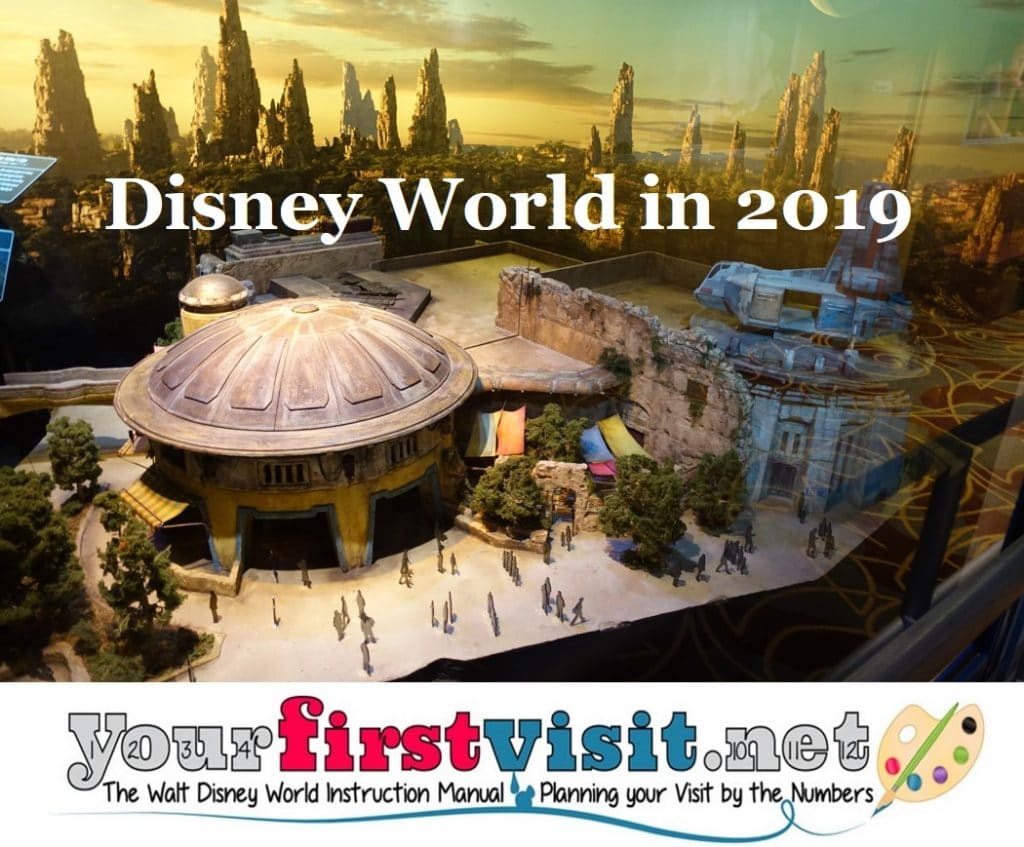 NEW RIDES AT DISNEY WORLD IN 2019
The big news of 2019 will be the opening of the new Star Wars land, Star Wars: Galaxy's Edge, at Disney's Hollywood Studios.
This land will add a planet to Disney World to join Avatar's moon–a new, remote frontier planet–and include two new rides–a Millennium Falcon ride and a ride involving a battle between the First Order and the Resistance.
Expect also Star Wars dining, character interactions, and a new standard for immersiveness–even richer detail than in Pandora.
There's no word on when exactly Star Wars: Galaxy's Edge will open. Bob Iger had said it will open in 2019, but after the fiscal year was over, which puts it into October-December 2019. In May 2018 the date range was narrowed to "late fall" 2019.
Multiple other new rides are being developed or worked on at Magic Kingdom, Epcot and the Studios. The ones at Magic Kingdom and Epcot I don't expect to see open in 2019.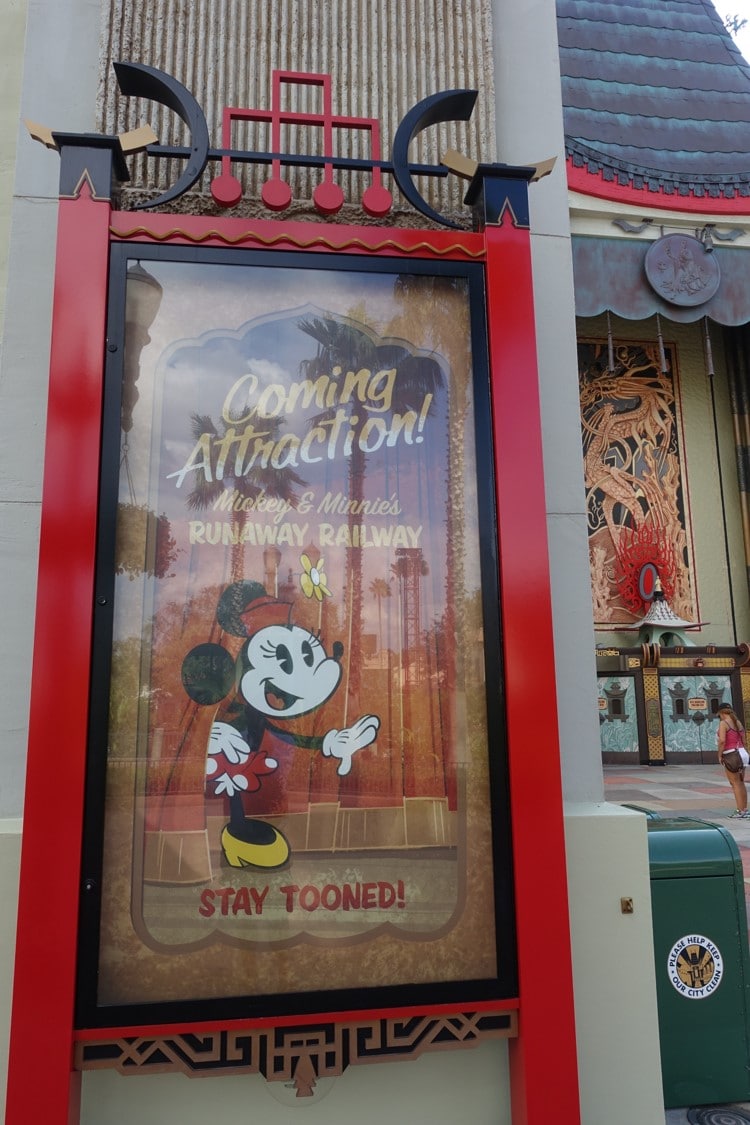 However, the Hollywood Studios ride Mickey and Minnie's Runaway Railway, a new ride that will occupy the old Great Movie Ride space at Disney's Hollywood Studios, I do expect to be open by the end of 2019, and perhaps even as early as late 2018. I say this not because I have any private insight into or good sources about its opening dates, but rather because it makes sense to open this before Star Wars opens, to provide capacity.
It should be noted, however, that Mickey Mouse's 90th birthday is November 18, 2018, and that it "will be heavily celebrated across the company" according to recent remarks from CEO Bob Iger. So there's that. But early to mid-2019 is probably more likely.
DISNEY SPRINGS AND THE DISNEY RESORTS IN 2019
The massive redevelopment at Disney Springs should be complete by 2019.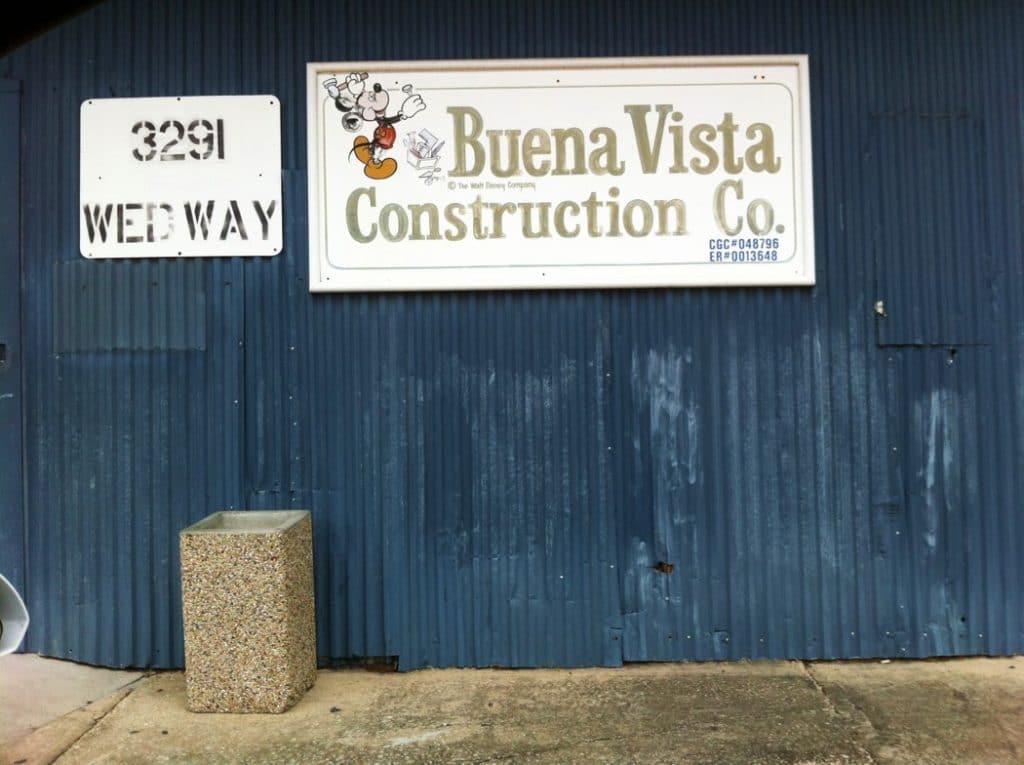 The story at the Disney World resorts will be refurbs and new construction.
A new Star Wars hotel was announced in 2017.  It makes sense for this to open by the time the new land opens, but that would require Disney World–which can take six months to paint a fence–to act unusually quickly. I've seen forecasts for a 2021 opening, which seems more likely…
Pop Century will have completed its renovation by 2019, with queen beds and coffee makers being added. Shortly after Pop is done, I'm betting that Art of Animation Little Mermaid rooms will get queen beds. This will chill the already cold hearts of Disney's accountants, as these rooms are the highest priced among the values and there's not many of them.  However, I can't imagine a world where the premium prices at Art of Animation can be maintained if standard rooms there have full beds and no coffee makers, while Pop has queens and coffee.
These queens and coffee refurb may also extend into the other value resorts, All-Star Movies, Music and Sports.  There's also the expectation that a table service venue will be added to the All-Stars, likely between Sports and Music.
Caribbean Beach is in a messy refurb that for the moment has led to weak temporary dining. No official re-opening of the new dining here has been announced, but clues in how Disney priced Caribbean Beach for 2018 make me suspect that permanent dining will open here in the second half of 2018, and letters are being shared that suggest August 2018 is the target date. Broader construction of the new Disney Vacation Club property in the former Barbados area will likely continue in 2019.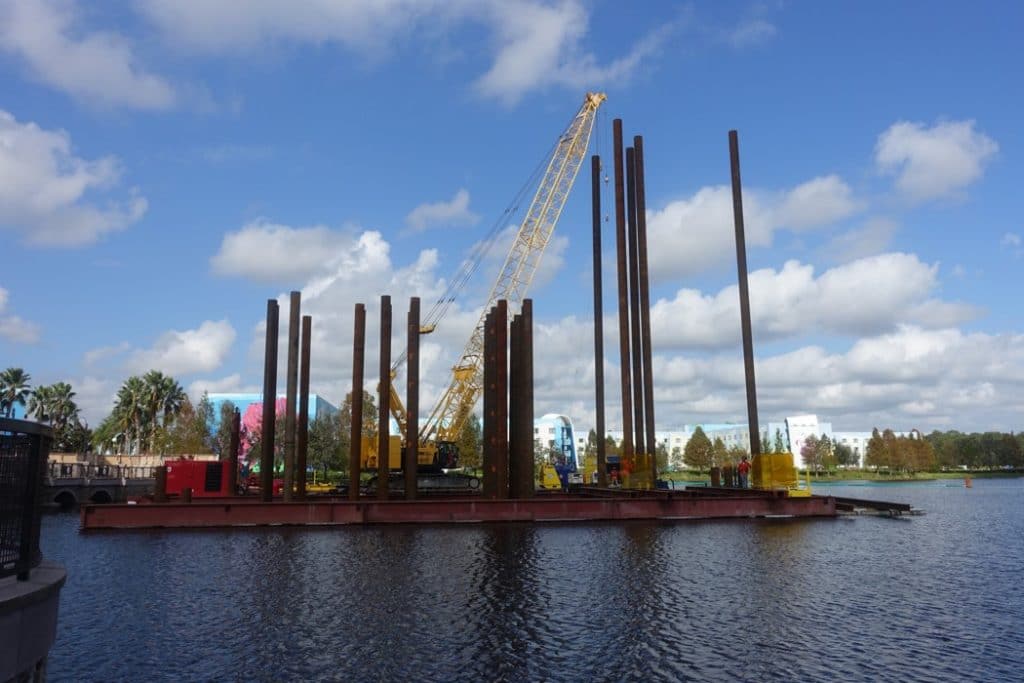 All three of these resorts will be eventually connected to a new gondola that will go to Epcot and Disney's Hollywood Studios. This may be open in as early as Spring 2019–again, it makes sense for it to open with or before the Star War land.
The Coronado Springs building-by-building room refurb I expect to be completed in 2018. The new bed tower, dining, and other amenity additions here likely will open in 2019.
Andre at PortOrleans.org notes that Port Orleans French Quarter is expected to be in refurb in the first half of 2018, followed by a similar refurb at Port Orleans Riverside–first Alligator Bayou, and then Magnolia Bend–that will be complete in 2019. The scope is not yet clear, but a "light" redo akin to what's happening in the Coronado Springs rooms seems likely. That said, no one expected what's happening at the other tw0 traditional moderates in terms of demolition and new towers, restaurants, gondolas etc. before such was announced, so these Port Orleans refurbs could be more interesting…
Among the deluxes, it's about time for all the Magic Kingdom resorts to go into refurb, with the betting on this that it will start with a floor-by-floor room refurb at the Wilderness Lodge, perhaps as soon as early 2018.
Between permanent closures and floor-by-floor or building-by-building closures for refurbs at resorts, a lot of capacity may be unavailable into mid-2019 compared to prior years.  Since Disney's occupancy is already very high, as a result, rooms have been hard to find, so book as soon as you can–and ideally more than 180 days before.
Kelly B., who has been the travel agent partner of this site for years, can help you. Contact her at KellyB@DestinationsInFlorida.com or 980-429-4499. You can book 2019 rooms 499 days before your check-in date. So for example, in mid-December 2017 you can book an arrival date at the beginning of May 2019. See this for how to do it.
DISNEY WORLD DEALS IN 2019
Disney World uses a combination of complicated and changing room pricing, and, on top of that, deals, to keep its resort hotel occupancy very high. While deals have been technically available for most times of the year (you'll find current Disney World deals here), the number and types of rooms available has gotten more and more restrictive. I expect this trend of less-available deals to be even more true in 2019 because of the openings at Disney's Hollywood Studios of very attractive franchise (Toy Story in 2018 and Star Wars in 2019) and the capacity reductions noted above.
Deals often emerge after the best time to book your Disney World vacation. The simplest way to handle getting your deals is to make your initial booking through a travel agent, who will then–if a deal comes out for your dates–move heaven and earth to try to get you in to it.
I recommend Kelly B., who has been the travel agent partner of this site for years. To book your vacation through her, contact her at KellyB@DestinationsInFlorida.com or 980-429-4499.
DISNEY WORLD CROWDS IN 2019
The major question for 2019 is the impact of Star Wars: Galaxy's Edge on the parks. Based on what Universal saw with Harry Potter, I expect the new land to be just slammed with crowds, with some spill-over effect into the rest of the Studios.  However, based on what happened at Universal I don't necessarily see a broad increase in crowds in all the other parks from the Star Wars fans.
Presidents Day, February 18 in 2019, is late-ish, meaning more good January and early February dates, and fewer good late February dates. The week that includes Presidents Day will be bad as usual. (Tons of kids in the northeast have the whole week off.) Crowds for this week actually begin the Thursday before.
Mardi Gras in 2019 is March 5.  A few southern school districts have it off as a single or multi-day holiday. The impact of Mardi Gras-related visitors on Disney World is vastly overrated, so don't worry about it. (People mix up the effects from it and the effects of President's day breaks–five out of the last seven years have seen the week of Mardi Gras also influenced by crowds from President's Day breaks.)
Easter in 2019 is almost as late as it can be, on April 21. As a result, later March, while not good, will be better than in years with an earlier Easter. Early April will have a good week or two, but there will be fewer good late April weeks.
Summer crowds are a bit up in the air.  They felt down in both 2017 and 2016. As I note here, I have theories about why, mostly about the effects of Disney's strategic re-pricing of tickets to make the higher-demand periods like summer less attractive to some, and thus more comfortable for everyone else, particularly in the pricing of Florida resident annual passes with summer block-out dates. These new distinctions launched before the 2016 summer seasons, so the timing is right. But honestly I'm not sure what's going on, so for the moment am still forecasting high summer crowds.
Thanksgiving, November 28, is as late as it can be in 2019, giving more good early November dates but fewer good late November ones.
Christmas is on a Wednesday in 2019.  That means almost all schools will begin their breaks on 12/21/19, with heavy crowds into the new year.
For more on 2019 crowds at Disney World, see this.
DISNEY WORLD PRICING IN 2019
Expect higher than average ticket price increases in 2018 and 2019 as Disney World extracts value from its Pandora, Toy Story, and Star Wars investments. There may even be two ticket price increases in 2019–one early in the year, and a second tied to the opening of Galaxy's Edge. We may also see in 2019 (or earlier) Disney shifting to different prices for multi-day tickets, with prices varying depending on when they are used.
Tickets bought in 2018 will have their prices honored until the end of 2019, so long as you don't make any changes (like adding or subtracting a day, or adding or subtracting a hopper, or changing elements of a package of which they are a part) to them.
2019 resort prices will be announced in the summer of 2019, and should not change again after then.
MORE ON 2019 AT WALT DISNEY WORLD
These drafts will all be updated in the summer of 2018:
Disney World 2019 Crowd Calendar
Disney World 2019 Price Seasons
2019 Disney World Week Rankings


Follow yourfirstvisit.net on Facebook or Twitter or Pinterest!!
RELATED STUFF