Hollywood Studios During the Crisis: Mickey and Minnie's Runaway Railway Delayed Until Spring 2020
By Dave Shute
"The only end of writing is to enable readers better to enjoy life, or better to endure it." –Samuel Johnson
THE EFFECT OF THE DELAYED OPENING OF MICKEY AND MINNIE'S RUNAWAY RAILWAY ON WAITS AT DISNEY'S HOLLYWOOD STUDIOS
In another surprise, although rumored for a while, Disney (in an oh-by-the-way style) announced late last week that the new ride being developed in the old Great Movie Ride space at Disney's Hollywood Studios, Mickey and Minnie's Runaway Railway, would have its opening shifted from this fall to the spring of 2020.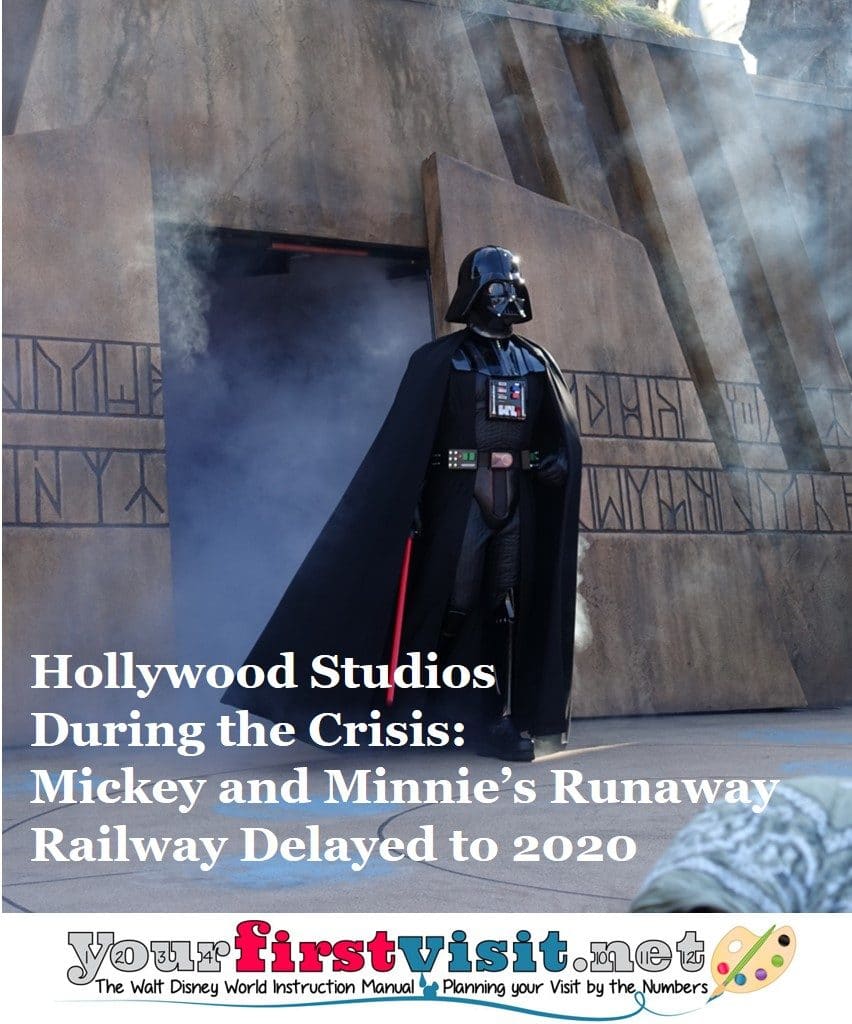 The immediate concern of everyone was the impact on crowds at Disney's Hollywood Studios after the partial opening of Star Wars: Galaxy's Edge in late August.  The widespread perspective is that Disney needs another high capacity attraction to give the crowds drawn by Galaxy's Edge something else to do besides building up the lines of the currently existing rides and shows.
But on reflection, I can think of a couple of ways that this decision might actually be good for lines at Hollywood Studios (other than in Galaxy's Edge). 
First, I expect Mickey and Minnie's Runaway Railway to be a pretty hot ride, if Jim Korkis's description of it is anything to go on.
If it occupies a demand space in people's minds somewhere between Slinky Dog Dash and Flight of Passage/Seven Dwarfs Mine Train, Mickey and Minnie's Runaway Railway could easily be an independent source of crowding in Disney's Hollywood Studios, acting not as a safety valve for Galaxy's Edge but rather as another means to boil the pot.
(That really wasn't a mixed metaphor, even though it had every appearance of being one.)
Second, recall that "initially" the new ride at Galaxy's Edge will not have FastPass+ distributed for it. While the allocation of ride access may work in some other way, until something different is announced, I am assuming that rides on Millennium Falcon: Smugglers Run will be allocated by the old-fashioned way: willingness to wait in line. (I have more on this topic here.)
That means that much of the demand for the new Star Wars ride will enter the park, immediately get into line for Smugglers Run, and wait forever; exits from the new land per hour ought to be roughly equivalent to the hourly capacity of the ride, lagging by say an hour as folks devote time to exploring the rest of the new land.
That is, much of the demand for Smuggler's Run will be absorbed into the line itself, rather than delayed by FastPass+ to a different time of the day, during which time visitors would be looking for alternate attractions to ride during that period.
If Mickey and Minnie's Runaway Railway is an independently highly attractive draw of people itself, then most of its capacity will be used up by FastPass+, and the ~2,000 folks an hour exiting Smugglers Run—unless they had a FastPass+ for the Railway—would find that the multi-hour standby line they encountered at it would  provide little in the way of relief capacity.
The "extra" capacity for folks exiting Smuggler's Run will come from FastPass+ on other rides, from longer standby waits at the other rides and shows, from high-capacity shows repeating more each day than they do now, and from extended operating hours.
Mickey and Minnie's Runaway Railway, if it is as popular as I expect it to be, will not only add nothing in relief capacity for Star Wars, but also will be an independent draw of people to the Studios, adding even more to the demand for all the other non-Star Wars rides.
So the delay of Mickey and Minnie's Runaway Railway to the spring of 2020, rather than a disaster for waits at the Studios, might well be a blessing in disguise…


Follow yourfirstvisit.net on Facebook or Twitter or Pinterest!!
RELATED STUFF