Disney World Summer Crowds in 2018
By Dave Shute
Every year I analyze summer break schedules for the upcoming school year, compare them to what I'd expected, and then don't change my crowd forecasts for the upcoming summer, because breaks turned out about the way I thought they would, and nothing else is new.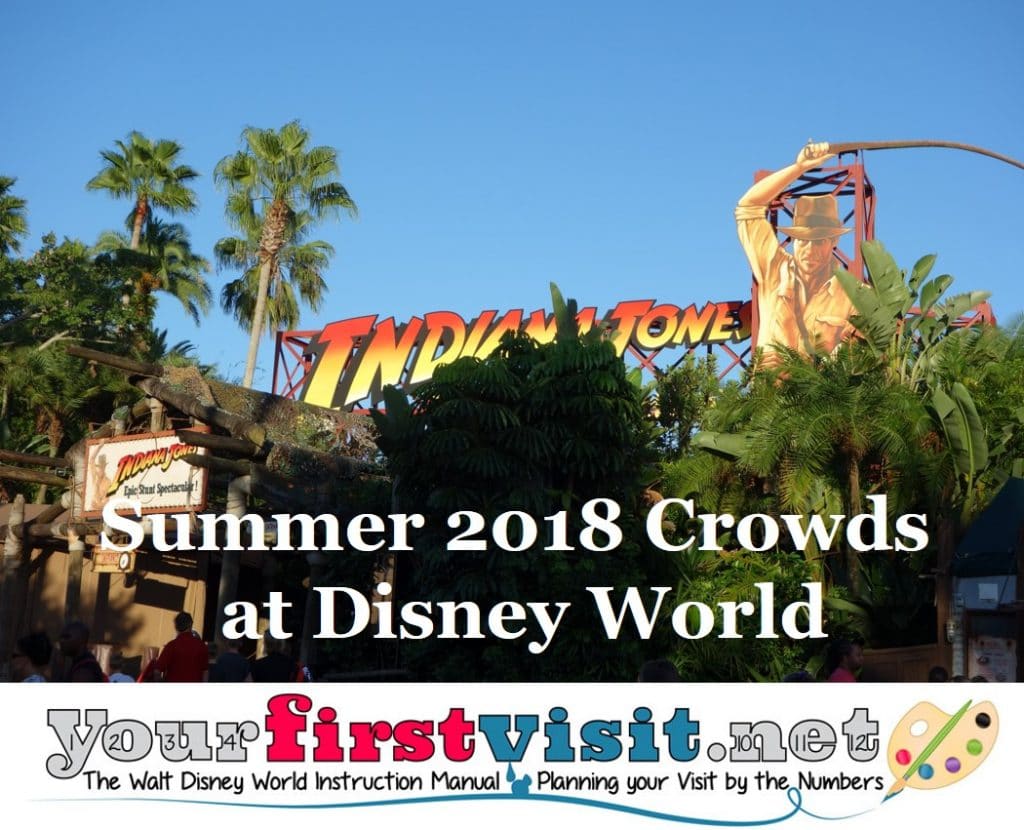 Well, for 2018 breaks did turn out the way I thought they would–but something new emerged in the summer of 2016 that seems to be happening again in the summer of 2017. I thought long and hard about this new stuff, and about changing my crowd forecast for 2018…before deciding to leave the crowd forecast the same.
Here's the story.
DISNEY WORLD 2018 SUMMER CROWDS: THE PRINCIPLES
Walt Disney World summer crowds historically have been governed by two factors:
Public school summer break calendars, which have start and end dates more varied than you'd think
The beginning of the peak of the hurricane season, in mid-August
Over the past summer and a half, however, it seems other factors have come into play.
Summer stand-by waits in all of 2016 and so far in 2017 (I write this in mid-July) have been lower–sometimes substantially lower–than we've been used to. While there's no evidence from Disney that attendance is substantially down (in April-June 2016, Disney World attendance compared to 2015 "was down 4% …with most of that decline due to the adverse impact of the shift in the Easter holiday period"; in July-September 2016 compared to 2015 , there were "increases in attendance…on a comparable fiscal period basis"), the feel of the parks in the summer–especially Epcot, Hollywood Studios, and the Animal Kingdom outside of Pandora–is much more comfortable than in years past.
I can't explain the changed experience.  I have theories, mostly about the effects of Disney's strategic re-pricing of tickets to make the higher-demand periods like summer less attractive, particularly in the pricing of one day tickets and in Florida resident annual passes with summer block-out dates–distinctions that launched between the 2015 and 2016 summer seasons, so the timing is right.
But this is just speculation, and does not much account for other things we've observed in the parks this summer–lower numbers of people in the parks and more easily available FastPass+. My co-author Josh has written on all three points multiple times this summer on easyWDW.com–see this for an example.
So to make a long story short, I don't know what is going on, nor why it is going on.  Because I don't, I don't know if it will happen again next summer.  So I'm not going to re-forecast 2018 summer crowds as "moderate" rather than "high."  But I also would not argue with someone else who in fact did make such a forecast change…
So if you go in the summer of 2018, you might have a much better crowd and wait experience than  I am predicting.  You will, however, still be in Florida in the summer–and I can't possibly recommend that…
So…back to the other two drivers of summer crowds–school breaks and the peak of the hurricane season.
Pretty much all kids are off all of July. As a result, July is the busiest summer month, and during it, the week that includes the 4th of July the busiest week.
Varied dates for when summer breaks begin means June can start well, and then build to high crowd levels–although in 2017 the beginning of June–before blockout dates kicked in, and right after Pandora opened–was the busiest part of the month.
August has the opposite pattern, beginning with high crowds, but, through the combination of a trickle turning to a flood of back-to-school dates, and savvy travelers avoiding the peak of the hurricane season, it ends quite un-crowded.
Families that can only visit in the summer (for example, school teachers) should go as early in June or as late in August as their schedules permit.
2018 PUBLIC SCHOOL SUMMER BREAKS AND THEIR EFFECTS ON WALT DISNEY WORLD CROWDS
The beginnings of summer breaks vary more than most people think.
The chart below illuminates this.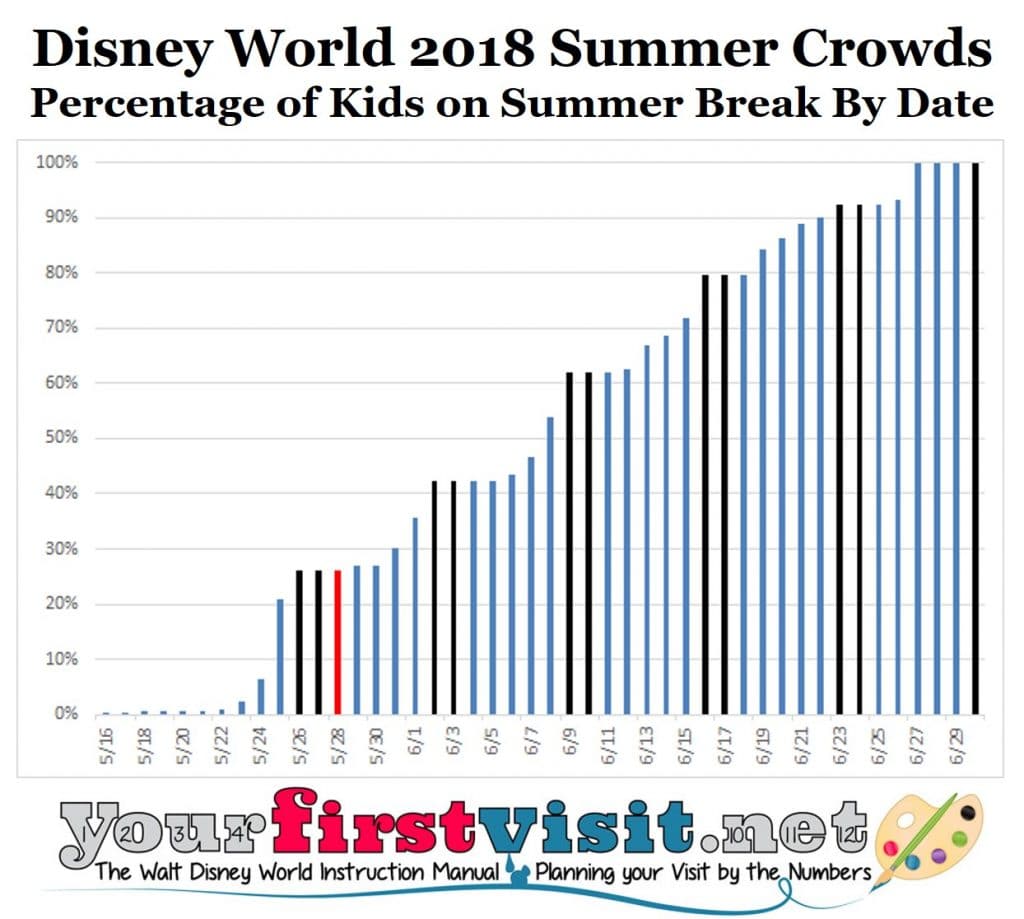 It's based on data from a weighted sample that includes the school breaks of 15.3 million US schoolkids. Weekends are in black and Memorial Day in red.
In 2018, more than 25% of kids are out by Memorial Day and more than half are out by June 9; the proportion builds over the rest of the month, with 80% out by June 16 and essentially all kids off by June 27, 2018.
Few families plan their vacation for their first day out of school, so there's a lag in the effect of these dates on summer crowds that I can't precisely quantify.
But the upshot is that in my 2018 Disney World crowd calendar I rate crowds the weeks beginning May 26, 2018 as 8/high-minus, June 2 as 7/moderate-plus, and June 9, 17, and 24th as 8/high-minus.
The week beginning June 30, 2018 rates as 9/high because of the draw of the 4th of July holiday, and the rest of July gets 8/high-minus.
THE PEAK OF THE HURRICANE SEASON AND DISNEY WORLD 2018 SUMMER CROWDS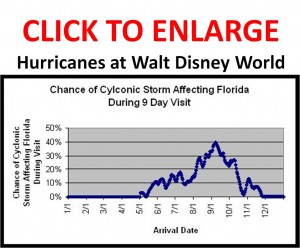 The hurricane season officially runs from June 1 through November.
It peaks, however, from mid-August to early October.
(Click the chart; see also Weather and When to Go to Walt Disney World.)
As a result, August crowds at Walt Disney World are affected not only by the end dates of summer breaks, but also by savvy travelers avoiding this potential weather.
Hurricanes rarely impact a Disney World vacation…but savvy travelers with choices in when they can go commonly avoid this period. (Disney knows this of course, and drops prices to change the value and risk equation, resulting in other savvy travelers intentionally choosing this period!)
As a result, I rate crowds in my 2018 Disney World crowd calendar for the week beginning 7/28 and 8/4/2018 as 8/high-minus. The week beginning 8/11 gets a 7/moderate-plus rating, the week beginning 8/18 a 6/moderate rating, and the week beginning 8/25/2017 a 4/low-plus rating. Crowds will then stay in the low range through September.
Follow yourfirstvisit.net on Facebook or Twitter or Pinterest!!
RELATED STUFF