Implications of the Partial Opening of Star Wars: Galaxy's Edge at Disney's Hollywood Studios August 29th
By Dave Shute
"Capacity for the parks, Star Wars: Galaxy's Edge and its experiences is limited. Access to the park, land and experiences may be restricted or unavailable depending on guest demand and other factors." —The Disney Parks Blog 
STAR WARS: GALAXY'S EDGE TO OPEN AUGUST 29TH
On March 7, 2019 Disney announced that the new Star Wars: Galaxy's Edge land would partially open at Disney's Hollywood Studios on August 29th. Both the August date and the partial opening were shockers.
The "partial" opening means that on that date, only one of the two rides being built here—Millennium Falcon: Smugglers Run—will be available. The second ride, Star Wars: Rise of the Resistance, will open "later this year." FastPass+ will be not "initially" be available for the ride, and the land will be open "during normal park operating hours…[and] will be available during Extra Magic Hours at Disney's Hollywood Studios."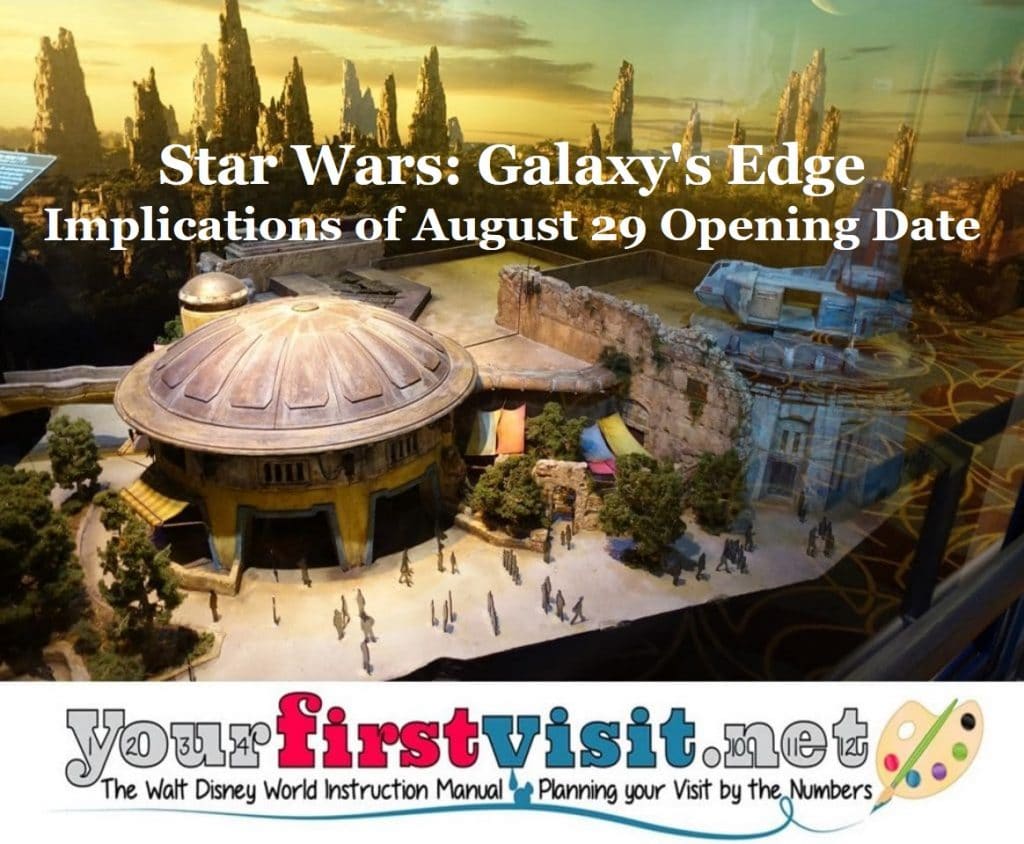 The Disneyland version of Galaxy's Edge will also open earlier than projected, also will have a partial opening with just Smuggler's Run, and has different, more stringent operating and access restrictions than Disney World's version has.
This post is about the implications of this early and partial open for guests before the land is fully open.
Here's some of what I said nine months ago  about the full opening of Galaxy's Edge:
Galaxy's Edge itself will be crushed with those interested in the Star Wars setting and its Millennium Falcon and battle rides for quite some time. I expect longer hours, daily Extra Magic Hours, and the use of FastPass+ or some other mechanism to restrict access to the actual land, not just the rides, but there will still be more demand to visit the land than capacity to serve it.
I get about enough capacity for every visitor to the park to see just one of the Star Wars rides on an average day. If more than half of park visitors want to see both of them, lines will skyrocket, and some of the Star-Wars aimed folks will balk at waits for those rides and go elsewhere in the park. And since I expect a fair proportion of the dedicated Star Wars visitors to not be interested in equal measure in the new capacity at the Toy Story Land rides or Mickey and Minnie's Runaway Railway (update–this is delayed until 2020), the result will be heavy lines at the rides most popular for adults—Rock 'n' Roller Coaster, Tower of Terror, and Star Tours.
Everyone seems to think that the opening of a major land (or ride) has immediate spillover effects on the other parks. That simply has not been the case for Florida parks.
–When Disney's Animal Kingdom opened, attendance at the other three parks remained flat for the next two and a half years.
–When Hogsmeade opened at Islands of Adventure, Universal Studios remained flat for two and a half years
–When Diagon Alley opened at Universal Studios, Islands of Adventure saw no increase the year it opened, and went up only 8% the next year
–When Pandora opened, the attendance in the other three Disney World parks remained flat
So my forecast for the impact of the Star Wars: Galaxy's Edge open on the rest of the parks, based on the historical record: very little.
Now we need to be clear here—no one actually knows what will happen, not even Disney. Part of the value of the partial opening is to create more information about what will happen during a "lower attractiveness" phase, when most of the infrastructure (like all the new roadways, the new bus stop, and the Disney Skyliner) and alternatives (like Slinky Dog Dash and Mickey and Minnie's Runaway Railway) are in place, but the partial nature of the opening creates a Galaxy's Edge that is less compelling to visit (at least for some.)
CROWDS WILL BE BAD—BUT NOT MAYBE AS BAD AS YOU THINK
The late August opening, the partial opening, and the earlier partial open at Disneyland will all play a part in moderating crowds to levels below what some might fear—especially after Labor Day and before October 6.
THE LATE AUGUST OPENING WILL LIMIT FAMILY VISITS FRAMED AROUND STAR WARS
I am still working on 2019 back to school dates, but my material so far—covering 11.3 million kids in about 200 school districts, with another 4 million kids yet to have their calendars announced–suggests that in the summer of 2019, as usual about 70% of US schoolkids will be already in school by the late August time the land opens—and 100% of kids will be back in school by the end of its first full week.
Disney World is loaded with non-family visitors, especially during the Food & Wine season—which I expect to kick off on August 30—but it is still predominantly a family destination. Kids in many jurisdictions can be pulled out of school, but this is hardest early in the semester.
As a result, while the Labor Day weekend will likely be the busiest such in Disney World history, I don't foresee a lot of families to be adding trips in later September specifically to experience Star Wars, and I expect many who already booked September with the express hope of avoiding the opening to cancel. Galaxy's Edge itself will be a hot mess, but the rest of the Studios and Disney World should be OK.
Things will change beginning around October 6, which is when the "fall break" season begins and many kids start getting school breaks ranging from three days around Columbus Day to two full weeks. Unless the second ride is open by then, things will settle out from this by later October.
THE PARTIAL OPENING WILL DISSUADE SOME FROM BOOKING UNTIL THE FULL LAND OPENS
Only one of the two rides will be operating at opening day. Much—perhaps all except its table service venue—of the rest of the land's offerings will be open then too. So, depending on how much you value "the rest of the land," something between 50% and 80% of the quality of the experience will be available to those whose visits come before the opening of the second ride.
So those whose money or time budgets allow only one visit in the near term to Star Wars: Galaxy's Edge will defer their vacations until they can experience both rides. Thus, while Galaxy's Edge will be a mess, it will not be as much of a mess as it would have been had the land entirely opened on 8/29.
THE EARLIER DISNEYLAND OPENING WILL DRAW OFF SOME HARD CORE FANS
Disneyland will be opening its version early as well, at the end of May, and although this is not confirmed, I also expect that its full offering (that is, including the second ride) will be open much earlier than the second ride is open at Disney's Hollywood Studios–and likely even before August 29.
What this means is that until both versions are fully operational, all the incentives are for the hard-core Star Wars fan to go to California.
Now don't get me wrong here—all of the basement bedrooms in Orlando will be empty starting August 29th. But the Disney World Star Wars fan boy crowd will not be as heavy after Labor Day as you might think.
CALIFORNIA MESSES, AND THE ABSENCE OF FASTPASS+, WILL PUT OFF MANY VISITORS, BUT EMH WILL HELP
The Disneyland version will open on May 31, and despite all the additional restrictions on access there, I expect that many visitors will not get the message, and that we will immediately hear many horror stories—traffic jams, full parking garages, park closures and extremely long waits. This will come largely from it being open first, and secondarily from the already high attendance and less forgiving infrastructure at Disneyland.
These stories will cause some to cancel their Disney World vacations, and dissuade others from spending much time at Disney's Hollywood Studios.
Veteran Disney World visitors may also be put off by the absence of FastPass+ access to Millennium Falcon: Smugglers Run. Access to the land and to the ride(s) here will be rationed–at least initially–the old fashioned way, by willingness to wait. FastPass+ will come to these rides someday, and at least some will delay their visit until that happens.
I do expect substantial Extra Magic Hour offerings, something like what we saw at Pandora–a couple of hours every morning and evening before and after something like either a 9a to 9p or 8a to 10p regular operating day (the shorter "regular" day provides more practical EMH opportunities).
Over time, many of the daily EMH time slots will be converted into extra-cost times to visit ("Early Morning Magic" and "Disney After Hours"), but I think that will happen after things have settled down a bit, possibly not even until 2020.
Daily morning EMH, if it happens, will keep those staying in settings not eligible for EMH from successfully employing the classic "rope drop" strategies—as the land will already be full when they are let in. So even without FastPass+ at 60 days, those staying on site, who can do EMH, will have an advantage at Galaxy's Edge.
By the way, Galaxy's Edge and Hollywood Studios will be particularly crammed on days Magic Kingdom closes early for parties. See this for the party schedule through October.
Also by the way, the best hotels to stay in for those who want to see Galaxy's Edge are those that let you get to Disney's Hollywood Studios without going on the roads—the Epcot resorts, from which you can take a boat or walk, and the Disney Skyliner Resorts (Caribbean Beach, Pop Century, Art of Animation, and, after it opens, Disney's Riviera Resort) from which you can take a gondola to the park.
Kelly, the long-time travel agent partner of this site, can help you book your Disney World vacation–whether to avoid or participate in the opening of Galaxy's Edge! Contact her using the form below:


Follow yourfirstvisit.net on Facebook or Twitter or Pinterest!!
RELATED STUFF