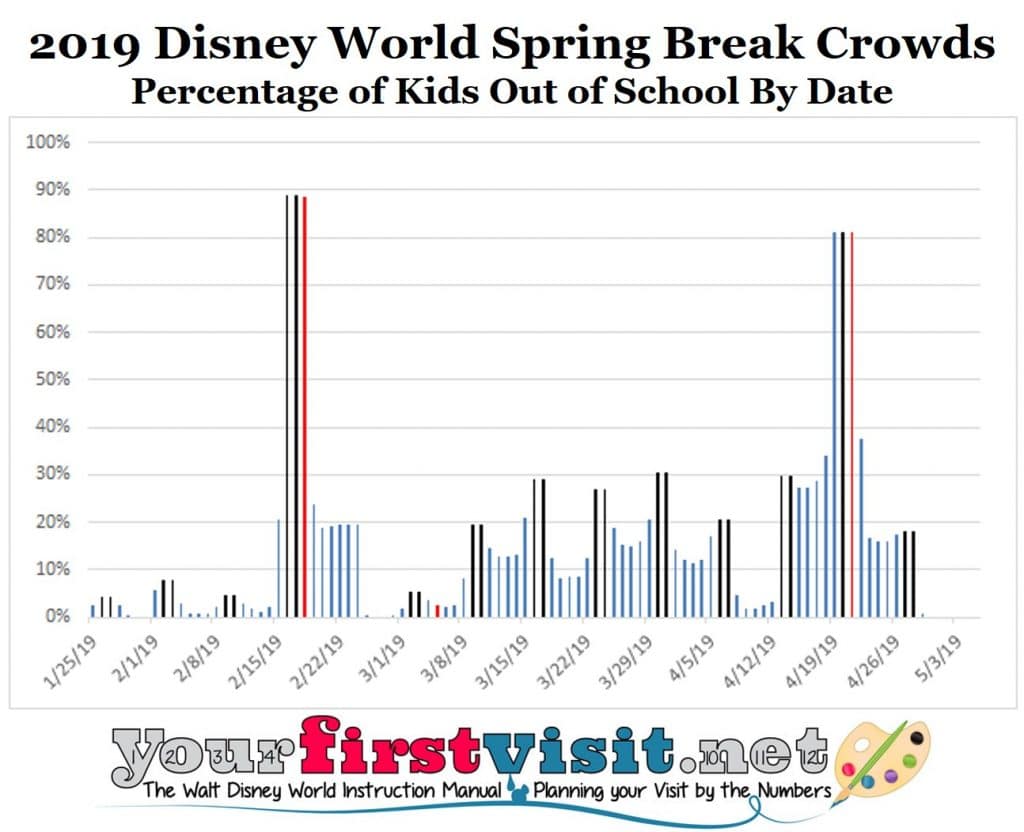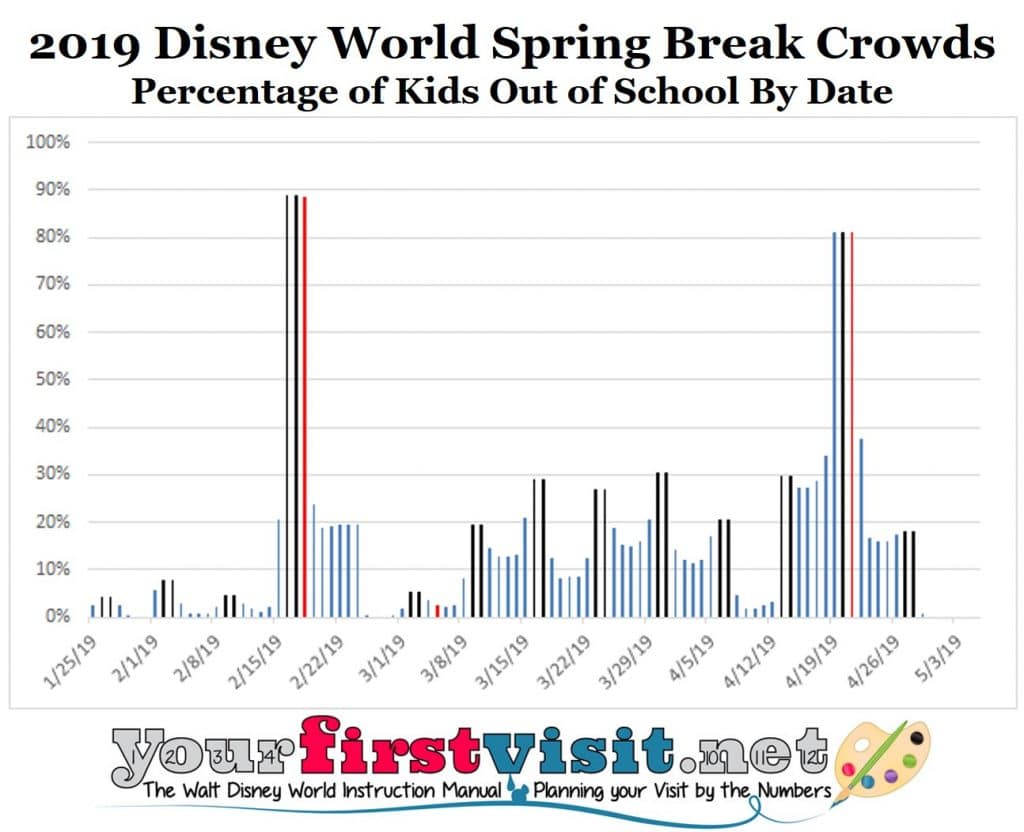 DISNEY WORLD SPRING BREAK CROWDS IN 2019
Walt Disney World spring break crowds are typically governed by two and a quarter factors:
Public school spring break calendars, which are still largely framed around Easter but vary more than you might think, and into which every year I put a ton of time
The demand of snow-belters for a break from winter weather, which peaks in March, but is harder to forecast, and
The quarter factor, the date of President's day.  Later President's Days (which can range from February 15 to February 21) tend to make the first part of March better
An early Easter combines the first two factors, making for more than the usual horrible crowds in March but a great April; a late Easter can spread the first two factors out, yielding some good early March and early April weeks.
Easter 2019, on April 21, is very late in its possible range. President's Day 2019 is in the middle of its possible range on February 18. As a result, my latest analysis shows a good week in each of late February and early April, an OK week in early March, but mostly bad crowds throughout March and April 2019.
More specifically, 2019 spring break crowds at Walt Disney World will be
Bad Presidents Day Week
Fine the week beginning February 23rd
OK the week beginning March 2, but not as good as in my original draft forecast.  I've updated this based on co-author Josh's work on easyWDW.com on 2017 and 2018 waits, and now have to call this a moderately crowded week, rather than a low crowd week
Bad the week beginning March 9th
Fairly bad the week beginning March 16
Bad the weeks beginning March 23 and March 30
Fine the week beginning April 6
Very bad the week beginning April 13
Bad the week beginning April 20
Fine after that until Memorial Day weekend
Note that you should treat my forecast for the week beginning April 6, 2019 with a bit of skepticism–if I'm wrong, it will be worse.
2019 PUBLIC SCHOOL SPRING BREAKS AND THEIR EFFECTS ON WALT DISNEY WORLD CROWDS
Although more and more school districts are moving away from an Easter-centered Spring Break, the plurality of kids still have the weeks before Easter or following Easter off.
As a result, the single biggest factor determining better and worse Spring Break weeks at Walt Disney World is the date of Easter–which can range from March 22 to April 25.
A later Easter has a couple of different effects: first, it spreads out the dates of breaks for school districts that don't frame their breaks around Easter, and second, if particularly late, sometimes will push districts that typically take the week after Easter off into the week before Easter instead, to keep from compressing their May academic calendars. (I don't see much of this shift in 2019.)
An earlier Easter has the opposite effects.  Districts that traditionally try to take the week after Easter off will be able to do so, and districts that don't base their calendars on Easter will be largely compressed into many of the same later March and early April weeks.
The date of President's Day–which can range from February 15 to February 21–also has an effect. Because many northeastern districts both have a spring break and also take the week of President's Day off, the later President's Day is, the better early March will be–as parents in these districts avoid taking their kids out of school the weeks right after a long President's Day break.
The effect of the various dates in 2019 is to spread spring break weeks out, yielding not a whole lot of good times to visit between President's day and the week after Easter.
ACTUAL 2019 SPRING BREAKS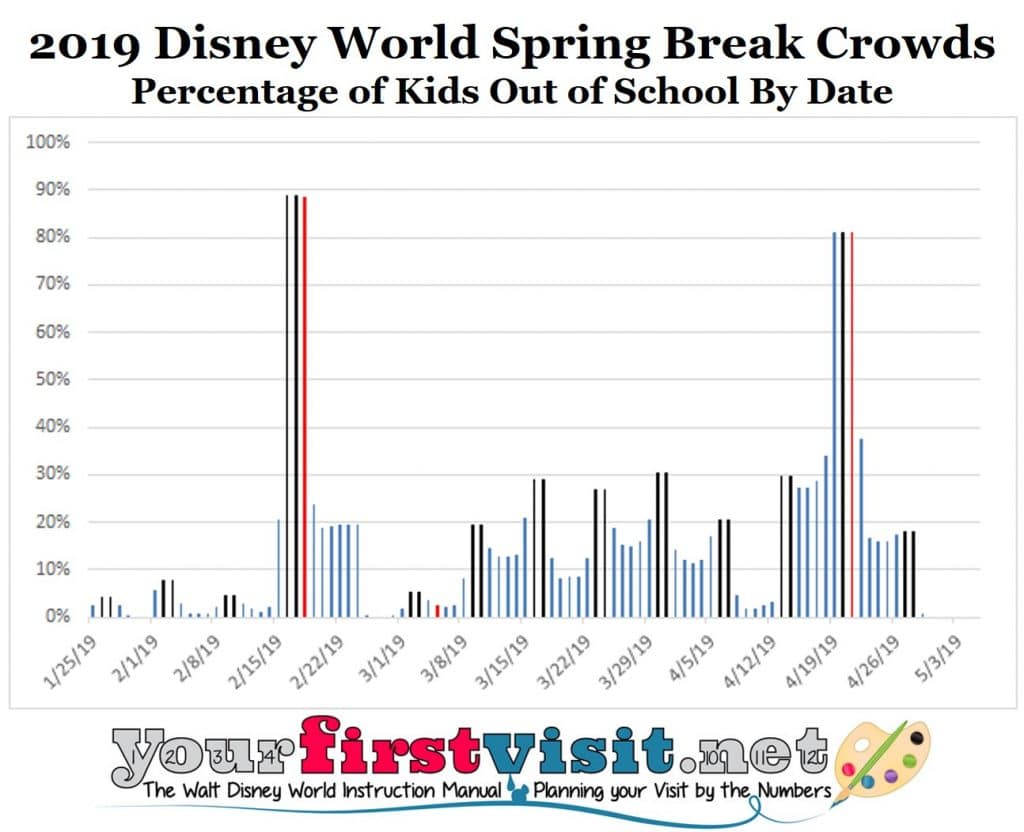 The chart above illuminates this.
It's based on data from a weighted sample including 270+ of the largest relevant US public school districts. 15.3 million kids–about a third of US school kids–are in the database, and they are weighted based on propensity to go to Disney World.
(For how the database is built, see this.)
Weekends are in black, except Easter, in red. Mardi Gras and President's Day are also in red.
My revised 2019 Crowd Calendar shows the following:
The week beginning February 9, 2019 will be crowded at the end as long weekends for Presidents Day begin Thursday February 14. Overall I give it a 5/moderate-minus rating–better earlier, worse later
Presidents Day week, the week beginning 2/16, has high crowds through Tuesday and pretty high crowds the rest of the week. Overall it gets a crowd ranking of 8/high-minus, worse earlier in the week and a little better later
The weeks beginning 2/23 has hardly any kids off and gets a ranking of 4 (low plus)
The week beginning March 2 has more kids on break than in recent years, and, Josh's data shows, has become increasingly crowded.  I am shifting its ranking to 6/moderate
The week beginning March 9 both has a ton of kids on break (thanks, Texas and Ontario!) and is also attractive to snowbirds. It gets a 9/high crowd rating.
The week beginning 3/16 has fewer kids on break than the weeks that surround it, but is still attractive to snowbirds. I'm giving it a rating of 7/moderate-plus, a little better than in my draft forecast
The week beginning 3/23 has the highest percentage of kids on break so far in March 2019, and gets a crowd rating of 10/higher
The week beginning 3/30/18 also has lots of kids on break in 2019 and gets a crowd rating of 9/high.
The week beginning April 6, 2019, looks great, with hardly any kids on break. I'm giving it a crowd rating of 4/low-plus. If I am wrong, it will be worse, but is unlikely to exceed the "moderate crowd" range
The week before Easter, beginning April 13, 2019, will have the highest crowds yet in 2019, at 11/highest
The week following Easter, beginning April 20, has even more kids on break than I'd initially forecast, so it gets a 9/high rating
Crowds should then be fine April 27 and following until Memorial Day weekend


Follow yourfirstvisit.net on Facebook or Twitter or Pinterest!!