For the first page of this review of Disney's Contemporary Resort, click here.
ACCOMMODATIONS AT DISNEY'S CONTEMPORARY RESORT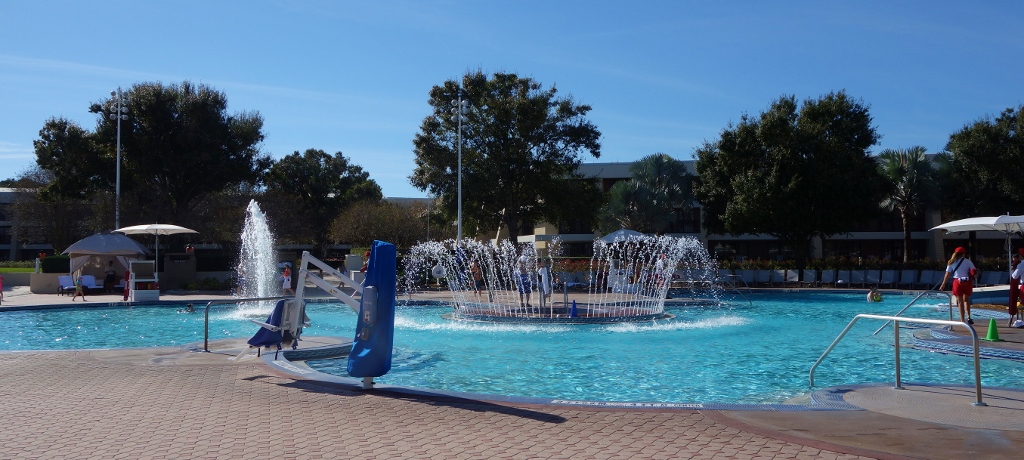 All Disney deluxe resorts have standard rooms; concierge rooms, which Disney calls "club" rooms; and suites. (See this for more on suites at Walt Disney World.)
At Disney's Contemporary Resort, standard and club/concierge rooms sleep five, in two queen beds and a fold-down day-bed. See page 2 of this review for a floor plan and photo tour of a standard room.
King rooms that sleep three (the third on the day-bed) are also available.
Tower rooms are sold with "Bay Lake", and "Theme Park" views. While not essential, Magic Kingdom view rooms are hard to beat if you can afford them. Bay Lake views are also lovely.
Garden Wing rooms have no balconies (first floor rooms do have patios), a similar layout otherwise, varied views of parking, water or the pool area, and are more inconvenient than tower rooms.  They are also much less expensive.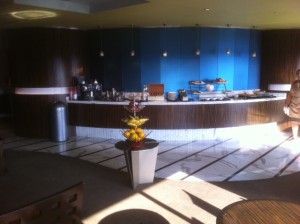 Club rooms are identical to standard rooms except for the access they grant to Club concierge services. See the image for a lousy shot of the concierge lounge.
They are not worth the extra cost for most first time family visitors. However, they may be well worth it for families intending to spend more time at the Contemporary Resort than implied by this site's itineraries.
TikimanPages.com has a great discussion of the value of concierge rooms here. Though focused on the Polynesian, it applies to any deluxe resort. Co-author Josh reviews a more recent club stay at the Contemporary Resort on easyWDW.com here.
One and Two-bedroom Suites sleeping 2 to 10 people in two to five bays ( a "bay" is the space a standard room takes) are available for families seeking a particularly comfortable visit, in both the Tower and the Garden Wing–see this for more on suites at Walt Disney World.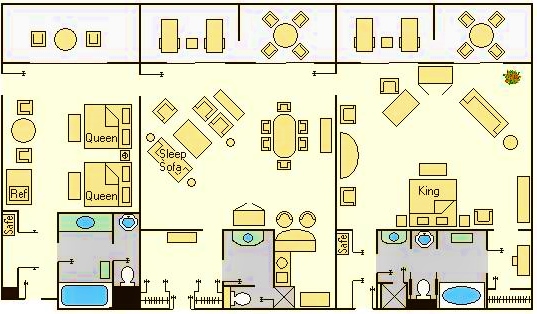 The five bay Presidential Suite (above) sleeps 8 in more than 2000 square feet overlooking the Magic Kingdom; the four bay Vice Presidential Suite overlooks Bay Lake. Other two and one bedroom suites are also available. Note that in the Presidential Suite floor plan, as is common in suite design, the fifth bay at left is actually a connecting standard room. This creates flex for Disney in what it sells–a four bay suite and, to someone else,  a room, vs. a five bay suite.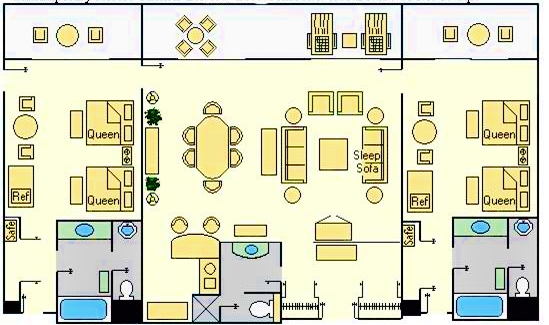 This four bay suite is an extreme example of this design concept–it's really two standard rooms with a hospitality suite in between.
(To each of the capacity figures above, you can add one more kid under 3 at time of check in who sleeps in a crib.)
THE THEMING OF DISNEY'S CONTEMPORARY RESORT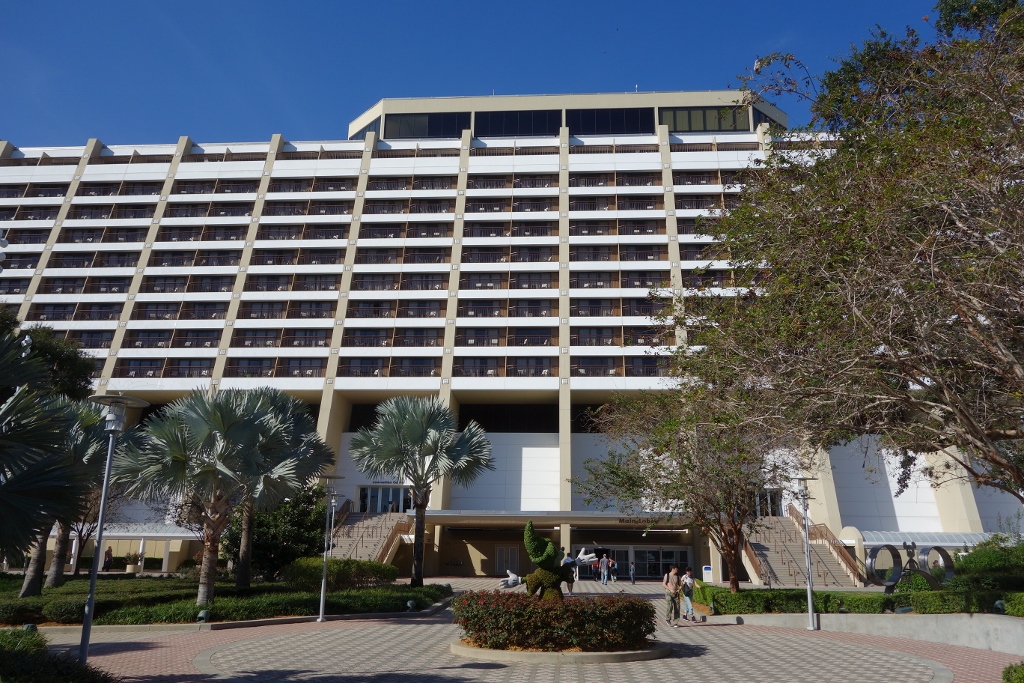 Disney's Contemporary Resort opened in October 1971, and its last–very nice–renovation was completed in 2013. It is officially described on Walt Disney World's website as
"…an ultra-modern Disney Deluxe Resort, made up of a towering A-frame high-rise building—the iconic Contemporary Tower—and complemented by one garden wing annex. This lakeside Resort is the only hotel in Walt Disney World Resort to have the Walt Disney World Monorail System pass through the main lobby."
The Contemporary Resort was designed collaboratively by the US Steel Corporation, Disney, and the under-rated Welton Becket, friend and neighbor of Walt Disney. (This same group also designed the Polynesian.)
Becket is under-rated not as an architect, but rather because, in a sense, he created Imagineering.
According to John Hench, when Disney was looking for help is designing Disneyland, "Becket said [to Walt Disney] 'You've got to use your own people. We can't help you. We don't have any kind of a background for this. Just use your own guys.'"
As a result, Walt Disney started bringing artists and craftspeople over from his and other studios to work on the park, and Imagineering was born.
(Quoted in Jeff Kurtti's Walt Disney's Imagineering Legends and the Genesis of the Disney Theme Park
.)
The original concepts for the Contemporary were that it was to be a high rise, and that the monorail was to run through it.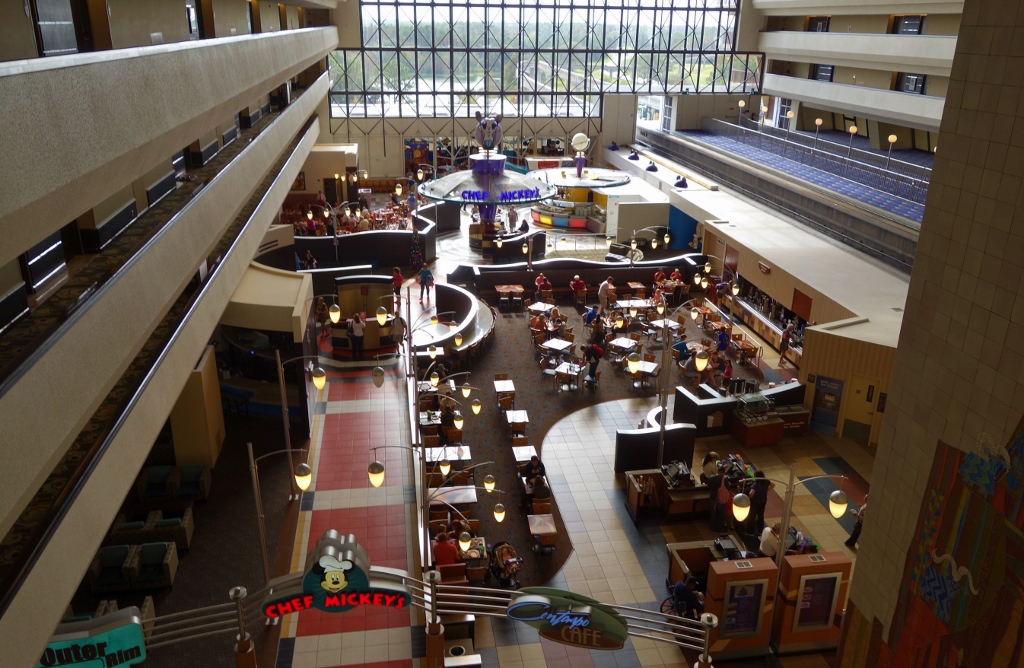 This led to the internal atrium, and to the length of the building, which was designed to shelter two monorail trains on each track in case of hurricanes.
(Hurricane doors are at either end of the atrium, where the monorail tracks enter.)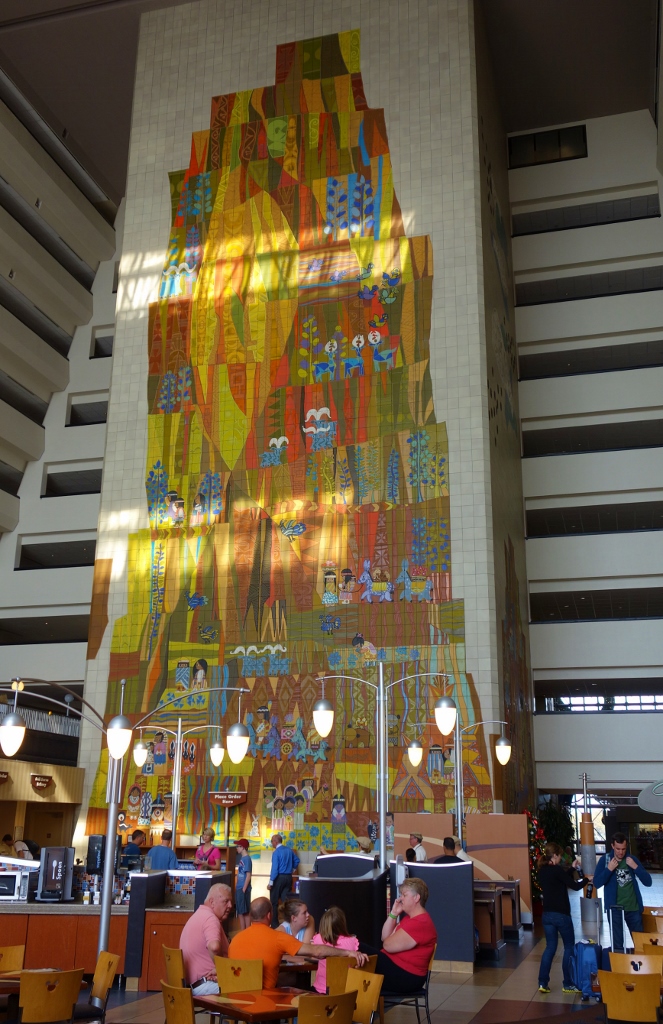 At some point the total number of rooms were defined–I've seen no source on why the particular number was picked–and the design result was the long, monolithic, and dull facade that we've known ever since, livened up a bit inside by Mary Blair's famous mural.
For more on the background to and construction of the Contemporary Resort, see Jim Korkis's post here.
Although the building has no comparative kid appeal other than the monorail itself, a family that stayed only there, and never saw one of the value resorts, or the Polynesian, Wilderness Lodge, or Animal Kingdom Lodge, could be forgiven for thinking they were staying in the perfect Walt Disney World hotel!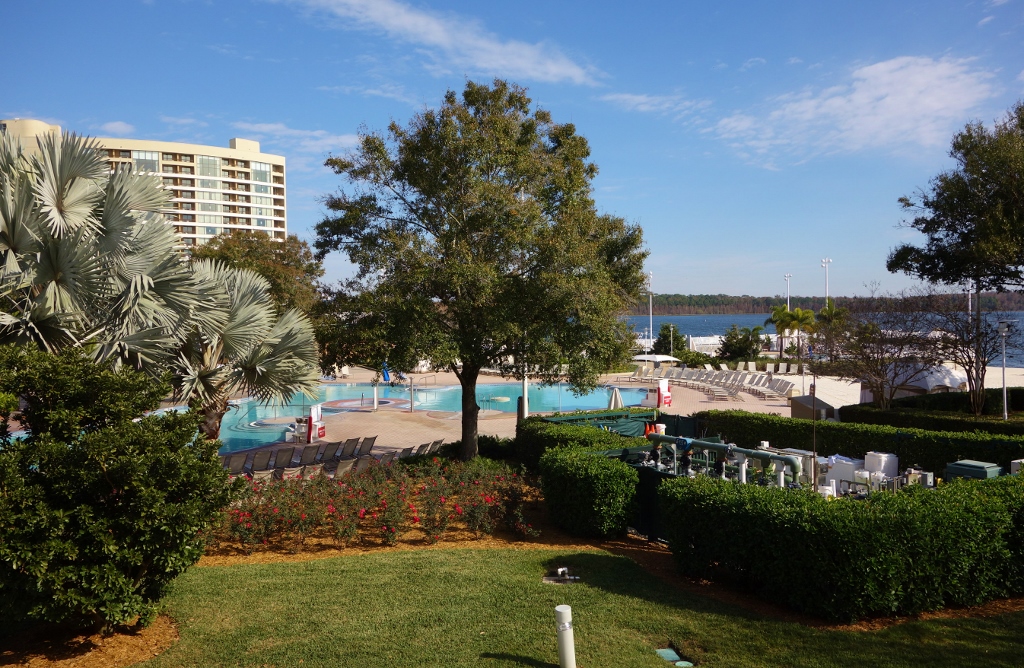 While the Contemporary served as Disney World's flagship resort until the Grand Floridian opened in 1988, such was not Disney's original intention.
In its pre-opening master plan, the never-built Venetian Resort (to be built between the Contemporary and the TTC) was to become the resort's flagship hotel.
Also planned but never built were the Asian Resort, planned for the current site of the Grand Floridian, and the Persian Resort, to have been built on Bay Lake, between the Contemporary and Tomorrowland.
The Venetian site was revisited in the 90s for the Mediterranean Resort, but the site was found to be too expensive to build on at that time.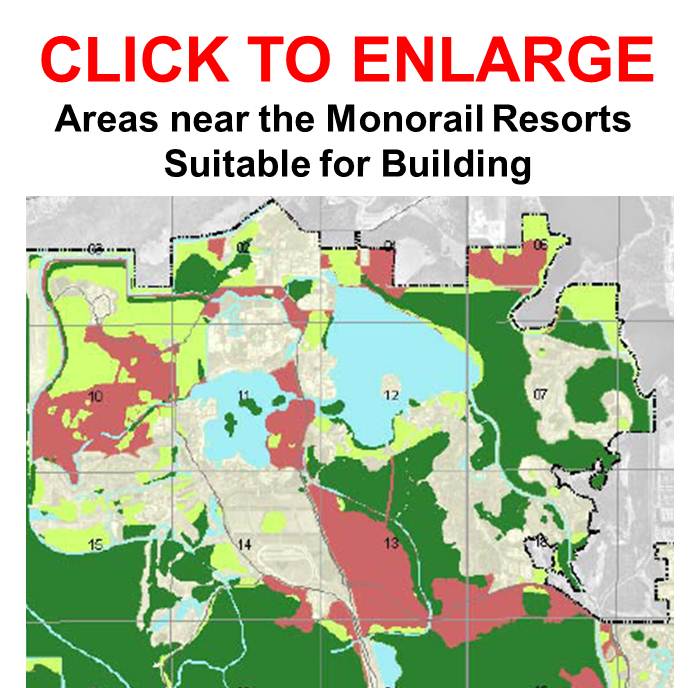 Disney World's master planning is influenced (though not shaped, it's a long story, see this, though there are some lies in it…) by the Reedy Creek Improvement District's long term plan.
The latest version includes all of these spots as potentially buildable.
Land suitable for further development is marked on the map in red; marginally suitable land is in light yellow-green. (Unsuitable land is in dark green.)
So maybe we'll see more Magic Kingdom deluxe resorts one of these days…
TOPICS IN THIS REVIEW OF DISNEY'S CONTEMPORARY RESORT
OTHER KEY PAGES FOR WHERE TO STAY AT DISNEY WORLD


Follow yourfirstvisit.net on Facebook or Twitter or Pinterest!!