Disney's NextGen Project to Include Partial Conversion of the Wildlife Express Train to High-Speed Rail
By Dave Shute
OPTION TO LEAVE RAFIKI'S PLANET WATCH AT 237 MPH TO BE CREATED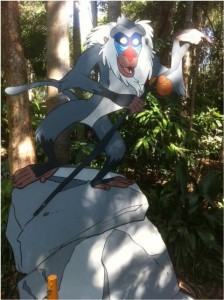 April 1, 2011: Sources at Walt Disney World have confirmed that Disney's NextGen Project will include conversion of the outbound portion of the Animal Kingdom's Wildlife Express Train to high-speed rail.
When the conversion is completed, guests will be able to leave Rafiki's Planet Watch at speeds topping out at 237 miles per hour.
Until now, the NextGen Project has been principally understood as having three components:
1. An opportunity for Disney World guests to extend the period when they are confused about exactly what is and is not a snack on the dining plan from just their time at the resort to as long as six months before their arrival.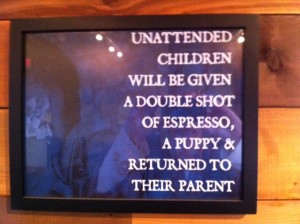 2. New queueless queues with expansive play areas where small children can be lost. As a result, signs such as that at the right are going up all over Disney World (the espresso is NOT a snack on the Dining Plan).
3. An incentive for baseless speculation.
The addition of high speed rail clarifies the NextGen picture. Moreover, the proposed routing of the new high speed rail line presents interesting additional opportunities for Disney to redevelop the far–sometimes very far–northeastern reaches of Disney World.
WHY HIGH SPEED RAIL AT RAFIKI'S PLANET WATCH?
Rafiki's Planet Watch is a component of Disney's Animal Kingdom theme park.
It's currently reachable and exit-able only by a slow train pulled by a diesel-powered locomotive, the Wildlife Express Train.
The train departs from a station in Harambe, stops at the Rafiki Planet Watch station, and slowly completes the one-way loop back to Harambe.
Rafiki's Planet Watch includes, among other remarkable exhibits, a number of nicely painted pieces of plywood–see above.
Another highlight is an often empty veterinary clinic.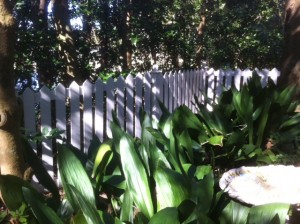 However, probably the best-loved attraction there illuminates how white picket fences can be composted.
This attraction lines the pathway from the train station to the painted plywood area.
See the image to the right for a particularly nice example of an exciting composting fence.
Disney World guests are quite willing to take the slow train to Rafiki's Planet Watch, but for some reason are looking for a much faster way to depart it.  Hence the high speed train idea.
Sources note that the new Disney World high speed rail not only will be very fast but also will serve a compelling transportation need. Unfortunately, this means it will not be eligible for federal high speed rail stimulus funding.
However, Demetree Hamrick, from the Center for Policy and Cupcake Studies, notes that "the health records in the veterinary clinic may be eligible for ARRA HI-TECH meaningful use stimulus funds, if Disney's lemurs can be trained to sign their HIPAA notifications."
THE ROUTE OF THE NEW NEXTGEN HIGH SPEED RAIL AT WALT DISNEY WORLD
This completes the first page of this two page article.  For the second page, click here.
RELATED STUFF