Dining at Disney's Contemporary Resort
By Dave Shute
For the first page of this review of Disney's Contemporary Resort, click here.
DINING AT DISNEY'S CONTEMPORARY RESORT
Except for some lackluster counter service offerings, dining at Disney's Contemporary Resort is about as good as it gets at Walt Disney World.
The top floor California Grill offers fine and family-friendly dining with great views of the Magic Kingdom (and its fireworks, if you time it right)
The fourth floor Chef Mickey's is one of the most popular character meals on property
The under-appreciated first floor Wave of American flavors offers fine value for money, and is almost always reservable on short notice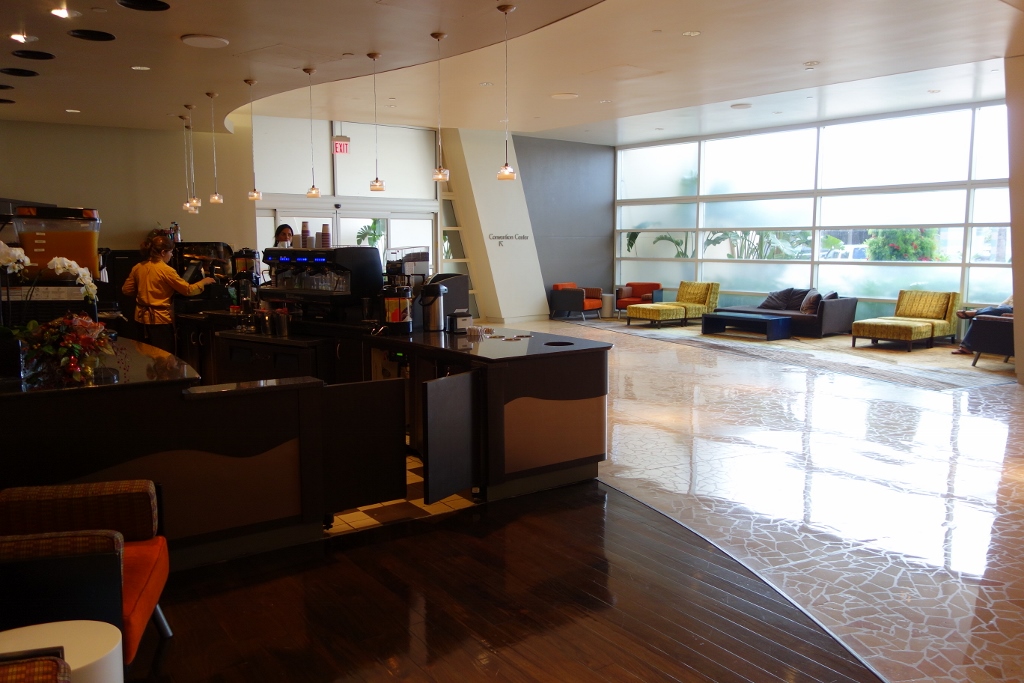 The first floor has at one corner a small coffee bar…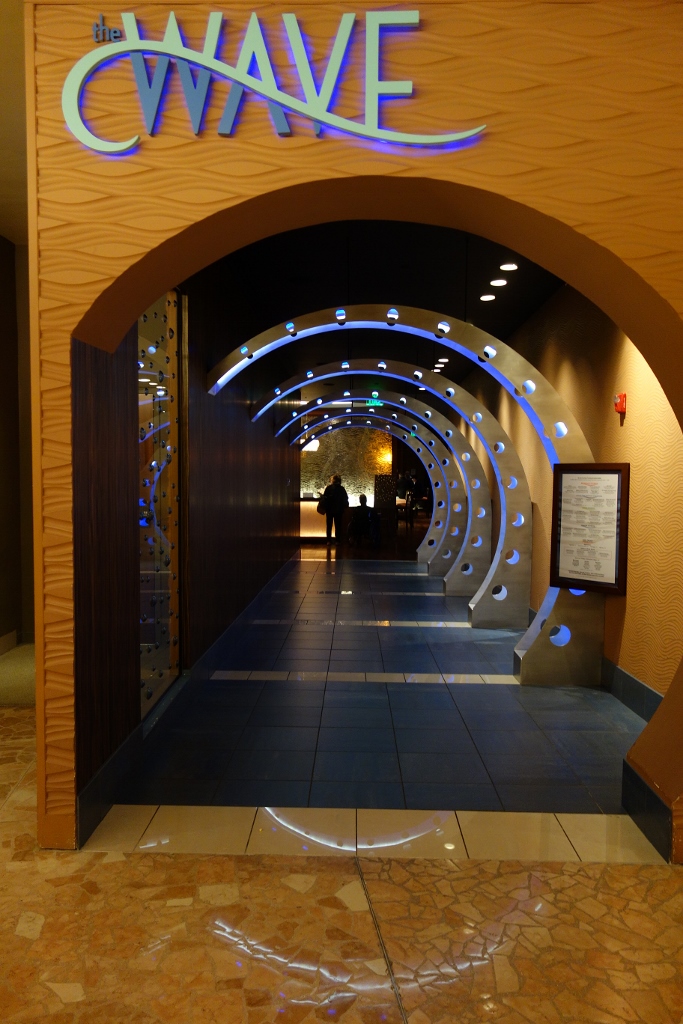 …and at the opposite diagonal is one of the three table service restaurants at the Contemporary, The Wave of American Flavors.
Below is the Wave's menu from my most recent visit–as always on this site, click it to enlarge it.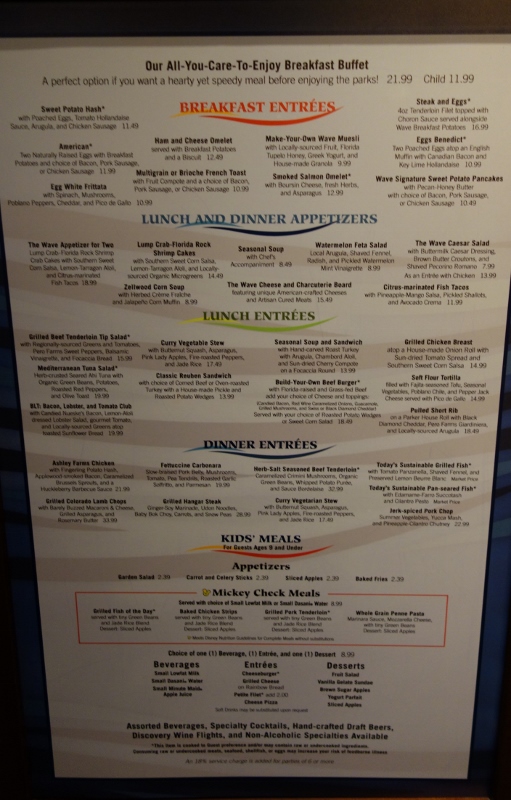 Here's the review of The Wave from our book, The easy Guide to Your Walt Disney World Visit 2019, the best reviewed Disney World guidebook series ever: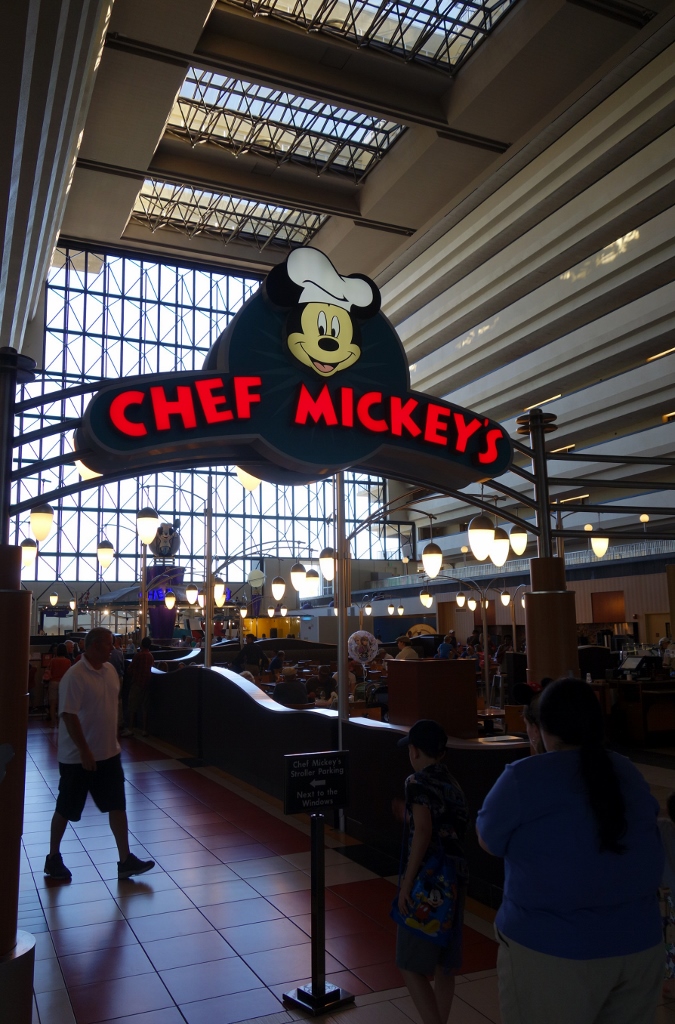 Back in the main Tower, on the 4th floor–accessible via elevator, or often more quickly on escalators–you'll find most of the rest of the offerings at the Contemporary, including Chef Mickey's, a loud family favorite. (I mean that the setting is loud, not that it is a favorite of loud families, although the latter would explain the former.)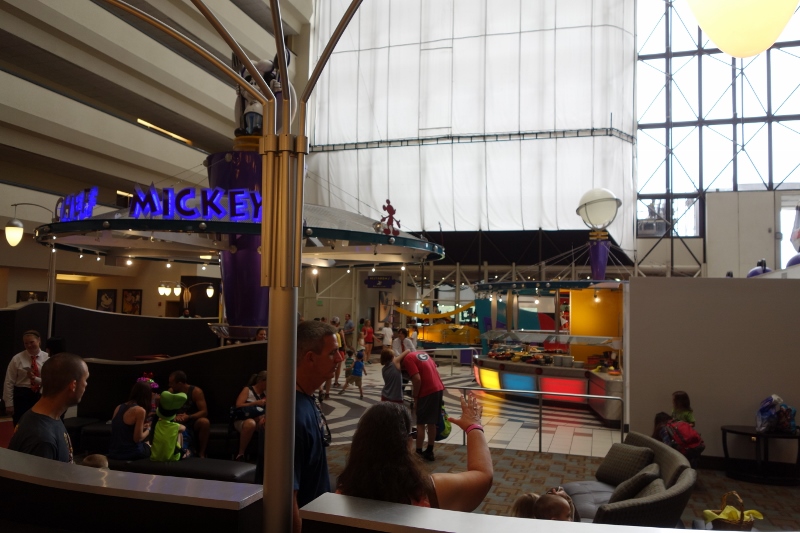 Here's the review of Chef Mickey's  from our book, The easy Guide to Your Walt Disney World Visit 2019: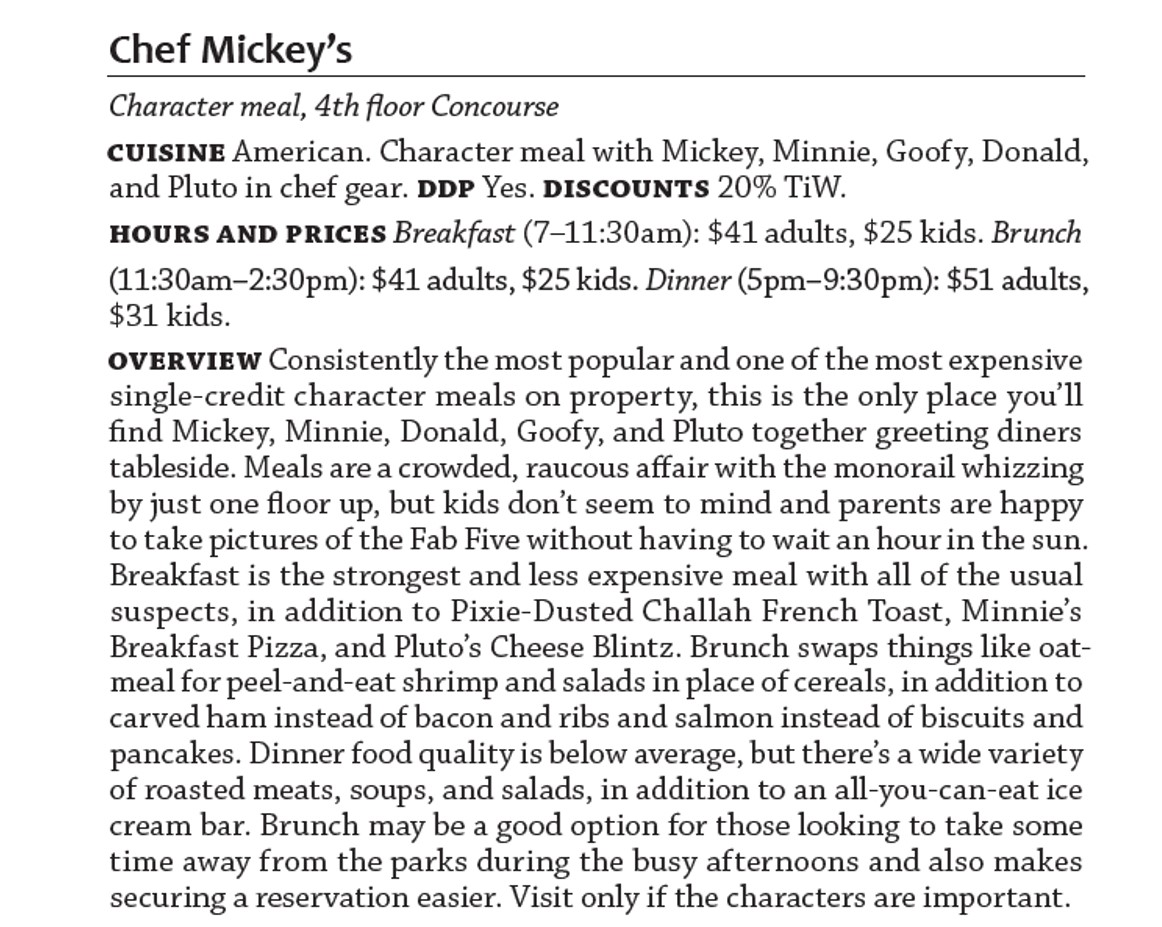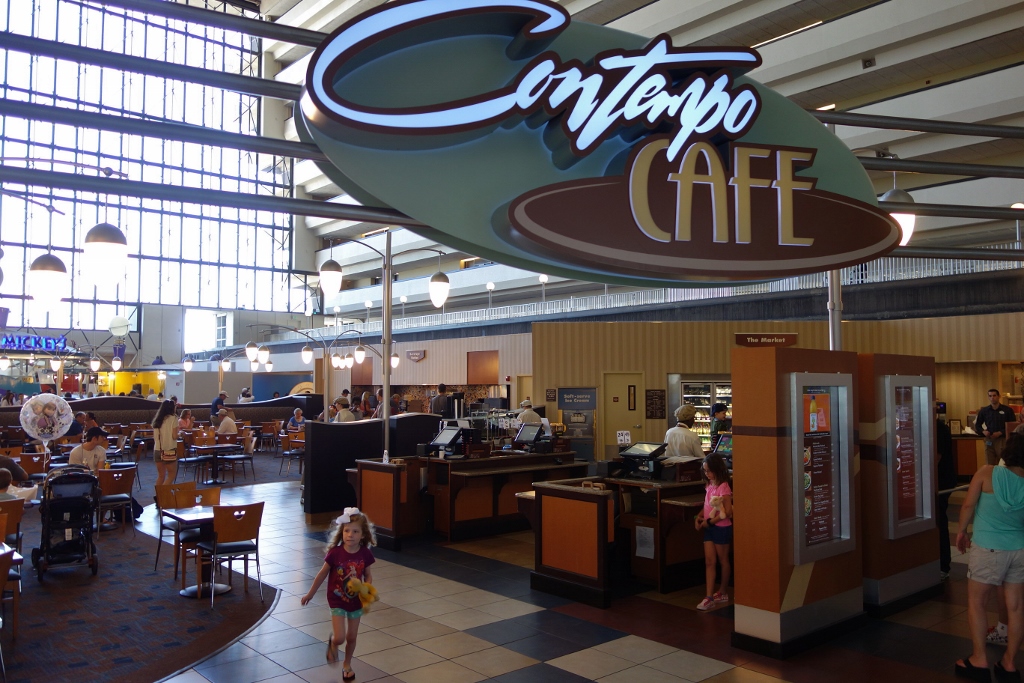 Near Chef Mickey's you'll find a weak but adequate counter service offering, the Contempo Cafe.
The thin menu: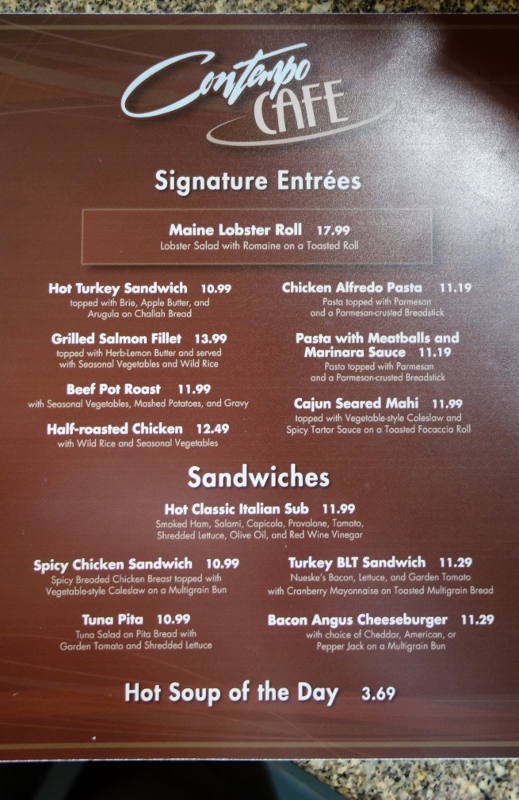 At the Contempo Cafe you pick your cold items from the fridges and make your hot selections at the cashier station (not at electronic kiosks, as used to be the case).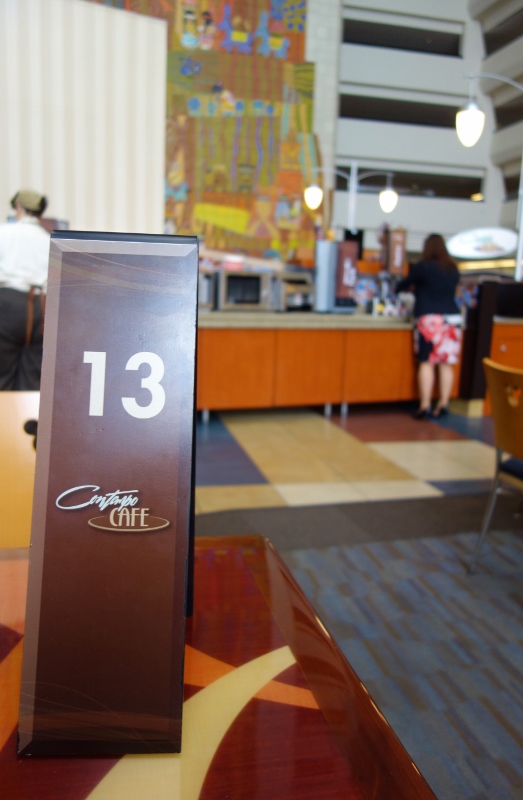 You'll then be given a numbered placard, and a server will bring your hot food to your table.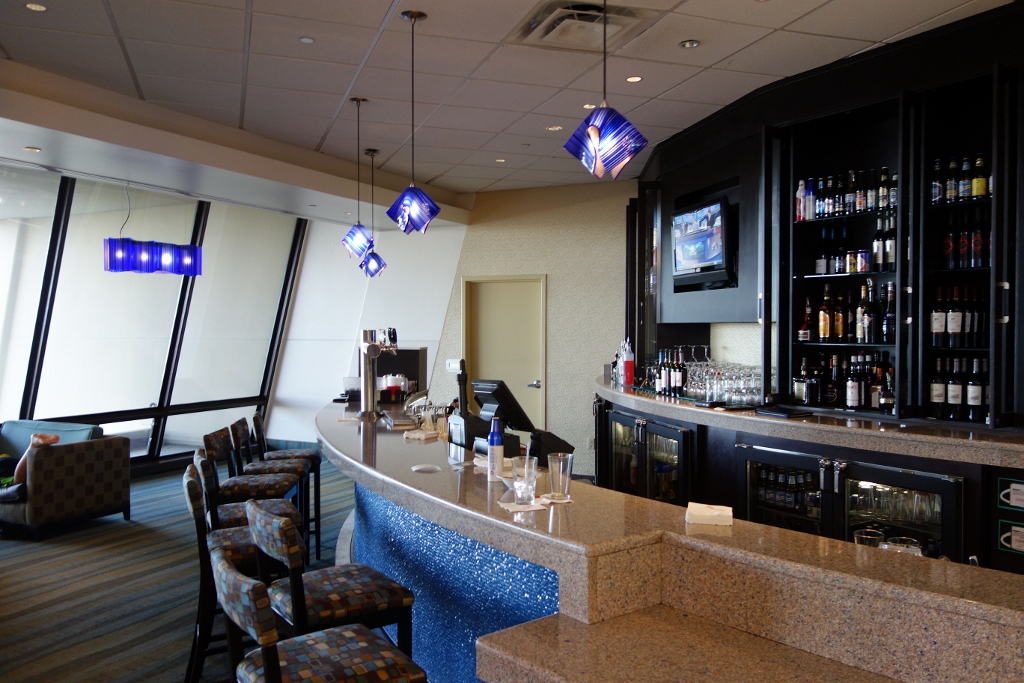 Nearby is a poorly located and weak-looking bar.
At the very top of the Contemporary is the storied California Grill.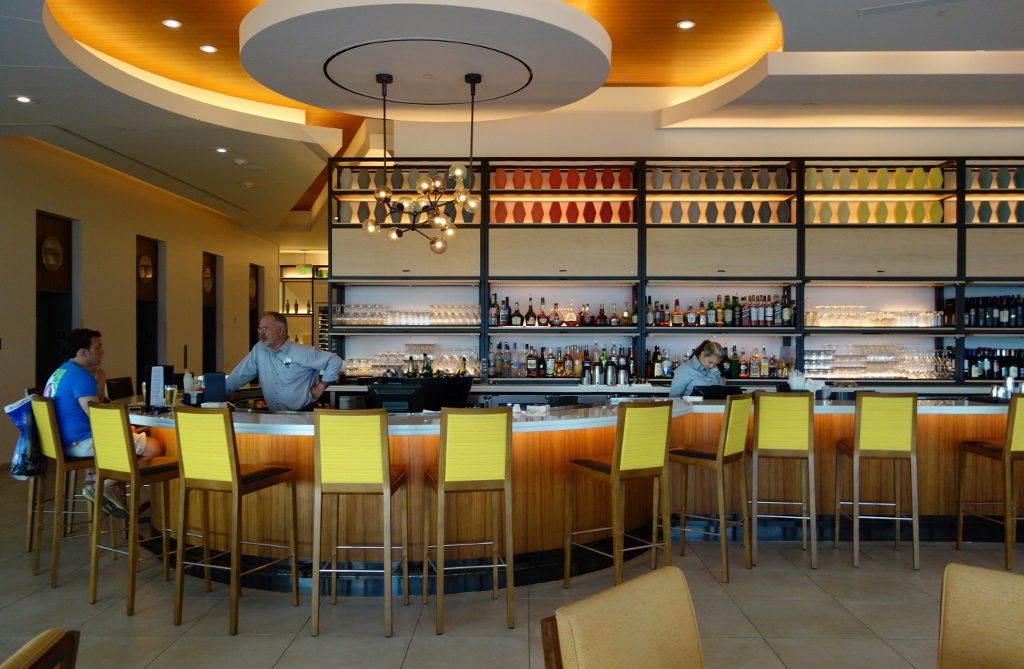 A great place for a family meal, celebration, or to watch Wishes after (or during) dinner, it's often booked up months in advance, but its bar is not reserved, and does serve the main menu.  The bar may not be open to new guests, though, as the later dinner crowds gather.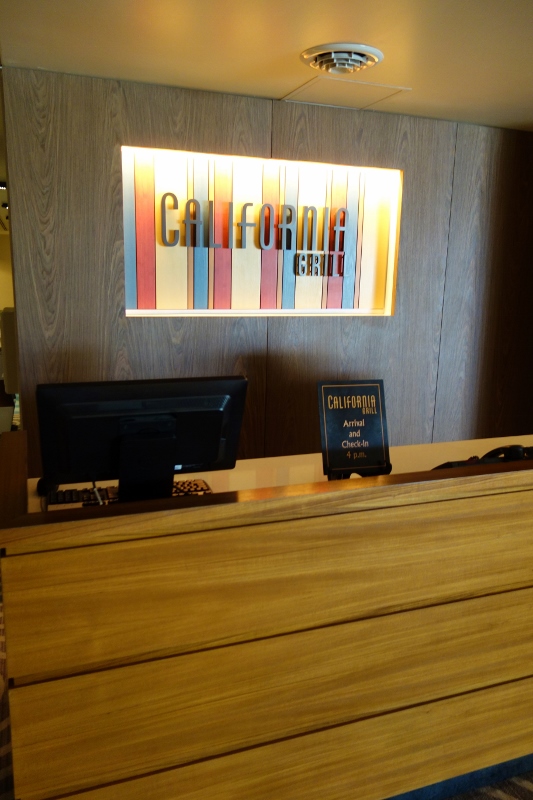 The podium to check in for your reservation or to see if you can go to the bar is on the second floor.
Here's the review of the California Grill from our book, The easy Guide to Your Walt Disney World Visit 2019: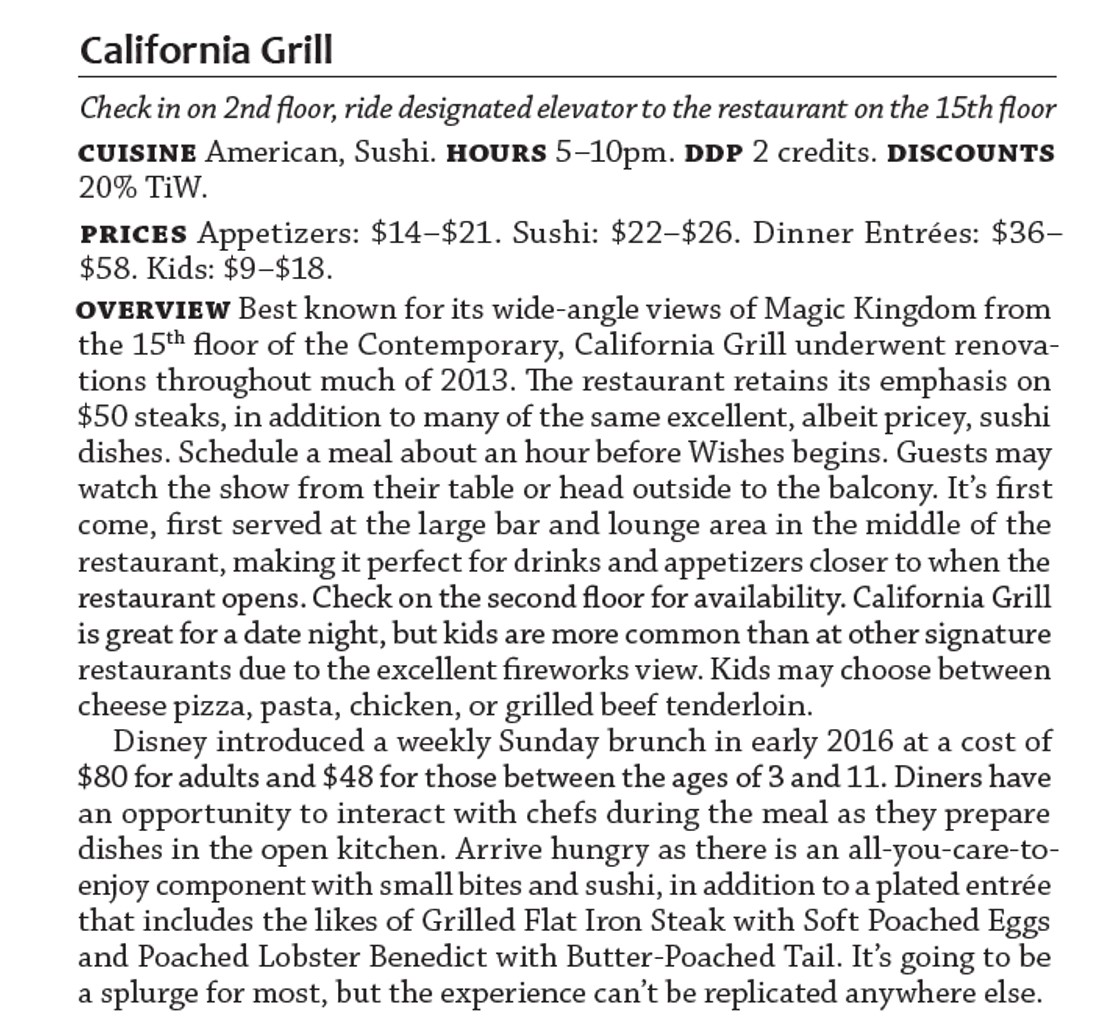 This review continues here.
TOPICS IN THIS REVIEW OF DISNEY'S CONTEMPORARY RESORT
OTHER KEY PAGES FOR WHERE TO STAY AT DISNEY WORLD


Follow yourfirstvisit.net on Facebook or Twitter or Pinterest!!
RELATED STUFF