Copper Creek Villas at Disney's Wilderness Lodge
By Dave Shute
Last week Disney World announced that the new Disney Vacation Club spaces at the Wilderness Lodge would open for booking in later March for visits beginning in mid-July.
Floor plans are available in places like this.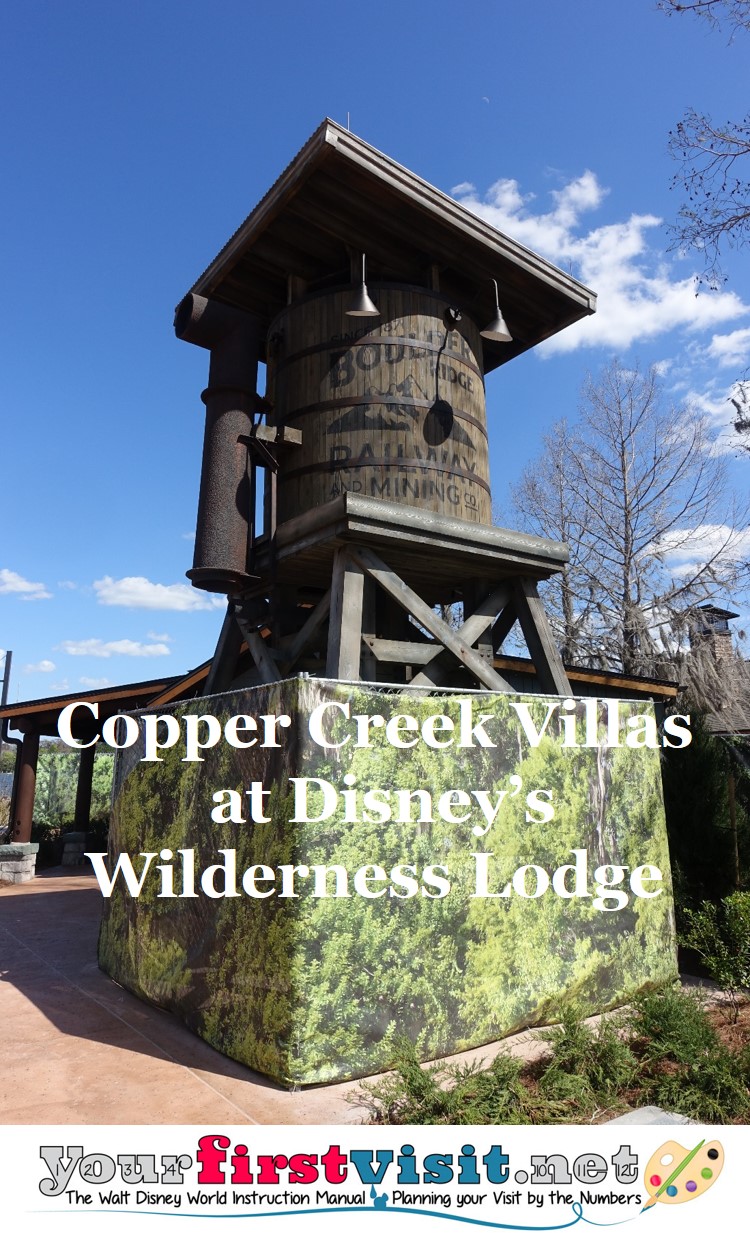 The already existing DVC villas here have been renamed as "Boulder Ridge," and the new villas are called "Copper Creek."  The new name
Enables different DVC contracts (regular, non-DVC folk can stay here by renting points, or cash like any other room)
Signals differences between the new Copper Creek floor plans and the old Boulder Ridge ones, and
Will require me to spend hours cleaning up the proper nomenclature on this site (and in our book)
Rather than do all that work now, I thought I'd comment instead on the apparent differences in floor plans for comparable spaces at Boulder Ridge and Copper Creek, and also compare Copper Creek's Grand Villas and Cascade Cabins to alternatives.
Obviously I haven't stayed in Copper Creek yet–no one has.  So the following observations come from floor plans.
The nice-looking, smaller floor plans are from me and of the older rooms in Boulder Ridge
The larger, cartoony ones are from Disney and are of the new rooms in Copper Creek.
Copper Creek is largely a redo of old southeast wing Wilderness Lodge standard rooms, but there is also a new stretch of lakeside cabins along Bay Lake.
STUDIOS, ONE AND TWO BEDROOM VILLAS IN COPPER CREEK
In general,
Balconies are better in Copper Creek–larger, and present in every bay.
Decorating and art look much better in Boulder Ridge (although I'll reserve judgment a bit on that until I stay in these rooms in person).
Which Studio you prefer is a function of whether you view the fold-down third bed/fifth sleeping spot in Boulder Ridge that disappears the dining table more as a feature or a bug. For most, if you don't need the extra sleeping spot or capacity, Copper Creek will be the better choice.
The biggest difference to the One and Two Bedroom Villas is that Copper Creek can seat many more at the dining table, making it a better choice.
Complicating all this for Studios, One and Two Bedroom Villas is the theming differences between the old Boulder Ridge building and the refurbed Wilderness Lodge wing that holds these spaces for Copper Creek.
The glory of the Wilderness Lodge is its lobby; those staying in Copper Creek will see more of its lobby; QED.
However, Boulder Ridge has a real charm of its own, has better decor and colors, is closer to the bus stop (but farther from the Magic Kingdom boat), and will likely be more tranquil than Copper Creek.
GRAND VILLAS AND CASCADE CABINS AT COPPER CREEK
There's no Grand Villas in Boulder Ridge to compare the Copper Creek Grand Villas to, but compared to other DVC grand Villas those in Copper Creek are astonishing.
The Cascade Cabins also have nothing comparable at Boulder Ridge, but are similar to the Bungalows at the Polynesian, without the theme park view. I am a tad troubled by the potential for people to confuse these with the Cabins at Fort Wilderness (more people than you'd guess mix up the two resorts, or think they are the same thing).
STUDIOS AT COPPER CREEK
Copper Creek Studios have a larger balcony and a smaller closet than those in Boulder Ridge.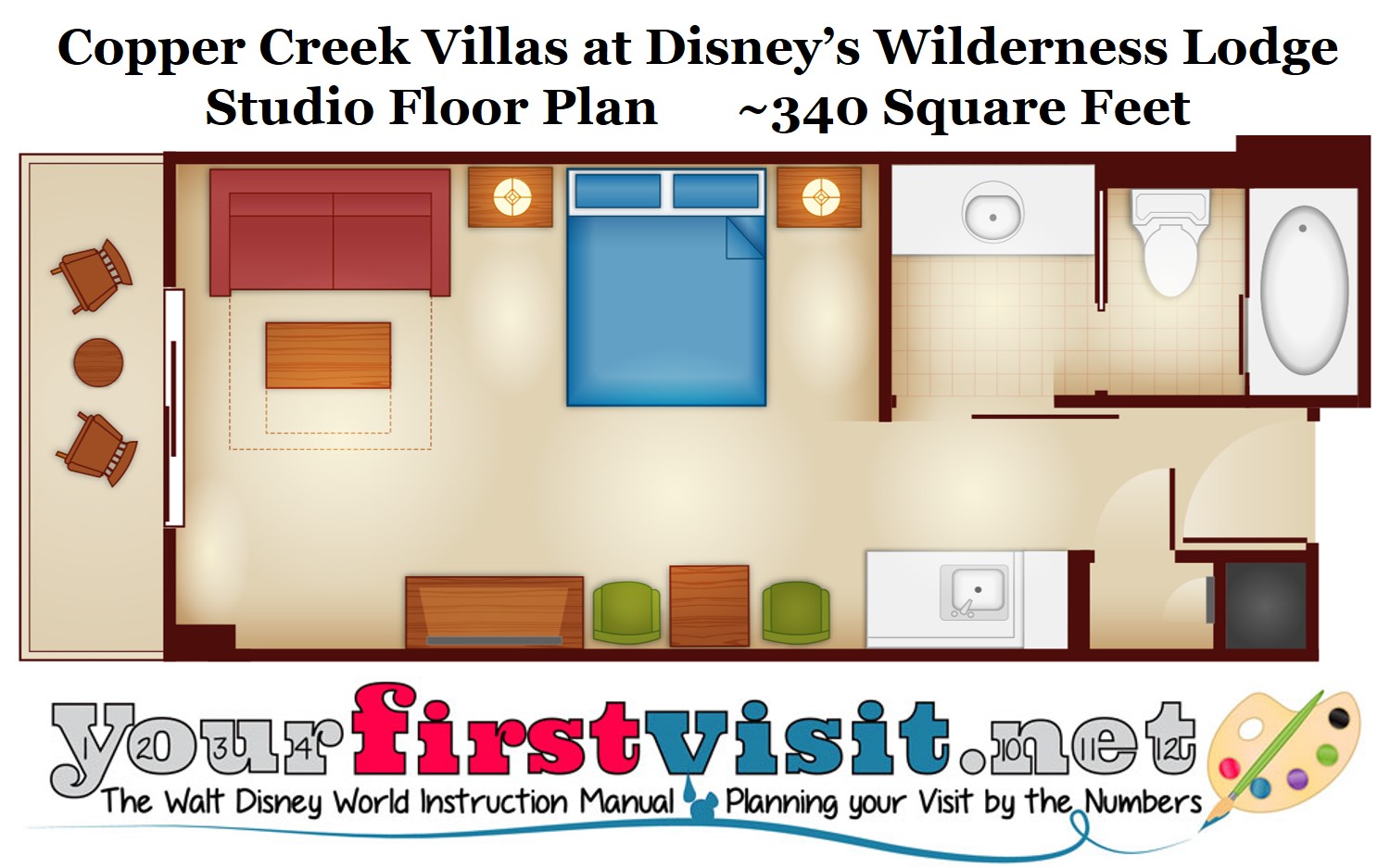 They also do not include the fold-down bed that makes the table go away when it is used.
This apparently means that these rooms will sleep 4 on two spots, rather than 5 on three spots…but the strange dashing on the coffee table in front of the sofa makes me wonder if this is an ottoman bed a la All-Star Music Family Suites.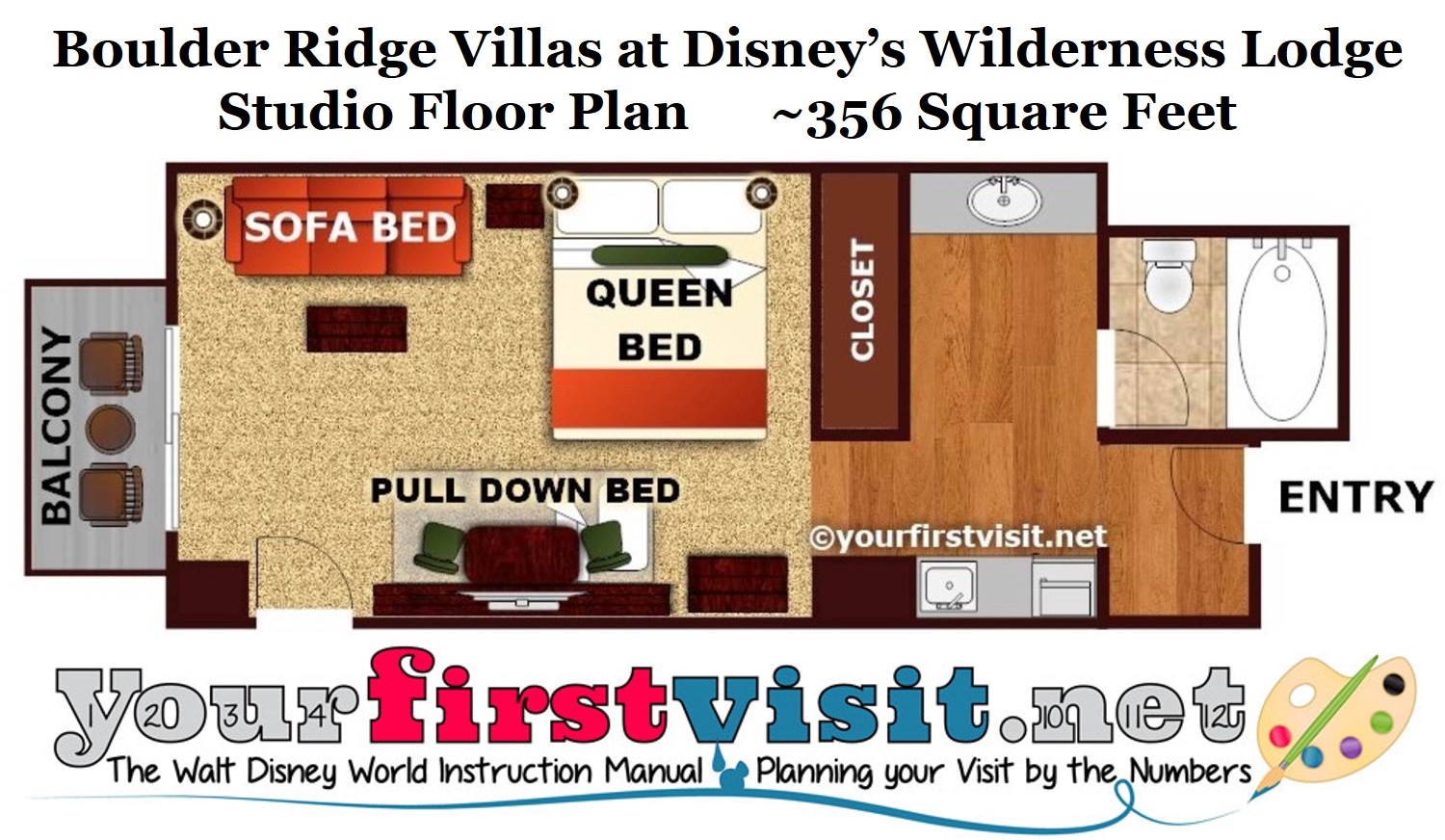 Reactions to the fold down bed in Boulder Ridge have been mixed, with some loving the extra sleeping spot and added capacity, and others resenting that, when used, it takes the table away.
ONE BEDROOM VILLAS AT COPPER CREEK
You'll see varying figures for the size of One Bedroom Villas at Copper Creek.  Since they are built on the bays of two old standard rooms, this is pretty straightforward–they are 680 to 690 square feet, depending on your source for Wilderness Lodge room sizes.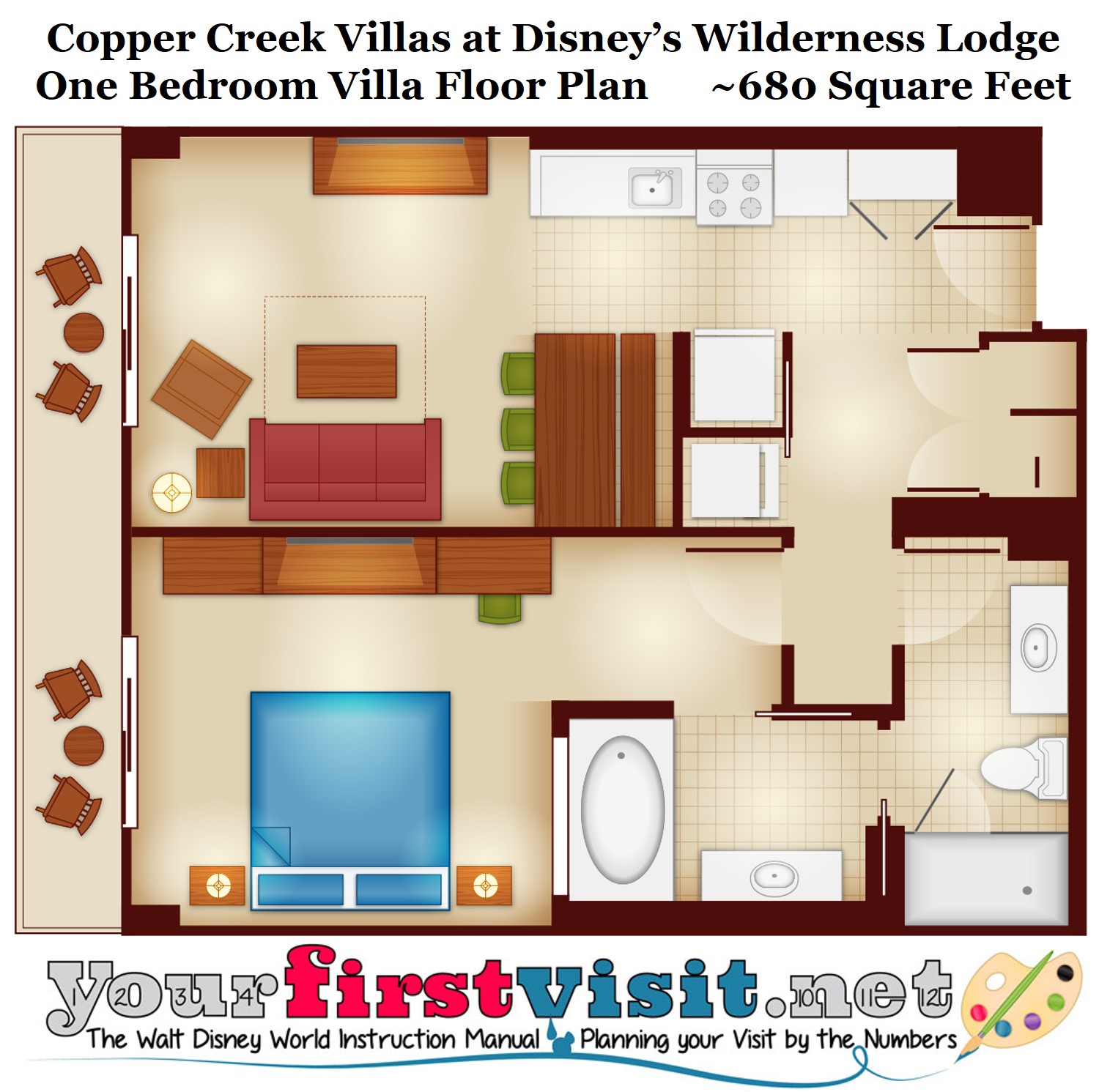 One Bedroom Villas at Copper Creek also have the larger balconies and smaller closets of the Copper Creek Studios.
The king bedroom side and bath have similar amenities and layouts to Boulder Ridge, but with more right angles.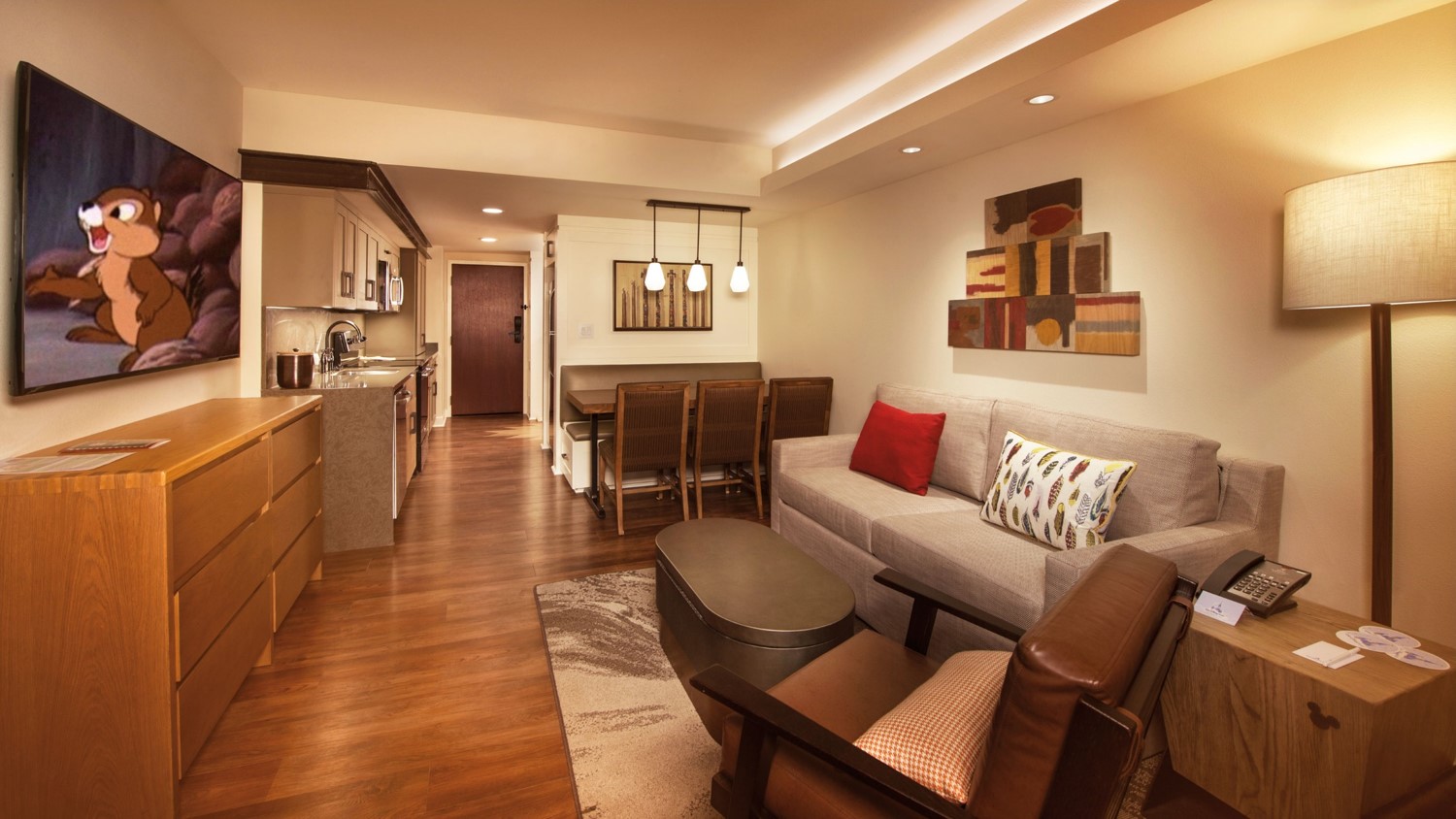 The floor plan of the living/dining/kitchen side–and the only good artist's rendering that I've found of Copper Creek spaces–shows some distinctive changes.
Note that the dining table seats six, a big increase compared to Boulder Ridge, although those chairs look awfully cramped–and also note the unusual "across the hall" positioning of the refrigerator. However, the breakfast bar is gone.
Finally, I am not at all keen on what the rendering shows as the color scheme or the art, but willing to reserve judgment until I see these spaces in person. Other Disney renderings of the Copper Creek spaces I have seen–too small to post here–show equally uninteresting color and art choices.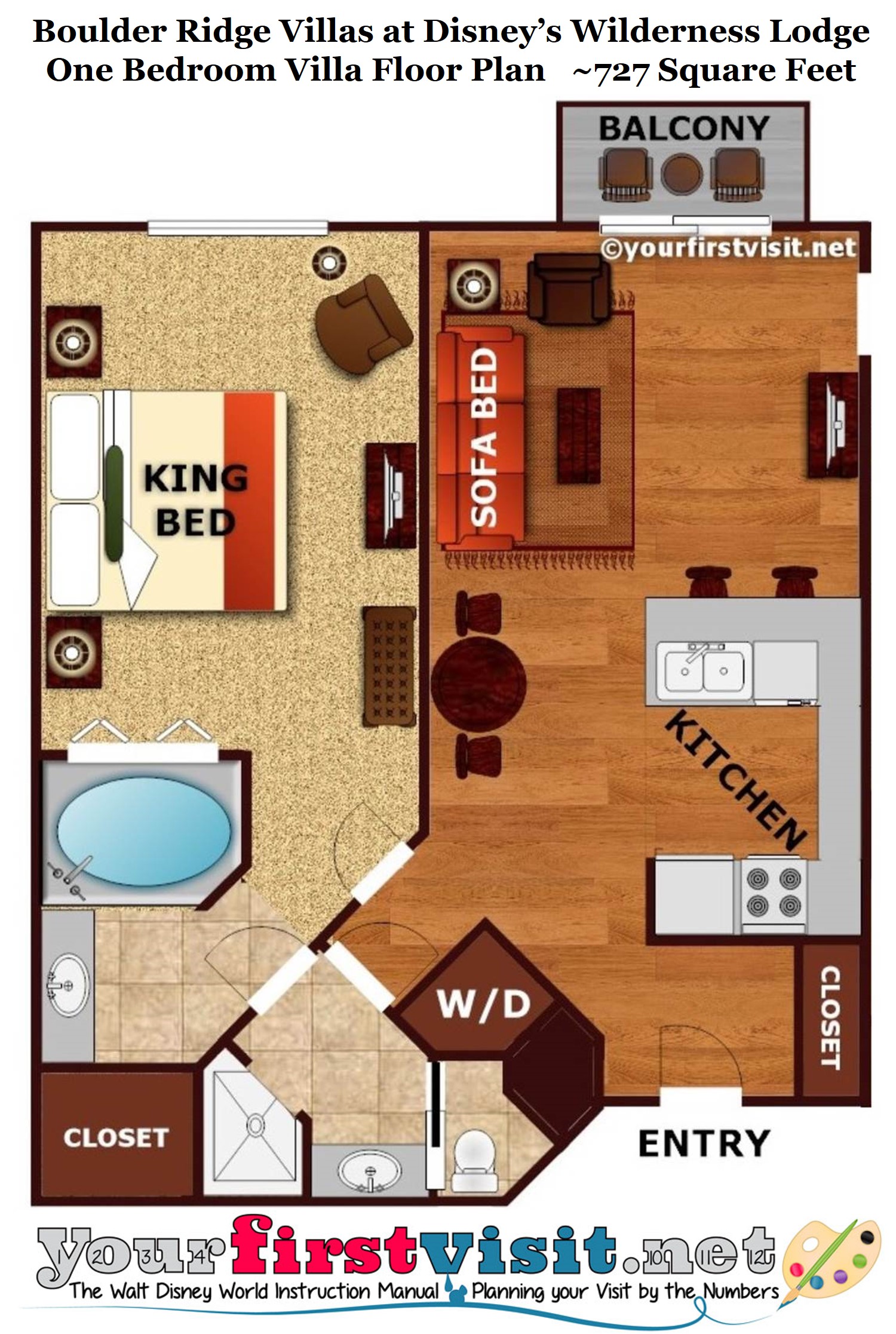 The living room seats four, the same as Boulder Ridge.
TWO BEDROOM VILLAS AT COPPER CREEK
There's two types of Two Bedroom Villas at Copper Creek.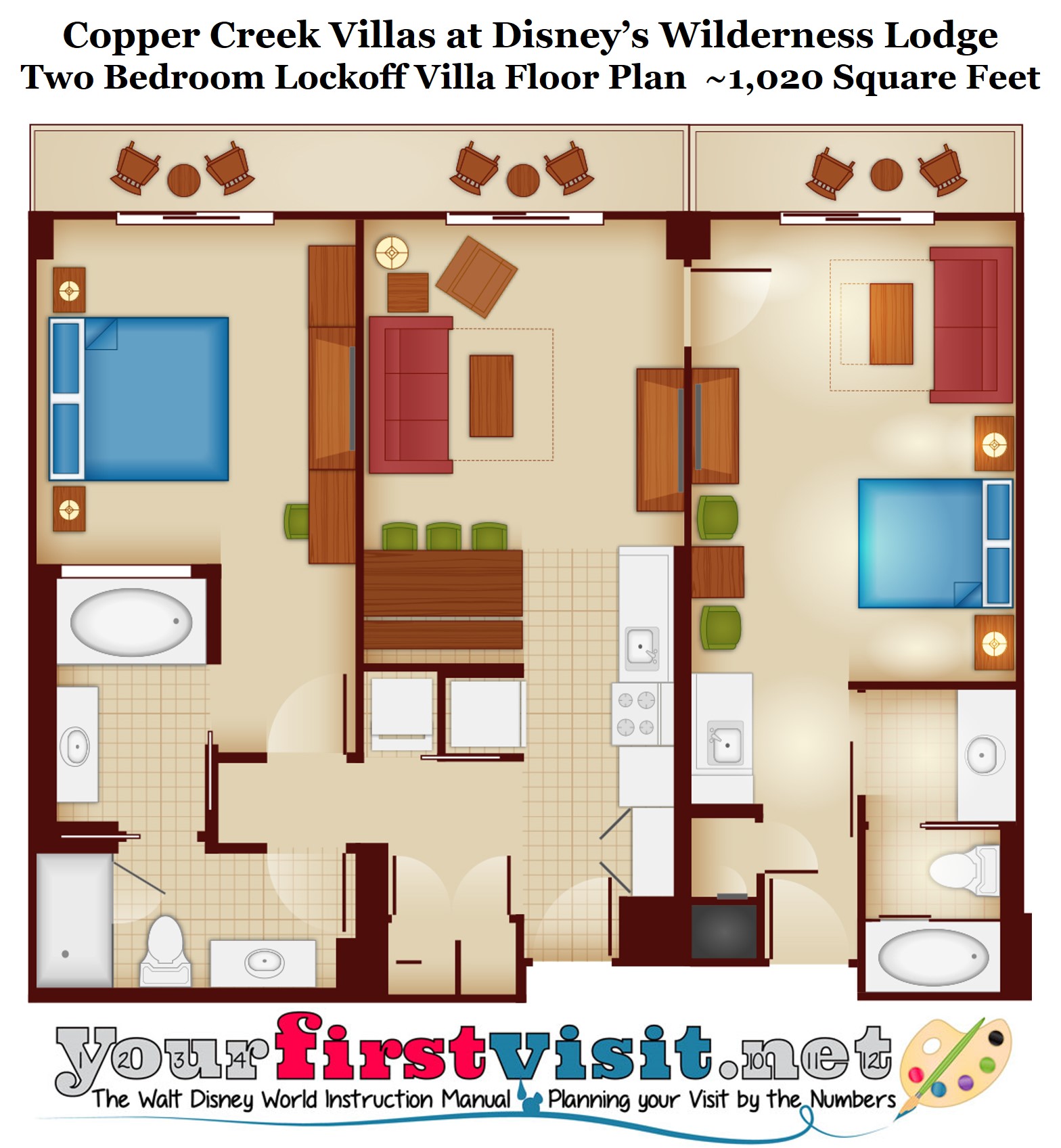 The "lock-off" (shown) combines a Studio and One Bedroom, and shares the merits of the spaces that make it up.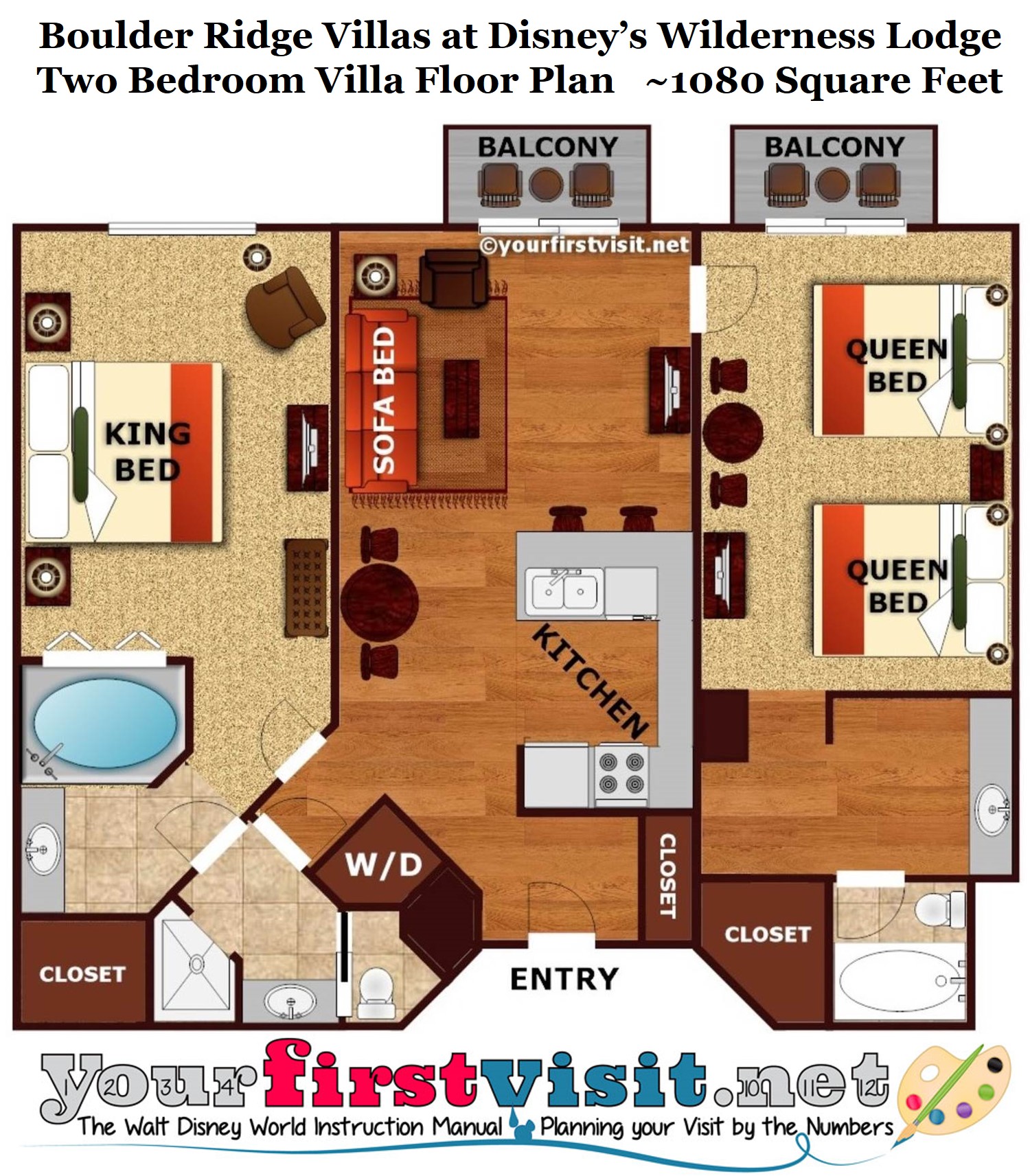 The dedicated Two Bedroom Villa (not shown) was designed from the start as a Two Bedroom Villa, and has differences in the second bedroom–two queens instead of the queen and sofa bed of a Studio; no microwave or mini-fridge; two bath sinks; no separate entry to the hall; and a shower instead of a tub.
ALTERNATE STUDIOS AND VILLAS
The corners of the wing of the Wilderness Lodge that Copper Creek was built into used to have deluxe rooms with an odd floor plan that included two spaces.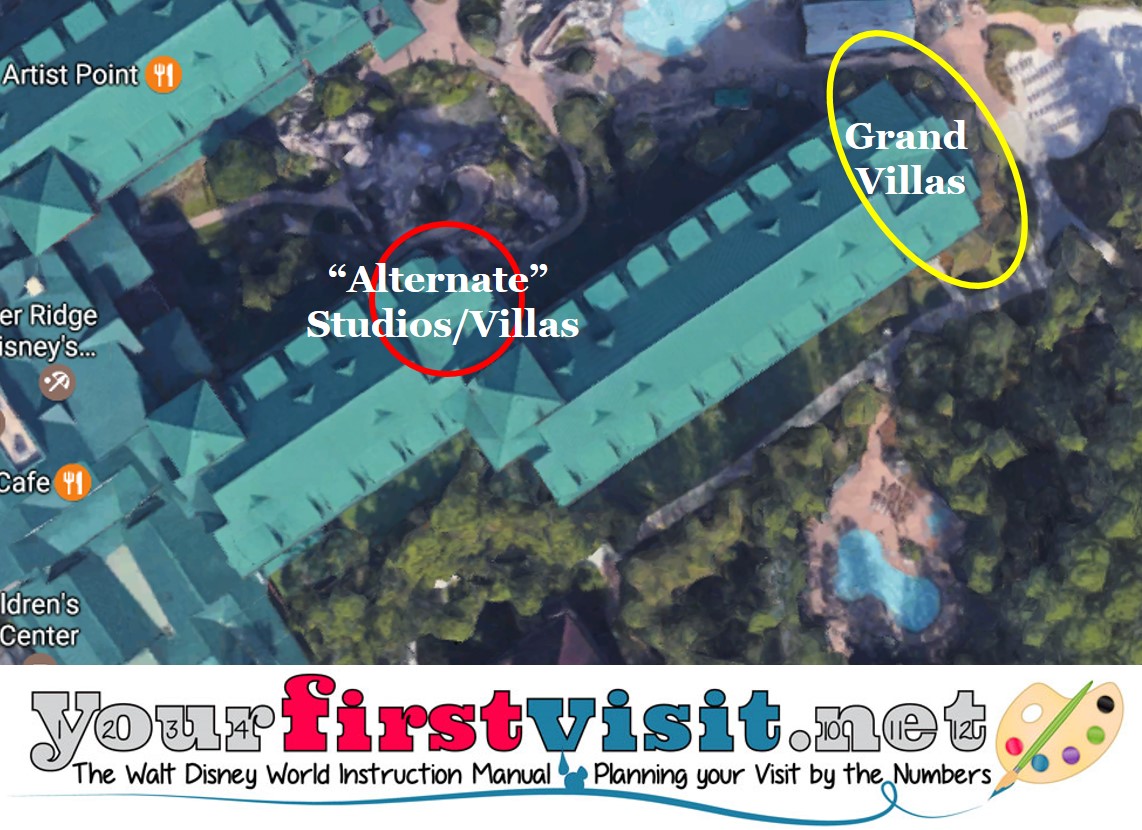 While most of these have been turned over into Grand Villas, a half-dozen or so have been built as "Alternate Studios" with more space and a separate living room.
These can be combined with a fairly standard One Bedroom Villa (the connecting door looks to be in a different spot) into an "Alternate Two Bedroom."
GRAND VILLAS AT COPPER CREEK
There somewhere between 4 and 6 Grand Villas at Copper Creek (I think there's 4) that combine two old deluxe rooms, three old standard rooms, an alcove, and–I think–some hall space.
Some have reported these to be more than 3,200 square feet, but the two deluxe rooms and three standard rooms sum to just a little over 2,000 square feet, requiring more than a thousand square feet of hall and alcove space, which I don't believe for a minute.  So I am estimating them as ~2,500 square feet.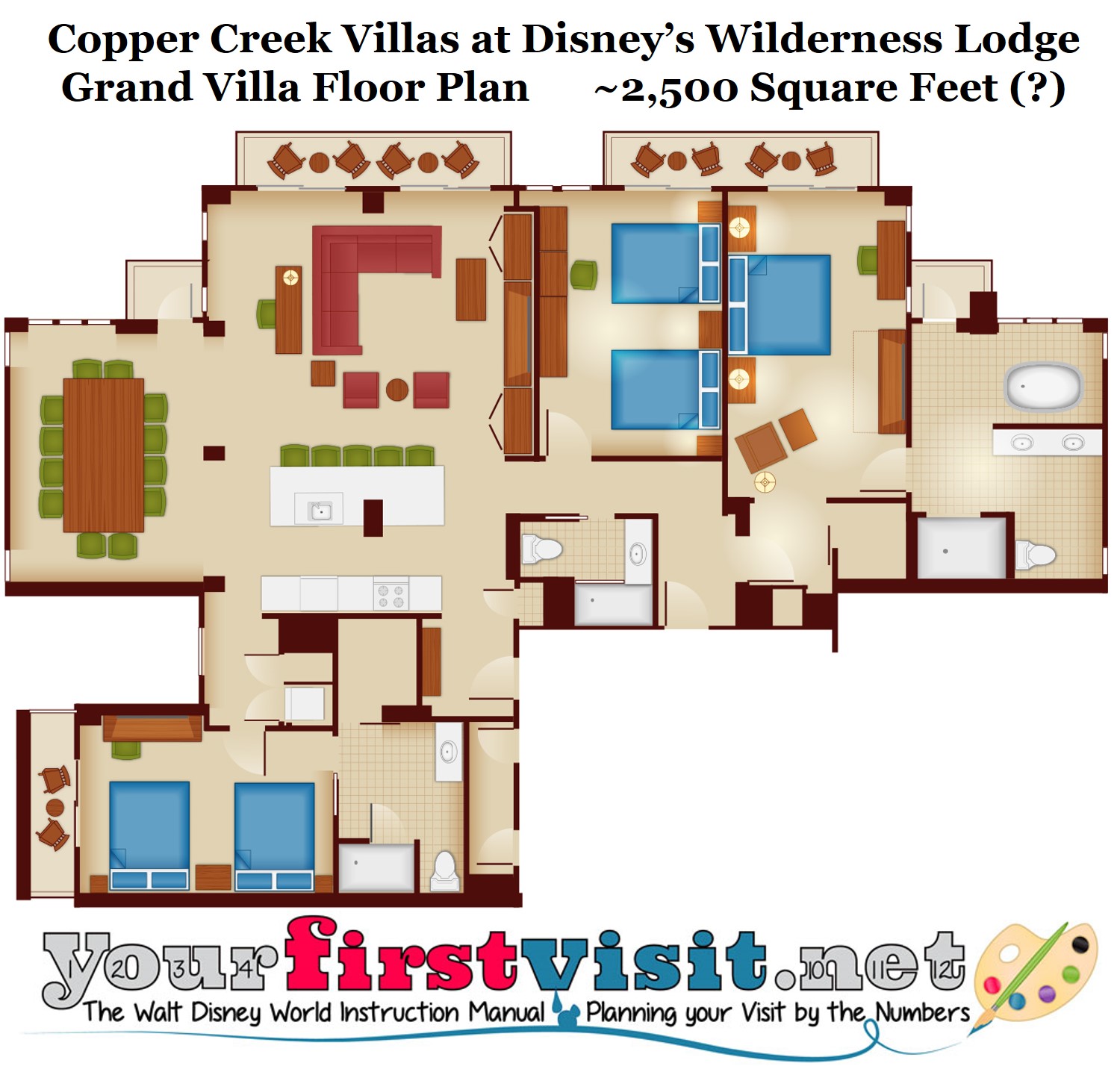 Whatever the size, these are glorious spaces, with what looks like the best living rooms, dining rooms, master baths, and suite of balconies among the DVC Grand Villas.
There is some awkwardness among the two two-queen bedrooms, with the more distant one (lower left) having  a private bath and balcony, and the one closer to the Master Bedroom sharing a hall bath and sharing a balcony with the master.
This can lead to much bickering…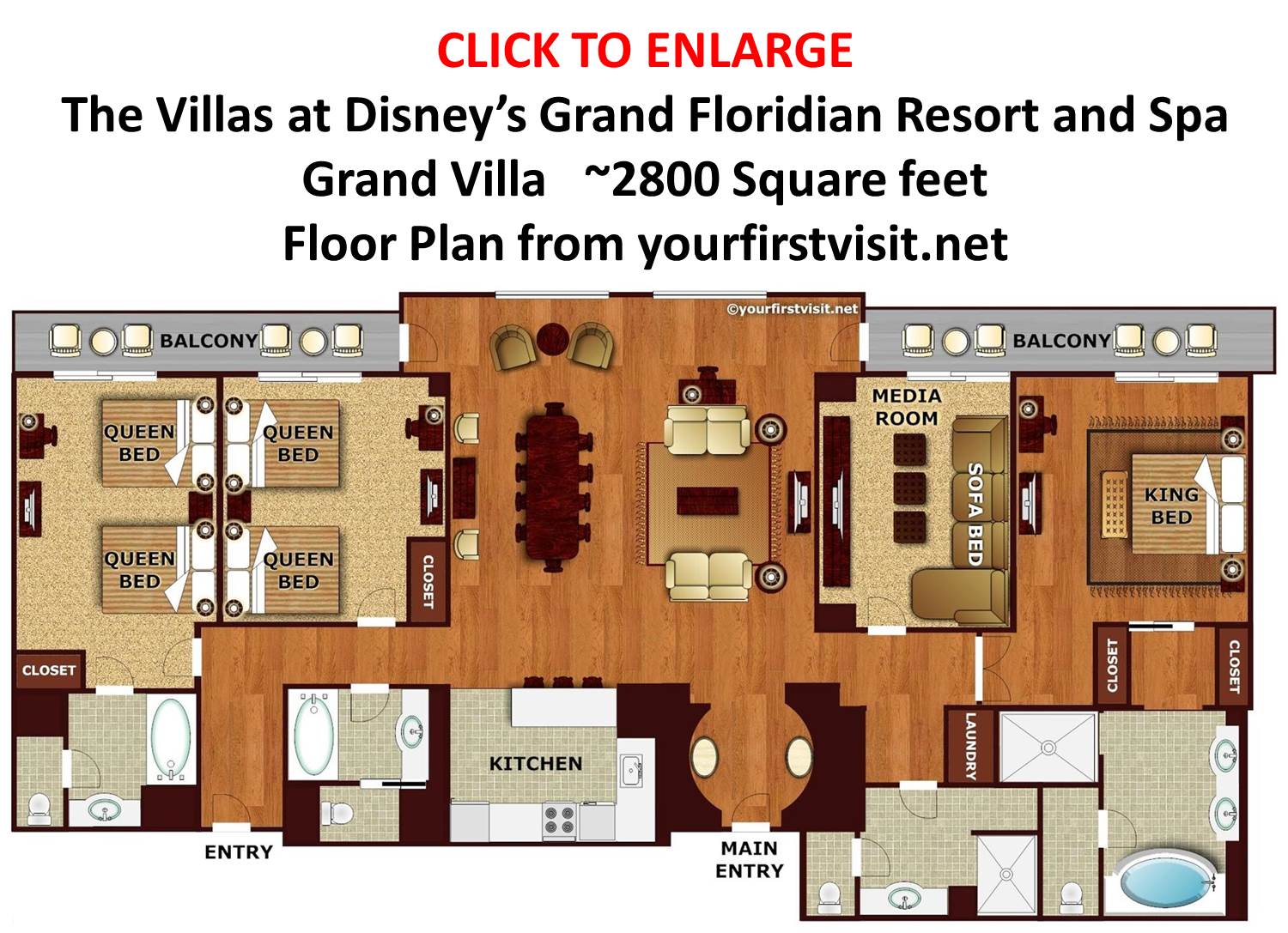 The latest Grand Villas to open before these, at the Grand Floridian, have the merit of what is in effect a fourth bedroom, in the media room. But most other DVC Grand Villas have the three bedrooms that you'll find at Copper Creek Grand Villas, and nothing as nice as its living and dining rooms.
CASCADE CABINS AT COPPER CREEK
The only part of Copper Creek to not be built in the Wilderness Lodge is the lakeside Cascade Cabins.
These cabins are pretty similar to the Bungalows at the Polynesian, with a different kitchen wall and what appears to be a (more comfortable) fold-out chair rather than a fold-down bed in the living room.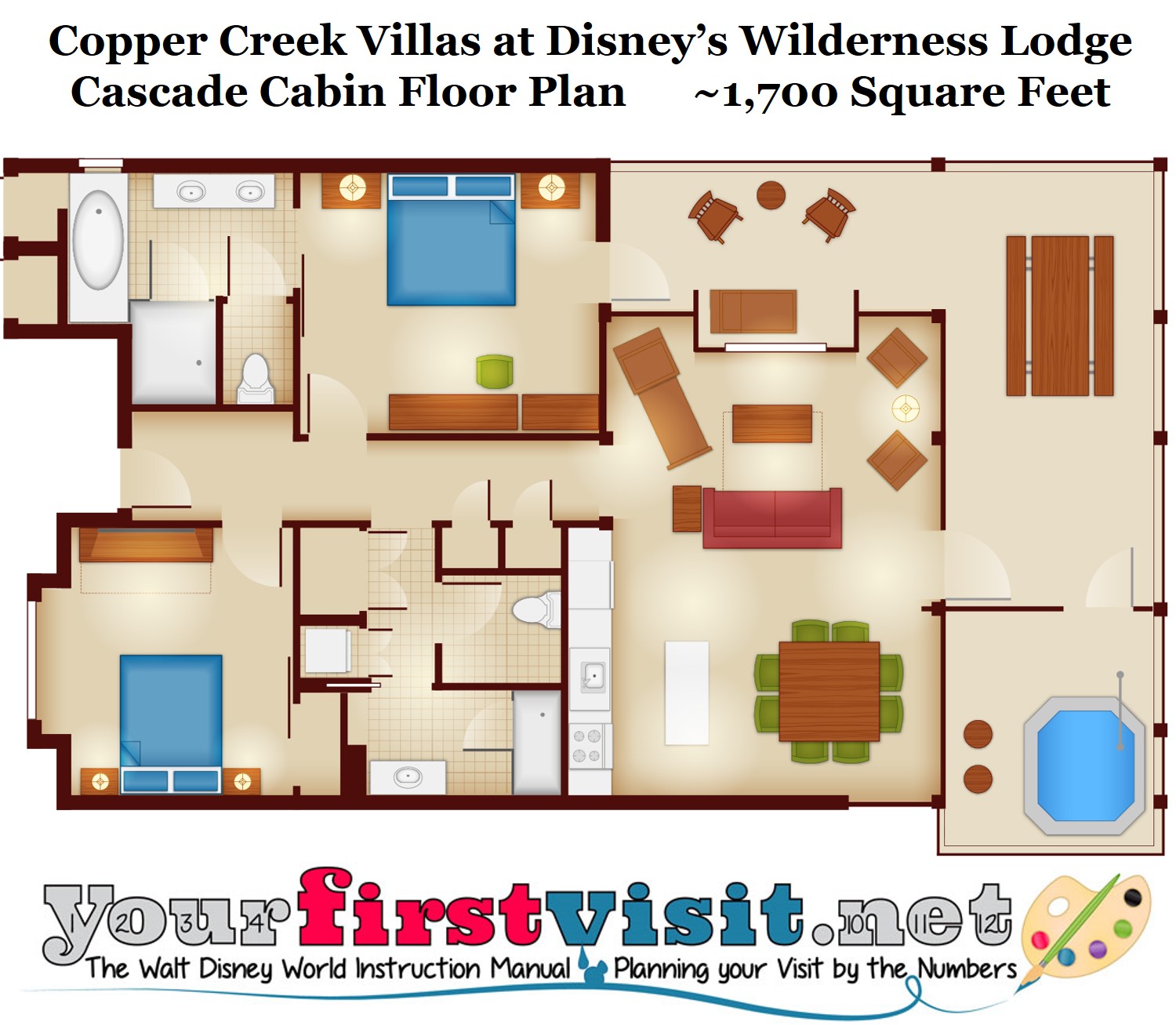 Prices for these are not out, so far as I know, but likely will be comparable to that of Copper Creek Grand Villas.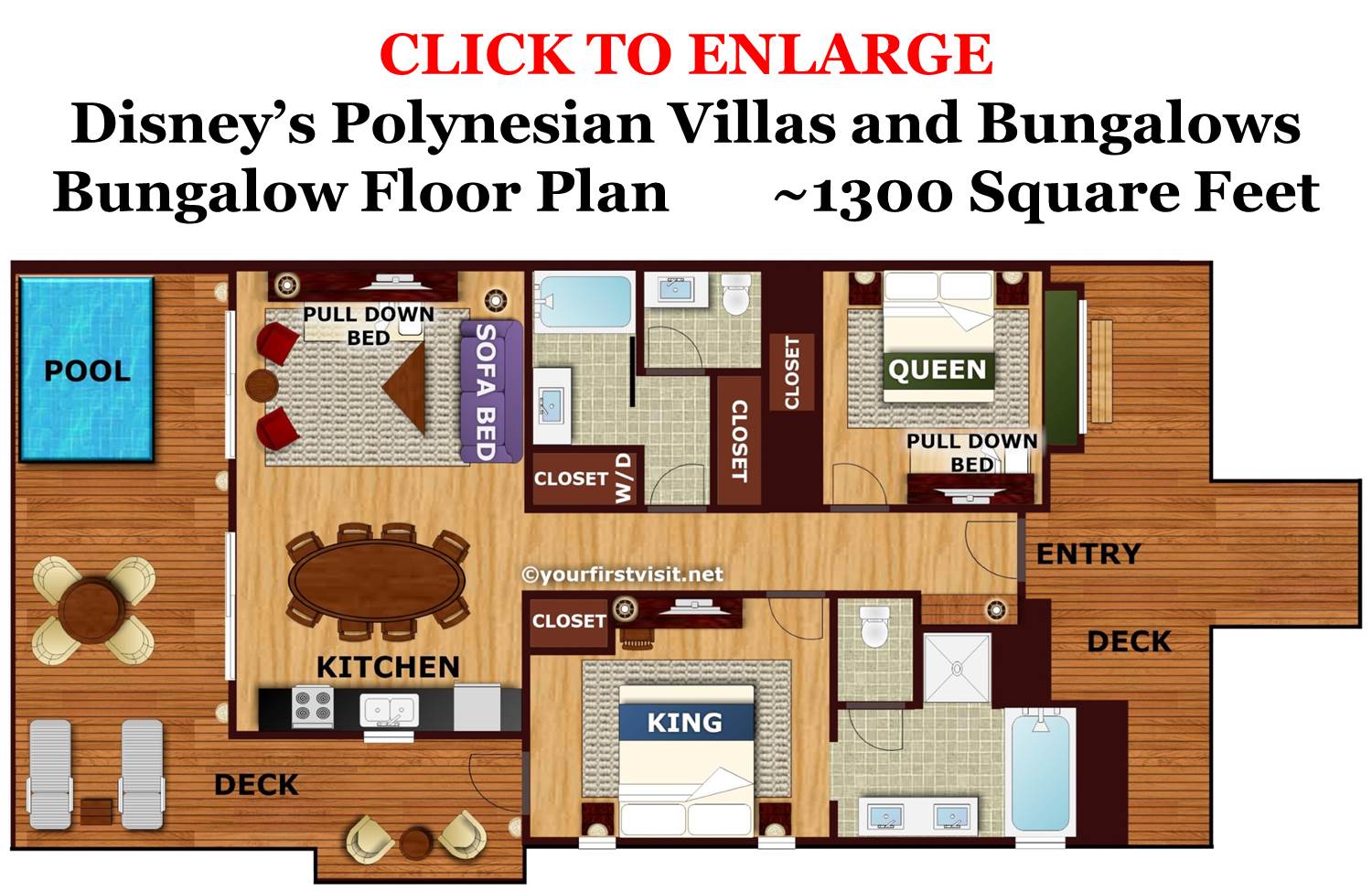 If the prices for these cabins come out to be as high as I think they will be, I don't know why anyone would stay in one of these…
OK, that's it for now.  I'll do a full review after my stay at Copper Creek this summer!



Follow yourfirstvisit.net on Facebook or Google+ or Twitter or Pinterest!!
RELATED STUFF