Theming and Accommodations at Copper Creek Villas at Disney's Wilderness Lodge
By Dave Shute
(For the first page of this review of Copper Creek Villas, see this.)
THEMING AND ACCOMMODATIONS AT THE COPPER CREEK VILLAS AT THE WILDERNESS LODGE
The Copper Creek Villas at Disney's Wilderness Lodge is one of many Disney Vacation Club options at Walt Disney World. These resorts are available not only to DVC members, but also to everyone else, just like any other Disney World offering, through the regular Walt Disney World website or resort reservations phone number at 407-939-7675.
Kelly, the long-time travel agent partner of this site, can also book them for you. See the form near the bottom of this page for how to contact her.
They also are sometimes available to the general public at a discount through renting points from a Disney Vacation Club member or point broker.
Because the two sets of options at the Wilderness Lodge, Animal Kingdom Lodge and Saratoga Springs are so different, for review purposes I count thirteen options among the Disney Vacation Club resorts at Walt Disney World.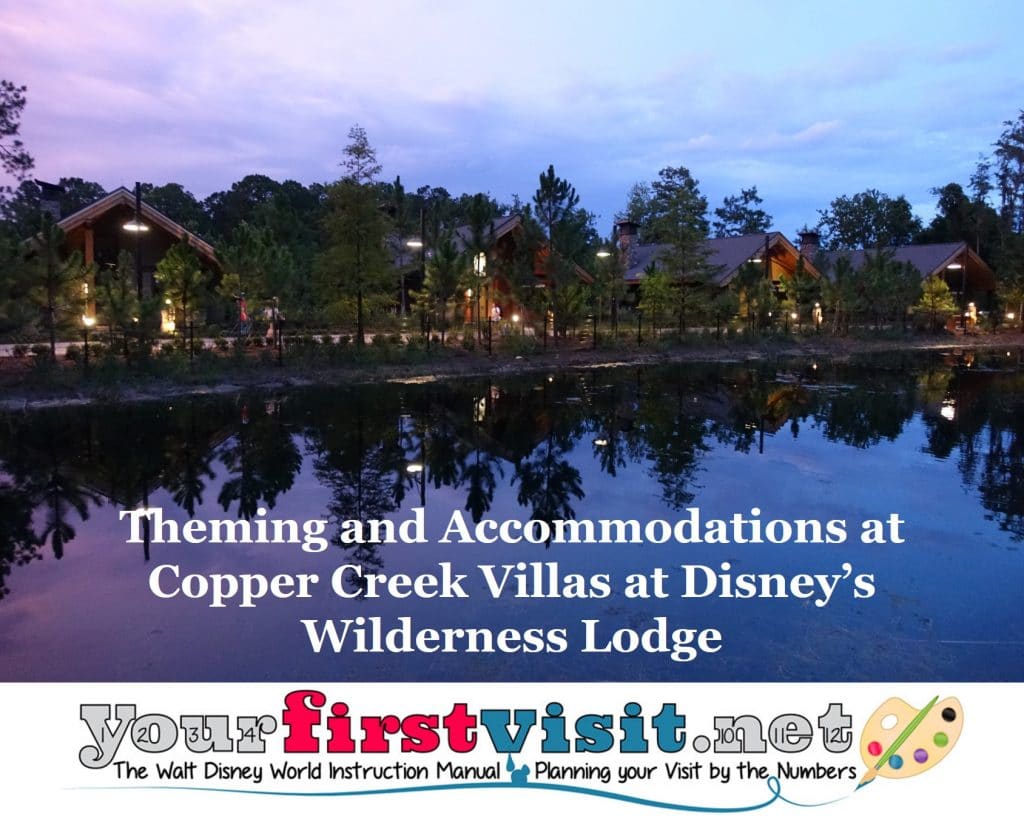 The next DVC offering to open will be Reflections, located on grounds that were formerly part of Fort Wilderness.
THEMING AT COPPER CREEK VILLAS
Disney's Copper Creek Villas and Cabins at the Wilderness Lodge is "rooted in the history of America's westward expansion, made possible by the building of the transcontinental railroad… It's a tip of the conductor's cap to America's rich railroad history, a period of time that famously captured the imagination of… Walt Disney."
More specifically, Copper Creek represents the end—and re-use—of the line. According to Disney, the three parts of the Wilderness Lodge complex have theming as follows:
"Disney's Wilderness Lodge draws inspiration from the majestic vacation lodges of yesteryear that attracted tourists traveling to U.S. National Parks during the dawn of the railroad.
"Boulder Ridge Villas revolves its scene around the rustic communities that emerged along this revolutionary mode of transportation as it grew in popularity.
"Copper Creek Villas & Cabins completes this tale by embodying modern life in America's Great Northwest. You'll find relics of this now abandoned railroad cleverly weaved into the Resort's contemporary vibe."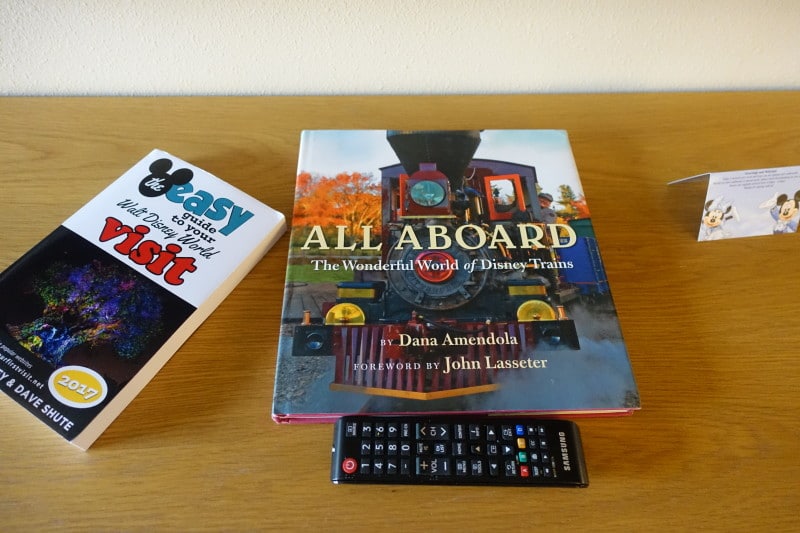 Frankly, I'm not at all sure what this claimed Copper Creek theming means.  To be specific, you will not find much in the way of railroad themed material in the rooms, other than the book above…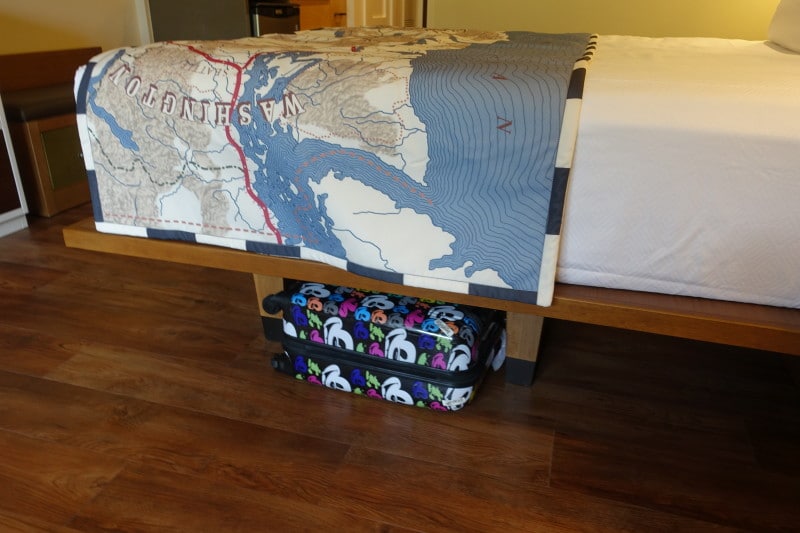 …and this bed fabric on Studio beds.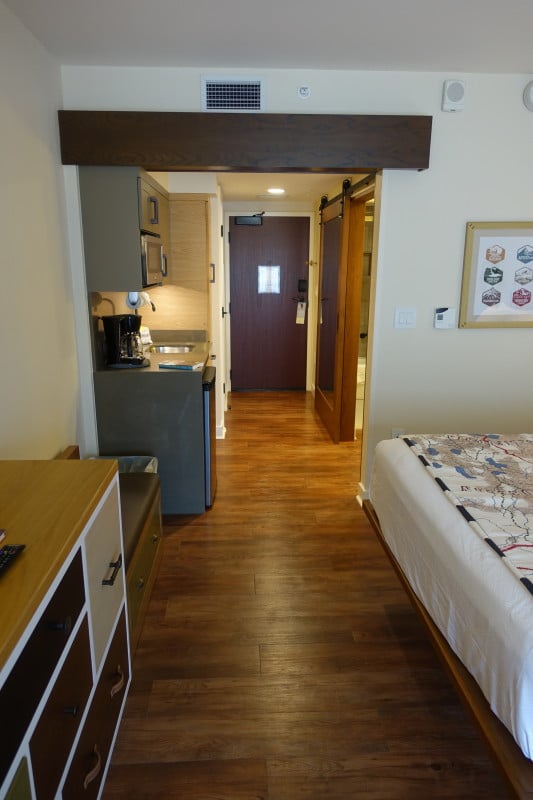 There's a beam in a Studio, but it's not in the proportions of a railroad tie…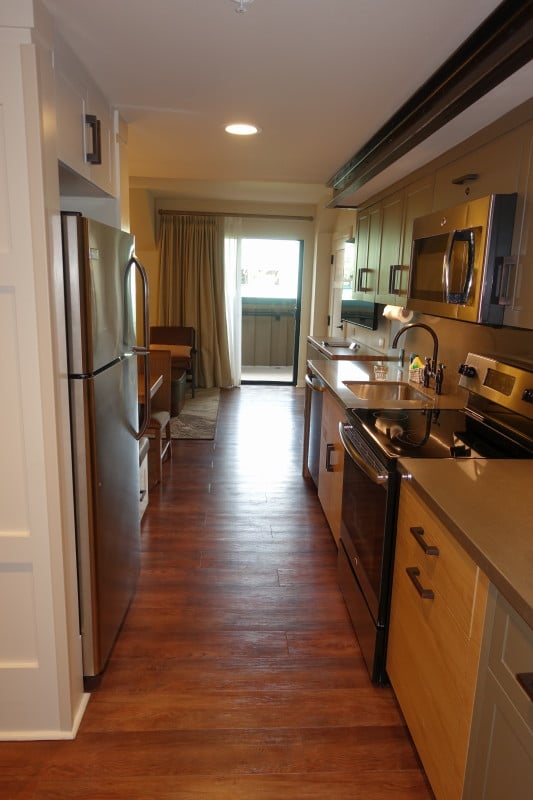 …and there's some curious metal above the kitchen cabinets in one and two bedroom villas, but it's not in the cross section of a railroad rail.
Otherwise, the art and decoration of the rooms is rustic, wilderness-y, self-referential to the Wilderness Lodge, and/or Native-American inspired.  You won't find much in the rooms that speak to railroads at all, much less "abandoned railroads." (A photo tour of a Studio and its art is here, and a photo tour of a One Bedroom Villa begins here.)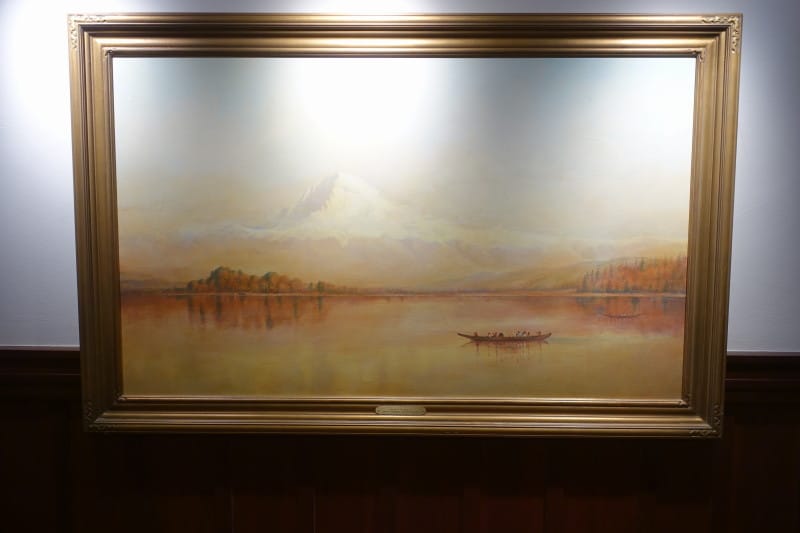 The hallways of the Copper Creek area of the Wilderness Lodge have the art that the Lodge is famous for–but it is either western vistas, Native Americans, or Native American artifacts–all lovely and interesting, and consistent with the rest of the Lodge, but not about "abandoned railroads."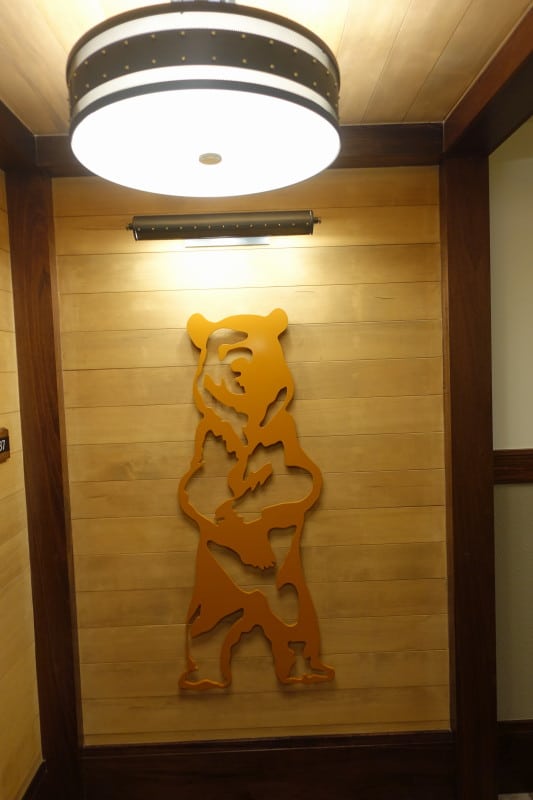 Oh, also, the four floors of the Copper Creek wing with Grand Villas have this bear.  The floors without Grand Villas have nothing on this wall.
However, there's substantial new construction between the Copper Creek wing and the old Villas, now renamed Boulder Ridge.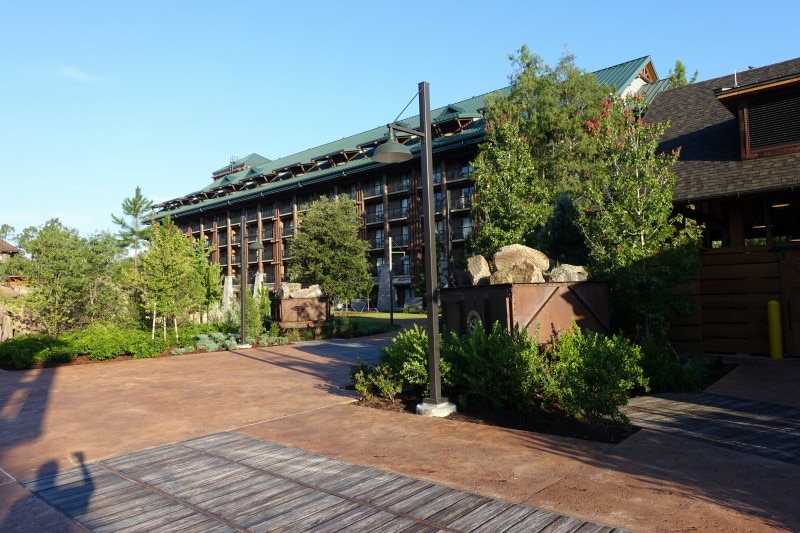 You can see in this re-done outdoor area shared by the Wilderness Lodge, Copper Creek and Boulder Ridge abandoned railroad materials, reminiscent of Big Thunder Mine train, including this part of the new Geyser Point bar and grill area…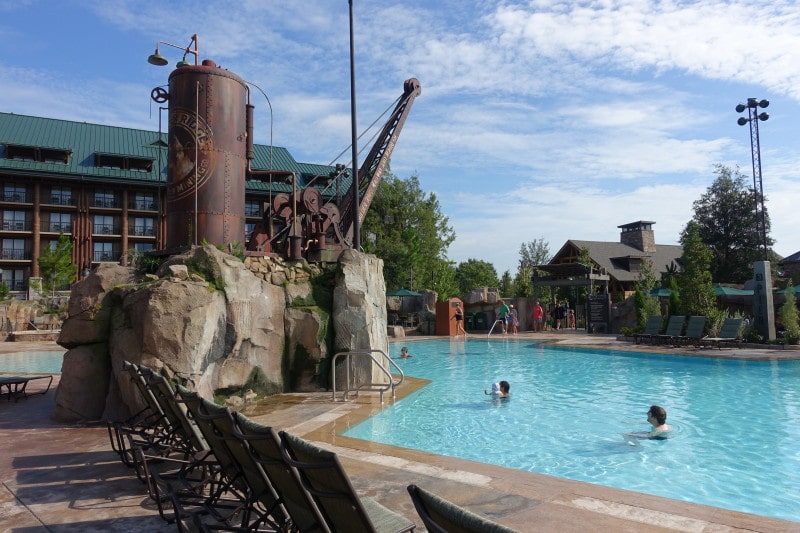 …and this part of the new Boulder Ridge Cove pool.
But none of these is dedicated to Copper Creek–rather the opposite–nor do they have anything to do with the transcontinental railroads, so I am at a bit of a loss as to the actual Copper Creek specific theming…
That said, except for the Cascade Cabins, Copper Creek is fully integrated into the main Wilderness Lodge, and the Wilderness Lodge is the most stunning, and most kid-appealing, of all the Disney World resorts…so I'm not sure this absence of specific theming matters much…
ROOMS AT THE COPPER CREEK VILLAS AT DISNEY'S WILDERNESS LODGE
Like all Disney Vacation Club resorts except the Polynesian Villas and Bungalows, the Copper Creek Villas at Disney's Wilderness Lodge has studio rooms, One-Bedroom Villas, and Two-Bedroom Villas.
It also has Grand Villas, and an unusual different accommodation type, eight person, two bedroom cabins along Bay Lake, the Cascade Cabins.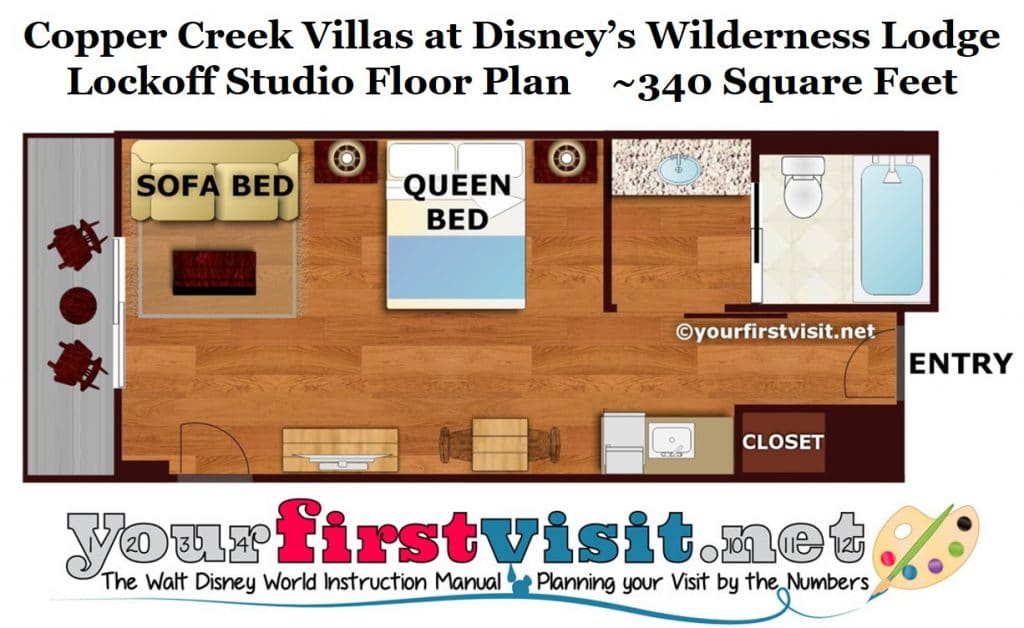 At the Copper Creek Villas at Disney's Wilderness Lodge, Studios sleep four, on a queen and a fold-out couch that's 60 inches wide by 76 inches long. According to Micah's chart, there's 30 "lockoff" Studios, which are designed to be combine-able with a One Bedroom Villa. The floor plan of a lockoff Studio is shown above.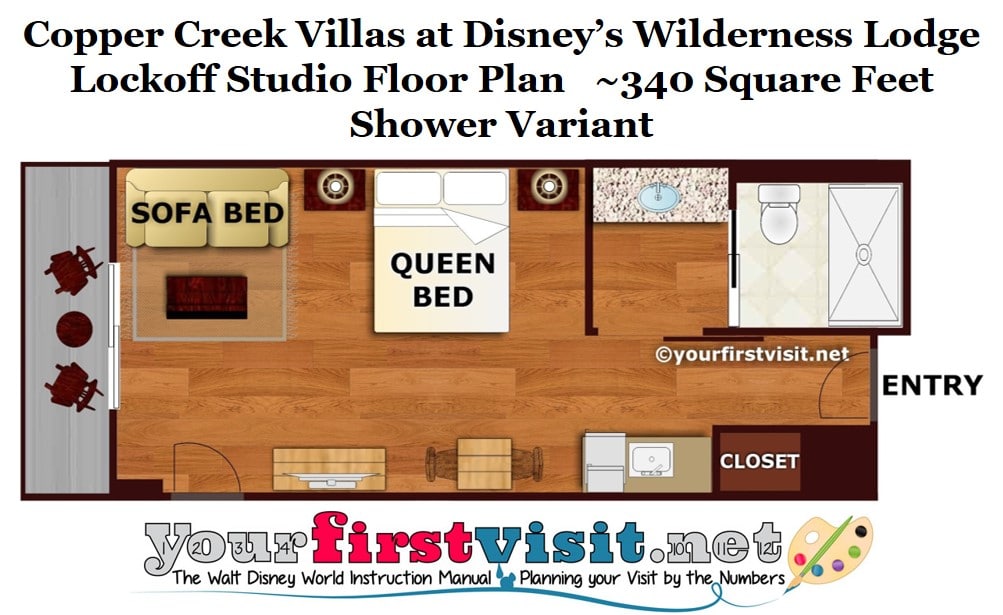 Some of these lockoff studios have a shower in the bath area, rather than a tub/shower combo.  Floor plan above.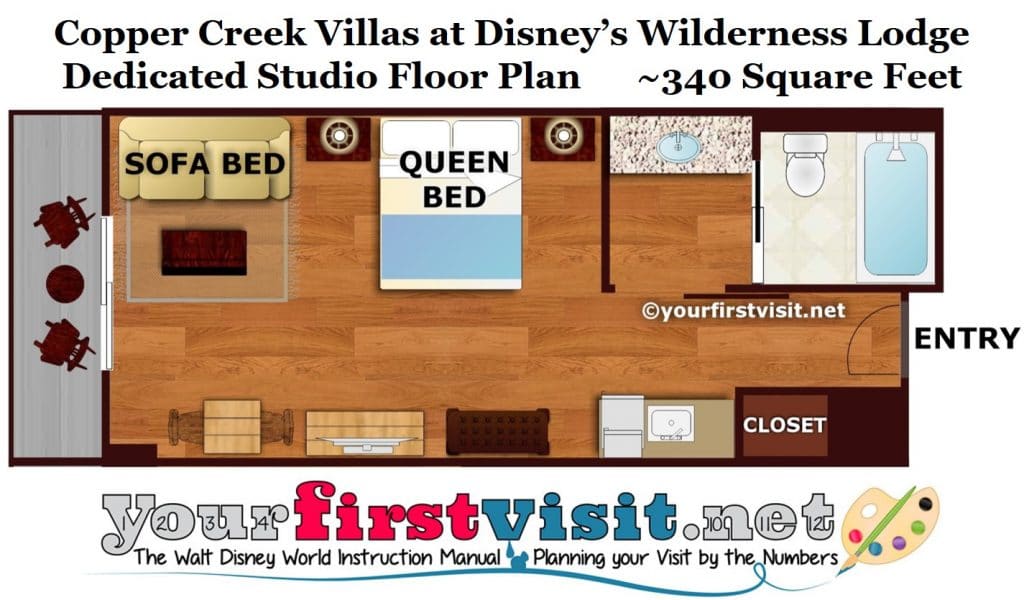 Dedicated studios have no connecting door and have a slightly different layout along the TV wall. The floor plan of these is above. There's 42 of them.
There's six more of a third studio type, the "alternate Studio," also a lockoff but with expanded space. These are based on the footprints of what used to be deluxe rooms.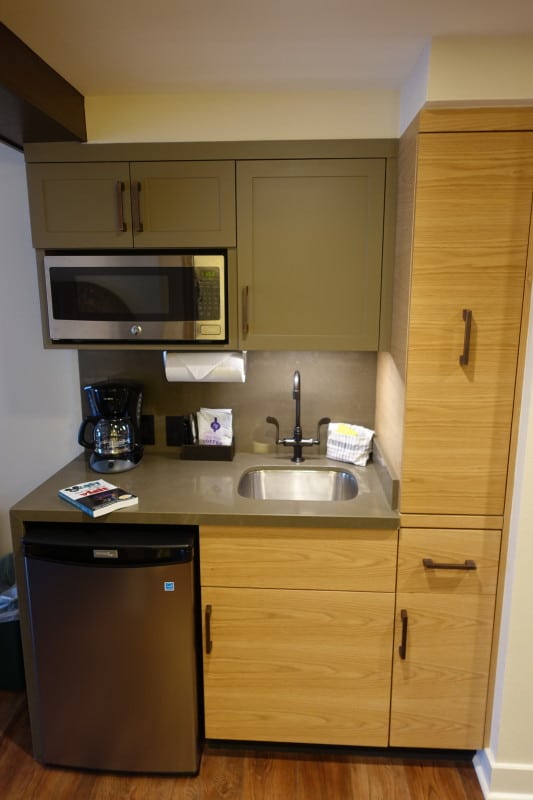 Studios come equipped with a coffee-maker, mini-fridge, toaster and microwave. These rooms (except the six "alternates") are the same size as the Wilderness Lodge's regular rooms, 340 square feet, but have an additional feeling of spaciousness because of the couch rather than a second queen. On the other hand, the slender cushion on the fold-out bed makes it not really suitable for adults or larger children.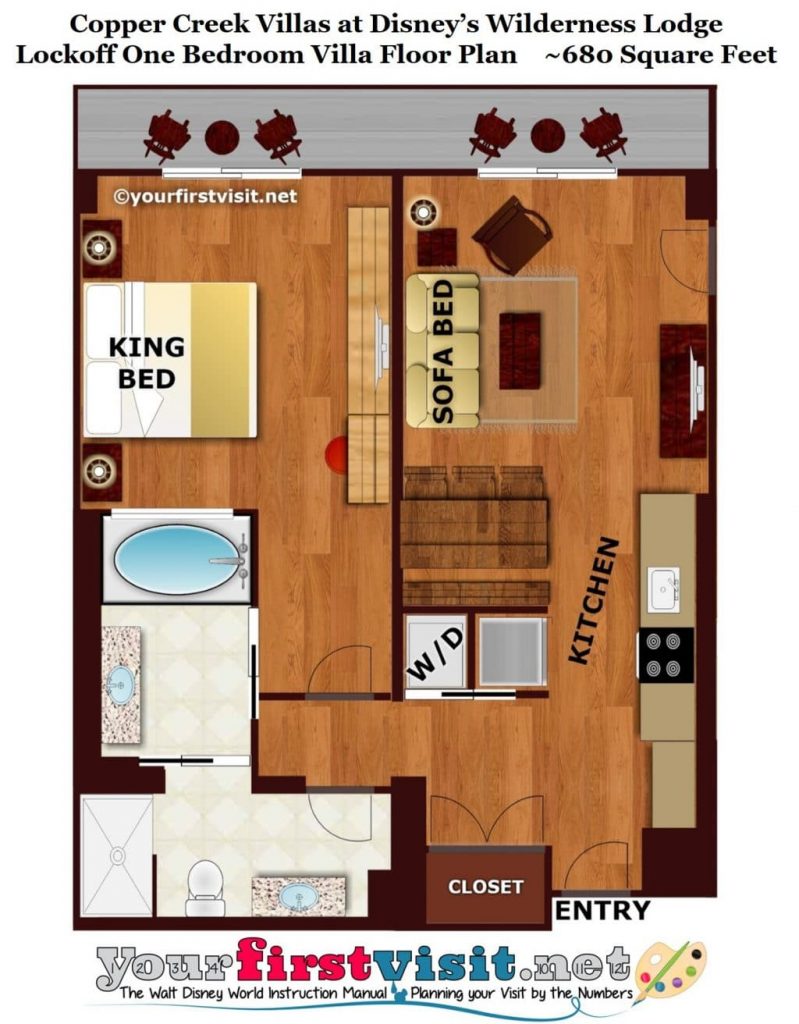 One-Bedroom Villas sleep 4 in a master bedroom with a king bed, and on a fold-out couch in the living room. Twenty dedicated One Bedroom Villas without connecting door are available, and another 36 lockoff villas that can be combined with a studio are present.  The floor plan depicts a lockoff.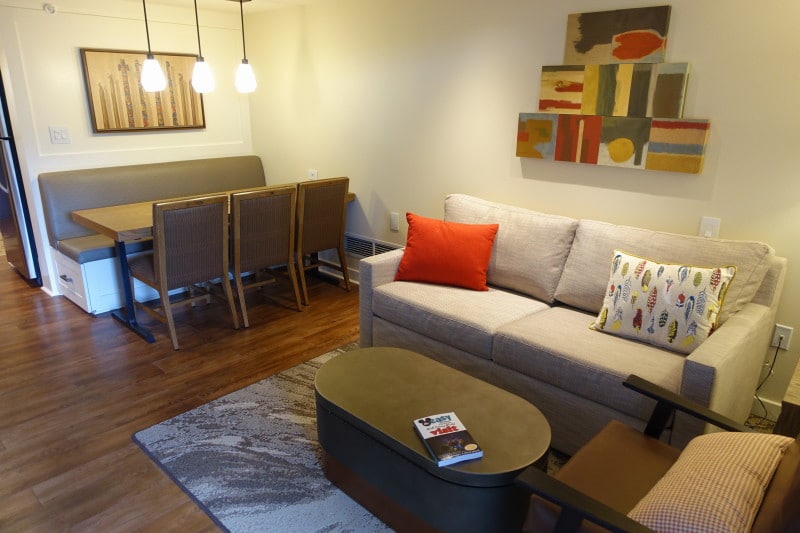 The couch is in a shared space that also includes a full kitchen/ dining/ living space and a washer/ dryer.
The bath is accessible from both the master bedroom and the shared living space, and is designed so that the kids can use one side without intruding into the master bedroom.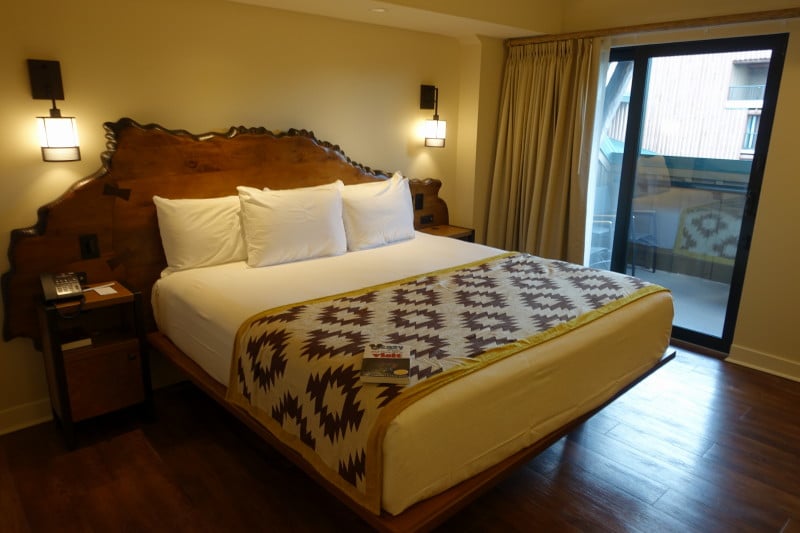 The master bedroom includes a king bed.
Two-Bedroom Villas add a second bedroom to a One Bedroom Villa.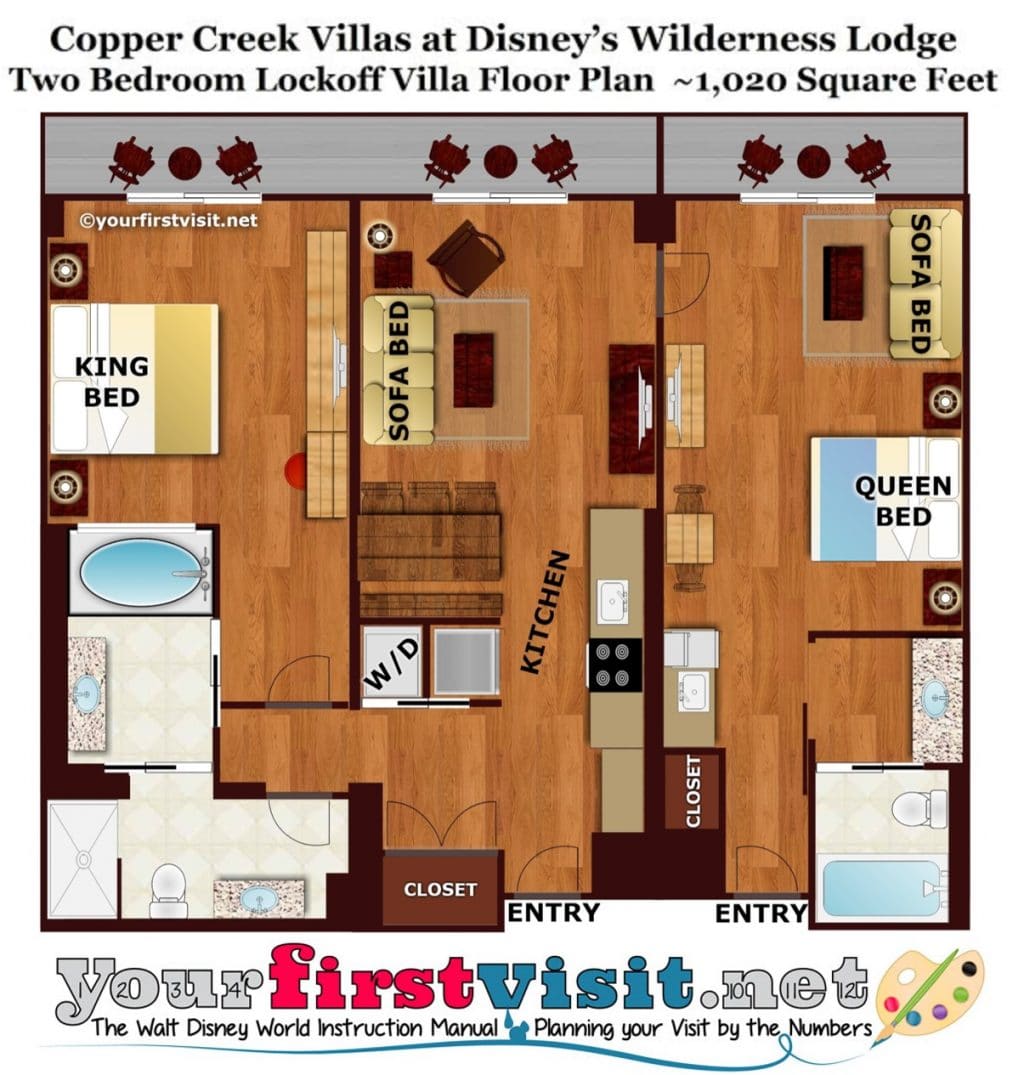 "Lockoff" Two Bedrooms (floor plan above) simply combine the spaces and capacity of a Studio and One Bedroom.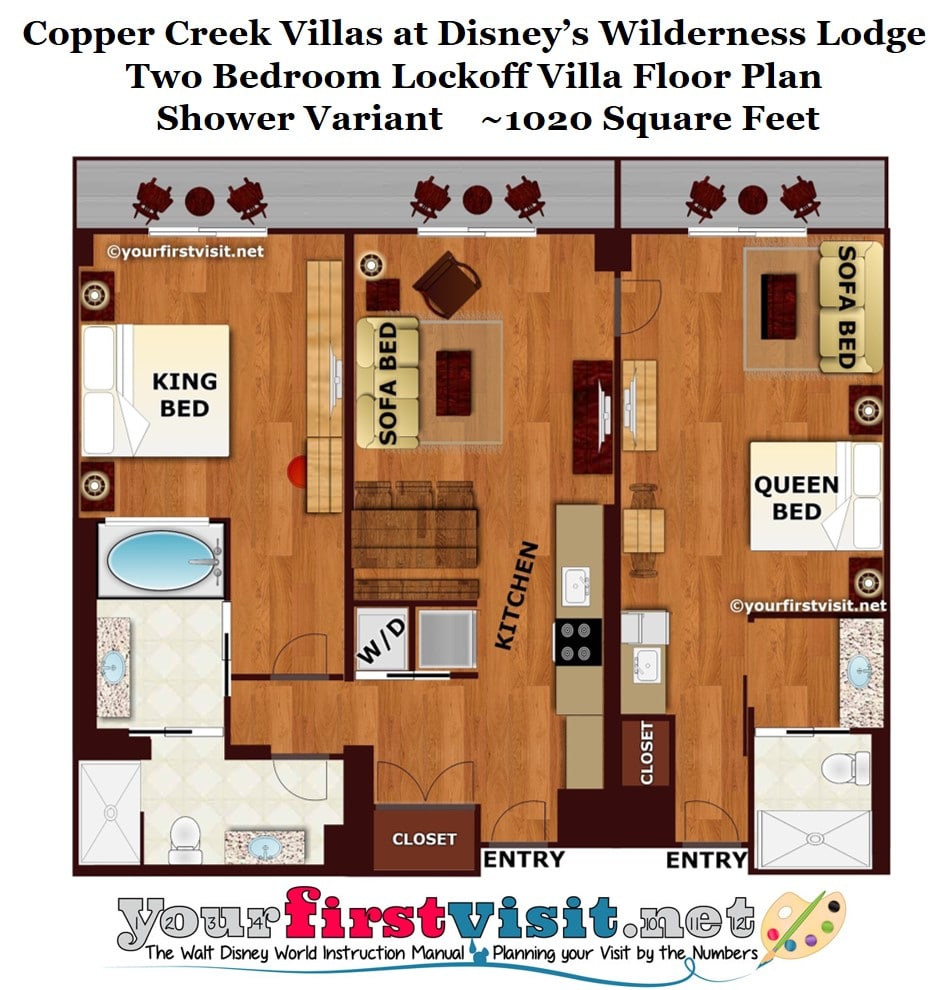 Lockoffs are also available that include the shower-variant Studio as the second bedroom (above).
"Dedicated" Two Bedroom Villas (floor plan below) replace the Studio with a two-queen room that also has a larger closet, and–at least in some–a shower rather than a tub (there's still a tub in the master bath).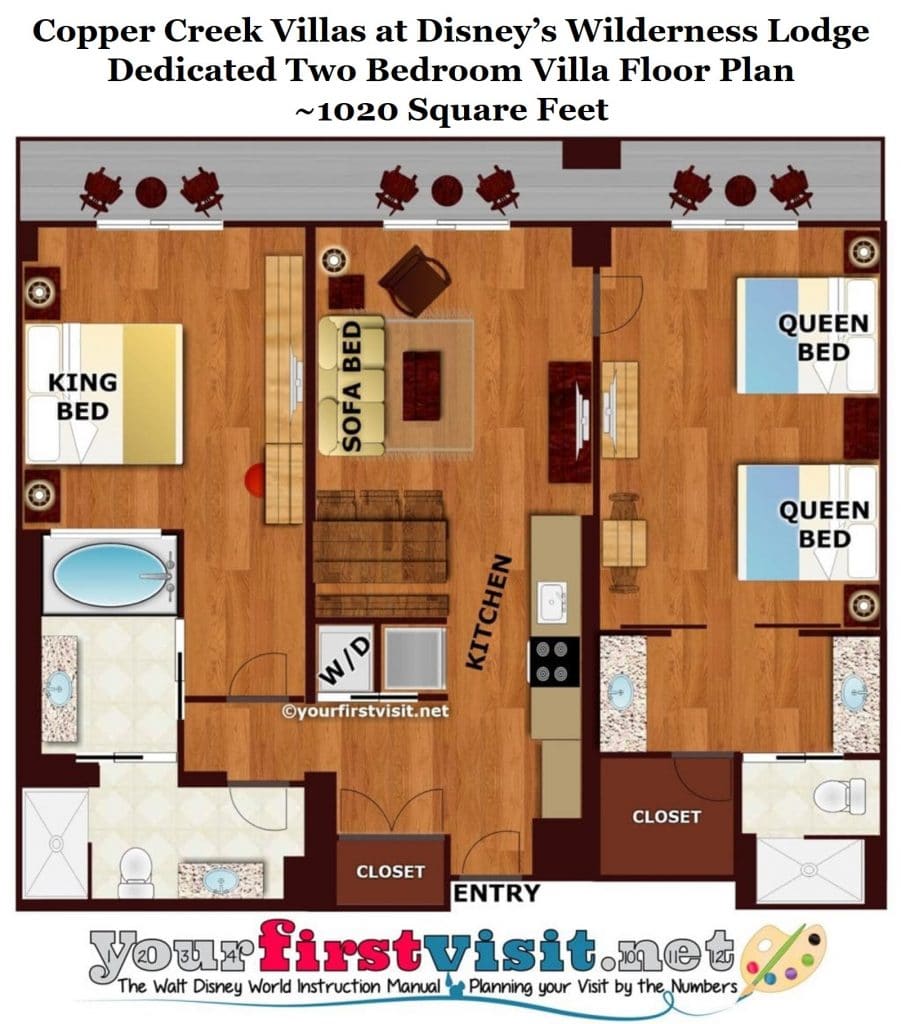 These two bedroom options have seats for six at the dining table, and for four in the living room, so can be cramped when used at their full capacity–although less so than two bedroom options at Boulder Ridge, which have much less dining table space.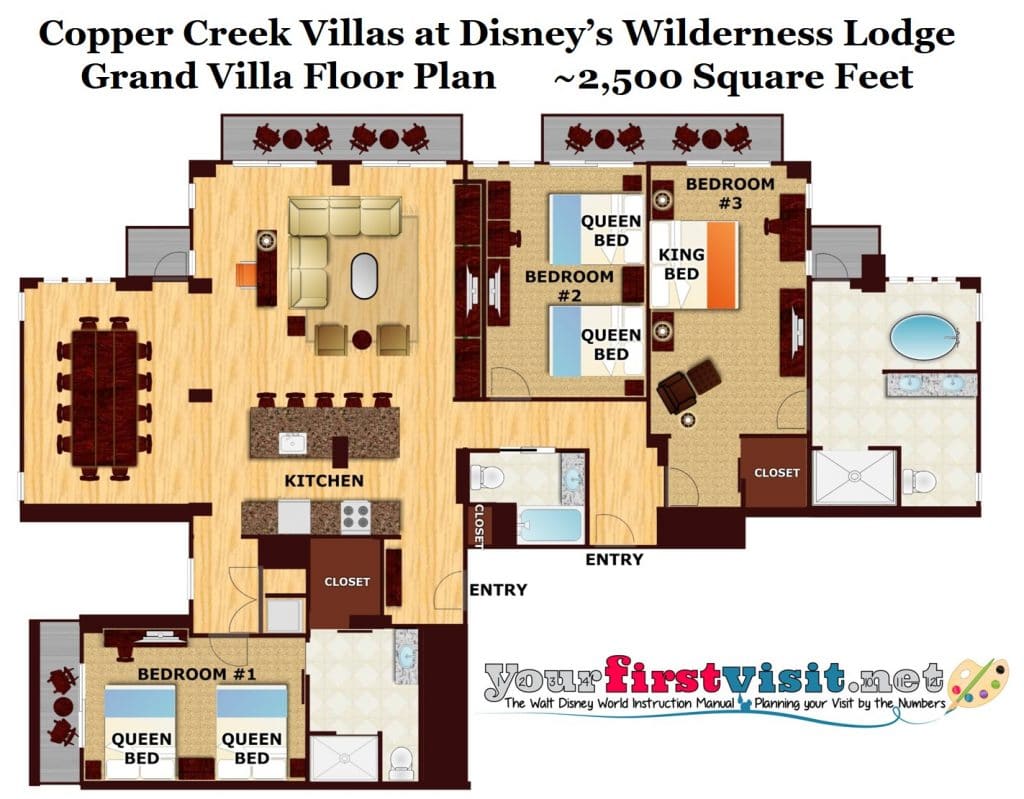 Grand Villas at Copper Creek sleep 12 in a space that combines three old standard rooms and two deluxe rooms into a terrific space with a particularly nice and spacious dining room, and a living room area that easily seats 7–more than many Grand Villas.
There's a bit of awkwardness to Bedroom 2, as it lacks the private bath and private balcony of Bedroom 1. Or perhaps your family is not as complicated as mine…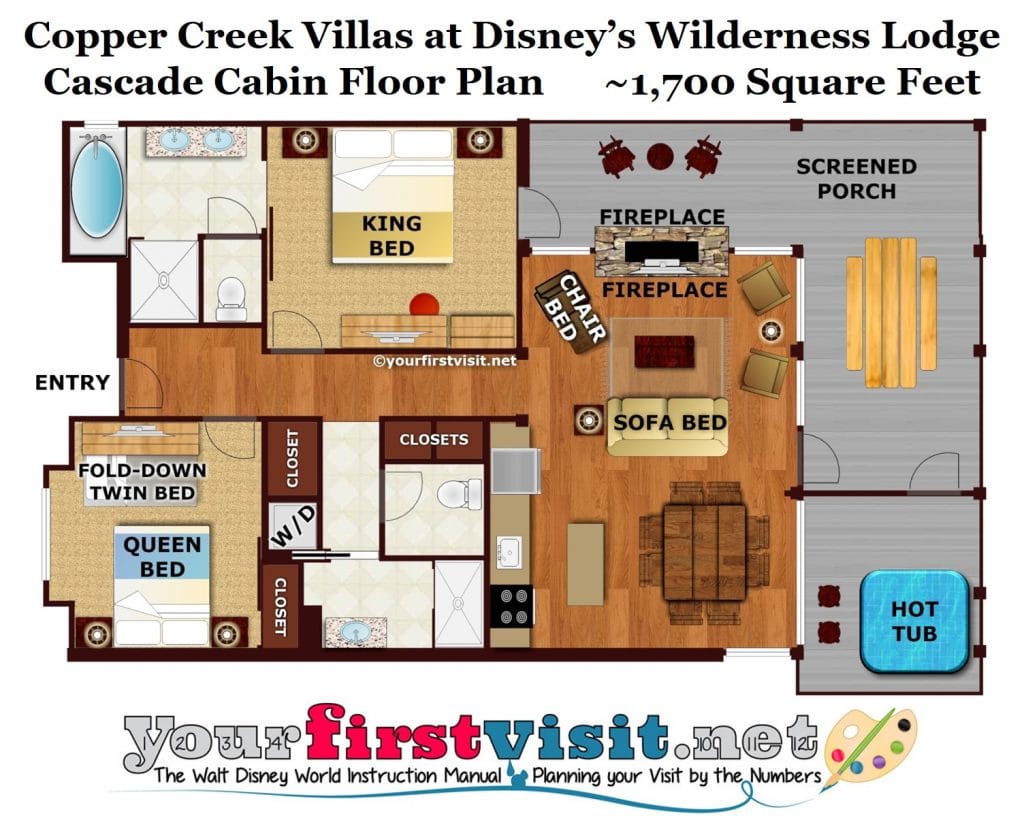 The lakeside Cascade Cabins sleep 8 in a space that's far too expensive. They come with a hot tub and screened porch, as well as a larger kitchen/dining/living area than you'll find in the Two Bedroom Villas that also sleep 8.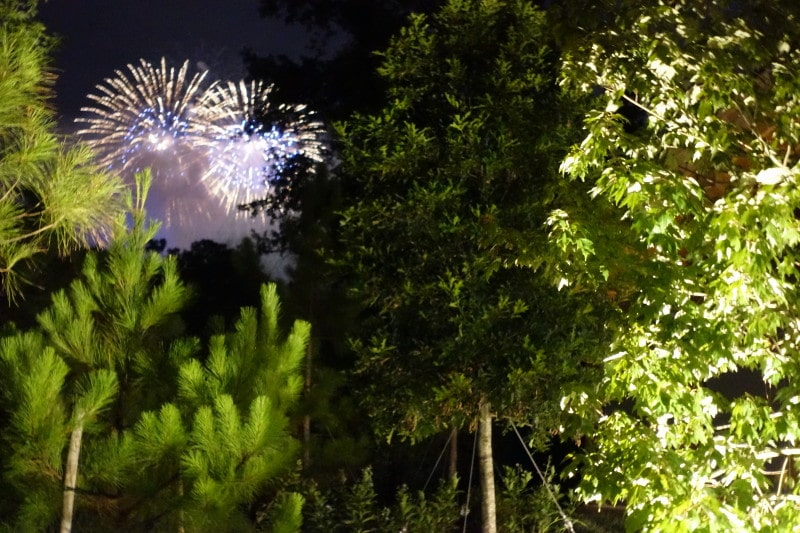 Half of the Lakeside Cabins are at the northeast waterway between the Wilderness Lodge and Contemporary Resort. These cabins have a distant and truncated view of the Magic Kingdom fireworks show Happily Ever After, but also boat noise–though not remotely as annoying as the ferry noise of the only comparable spaces at Disney World, the Bungalows at the Polynesian Village.
This review continues here!
The long-time travel agent partner of this site, Kelly, can book you at Copper Creek or anywhere else at Disney World.  Contact her using the form below!


Follow yourfirstvisit.net on Facebook or Twitter or Pinterest!!</p
RELATED STUFF