Review: The Campsites at Disney's Fort Wilderness Resort, Continued
By Dave Shute
To go to the first page of this review, click here.
BEST PLACES TO STAY AT THE CAMPSITES AT DISNEY'S FORT WILDERNESS RESORT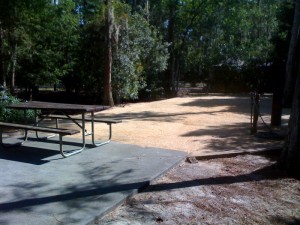 Campsites are not one size fits all.
They are divided into loops.
Each loop is of a type–in descending price order, the types are Premium, Preferred, Full Hook-up, and Partial Hook-up.
Within the first three types, there are also pet-friendly loops.
The key for first-time visitors to the Campsites at Fort Wilderness is first to specify your rig, gear and requirements, and second, if tent-camping, to bring the right gear.
Different loops (and their campsites) are optimized for big rigs (longer than 45 feet), slide outs on both sides, campers with pets, and tent campers.
Describe your gear exactly when you make your reservation.
Those with big rigs or slide-outs on both sides should reserve "premium" sites, newly rehabbed sites with longer and wider asphalt pads. These sites have no distinct area for tents
Those with pets should indicate that in addition to describing their gear, and Disney will put them into a pet site.
Those with tents should avoid the premium sites as they have no tent pads. Tent, pop-up, or camper-van campers may request "partial hook-up" sites which are cheaper than the other sites, and have electricity and water included for free, but no sewer. Tent campers may also request preferred or full-hook up sites (and must do so if seeking pet sites). As noted above, tent campers should avoid premium sites, as they have no tent pad–just asphalt!
After you've described your rig and pet needs, you can then request to be closer to a part of the campground. The two most popular areas to be close to are
The Meadows area, which includes a store, the main pool, and the campfire area, and
The Settlement area, which puts you closer to the boat docks (and thus Magic Kingdom transport), dining areas, beach, marina, and another store.
Those wanting to be close to the Settlement area should target a "preferred" site. Tent campers who do so likely will be ensconced within a sea of RVs.
In addition to all this, you can request also a specific loop (see the map below.) But if you do, make sure you say why, so that if Disney can't get you into it, they know what you were looking for from the loop and can use that information to put you into the next best available site in your price class!
TENT CAMPING GEAR FOR THE CAMPSITES AT FORT WILDERNESS
Tent campers need to bring the right gear.
Tent pads are sand, and rain and storms are common in Orlando.
Standard stakes will not hold in this sand, and many family tents are designed with ludicrously inadequate rain flies which will not protect them from side-blowing rain.
Bring stakes designed for sand, and extra rope to guy your tent and flies out to any available trees, shrubs or roots. (Don't count on such guy points being available–make sure you bring sand stakes too!)
Bring at least one fly for your dining table–two are better, to build a sun shade as well–and if your tent won't stand a sideways rain, bring a tarp that will cover the top and the sides.
(Note that many dome tents are sold as "free-standing." Without stakes and/or guys, in a storm such tents become "free-ballooning.")
I've seen more than one family with no flies and a tent whose rain fly only covers its top abandon Fort Wilderness after a thunderstorm, with their tent stuffed in one of the campground's trash cans!!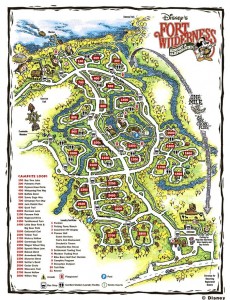 Click the image to open a map.
BEST FOR:
Families with RVs or a complete set of tent-camping gear, including flies and sand stakes; larger families seeking an inexpensive place to stay in Walt Disney World.
WORST FOR:
Families with mobility issues; families seeking a convenient resort; families seeking a kid-appealing resort.
MORE STUFF ON THE CAMPSITES AT DISNEY'S FORT WILDERNESS RESORT
This review continues here.
PAGES:  Previous  |    1  |   2  |  3  |  4 |   5 |  Next
RELATED STUFF