Overview of Accomodations at Disney's Old Key West Resort
By Dave Shute
(For the first page of this review of Disney's Old Key West Resort, see this.)
MORE ON THE ACCOMMODATION OPTIONS AT DISNEY'S OLD KEY WEST RESORT
All Disney Vacation Club resorts except the Polynesian Villas and Bungalows have studio rooms, One Bedroom Villas, and Two Bedroom Villas.
Most have Grand Villas as well.
Old Key West floor plans of all four room types are below.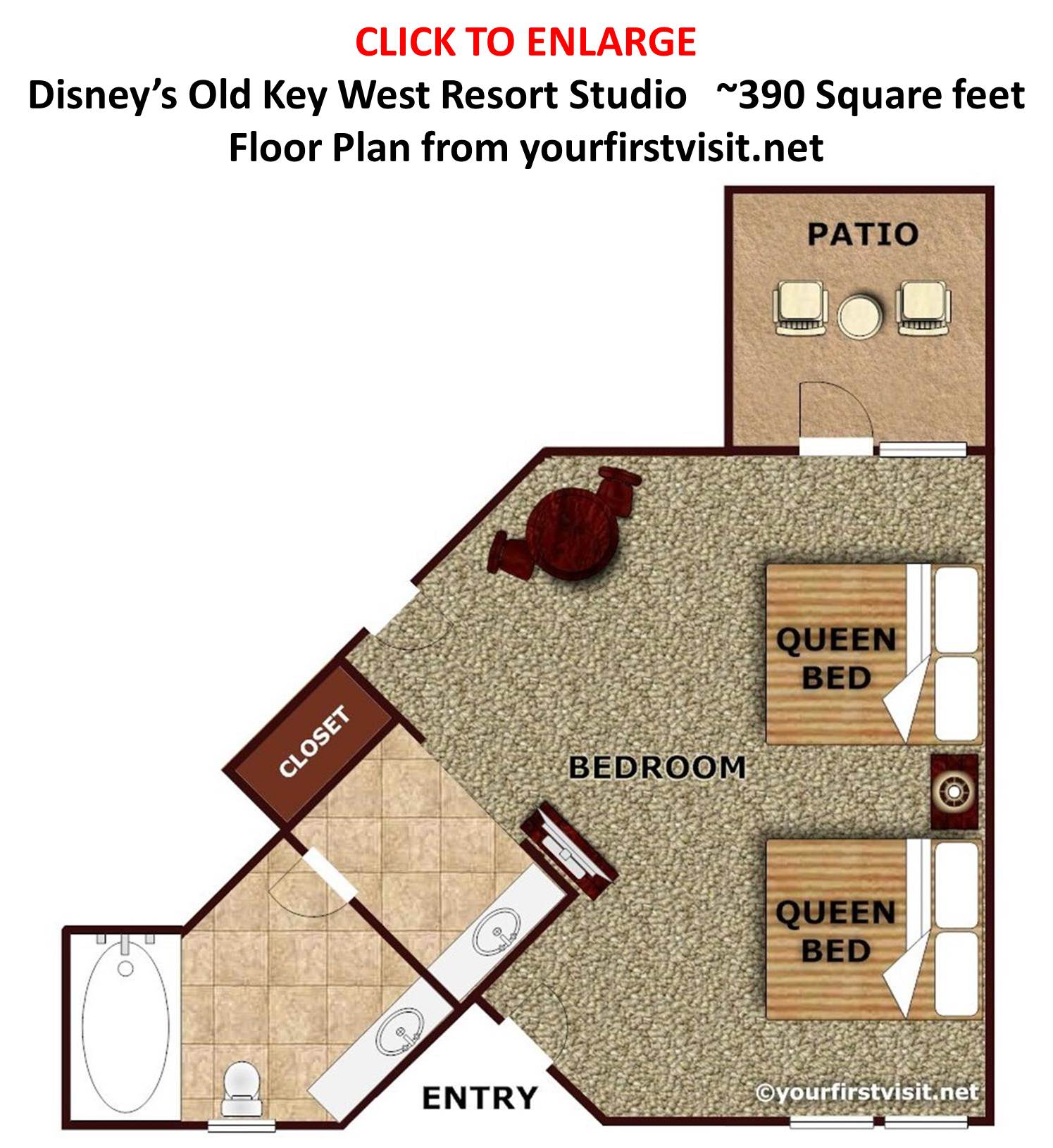 At Old Key West, Studios sleep 4 and include a kitchenette with a microwave and a mini-fridge. Most DVC Studios come with a queen and a fold-out sofa; at Old Key West, all have two queens.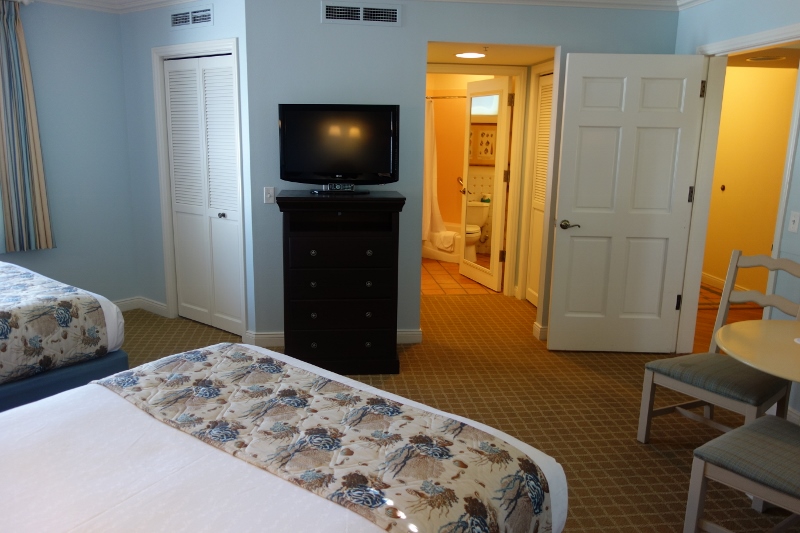 They have been the largest Studios at Disney World for some time, but Studios at the Polynesian will be larger when they open in later 2015.
See this page of this review for multiple photos of a Studio/second bedroom of a Two-Bedroom Villa!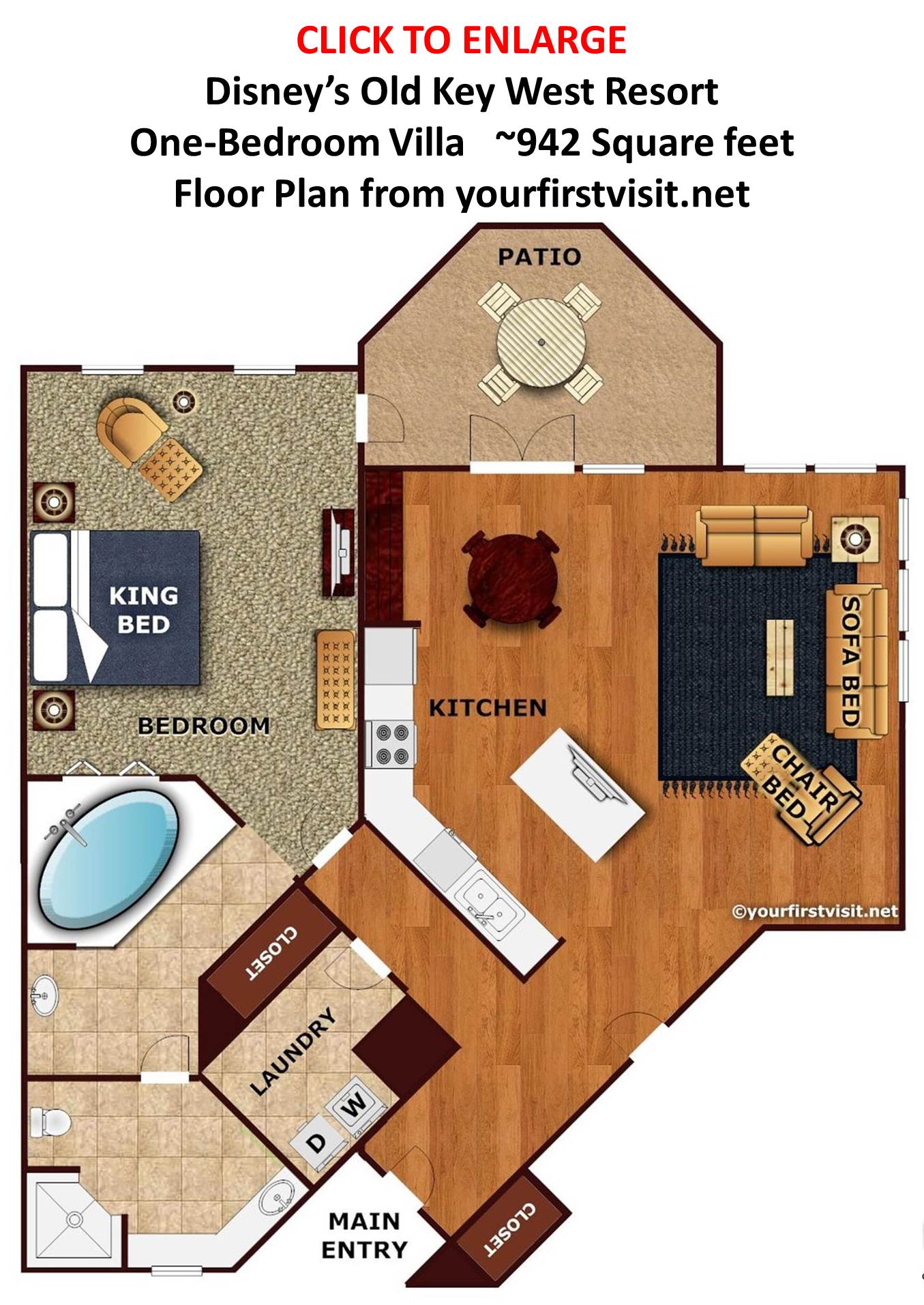 Old Key West One-Bedroom Villas sleep 5, including three on fold-out beds in a full kitchen/dining/living space. The living/kitchen/dining area of One and Two Bedroom Villas at Old Key West is by far the most livable and homelike among the DVC resorts.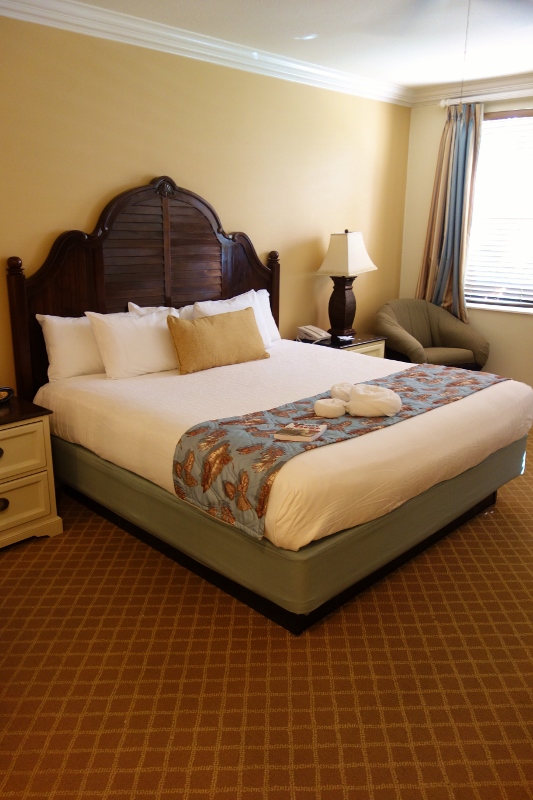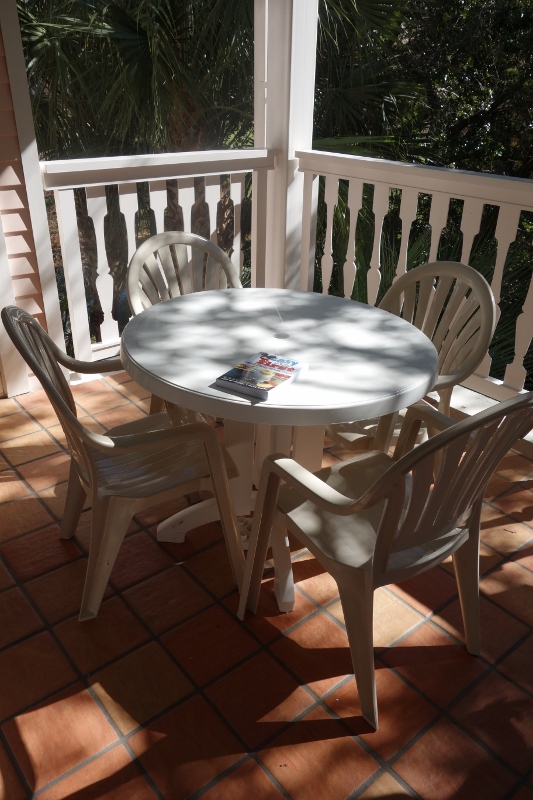 They also have large porch or balcony, and a separate master bedroom. Some villas don't have an entrance between the laundry room and bath, meaning that in those the bath is only accessible from the master bedroom.
See this for more images of the master bedroom, and this for more images of the combined kitchen/living/dining space.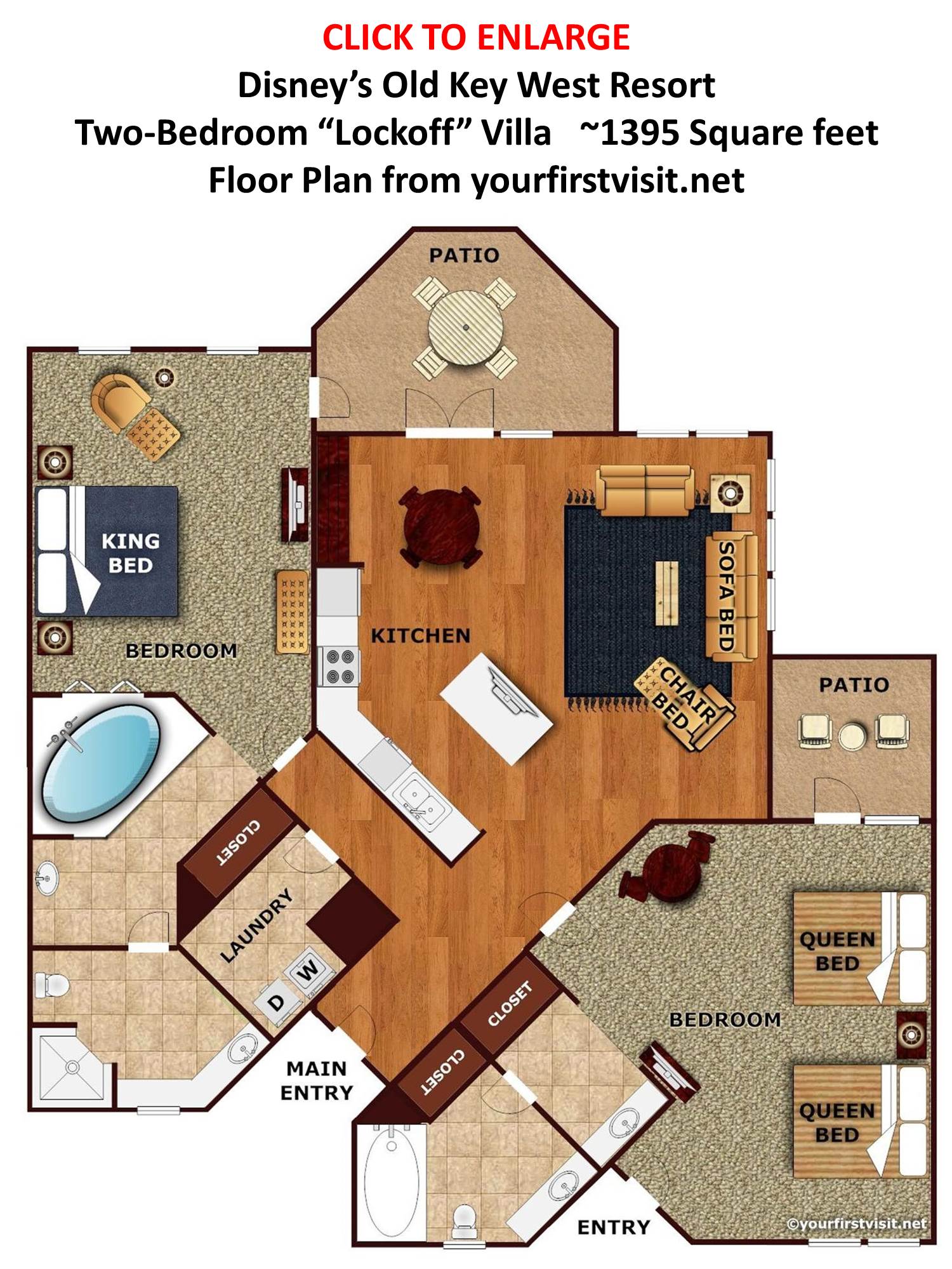 Two-Bedroom Villas add a second four-person bedroom (similar, or identical, to a Studio) to the amenities of a One-Bedroom, and sleep 9.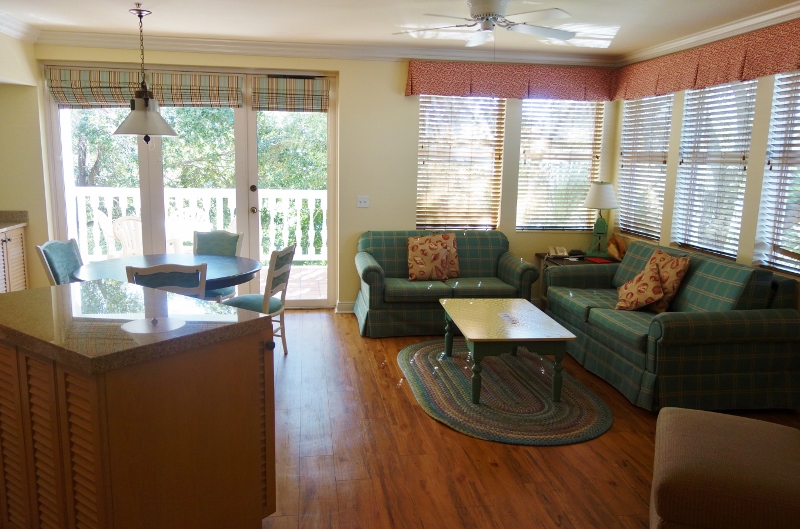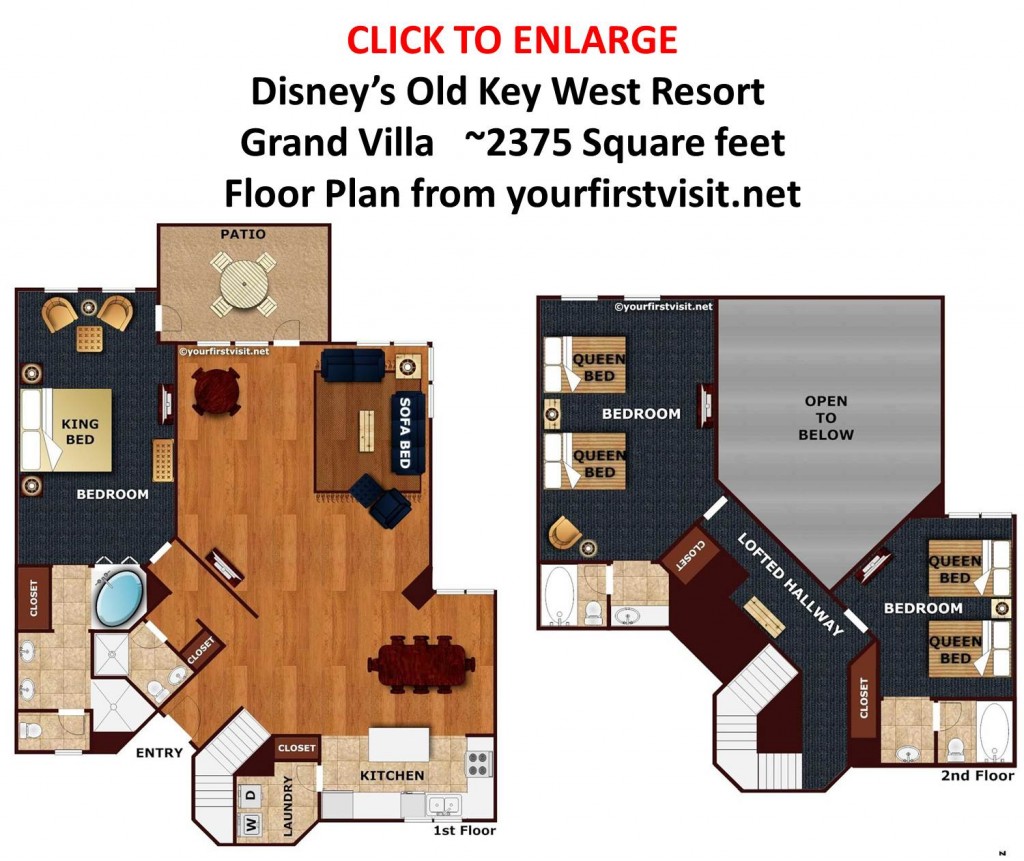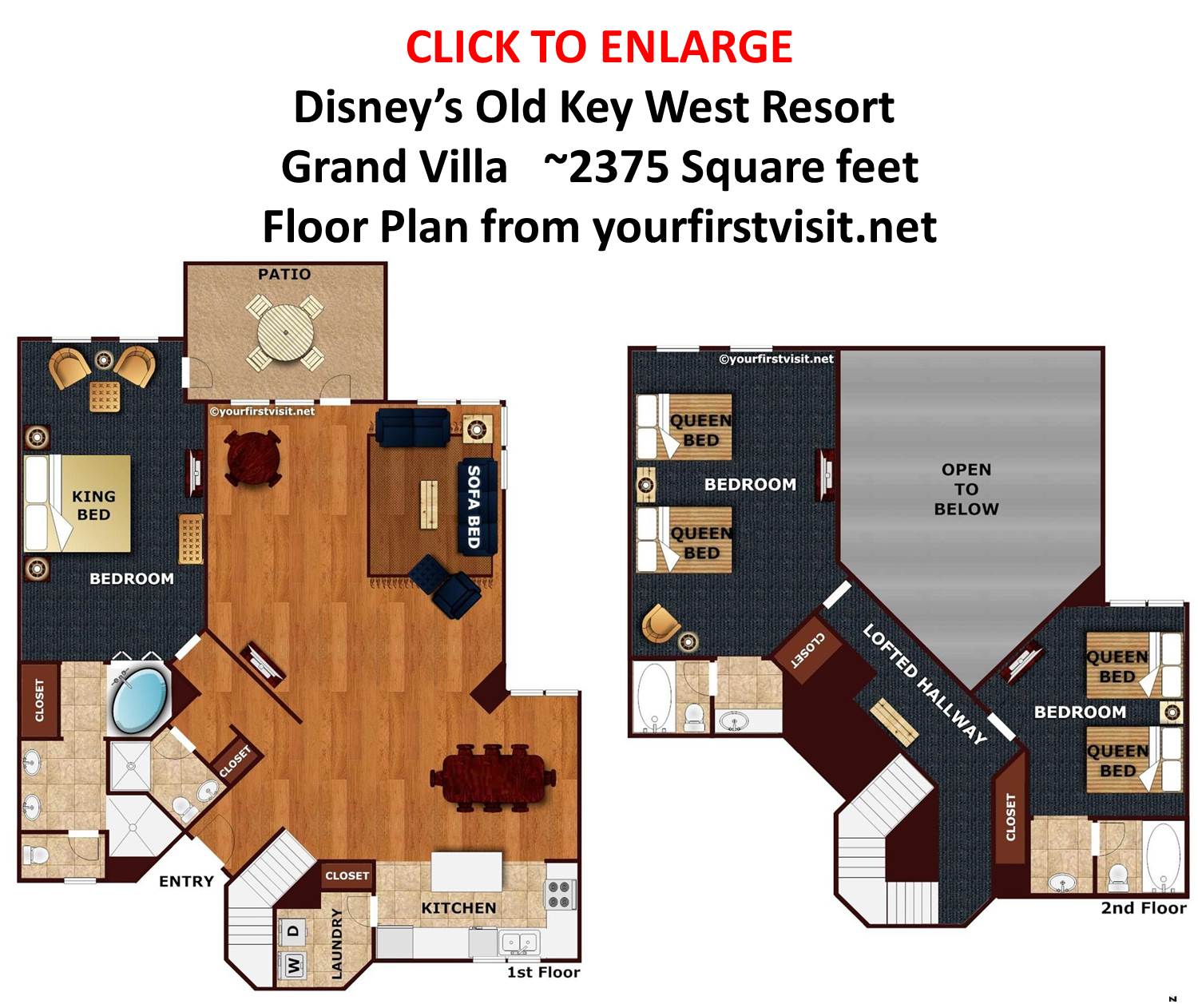 Grand Villas sleep 12 in almost twice the space of a Two-Bedroom Villa, in three bedrooms plus sleeper sofas. At Old Key West, Grand Villas are two-story spaces.
Grand Villas hold three more people in space almost twice as big as the 9-person Two-Bedroom Villas. The extra space downstairs comes from doubling the already commodious size of the kitchen/dining/living area, and moving the second bedroom the the upper level–where it is joined by a third bedroom, also sleeping four.
These spaces are also about twice as expensive as Two-Bedroom Villas…
You all haven't found the sponsors of this site quite appealing enough yet for me to have been able to afford to stay in a Grand Villa, but I'm sure they are quite nice!! And a fellow can dream…look for a review of one here within the decade…
(To each of the capacity figures above, you can add one more kid under 3 at time of check in who sleeps in a crib.)
AMENITIES AT DISNEY'S OLD KEY WEST RESORT
This review continues here.
PAGES: Previous |  1  |  2  |  3  |  4  |  5   |  6  |   7  | Next


Follow yourfirstvisit.net on Facebook or Twitter or Pinterest!!
RELATED STUFF