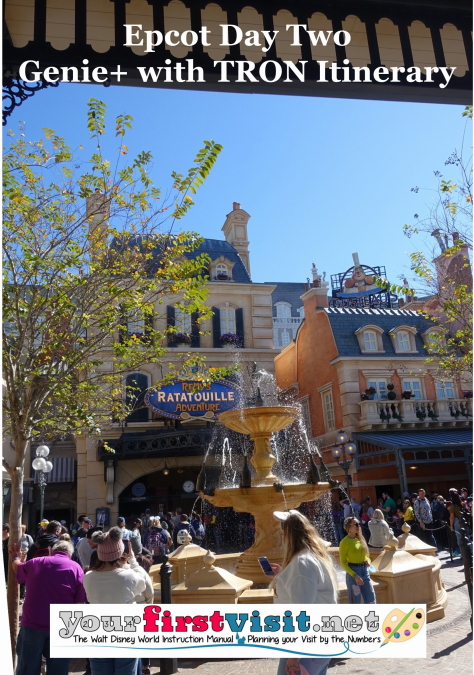 (Note: this is from the Disney World Genie+ with Tron Itinerary.)
EPCOT DAY 2: MONDAY AGENDA
(For the general approach to Epcot, see the beginning of Epcot Day 1.)
Today you will complete Epcot. You have no planned Individual Lighting Lane purchases, but do need to take advantage of both Early Entry and Genie+.
You should have dinner booked with the princesses at Akershus Royal Banquet Hall in Norway around 6p.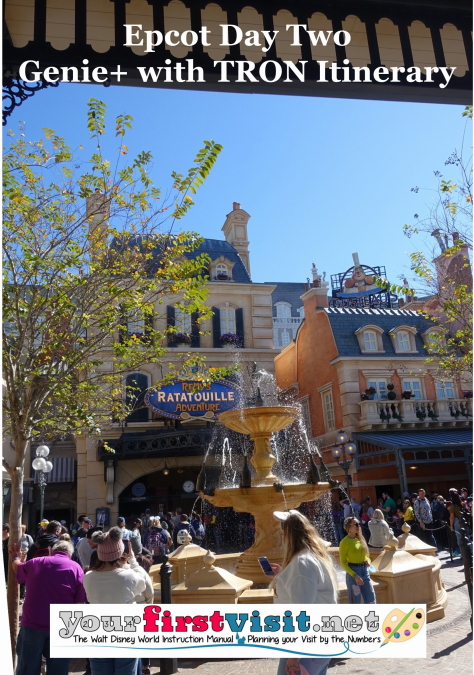 You have some options for your afternoon and evening, depending on how much you love World Showcase, and whether or not you are eligible for Extended Evening Hours.
If you love World Showcase, you can stay through park close, or even later if eligible for the Extended Evening Hours.
If you are less keen on World Showcase, you can take the afternoon off for a nap/swimming, and then return to Epcot for some World Showcase and your Akershus dinner, and the extended hours if eligible.
FIRST THINGS
Before 7a, buy Genie+.
At 7a book Test Track on Genie+. You are unlikely to need Genie+ for anything else at Epcot unless you missed Remy or Frozen on your first Epcot day, but are of course welcome to use it as you wish.
Be at the park's tapstiles by 30 minutes before the beginning of Early Entry.
AT THE PARK
When Early Entry begins, see Soarin' Around the World
The order of what happens next depends on the timing of your Genie+ return to Test Track.
If your return to Test Track begins in the next 30 minutes, head from Soarin' to Spaceship Earth, ride it, then use your Genie+ at Test Track. Then ride Mission Space, and return to the "World Nature" area and see the attractions in the Seas Pavilion (the aquarium itself, The Seas with Nemo and Friend and Turtle Talk with Crush), then the remaining attractions in the Land Pavilion (Living with the Land and Awesome Planet). Fit in lunch when convenient—Sunshine Seasons in the Land Pavilion is a good choice.
If your return to Test Track is later, then instead see the attractions noted above in the Land Pavilion and the Seas Pavilion until it's time to head to Test Track. Do Test Track and Mission Space in "World Discovery," next see Spaceship Earth, then complete the attractions in "World Nature" you have not yet seen. Fit in lunch when convenient—Sunshine Seasons in the Land Pavilion is a good choice
Next, head to the Imagination Pavilion and see the attractions there– Disney-Pixar shorts, and Journey Into Imagination with Figment.
Next, either take the afternoon off and return for your Akershus reservations, or complete World Showcase, fitting Akershus in to your tour of World Showcase.
To see the rest of World Showcase, start in Canada and progress counter-clockwise. Tour as you did Saturday night, checking out the shows and experiences as you wander.
PREVIEW OF TOMORROW
Tomorrow you begin your visit to the Disney's Animal Kingdom.
Follow yourfirstvisit.net on Facebook or Twitter or Pinterest!!