Magic Kingdom Day 2 Disney World Genie+ with TRON Itinerary
By Dave Shute
(Note: this is from the Disney World Genie+ with Tron Itinerary.)
MAGIC KINGDOM DAY 2: THURSDAY AGENDA
(For the general approach to Magic Kingdom, see the beginning of Magic Kingdom Day 1.)
Today you continue your visit to Magic Kingdom. After your logistics tasks at 7a, you can sleep in.
Your "formal schedule"—things are very formal around here, you know—includes a late breakfast at Chef Mickey's in Disney's Contemporary resort, right next to Magic Kingdom. After Chef Mickey's, you will then pursue a mix of lower-key experiences in Magic Kingdom and, if you missed them yesterday or want to ride them again, Seven Dwarfs Mine Train and TRON Lightcycle Run.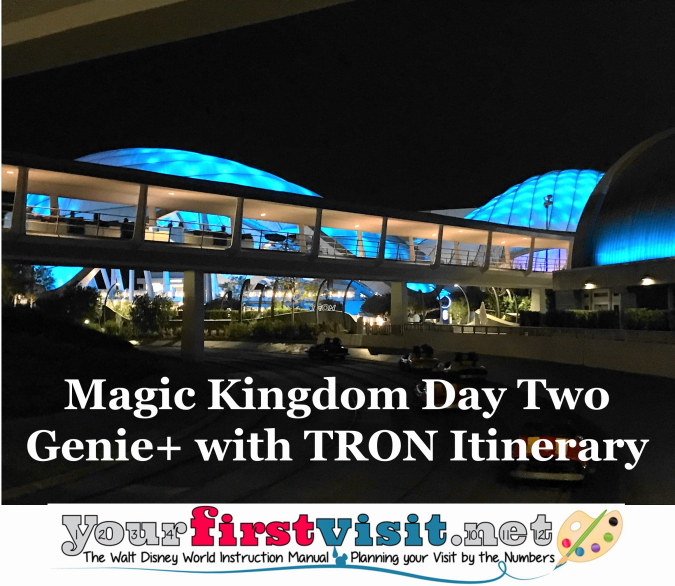 However, you have optional time before Chef Mickey's and after the end of your formal schedule to meet with characters at Magic Kingdom, and/or tour the nearby resorts.
My itineraries build character meetings into dining. Characters expected to be available in various dining experiences you should have reserved include Mickey, Minnie, Donald, Pluto, Goofy, Winnie the Pooh, Tigger, Eeyore, Piglet, Belle, Jasmine, Snow White, Sleeping Beauty, Pocahontas, Mulan, Cinderella, Ariel, Alice, and Mary Poppins.
But there are additional character meeting opportunities at Magic Kingdom if you wish to pursue them.
These include formal attractions—in Fantasyland, Meet Ariel at Her Grotto, Meet Cinderella and a Visiting Princess (usually Elena of Avalor), Meet Princess Tiana and a Visiting Princess (usually Rapunzel) and in Main Street USA Meet Mickey (all available through Genie+, and not on Genie+ many other formal and less formal character meeting opportunities scattered through the park. You can take time before and after your "standard" time to pursue these meetings. If you do, I recommend Genie+ for those meets that use Genie+.
Another optional fun activity would be touring the nearby deluxe resorts–especially the Polynesian and Grand Floridian, accessed via the Resort Monorail or walking, and the Wilderness Lodge, accessible via boat.
For simplicity, the rest of this itinerary assumes you are not pursuing the optional character meets or resort tours noted above.
LOGISTICS
Right at 7a, unless you both saw them yesterday and do not wish to see them again, book an Individual Lightning Lane visit for TRON and/or Seven Dwarfs Mine Train for sometime in the afternoon.
AT THE PARK
Arrive at Magic Kingdom by 30 minutes before your Chef Mickey's reservation, but instead of entering, either walk or take the Resort Monorail to Disney's Contemporary Resort, and enjoy a late breakfast there.
Return to Magic Kingdom either by walking or the Resort Monorail, and see the following seven attractions.
Time them around your ILL return times for TRON and Seven Dwarfs, if you have them.
Each of Main Street USA, Frontierland, and Fantasyland:
The Walt Disney World Railroad, with stops in each of these lands. Usually closes in the early evening. The round trip is about 20 minutes, and your wait usually is just for the next train.
Adventureland:
Walt Disney's Enchanted Tiki Room. Usually open the entire time the park is open. A ten-minute show, with a fun pre-show in the queue outside. Usually, the wait is just until the next show.
Frontierland:
Country Bears Jamboree. Usually opens a couple of hours after park open—e.g., at 11a. Fifteen-minute show. The wait is usually just until the next show.
Tom Sawyer Island. Accessible by rafts near Country Bears. Usually open in the middle of the day—e.g. from 11a to 4.30p. This is an unstructured land to explore, not a defined attraction with a beginning, middle and end. Depending on how it piques the interest of your group, and how much you simply need to run around and be unstructured, it could reward a visit (include waits for the rafts back and forth) of 45 minutes to 90 minutes.
Tomorrowland:
Walt Disney's Carousel of Progress. Usually open the entire time the park is open. 20-minute show. The wait is usually less than five to ten minutes.
Tomorrowland Speedway. Usually open the entire time the park is open. A five minute ride, the magnetic attraction of this ride to kids can result in waits of 20 to 40 minutes. Kids 54 inches or taller can drive their own cars—let them. Others can steer in your lap.
Tomorrowland Transit Authority PeopleMover. Usually open the entire time the park is open. A ten-minute ride. Waits can vary from none to 20 minutes or more.
PREVIEW OF TOMORROW
Tomorrow, you complete your visit to Magic Kingdom
Follow yourfirstvisit.net on Facebook or Twitter or Pinterest!!
RELATED STUFF