Magic Kingdom Day 3 Disney World Genie+ with TRON Itinerary
By Dave Shute
(Note: this is from the Disney World Genie+ with Tron Itinerary.)
MAGIC KINGDOM DAY 3: FRIDAY AGENDA
(For the general approach to Magic Kingdom, see the beginning of Magic Kingdom Day 1.)
Your complete your visit to Magic Kingdom today. You don't need Individual Lightning Lane today unless you wish to re-ride TRON or Seven Dwarfs Mine Train (or have had no luck so far booking them), but will be using both Genie+ and Early Entry.
Your goal today is to see the rest of the attractions in Tomorrowland, Fantasyland, and Liberty Square and to see the afternoon parade Festival of Fantasy.
You should have dining booked for the Hoop-Dee-Doo Revue Dinner show in nearby Fort Wilderness at 6.15. For this, you want to be at the Magic Kingdom dock for the Fort Wilderness boat by 5p.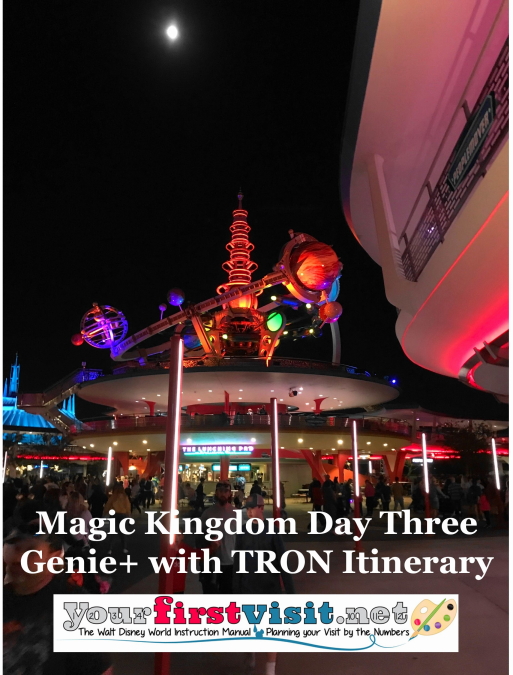 Your key Genie+ priorities today are Space Mountain, Haunted Mansion (unless you were able to see it on your first day at Magic Kingdom) and the Festival of Fantasy parade, where Genie will give you a better view with probably less time parked in your spot. Other Genie+ bookings over the course of your day may well save you time so long as they are within a reasonable walk, so look for nearby Genie+ availability as you become eligible for them.
LOGISTICS
Before 7a, buy Genie+
At 7a, book Space Mountain via Genie+.
AT THE PARK
Be at the tapstiles by thirty minutes before Early Entry begins.
Enter the park, make your way to Peter Pan's Flight, and ride.
Go to The Many Adventures of Winnie the Pooh and ride it.
Make your way swiftly into Tomorrowland and check the standby wait for Space Mountain. If things have gone smoothly so far, this wait should be short. If waits are short, ride it, and afterwards decide whether to keep your Genie+ for a re-ride or cancel it and replace it with another ride. If you do replace it, your priority is Haunted Mansion—or a re-ride from a prior day or Festival of Fantasy, if you saw Haunted Mansion on Day 1.
In Tomorrowland, next see in this order Buzz Lightyear's Space Ranger Spin, Astro Orbiter, and Monsters Inc. Laugh Floor.
You should be close to eligibility for more Genie+ eligibility. When you are eligible, prioritize Haunted Mansion, a re-ride, or Festival of Fantasy on the conditions noted above.
In Fantasyland, see Mad Tea Party, Dumbo the Flying Elephant, The Barnstormer, Under the Sea ~ Journey of The Little Mermaid, Enchanted Tales with Belle, Prince Charming Regal Carrousel, Mickey's PhilharMagic, and "it's a small world."
Doing them in roughly this order will minimize walking, but lunch and your Genie+ may re-route you.
What happens next depends on what time it is and when the afternoon parade is scheduled on your visit.
By this point you should be into early or mid-afternoon. If it's mid-afternoon, if you do not have Genie+ for Festival of Fantasy, grab a viewing area near the part of the parade route in Frontierland by half an hour before the parade is scheduled to begin. If you do have Genie+, arrive in the Genie+ viewing area a few minutes before the parade is scheduled to begin. Then see the attractions in Liberty Square (see next para) after that.
If it is earlier in the afternoon, fit Festival of Fantasy in around some of the Liberty Square attractions Hall of Presidents, Haunted Mansion (via Genie+, unless you saw it on Day 1) and The Liberty Square Riverboat. Note that both the Hall of Presidents and the Liberty Square Riverboat begin on the hour and the half hour.
Next is your dinner show at Fort Wilderness, the 6.15p show of Hoop-Dee Doo Revue. You get to Fort Wilderness from the boat docks in the Magic Kingdom entry area. The boats take about 20 minutes; you may have to wait for them; and Disney wants you to check in 30 minutes before the show.  So be at the boat docks by 5p.
Take the boat to Fort Wilderness, NOT the Wilderness Lodge, which is a different resort.  Some boats go to both–check with the cast member on the boat to make sure you are on the right boat, and about where to get off.
Once you arrive at the Fort Wilderness dock, ask a cast member where to go to get to Hoop-Dee-Doo Revue–it's in Pioneer Hall, a short walk away. Most leaving the boat will head in that general direction.
PREVIEW OF TOMORROW
You will complete your visit to Disney's Hollywood Studios, with an early start.
Follow yourfirstvisit.net on Facebook or Twitter or Pinterest!!
RELATED STUFF