Hollywood Studios Day 2 Disney World Genie+ with TRON Itinerary
By Dave Shute
(Note: this is from the Disney World Genie+ with Tron Itinerary.)
DISNEY'S HOLLYWOOD STUDIOS DAY 2: SECOND SATURDAY AGENDA
(For the general approach to Hollywood Studios, see the beginning of Hollywood Studios Day 1.)
You complete your visit to Disney's Hollywood Studios today. Your day is shaped into two parts, with an early morning visit to see some key rides, a break for napping or swimming back at the hotel, then a return to the Studios to knock off some Genie+ and any ILL rides that have later returns, plus any shows you have missed.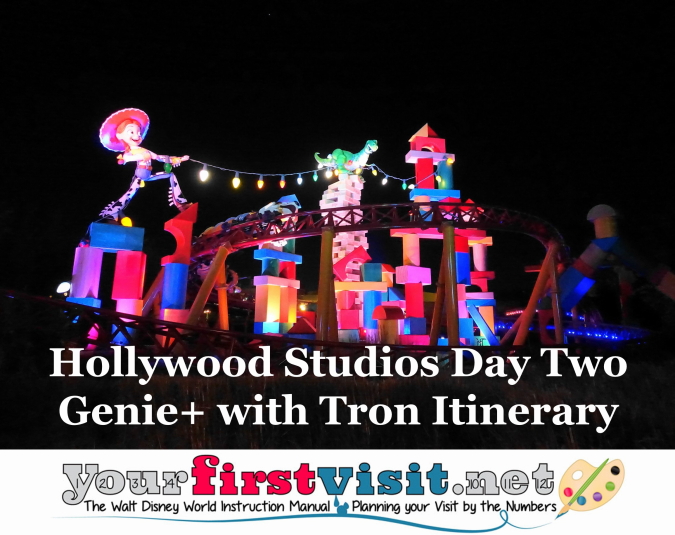 Do the logistics tasks in the early morning, and head to the Studios for Early Entry.
You may have to do the 7a chores while on your way to the park. Almost everyone present at Early Entry will be targeting Rise of the Resistance—you will have seen it on Day 1 via ILL, so will be targeting Slinky Dog Dash and Mickey and Minnie's Runaway Railway instead. After that, you will complete the other rides in Toy Story Land and see other rides nearby in this section of the park.
Your morning will end with a show or two, depending on what is available early— Indiana Jones Epic Stunt Spectacular Show, with its first show commonly at 10.45a, and For the First Time in Forever: A Frozen Sing-Along Celebration, with its first time commonly at 9.30 or 10.30a, would each be good choices. Seeing both (Indy at 10.45, Frozen at 11.30) will make your afternoon/evening return simpler, but will require both luck and some fast walking, so is unlikely.
LOGISTICS
Before 7a, buy Genie+.
At 7a, if you wish to see it again, or if the ride broke on Day 1, book a time via Individual Lightning Lane for Rise of the Resistance. If you are lucky, take a morning booking; otherwise take a late afternoon booking. You may have little in the way of choices…
On Genie+, check the return times for Millennium Falcon: Smugglers Run and, if you missed either on Day 1 or want to re-ride, Tower of Terror and Rock 'n' Roller Coaster (the Coaster will be closed for refurb from February 20 to the "summer" of 2023). Most who are not Star Wars fans would prioritize one of the Sunset Boulevard attractions, but major Star Wars fans simply must do the Millennium Falcon ride, and it becomes the highest priority for them.
Two hours after official general public park open—that is at 10.30a for an 8.30a park open most days–come back to Genie+. Most days you will be able to book at least one other high priority ride (Millennium, Tower, or Rock 'n' Roller) for later afternoon or early evening.
Today, Early Entry is fundamental to your strategy.
AT THE PARK
Arrive at the tapstiles at Disney's Hollywood Studios no later than 45 minutes before Early Entry begins (for example, if the general public opening is 8.30a, this will mean a 7.15a arrival for an 8a Early Entry).
When you are let in for Early Entry, immediately head to Slinky Dog Dash in Toy Story Land and ride it.
Then walk back to Mickey and Minnie's Runaway Railway and ride it.
Then backtrack and see the other attractions in Toy Story Land—Toy Story Mania, and if it looks fun, Alien Swirling Saucers.
One of two entrances to Galaxy's Edge is by Alien Swirling Saucers. Walk through Galaxy's Edge and at its other exit turn right and see Muppet Vision 3D.
Next see Star Tours.
If the timing is right, see the 10.45a showing of the Indiana Jones Epic Stunt Spectacular Show, and then—if you can move quickly enough, and have some luck—the 11.30 showing of For the First Time in Forever: A Frozen Sing-Along Celebration.
The schedules for each are at the links:
If you have managed to see these last two attractions, and if you have no later Genie+ or ILL bookings, then see Walt Disney Presents, and your day is done.
Otherwise, take a break and return to the park later in the day to see the shows, Walt Disney Presents, and any Genie+ or ILL you have booked. Later in the day, Indiana Jones Epic Stunt Spectacular Show typically has its latest shows at 3.15p and 4.30p, and the Frozen Sing-Along Celebration is on the half hour, with its last show at 6.30 or 7.30p.
PREVIEW OF TOMORROW
You will have an early start as you complete your visit to Disney's Animal Kingdom.
Follow yourfirstvisit.net on Facebook or Twitter or Pinterest!!
RELATED STUFF