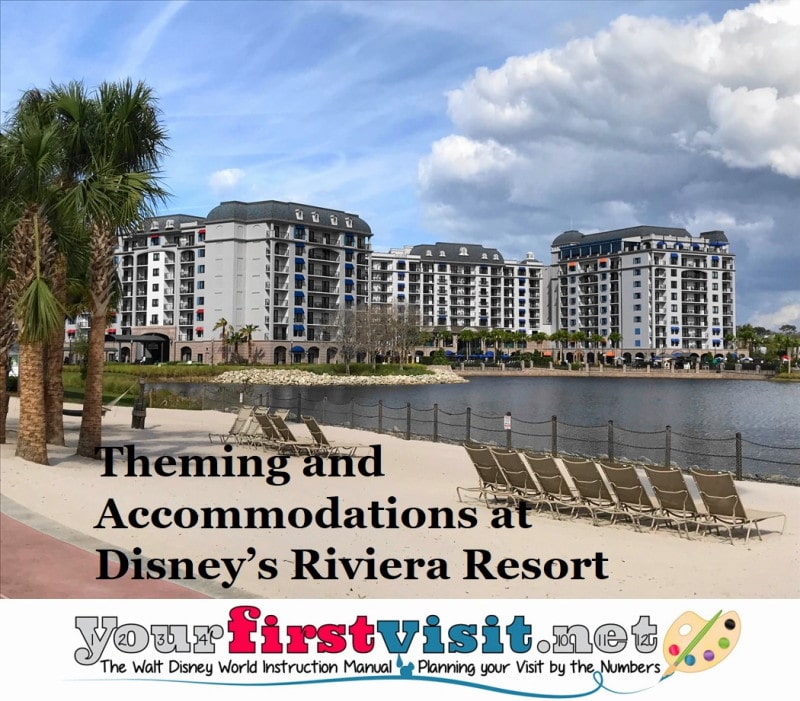 (For the first page of this review of Disney's Riviera Resort, click here.)
THEMING AND ACCOMMODATIONS AT DISNEY'S RIVIERA RESORT
Disney's Riviera Resort is one of many Disney Vacation Club options at Walt Disney World. These resorts are available not only to DVC members, but also to everyone else, just like any other Disney World offering, through the regular Walt Disney World website or resort reservations phone number at 407-939-7675.
Kelly, the long-time travel agent partner of this site, can also book them for you. See the form near the bottom of this page for how to contact her.
They also are sometimes available to the general public at a discount through renting points from a Disney Vacation Club member or point broker.
Because the two sets of options at the Wilderness Lodge, Animal Kingdom Lodge and Saratoga Springs are so different, for review purposes I count thirteen options among the Disney Vacation Club resorts at Walt Disney World.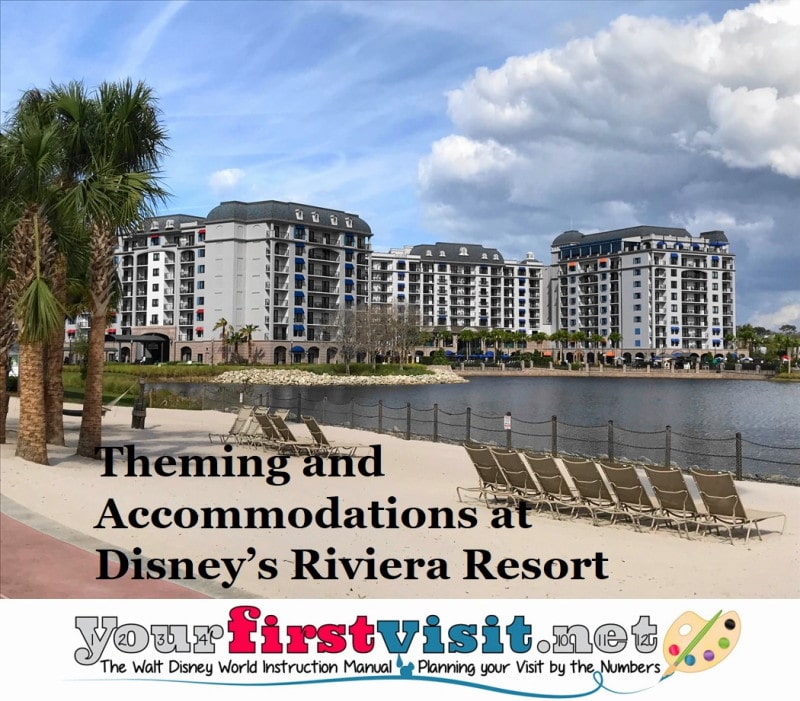 The overall ranking among them for first time family visitors is as follows:
The next DVC offering to open will be Reflections, located on grounds that were formerly part of Fort Wilderness.
THE THEMING OF DISNEY'S RIVIERA RESORT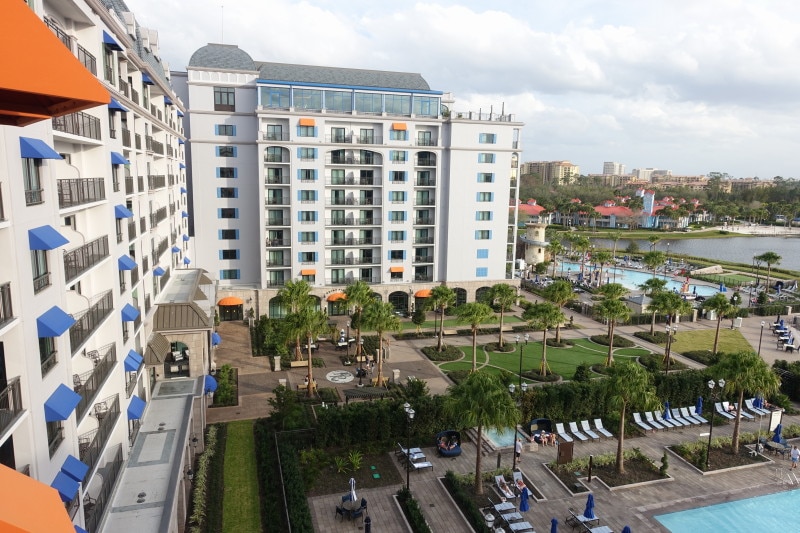 Disney's Riviera Resort has what to me is frankly confused theming. The language on Disney's website emphasizes its European theming…
Disney's Riviera Resort is designed to capture the magic of Europe that Walt Disney fell in love with once upon a time…Disney's Riviera Resort is a modern masterpiece of imagination, with each detail drawing upon the influences of Europe and the Mediterranean…You'll also discover a unique art collection celebrating beloved Disney Characters and icons…
…but the name itself centers attention on the Riviera, which most people will think of as part of France and Italy on the Mediterranean. (There are other places that call themselves "Rivieras" as well, and not just in the obvious spots–you'll find such in Russia and England.)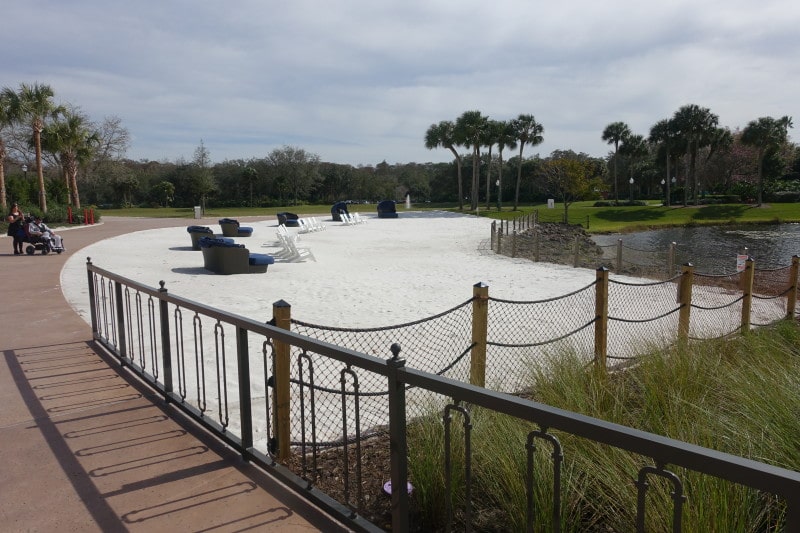 So your reaction to the actual theming you find may vary based on what you expect.  On the "Riviera" front, there's next to nothing except a beach at the side (above) that is not even on the main resort map (below)…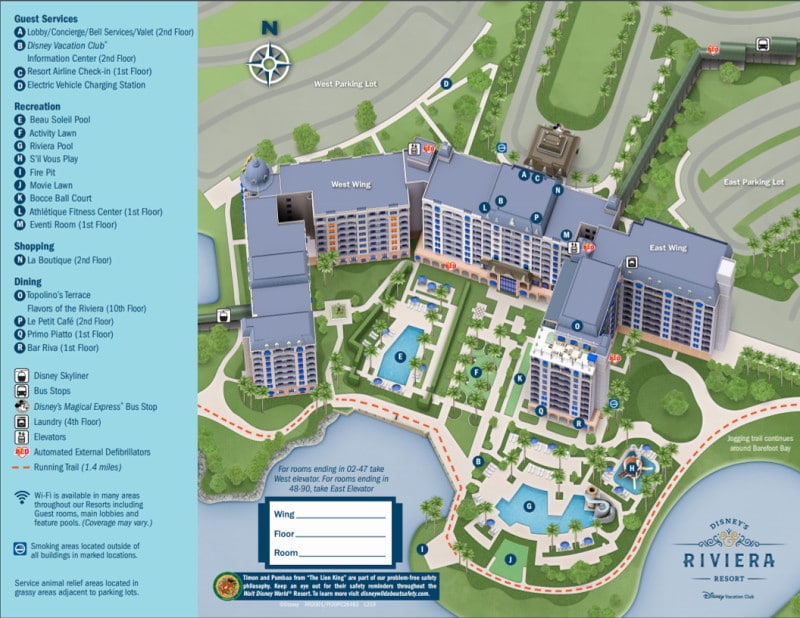 …although this beach is on the physical map of the resort shown in its courtyard area, in the left center of the map: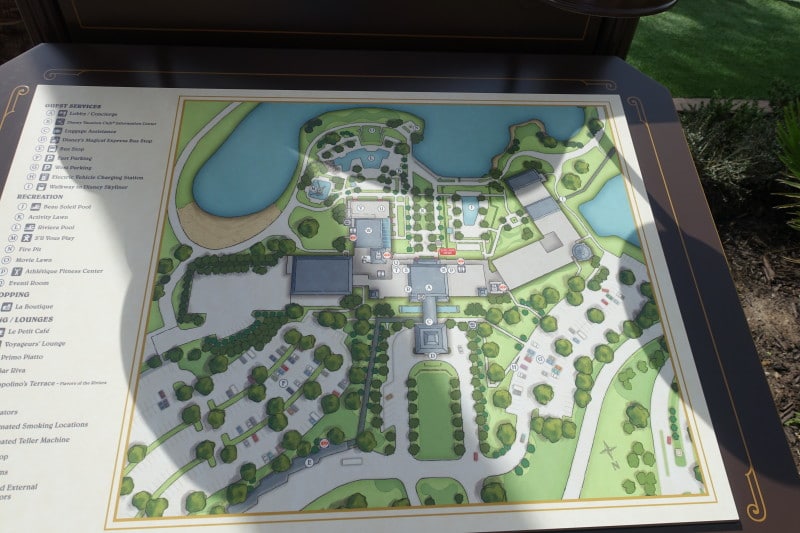 Beyond that, in basic architecture there's nothing distinctive about the exterior that much suggests the Riviera or Europe, either, except some gestures to mansard roofs.
Perhaps the pastels in next-door Caribbean Beach prevented a color other than grey. But grey adds no festivity, no charm, no reference to the Riviera, and little reference to Europe.
To see what was possible on the Riviera theme, contrast this with the Italian-Riviera inspired Loews Portofino Bay Hotel at Universal Orlando, above…
Or a more distinctively "European" looking design good have been chosen, even within the rough massing of the current building.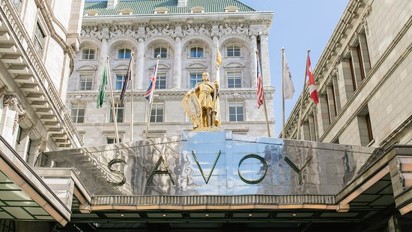 Disney could have mimicked, for example, the rich architecture details of famous old world hotels such as the Savoy.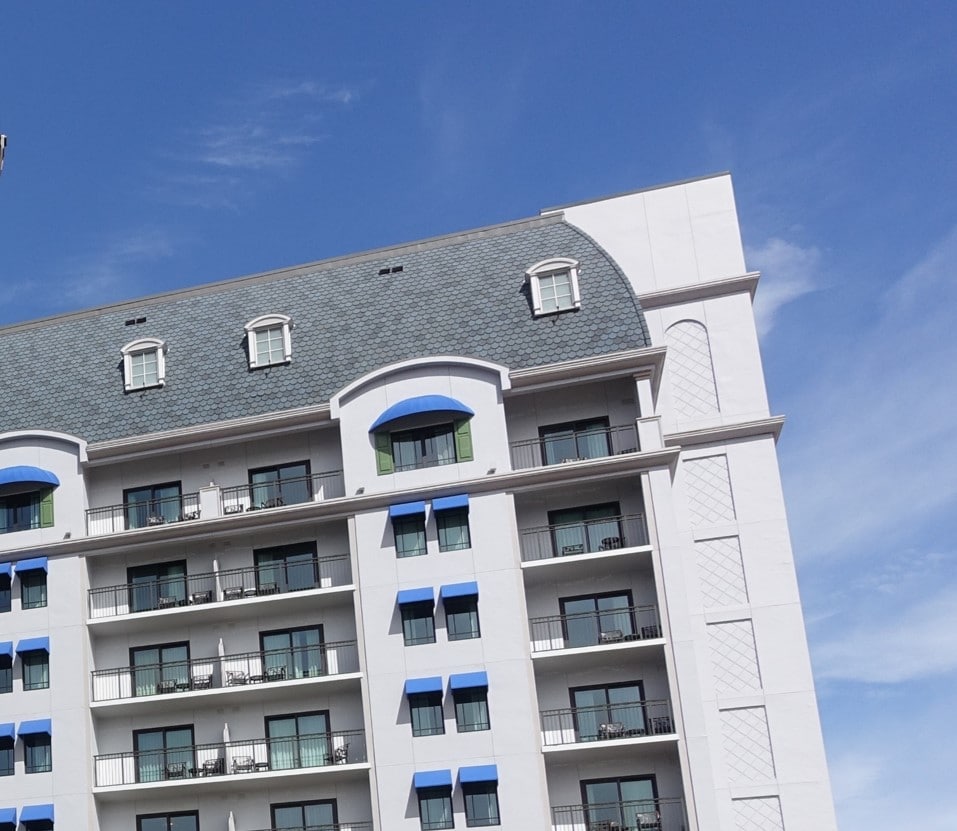 Instead we get little detail.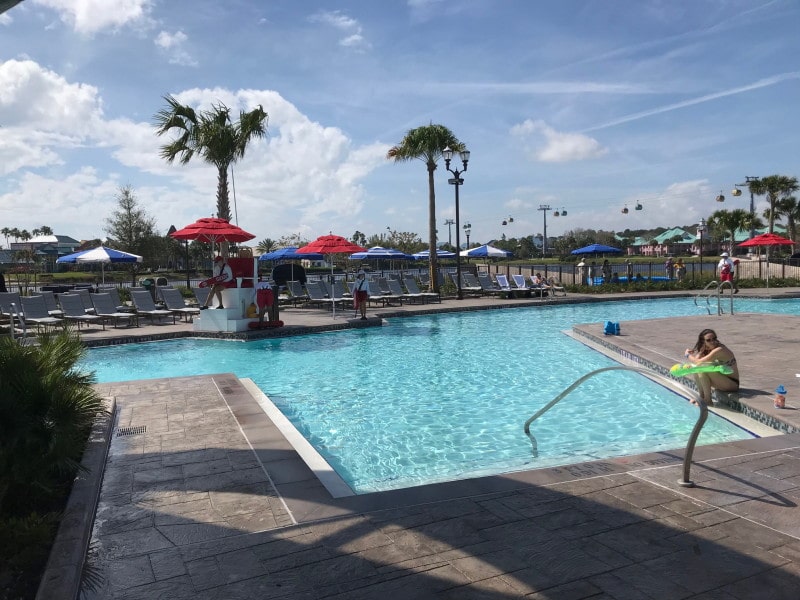 The pools represent another un-taken theming opportunity. A beach theme could have tied the pools and waterside portion of Disney's Riviera Resort to the Riviera concept.  But instead we get a basically un-themed and generic set of pools.  There is nothing substantively wrong with the Riviera pools–they have all the amenities you'd hope for. They just have next to no theming.
At Disney's Riviera Resort, we get a lot of gray, little Europe, and even less Riviera. There's nothing wrong with the exterior architecture and detailing; it's just un-interesting and charmless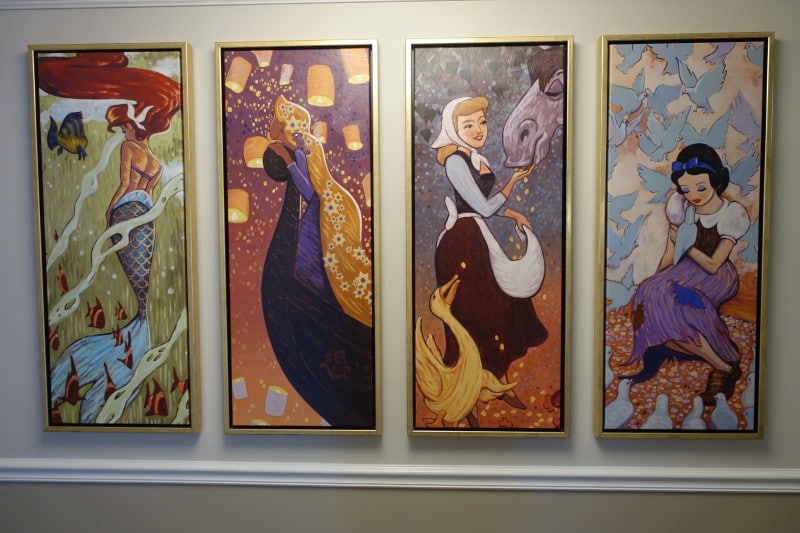 Inside, things are different.  The generally lovely public spaces have no particular architectural theming to them, but Disney's Riviera Resort is infused with delightful art that references Disney characters from European settings, and multiple, stylistically varied imaginings of castles.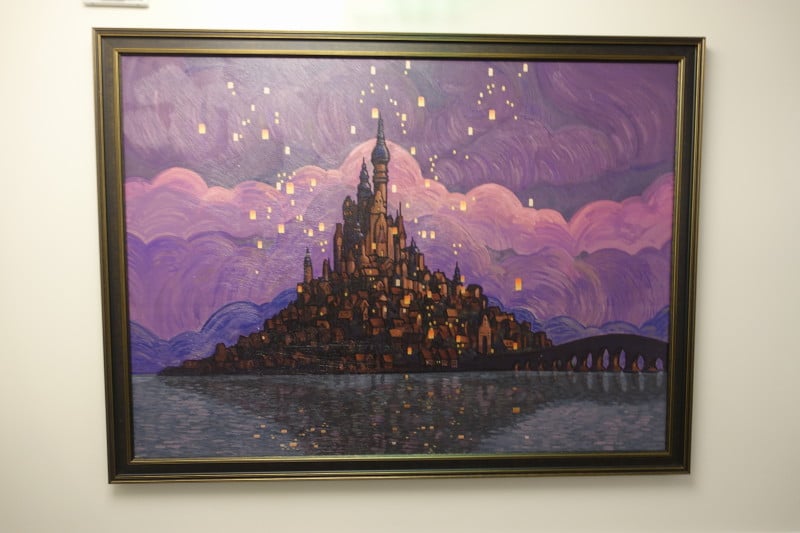 A few more examples, including from the outdoor mosaics in the breezeway to the Skyliner: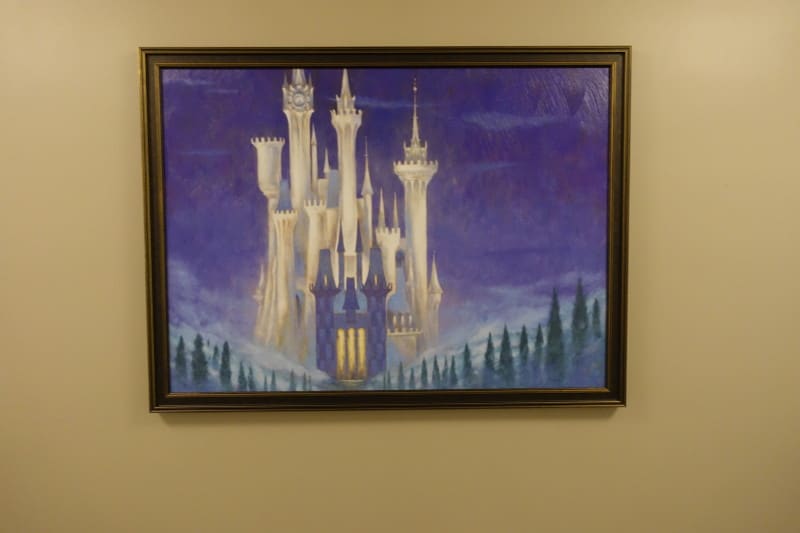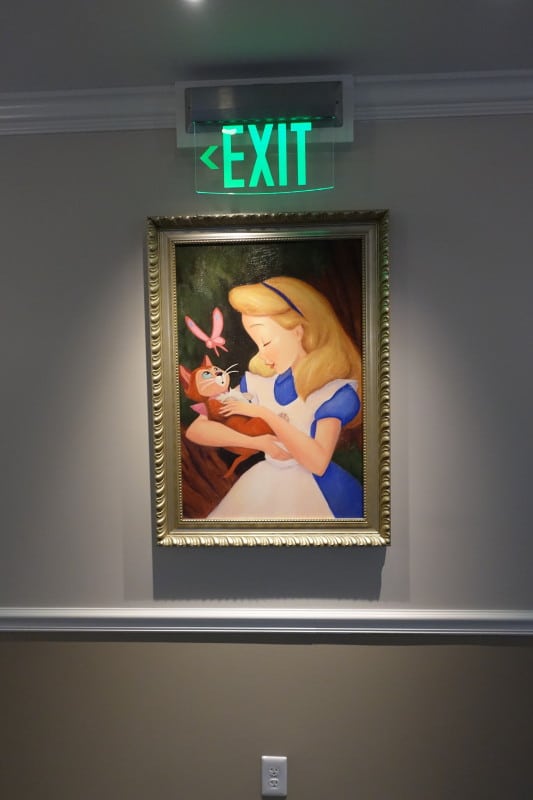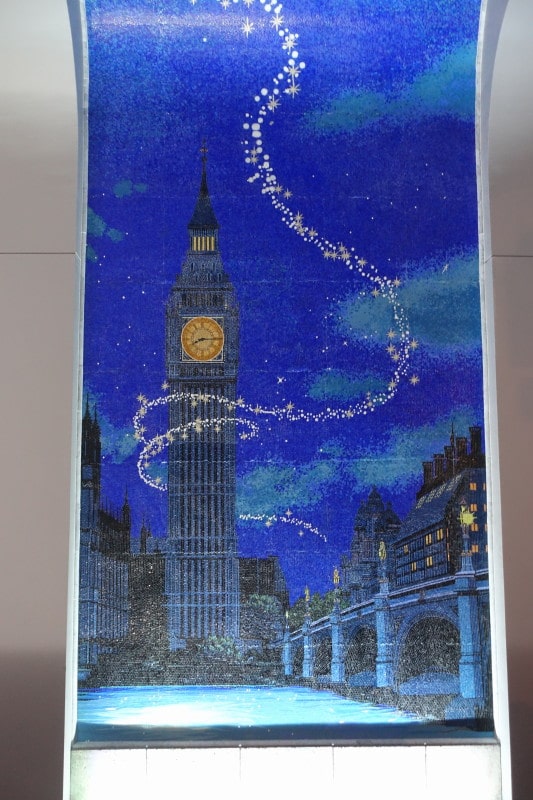 I could publish dozens more; the public art at Riviera is as well done, extensive, and fun as the two standard-setters at Disney World, the Wilderness Lodge and Jambo House.
Room art does not live up to this high standard, but is still more "Disney" than you'll find in many other settings. Some examples: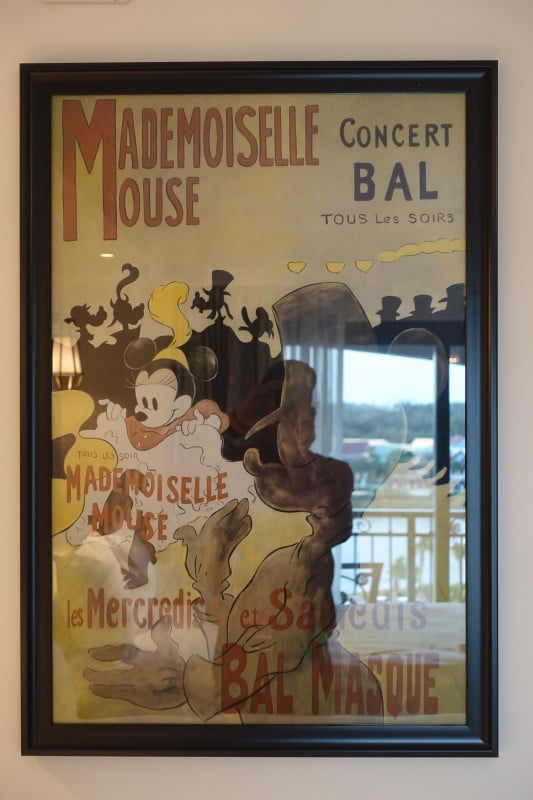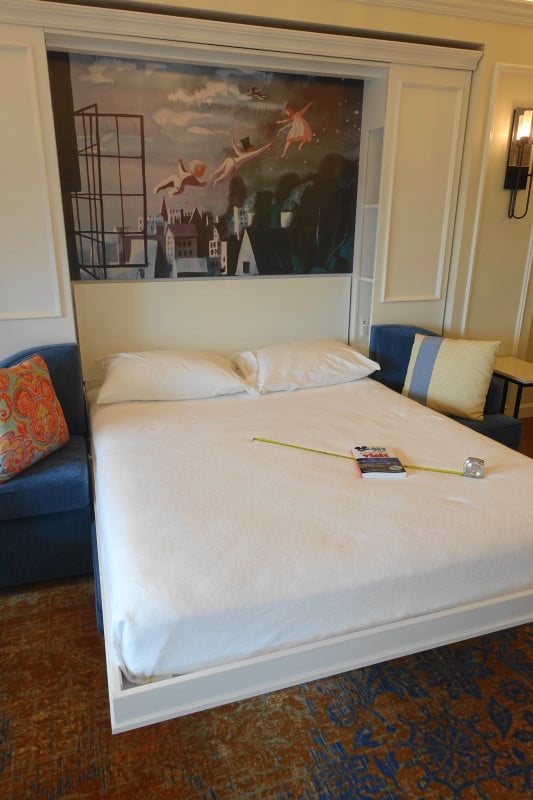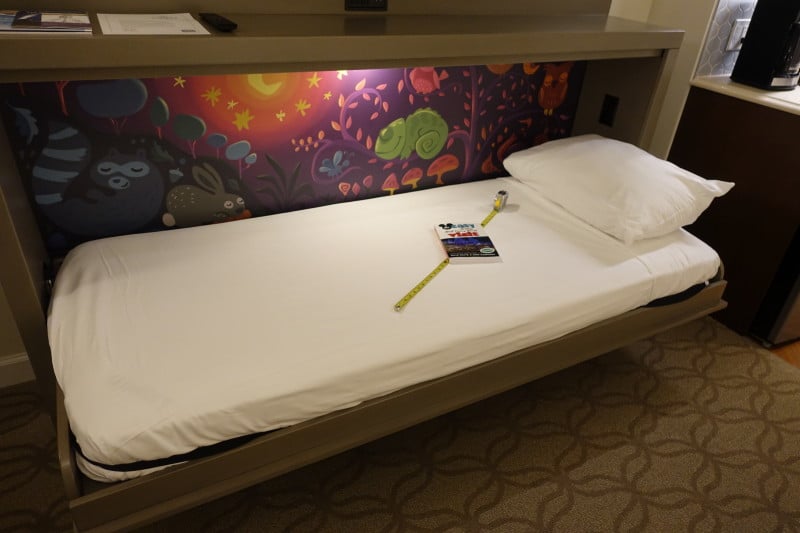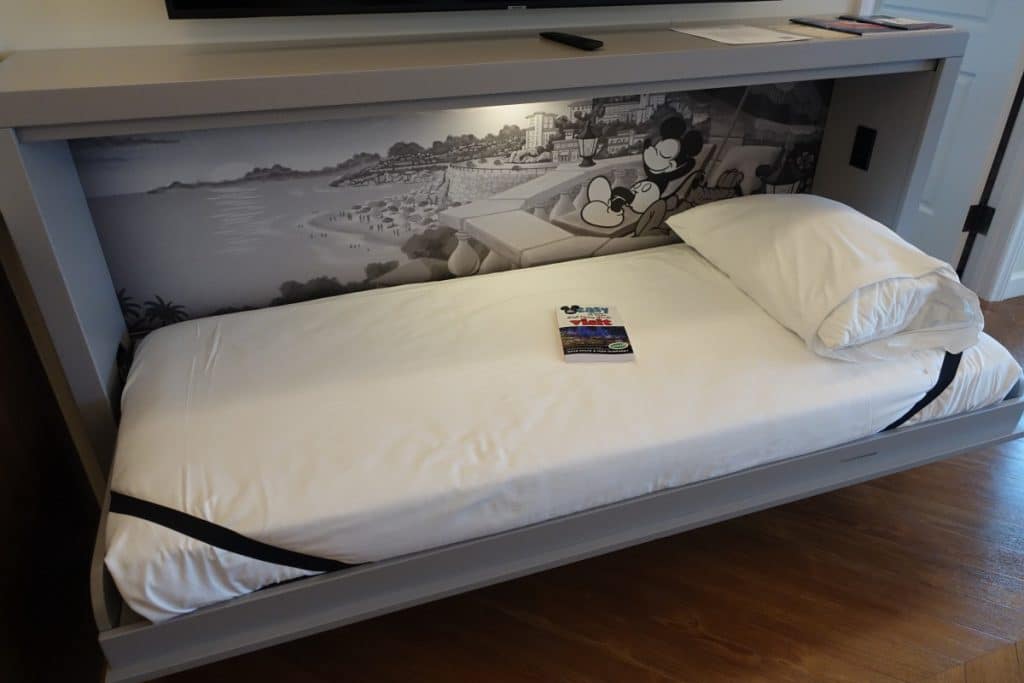 In total, the conceptual and architectural theming and exterior coloring and detailing of Disney's Riviera Resort are dull and confused, but the interior includes delightful art.
ACCOMMODATIONS AT DISNEY'S RIVIERA RESORT
All Disney Vacation Club resorts except the Polynesian Villas and Bungalows have studio rooms, One-Bedroom Villas, and Two-Bedroom Villas. Most have Grand Villas as well.
Disney's Riviera Resort has all four of these room types, as well as a distinctive and perhaps not all that successful two person studio offering, Tower Studios. All, and their principal variants, are discussed below.
STANDARD STUDIOS AT DISNEY'S RIVIERA RESORT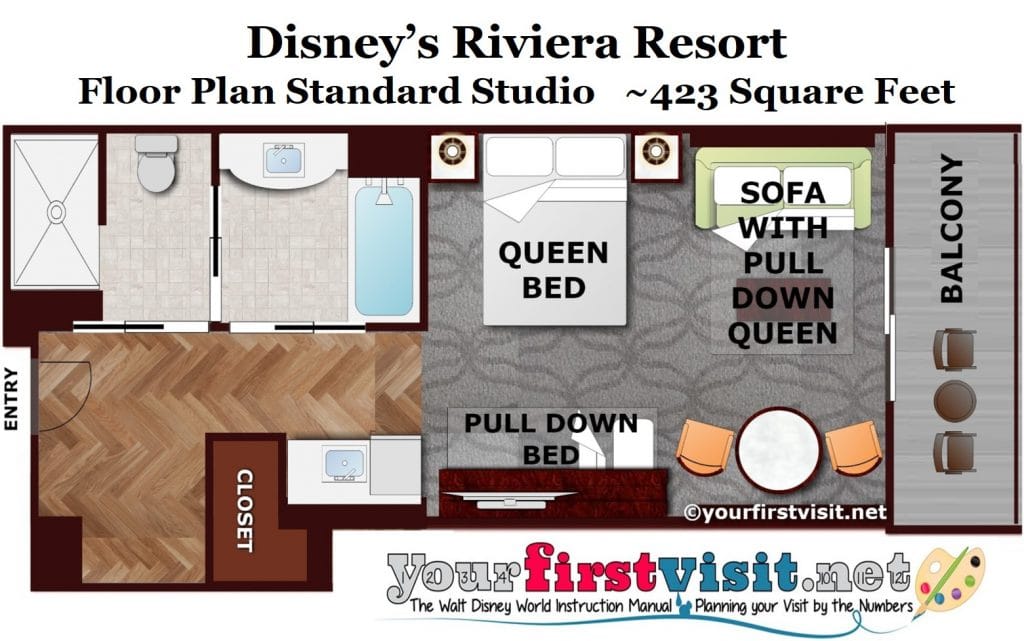 Disney's Riviera Resort has two very different types of Studios:
What I'll call Standard Studios, which are comparable to those in the other DVC offerings, and
Tower Studios, unique to Riviera.
Standard Studios at Disney's Riviera Resort, which I'll discuss first, are larger than those at any DVC resort other than Old Key West and the Polynesian, with most of the extra space in the bath area, and some (particularly compared to the Grand Floridian, which has studios with a similar bath layout) in the living/sleeping area.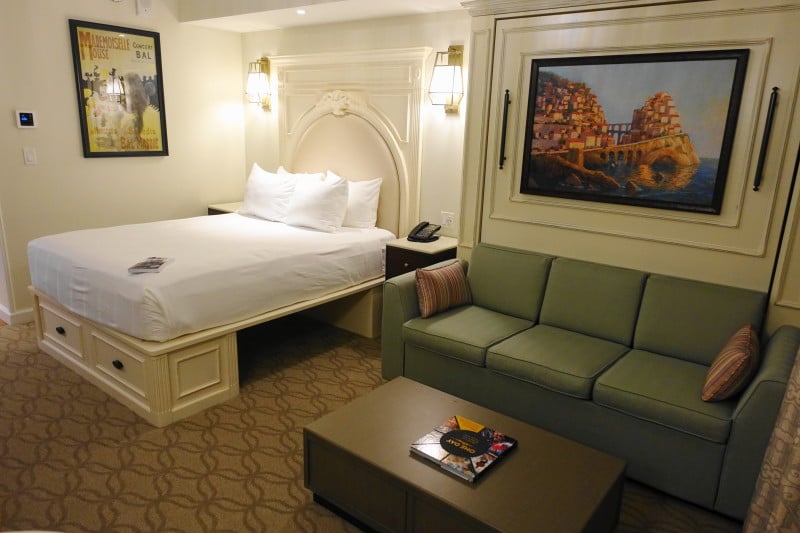 They are also one of only a few DVC Studios that sleeps five and has three sleeping surfaces (the others are the studios at the Grand Floridian, Boulder Ridge Villas at Disney's Wilderness Lodge, the BoardWalk Villas, and the Beach Club Villas.)  Two sleeping spots are on the queen bed, two more on the queen that folds out from the wall above the couch, and the fifth sleeping spot is a fold-down bed that swings down below the TV.
Another distinction in these spaces is the tub/shower/sink combo on one side of the divided bath, and a toilet/shower on the other side. This creates a much more flexible bath. Baths at the Grand Floridian are comparable; Polynesian Studio baths are also divided but in a less useful way.
Like all DVC studios, these spaces also come with a kitchenette including a sink, mini-fridge, microwave, toaster, and coffee pot. A different orientation of the closet, using space stolen from what would otherwise be the entry from a Lock-Off One Bedroom, increases the size and accessibility of the closet compared to most studios.  Reportedly there are dedicated Studios at Rivera as well, which might have a different closet plan.  If you stay in such a room (I am not convinced they exist) please let me know any ways they are different than the floor plan!
Standard Studios at Disney's Riviera Resort have little in the way of traditional storage, but using the large closet and the non-traditional storage spots Disney has designed into these rooms should make storage in them just fine for most.
A photo tour of a Standard Studio at Disney's Riviera Resort begins here.
TOWER STUDIOS AT DISNEY'S RIVIERA RESORT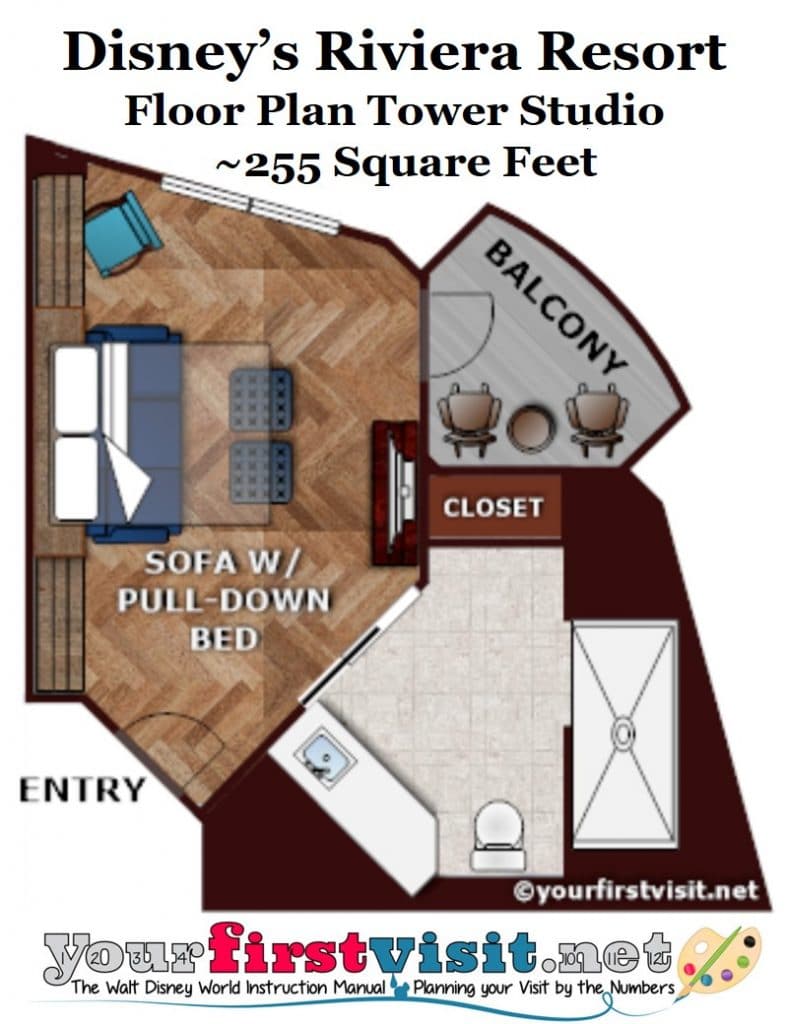 Tower Studios are a distinct offering at Riviera.  They sleep two in a reportedly cramped space (I have not stayed in one yet, but co-author Josh of easyWDW.com has; I'll link to his review once it is up.)
The sleeping spot is a queen that folds down from the wall behind the couch. This leaves one chair–plus whatever you can pull in from the balcony (and fit). Tower Studios provide a slightly less expensive way to access Rivera for one or two person parties willing to fit into them than Standard Studios, at the cost of some required openness to experience the space itself.
Like all other Walt Disney World rooms, in addition to the (two) folks you can officially book into a Tower Studio, you can also add another person younger than three who sleeps in a crib.  I'm not sure where a crib might best fit–perhaps on the door side of the bed.  If you've successfully added a crib, let me know where you put it in the comments below!
The area with the Tower Studios could have been simply another three bay addition to the general Riviera layout.  See the image below, where the Tower Studios are in the upper left corner, circled in red.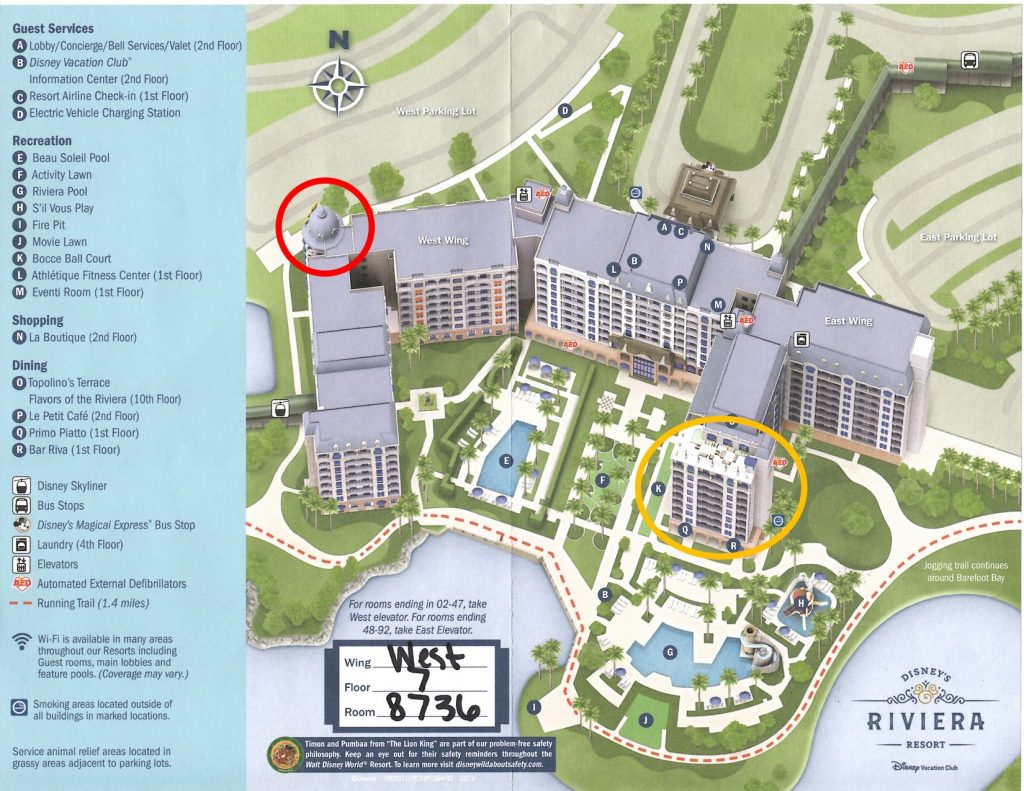 Making these Tower Studios instead adds much needed visual interest to the facade, and makes Riviera slightly more economically accessible.
ONE BEDROOM VILLAS AT DISNEY'S RIVIERA RESORT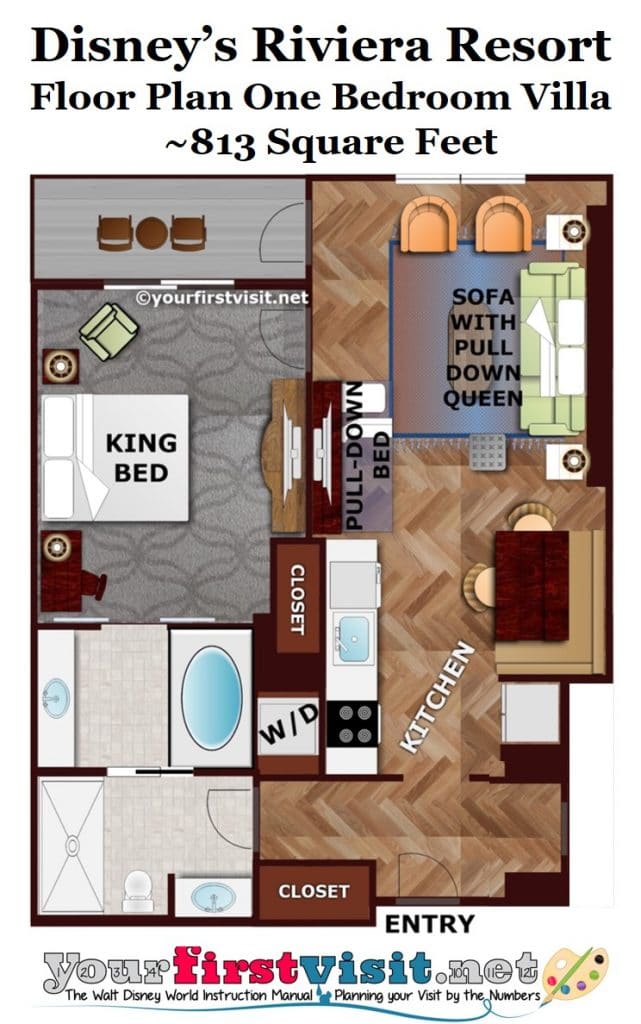 One Bedroom Villas at Disney's Riviera Resort are larger than any other such DVC spaces except those at Old Key West and the Villas at the Grand Floridian. They sleep five–two in the king in the master, two on a fold-down queen in the living room, and the fifth in a living room fold down bed under the TV.
Like most DVC offerings except Kidani Village and Bay Lake Tower,   One Bedroom Villas at Disney's Riviera Resort have only one bath for the five people they hold. But that one bath is large, divided, and easily accessible from all points in the villa.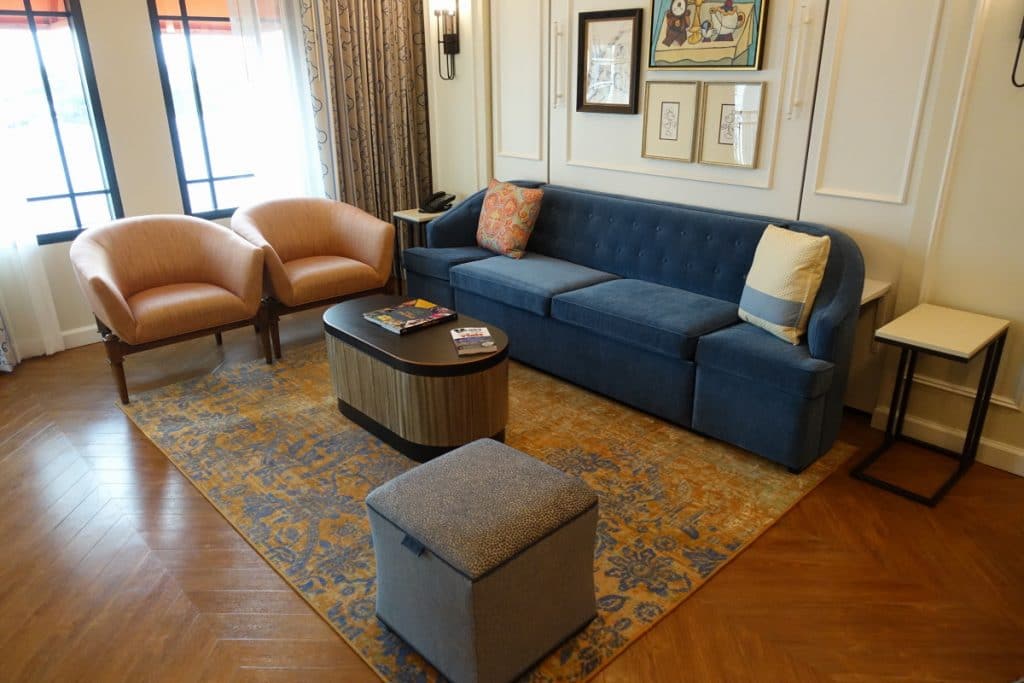 The kitchen, dining and living rooms spaces are quite comfortable for a family of five, so on balance I'd say that for most families Riviera livability is comparable to that at the villas with two baths.
See this page for a photo tour of the master bedroom and bath, and this for the combined kitchen/dining/living area.
TWO BEDROOM LOCK-OFF VILLAS AT DISNEY'S RIVIERA RESORT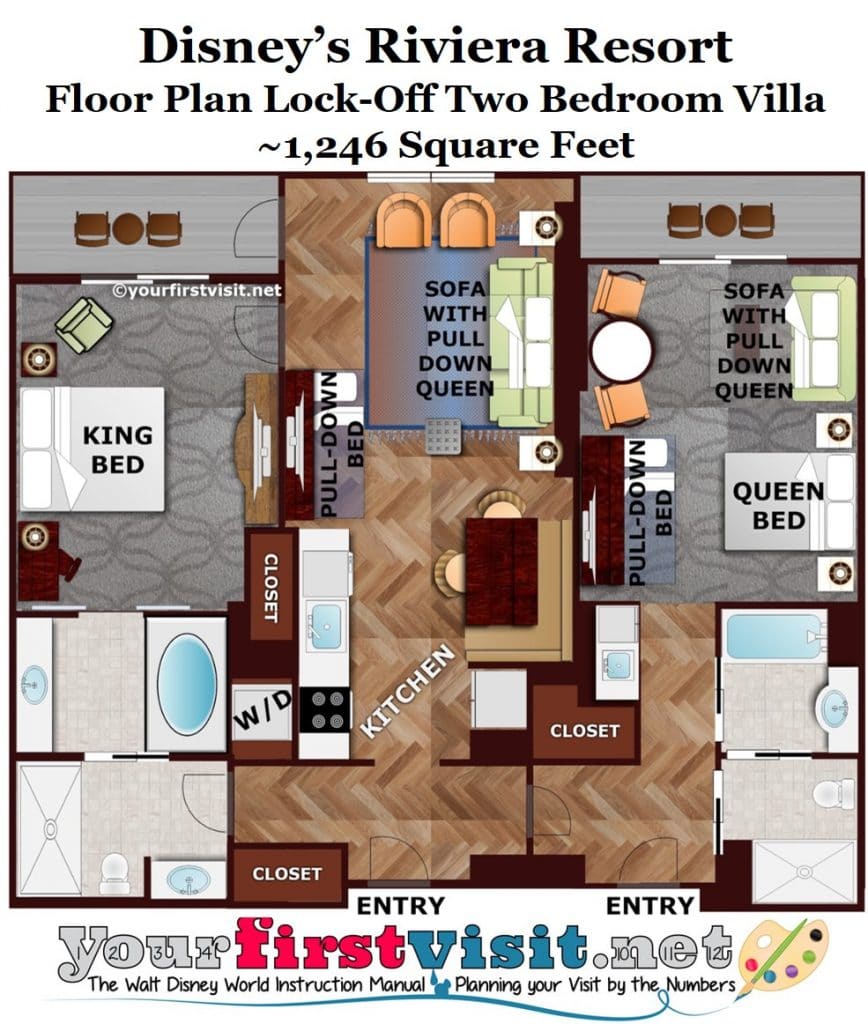 Two Bedroom Villas at Disney's Riviera Resort  come in two variants–lock-offs, that combine a studio and a One Bedroom Villa, and "dedicated" Two Bedrooms Villas that have a slightly different layout for the second bedroom and the hall that links it to the entry.
The floor plan for a lock-off is above; a floor plan of a dedicated villa–and discussion of the differences between the two types of second bedrooms–is below.
Lock-off Two Bedroom Villas sleep ten.
On the one bedroom side, the master sleeps two and living room three.  The Studio side sleeps five.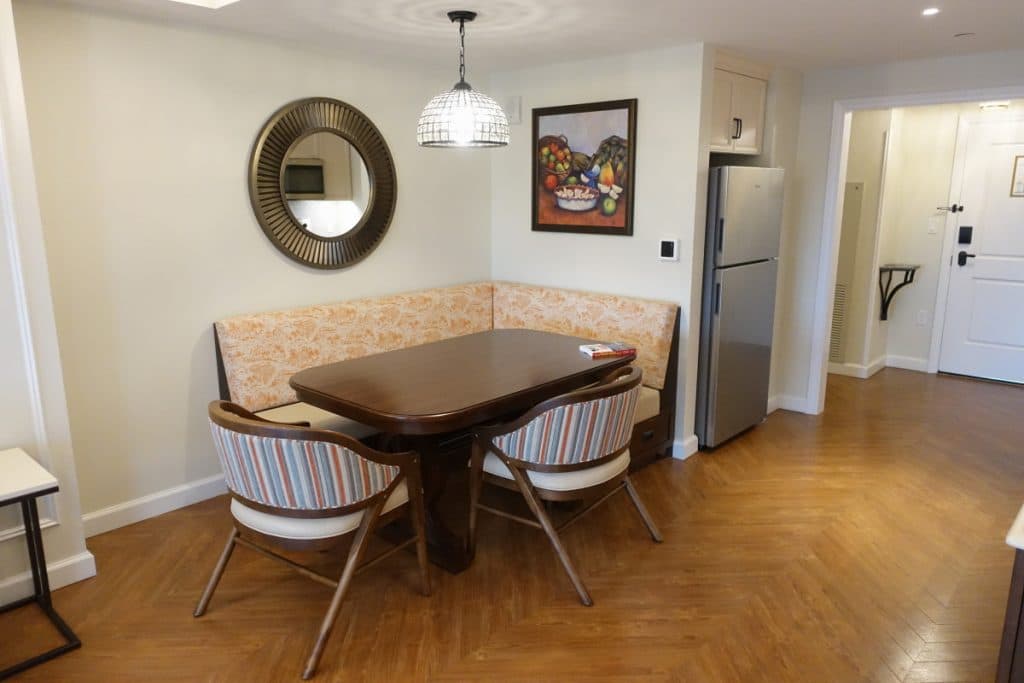 These two bedroom villas are comfortable for larger families, having more seating spots both at the dining table and in the living room than many other DVC two bedrooms.
Only Old Key West, Kidani, Grand Floridian, and Bay Lake Tower villas are comparable in their effectiveness for larger families, and only Old Key West Two Bedroom Villas are larger.
TWO BEDROOM DEDICATED VILLAS AT DISNEY'S RIVIERA RESORT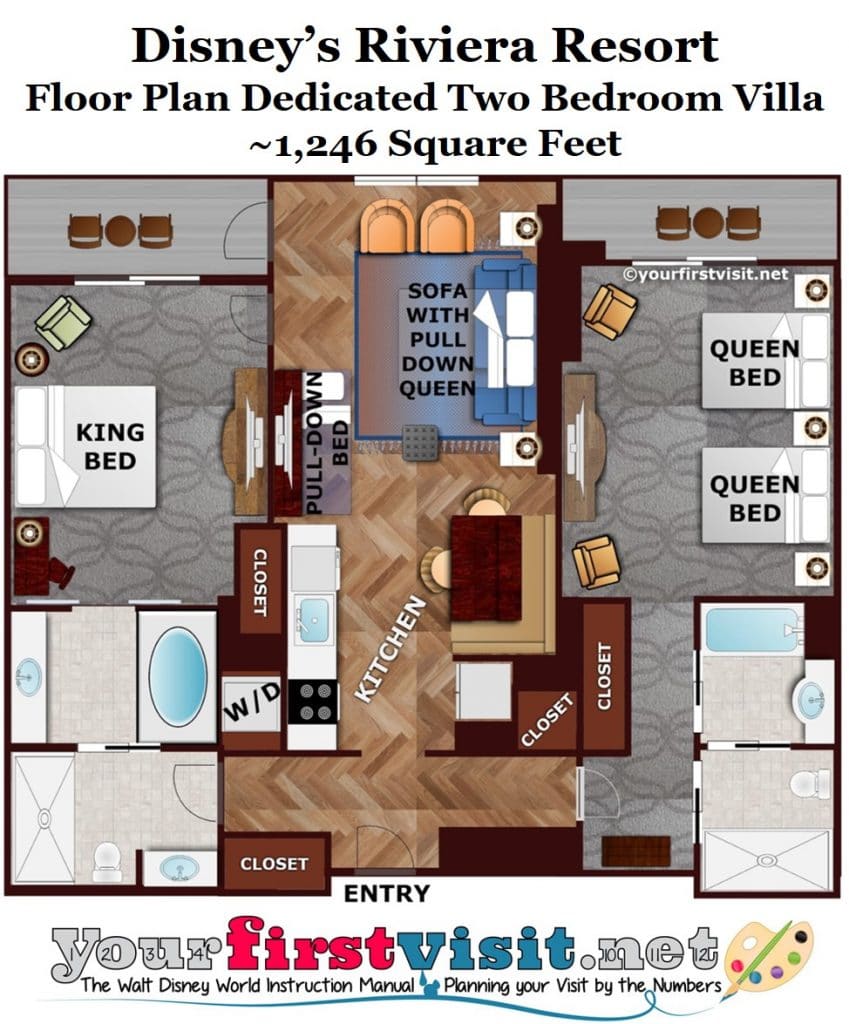 Dedicated Two Bedroom Villas at Disney's Riviera Resort villas sleep nine. The master sleeps two and living room three.  The second bedroom sleeps four.
All the differences compared to a Lock-Off are in the hall to the second bedroom, and in the second bedroom itself.  The hall has an extra closet.  The second bedroom is missing all the kitchen gear, the couch, and the fold-down fifth sleeping spot. It replaces these with a larger closet, a second queen, and much more storage than you'll find in a Studio.
For a photo tour of the second bedroom in a dedicated villa at Riviera, see this.
GRAND VILLAS AT DISNEY'S RIVIERA RESORT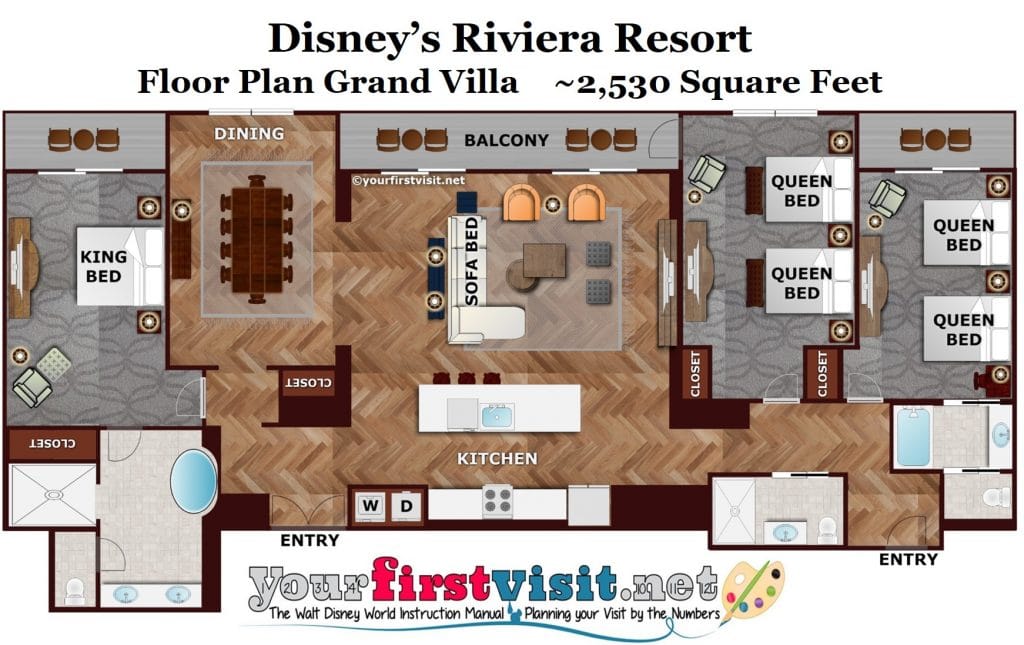 Grand Villas at the Disney's Riviera Resort are distinctive for having a three bay Living-Kitchen-Dining area.  All other Grand Villas that I can think of except those at Copper Creek use only two bays for the Living-Kitchen-Dining space.  The missing bay is a variously a game room, a media room, or most commonly an empty space that allows for a two story living room.
This extra size in the living-dining area makes these spaces more livable than most DVC Grand Villas
Like most other Grand Villas, these rooms sleep 12. They are stacked on top of each other beneath Topolino's and its viewing terrace.  In the resort map higher on the page, they are center-right, and circled in gold.
There are some flaws in the design.  One is big differences among the two queen bedrooms–one has a private balcony and a private bath, the other shares a balcony and shares an across-the-hall bath. This could lead to simmering jealousies and bitterness among family members, which is either a bug or a feature.
But overall, like the other room types at Disney's Riviera Resort, these Riviera Resort Grand Villas are among the best designed among all the Disney World DVC Grand Villa options, with only the Copper Creek Grand Villas and the Grand Floridian Grand Villas in the same class.
This review continues here.
The long-time travel agent partner of this site, Kelly, can book you at Disney's Riviera Resort or anywhere else at Disney World.  Contact her using the form below!
PAGES IN THIS REVIEW OF DISNEY'S RIVIERA RESORT


Follow yourfirstvisit.net on Facebook or Twitter or Pinterest!!