Dining at Disney's Riviera Resort
By Dave Shute
(For the first page of this review of Disney's Riviera Resort, click here.)
DINING AT DISNEY'S RIVIERA RESORT
Most of the Disney Vacation Resorts largely share the dining offered by their paired deluxe resort. Disney's Riviera Resort, as a standalone DVC offering not paired with a deluxe resort, offers its own complete set of dining venues, with a substantial table service and a major quick service offering, and also several bars, each of which has a food menu of some sort.
When you factor in how convenient all of these offerings are—Disney's Riviera Resort is the most compact of the stand-alone DVC offerings–on balance dining at Disney's Riviera Resort is better than that at the other standalone DVC resorts, and on a par with or better than dining at all the paired resorts except for the monorail resort DVC offerings.
PRIMO PIATTO AT DISNEY'S RIVIERA RESORT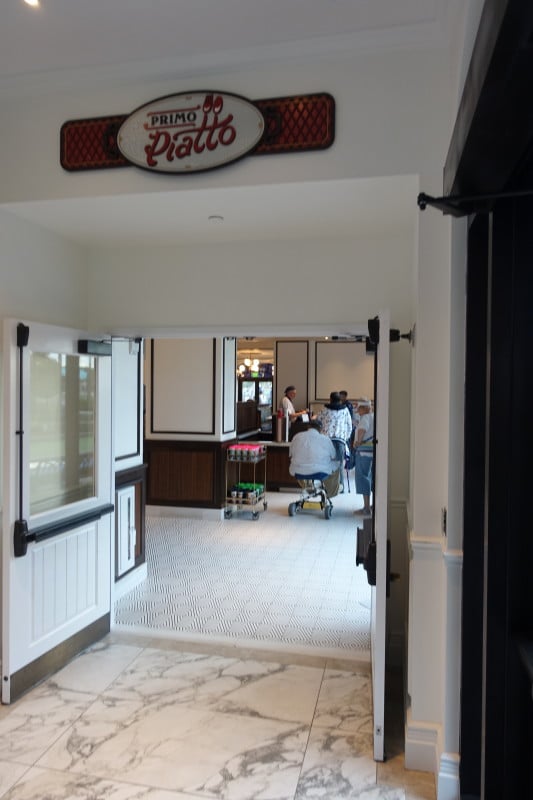 Primo Piatto (Italian for "first plate) is the principal quick-service venue at Disney's Riviera Resort. On the first floor of the East Wing, it is also convenient to the two pools at Riviera.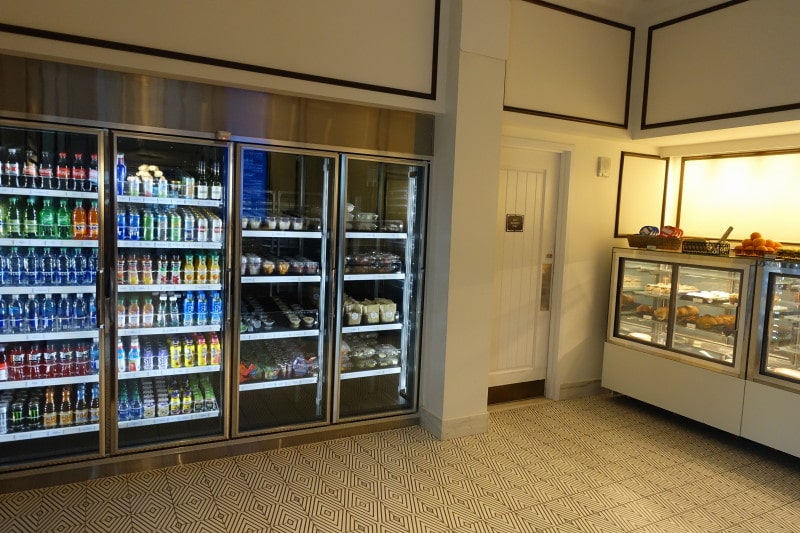 It begins with a snacks/cold drinks/pre-packaged foods/bakery area.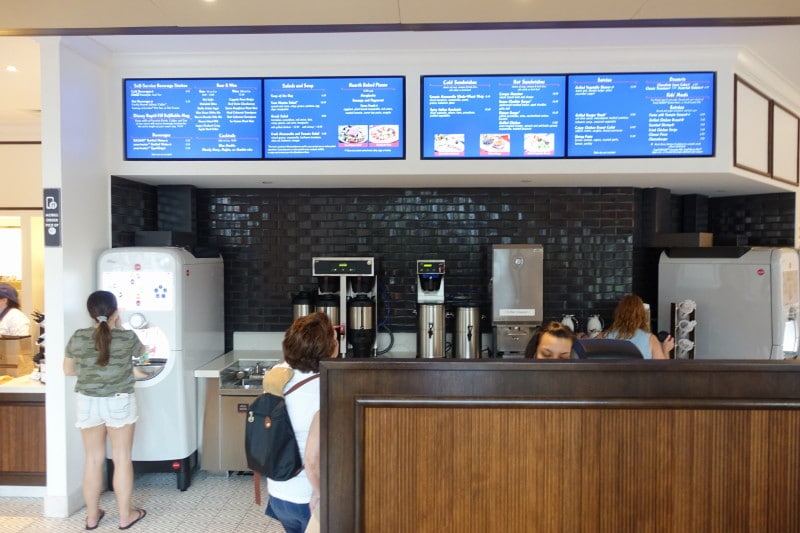 After that is an electronic menu area and a couple of cash registers. The current Primo Piatto menu is here. Toggle it to see the various meal periods.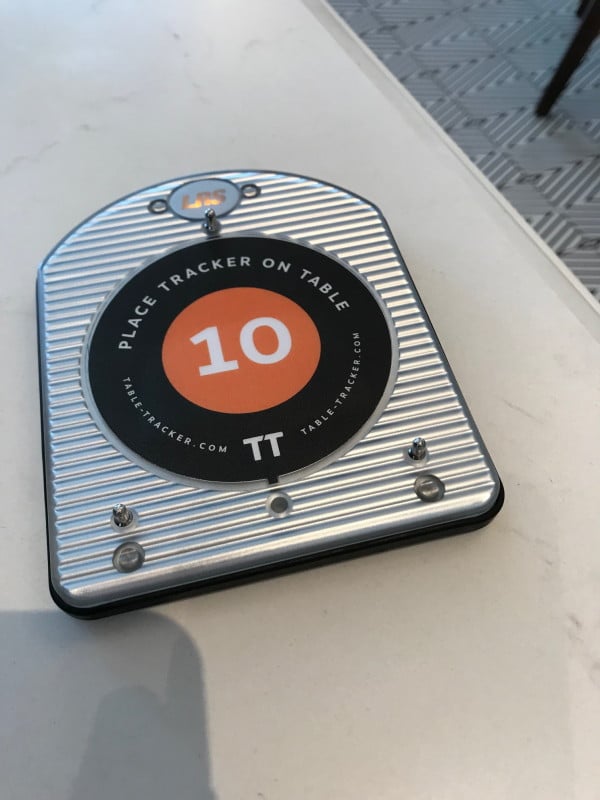 You order here, and bring one of the increasingly common electronic pucks to your table, which a cast member will use to find you and deliver your order.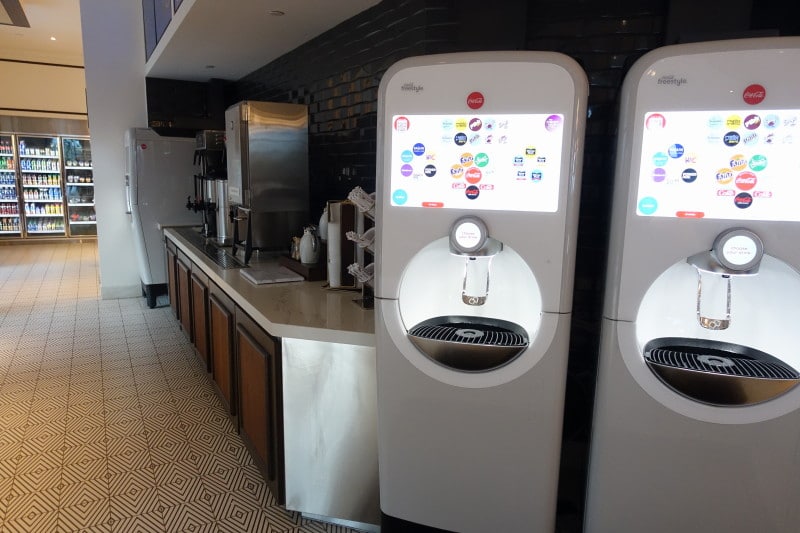 Behind the registers is an area with condiments and such, and also some beverages–coffee and three Coke Freestyle machines in particular.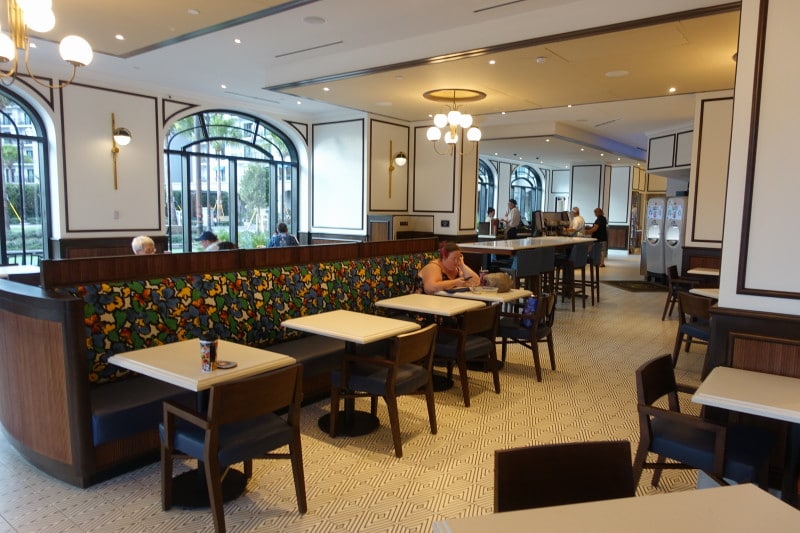 The seating area is bright and nice…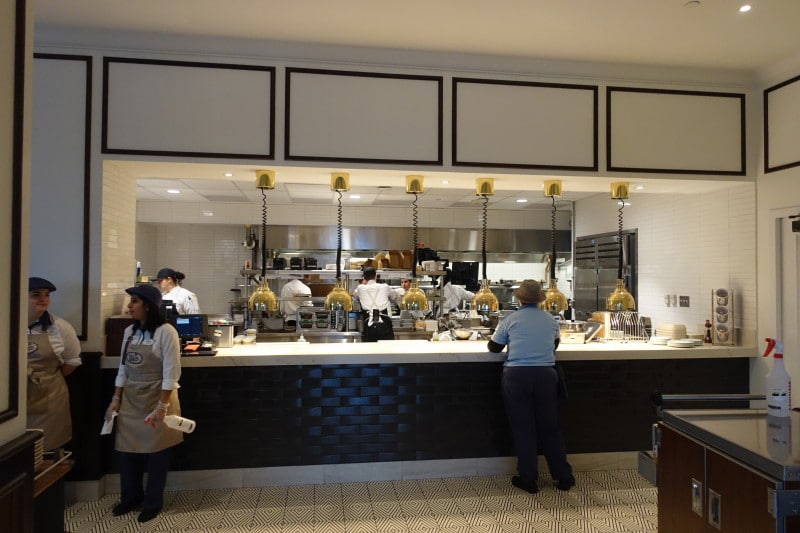 …includes a view of the kitchen…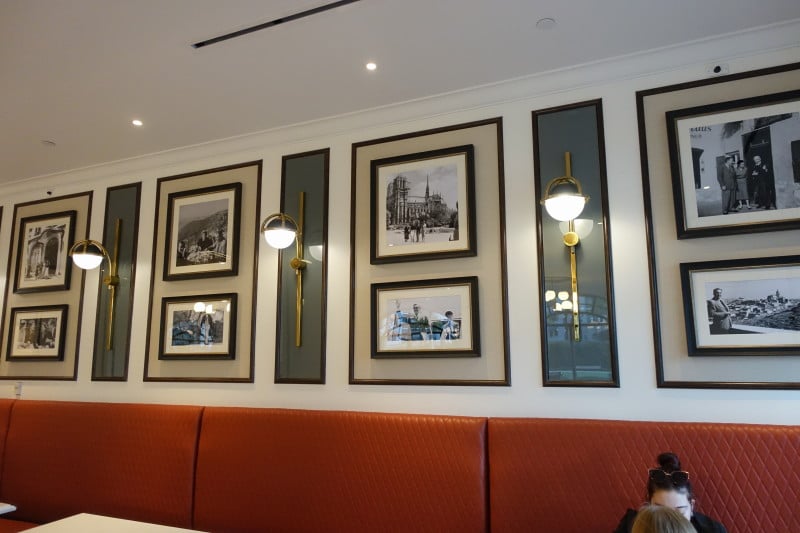 …and is lined with photographs, particularly from Walt's summer 1935 visit to Europe.
I've had a number of meals here, and with one exception–more about me than the food–found them all just fine.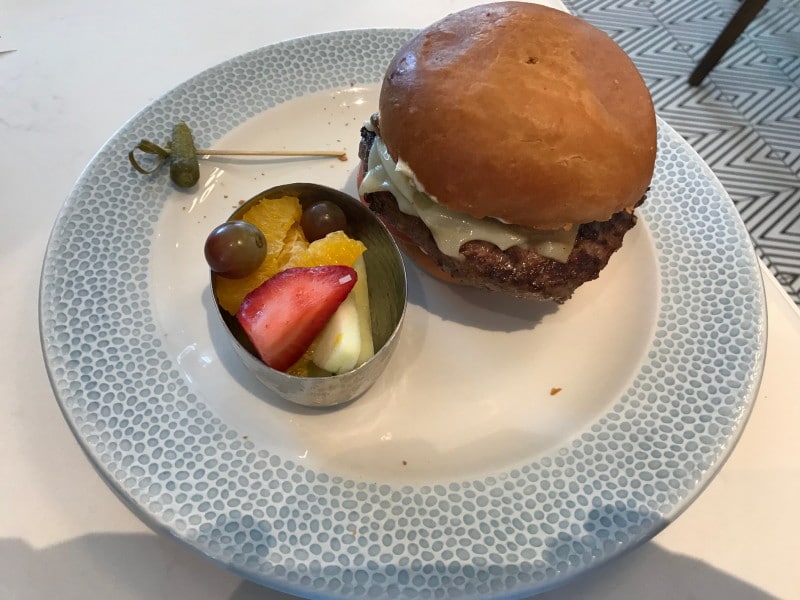 The Riviera Burger…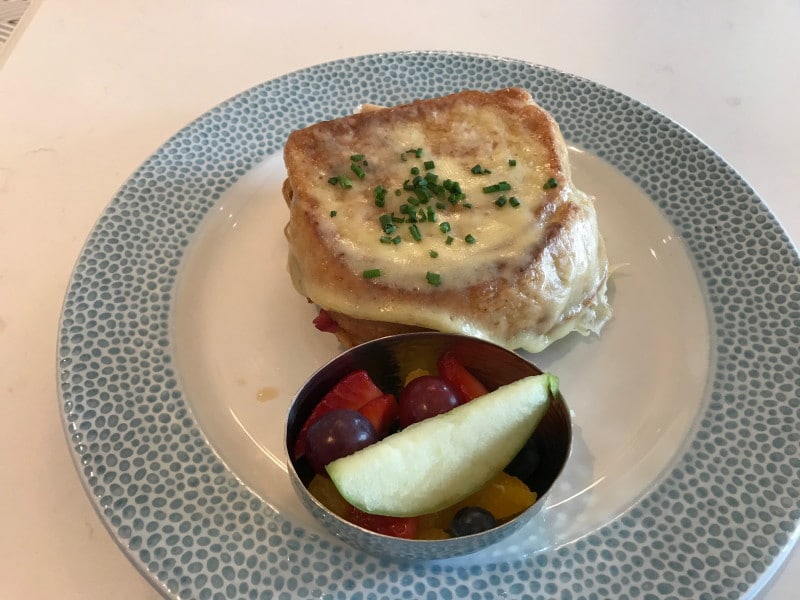 …the Croque Monsieur, which was fine as a representative of its kind, but I have never quite gotten the point of this sandwich…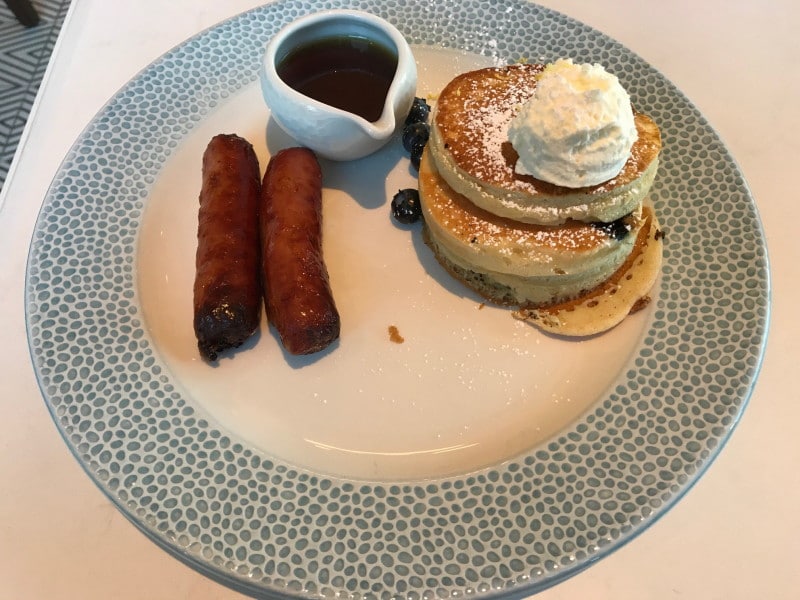 …some delightful blueberry-lemon pancakes…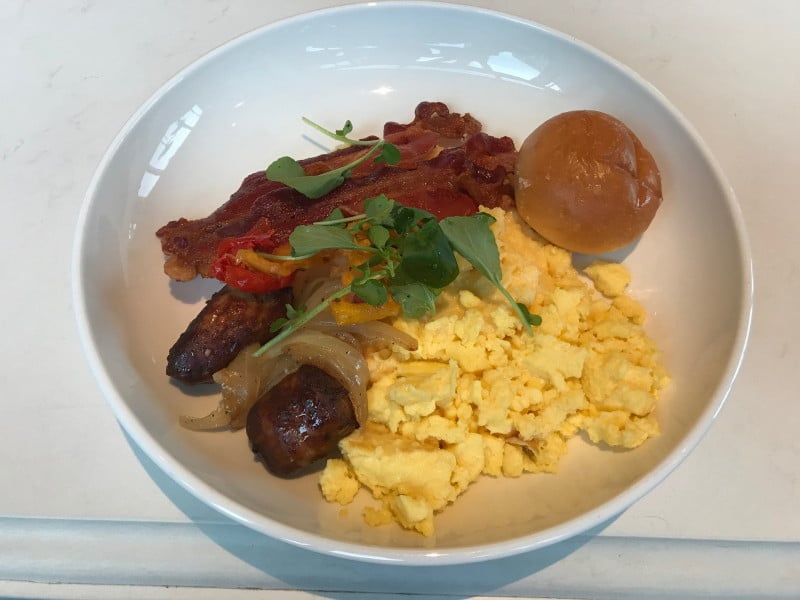 …and the "Primo Piatto Breakfast," where the eggs were nicely done (they were not dry, although they look dry in my lousy image), and the sausage–also featured with the pancakes–delightful.
TOPOLINO'S TERRACE AT DISNEY'S RIVIERA RESORT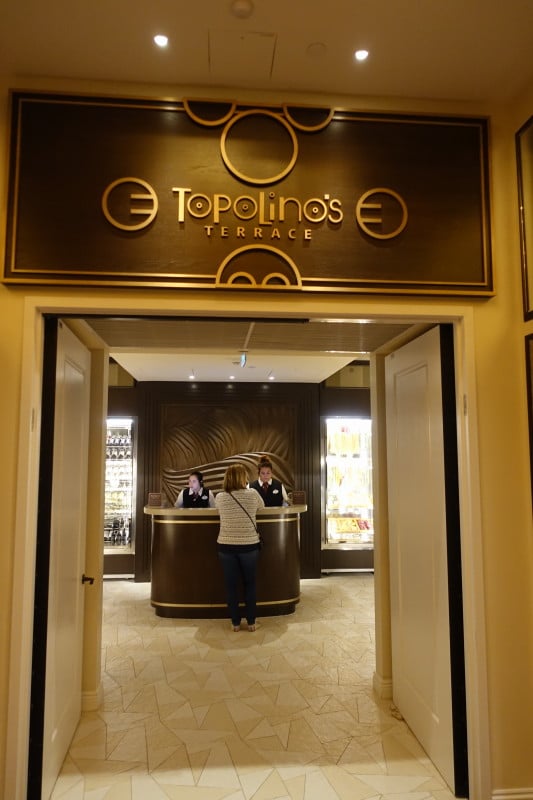 Topolino's Terrace is the distinctive table-service dining venue at Disney's Riviera Resort. ("Topolino" is how Mickey Mouse is referred to in Italy.)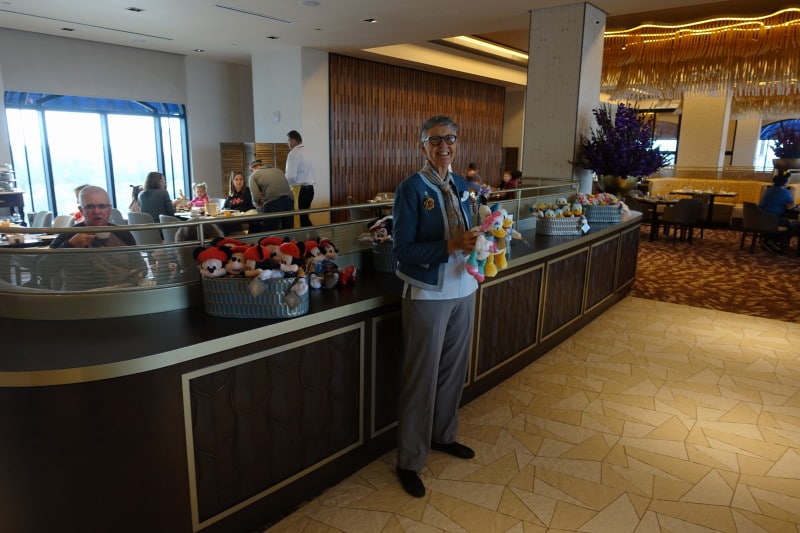 It offers a character breakfast in the morning, with Mickey, Minnie, Donald, and Daisy, and a non-character dinner in the evenings. It also has a bar, and an outdoor terrace with distant views of the higher parts of the evening shows at Epcot and Disney's Hollywood Studios.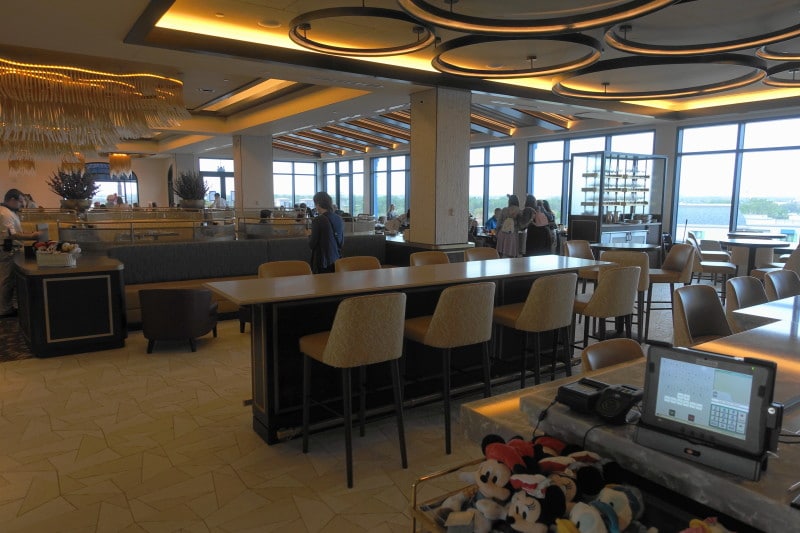 The menu for Toplino's Terrace is here–toggle it to see the breakfast and dinner offerings.
Somewhat ridiculously, I did not eat in Topolino's Terrace in either of my 2020 stays at Disney's Riviera Resort. But co-author Josh has published a review of the character breakfast here, and of the bar and outdoor terrace here.
THE LOBBY BAR LE PETIT CAFE AT DISNEY'S RIVIERA RESORT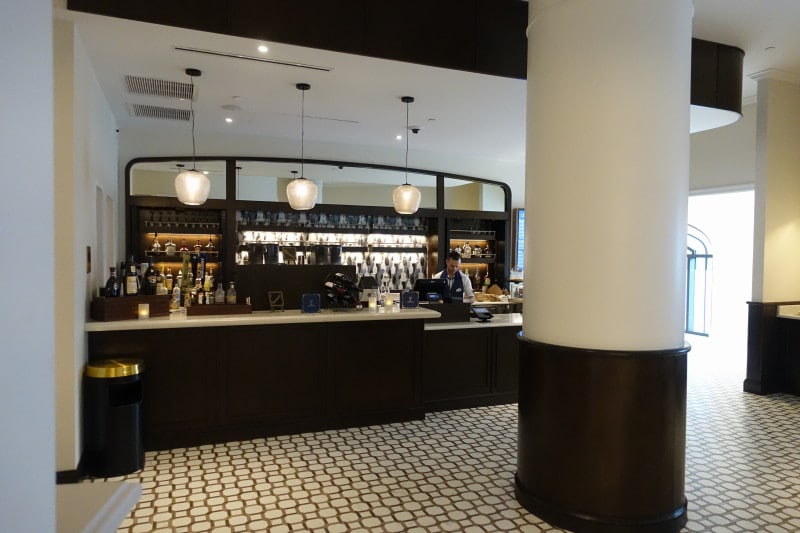 The lobby bar at Riviera, Le Petit Cafe, functions as a coffee shop in the morning and as a bar with a light dessert and appetizer menu in the afternoon and evening.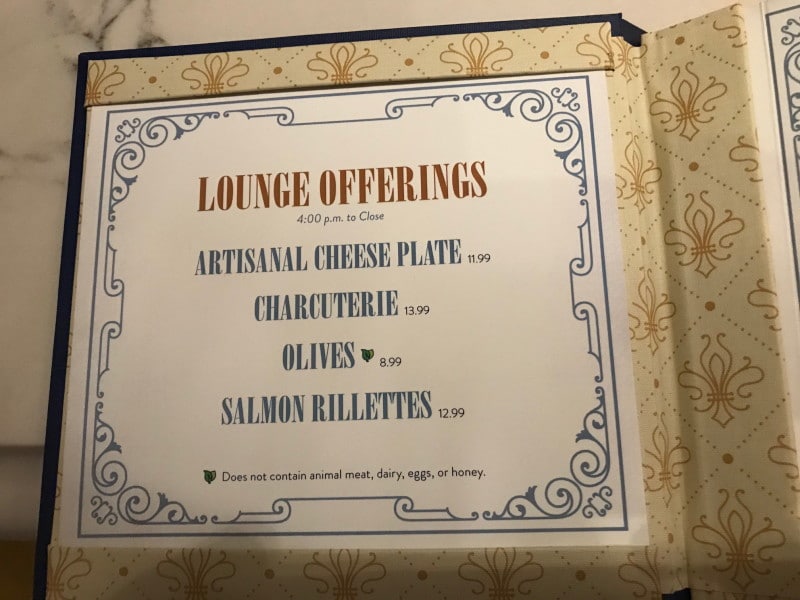 The menu of Le Petit Cafe is here.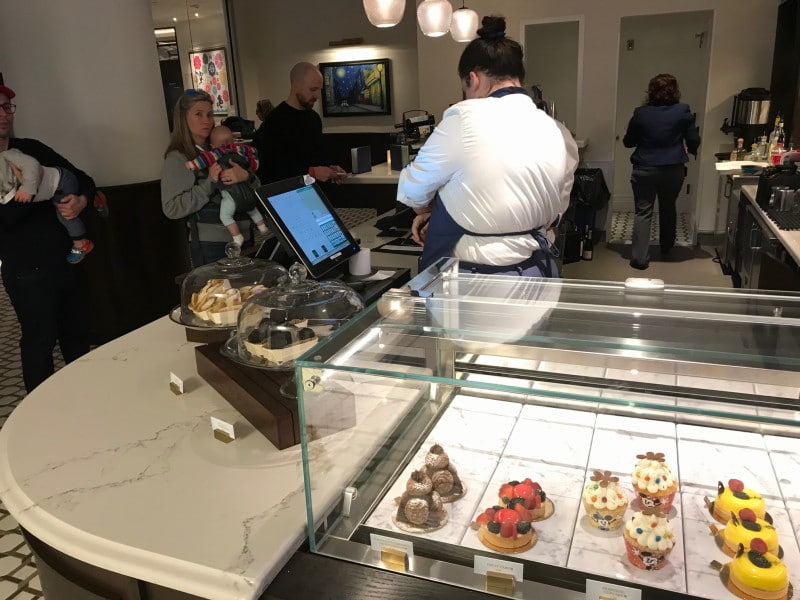 The desserts are quite appealing…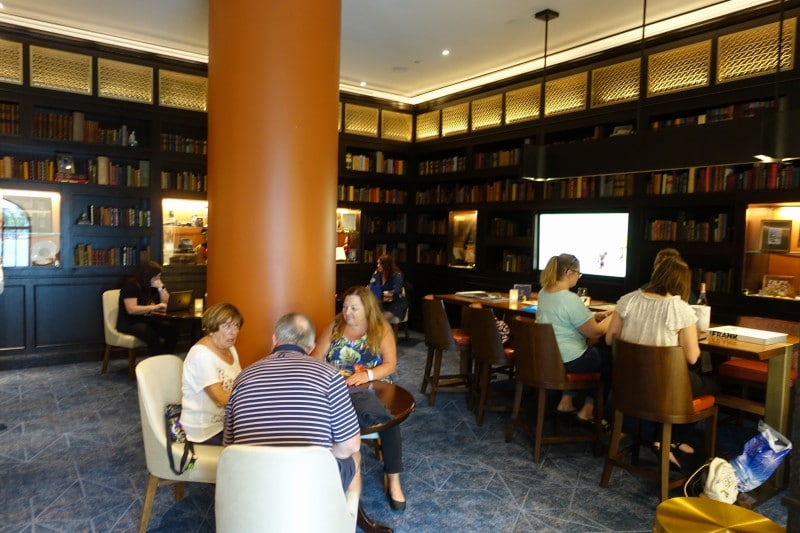 Le Petite Cafe does not have seating in the ordering area, but you can sit in the lobby, just outside, or in this next-door library-ish area.
THE POOL BAR AND POOLSIDE DINING AT DISNEY'S RIVIERA RESORT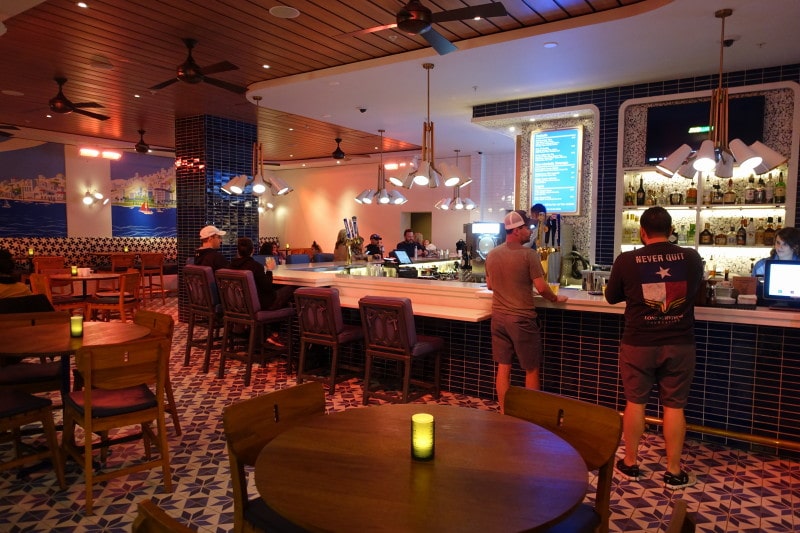 The pool bar at Disney's Riviera Resort, Bar Riva, serves both drinks and a set of hot and cold food offerings. The menu of Bar Riva is here.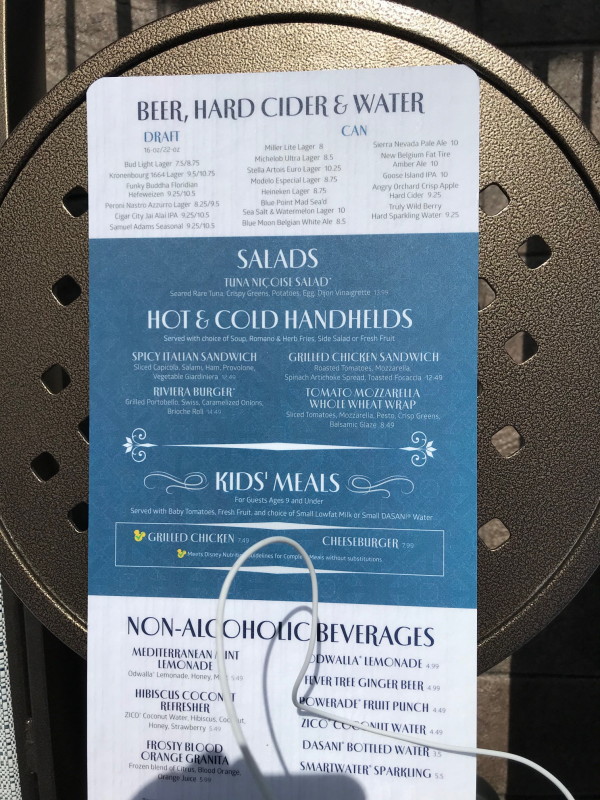 Poolside service is available as well–the menu from my last trip is above.
The bar is just outside the main Riviera Pool–and Primo Piatto is just steps away from it, if you are looking for a broader menu.
USING YOUR OWN KITCHEN AT DISNEY'S RIVIERA RESORT
Villas at Riviera have a full kitchen, and studios have a coffeemaker, toaster, and microwave.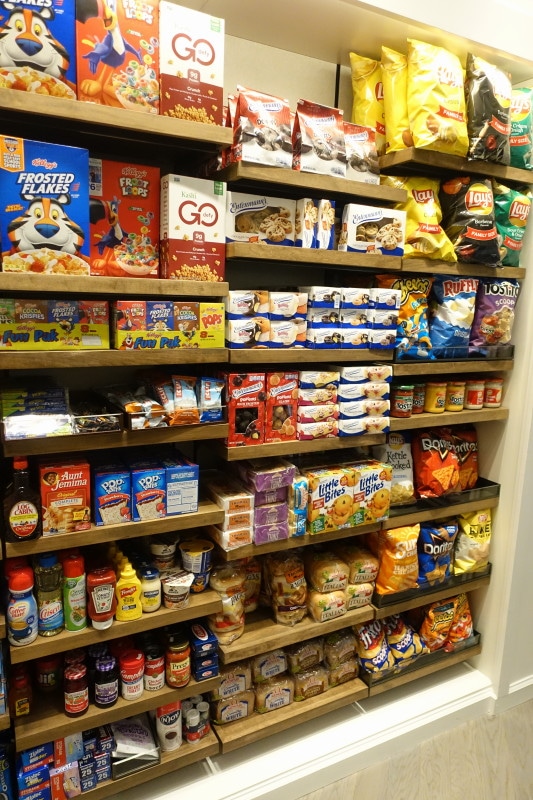 There's a reasonable selection of food and dining supplies in the gift shop, and you can also use the various delivery sources to stock up as well.
This review continues here.
PAGES IN THIS REVIEW OF DISNEY'S RIVIERA RESORT


Follow yourfirstvisit.net on Facebook or Twitter or Pinterest!!
RELATED STUFF