The Disney Springs Resort Area Hotels
By Dave Shute
In 2018 the hotels of the Disney Springs Resort area–third-party owned hotels at the far southeastern edge of Disney World property–for the first time began offering access to two of the most valuable Disney World perks–access to FastPass+ at 60 days, and access to Extra Magic Hours.
Eligibility for these perks has been extended at least through December 31, 2019.  Because of these new perks, I started paying more attention to these hotels in 2018, and stayed in them and their various room types eleven times in 2018. (I had already stayed in some of them half a dozen times in prior years, but not with a view to reviewing them.)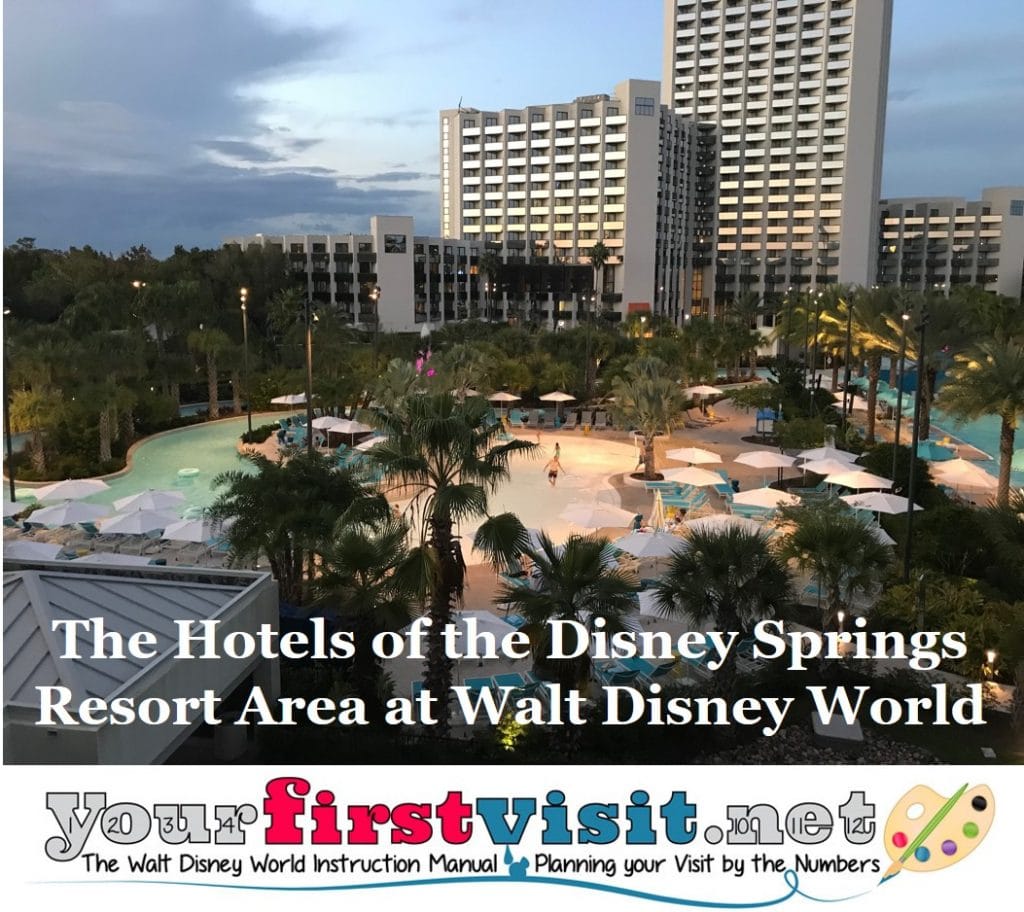 I've already published almost 20 pages on them based on my 2018 stays, but have not completed my reviews of any (I started with rooms and the pools, as these are the most important factors for most of you).
However, because many people have now begun planning their 2019 visits to Disney World, and these hotels are much more attractive with these perks than they used to be, I thought it would help you to bring to one page links to what I have published so far.
As I publish more about these–I kinda hope to finish everything by the end of January–I will add links to this page!
The hotels are listed in alphabetical order.
The B Resort & Spa
The Best Western Lake Buena Vista
Doubletree Suites by Hilton Orlando
The Hilton Buena Vista Palace
The Hilton Orlando Lake Buena Vista
The Holiday Inn Orlando
The Wyndham Lake Buena Vista
All of these hotels are weakened by their location and their transportation. But, in general, in terms of room quality and size, you have the potential to save some real money on them.
I'll have much more to say about comparative strengths and weaknesses after I complete all my missing material. But among them, the best choices are the Hilton Buena Vista Palace (tower rooms only) and the Hilton, followed by the Wyndham (tower rooms only).  The Best Western and the Doubletree Suites by Hilton are the weakest.
Note that Kelly, the long-time travel agent partner of this site, can book you a room in any Disney or non-Disney hotel.  Contact her using the form below!
OTHER KEY PAGES FOR WHERE TO STAY AT DISNEY WORLD


Follow yourfirstvisit.net on Facebook or Twitter or Pinterest!!
RELATED STUFF