The Pool at the B Resort & Spa, Disney Springs Resort Area
By Dave Shute
For the first page of this review of the B Resort & Spa, see this.
THE POOL AT THE B RESORT & SPA
The pool at the B Resort & Spa is about middling among those at the seven hotels in the Disney Springs Resort Area.
For example, it's clearly worse than the offerings at the Hilton, the Hilton Buena Vista Palace, and the the Wyndham, and much better than those at the Doubletree Suites and Best Western.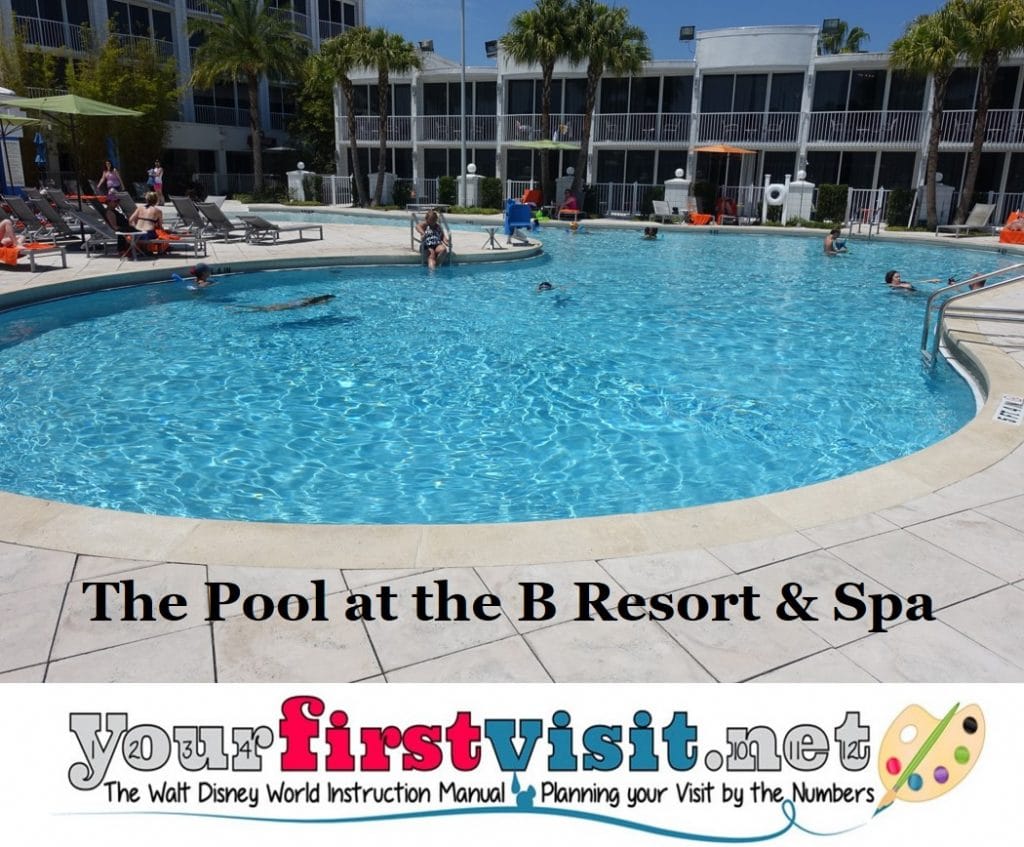 It's located in half of a long courtyard that has event spaces–open to everyone when not in use–in the other half.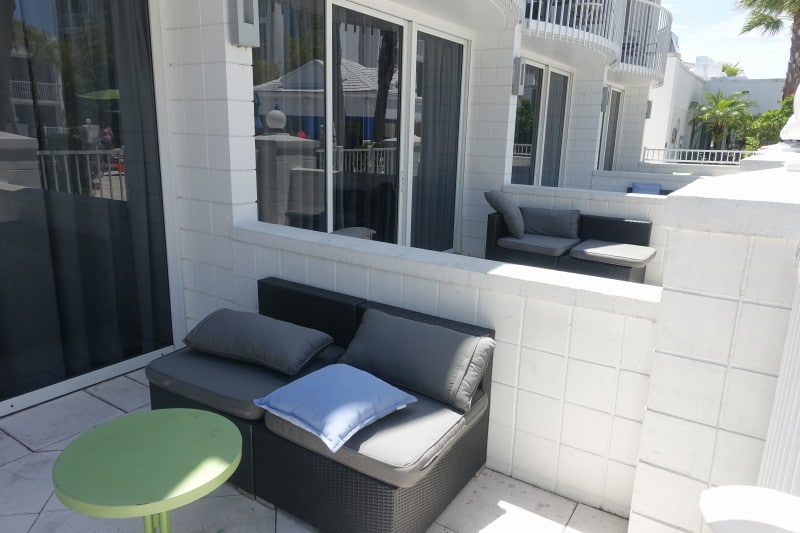 The pool part of the courtyard is bounded by the three wings of the Lanai building, the first floor rooms of which have patios with access to the pool area.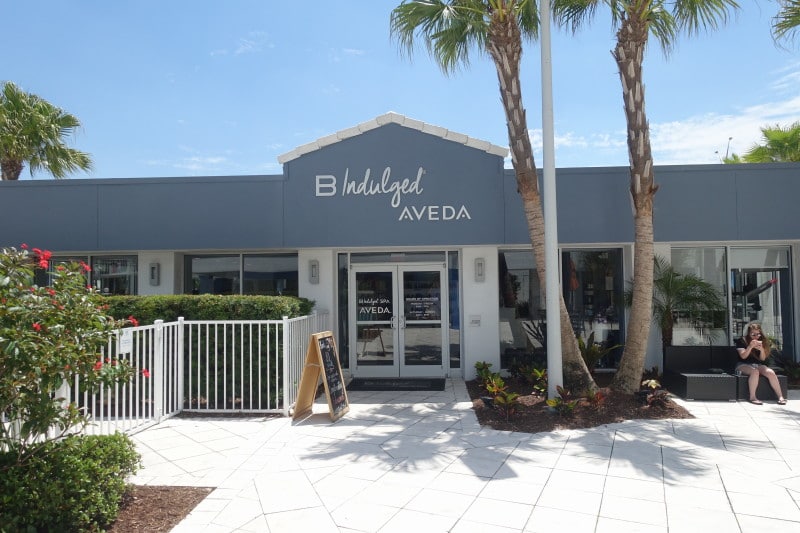 It connects to the event space area, which is framed by the main building, meeting spaces, and the above spa.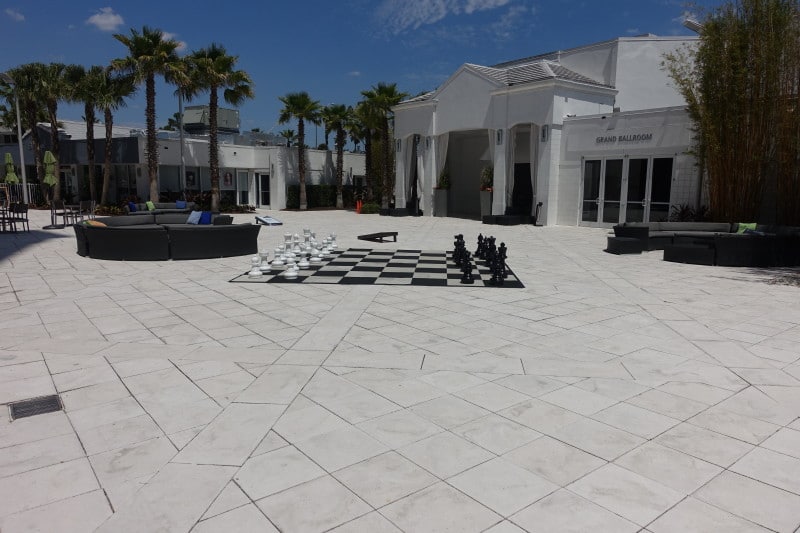 The event space area is pretty interesting.  It includes a chessboard with pieces…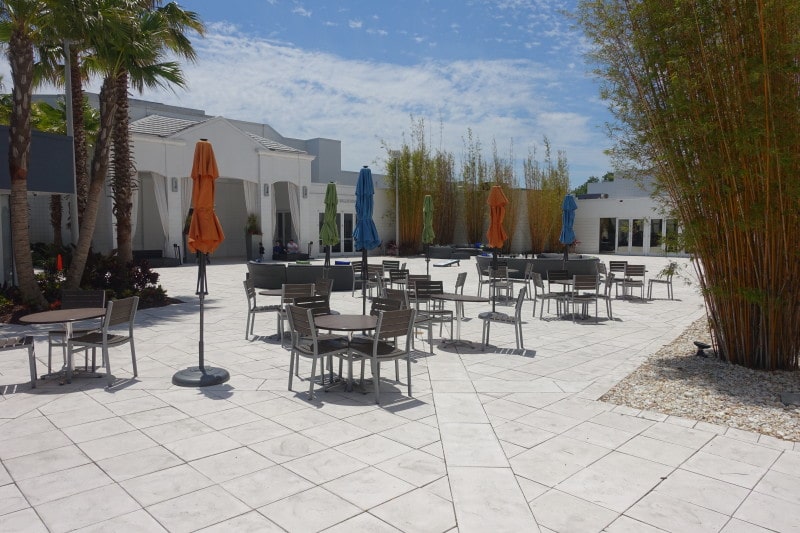 …and fun open-air…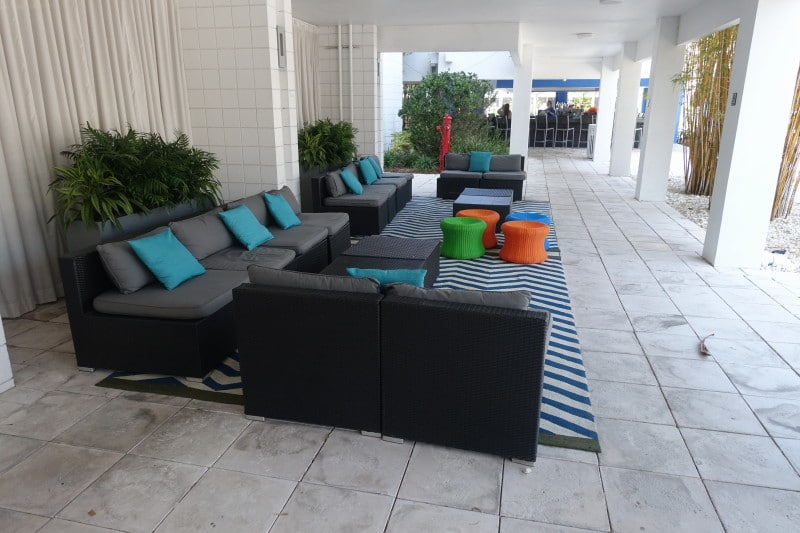 …and shaded seating.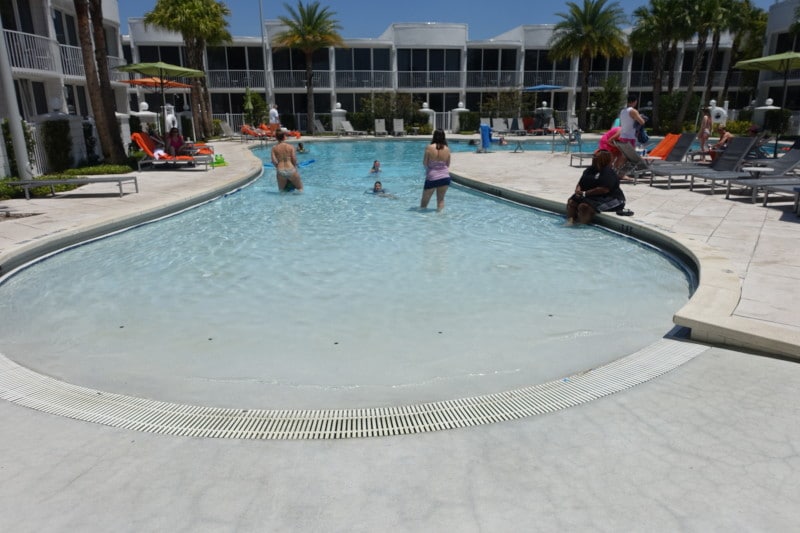 The pool itself is intimate while being large enough. Here's the zero entry portion…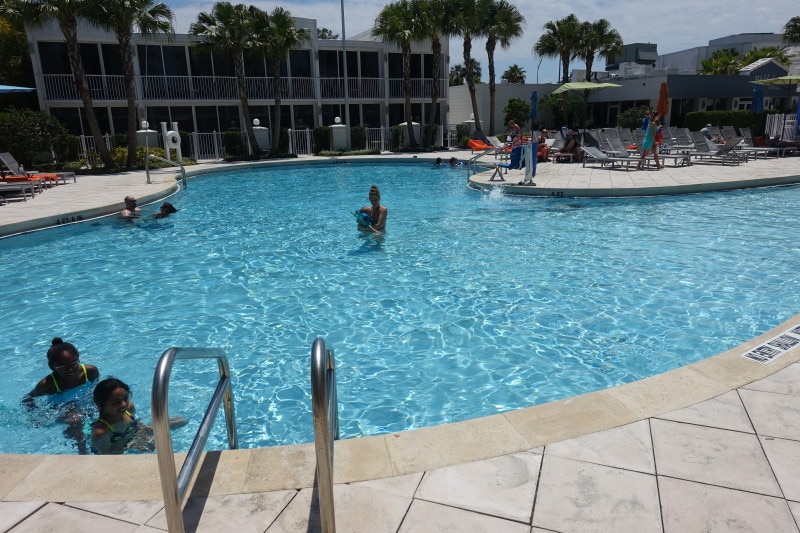 …and a view of it from another side. (The top of this page has yet another angle.)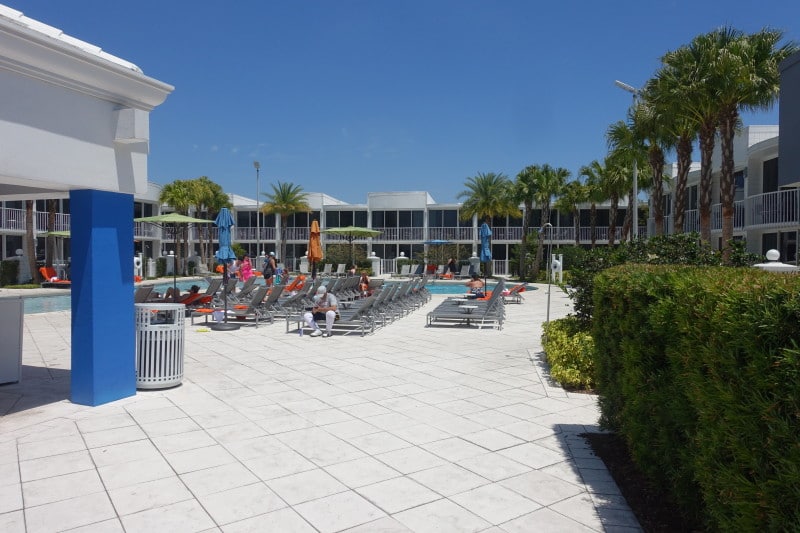 Parts of the pool have a single row of comfy lounge chairs around it, and there's also a bigger set of chairs closer to the bar.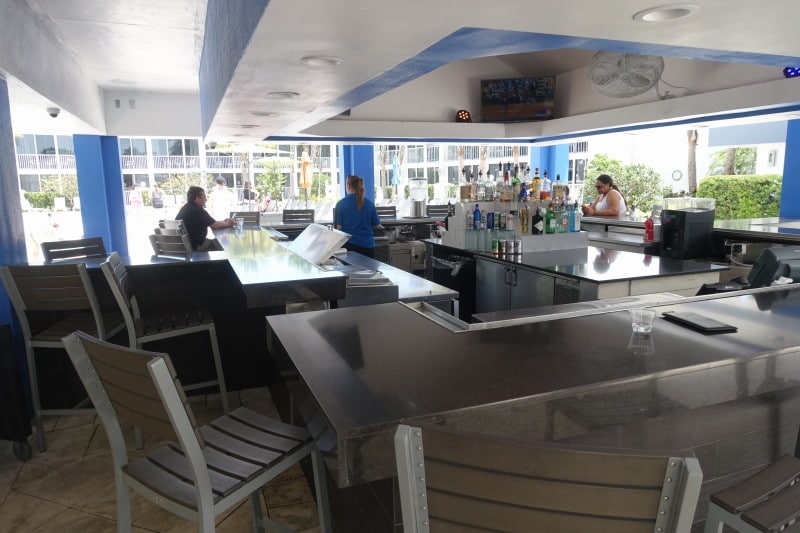 The pool bar is nicely sized, and is conveniently located between the exit to the pool from the hotel and the pool itself.
Also on this route from inside to the pool is a service window and some tables from the nearby indoor snack shop, The Pickup.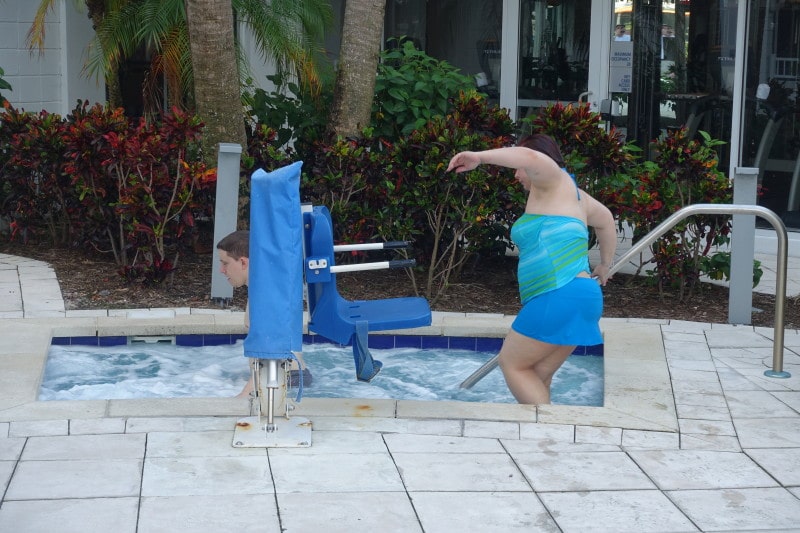 A small hot tub–so small that I missed it on my first two stays here–is near the bar…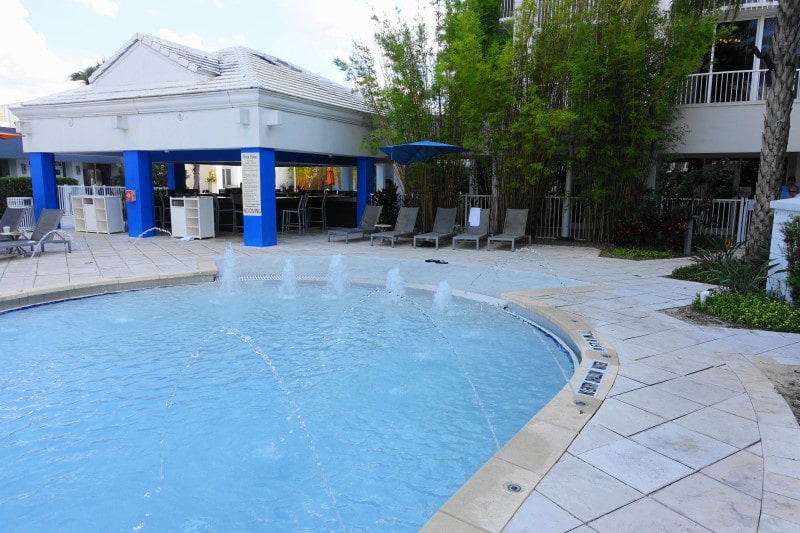 …and there's a bit of a splash/play feature to the zero-entry area for kids to play in.
But that's pretty much it. No poolside games, little in the way of water play features.
At the pool at the B Resort & Spa, the event courtyard furnishings add whimsy, the bar and convenient snack shop are great, and the pool itself is delightful. But there's not much here beyond these, especially for kids…
MORE ON THE B RESORT & SPA
OTHER KEY PAGES FOR WHERE TO STAY AT DISNEY WORLD


Follow yourfirstvisit.net on Facebook or Twitter or Pinterest!!
RELATED STUFF