Transportation and the Disney Springs Resort Area Hotels
By Dave Shute
The Disney Springs Resort Area includes seven independently owned and managed hotels on Disney World property, at the far eastern edge of Disney World. These hotels are
B Resort & Spa
Best Western Lake Buena Vista
DoubleTree Suites by Hilton Orlando
Hilton Orlando Buena Vista Palace
Hilton Orlando Lake Buena Vista
Holiday Inn Orlando
Wyndham Garden Lake Buena Vista
For 2018, all seven gained access to the two most important Disney World perks—FastPass+ bookings at 60 days, and Extra Magic Hours. This access will continue through at least December 31, 2019.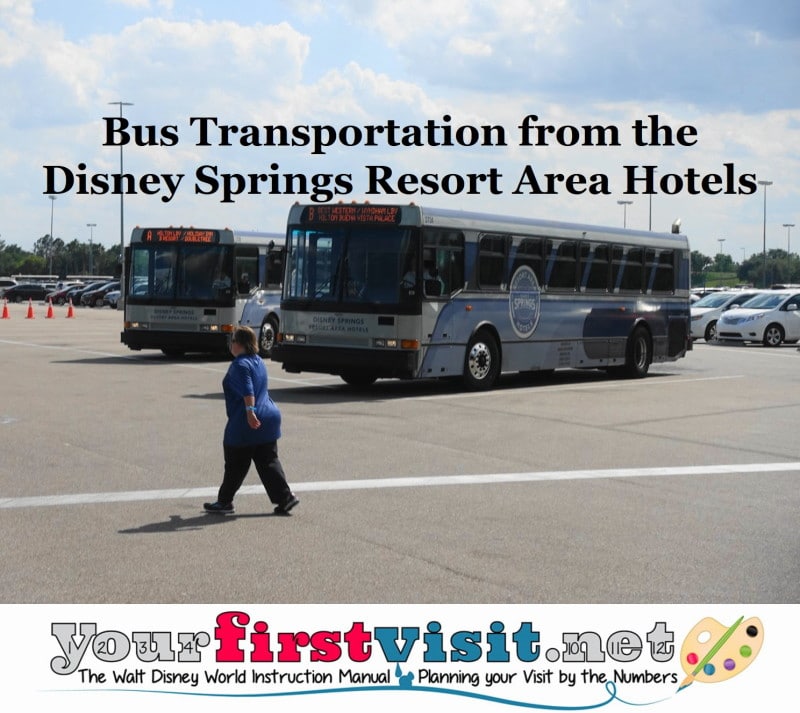 Because of their new* access those perks, I'm instituting coverage of these hotels (there's already a bit out there, but much is comped** and frankly a bit Pollyannish), starting with an overview of their bus service to the parks and other transportation-related items. For my coverage of other Disney World hotel options, see this.
DISNEY SPRINGS RESORT AREA HOTELS BUS TRANSPORTATION TO THE PARKS
There are two different bus routes at the Disney Springs hotels, each of which during my visits in late April and early May 2018 had two theme park routes most of the day and a third route, to Disney Springs, that began at 6p.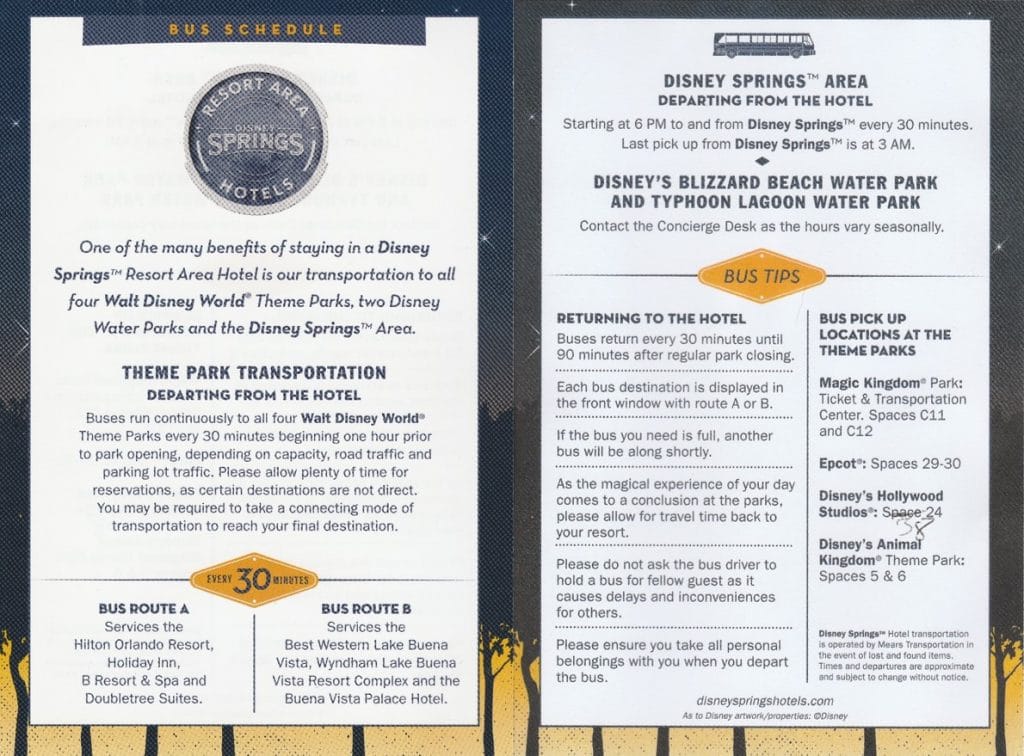 One, Route A, serves the four hotels on the southern side of Hotel Plaza Boulevard—the Hilton Orlando Lake Buena Vista (there are three Hiltons of different flavors among the seven hotels here, so take some care in noting which you are actually staying in), the Holiday Inn, the B Resort, and the DoubleTree Suites by Hilton.
The second, Route B, serves the other two hotels on Hotel Plaza Boulevard, the Best Western Lake Buena Vista and the Wyndham, and the one hotel on East Buena Vista Drive, the Hilton Orlando Buena Vista Palace.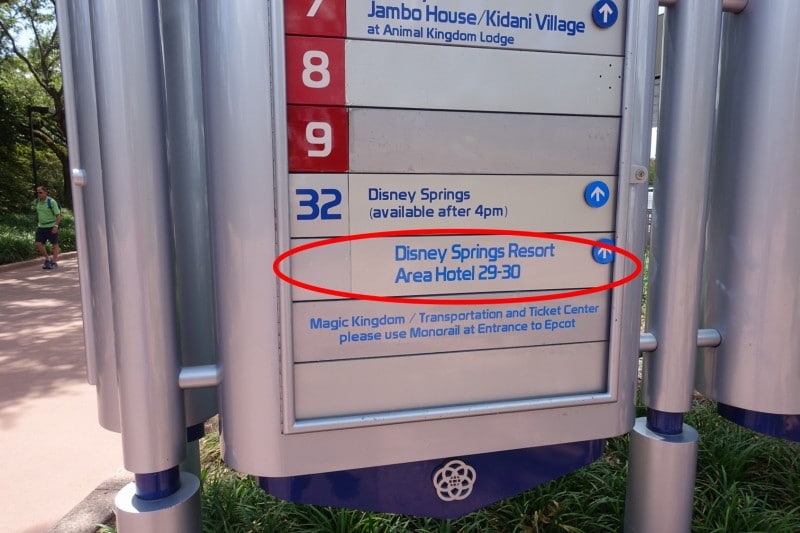 Each route runs buses that serve as many as two parks. On my visit most of the day I saw buses that served Magic Kingdom and Animal Kingdom, Magic Kingdom and Hollywood Studios, and Hollywood Studios and Epcot. It may be that during times when these hotels are more heavily booked that routes are not so shared—I'll be back in the Disney Springs Resort Area hotels in July, so will check that then.
The basic operating principle is that shared buses to all four parks will depart every 30 minutes, which is better than what you will see at most hotels not owned by Disney, but not as good as what the Disney-owned resorts (and Swan and Dolphin) provide.
Nominally, they are expected at a specific time at each hotel, e.g. "5 minutes after the hour and half-hour," but schedule uncertainties caused by traffic lights, wheelchair lifts and such will make this a bit variable. My timing (yes, I spent hours at the Disney Springs Resort Area hotel bus stops timing the buses, because that's what I do…) showed an average time between departures to the same park of 32 minutes, with a range of 23 to 48 minutes.
Buses start an hour before parks open, and run to 90 minutes after parks close. This includes Extra Magic Hours—buses begin an hour before Extra Magic Hours begins–and, in a nice touch, buses to hot parks may start even earlier. For example, on Sunday April 29, Disney's Hollywood Studios had Extra Magic Hours beginning at 8a, and Animal Kingdom had a normal opening of 9a. However, not only did I see a Hollywood Studios bus at the Buena Vista Palace at 7.11a, but also there was an Animal Kingdom bus there at 7.08a, giving those looking to line up for Flight of Passage a nice early start at that park.
So the departure frequency is not quite as good as the every 20 minutes that you can expect at the Disney-owned resorts, and the number of stops among the various hotels served on the two services is also a drag compared to Disney-owned resorts, with only the moderates, Old Key West, and Saratoga Springs having a comparable number of non-park stops.
The two parks per bus also slows things down, as does the drop-off point for Magic Kingdom. If you are going to Hollywood Studios or Animal Kingdom, you'll typically go to another park first; if you are returning from Magic Kingdom or Epcot, you'll typically go to another park first.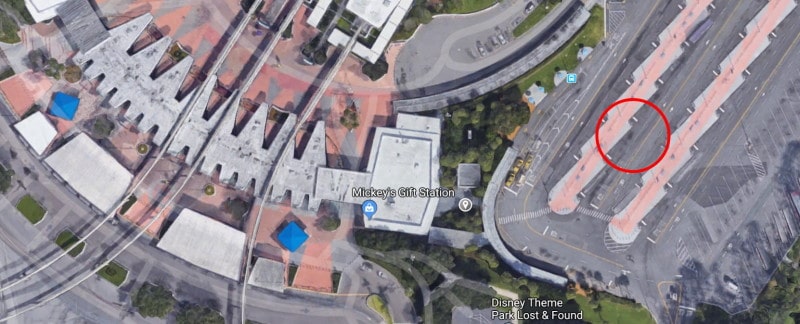 And unlike the buses at the Disney-owned resorts and Swan and Dolphin, which drop you off right outside the Magic Kingdom, the Disney Springs Resort Area Magic Kingdom bus drops you off at the Transportation and Ticket Center (in the area marked in red above), meaning you have another transportation act—ferry or monorail—to actually get to that park. (Shades of Green, Four Seasons, and off-property buses have the same issue.)
Returning from Magic Kingdom to the Disney Springs Resort Area hotels is particularly painful, as you first take the ferry or monorail back to TTC, then wait for the bus, take it to the Animal Kingdom, then come back from the Animal Kingdom to the various stops at the Disney Springs Resort Area hotels. For example, it took me almost 90 minutes to get from Adventureland back to the B Resort:
Adventureland to ferry to TTC bus stop: 27 minutes
Wait for bus: 16 minutes
Bus to Animal Kingdom, then Hilton and Holiday Inn and finally B Resort: 45 minutes
As noted, Magic Kingdom buses are at the TTC, in an unshaded area.
Epcot and Hollywood Studios buses are more convenient, just a bit beyond the Disney buses, though also unshaded (the Hollywood Studios bus stop is being redone, so this may change)
Animal Kingdom buses share a pretty convenient shaded waiting area, but this also means you have to keep your eye out for your bus to arrive, as it may be masked by other buses.
Note that if your knowledge of which hotel is where, the weather and the amount of walking suits, you can take from the parks either Route A or Route B, whichever arrives first, and then walk over to your actual hotel if you are on the "wrong" route. For example, it's around 700 feet from either the B Resort or the DoubleTree Suites bus stop to the bus stop at the Best Western.
This works least well at the Hilton Orlando Buena Vista Palace, whose bus stop is ~2,000 feet from the nearest bus stop on the other route, at the Hilton Orlando Lake Buena Vista (I warned you all these Hiltons could get confusing). To put this in context for experienced Walt Disney World visitors, that's a couple hundred feet further than the farthest bus stop to room walk at Disney's Art of Animation Resort.
I probably should also note that the Disney Springs Resort Area hotels are among the most remote on property, with only the Animal Kingdom Lodge more distant among the Disney-owned resorts. This matters a bit less than you might think for getting to Epcot and Magic Kingdom, as there are good alternate routes from this part of Disney World that use Disney Vacation Club Way to avoid all the red lights you'll find on Buena Vista Drive. But it certainly isn't a positive…unless of course you are headed to Disney Springs itself, which is very close.
Overall, I'd class this bus service as worse than the worst of the service at the Disney-owned resorts, but better than that at many other non-Disney-owned alternatives.
GETTING TO DISNEY SPRINGS FROM THE DISNEY SPRINGS RESORT AREA
Disney Springs is accessible from these resorts by driving your car, in the evenings by taking a bus, or by walking. The most distant hotel (the DoubleTree) is about 3,000 feet from the nearest edge of Disney Springs; the B Resort and Best Western about 2,200 feet; the Holiday Inn and Hilton Palace about 1,500 feet, and the Wyndham and Hilton about 750 feet. And note that this just gets you into Disney Springs—the far end of Disney Springs is more than 3,000 more feet away. As a point of  context, the walk from the Epcot World Showcase entrance to the American Adventure is about 4,200 feet.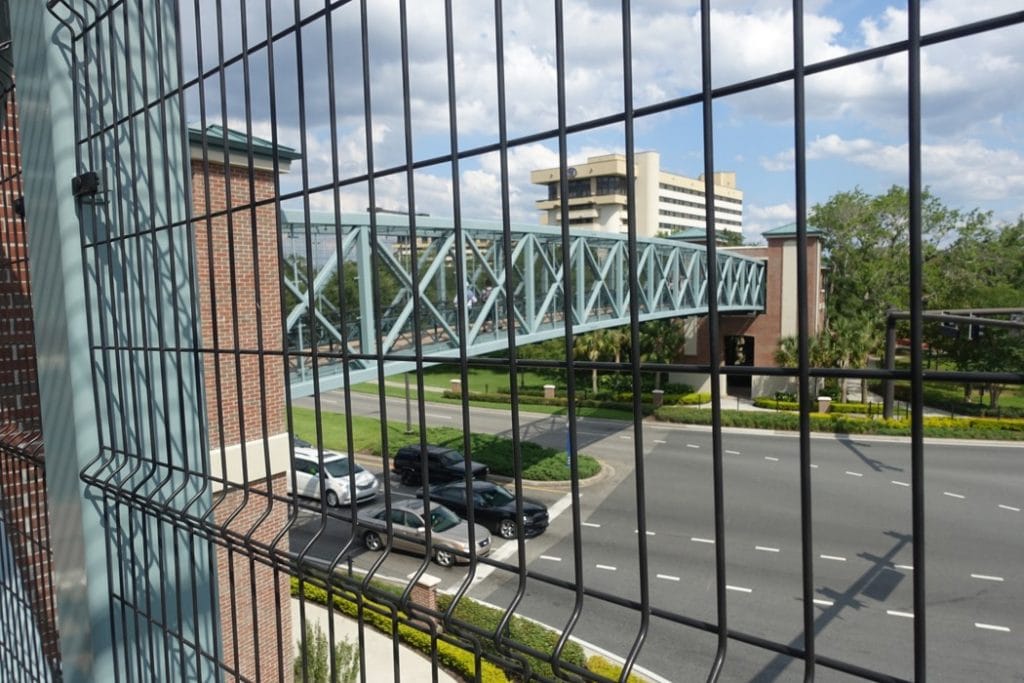 These walks are along lovely tree-shaded sidewalks for the most part, and bring you to pedestrian bridges to take you up and over the traffic at the corner of Buena Vista, East Buena Vista, and Hotel Plaza Boulevard. But weather may make it unpleasant, and there's not an insufficiency of walking at Disney World already in hand.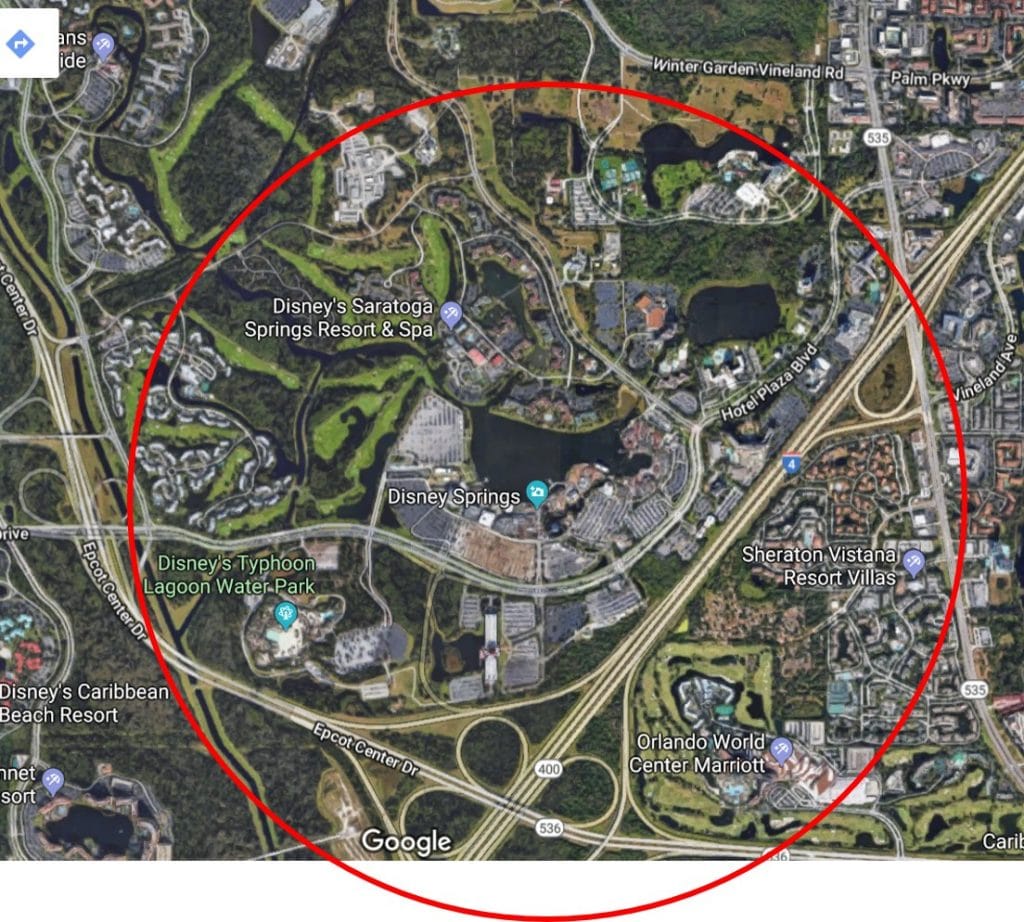 In the image above, I've drawn a red circle centered on the middle of Disney Springs, with its outer edge touching the most distant rooms of the most distant of the Disney Springs Resort Area hotels—the Doubletree. You'll note that this circle takes in a lot of terrain—the walk to the center of Disney Springs is about as far as walking to this spot from the farthest of the Treehouses at Saratoga Springs…
DRIVING TO THE PARKS FROM THE DISNEY SPRINGS RESORT AREA
Having a car frees you from the Disney Springs Resort Area bus schedule, but brings some other issues. Parking is free at Disney Springs, but costs (today; check back tomorrow) $22 a day at the theme parks. You will also pay parking fees at all of the Disney Springs Resort Area hotels (although that's commonplace these days ) ranging from $8 per night to $22 per night.
Cars work well at Hollywood Studios, Disney's Animal Kingdom, and Epcot. At Magic Kingdom, driving puts you in the same TTC parking area that the Disney Springs Resort Area bus system uses, so you'll still have to use the monorail or ferry to get to the park itself.
Note that Kelly, my travel agent partner, can book you into–or help you avoid–one of these Disney Springs Resort Area. Use the form below to get in touch with her:
*The Hilton Orlando Lake Buena Vista was the only one of these that used to have EMH access, but that ended—temporarily, as it turned out–in January 2016
**The way this site works is you patronize the various sponsors—the advertisements, my travel agent partner, etc., and/or you buy my book —and I spend the money you create by doing that in going to Disney World and then reporting to you on what I find. Nothing on this site is comped—I pay for it all at rates that anyone can get.


Follow yourfirstvisit.net on Facebook or Twitter or Pinterest!!
RELATED STUFF