Dining at Disney's Caribbean Beach Resort
By Dave Shute
(For the first page of this review of Disney's Caribbean Beach Resort, see this.)
After a lengthy refurb, permanent dining options reopened at Disney's Caribbean Beach Resort in early October 2018.
I'll have much more to say–and more of my usual lousy photos–after my next stay at Caribbean Beach, in early November.
But in the meantime, here's the scoop.
–The all-new waterside table service venue Sebastian's Bistro is open for lunch and dinner. The menu is here.
–There are two quick service options in Old Port Royale.  One of them, the Centertown Market (menu here), somewhat inexplicably is open only for lunch and dinner–at least so far. The other, Centertown Grab and Go (menu), is open all day.
–The bar, Banana Cabana, has re-opened by the pool. I'm getting mixed reports on food here, but the official menu shows none.
The lack–so far–of lunch at Centertown Market is a bit of a mystery. The Spyglass Grill in Trinidad (formerly Trinidad South) is an alternative for freshly made food, but is a hike from most of Caribbean Beach, especially Aruba and Martinique. And it seems as though the "The Island Markets"–widely distributed minor grab and go venues that opened during the refurb–remain open.
I am hoping that I will soon be able to report that Centertown is open for lunch–likely at the same time as the Island Markets close.
Anyway, come back in November for more on the new offerings. See below for details on the other dining options at Caribbean Beach!
THE ISLAND MARKETS
"Island Markets" are in three (or maybe two) converted rooms—one each in Martinique (2509), Jamaica (4308), and Aruba (5524). (The first two digits of the room number indicate the building number.) Note that the Martinique one is no longer marked on the map–I'll double check that on my visit.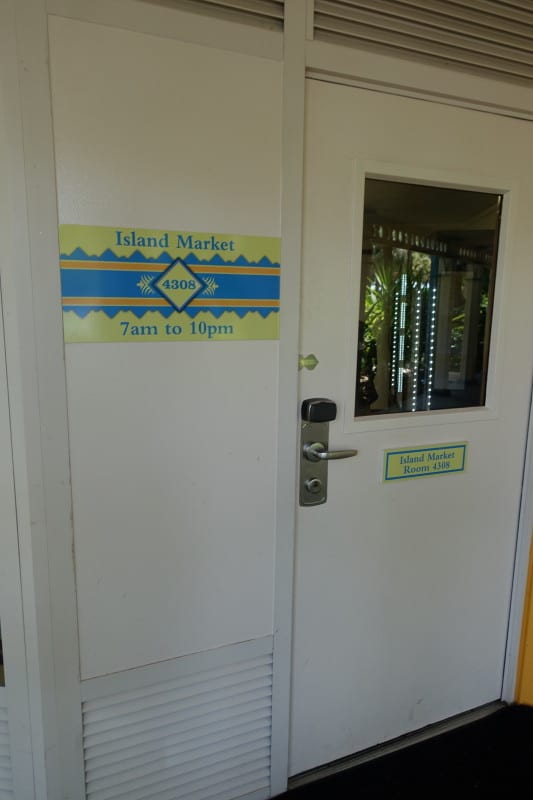 They offer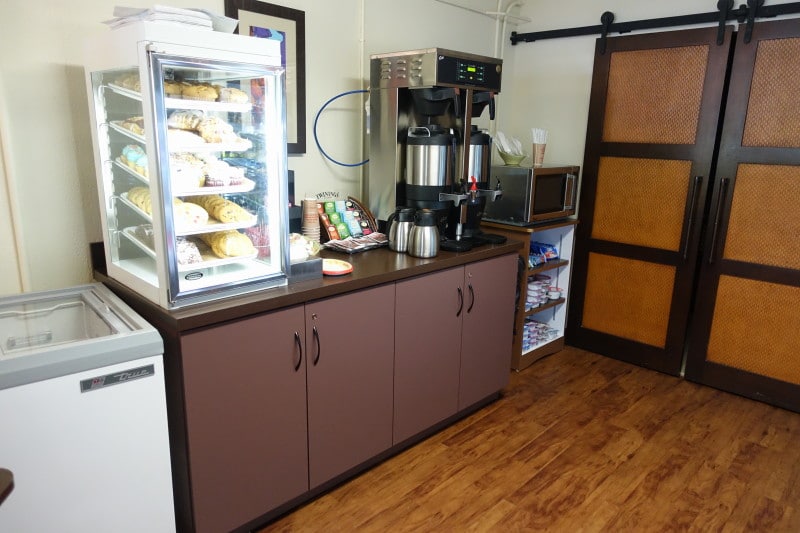 … ice cream (above, in the box at left), pastries, coffee and tea, cereals and pop tarts (with a microwave above)…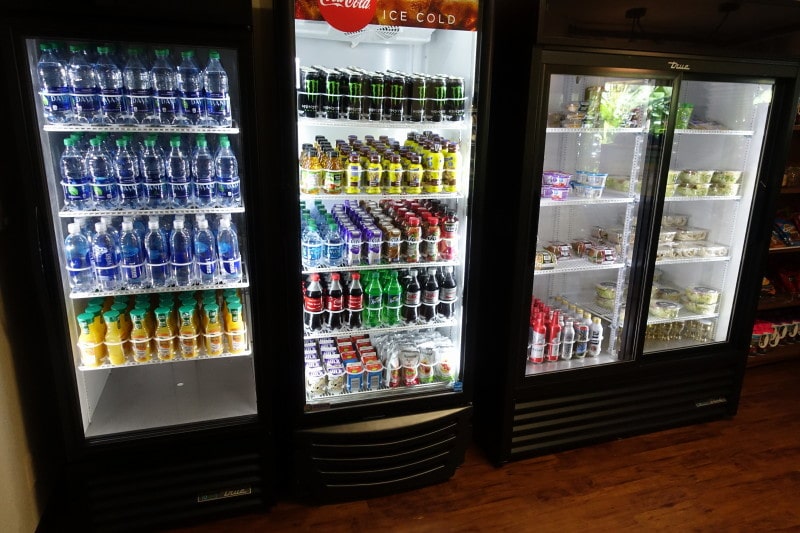 … drinks, yogurt, fruit, salads, sandwiches and wraps…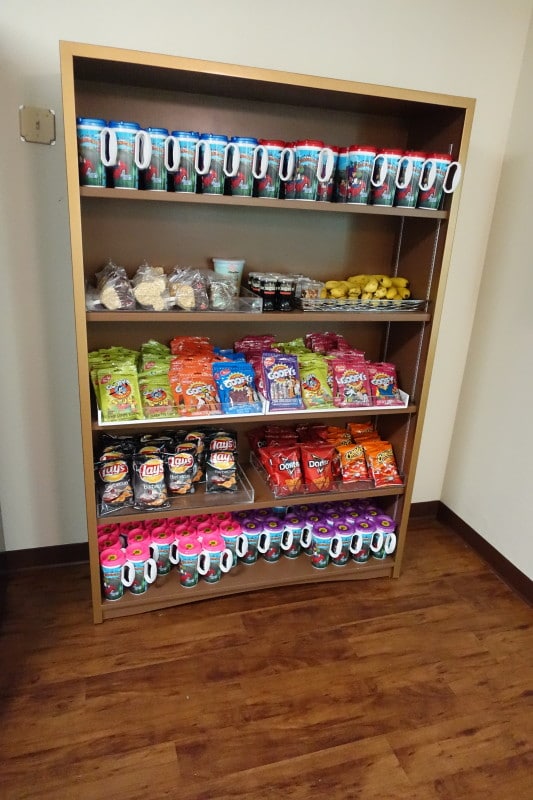 … and refillable mugs, bananas, and snacks.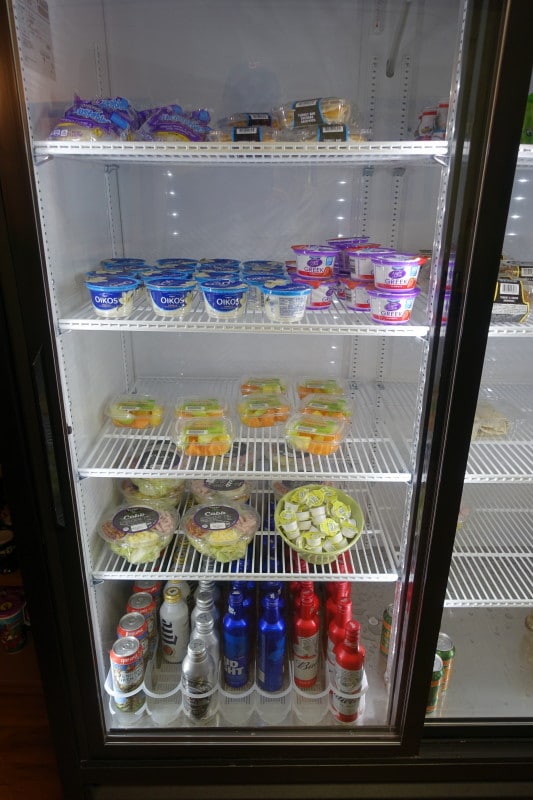 A couple of closer looks at the salad side of the cold case…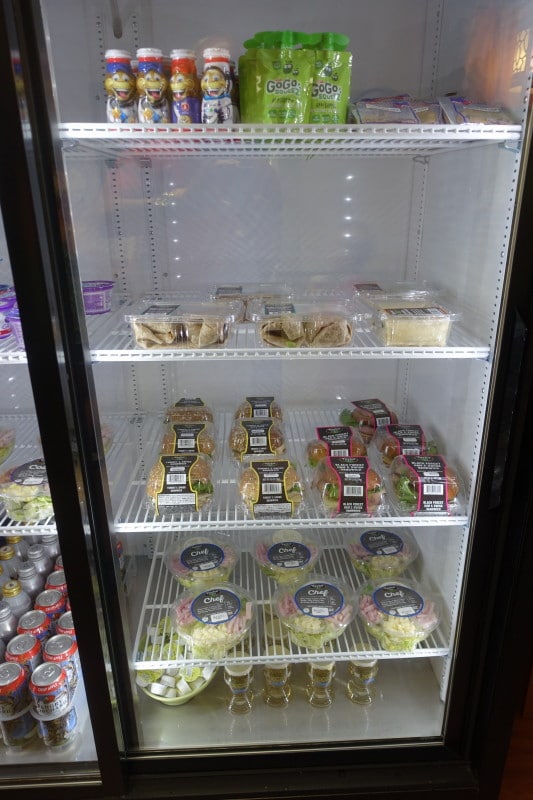 …and the sandwich and wrap side.
The wraps/sandwich/fruit/salad choices are thin, and have sold out at times by early evening.
Regardless, the offerings of these spaces work better for snacks and for breakfast supplies than they do as a place to grab lunch or a light dinner—unless you are thinking very light.
The Island Markets are open from 7a-10p.
THE FREESTYLE COKE MACHINES
Refillable mugs can be refilled in freestyle coke machines—where you get to design your own drink, like my favorite, peach Sprite.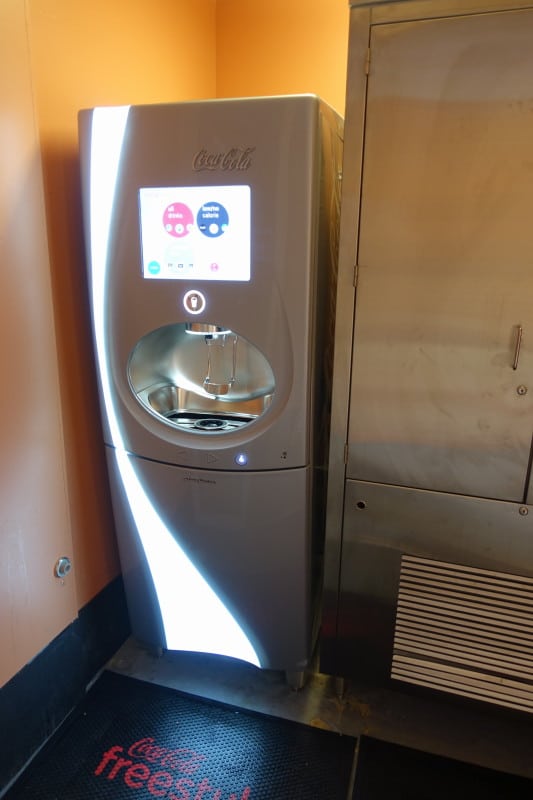 These machines are available in one or two buildings in each village, replacing in those buildings the old-style Coke machines—which remain in the rest of the buildings. Find the right building, then follow the signs for Ice and Vending.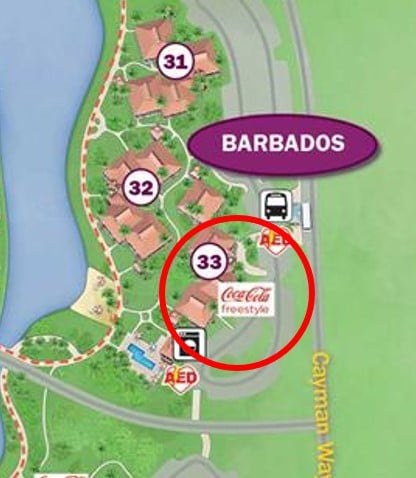 Buildings with the freestyle machines are marked on the resort map.
THE SPYGLASS GRILL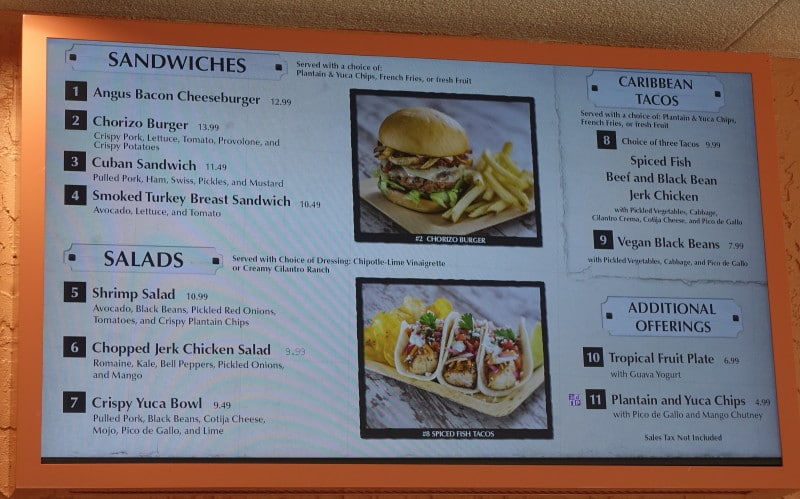 The Spyglass Grill (full review here) opened in Trinidad in March 2018.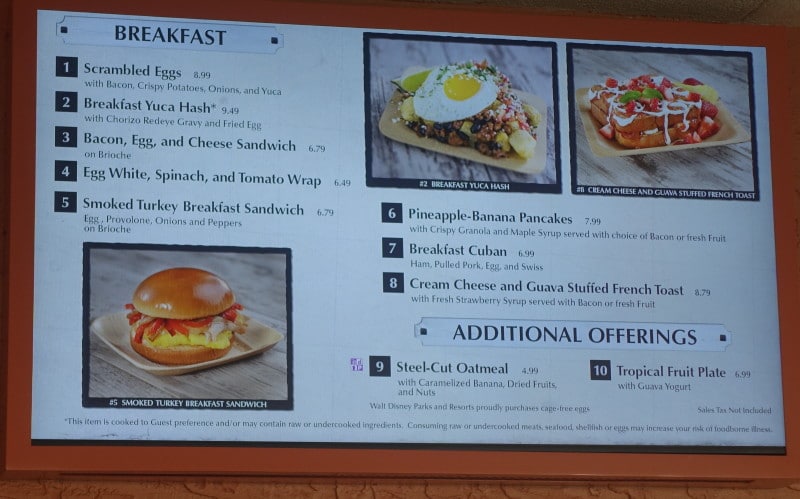 It offers an interesting and well-received, though limited, menu for breakfast, lunch and dinner.  It does not have a lot of capacity, and is a bit of a hike from areas outside of Trinidad.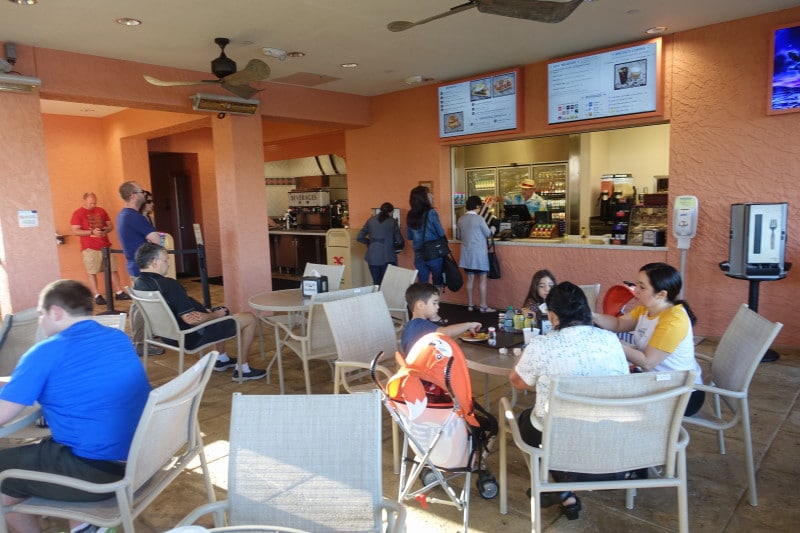 But it's a handy option for those staying in the otherwise distant-from-food Pirate Rooms in Trinidad.
IN-ROOM DELIVERY OF PIZZA AND SUCH
Another option is ordering off of the limited delivery menu, which features, pizza, wings and such. The menu (click to enlarge):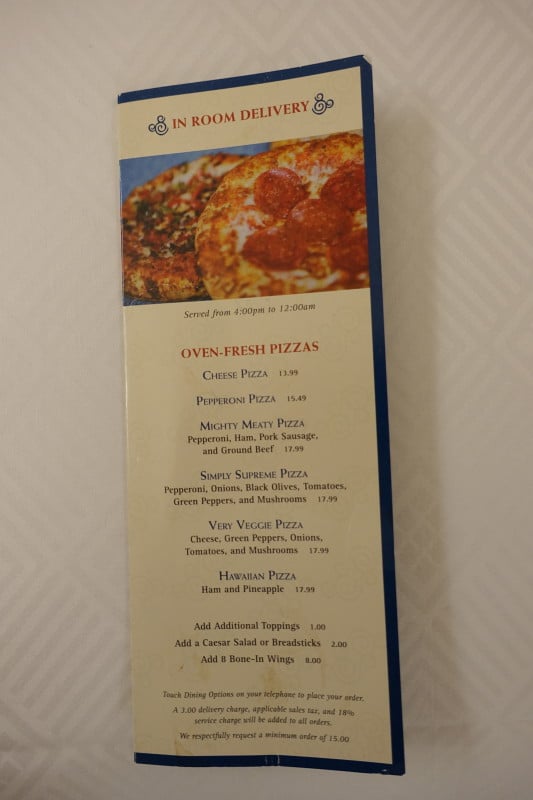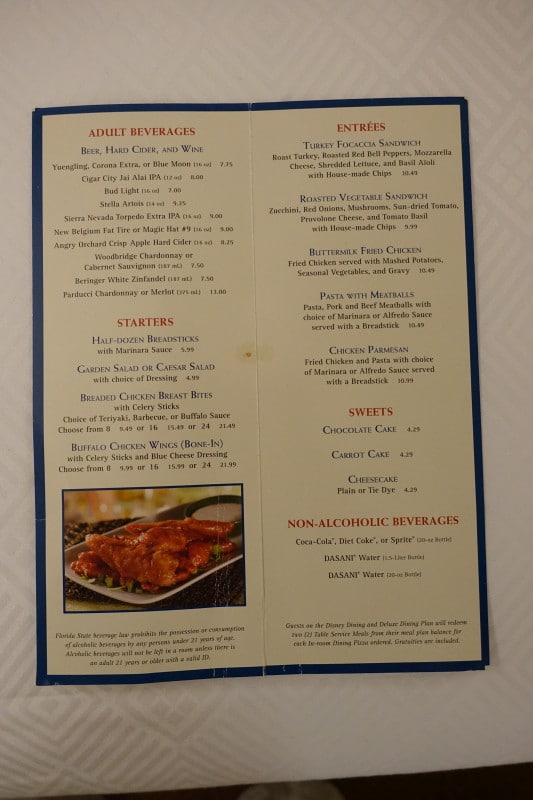 I've never had delivery pizza at Disney World. I tried to order one on my June visit, but a lizard-drowner of a storm meant everyone was sheltering in their rooms and ordering pizza, so after 15 minutes on hold I gave up and got a salad from an Island Market instead.
This option is available from 4p till midnight. Don't use the dining plan for these options–way too many credits will be charged.
THE VENDING MACHINE IN THE QUIET POOL LAUNDRIES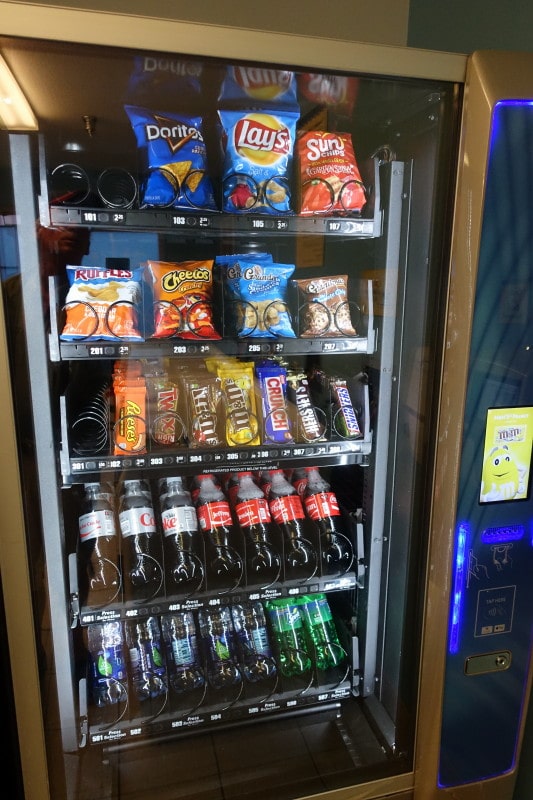 Finally, a post on the disboards Caribbean Beach thread reminded me that there's a vending snack machine in the quiet pool laundry rooms!
This review continues here.



Follow yourfirstvisit.net on Facebook or Twitter or Pinterest!!
RELATED STUFF