Theming and Accommodations at Disney's Yacht Club Resort
By Dave Shute
(For the first page of this review of Disney's Yacht Club Resort, see this.)
THEMING AND ACCOMMODATIONS AT DISNEY'S YACHT CLUB RESORT
There are currently 8 official Disney owned and operated deluxe resorts at Walt Disney World. In their recommended order for first time family visitors, they are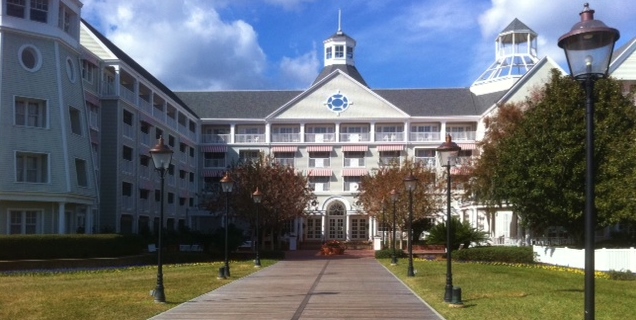 All but one of these also offer Disney Vacation Club ("DVC") studios and villas, all for rent to the general public–see this for more on the Disney Vacation Club resorts. The Yacht Club is the only one with no DVC offering, but next door sister resort the Beach Club offers the Beach Club Villas.
THE THEMING OF DISNEY'S YACHT CLUB RESORT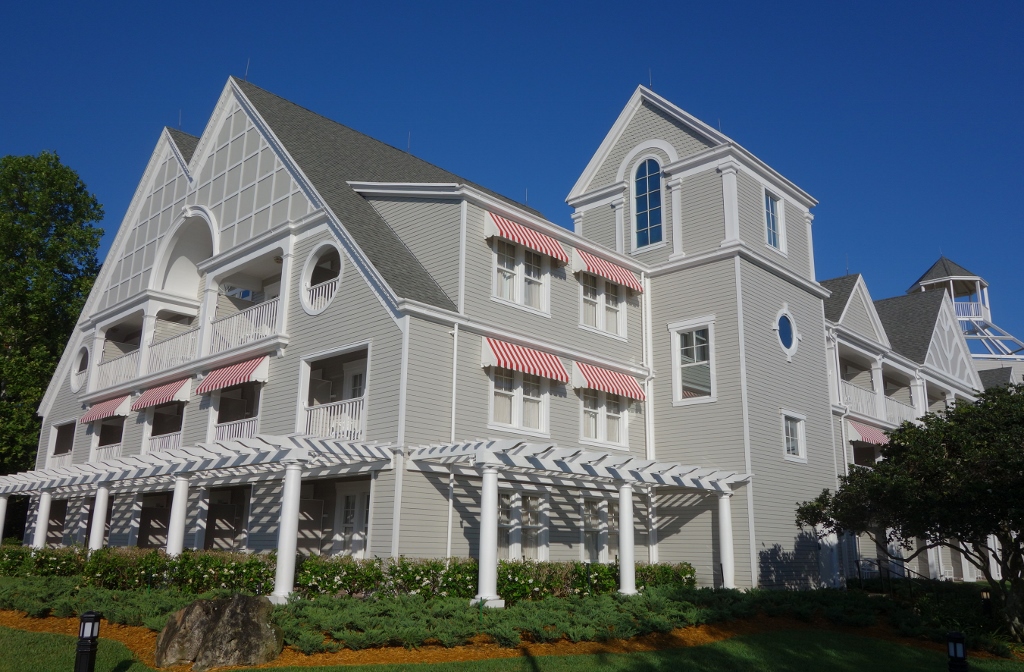 Disney's Yacht Club Resort opened in November 1990, and in 2017 completed a badly needed refurb, with significant changes to its guest rooms, and an update of its gift shop and one of its dining venues.
According to Disney World's website, the Yacht Club
"…[features] lush landscaping and the formal grace of a grand New England yacht club.
"Designed by architect Robert A.M. Stern—known for his East Coast beach houses—this splendid 5-story Resort transports Guests to the summertime Shingle Style hotels of Martha's Vineyard and Nantucket. (Sister resort Disney's Beach Club Resort is a more relaxed, pastel-toned edifice next door; the 2 share many amenities.)
"Public areas, guest rooms and suites are adorned in dark wood and wicker furniture, portholes and simulated captain's wheels. Cast Members are decked out in ship's crew regalia, including navy blazers and captain's hats."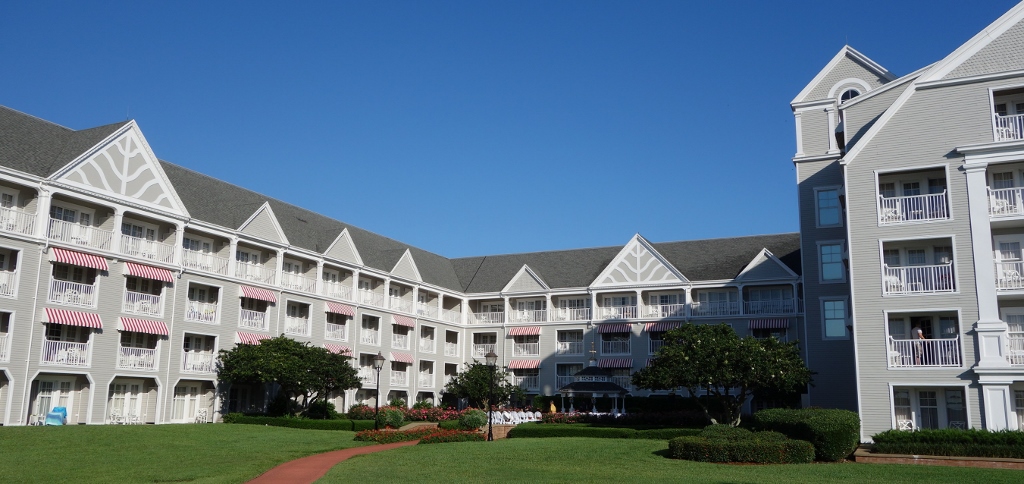 The architect (and former Disney board member) Stern on his own website also talks about the Yacht Club in its context with the Beach Club:
"While both hotels draw their inspiration from America's architectural past, each has a unique identity.
The Yacht Club is reminiscent of the rambling, shingle-covered seaside resorts that were built toward the end of the last century in New England towns such as Newport, Marblehead, and Bar Harbor.
The Beach Club is lighter, more airy in expression. It is modeled on the many Stick Style cottages and resorts that could be found in towns like Cape May, New Jersey."
(For more on Stern's role in Walt Disney World, see this.)
In the past, I have (correctly, back then) claimed that these two resorts just aren't that different. Yet while the Yacht and Beach Clubs remain more like one another in theme, style, decor, and layout than are any other pair of deluxe resorts at Walt Disney World, the room refurbs completed at the Beach Club in 2015 and the Yacht Club in 2017 have led to a significant divergence in their guest room offerings.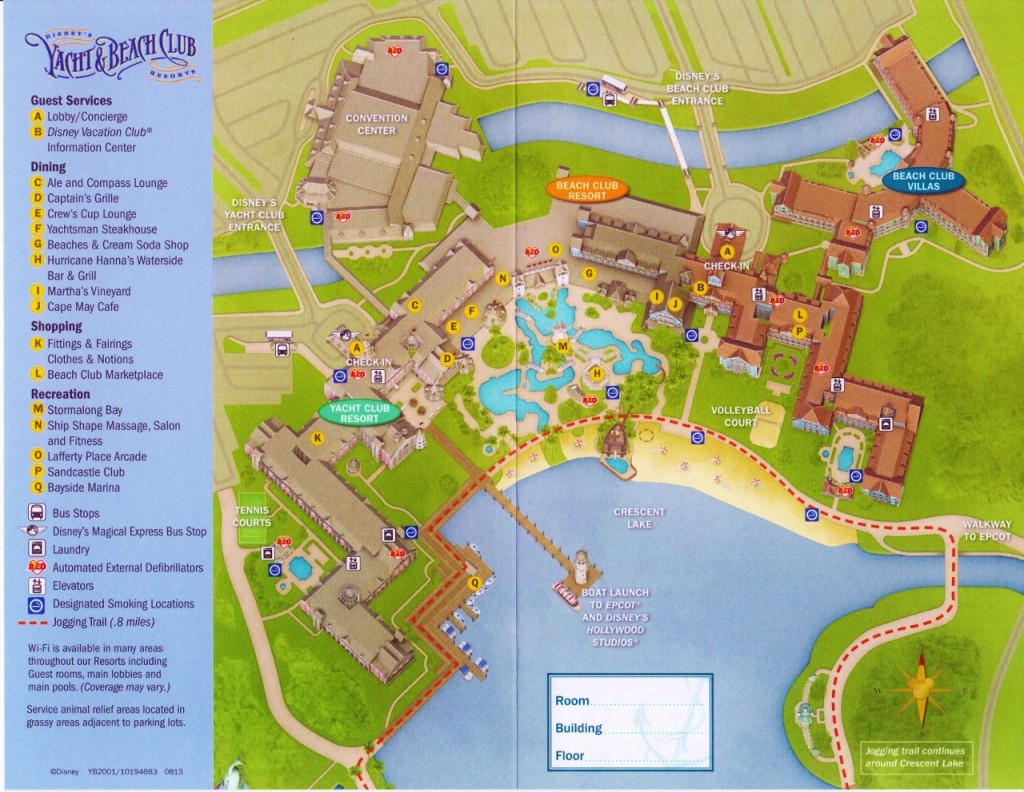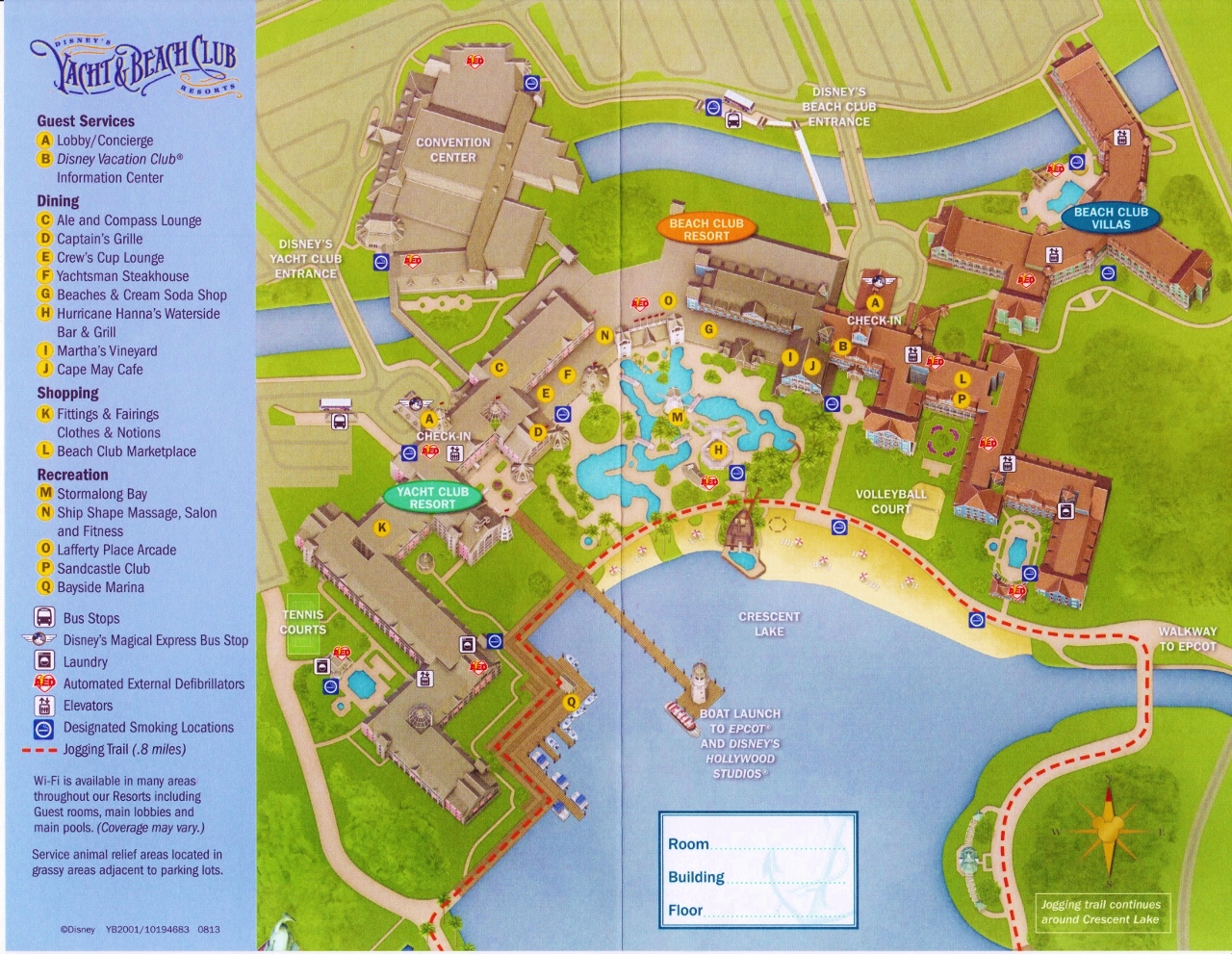 On the map, The Yacht Club rooms and lobby are on the left, the Beach Club rooms and lobby on the right, and in between is shared space used for restaurants, kitchens, and other shared support activities.
Above this central shared space on the map is the convention center, labeled as the Yacht Club convention center (and being expanded) but in fact shared by both hotels, and below it the shared spectacular pool, Stormalong Bay.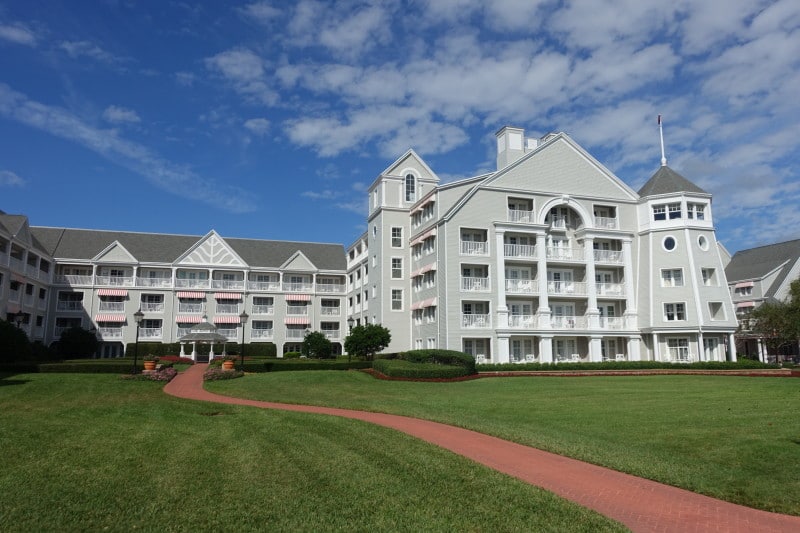 Note that the room wings are essentially mirror images of each other. Until the recent refurbs, the room layouts and furnishings themselves were identical (other than colors and details).
Room layouts, after the refurb, remain the same–no walls were added or moved–and each has the same basic characteristics, offering in the same square footage equivalent bath, hall, and bedroom space, and sleeping four on two queens or five on two queens and a daybed.
The Yacht Club has always offered more reliably better balconies–too many balconies at the Beach Club are either small, or so tiny as to be essentially unusable. But the refurb has added many other livability advantages to the Yacht Club rooms (and one or tw0 possible disadvantages) that Beach Club rooms don't have.
Livability advantages now in the Yacht Club but not the Beach Club include the following–all perhaps small, but adding up to something:
A sliding door between the sink area and the entry hall, adding noise and light isolation
A pocket door between the sink and bath areas, easing movement between these two spaces
More structured and flexible closet storage
Point-able high intensity reading lights, handy for reading my book and limiting the effect of reading lighting on the other occupants of the room
Many more storage drawers
A much larger TV
Space under the beds high enough for you to stick your luggage there
The potential disadvantages of the new rooms are two: first, the shower curtain on the tub has been replaced with sliding clear doors, making it harder to bathe kids (or your brother-in-law, after he incurred the typical sequelae of Drinking Around the World); second, the top of the queens is so now so high–around 30 inches–that some will need to do the Fosbury Flop to get into it.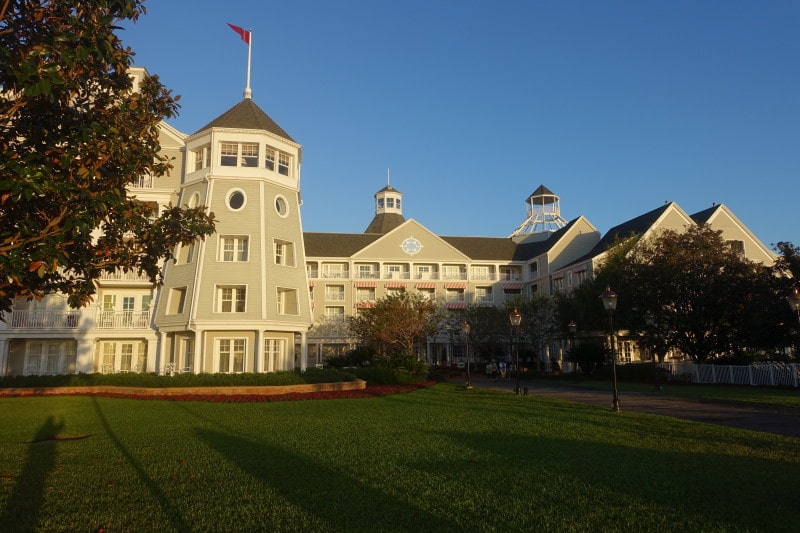 For those for whom the disadvantages noted don't matter, the Yacht Club rooms are unambiguously better than Beach Club rooms.
Now the Beach Club is warmer, prettier, airier, more appealing to kids, and closer to Epcot, so for many families it will remain the first choice among these two.
But for most who are not powerfully drawn to the Beach Club theming, the quality of the Yacht Club rooms will make up for its duller and more stuffy theming. (To do a test drive of these rooms yourself, a photo tour of a Yacht Club room is here, and a photo tour of a Beach Club room is here.)
ACCOMMODATIONS AT DISNEY'S YACHT CLUB RESORT

All Disney deluxe resorts have standard rooms; concierge rooms, which Disney calls "club" rooms; and suites. (See this for more on suites at Walt Disney World.)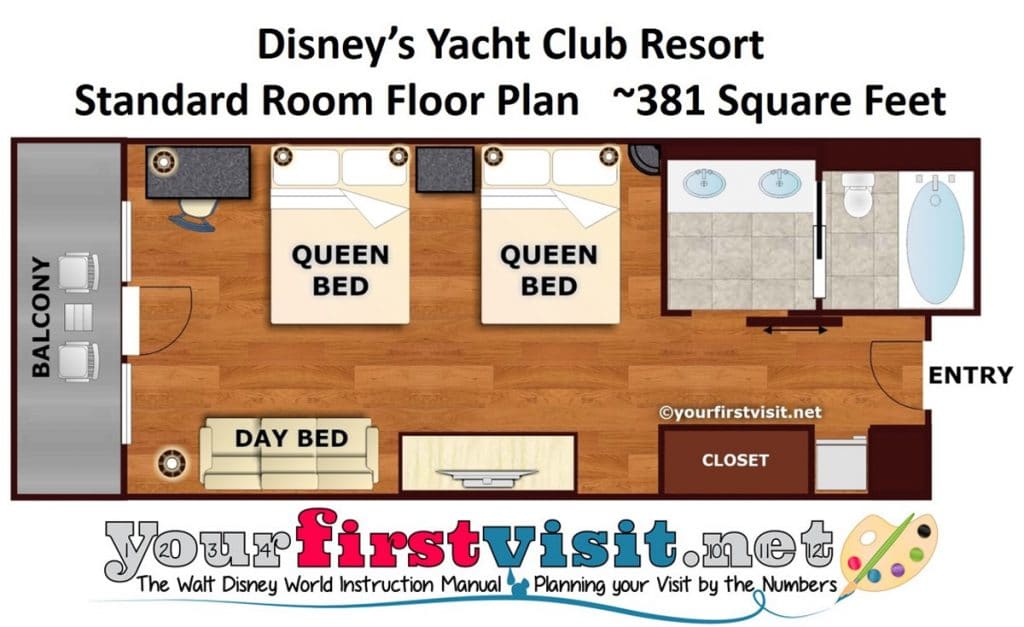 At Disney's Yacht Club Resort, standard and club/concierge rooms sleep either four or five, in two queen beds, or two queens and a day bed.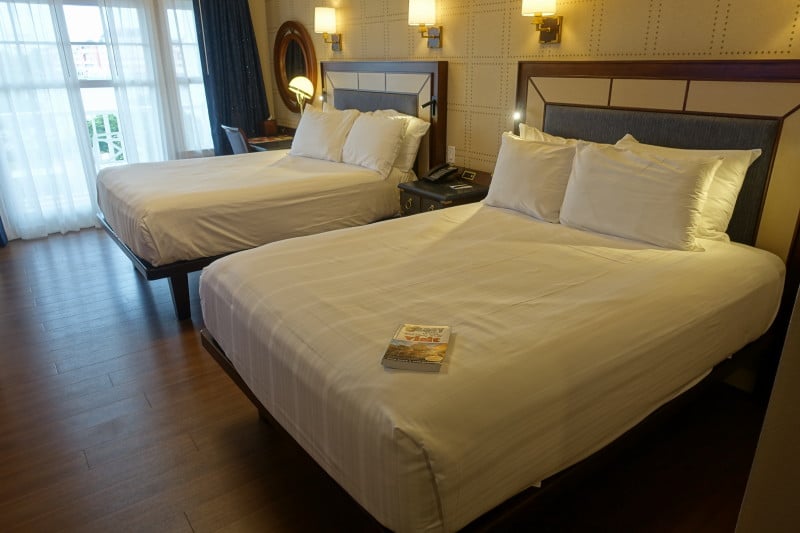 Standard rooms are well appointed and nicely proportioned, and unlike at the Beach Club, almost all come with substantial balconies.
There's a detailed photo tour of a standard Yacht Club room later in this review.
King bed rooms that sleep two or three (the third on the day bed) are also available.
Standard and club rooms can be booked with Standard views, Garden or Woods Views, and Lagoon or Pool views. Lagoon or pool view rooms view either Crescent lake or a pool. Garden or Woods view rooms see forests or landscaped areas.  Standard rooms have views of something else–the front drive, a roof, the back of the convention center.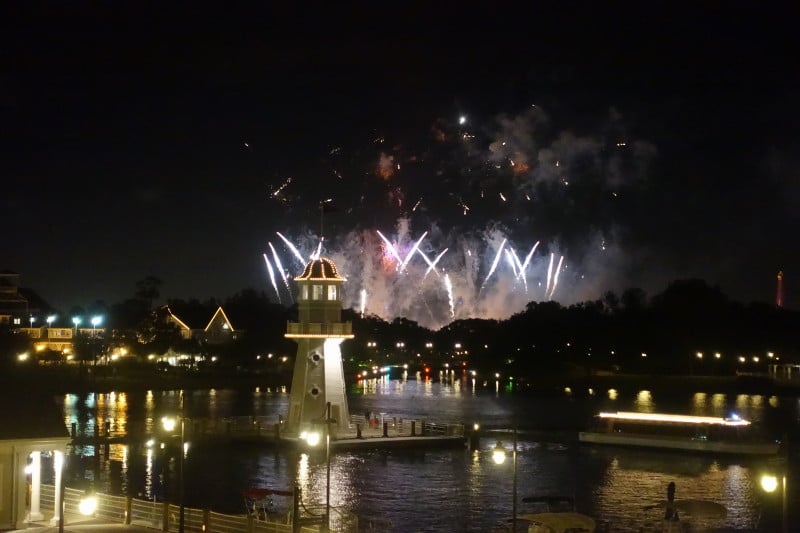 No rooms are bookable as Theme Park Views, but many rooms that look over Crescent Lake can see the higher parts of IllumiNations, Epcot's evening show.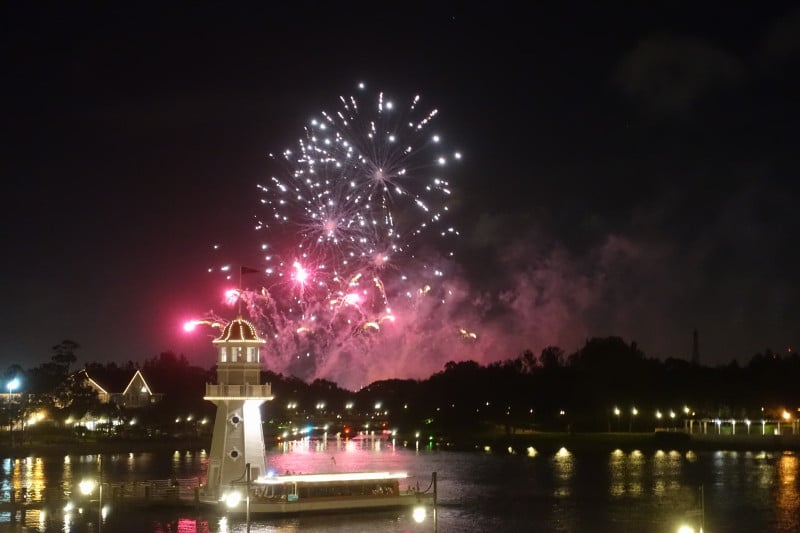 You can request such a room over the phone.
CONCIERGE ROOMS, DELUXE ROOMS, AND SUITES AT DISNEY'S YACHT CLUB RESORT
I generally advise against special room types for first-time visitors, as they won't be spending much time in their rooms. However, they may be well worth it for families intending to spend more time at the Yacht Club Resort than implied by this site's itineraries.
TikimanPages.com has a great discussion of the value of concierge rooms here. Though focused on the Polynesian, it applies to any deluxe resort.
Most Yacht Club concierge rooms (Disney calls them "club" rooms) are the same size as the rest of the resort's rooms.  However, there's also an option called a "Deluxe" rooms, and several types of two-bedroom suites.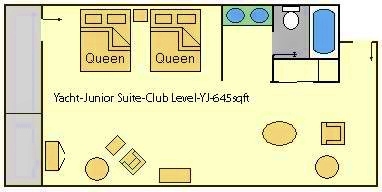 Deluxe rooms don't offer any more sleeping capacity–they just give you more space, and more separate spaces, for your family to live in. Deluxe rooms (which used to be called junior suites) are about 60% larger than standard rooms, and include two queens and a semi-private sitting area.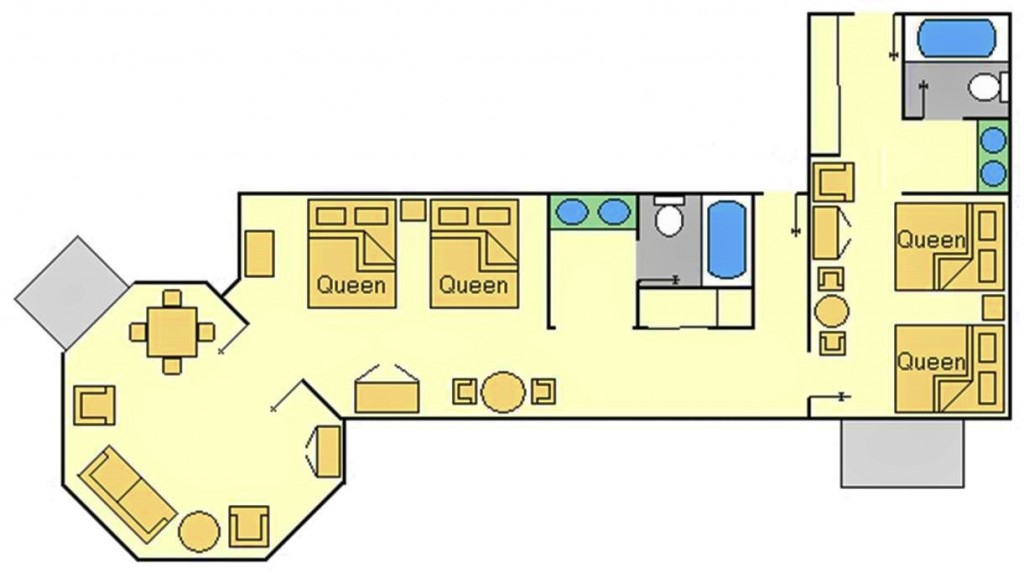 The two-bedroom Turret Suites have an unusual shape and layout–with one of the bedrooms connecting the other spaces.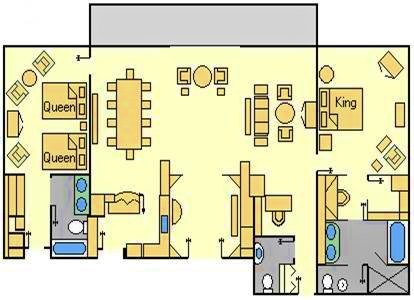 There's also two-bedroom Presidential and Admiral suites, each with ~2000 square feet and the two-bedroom Captain's Deck Suite, with ~2400 square feet.
For more on suites, see this, and for more on larger families seeking deluxe options, see this.
Note that to all the capacity figures above you can add a child under three in a crib. A crib fits nicely between the dresser/TV and the closet.
This review continues here.
PAGES IN THIS REVIEW OF DISNEY'S YACHT CLUB RESORT
OTHER KEY PAGES FOR WHERE TO STAY AT DISNEY WORLD


Follow yourfirstvisit.net on Facebook or Twitter or Pinterest!!
RELATED STUFF