Dining at Disney's Yacht Club Resort
By Dave Shute
(For the first page of this review of Disney's Yacht Club Resort, see this.)
DINING AT DISNEY'S YACHT CLUB RESORT
If you check Disney's website, you'll find it notes a host of dining options at Disney's Yacht Club Resort. Of these, about half are in the nearby and connected Beach Club, and several are bars.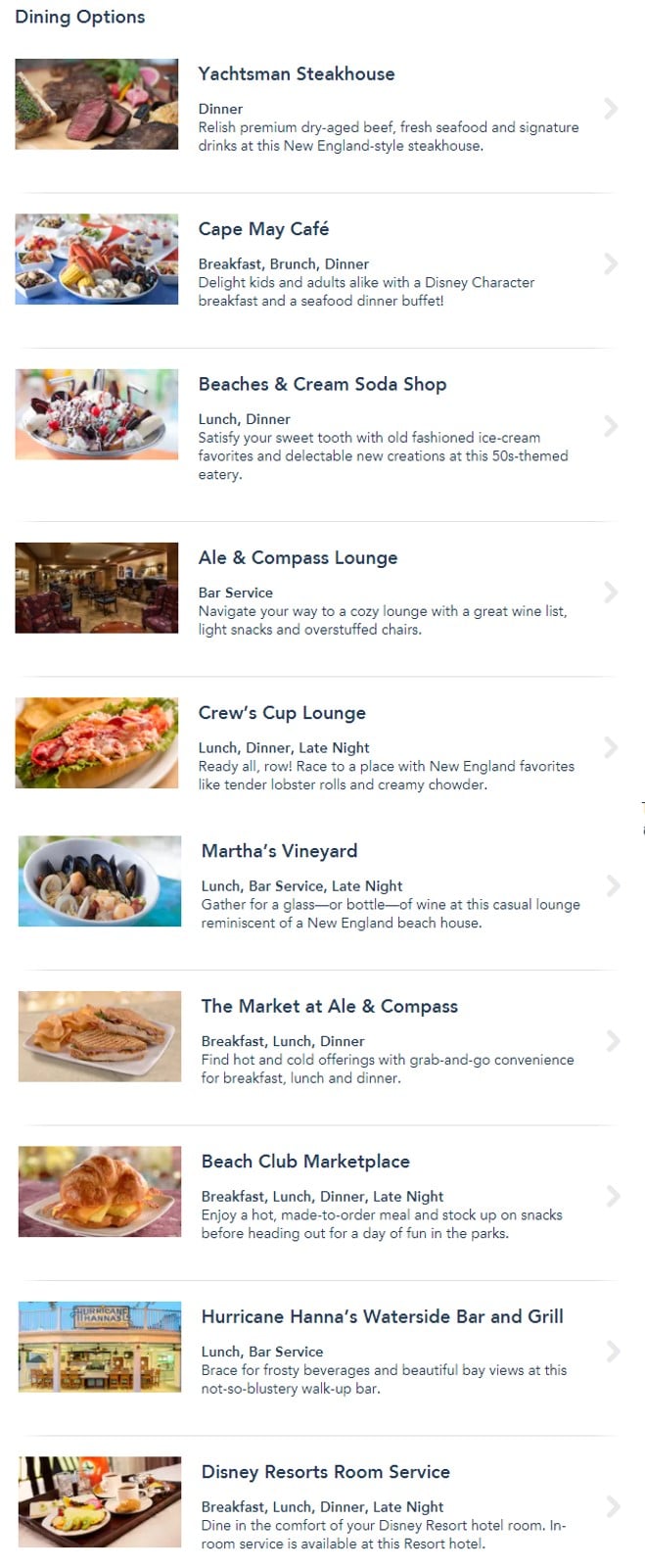 At the Yacht Club proper you'll find two table service restaurants, one uninteresting, and the other great for steak lovers but, at least for dinner, hardly anyone's idea of family dining.  In addition, there's a weak set of quick service options in the newly-reimagined gift shop.
The table service offerings at the Yacht Club are near the lobby at the side towards the Beach Club.
You'll find here the great (but expensive) Yachtsman Steakhouse, menu here. The review from our book, The easy Guide to Your Walt Disney World Visit 2019: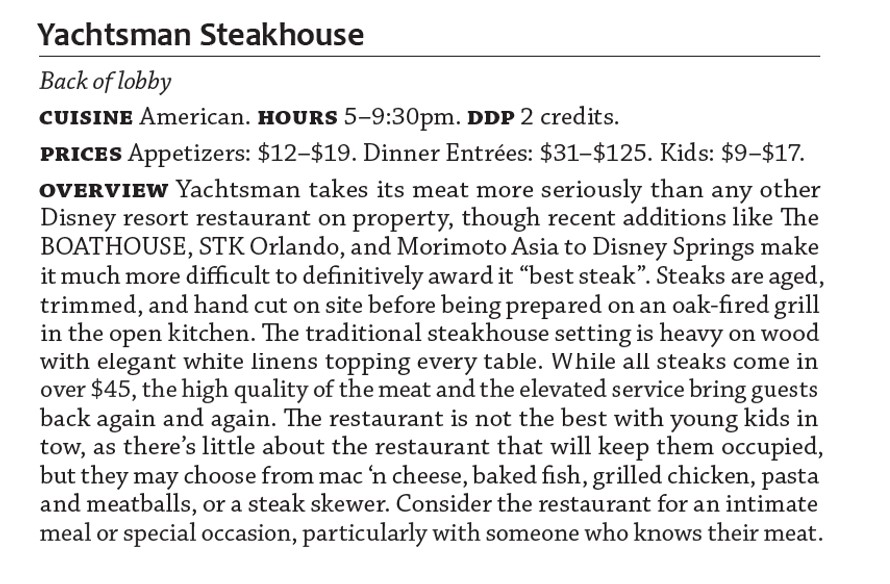 Also in this area is the simpler, less expensive, and more family- (and wallet-) friendly Ale & Compass.
Ale & Compass replaced the old Captain's Grille in late November 2017. Disney suggests it offers "New England comfort food and classic seafood dishes in a gastropub-inspired restaurant that's reminiscent of a cozy lighthouse." The menu is here, and here's review from our book, The easy Guide to Your Walt Disney World Visit 2019: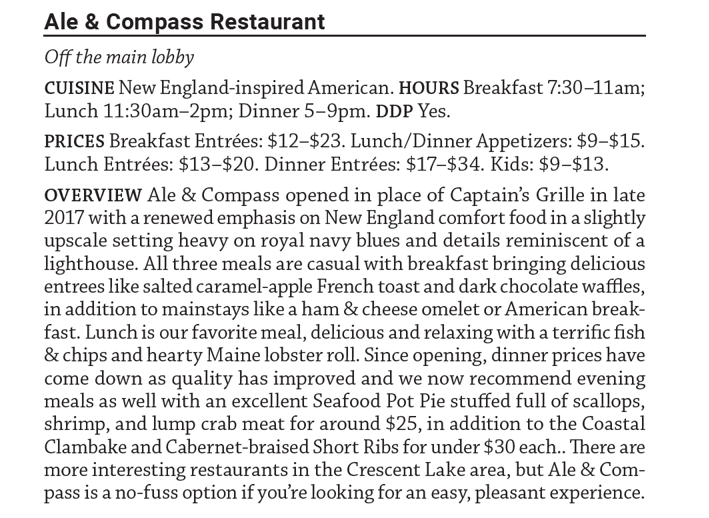 The next-door Beach Club has two more table-service options, the fun but low-capacity Beaches and Cream and the Cape May Cafe with a character breakfast and dinner seafood buffet.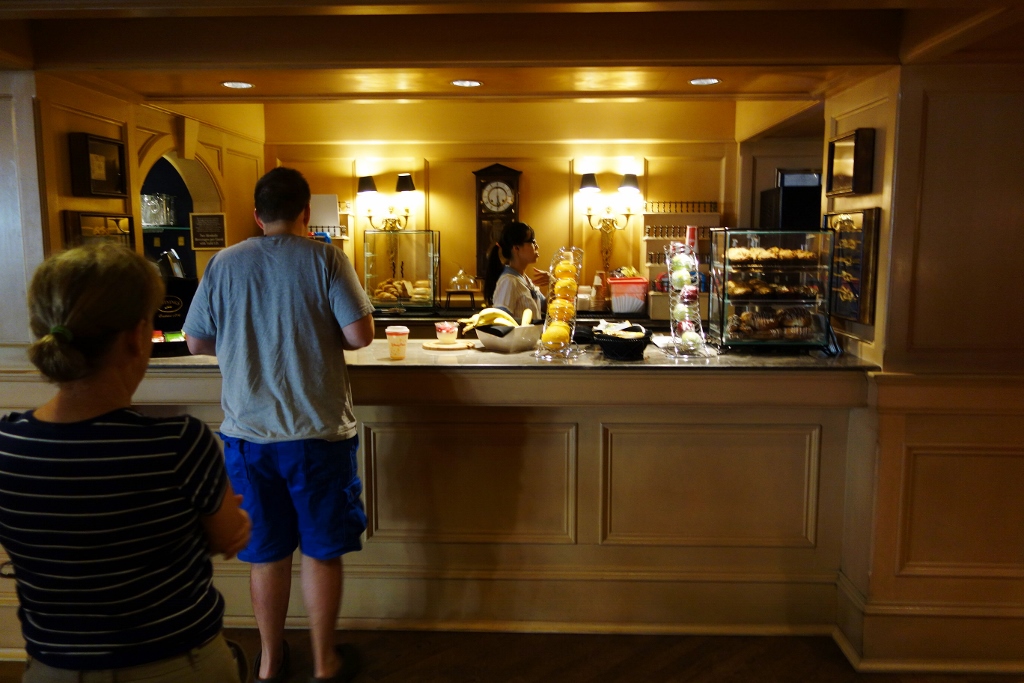 There's a couple of bars at the Yacht Club as well.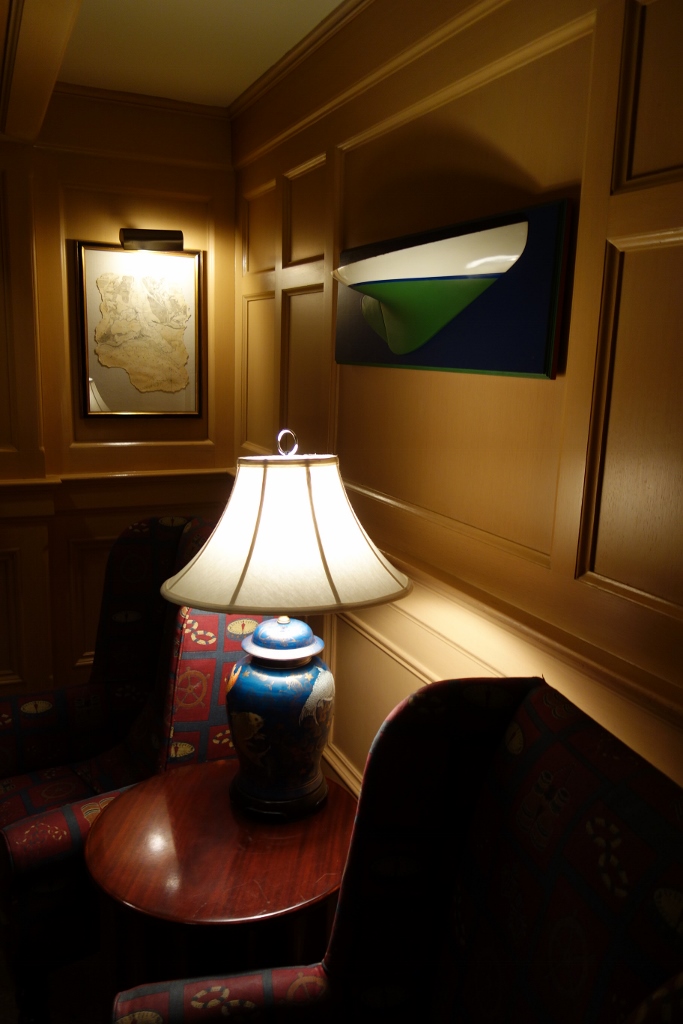 The lobby bar, Crew's Cup, has some nice nautical details, and more dining choices than you might expect.
The larger new Ale & Compass Lounge is down the hall, closer to the Yachtsman Steakhouse, and also has meal options.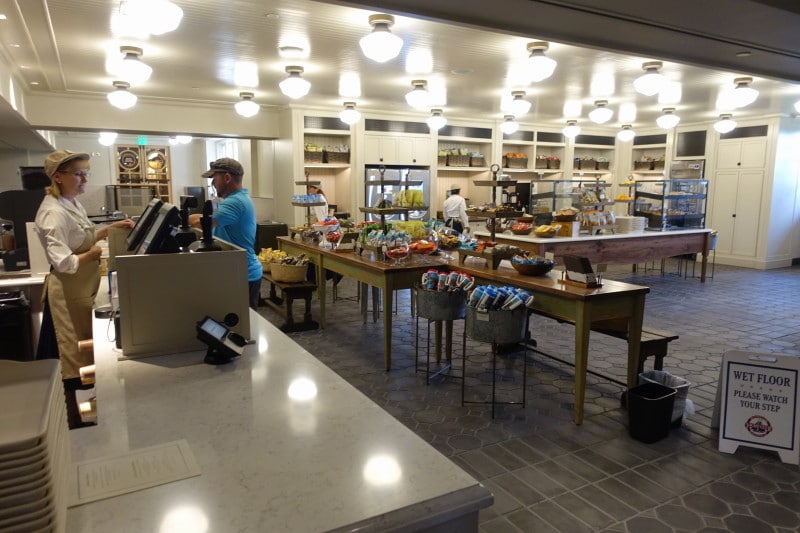 Also new in 2017 is The Market at Ale & Compass, which combines a gift shop with an espresso bar and limited counter service offerings.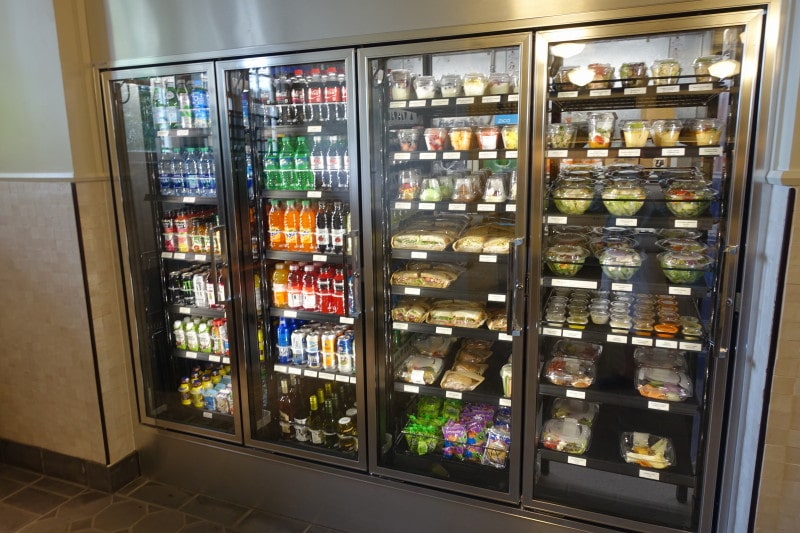 You'll find here lots of cold dining options…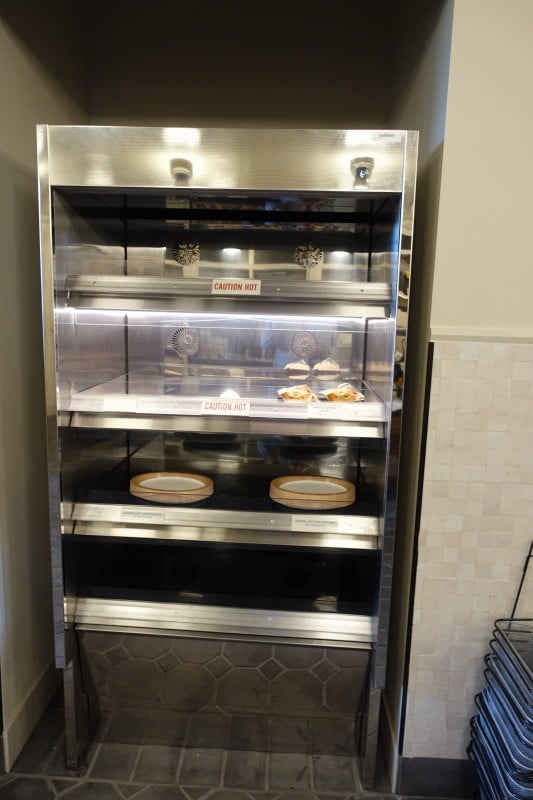 …limited hot food…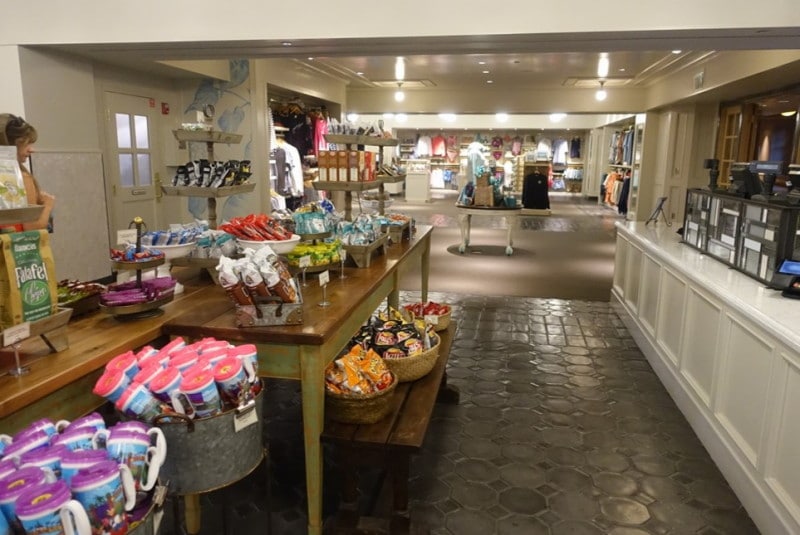 …and lots of shelf stable snacks and beverages…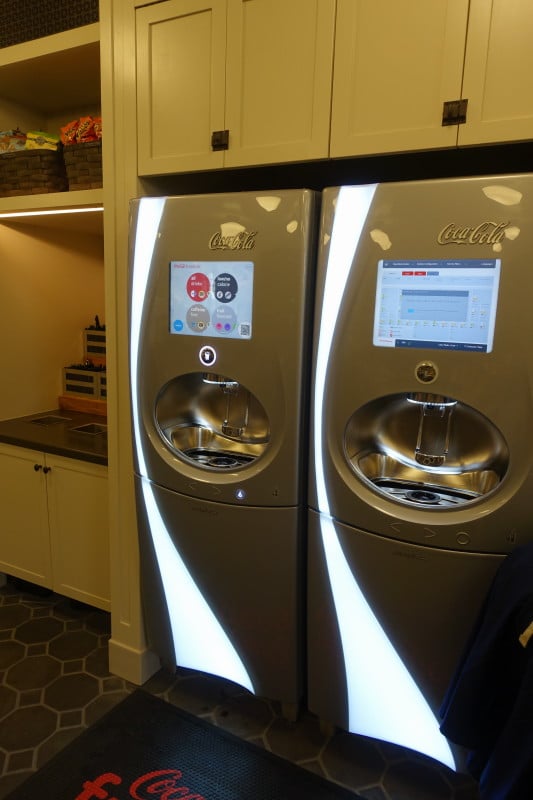 …including coffee and a couple of Coke Freestyle machines.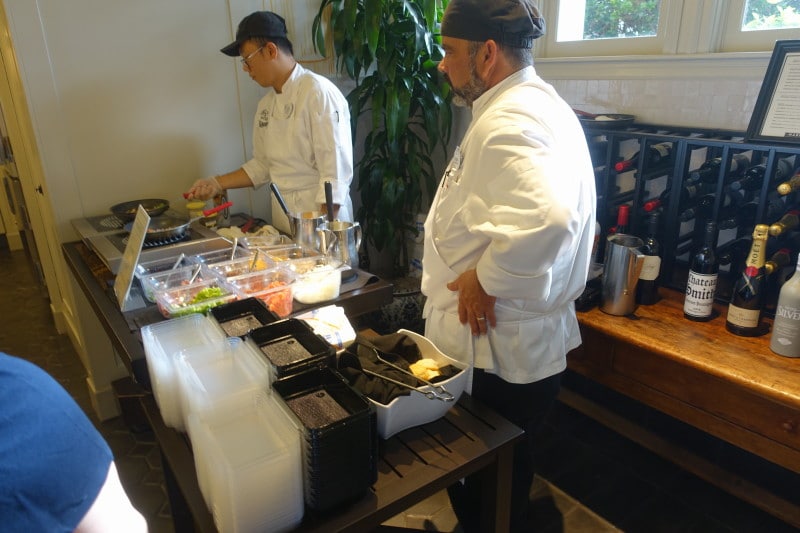 In my mid-November visit–before Ale & Compass re-opened–the Market had just instituted a morning omelet bar…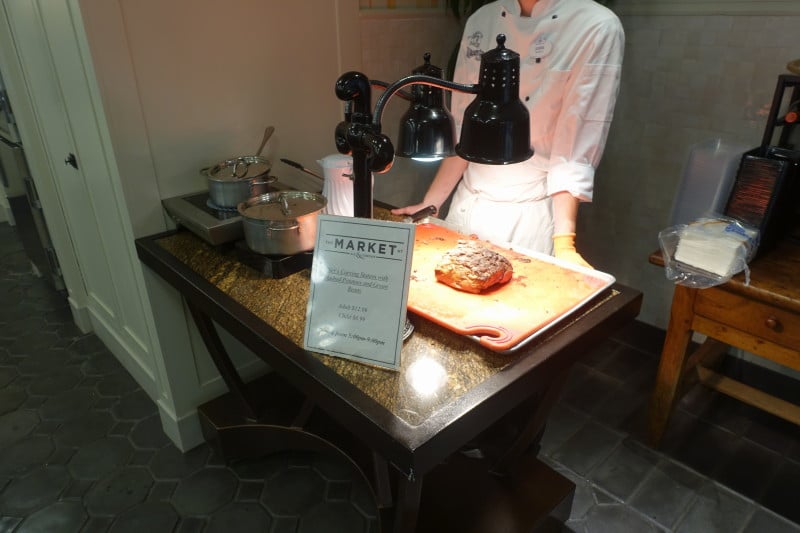 …and an evening carving station.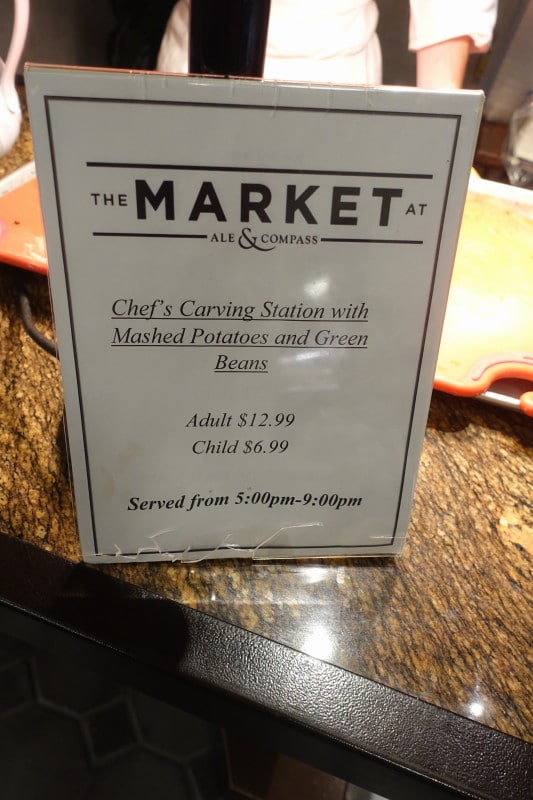 I'll check in January to see if these are still offered (or if you've stayed at the Yacht Club since Ale & Compass opened, let me know if these were offered during your visit using the comment form below).
More dining and bars are available at the Beach Club, on the BoardWalk, and–a little more distant–at the Swan and Dolphin.
This review continues here.
PAGES IN THIS REVIEW OF DISNEY'S YACHT CLUB RESORT
OTHER KEY PAGES FOR WHERE TO STAY AT DISNEY WORLD


Follow yourfirstvisit.net on Facebook or Twitter or Pinterest!!
RELATED STUFF