The Updated Best-Ever Free Dining FAQ in the History of the World, 2017 Edition
By Dave Shute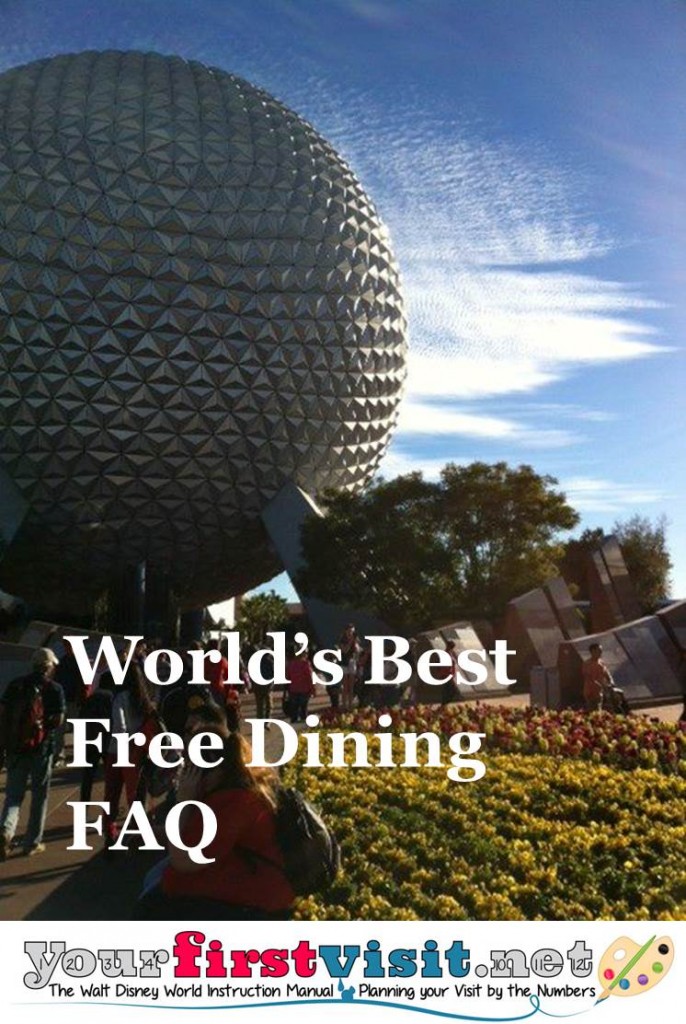 Update: the 2017 deal is out, see this for details.
Free Dining is the favorite deal of many Disney World fans, and I get questions about it all the time.
In an unusual attempt to actually provide good answers, a while ago I put heads together with DISboards.com legends Smitch425 (Sarah) and Black562 (Joe Black–Joe's also on Facebook here; Sarah's shy).
We–well, mostly they–came up with the following FAQ. I've updated it for 2017, including the February price increase.
WHAT IS FREE DINING AND WHY SHOULD I CARE?
Q: What is free dining?
A: Free dining is a Disney World deal where, if you buy other stuff, you can get one of the Disney World dining plans for free. Most recently, eligible folk staying at an eligible value resort have gotten the quick service dining plan for free, and those staying at eligible moderate or deluxe resorts have gotten the regular dining plan for free. In 2017, moderates will get the quick service plan.
Q: Is this a big deal?
A: For many families, it really is. The regular Disney Dining Plan costs $69.35 for people ten or over, and $24.95 for kids 3 to 9.
So a typical family of four with one younger kid and one older who would have otherwise paid cash for the dining plan will save more than $230 per night.
In the 2016 deal, you had to buy a Park Hopper or Water Park and More add on to your tickets to be eligible for free dining.  For 2017, I expect the requirement to be to buy the Park Hopper or even Park Hopper Plus. If you hadn't planned on buying one of these, you have to deduct the extra costs from your free dining savings to see if it's a good deal still. The hopper cost is $64 to $80 per person (not per night) extra, depending on the length of the ticket.
Savings are less but still substantial for the quick service plan that's free for value resort stays (and, perhaps, moderates in 2017)—at $48.19/20.88, the same family would save $165/night.
Q:  Blah blah blah on that typical family–how much would my family save?
A: See the tables below (as always on this site, click them to enlarge them):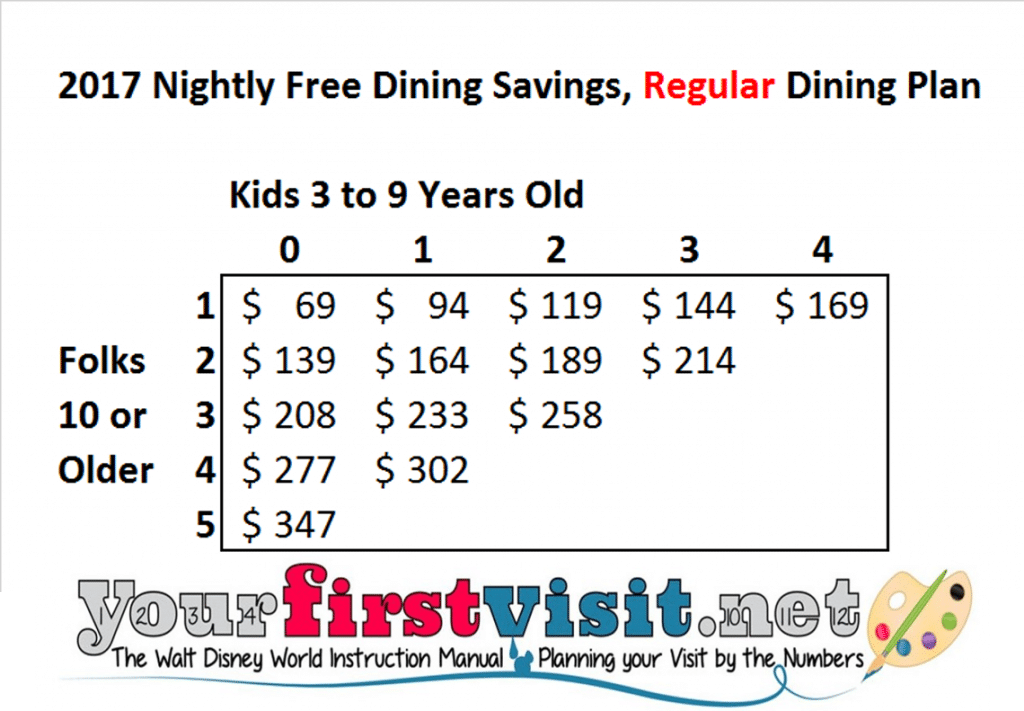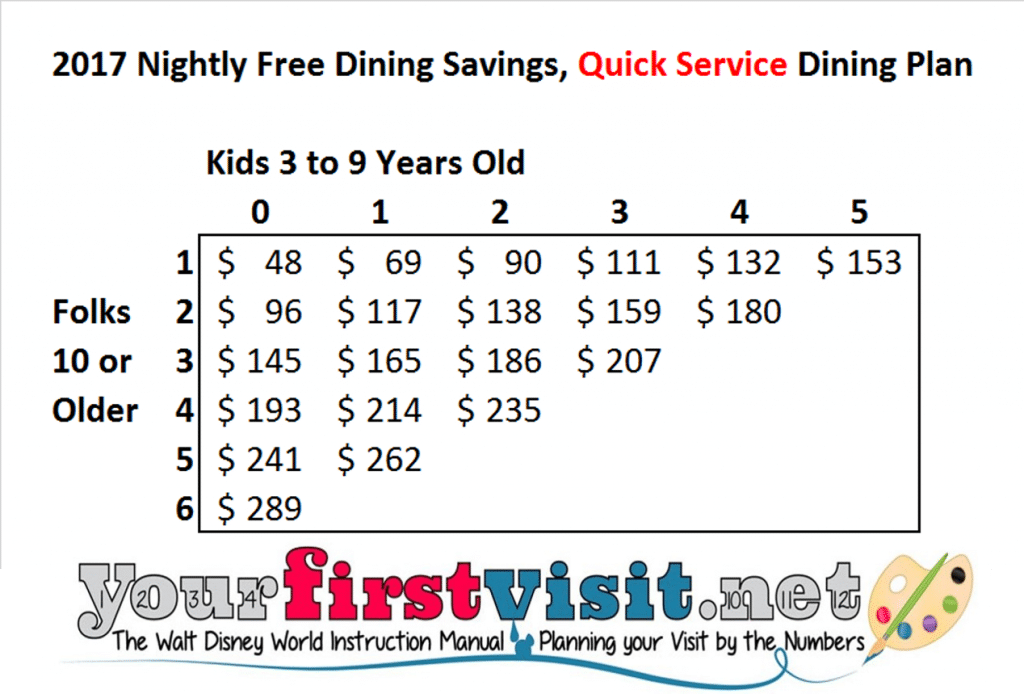 Q: Is it the best deal?
A: Not always.
The value of any deal is the difference between it and your next best option. Room rate deals are usually out for the same dates as free dining, and for some families—especially smaller families with younger kids staying at more expensive deluxe resorts—the room rate discount saves more money than free dining.
The least expensive Grand Floridian rooms during September 2017 at 30% off generate savings of about $190-215 a night. From Regular Plan part of the chart above, you can see many family types will do better here at 30% off than they would from free dining, especially if they had not been already planning to buy a hopper.
Q: What's the Disney Dining Plan, anyway?
A: See this!
HOW TO GET FREE DINING
Q: OK, I'm sold. Now what?
A: In 2016, the deal came out in late April, and a lot of resorts sold out almost immediately.
You have to be willing to stay at an eligible resort, with an arrival date within the announced deal's eligible dates, for likely a minimum of three (or four) nights, and you likely will have to buy a minimum of two days of tickets for all in the room 3 and older.
Q: I already have a reservation just like that! Will Disney automatically convert it to the deal?
A: Disney don't do nothin' automatically.
If you already have a reservation, to get the deal if/when it is offered you have to try to change your reservation online, or call and change your current reservation, or make a new free dining reservation online and then call when that's set to cancel your old reservation.
Q: Tickets? But I already bought tickets!
A: That's a whine, not a question.
But yes, to be eligible for free dining, a new minimum 2 day Magic Your Way hopper or hopper-plus likely will be required for each person on the reservation age 3 and up.
However, you can save your tickets for a future trip–multi-day Magic Your Way tickets bought in 2017 which have not been activated by first use will remain valid until 12/31/2018, and even after that can have their value credited to new tickets.  Annual Pass holders can use the un-activated extra 2 day ticket toward renewal costs when it is time to renew. Or you can just use both tickets to get 6 FastPass+ per day.
Q: Are all resorts and rooms in the deal?
A: All recent Disney World deals have excluded some resorts and room types—mostly those for which demand is high enough that no deal is needed to get heads in beds at full prices.
Recently, most commonly excluded have been Little Mermaid standard rooms at Disney's Art of Animation Resort, All-Star Movies, the Villas at the Grand Floridian, and one or the other of the Port Orleans resorts, most commonly French Quarter. This year, because of construction at both Caribbean Beach and Coronado Springs, I would not be surprised to see both Port Orleans options excluded.
Moreover, even when not excluded, it seems that a limited inventory of rooms at resorts is made available for the deal–with a particularly limited inventory of the least expensive view types. Even fewer rooms seem to have been offered for Free Dining in 2016–expect this trend to continue in 2017 as well.
It's always best to have a backup resort and room type in mind should your desired location be excluded or sold out.
Q: When should I book?
A: As soon as you hear about the deal.
Since there are a limited number of rooms in the free dining inventory at each included resort, the sooner you book once a deal goes live, the better your chances are of getting your preferred location.
The easiest way to do this is to turn over your visit to my travel agent friend Kelly B, and let her take care of booking the best deals for you. She's at  980-429-4499 or KellyB@DestinationsInFlorida.com
Q: My arrival date is before free dining but part of my stay is during it! Boo!
A: If you check in prior to a free dining promotion, you can do what is referred to as a "split stay."
For example, if you check in the day before free dining begins, you can book a room only stay for the first night, and a free dining package to begin the following day.
This would require you to check out and check back in, and it is possible that you would have to switch rooms. However, Disney can link the two reservations, and they will do everything possible to avoid a room switch.
Q: When is free dining offered?
A: The most common time for free dining is September, but recently arrival dates later in the year have been eligible as well. For 2015, eligible arrival dates were
8/28 – 10/2/2015
10/25 – 10/31/15
11/8 – 11/19/15
12/15 – 12/21/15
In 2016, eligible arrival dates were
8/23 to 10/1/2016
11/15 to 11/21/16
11/26 to 11/28/16
12/10 to 12/21/16
As part of its strategy for recovery from the recession, 2009 through 2011 Disney offered free dining many other months. The last five years, this has been wildly scaled back.
Q: When is it announced?
A: See this for the variety of recent announcement dates. It's widely expected that free dining for September 2017 will be announced sometime in late April, most likely April 24.
Q. I'm a proud DVC point owner! Can I get free dining?
A: Sorry—DVC rooms booked using points (either by the point owner, or for someone who is getting DVC rooms by renting points) aren't eligible. However, DVC rooms paid for by cash are eligible.
Q: Can I upgrade from the quick service to the regular plan, or to the deluxe plan?
A: Yes, you may. Simply pay the difference between the plans and you can upgrade all you wish.
Q: Should I book in advance for free dining?
A: Don't book now in the hope of getting free dining later.
Rather, book only if you are committed to a certain resort and set of dates, whether or not free dining emerges.
First, if bookings are up, Disney has no reason to offer a discount at all.
Second, if people book up certain resorts, they are more likely to be excluded.
Having an advance reservation has no benefit in any way over a new booking on release day. It doesn't hurt you—but it doesn't help.
Q: Can I have a puppy?
A: Perhaps. Our new puppy, Belle, is below.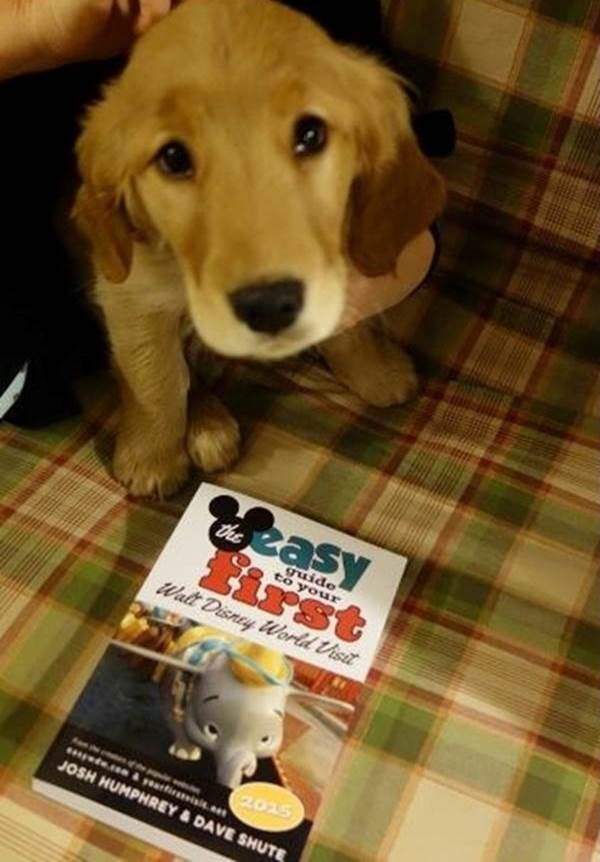 WHAT'S THE DISNEY DINING PLAN, ANYWAY?
The full scoop on the Disney dining plans is here.


Follow yourfirstvisit.net on Facebook or Google+ or Twitter or Pinterest!!
RELATED STUFF